The importance of wearing sunscreen whether we're indoors or out (check out the best sunscreens in Malaysia this year, if you haven't yet) is to protect the skin from UV rays that can pass through even unfiltered windows!
After all, some broad-spectrum UV protection is to prevent the sensitive layers of skin from forming sunspots and premature ageing.
However, adding a thick coat of SPF could unleash a whole lot of trouble especially if you suffer from oily and acne-prone skin.
Not to worry. There are many lightweight, non-shiny and mattifying sunscreen lotions that have been created to suit oily and acne-prone skin. There are also formulas to help make the skin look matte!
Especially for those that are from Korean brands dermatologists-recommended, many formulas today are moisturising and non-greasy, formulated with safe ingredients and useful minerals for the skin.
Let us point to you the best sunscreens and sunblock for oily and acne-prone skin with broad-spectrum protection.
---
Table of Contents
---
10 Best Sunscreens & Sunblocks for Oily Skin in Malaysia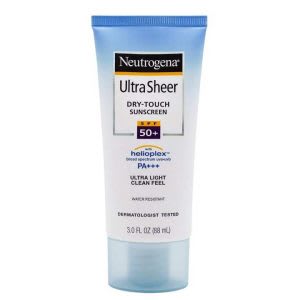 Check Neutrogena Ultra Sheer Dry-Touch Sunscreen SPF50+ price below:
add_circle
Non-comedogenic
add_circle
PABA and oil-free
add_circle
Water-resistant for up to 80 minutes
remove_circle
Leaves a slight white cast
Neutrogena is a popular drugstore product from the United States that you may spot in most pharmacies. On top of having SPF50 protection, the Ultra Sheer Dry-Touch sunscreen even goes on smoothly and absorbs quickly to leave your skin feeling light and fresh.
Features:
This non-greasy sunscreen provides excellent protection to the face, shielding it from the sun's harmful UVA/UVB rays minimizing the risk of any hyperpigmentation thanks to its advanced Helioplex Technology. Also featuring Neutrogena's Dry-Touch Technology, this fast-absorbing sunscreen creates a thin, protective film without feeling sticky or heavy.
Performance:
As this is an option best for sunscreen, it may not be the best for those with dry skin as there are several reports saying that the product may feel like a paste. Nonetheless, those suffering from oily and acne-prone skin will find this non-clogging sunscreen to be a great choice for daily sun protection and moisturizing.
Not to forget, those with tan or dark skin may also want to steer clear of this sun protection. Some users on Lazada have complained that the cream turns "whitish" when it comes into contact with sweat and can look quite unsightly.
---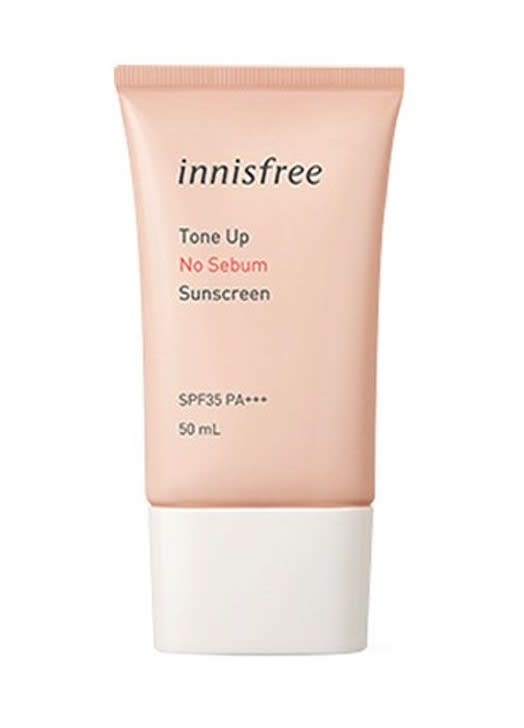 Check Innisfree Tone Up No Sebum Sunscreen SPF35 PA+++ price below:
add_circle
Hydrates and moisturizes skin
add_circle
Brightens complexion
add_circle
Leaves skin feeling soft and matte
remove_circle
Leaves a white cast
If you're a busy multi-tasker that needs a sunscreen product to match your tight schedule, then you need not look further than the Innisfree Tone Up No Sebum Sunscreen. Not only does it protect your skin from UV rays, it even works as a moisturizer and foundation to brighten up your complexion!
Features:
With SPF35 PA+++, the Innisfree Tone Up No Sebum Sunscreen is the perfect skincare product for everyday use. Additionally, with a no-sebum formula, the sunscreen controls and prevents excessive sebum production to leave skin feeling soft and matte. It even features Centella and green tea extract to soothe and hydrate your skin for a youthful complexion.
Performance:
However, do be careful not to squeeze too much sunscreen at once or you might end up looking too pale! The Innisfree sunscreen has a slight pink pigment that will gently brighten up your complexion and can even replace your makeup foundation to help you achieve a light, no-makeup look that's just perfect for those lazy days.
---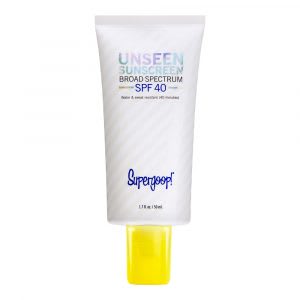 Check Supergoop! Unseen Sunscreen SPF 40 price below:
add_circle
Clean chemicals used
add_circle
Suitable for all skin types
add_circle
Compact in size
Sunscreens that aren't sweat-proof tend to melt into your eyes, especially after a stroll under Malaysia's hot and sunny weather. But this definitely isn't the case with Supergoop! Unseen Sunscreen Broad Spectrum SPF 40, which feels like a cross between a gel and a primer.
Features:
On top of being sweat and water-proof, this barely-there sunscreen applies clear and dries down to a velvety finish that is super lightweight. Although this can be used for all skin types, it is especially great for those with oily skin thanks to its invisible texture. The sunscreen even works great under your foundation as it helps grip your makeup for long-lasting application.
While it can be a little expensive, this premium sunscreen features red algae, frankincense, and meadowfoam extract to soothe and shield skin from digital blue lights. Combining Vitamin E, Shea Butter, and Jojoba, this premium sunscreen even doubles as a moisturizer to keep skin nourished all day.
Performance:
Overall, Supergoop! Unseen Sunscreen Broad Spectrum SPF 40 is definitely one of our go-to brands that would be perfect for those with oily skin. Plus, it's fast-absorbing so you won't have to worry about any oil slicks by noon!
---

Check EltaMD UV Clear Facial Sunscreen Broad-Spectrum SPF 46 price below:
add_circle
Feels cooling and sheer
add_circle
Lightweight coverage
add_circle
Suitable for sensitive skin
remove_circle
Does not spread well
EltaMD UV Clear Facial Sunscreen Broad-Spectrum SPF 46 is perfect for those with sensitive skin that can't stand chemical sunscreens. This mineral sunscreen features zinc oxide and titanium dioxide that sits on your skin and act as a physical barrier to block out harmful UV rays from your skin.
Features:
If you suffer from other sensitive skin conditions like rosacea and hyperpigmentation, you'd be glad to know that this sunscreen is safe enough to be used without causing any issues. Not only is it fragrance-free and paraben-free, but it's also sensitivity-free and non-comedogenic.
Aside from leaving a sheer and translucent undertone without the greyish reflection, EltaMD UV Clear Facial Sunscreen has plenty of other skin-loving ingredients such as Vitamin E, gently exfoliating lactic acid, and anti-inflammatory niacinamide to calm skin and reduce breakouts.
Performance:
All in all, this is a smooth, lightweight sunscreen that is often recommended by dermatologists for sensitive acne-prone skin. While it shields your skin, the EltaMD sunscreen is also able to resist water for up to 80 minutes.
---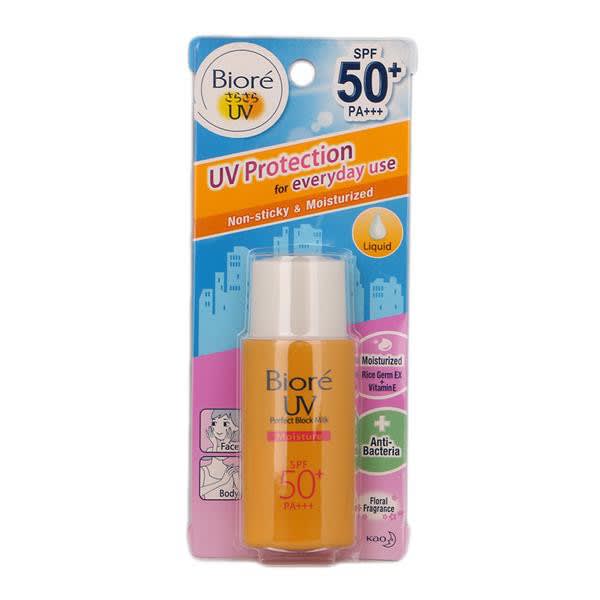 Check Biore UV Perfect Protect Milk Non-Sticky Sunblock SPF50+ price below:
add_circle
non-sticky texture
remove_circle
Might feel sticky
Double up on sun protection and skincare with this gentle non-stick sunblock that is packed with natural extracts and skin-loving vitamins. Biore UV Perfect Protect Milk Non-Sticky Sunblock is a crowd-pleaser as many have reported that sun protection hydrates their skin without feeling greasy and sticky.
Features:
Featuring Rice Germ Extract and Vitamin E for softer and smoother skin, Biore's lightweight formula even absorbs quickly while working overtime to provide powerful sun protection with its SPF50+.
However, the sunblock contains the ingredient Isopropyl Palmitate which is comedogenic. This may cause blocked pores that can be a potential problem for those with oily skin. Though, there have been reviews from those with oily skin who complimented the product for not leaving an oily finish.
Performance:
So, if you're on the market for an affordable sunscreen that shows its UV protection strength without leaving any residue, you'll want to grab a bottle of this. The Biore UV Perfect Protect Milk sunblock also sees plenty of loyal repeat customers for years simply because of how great their formula is.
---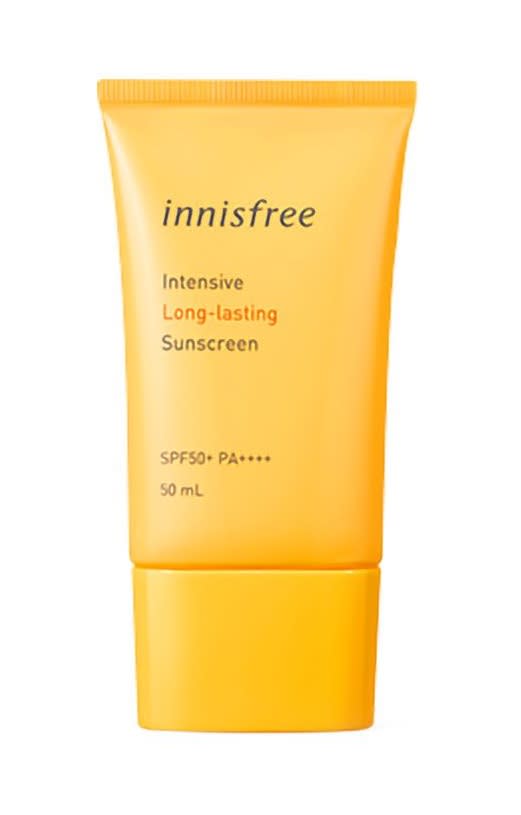 Check Innisfree Intensive Long Lasting Sunscreen SPF50+ PA++++ price below:
add_circle
Non-sticky application
remove_circle
Might not be suitable for sensitive skin
Everyone knows that inadequate sun protection can result in premature ageing. This is why this popular Korean brand Innisfree makes it easy for you to maintain a forever-young complexion with its 3-in-1 Intensive Anti-Pollution Sunscreen that combats and slows down ageing signs while providing good sun protection and whitening abilities.
Features:
Featuring skin-loving ingredients like niacinamide, vitamin E, and Centella, the moisturizing sunscreen does not only provide a chemical and physical shield for your skin against harmful UVA/UVB rays, it even works to smoothen and brighten up your skin for a youthful complexion.
Additionally, it even features an anti-pollution formula to prevent fine dust particles from sticking to your skin. This means that you won't have to worry about fine particles or dirt clogging up your pores after a stroll through the city.
Performance:
Many users have raved about how long-lasting and easy it is to apply this moisturizing sunscreen. The Innisfree Intensive Anti-Pollution Sunscreen even leaves a nice, refreshing scent and is waterproof to take on a rainy day.
---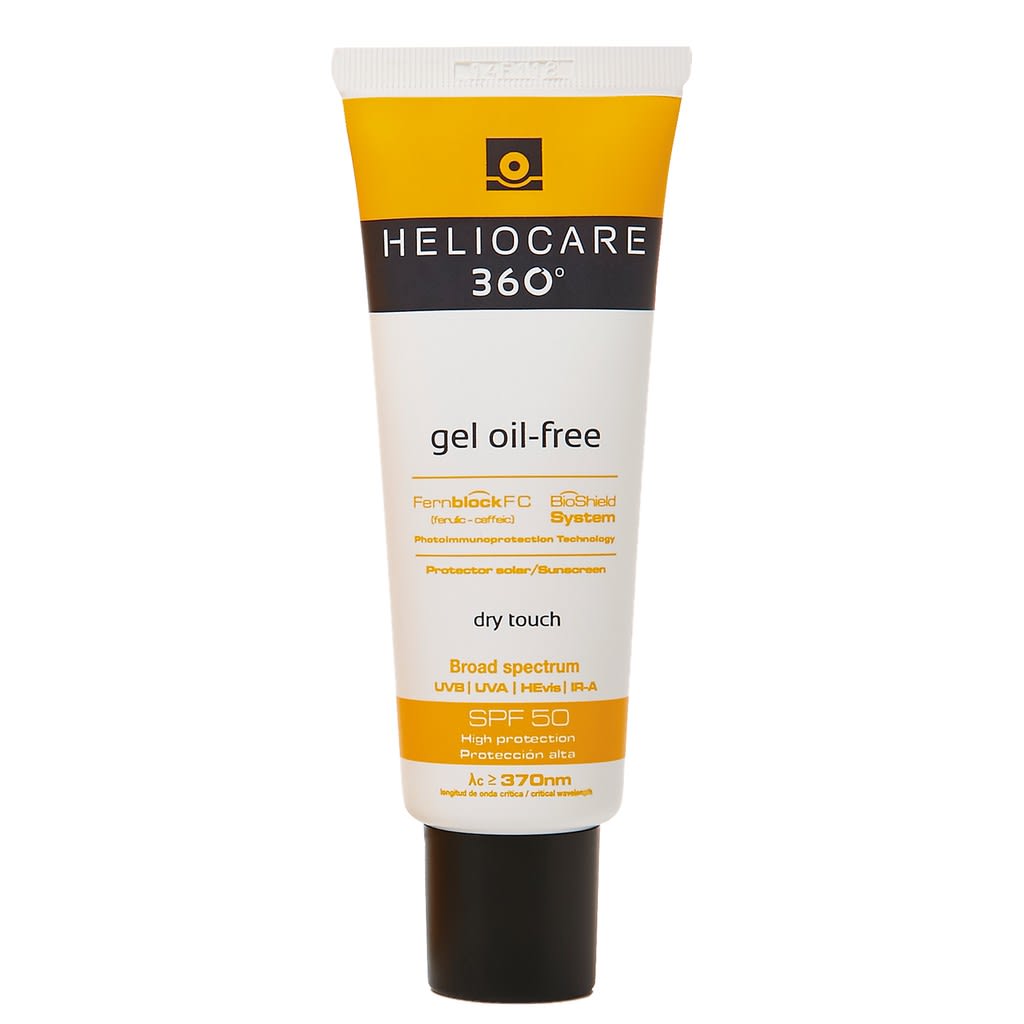 Check Heliocare 360 Gel Oil Free SPF50 price below:
add_circle
Good mattifying effect
add_circle
Glides on easily
add_circle
Does not clog pores
remove_circle
May be drying
Alcohol in sunscreen is great for its quick-drying effect and may appeal to those suffering from oily skin. However, this ingredient together with parabens may cause skin irritation, especially for those with oily-sensitive skin.
With sensitive skin people in mind, Heliocare has developed a whole new line of products called the 360° Revolution to provide all-around skin protection against daily environmental stressors without the use of harmful ingredients. No alcohol and parabens also mean less irritation to your skin!
Features:
Their skin-loving range - Gel Oil-free sunscreen, offers a unique SPF50+ to shield skin from a broad spectrum of UVA/UVB rays. The skincare product even features Heliocare 360° BioShield System of Fractional Biomimetic Melanin and Pro-Taurine for additional protection against high-energy visible light and infrared-A.
Additionally, the formula is enriched with powerful antioxidants and anti-microbial, sebum-controlling technology.
Performance:
This oil-free sunscreen is particularly great for reducing shine caused by our country's hot and humid weather. It is highly recommended for sensitive, acne-prone, and oily skin.
---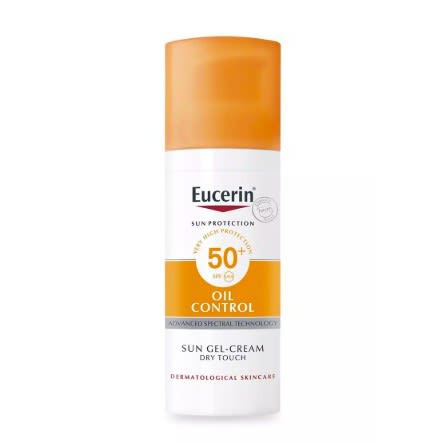 Check Eucerin Oil Control Sun Gel-Cream Dry Touch SPF50+ price below:
add_circle
Lightweight to wear
add_circle
Blends into skin quickly
add_circle
Does not leave behind any white or gray cast
Combining a thick layer of sunscreen with an oily complexion on a hot, summer day can feel like your face is just constantly melting. With Eucerin Oil Control Sun Gel-Cream Dry Touch, you can finally say goodbye to slippery formulas and makeup meltdowns.
Features:
This long-lasting sunscreen not only offers SPF50+ for high UV protection, it even features a sebum-regulating oil control technology and absorbing micro-particles to wick up any excess shine. This dry-touch sunscreen will leave your face with zero grease and oil that ensure a perfectly flawless makeup look.
Performance:
Several users on Shopee have also compared the Eucerin Oil Control Sun Gel-Cream Dry Touch SPF50+ to Biore's Watery Gel, saying that this is a more expensive version of the Japanese alternative.
In any case, the Eucerin Oil Control Sun Gel-Cream Dry Touch is exceptionally light, and reviewers even say it blends into skin quickly without leaving a grey or white film behind. With this, you'll never have to worry about patchy foundation as it acts as the perfect base pre-foundation for oily skin.
---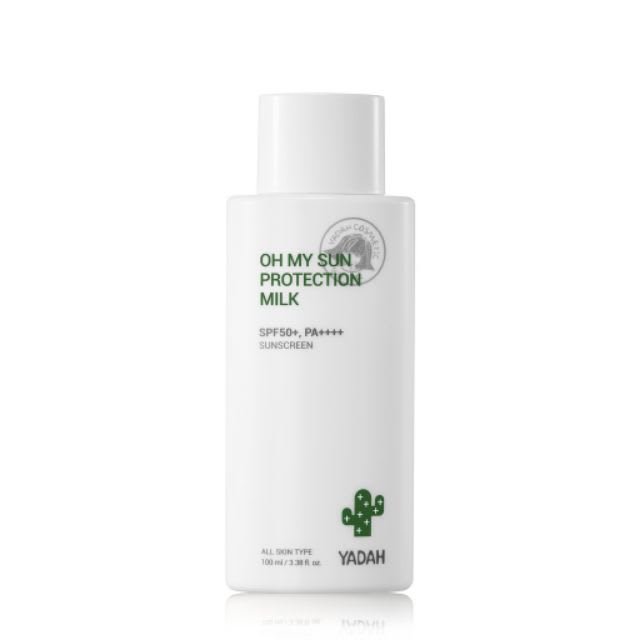 Check Yadah Oh My Sun Protection Milk SPF50+ PA++++ price below:
add_circle
Mild and non-irritating formula
add_circle
Minimal white cast
remove_circle
Might cause tiny bumps
remove_circle
Might be dry for some
Zinc Oxide is the sunscreen gold standard that can block a broader range of the sun's rays. However, it is difficult to formulate zinc into wearable sunscreen, especially for darker skin because of its whitening effect. Thankfully, this South Korean beauty company has gotten it right with its Yadah Oh My Sun Protection Milk formulation!
Features:
No irritating properties, heavy texture, stickiness, and oiliness is the company's promise to its customers as their comfortable sunscreen adheres to your skin without leaving an unappealing white cast. Made with plant-based ingredients, this sun protection milk is even EWG verified to be safe for the entire family, including kids.
The product leaves a flawless matte look when drying down, making it perfect for those with oily skin. However, we'd recommend for those with dry skin to moisturise first before applying this sunscreen.
Infused with prickly pear cactus, lavender oil, and Centella Asiatica extract, this sunscreen soothes and calms skin on top of providing powerful broad-range UV shielding effects.
Performance:
While there are several reports saying that the product did cause some tiny bumps, most customers love how mild and easy-to-blend this non-irritating formula is.
---
Check Naruko Tea Tree Anti-Acne Sunscreen SPF 50 price below:
add_circle
Formulated to prevent acne
add_circle
Contains Salicylic Acid and Tea Tree Oil for treating acne
remove_circle
May be sensitising for sensitive skin
This top-selling sunscreen for acne-prone skin is much loved for its ultra-lightweight formula. The multitasking super SPF wonder is a great option for anyone who wants daily sun protection without clogging their pores.
Features:
Combining both physical and chemical protection, this SPF50 sunscreen from Naruko effectively shields a broad range of harmful sun rays from reaching your skin. The Titanium Dioxide even leaves a naturally soft and matte finish to produce a healthy glow.
With salicylic acid, tea tree oil (a well-known ingredient to help control acne), and anti-acne factor infused into its formula, the Naruko Tea Tree Anti-Acne Sunscreen prevents buildup and acne for a smooth complexion. Its plant-based extracts even work to provide intense hydration to diminish any signs of ageing.
Performance:
One thing you should take note of is that this product does leave a faint tint and might leave a white cast if applied too much. Some have also reported that it may feel greasy upon application, but it does dry up fairly quickly after.
While this product may be drying for some and not recommended for dry skin, this is still one of the best sunscreens for those with oily, acne-prone skin.
---
What is the best type of sunscreen for oily skin?
There are basically 4 types of sunscreen for the face: Lotion, gel, spray and stick.
Simply put, most lotion and gel types should suit your oily skin.
For the latter, it'll be your best bet as gel formulas are usually lightweight, letting your skin breathe easily.
Meanwhile, take care to go for matte or milk-based lotions as they'll dry down and set better than other lotion bases.
---
How to apply sunscreen onto oily skin?
The rule here for good sunscreen adherence to your face is as long as you've cleansed off excess oil, your moist skin is prepped to receive sunscreen.
If you leave cleansing out of the routine, oil that's already set on your face may prevent the sunscreen from sticking well.
We recommend cleansing, followed by a moisturiser and finally a sunscreen in terms of skincare routine.
---
Which sunscreen ingredient should you stay away from if you have oily skin?
The one sunscreen ingredient that those with oily skin should stay away from is

Homosalate

.

This is a UV-absorbing ingredient that will actually accumulate in our body much faster than we can get rid of.

If that happens, it then becomes toxic and can disrupt our hormones!

What's worse is that since it has very weak UV-filtering functionality, many companies end up putting

a lot

of Homosalate into their sunscreen products just to deliver decent SPF protection.
---
Chemical/Mineral vs physical sunscreens for oily skin?
The main thing to know is how they wear and work on the skin, which is an important factor in deciding a sunscreen/sunblock for your oily skin.
Chemical & mineral sunscreens:
These ones contain ingredients to help form a sort of chemical protection and absorb UV rays before it damages your skin.

Due to the nature of how they work, the formulas tend to not leave a white cast nor is it going to harm coral reefs.

With that, they are also lightweight, but the con is that they break down and lose their effectiveness gradually over time.

It is with this fact that they are great for oily skin but would require reapplication for every 2 hours of sun exposure.
Physical sunscreens:
Meanwhile, these ones add a physical layer of protection literally on top of your skin, effectively blocking and reflecting every inch of your body from harmful UVA and UVB.

This would mean white casts are bound to happen as they won't sink into the skin.

Though this doesn't sound nice to wear, there are formulas that are made with a water base to ensure a lightweight feel.

Still, it won't be as comfortable as chemical variants, but they will do very well for extended time out in the sun as they are a 'stronger and more resistant layer of sun protection.

Reapplication is still recommended, but with a time frame of 4 - 5 hours of sun exposure.
---
More related sunscreen recommendations: