Acne is an inevitable struggle that almost all of us go through during our teen years. But for some of us, it's still haunting us to this day. It's no doubt that most of us are definitely not thrilled about dealing with acne on a daily basis.
Not only that, but we have to take care that our body and face wash are moisturizing enough to keep the skin happy and nourished naturally. But worry not, we have listed a few products that might be of some help!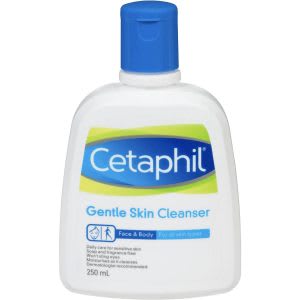 Check Cetaphil Gentle Skin Cleanser price below:
add_circle
made to not clog pores
add_circle
Benefits that protects against signs of skin sensitivity
add_circle
Paraben-freeSoap and fragrance free; you can use this without needing water
remove_circle
Contains alcohol which might feel drying
If you have dry skin with acne and are looking for a body wash that won't make the dryness and acne worse, you should probably give Cetaphil's Gentle Skin Cleanser a try. Its mild and non-irritating formula is great to cleanse the skin of impurities without stripping the natural oil off the skin.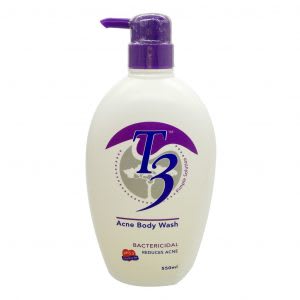 Check T3 Acne Body Wash price below:
add_circle
Eliminates bacteria
One of the best drugstore body washes available in the T3 Acne Body Wash. It is formulated with Triclosan and Tea Tree Oil, helping rid of pimple-causing bacteria. Use it daily to see a difference, less acne, and less worry.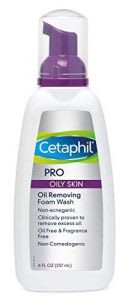 Check Cetaphil Pro Oil Removing Foam Wash price below:
add_circle
Removes dirt and oil without stripping excess oil
add_circle
pH balanced formula
add_circle
Works to remove and maintain oil-levels on the skin
remove_circle
Does not lather
Are you aware that pregnancy can trigger acne? If you're experiencing this at the moment, the Cetaphil Pro Oil Removing Foam Wash is safe to be used during pregnancy as it is non-comedogenic and has a hypoallergenic formula. Zinc technology in the product also helps to reduce oil, shine and acne.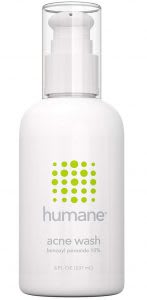 Check Humane Benzoyl Peroxide 10% Acne Treatment Body & Face Wash price below:
add_circle
Effective in clearing blackheads
Have acne-free skin with Humane's body wash which contains 10% benzoyl peroxide. The ingredients in its formula kill bacteria and prevent future breakouts. However, if you have sensitive skin, it is best to avoid using this product as it has the maximum strength of benzoyl peroxide. As for those with severe acne, this is your little magic in a bottle!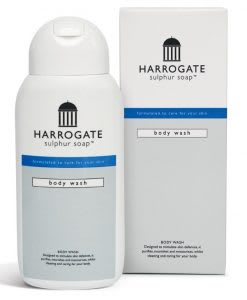 Check Harrogate Sulphur Body Wash price below:
add_circle
Nice, fresh scent
add_circle
Many benefits to the skin including on diabetic wounds, ringworms and rosacea
Looking for a product which is great for acne, eczema and keratosis pilaris? You should take the Harrogate's Sulphur body wash into consideration. It is safe enough to be used on all skin types as well as other skin conditions as it does not contain mercury and parabens.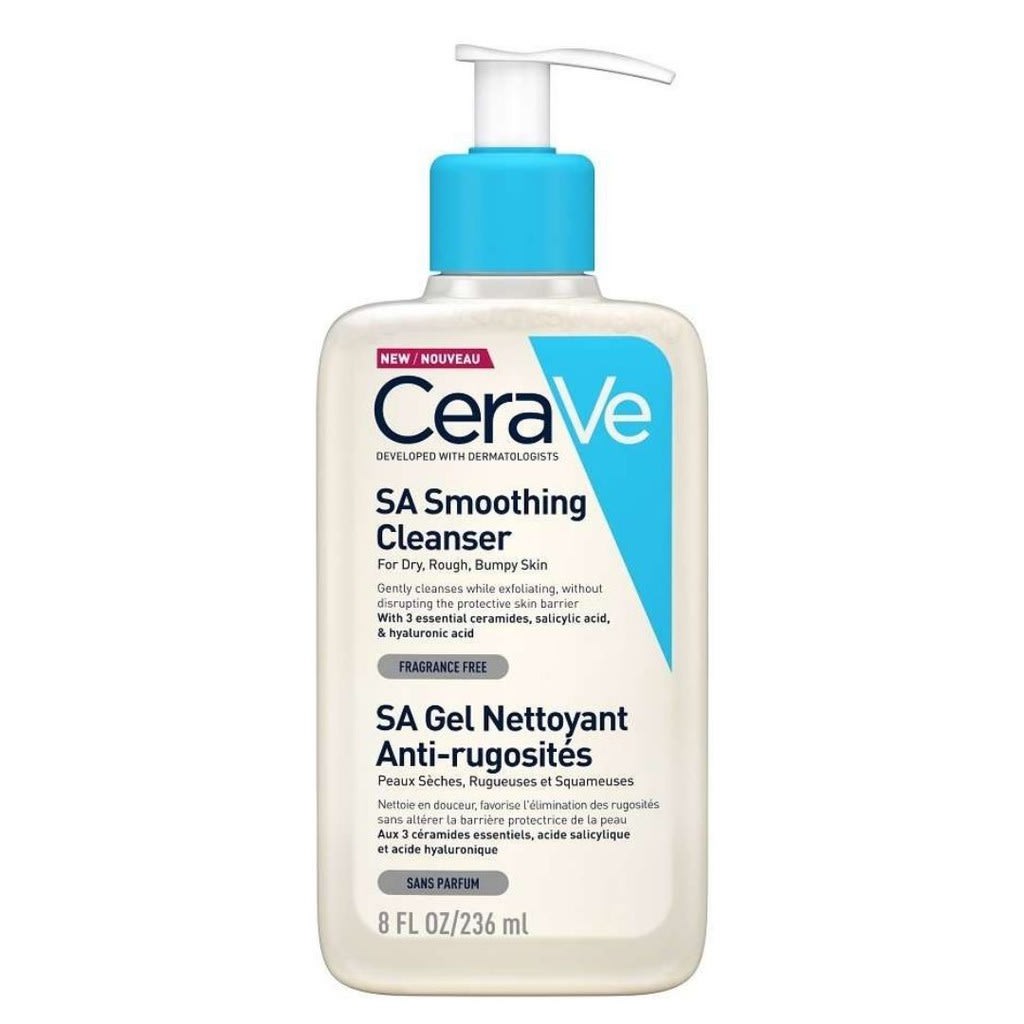 Check CeraVe SA Smoothing Cleanser price below:
add_circle
Non-comedogenic
add_circle
Fragrance-free
add_circle
Enriched with antioxidants such as Vitamin D
add_circle
For face and body
remove_circle
Limited availability
Looking for a product which is great for acne-prone, sensitive skin? This cleanser by CeraVe not only gently exfoliates dead skin cells with its Salicylic Acid content but also contains Hyaluronic Acid to attract and retain moisture to the skin. The formula also contains 3 types of ceramides to help protect the skin. This face and body wash is safe enough to be used on all skin types as well as other skin conditions.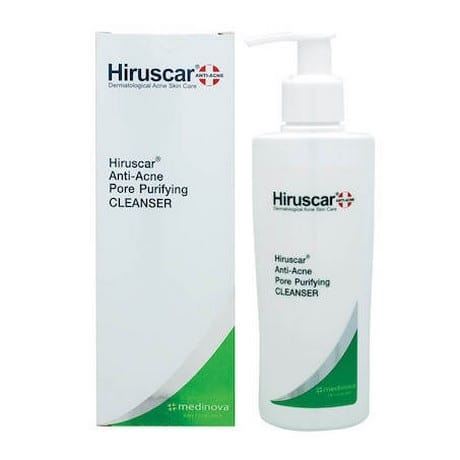 Check Hiruscar Anti-Acne Cleanser price below:
add_circle
Packed with antioxidants
add_circle
Contains Salicylic Acid
add_circle
Lightens old acne scars
add_circle
Can be used on the face and body
Overview
Aside from hygiene and clogged pores and acne can be a result of the skin's sensitivity reaction. With that said, irritated sensitive skin may lead to breakouts even when hygiene and oil-water balance of the skin is in check. In cases like this, a soothing anti-acne cleanser would do the trick in keeping acne away.
Hiruscar Anti-Acne Cleanser can be used on the face and the body. Simply apply this gentle cleanser to your skin and wash thoroughly. As an anti-acne cleanser, its formula stars Salicylic Acid which is a powerful anti-acne ingredient known to keep the pores clear to prevent future breakouts. 
Product Details
Keeps pores clear with Salicylic Acid, MPS and Vitamin C

Mild formula to prevent reactive breakouts

Helps to lighten previous breakouts with Vitamin C
Who is this for?
This cleanser is great for those who tend to break out as a result of sensitive skin. It is also helpful in lightening previous breakout scars thanks to its Vitamin C. On top of that, it is convenient as it can be used on both the face and body.
FAQ:
- What type of body wash should I choose for body acne?
There is no single formula that would be suitable for all users with body acne simply because the cause of acne is so vast and treating the cause would be more effective than treating the symptom (acne) itself. 
Indeed, we cannot treat hormonal acne simply with a body wash. However, we can soothe, diminish and facilitate the healing of acne when a gentle formula with soothing ingredients is present in the body wash.
It is great to have Vitamin C in the formula as it plays a role in reducing signs of inflammation like redness and swelling after an acne flare.

 

Next, users should be on the lookout for body wash with Tea Tree Oil which contains Benzoyl Peroxide as it aids in killing acne-causing bacteria.
Benzoyl Peroxide alongside other ingredients like Salicylic Acid, Alpha Hydroxy Acids (Glycolic Acid and Lactic Acid), Azelaic Acid and Sulphur help to unclog pores, preventing future breakouts in oily areas of our body.
Lastly, pay attention to moisturising ingredients like Hyaluronic Acid, Glycerin or other humectants and choose accordingly to your skin type and needs.
---
- How else can you safely treat body acne besides using an acne body wash?
Besides using an acne body wash diligently, you should practice not scratching or popping any pimples as it will lead to scarring. This is because by touching them, bacteria can be transferred from your hands to other parts of your skin. 
Therefore, it's good to practice a hygienic daily habit of keeping your body clean and refrain from touching sensitive areas such as your facial skin with your bare hands. 
---
- After trying on so many different products, nothing works for me. What should I do? 
Not every product works will work for some individuals, as different bodies will have different reaction outcomes. In fact, this problem is also the same for facial skin. An ingredient might react better to your skin than another one. Hence, learning more about your acne and trying different products with different ingredients is important.
If the problem persists and does not seem to improve, you'll have to seek appropriate treatment from medical professionals accordingly as leaving acne untreated may leave long-term scarring.
Related articles