It's no secret that tap water contains a myriad of bacteria, viruses, and other contaminants from the outdoors, making it unhealthy and unsafe to drink. 
So, if you want to enjoy safer, cleaner, and better-tasting water without needing to boil it, you'll definitely need an indoor water purifier. Especially, one with a good filtration system that can filter while purifying your water from all impurities.
"Water purifier? Wait, are water purifiers and water filters the same?" The short answer is no. What you'll want to know is that water purifiers can remove more contaminants besides bacteria than water filters! In short, they have better filtration capabilities so you have more pure or even alkaline water.
So, interested in buying a water purifier? After much reading, here is our list of the best water purifiers (Malaysia market), all at an affordable price that we've found out about. Whether it's a water purifier from Panasonic or Coway, we also touch on the filtration system that they have.
You can also check out the main differences between a water purifier and a water filter right after our list of water purifier recommendations.
---
Top 8 Water Purifiers for Homes and Offices in Malaysia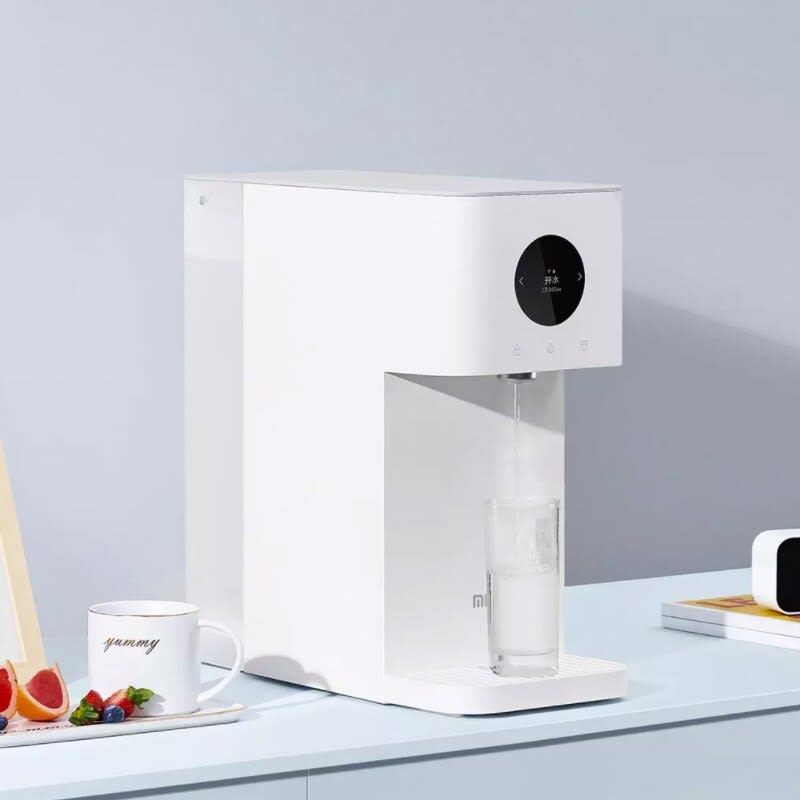 Check Xiaomi Mijia Smart Water Purifier Dispenser MRH112 price below:
add_circle
Water temperature control as low as 1 degrees difference
add_circle
Very simple to set up; just plug and play
add_circle
Heats up water in as fast as 3 seconds
add_circle
Very affordable for its list of features
Overview
Water purifiers generally don't come cheap. Even if they do, the purifiers might lack adequate features to make them a worthy buy. Luckily, the Xiaomi Mijia Water Purifier Dispenser MRH112 doesn't just feature a great price tag, but also a reliable water purifying system.
The MRH112 is first and foremost designed to be simple to operate, featuring a plug-and-play set up and it is in a desktop design for easy placement. Like many other Xiaomi Mijia home appliances, you can also control the MRH112 via Xiaomi's accompanying smart app where you can monitor the water level and control its temperature (options from 40 - 95 degrees). 
Most importantly, the water purifier utilises not just a 6-level Reverse Osmosis filtration and purification level to clean water for drinking; it also has a built-in UV Antibacterial Lamp to help clear off unwanted viruses. Last but not least; the purifier's composite filter is also designed to be easily replaced on your own.
Details
Reverse Osmosis filtration - water purification designed with a heating element
2100W heating power
Utilises a 6-fold fine filtration system
1.2L pure water tank
Replaceable composite filter
App Intelligent linking
Who is this for?
While the quality of its durability is not guaranteed, this is still a sound choice for first-time water purifier users or for those who have a very tight budget. It's all-in-all a promising purifier that meets your essential water purifying needs well.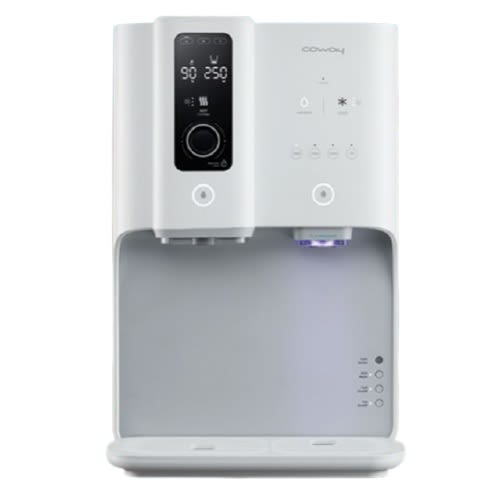 Check Coway Ombak Water Purifier price below:
add_circle
Large hot water storage capacity (3.4L)
add_circle
Additional water outlet enables usage even during a blackout
add_circle
Preset functions available for water preferences.
Overview
Coway's Ombak Water Purifier is designed to meet Malaysian household needs by providing clean water for all drinking and cooking purposes. This water purifier delivers clean water via reverse osmosis in which water is purified through five different filters. It even goes the extra mile by sterilising water with UV light in every extraction. 
Additionally, users can choose their preferred water volume and temperature too. Besides having additional water outlets and a multipurpose faucet for kitchen use, it also features a silent mode, power saving system, and child safety lock for every parent's peace of mind. 
Details
Purification method: Reverse Osmosis

Filtering capacity: 3.2L/hour

Water pressure: N/A
Who is this for?
The simple design of this water purifier is an easy suggestion from us for all. Users can enjoy the convenience of having the right water temperature for their cup of tea, half-boiled eggs, and baby's milk with just the push of a button.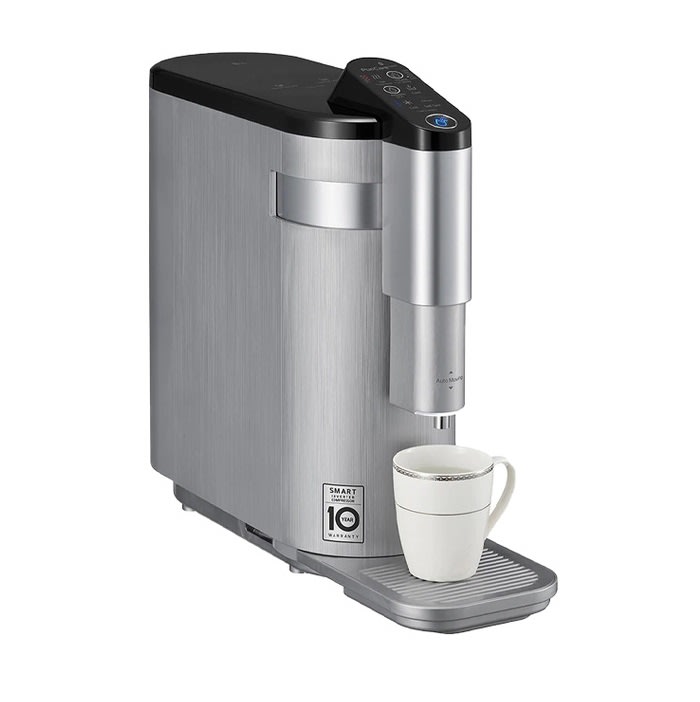 Check LG PuriCare Tankless Water Purifier WD516AN price below:
add_circle
4-stage filtration system
add_circle
Space-saving slim design
add_circle
Unique 180° rotating tap
add_circle
One-touch operation
Overview
Smartly designed with care; the LG PuriCare WD516AN tankless water purifier's 4-stage filtration system thoroughly gets rid of heavy metals and contaminants like mercury, arsenic and fine particles. So not only does that help to retain healthy minerals in the water; but your drinks will also taste natural and refreshing.
Other than safety, this slim purifier doesn't take up much kitchen space. LG has designed it to have a 180° rotating tap, letting you easily adjust the position of the purifier.
Speaking of which, there's also an auto sterilisation system that sterilises the internal water pipe and water outlet. Finally, the purifier makes replacing the filters as easy as twisting and pulling them out.
Details
4-stage filtration system including Pre-Carbon Block+ for 9 heavy metals removal & ultra filtration for virus removal

Auto sterilisation that sterilises internal water pipe and water outlet whenever you want

Easy filter replacement by simply twisting and pulling to replace the filters, thanks to the knot design

Super slim design & 180

° rotating tap

for easy water access
Who is this for?
At first glance, the LG PuriCare WD516AN's slim design and rotating tap combo don't just make it simple yet elegant to use.
As this tankless water purifier offers a thorough 4-stage filtration system for safe drinking water, we think the price is right, especially if you opt for its DIY self-service rental price of RM60 per month. It is why this option is great for people who care about purifier efficiency as well as simplicity and upkeep.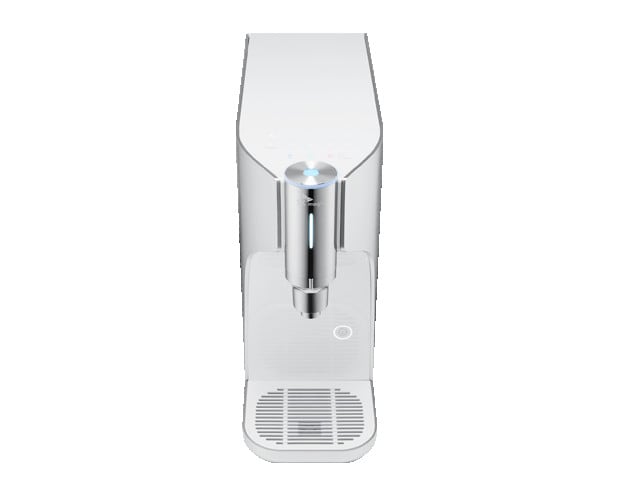 Check SK magic JIKSOO Hyper price below:
add_circle
Minimalist and easy to use
add_circle
Fair price (not too pricey)
add_circle
Thorough, advanced filtration system
add_circle
Water available at various temperatures
Overview
Just like most of SK magic's tankless water purifier line, the JIKSOO Hyper is made with its advanced JIKSOO Technology. This tankless technology allows the JIKSOO Hyper to deliver instant fresh water at various temperatures. 
Not only that, but JIKSOO Hyper ensures purified water that is automatically sterilised every 2 hours with its UV-C wave steriliser to clear 99% harmful microbes. 
Its 3-filtration system works to remove the likes of not just bacteria but also viruses, microplastics, parasites, organic debris and even metals like lead and iron. This is all done while letting essential minerals in the water pass through, even after microbes are killed by the ultraviolet UV-C steriliser. What do you get in the end? Just the freshest, cleanest water possible!
Details:
Features a slim build (W170mm x D490mm x H390mm)

304 Stainless Steel Waterway for increased hygiene

7 water temperatures to choose from: 90°C - ideal for coffee; 70°C - ideal for tea infusion; 45°C, 50°C or 55°C - optimal for baby formula; Ambient Water; Cold Water

Multiple Volume Control: 120ml, 550ml, 1L

Child-Friendly button for easy access and prevention of hot water accidents

Adjustable Smart Moving Tap (3CM up and down)

Multi-filtration: Sediment, Carbon Block and Nanotech PAC
Who is this for?
SK magic JIKSOO Hyper's mission is simple; to provide clean, pure water that is full of minerals. 
Choose SK magic's JIKSOO Hyper and you'll never have to worry about bacteria from stagnant water harbouring in the tank. For those who'd like to keep maintenance fuss-free, the JIKSOO Hyper fits the bill for an alright price. Plus, it's minimalist in design and good-looking!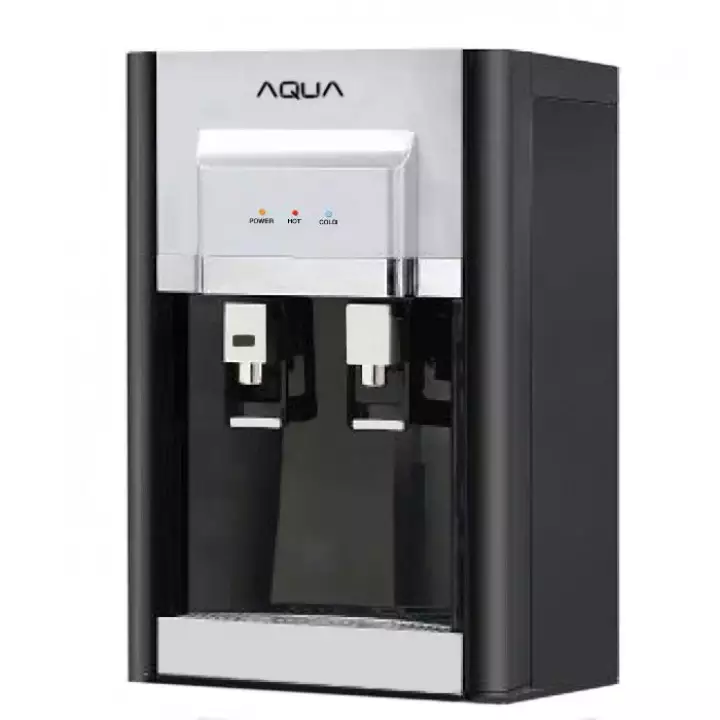 Check Aqua Kent Coral Table Top Hot Cold Normal Water Purifier price below:
add_circle
3 different water temperatures
add_circle
Corrosion-free stainless steel tank
add_circle
Fully automatic operation
add_circle
Resilient towards power fluctuations
Overview
Craving a cup of coffee or a glass of iced tea? the Aqua Kent Coral Table Top Water Purifier has got you covered.
This unit supplies you with hot, cold, and normal-temperature water which is safe for consumption and washing food ingredients. It is constructed with food-grade, non-breakable plastic to provide you with completely clean, purified water. Also, its hot and cold water dispensers are equipped with a fully automatic operation, so there is no need for manual intervention.
Details
Purification method: Ultrafiltration system
Filtering capacity: 40L/hour
Water Pressure: N/A
Who is this for?
Due to its versatility and huge water capacity production, this water purifier is suitable for not just homes, but also hotels, offices, and events to cater to a big crowd!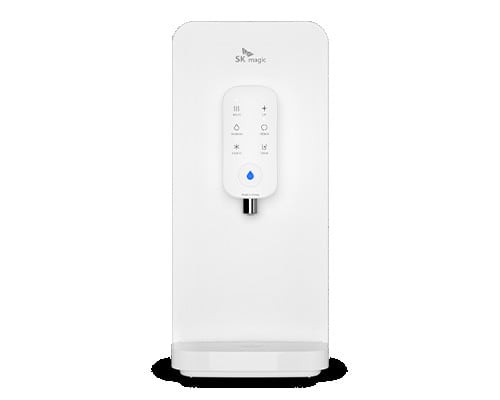 Check SK magic JIKSOO Ria price below:
add_circle
Bacteria-free water
add_circle
Energy-efficient
add_circle
Child-lock feature
add_circle
Automated UV sterilisation water tab
remove_circle
Only 2 volume choices
Overview
It takes a lot of energy and time to cool and heat up water with electricity. Thankfully, there's this tankless water purifier that promises to deliver cold and hot water right away, offering an energy-efficient solution.
Ensuring that your water is always fresh, JIKSOO Ria's tankless technology does more than just eliminate the chance of bacteria breeding in stagnant water. To deliver instant hot and cooled water, the JIKSOO Ria utilises a Ceramic Hot Module & Ice Bank Technology, all without the need for a tank.
Not only that; the SK magic JIKSOO Ria delivers bacteria-free water thanks to its 99.9% automatic UV sterilisation feature that works every 2 hours.
Together with its Nanotech filtration system, this water purifier will remove chlorine, odour, bacteria, viruses, microorganisms, heavy metals and even microplastics while maintaining minerals. To add, the purifier has 3 water temperatures (Hot - 85°C, Ambient and Cold - 4°C) for your convenience.
Details
Purification method: Nanotech filtration 

Filtering capacity: Direct-from-source

Water pressure: 1.2 bar / 120Kpa
Who is this for?
SK magic JIKSOO Ria's simple intuitive touch display makes this model looks really sleek and will fit into any home space, especially given the fact that it's only 21cm wide. Plus, its simple yet effective water purifying system makes this purifier easy to use and maintain for life.
Additionally, the purifier consumes about 730Wh of power daily. That converts to about just RM5 per month worth of your electricity bill!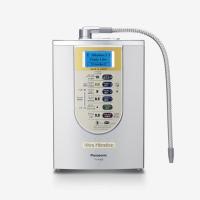 Check Panasonic Alkaline Water Purifier TK-AS65-ZMA price below:
add_circle
Big water volume capacity
add_circle
Advanced water purification
add_circle
Water is great not just for consumption into the body but also for skincare
remove_circle
Very pricey
Overview
To note, there's not much benefit to drinking Alkaline water compared to the usual water purifier. What it means to have alkaline water is that the pH levels of the water are enhanced, meaning that it can taste nicer. So if you're interested in a more neutral, refreshing water taste, this water purifier from Panasonic is for you.
Like its predecessor, Panasonic uses electrolysis to produce water of various pH to suit your daily needs. What makes this water purifier unique is that it's able to produce three forms of water: purified water, alkaline ionized water, and acidic water through its electrolysis process.
Regardless of what water you go for, the water purifier uses micro-filtration to remove impurities from all of them while ensuring the essential minerals remain intact.
Details
2.5L/min Filtration Flow Volume.
Generates 7 Kinds of Water: 4 Levels Alkaline, Purified, 2 Levels Acidic
Ionized Water Output Volume 1.2 L/min. at 100 kPa Water Pressure
Alkaline ionized water is safe to drink, improves gastrointestinal function, and can be used effectively for cooking.
Purified Water Output Volume 1.6 L/min. at 100 kPa Water Pressure
Advanced Water Purification with Ultrafiltration Membrane Removes Viruses and 99.999% of Bacteria
High-Performance 4-stage Filtration Removes Harmful Substances: JIS 13 + JWPA 4 Substances
Who is this for?
Another benefit? Purified water is most suitable for making baby's milk; alkaline water is suitable for drinking and cooking, whereas acidic water can be used as an astringent for the skin. So if you want great-tasting, clean water for the body and skin, this is the water purifier to go for.
Additionally, users attest to the product's effectiveness in providing clean water and observed improvements in their family's health after the purchase of this water purifier.
FAQ:
- Water purifier vs water filter
The terms of both water purifier and water filter are often used interchangeably. But the truth is, both are quite different from each other.
On water filters

, they remove waterborne bacteria, protozoa, and pollutants using physical barriers. While they

're able to remove even the tiniest of particles, water filters are not very effective against viruses and chemical contaminants, as these can easily pass through the barrier due to their size. (Keyword: Reduce contaminants)
Water purifiers, on the other hand, not only remove what water filters remove, but also minerals from the water, particularly biological contaminants. It does so through 4 purification methods: reverse osmosis, UV treatment, distillation, and deionization. They can even remove viruses, which are smaller contaminants than bacteria. (Keyword: Kill contaminants)
Compared to water filters, water purifiers are therefore more thorough in the filtration process, resulting in water that is almost 100% free from impurities. 
Related articles