It's no secret that tap water contains a myriad of bacteria, viruses, and other contaminants from outdoors, making it unhealthy and unsafe to drink. 
So, if you want to enjoy safer, cleaner, and better-tasting water without needing to boil it, you'll definitely need an indoor water purifier. Especially, one with a good filtration system that can filter while purifying your water from all impurities.
"Water purifier? Wait, are water purifiers and water filters the same?" The short answer is no. What you'll want to know is that water purifiers can remove more contaminants besides bacteria than water filters! In short, they have better filtration capabilities so you have a more pure or even alkaline water.
So, interested in buying a water purifier? After much reading, here is our list of the best water purifiers (Malaysia market), all with an affordable price that we've found out about. Whether's it's a water purifier from Panasonic or Coway, we also touch on the filtration system that they have.
You can also check out the main differences between a water purifier and a water filter right after our list of water purifier recommendations.
---
Table of Contents
---
Water purifier vs water filter
The terms of both water purifier and water filter are often used interchangeably. But the truth is, both are quite different from each other.
On water filters

, they remove waterborne bacteria, protozoa, and pollutants using physical barriers. While they

're able to remove even the tiniest of particles, water filters are not very effective against viruses and chemical contaminants, as these can easily pass through the barrier due to their size. (Keyword: Reduce contaminants)
Water purifiers, on the other hand, not only remove what water filters remove, but also minerals from the water, particularly biological contaminants. It does so through 4 purification methods: reverse osmosis, UV treatment, distillation, and deionization. They can even remove viruses, which are smaller contaminants than bacteria. (Keyword: Kill contaminants)
Compared to water filters, water purifiers are therefore more thorough in the filtration process, resulting in water that is almost 100% free from impurities. 
---
The Best Water Purifiers for Home and Office in Malaysia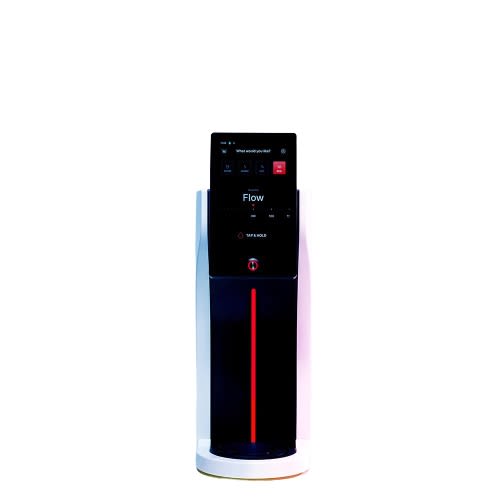 Check Snaptec Aurra Pro Water Purifier price below:
add_circle
Personalized themes and settings
add_circle
Flexible plan and pricing according to usage
add_circle
Comes with proprietary mobile app which pairs with Aurra
add_circle
Latest Nano+ Filtration
add_circle
Tankless design (Energy-saving)
add_circle
Custom temperature settings
add_circle
Constant new features with automatic updates
remove_circle
Requires Wi-Fi to fully operate at its best
remove_circle
Water trap a bit too small
If you want a water purifier that is the most modern and feature-packed, look no further than the Snaptec Aurra Pro Smart Water Purifier, a collaborative effort from Korea, Germany, China, and Malaysia.
Features:
The water purifier is extremely user-friendly, with its interactive touchscreen, dark and light themes as well as individual profiling. Aside from its Nano+ Quad filtration system, it has several complementary features such as the temperature setting. Not to mention, the water purifier comes with a proprietary mobile app on android and iOS that allows for things like hydration tracking, maintenance scheduling, and more.
Performance:
Many users love its tankless hot water and customisable water temperature features which ensure that the water is at the perfect temperature. 
Purification method: Nano-positive membrane
Filtering capacity: 0.001M Nano Filtration
Water pressure: N/A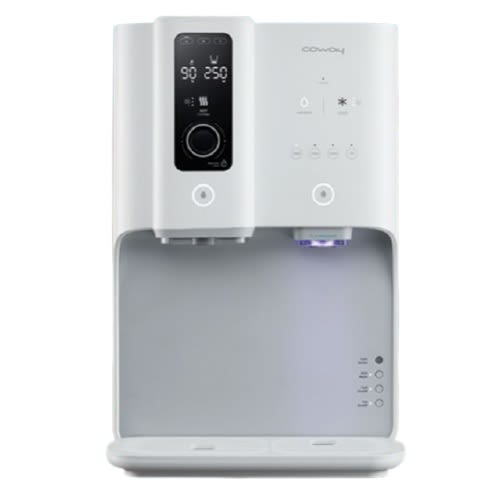 Check Coway Ombak Water Purifier price below:
add_circle
Large hot water storage capacity (3.4L)
add_circle
Additional water outlet enables usage even during a blackout
add_circle
Preset functions available for water preferences.
Coway's Ombak Water Purifier is designed to meet Malaysian household needs by providing clean water for all drinking and cooking purposes.  
Features:
This water purifier delivers clean water via reverse osmosis in which water is purified through five different filters. It even goes the extra mile by sterilising water with UV light in every extraction. 
Additionally, users can choose their preferred water volume and temperature too. Besides having additional water outlets and a multipurpose faucet for kitchen use, it also features a silent mode, power saving system, and child safety lock for every parent's peace of mind. 
Performance:
The simple design of this water purifier is an easy-suggestion from us. Users can enjoy the convenience of having the right water temperature for their cup of tea, half-boiled eggs, and baby's milk with just the push of a button. 
Purification method: Reverse Osmosis

Filtering capacity: 3.2L/hour

Water pressure: N/A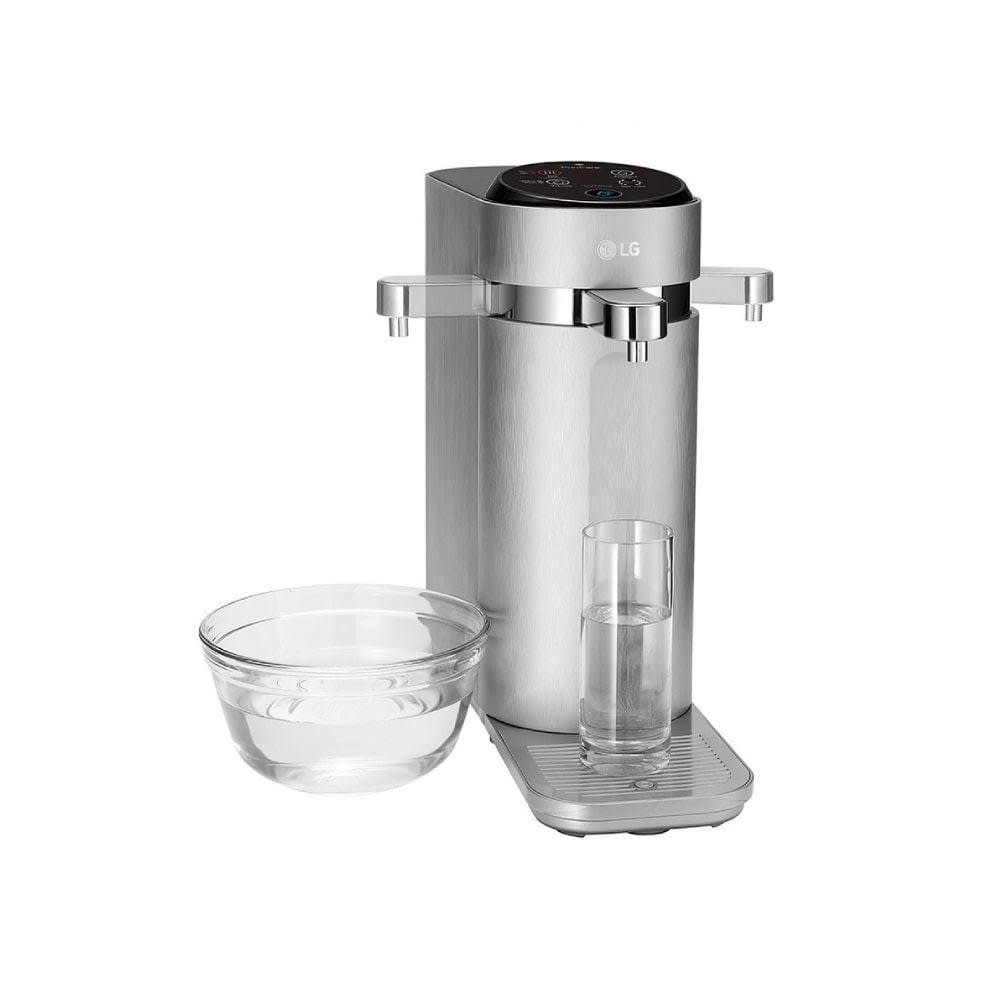 Check Tankless LG PuriCare Water Purifier LG-WD210AN price below:
add_circle
Smart design for ease of placement
add_circle
Straightforward menu settings
Did you know that animals prefer to drink fresh running water? Stagnant and still water is a breeding ground for bacteria and is considered an environmental hazard. That's why you'll never see huge home water tanks for drinking.
Not to mention, who wants to always boil water for drinking? Plus, not everyone fancies filtered tap water. Enter the Tankless LG PuriCare Water Purifier LG-WD210AN to deliver you freshwater.
Features:
The water purifier features a smart and sleek design, whereby the water outlet can be swivel in 4 directions so you can place it in a more convenient spot. Speaking of placement, it measures just 17cm in width from the front and 39cm in height, making this one of the smallest tankless purifiers to have at home.
In terms of its filtration and purifying capabilities, the water purifier utilises a 3-stage filtration system which comprises a Carbon Block Plus Filter, a UF Membrane Filter and a Post Carbon Filter. This is all followed by a UV sterilisation process to kill off any remaining bacteria and viruses.
Performance: 
Convenience is a big factor in this machine. Aside from the 180-degree swivel tap, the tankless LG PuriCare water purifier also offers ready-to-drink water instantly in 3 temperature modes: ambient, cold and hot.
Another appealing factor is that you can control the water purifier settings via LG's ThinQ mobile app.
Purification method: Ultra Filtration
Filtering capacity: 0.1 - 0.3 micron
Water pressure: N/A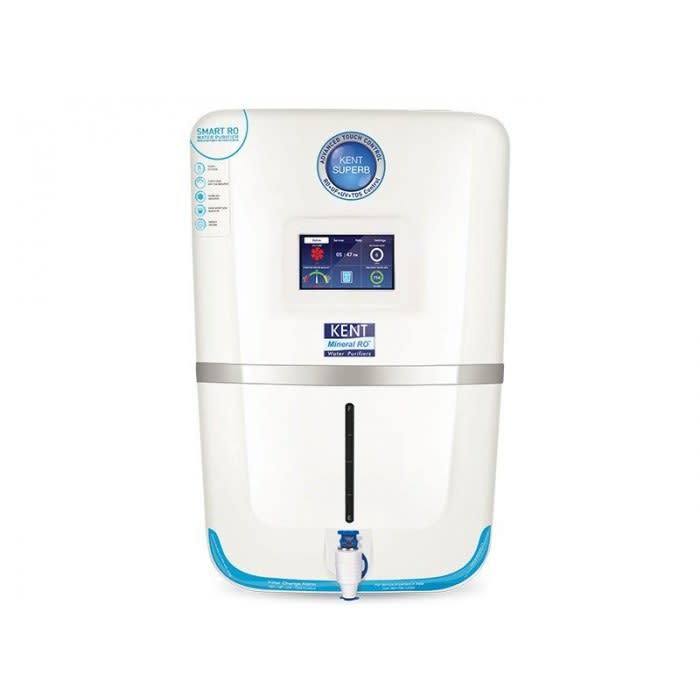 Check Aqua Kent Superb Alkaline RO price below:
add_circle
High storage capacity (9L)
add_circle
high filtration capacity (15L/hour)
add_circle
smart operation
remove_circle
Heavy and bulky design
With a filtering capacity of 15L/hour, this RO water purifier quickly delivers safe and tasty drinking water while retaining its natural minerals at a balanced pH.  
Features:
The Kent Superb uses a double purification of RO and UV sterilisation to remove dissolved impurities, ensuring 100% pure water. It boasts 9 litres worth of storage capacity and uses a computer-controlled operation. Not forgetting; its interactive touch screen interface allows users to monitor the likes of the RO flow rate, RO pump status, water quality, and balance filter life. 
Performance:
The water purifier's quick filtration rate and high storage capacity meant it's suited for home and office use, especially in areas that usually receive brackish water supply. 
Purification method: Reverse Osmosis

Filtering capacity: 15L/hour

Water pressure: N/A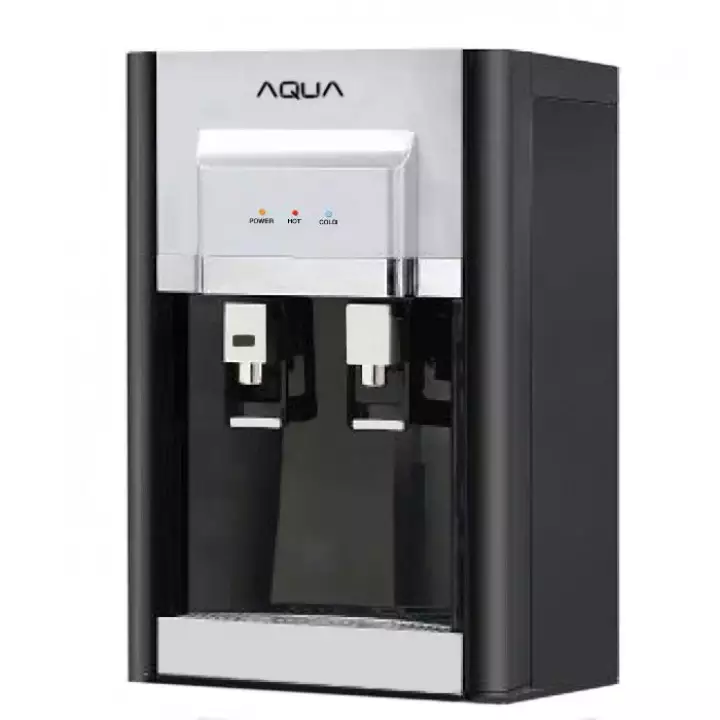 Check Aqua Kent Coral Table Top Hot Cold Normal Water Purifier price below:
add_circle
3 different water temperatures
add_circle
Corrosion-free stainless steel tank
add_circle
Fully automatic operation
add_circle
Resilient towards power fluctuations
Craving for a cup of coffee or a glass of iced tea? the Aqua Kent Coral Table Top Water Purifier has got you covered.
Features:
This unit supplies you with hot, cold, and normal temperature water which is safe for consumption and washing food ingredients. It is constructed with food-grade, non-breakable plastic to provide you with completely clean, purified water. Also, its hot and cold water dispensers are equipped with a fully automatic operation, so there is no need for manual intervention. 
Performance:
Due to its versatility and huge water capacity production, this water purifier is suitable for not just homes, but also hotels, offices, and events to cater to a big crowd!
Purification method: Ultrafiltration system
Filtering capacity: 40L/hour
Water Pressure: N/A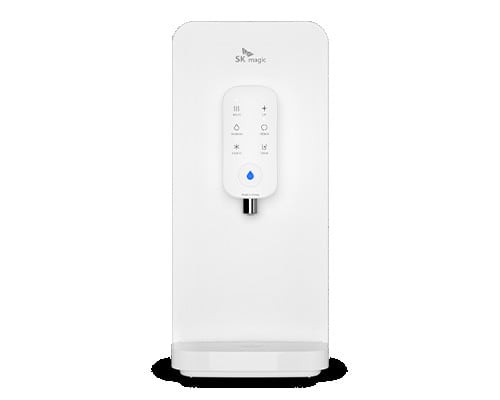 Check SK magic JIKSOO Ria price below:
add_circle
Bacteria-free water
add_circle
Energy-efficient
add_circle
Child-lock feature
add_circle
Automated UV sterilisation water tab
remove_circle
Only 2 volume choices
It takes a lot of energy and time to cool and heat up water with electricity. Thankfully, there's this tankless water purifier that promises to deliver cold and hot water right away, offering an energy-efficient solution.
Features:
Ensuring that your water is always fresh, JIKSOO Ria's tankless technology does more than just eliminating the chance of bacteria breeding in stagnant water. To deliver instant hot and cooled water, the JIKSOO Ria utilises a Ceramic Hot Module & Ice Bank Technology, all without the need for a tank.
The SK magic JIKSOO Ria delivers bacteria-free water thanks to its 99.9% automatic UV sterilisation feature that works every 2 hours.
Together with its Nanotech filtration system, this water purifier will remove chlorine, odour, bacteria, viruses, microorganisms, heavy metals and even microplastics while maintaining minerals. To add, the purifier has 3 water temperatures (Hot - 85°C, Ambient and Cold - 4°C) for your convenience.
Performance:
SK magic JIKSOO Ria's simple intuitive touch display makes this model looks really sleek and will fit into any home space, especially given the fact that it's only 21cm wide. Plus, its simple yet effective water purifying system makes this purifier easy to use and maintain for life.
Additionally, the purifier consumes about 730Wh of power daily. That converts to about just RM5 per month worth of your electricity bill!
Purification method: Nanotech filtration 

Filtering capacity: Direct-from-source

Water pressure: 1.2 bar / 120Kpa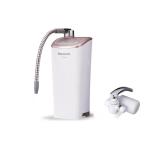 Check Panasonic Water Purifier Alkaline Ionizer TK-AJ11 price below:
add_circle
Removes 9 harmful substances from water
add_circle
Has 4 electrolytic capacity selections (3 levels alkaline, 1 level weak acidic)
add_circle
Compact design.
This water purifier from Panasonic uses electrolysis to produce water of various pH to suit your daily needs. 
Features: 
What makes this water purifier unique is that it's able to produce three forms of water: purified water, alkaline ionized water, and acidic water through its electrolysis process. 
Purified water is most suitable for making baby's milk; alkaline water is suitable for drinking and cooking, whereas acidic water can be used as an astringent for the skin. Moreover, this water purifier uses micro-filtration to remove impurities from water while ensuring the essential minerals remain intact.
Performance:
Users attest to the product's effectiveness in providing clean water and observed improvements in their family's health after the purchase of this water purifier.
Purification method: Ionisation 

Filtering capacity: 1.2L/min

Water pressure: 100 kPA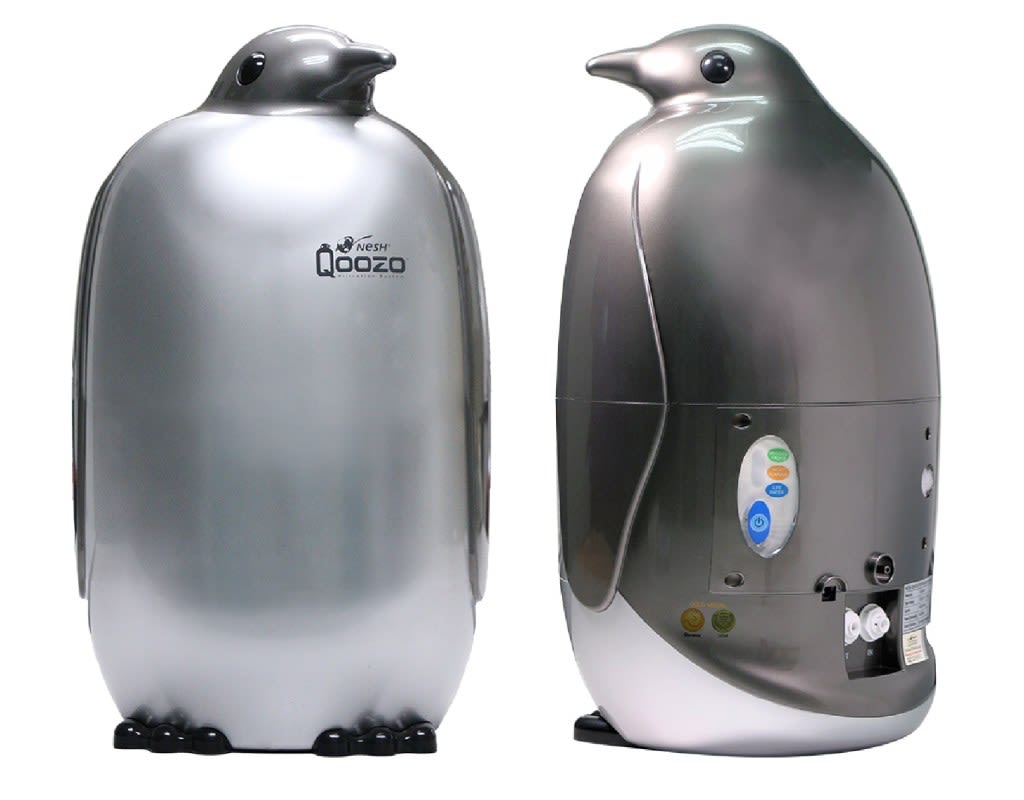 Check Nesh Qoozo Indoor Water Filter price below:
add_circle
Duo Water filtration + Ozonation system works great to provide clean water
add_circle
Several modes to cater to different tasks
The Qoozo Water Filter-Purifier from Nesh is so practical that it should be introduced to every household. Its 3 filters and 12 filtration layers provide users with the purest and healthiest water possible.
Features:
This filter's system is a combination of two technologies: water filtration and ozonation. For the latter, ozonation introduces trioxygen into water treatment and performs thorough water disinfection. Such a component is powerful in eliminating harmful organic compounds and microorganisms in the water. 
Additionally, the filter comes with several modes that are curated for drinking water, washing fruits & vegetables as well as cleaning meat & seafood. Switching between the modes is just a button away! 
Performance:
At first glance, this water filter-purifier seems to just be a gimmick, what with the cute appearance and premium price. But after looking at its elaborated filtered system which includes not just ionization but also ozonation capabilities, we find this to be a good investment for any household.
Purification method: Ionization (Ozone ions)

Filtering capacity: N/A

Water pressure: N/A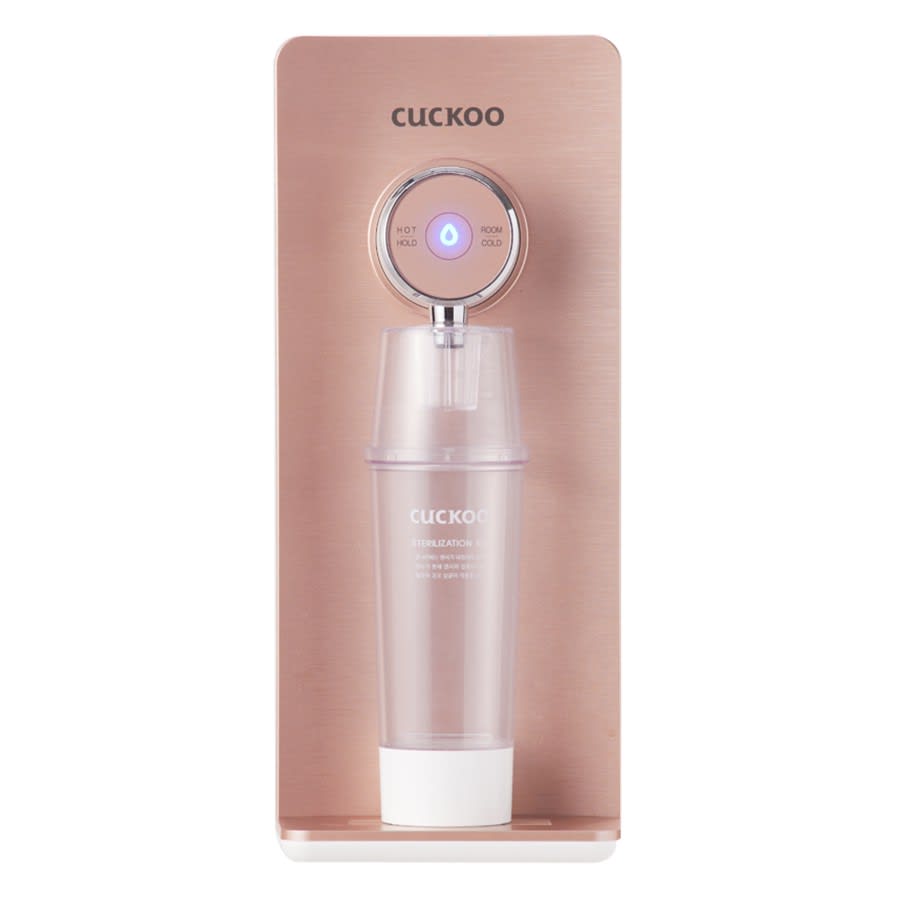 Check Cuckoo Prince Top price below:
add_circle
Stylish and slim design
add_circle
Smart temperature settings
add_circle
Voice navigation feature
add_circle
Three types of dispensing functions
remove_circle
Unable to store water in the event of a water cut
The Cuckoo Prince Top is Malaysia's first-ever tankless water purifier that allows for direct-from-source heating and cooling. 
Features:
Aside from its heating and cooling capabilities, this smart water purifier features several dispensing functions and temperature settings for your convenience. It also has an integrated voice navigation system that informs you of the water extraction process. 
Moreover, both of its nano positive filtration system and auto electrolytic sterilisation ensure that your drinking water is always safe for consumption. 
Performance:
Aside from its sleek features, many users are a fan of its beautiful rose gold colour and its compact design. 
Purification method: Nano-positive filtration

Filtering capacity: Direct-from-source.

Water pressure: N/A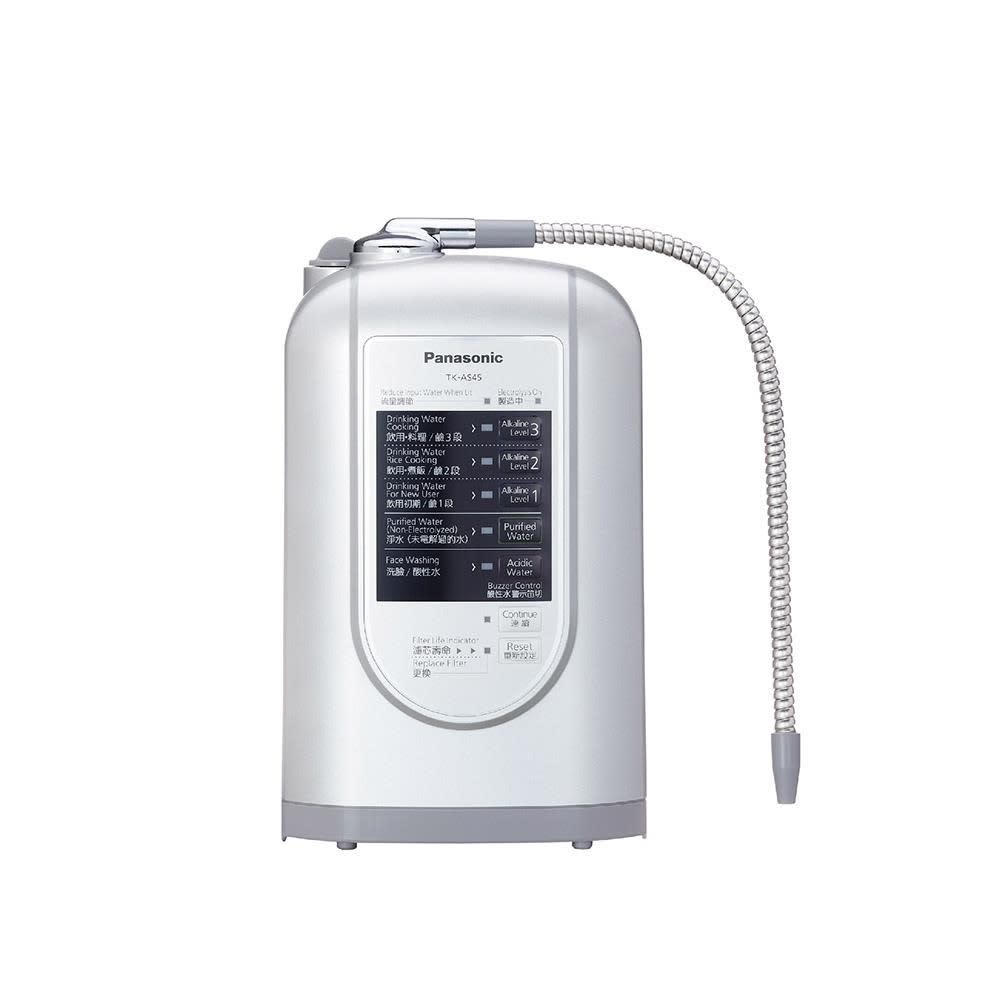 Check Panasonic TK-AS45 Alkaline Water Purifier price below:
add_circle
Yearly water purification capacity of 12,000L
add_circle
Proven to improve gastrointestinal system
add_circle
Has a removable and washable spout
add_circle
Multiple pH levels to choose from
add_circle
Several modes for difference water usage (e.g. skincare, drinking)
Installing an alkaline water purifier such as the Panasonic TK-AS45 Alkaline Water Purifier is always a smart move, as alkaline water neutralises the acid in your body.
Features:
This water purifier's 4 layers of filtration ensure that the water is thoroughly filtered and purified, allowing it to filter up to 13 + 4 impure substances. And for your preference, it has the menu option for you to set the purifier from 3 alkaline pH levels and 1 acidic pH level. 
Performance:
Removing up to 99.9% of bacteria while retaining essential minerals in the water, this water purifier isn't just great for your family's health, but also for the food that you'll be cooking the water with.
Purification method: Powdered activated carbon & ionization

Filtering capacity: 2.5L/min

Water pressure: 100 kPa