Needless to say, your personal fitness is non-negotiable. A treadmill for your home can be a great investment down the road considering that it grants you more flexible options, ranging from light running to walking and exercising at any time you like.
If your goal is to exercise more, then a treadmill is a great way to do that.  To help you choose the right treadmill, we've done our research to identify the best kind for you based on the specifications you should have, followed by how it can benefit you.
Scroll on to shop this list of the best treadmills for your home.
---
Top 8 Treadmills in Malaysia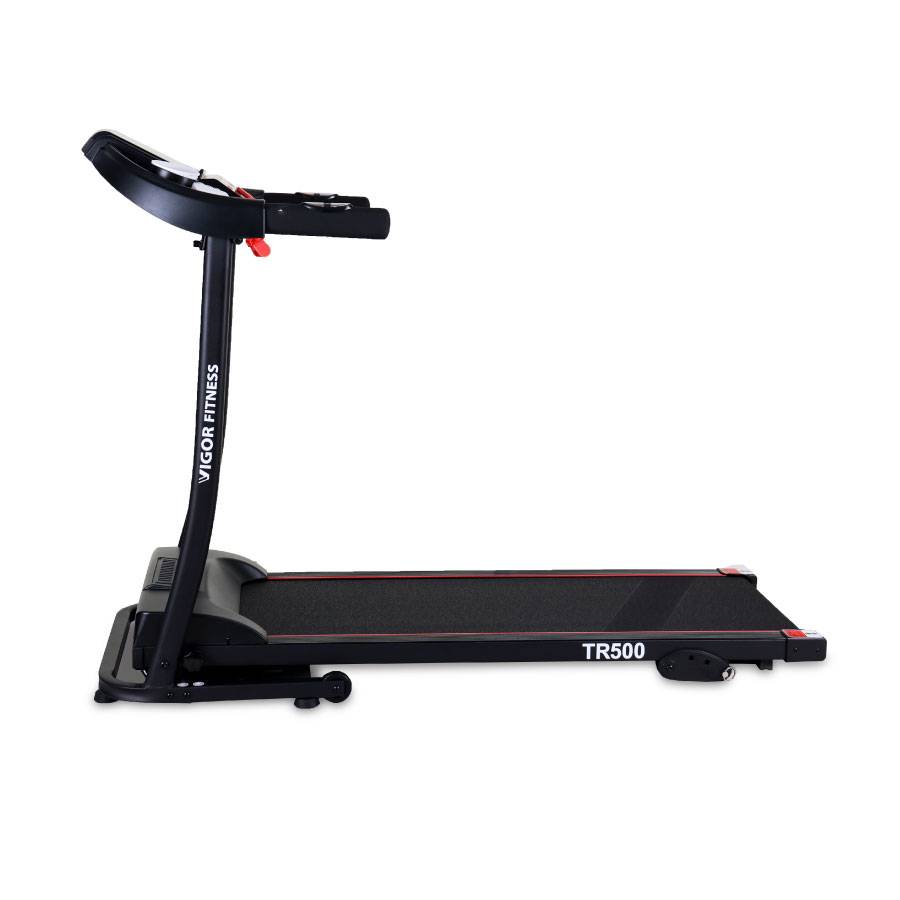 Check Vigor Fitness TR500 3.5HP Treadmill price below:
add_circle
Easy-folding system
add_circle
High-quality build
add_circle
Has a built-in speaker
remove_circle
Limited inclination adjustment
If you're looking for a well sought-after treadmill among Malaysians, this TR500 3.5HP treadmill with manual-folding capability should be on your list.
Overview:
It is powered by a 3.5 Horsepower motor and has a reasonable speed range from 0.8 to 12km/hour, covering all the bases needed for most runners. 
The treadmill's console encompasses a wide range of options, ie: speed, distance, calorie, pulse and body fat to help you better track your performance. However, the availability of adjustment is minimal; the incline is capped at 5% at maximum, which may turn you off due to its restricted intensity and variation to your workout.
Performance:
Users are pleased with this treadmill. For under RM1000, its quality is satisfactory; it functions well and isn't too noisy. Plus, set-up is easy too. However, according to one review, those who weigh 75kg and above may experience a bit of shaking.
Reasonably priced, this is an excellent choice for beginners who are just starting their fitness journey or who want to run casually. If you're looking for something of high intensity, this may not be the treadmill for you.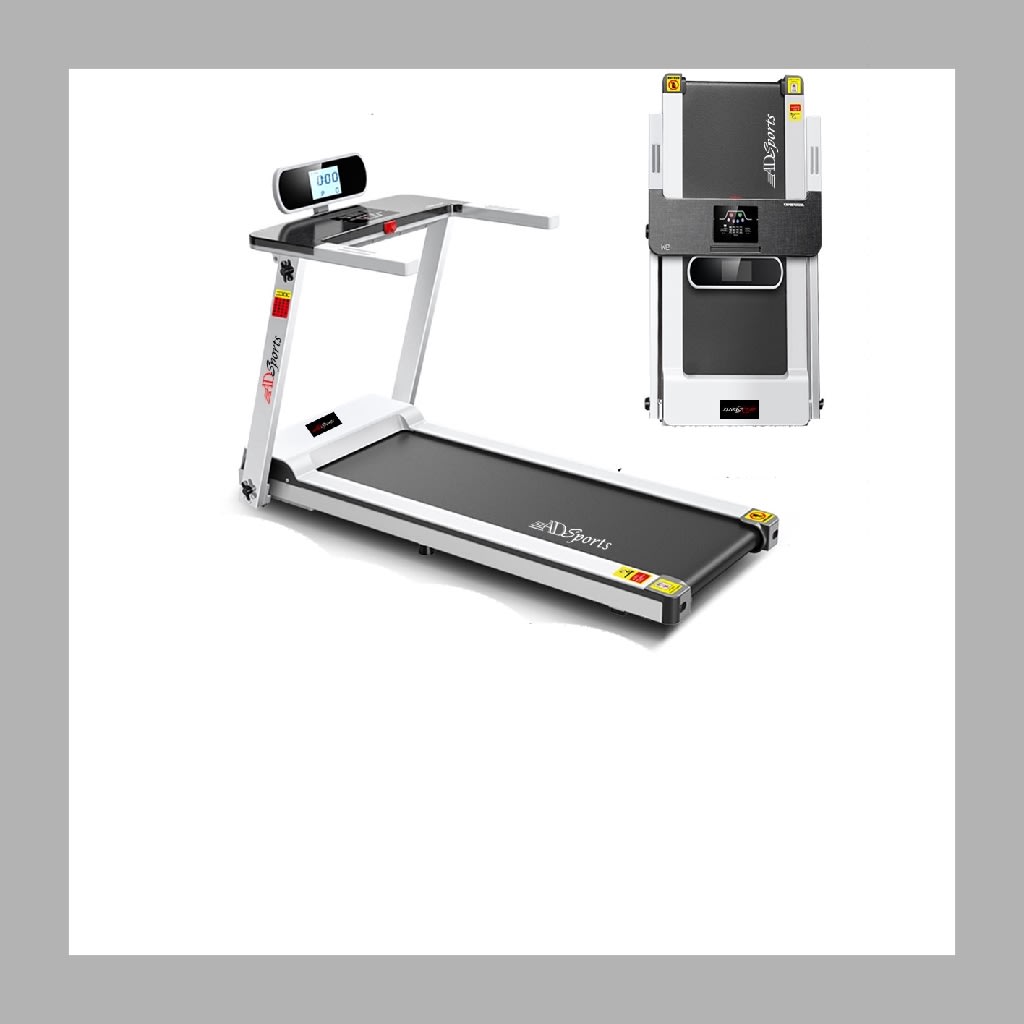 Check 3.5HP ADSports AD520 Luxury Super Slim 58 cm Running Platform price below:
add_circle
Easy installation
add_circle
Super space saving
add_circle
Adjustable angle panel display according to different heights
remove_circle
No inclination
Though slightly on the pricier side, with this treadmill, you could have everything you've been asking for and maybe even more than you bargained!
Overview:
It comes with a wide 350mm platform, with its speed reaching up to 14 km/h, and a 3.5 horsepower energy-efficient motor. Inclusive of 7 layers of shock absorption treatment, it can reduce the mutual force generated during running. With an adjustable LCD panel that displays your calories, speed, time, distance, and heart rate, it can ensure a more productive working out session so you know you're getting the most out of it.
Unfortunately, it does not come with any inclination mode, therefore, it is not suitable for professional runners who enjoy a more challenging run.
Performance:
With this treadmill in your home, you can focus on your health and fitness with its built-in 12 auto exercise programmes and 4 Flexi planning modes. Though it might not be suitable for professional runners, but if you're a regular runner that wants to just get in a daily jog to reach your step count then this might be for you!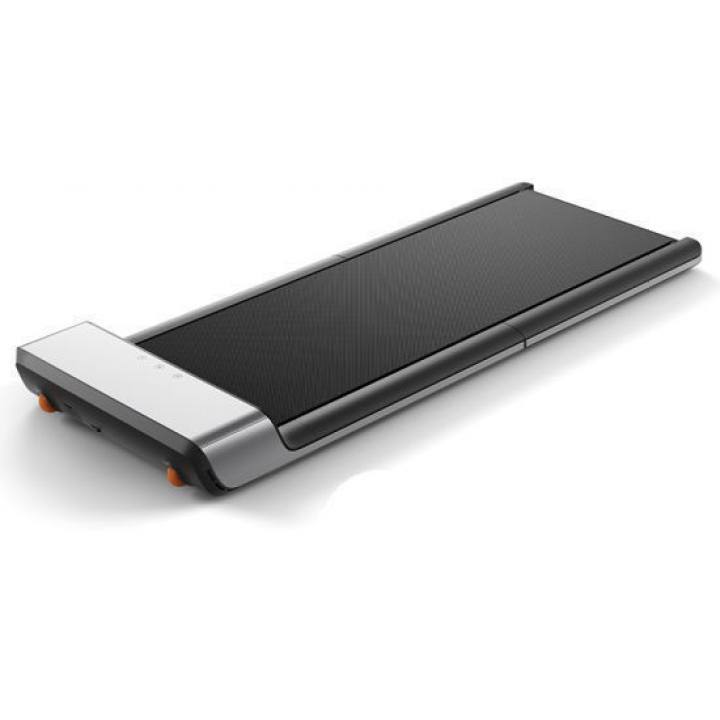 Check Xiaomi Mijia WalkingPad Treadmill A1 price below:
add_circle
Easy-folding system
add_circle
Cast workout stats to TV
add_circle
Low noise operation
add_circle
Unique workout tracking guide
remove_circle
Not for high-intensity training
remove_circle
A little heavy
Power walkers, this one's for you!
Overview:
This is not your usual treadmill. Instead, it's a solid productive machine designed for walkers to enjoy low-impact forms of exercise. Thanks to its foldability and portability, it allows you to place it at any corner of your home or even in the office so you won't have any excuse not to slot some exercise into your day.
It is also packed with a sundry of features such as high precision sensor and hidden LED display to enhance your workout experience.
Performance:
The Xiaomi Mijia WalkingPad Treadmill A1 is great for light exercise and achieveing your daily 10k steps goal. On another note, the WalkingPad's unique selling point can be its very own drawback too considering it is less versatile since it does not cater to runners. 
Since it's foldable, it can be stored when not in use if lack of space is an issue for you. Unfortunately, though easy to store and technically portable, reviews mention that it's a little heavy.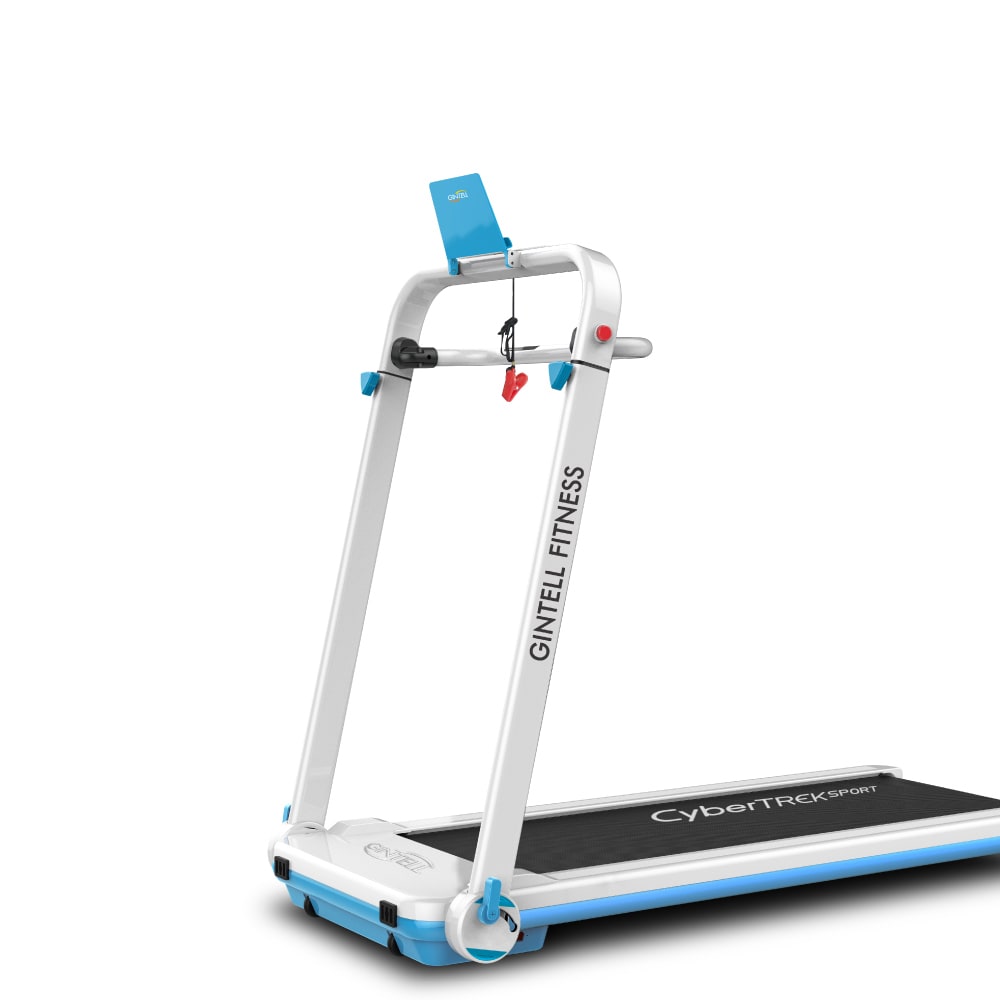 Check Gintell CyberTREK Sport Treadmill price below:
add_circle
Adjustable height
add_circle
Cushioned running deck
Gintell's CyberTREK Sport Treadmill is ideal for the elderly.
Overview:
It comes with a sufficient 2.0 horsepower motor and its height is adjustable for more comfortable use. The machine is also convenient to carry around or to store when it's not used thanks to its folding system.
There isn't any cutting edge technology but it does offer exactly what is needed for seniors, such as footsteps and heart rate measuring systems as well as a built-in cloud cushioning on its running deck to deliver better protection for joints. 
Performance:
Despite its decent features and specifications, its price may be a little steep for some. However, we think its worth buying due to its quality and useful user-friendly features.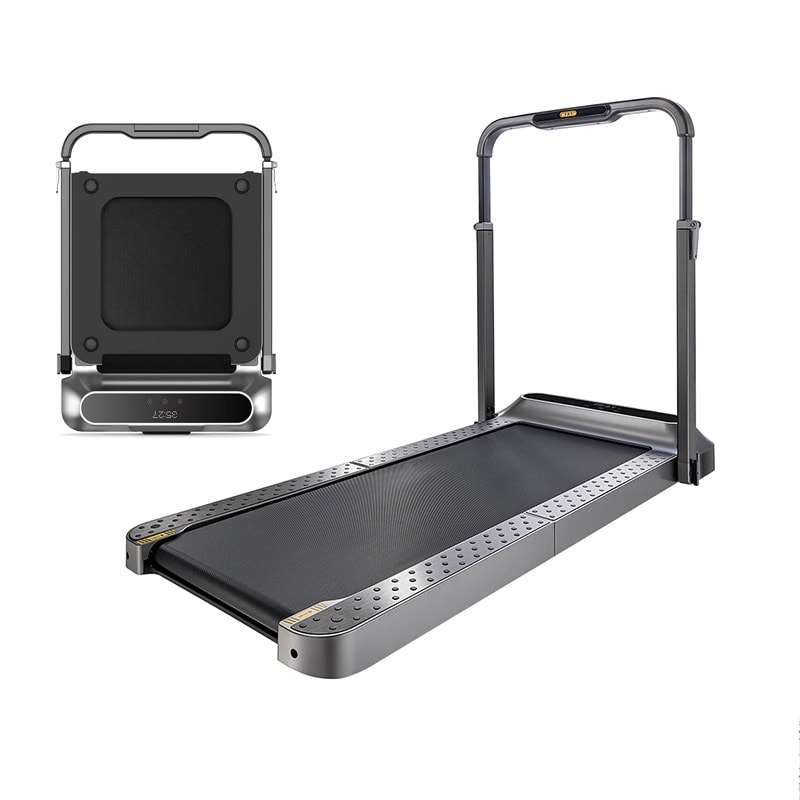 Check Xiaomi Kingsmith R2 Walking pad Foldable Treadmill price below:
add_circle
Bright LED display
add_circle
Users up to 110kg can use this treadmill
add_circle
EVA cushions that ensures every step is being absorbed
remove_circle
No inclination
The KingSmith XIAOMI Walking Pad Foldable Treadmill R2 is the ideal choice if you're looking for a small treadmill that will fit conveniently in your home.
Overview:
This compact treadmill will for sure blow your mind away as to how compact it is. Not only is it foldable, but it is able to be folded small enough to fit under a sofa! With its sleek design, this treadmill's speed goes up to 12 km/h and you can control the speed of the treadmill on your own just by stepping on certain areas of the deck. Small as it is, it's also easy and comfortable to use, hence, it's great for beginners!
Important to mention: this treadmill emits a low hum when being used but it's low enough that you can focus on something else while working out.
Performance:
This smart treadmill has intelligent foot speed control where you can control your own speed without having the need to press buttons and will remain stable even when you're running at maximum speed.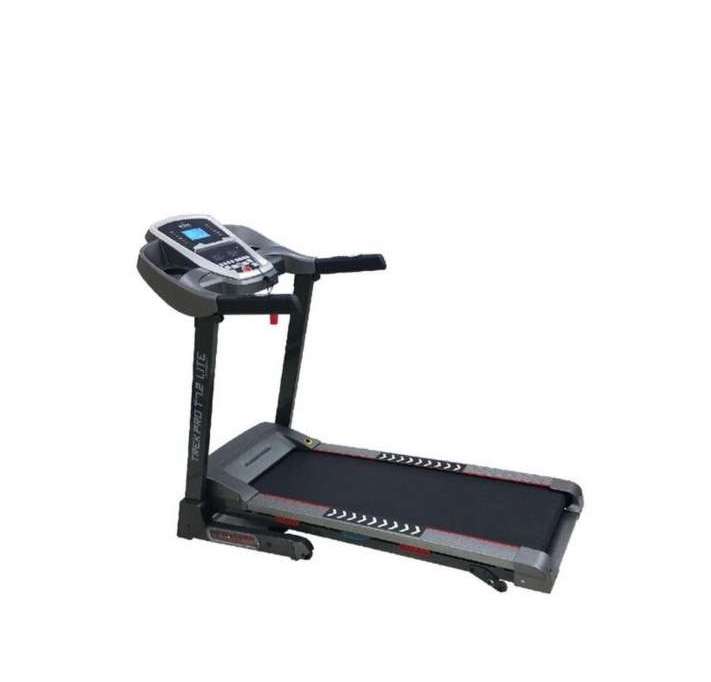 Check OGAWA Trek Pro T7.2 Lite price below:
add_circle
12 Built-in pre-set workout programs
add_circle
Cushioned running deck
add_circle
User-friendly info screen
remove_circle
Limited inclination angle
Ogawa's Trek Pro T7.2 Lite is intended for beginners or entry-level users due to its easy and intuitive-to-use control panel.
Overview:
With a maximum horsepower of 2.0, this treadmill also offers MP3 player with speakers to keep you entertained throughout your workout session.
Not compromising on the features, it provides up to 12 pre-set workout programmes. Its double cushion system is also one of its notable features which provide great cushioning and support to prevent any discomfort and pressure on the knees or ankles during your run. 
Performance:
The OGAWA Trek Pro T7.2 Lite has a comparatively low incline of up to just 2% which is admittedly less than ideal. But, if you're just starting out, it might not be a deal breaker for you.
With a near perfect 5-star rating, buyers are pleased with it. Plus, an OGAWA representative will even set it up for you so you won't have to deal with any hassle.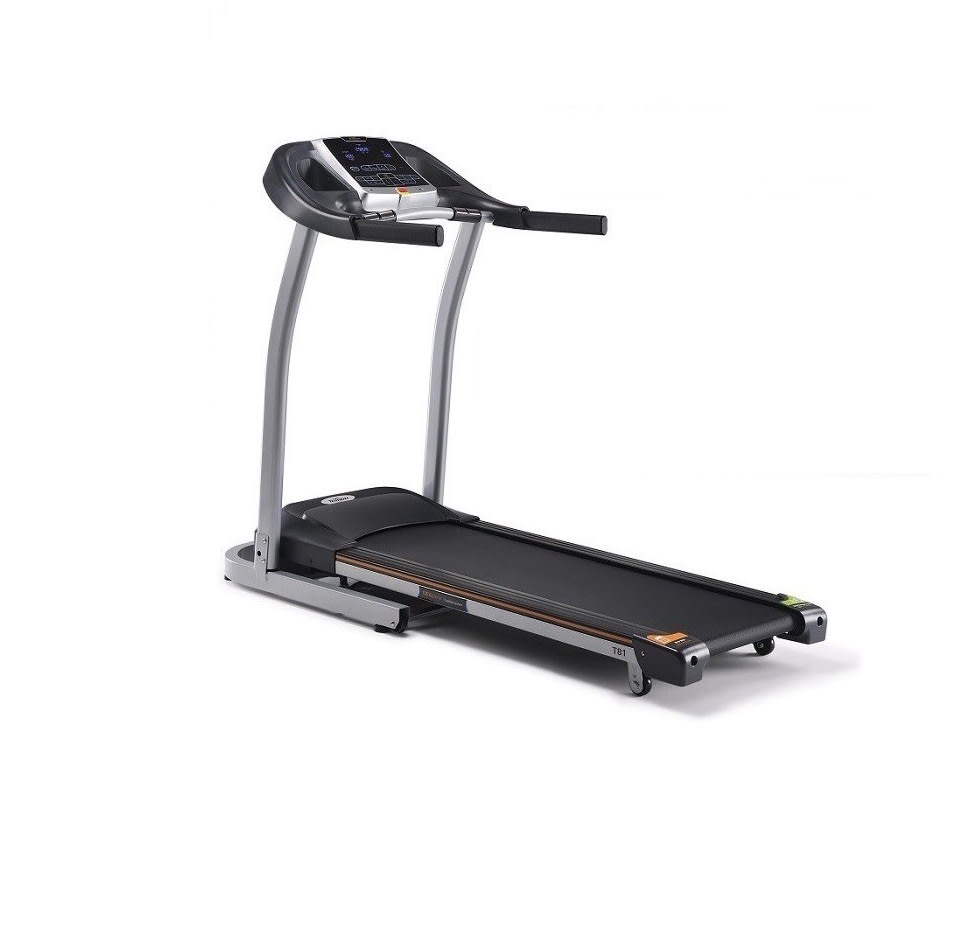 Check Johnson Fitness Tempo T81 price below:
add_circle
Thick running belt
add_circle
Athlete-friendly indicators
add_circle
Wide range of speed options
add_circle
Has a heart rate indicator and BMI test
remove_circle
Not many built-in workout programmes
Johnson Fitness Tempo T81 is a fine choice for many serious runners because it offers everything that could want.
Overview:
For starters, it has ample running space and a multi-accessory control panel. The speed range on this machine ranges from 0.8km to 15km/hour. 
Other features that make this treadmill pleasantly is its high-density 1.6mm thick running belt which offers a sweet mix of both comfort and durability. There's also a BMI test and a heart rate indicator which are extremely runner-friendly to help you monitor your workout progress.
Performance:
It has 5 built-in programmes( Manual, Cal Goal, Weight loss, Leg Toner, & 10K Steps) so you can choose accordingly but if you'd like to tweak the settings then you should go with the 'Manual' setting. Besides, it comes with a 10-year warranty for the drive motor and welding frame so you can have some peace of mind should any issues occur during this period.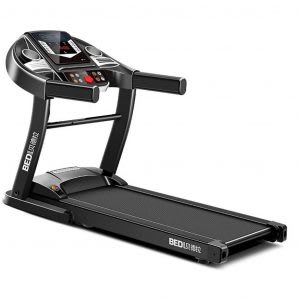 Check BEDL Motorized Folding Treadmill price below:
add_circle
Solid shock absorption
remove_circle
Basic on-screen info available
If you're looking for an affordable treadmill, consider the BEDL Mini Treadmill. It ticks all the boxes of what an entry-level treadmill should have, such as a wide running belt, adjustable slope and suction cups at the bottom to keep you safe at all time. 
This treadmill also has shock absorption, thanks to its built-in buffer rubber. Moreover, the foldable system is a plus point since it is a helpful feature to free up floor space when it is not in use. 
Considering its entry-level price point, you shouldn't expect many analytic features to track your performance such as heart rate monitoring.
Motorized vs non-motorized treadmills
The main difference between these two treadmills is that non-motorised ones are powered and goes as fast as you do. Speed and calculation are done by how fast you move on the treadmill, offering a more natural and flexible ride.
Due to the absence of motors and wiring attached, it's easier to place them AND you can save some more on electricity bills. These treadmills are suitable for if you prefer to customise sets of exercises that include running.
Meanwhile, the opposite holds true for motorised treadmills. These treadmills usually offer more acute adjustments and in-depth analysis of your run. They are also a more popular choice and is apparent in gyms, allowing you to challenge yourself with the multiple presets they have on them. For that, they are great for various styles from walking and sprinting.
---
How to choose a treadmill?
A treadmill is a great investment for your health. Consider these factors when picking out a treadmill for your home.
Space
You need to decide where you'll place the treadmill. Once you've allocated space for it you can then narrow down your options based on size. If it's not going to fit in your designated space, there's no point in looking at it.
Additionally, if space is a concern for you, then look out for ones that can be folded when not in use.
Budget
Think about how much you're willing to spend. Are you looking for something that's cheap, mid-range or premium?
While you shouldn't exceed your budget, do ensure that you're getting the highest quality for the price you're paying. Also take the features you want into account as that will be reflected in its price.
Features
Depending on the kind of workout you want to have, decide on what features you need to achieve your fitness goals.
Incline
An incline increases the intensity of your workout and maximises calorie burn.
Programmes
Some treadmills even have built-in programmes with varying preset speeds and inclines. Cheaper treadmills tend to have less variety but will have the manual option for you to customize the settings to your preference and abilities.
Cushioning
No matter the price, cushioning is not something you should compromise on. The treadmill should be stable while you run or walk.
Power
You'll want a treadmill with a motor of at least 1.5 continuous-duty horsepower(CHP). However, if you're a consistent runner, 2.5 to 3.0CHP may be suitable, taking your weight into account too.
---
Related article