When you choose to be healthy, steaming your food is the key. Steaming is one of the most beneficial ways to prepare meals. Steaming cooks your food without adding fat while maintaining moisture and nutrients without harmful additives. But if you routinely steam vegetables and want to try new cuisines, a food steamer is the best kitchen appliance.
Are you looking for the best food steamer in Australia? Check out our top picks and reviews for the best food steamers to make your cooking experience easier.
---
10 Best Food Steamers in Australia 2023 - Reviews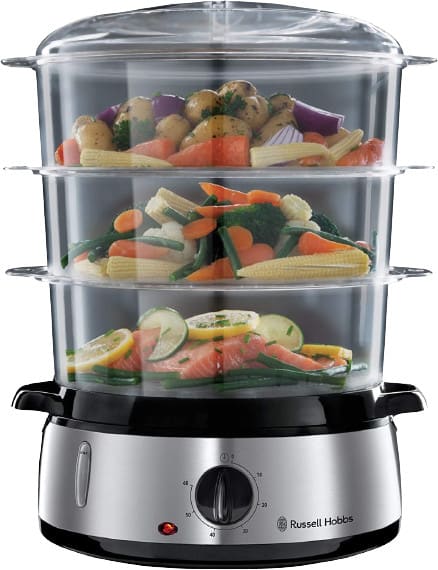 Check Russell Hobbs Cook@Home Food Steamer price below:
add_circle
Stainless steel
add_circle
Large capacity
Why It's Our Top Pick
Cooking should be a personalized experience that fits your needs and schedule. With the Cook@Home food teamer from Russell Hobbs, you can choose how many baskets you want to cook with. Whether you prefer cooking with one, two, or three baskets, this steamer can accommodate your needs.
Additionally, the built-in timer allows you to set the perfect cooking duration, and it automatically shuts off when the time is up, giving you peace of mind. You can also enjoy a hassle-free cleaning experience and spend more time doing what you love.
Specifications
Capacity: 9L

Power: 800W

Material: Stainless steel

Steaming Baskets: 3
Key Features
The turbo steam ring activates in seconds, allowing you to begin steaming immediately. The built-in timer allows you to set a countdown for up to 60 minutes. When the timer expires, the steamer turns off automatically.
Why Buy This
With this kitchen steamer, you can cook with one, two, or three baskets at once; the decision is yours– the clever, healthful method of steaming food that preserves the most nutrients. 
Product Overview
It comes with three stackable steaming baskets that fit neatly inside kitchen cabinets – a space-saving design that you can store everywhere. Best of all, the three removable parts are dishwasher-safe for easy cleanup.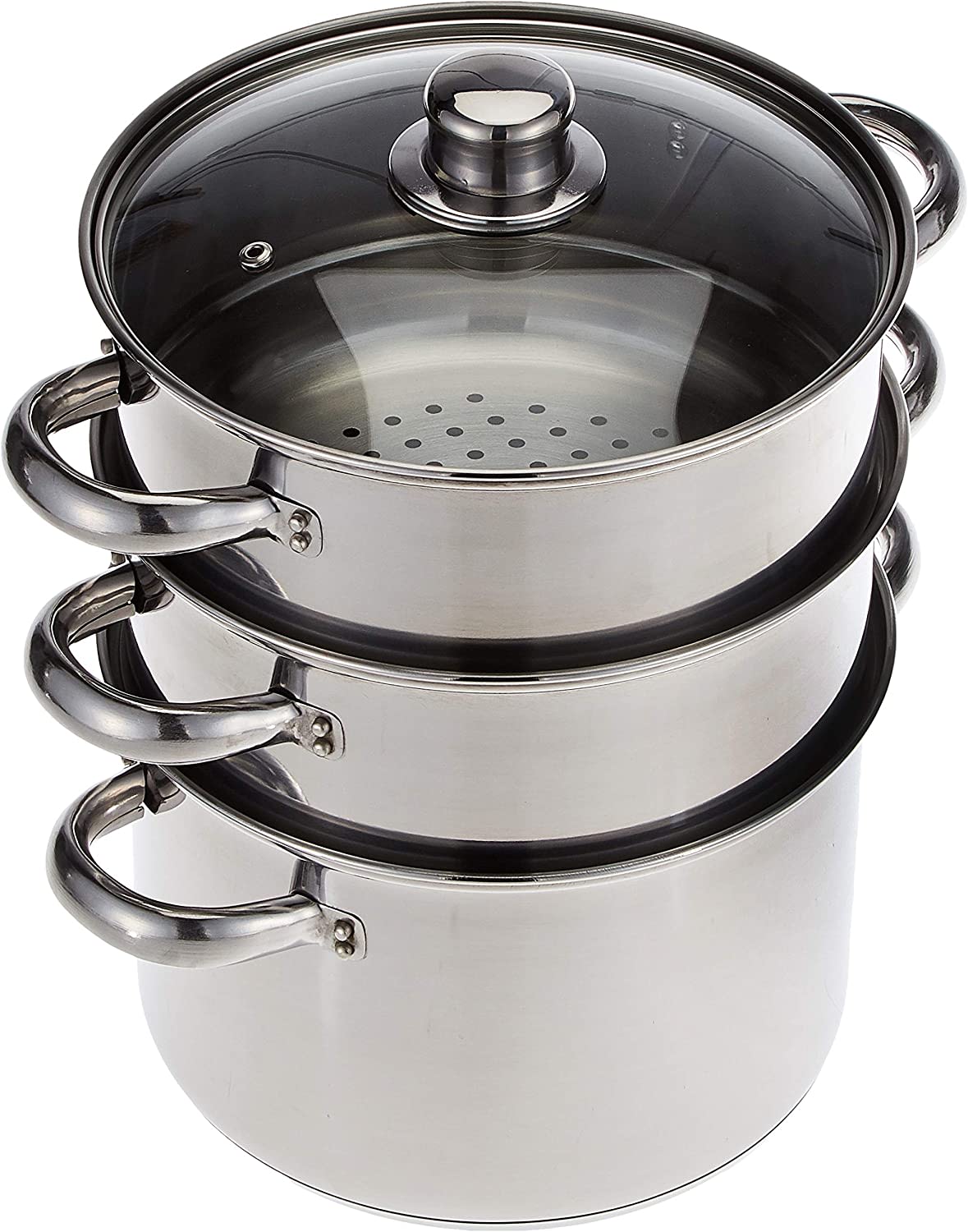 Check KitchenCraft 3 Food Steamer price below:
add_circle
Comfortable handle
add_circle
Mirror-polished finish
remove_circle
The hole in the lid is somehow small
Specifications
Capacity: 5L

Material: Stainless steel

Steaming Baskets: 3
Key Features
By utilizing just one ring, this 3-tier food steamer pan helps reduce fuel costs while providing a delicious, wholesome meal in just a few minutes. It also comes with a comfortable handle with a non-slip grip.
Why Buy This
Indeed, this food steamer is designed with versatility as it can create hearty, family-sized dinners; you may either utilize the stock pot-style base alone or add levels when needed.
Product Overview
This food steamer is built to last with a reinforced glass lid, riveted handles, and an enclosed base that provides equal heat distribution!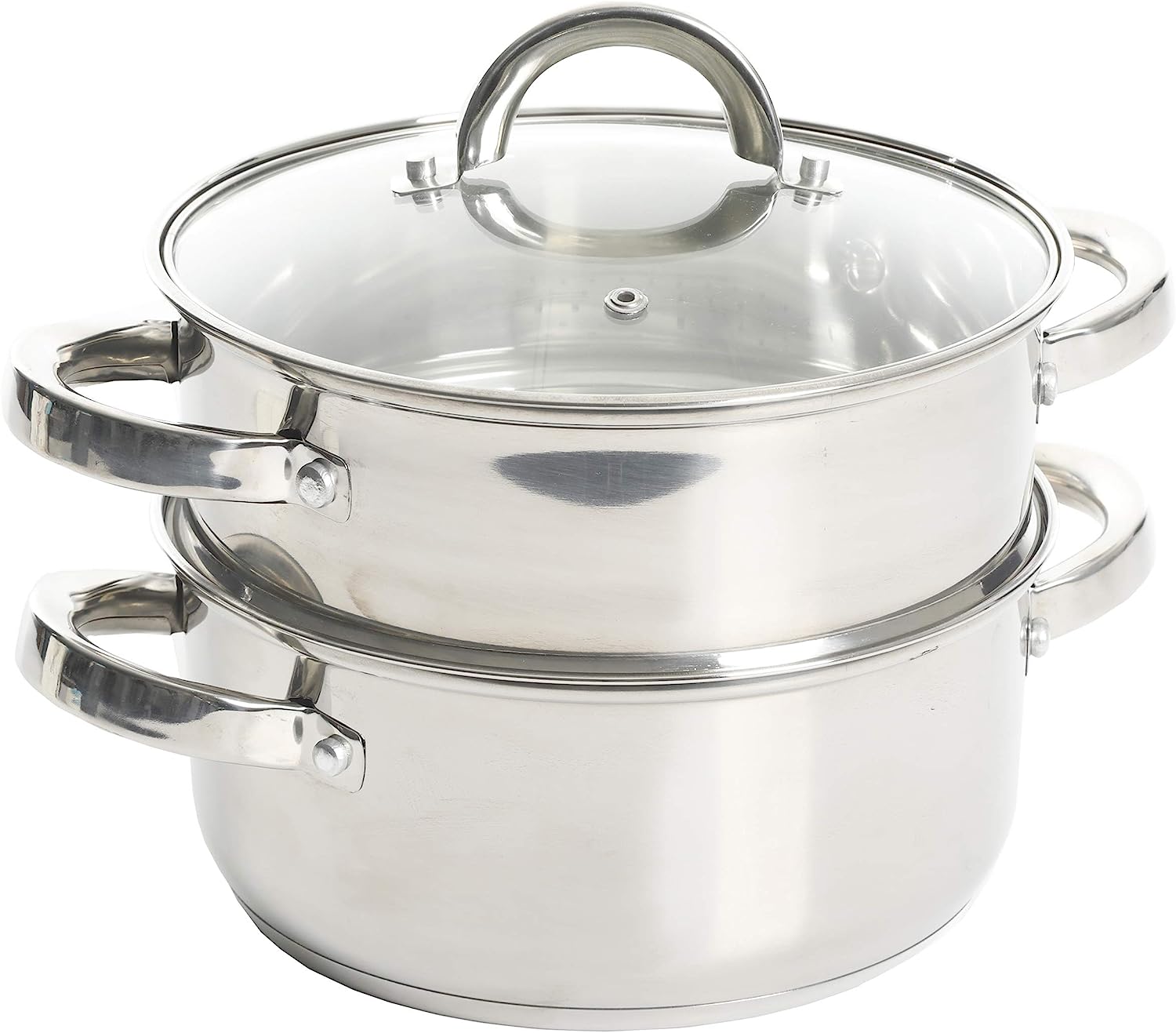 Check Oster Hali Food Steamer price below:
remove_circle
The handle gets hot
Specifications
Capacity: 2.8L

Material: Stainless steel

Steaming Baskets: 2
Key Features
It features a 1-tier stainless steel food steamer, which guarantees the durability of this food steamer. Plus, you'll love its stylish design with its mirror satin finish type – definitely, never getting out of style. 
Why Buy This
Indeed, it is valuable for money as it does not require much to get the best food steamer! It has a perfect size that you can use to steam your favorite food and is truly an excellent addition to your kitchen. 
Product Overview
Enhance your culinary experience with the best vegetable steamers, designed to steam vegetables effortlessly and cook rice simultaneously while also serving as a convenient option for reheating tamales as delectable leftovers. Its stackable design features allow for efficient stacking of casseroles and steamers.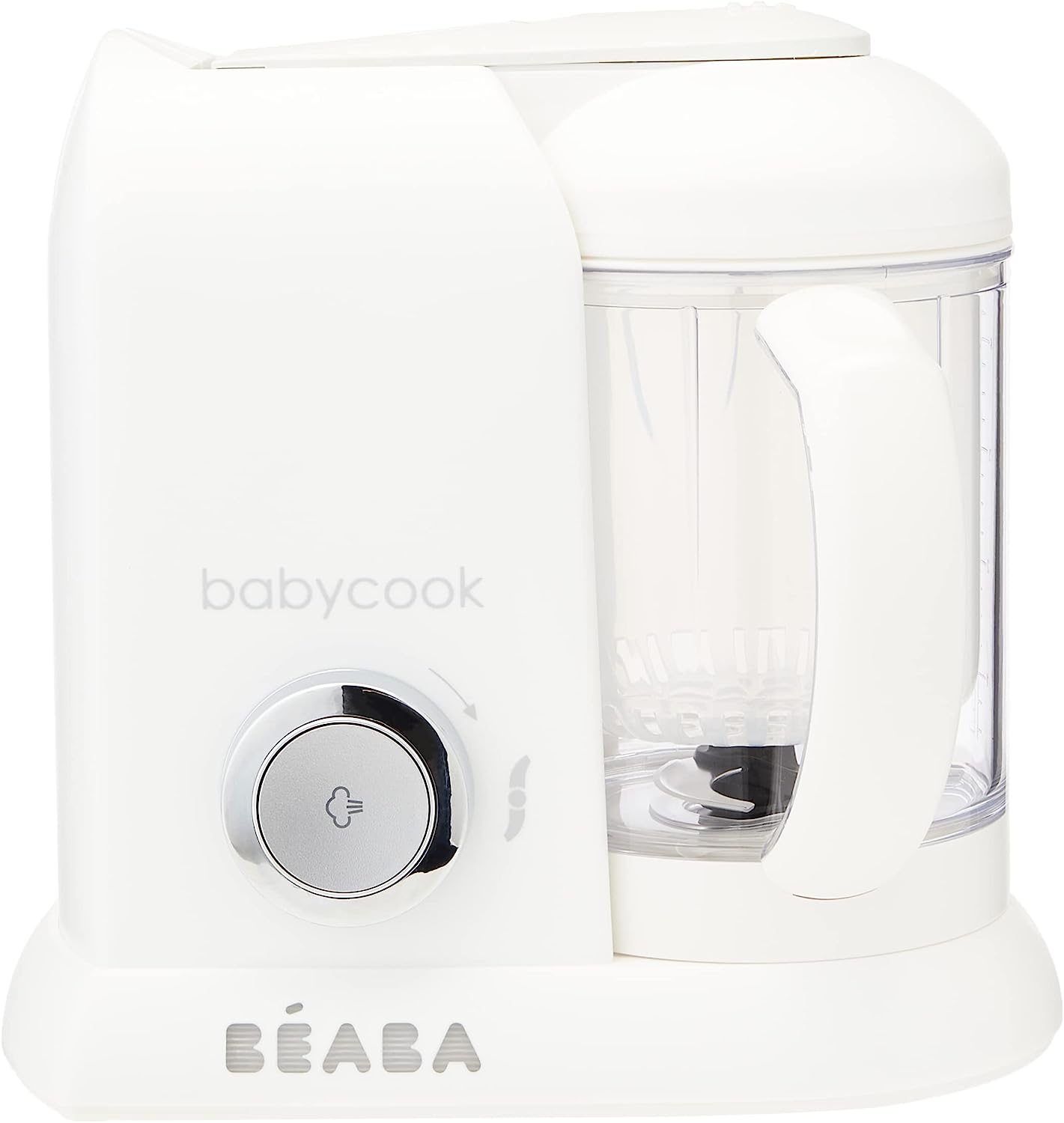 Check BÉABA - Babycook Solo Food Steamer price below:
add_circle
Removable cooking basket
add_circle
Silent machine
remove_circle
Slightly expensive
Specifications
Capacity: 1100mL 

Power: 100W

Material: Stainless steel

Steaming Baskets: 1
Key Features
This baby kitchen food steamer features an automatic shut-off with a sound and light indicator after preparation, enabling unattended meal preparation suitable for multitasking parents. 
Why Buy This
A single kitchen appliance can do much with this 4-in-1 baby food maker as it heats, thaws, mixes, and cushions the food you wish to serve your baby. It guarantees that the nutrients and flavor of the ingredients are adequately retained– ensuring a safe daily meal for your baby. 
Product Overview
For babies, it's advisable to serve them genuinely organic food – no preservatives added. The good thing is that Béaba specifically designed this food steamer with quick steam cooking in just 15 minutes!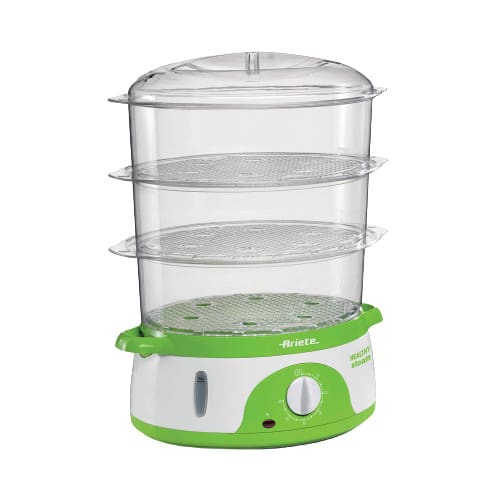 Check Ariete 911 Electric Food Steamer price below:
add_circle
Convenient to use
add_circle
Large capacity
remove_circle
The timer looks slower than normal
Specifications
Capacity: 9L

Power: 800 W

Material: Plastic

Steaming Baskets: 3
Key Features
It is effortless to use, having three stackable numbered baskets that may be used singly, in pairs, or all at once. It also comes with a rice tray, and the baskets include unique spaces for eggs.
Why Buy This
It is a practical choice for people who make multiple dishes at once to prepare meals to freeze. Despite the multi-colt, the flavors remain unchanged. If you require more compartments at various cooking times, you can arrange the items to cook in order because a single charge of water lasts an hour with this electric food steamer.
Product Overview
An electric food steamer helps you save time as it does its job without much effort. This healthy steam cooker is available in green and white design.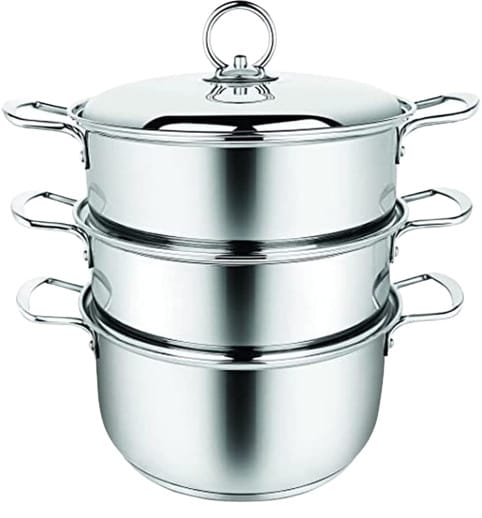 Check Penguin Home® - 3-Tier Food Steamer Set price below:
add_circle
Suitable for all hobs
add_circle
Large capacity
add_circle
The lid and handle don get hot
Specifications
Capacity: 3L

Material: Stainless steel

Steaming Baskets: 2
Key Features
High-quality materials create the stainless steel cookware from Litre Penguin Home. It has a robust encapsulated base for even heat distribution and consistently energy-efficient cooking.
Why Buy This
All hobs, even induction ones, are compatible with the stainless steel cookware from Penguin Home. This set of professional-grade stainless steel steamers is a practical and healthful method to steam various vegetables at once. It is intended to endure a busy home kitchen's demands and has durable, stainless steel handles for heavy-duty performance. 
Product Overview
This best vegetable steamer has a sturdy base that may be used as an oven-safe casserole when combined with the lid. Fish, vegetables, and meats can all be steam-cooked utilizing the appliance's two baskets.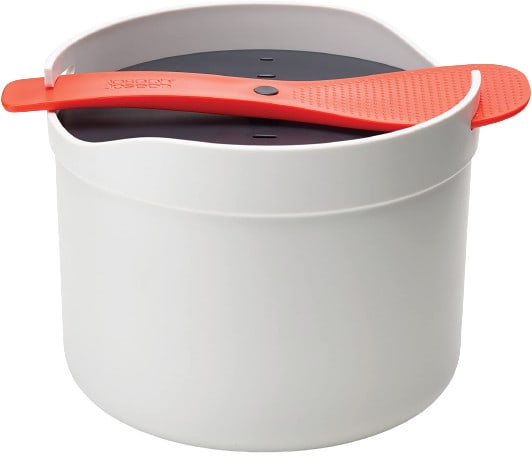 Check Joseph Joseph Microwave Food Steamer price below:
add_circle
Dishwasher-safe
add_circle
Compact and stylish design
remove_circle
Small capacity
Specifications
Capacity: 2L

Power: 900 W

Material: Plastic

Steaming Baskets: 1
Key Features
This set includes a 2-liter cooking pot, a colander, a measuring cup, and a rice paddle with multiple uses. The rice paddle has two functional carrying handles and can lock the pot cover. It's a rice cooker and can steam some of your food. 
Why Buy This
Meet this excellent rice cooker that also works for vegetables. It always turns out perfectly when you follow the directions and don't overcook. For quick pasta dishes for one or two people, this cooker is genuinely fantastic to have.
Product Overview
You may enjoy everything from a simple poached egg to a full family feast using M-Cuisine. This smart microwave cookware has practical features and cool-touch technology, allowing you to use your microwave more often.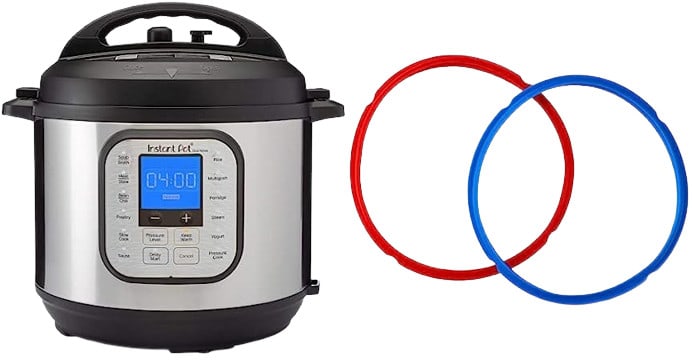 Check Instant Pot Duo Nova 7-in-1 Electric Multi-Functional Cooker price below:
add_circle
Convenient and customizable
add_circle
Smart-design inner pot
Specifications
Capacity: 5.7L-8L

Power: 1000 W

Steaming Baskets: 1
Key Features
It features 3rd generation technology for precise, energy-efficient cooking and 14 Smart Programs, including low-sugar rice cooker options. Best of all, it includes a Keep Warm Function that retains the nutrients and moisture of your food. 
Why Buy This
The Duo Nova can keep track of your preferred cooking style and the smart apps you use the most frequently. "Set it and forget it" enables you to multitask while your food securely and swiftly cooks. Thanks to the elegant LCD's intuitive indication of the cooking status, you can tell exactly what stage the cooking process is at.
Product Overview
The best-selling Instant Pot Duo Classic is a multifunctional electric cooker with a 7-in-1 inverter rice cooker. Pressure cooker, slow cooker, rice cooker, steamer, sauté, yogurt maker, and warmer are just a few of the seven appliances this electric multi-cooker can replace.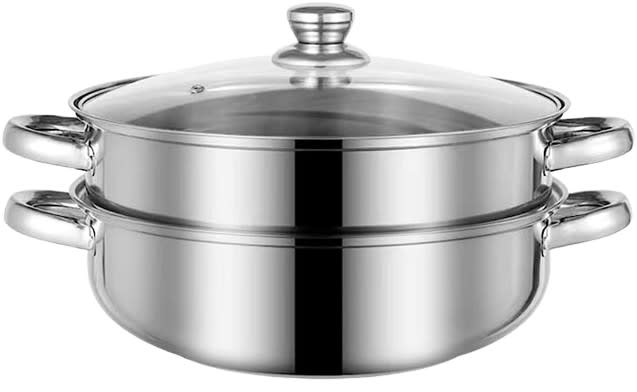 Check LCPUD 4L Food Steamer price below:
add_circle
Dishwasher-safe
add_circle
Multipurpose steamer for cooking
Specifications
Capacity: 4L

Material: Steel

Steaming Baskets: 2
Key Features
Unlike other items, this kitchen steamer pot has been polished using a technique that ensures your health by making it easy to clean and removing iron chip adhesion. The pot's bottom is built of a three-layer composite material that collects energy, ensuring the heat is dispersed evenly and thoroughly.
Why Buy This
This substantial two-tier vegetable steamer pot doubles as a multipurpose stockpot, working with halogen, glass, ceramic, stovetops, induction, and electric stoves. Plus, the arched lid design gives you additional cooking space. Thanks to their distinctive shape on both sides, you can use the handles more comfortably and avoid burns.
Product Overview
To suit your various cooking demands, you may use this kitchen steamer pot as a stockpot or steamer and in multiple combinations; at most, it can be used as a 2-layer steam pot. You can see the food without opening the cover when using a food steamer with a vented lid.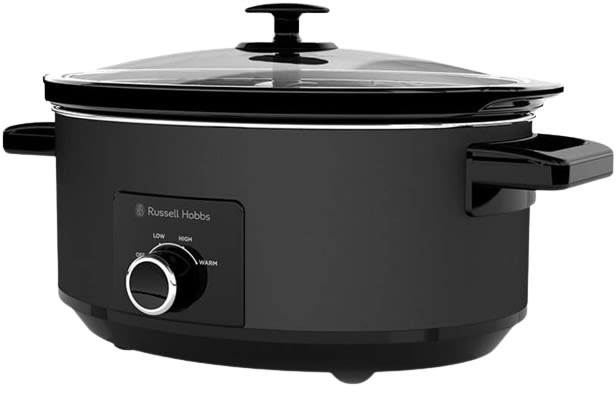 Check Russell Hobbs 7L Slow Cooker price below:
add_circle
Convenient lid holder
add_circle
Dishwasher-safe parts
add_circle
Tempered glass lid
Specifications
Capacity: 7.5L

Power: 1200 W

Material: Ceramic

Steaming Baskets: 1
Key Features
The detachable bowl is functional and attractive and may be served directly on the dinner table. Also, it has a lid that keeps the temperature constant while allowing you to monitor the progress.
Why Buy This
Despite its 1-tier design, this kitchen steam can still do much as it has a large capacity of up to seven liters. Fish, seafood, cornbread, potatoes, coarse grains, cereals, vegetables, and eggs can all be steamed with this device. Alternatively, a hotpot can roast meat and turkey or boil soup and noodles.
Product Overview
This slow kitchen steamer cooker boasts cool-touch handles, a built-in lid holder, and a Premium Matte Black finish. You can steam your food at low heat while allowing the rich flavors to develop.
---
What is Food Steamer?
A food steamer, sometimes called a steam cooker, is a small kitchen appliance that uses steam heat to cook or prepare a range of meals by keeping the food in a sealed vessel to stop steam from escaping; steaming is the name for this cooking method.
---
How to Use Steamer for Food?
Using a kitchen steamer does not require a lot of effort, but here are some of the valuable tips that you should keep in mind when you're steaming your food with this handy kitchen appliance:
The key is to add just the proper amount of water, not too much or too little. 

Add all your vegetables once the water is boiling, cover the pot, and let the steaming process begin. 

While your food is steaming, you should experiment with increasing or decreasing the heat.

Steamed veggies are a terrific last-minute task because they take a few minutes to prepare. It is still possible for your vegetables or other food to have finished steaming before you are ready.

Using water to steam food is the most popular method; however, you should continue. Be imaginative. Give your food a subtle flavor adjustment.

With a steamer, the food comes into contact with the steam for it to cook. A tiny amount of steam will escape from a lid that fits loosely, making it more challenging to cook your meal.
---
Buying Guide: How to Choose Food Steamer
You can choose the best food steam if you know which features are worth the extra money. Here's our guide to helping you select the best food steamer Australia:
Electric Steamer: These are the most common and convenient to use. They have a water reservoir, a heating element, and multiple steaming baskets.
Stovetop Steamer: These steamers require a stovetop or a separate heat source for operation. They are usually made of stainless steel and offer a traditional steaming method.
Capacity:

Consider your household size and the amount of food you typically steam. Steamers come in various sizes, ranging from small, single-tier units to large, multi-tiered ones. Choose a steamer with enough capacity to accommodate your needs.

Steaming Baskets:

Look for a steamer that offers multiple baskets or tiers. It allows you to steam different types of food simultaneously, saving time and energy. Make sure the baskets are removable for easy cleaning.

Controls and Timer:

Electric steamers often come with adjustable controls and timers. Look for a steamer with intuitive controls to set the steaming time and temperature according to your recipes. A built-in timer with an automatic shut-off feature is beneficial.

Material and Durability:

For electric steamers, check the quality of the heating element and the water reservoir. Stainless steel or BPA-free plastic steaming baskets are ideal as they are durable and safe for food contact. Stovetop steamers are made of high-quality stainless steel or other heat-resistant materials.

Ease of Use and Cleaning:

Consider a steamer with easy-to-use features such as water level indicators, a clear display, and simple assembly. Dishwasher-safe parts or non-stick surfaces make cleaning more convenient. Ensure that the steamer is easy to disassemble and store.

Additional Features:

Some steamers include extra features like a rice bowl, egg holders, or a flavor infusion option. These can enhance your steaming experience and offer versatility in cooking.

Brand Reputation and Reviews: Research reputable brands known for producing quality steamers. Read customer reviews and ratings to gauge the performance, reliability, and customer satisfaction of the product you are considering.

Price and Warranty:

Set a budget range and compare different steamers' prices while considering their features. Check for warranty information, as it provides peace of mind and protection against potential defects.
---
Best Food Steamer Brands in Australia
Get to know the best rated food steamer brands in Australia that might be useful in considering the best kitchen steamer that suit your needs:
BÉABA Food Steamer
BÉABA supports parents and their infants in every stage of life by offering them high-quality, cutting-edge goods that are easy to use. Making parenting easy for parents of all ages is the common goal of designers, researchers, engineers, and labs.
Russell Hobbs Food Steamer
A British company called Russell Hobbs makes home appliances. It was founded in 1952 by William Russell and Peter Hobbs, and in the 1960s, it dominated the market for kettles in the UK.
Kitchen Craft Food Steamer
KitchenCraft, one of the top kitchenware manufacturers in the UK, produces high-quality kitchen and home goods for over 80 nations worldwide. The EPA accredits them for not using harsh chemicals in making their cookware or bakeware.
Penguin Home Food Steamer
Penguin Home provides quality home and kitchenware appliances, covering both practical and stylish sides. They offer a wide range of quality kitchenware such as saucepans, frying pans, steamer sets, mixing bowls, and roasting tins that suit every budget.
Oster Food Steamer
Oster kitchenware produces delectable results. Oster offers various appliances, including waffle makers, toaster ovens, air fryers, food choppers, personal blenders, and more. Simple, adaptable goods that support your ability to get through the day and feed your family and loved ones. 
---
Food Steamers Price Range Here in Australia
In Australia, the food steamer price can vary depending on the brand, size, features, and overall quality. Here's a general breakdown of the price ranges you can expect to find:
Basic Food Steamers: These are simple steamers with basic functionality and fewer features. They typically have smaller capacities and limited settings. The price range for basic food steamers in Australia is around $20 to $50.
Mid-Range Food Steamers: These steamers offer a more comprehensive range of features, such as multiple tiers for steaming different foods simultaneously, programmable timers, and additional cooking functions. They often have larger capacities and better build quality. The price range for mid-range food steamers in Australia is approximately $50 to $100.
High-End Food Steamers: High-end food steamers usually have advanced features like digital controls, pre-set cooking programs, specialized steam settings for specific food types, and larger capacities. They are often made with premium materials and have a more durable construction. The price range for high-end food steamers in Australia can range from $100 to $300 or more.
---
Where to Buy Food Steamers in Australia?
There are several places where you can buy food steamers in Australia. Here are some common options:
Retail Stores: You can visit physical stores such as department stores, home appliance stores, and kitchenware stores. Some popular retail chains in Australia where you might find food steamers include Harvey Norman, JB Hi-Fi, Myer, David Jones, and Target.
Online Marketplaces: Online marketplaces provide a convenient way to browse and purchase food steamers from various sellers. Some popular online marketplaces in Australia include Amazon Australia, eBay Australia, Kogan, Catch, and Appliances Online. These platforms often offer a wide selection of products and competitive pricing.
Specialty Kitchenware Stores: Some specific stores focus on kitchenware and cooking appliances. These specialty stores might have a broader range of food steamers and knowledgeable staff to assist you. Examples of such stores in Australia include Kitchen Warehouse, Victoria's Basement, and Everten.
Department Stores: Large department stores like Kmart, Big W, and Target often have sections dedicated to kitchen appliances, including food steamers. These stores offer affordable options in shopping centers across Australia.
When purchasing online, check food steamer reviews, compare prices, and consider the shipping options available. Additionally, watch for seasonal sales and promotions, as they can often provide discounts on food steamers.
---
Conclusion
It is no wonder that one of the most affordable kitchen tools available is the steam cooker. A food steamer produces wholesome and delectable meals that help you keep healthy and fit. With many choices available, we hope you find the best food steamer that works for you!
---
Related Articles