Toasters are essential household appliances in almost every kitchen. They are used to quickly and efficiently toast bread, bagels, and other breakfast items. Buying the best toaster in Australia can be difficult, as various models have different features and functions. Consumers must consider the type of toaster they need, such as a two or four-slice toaster, whether they prefer a traditional design or a more modern appearance, and the price range they are comfortable with.
Features such as adjustable browning, defrost, and reheat settings should also be considered. 
With so many choices, consumers must research and compare different models to find the perfect toaster to suit their needs.
---
10 Best Toasters to Buy in Australia 2023 - Brand Reviews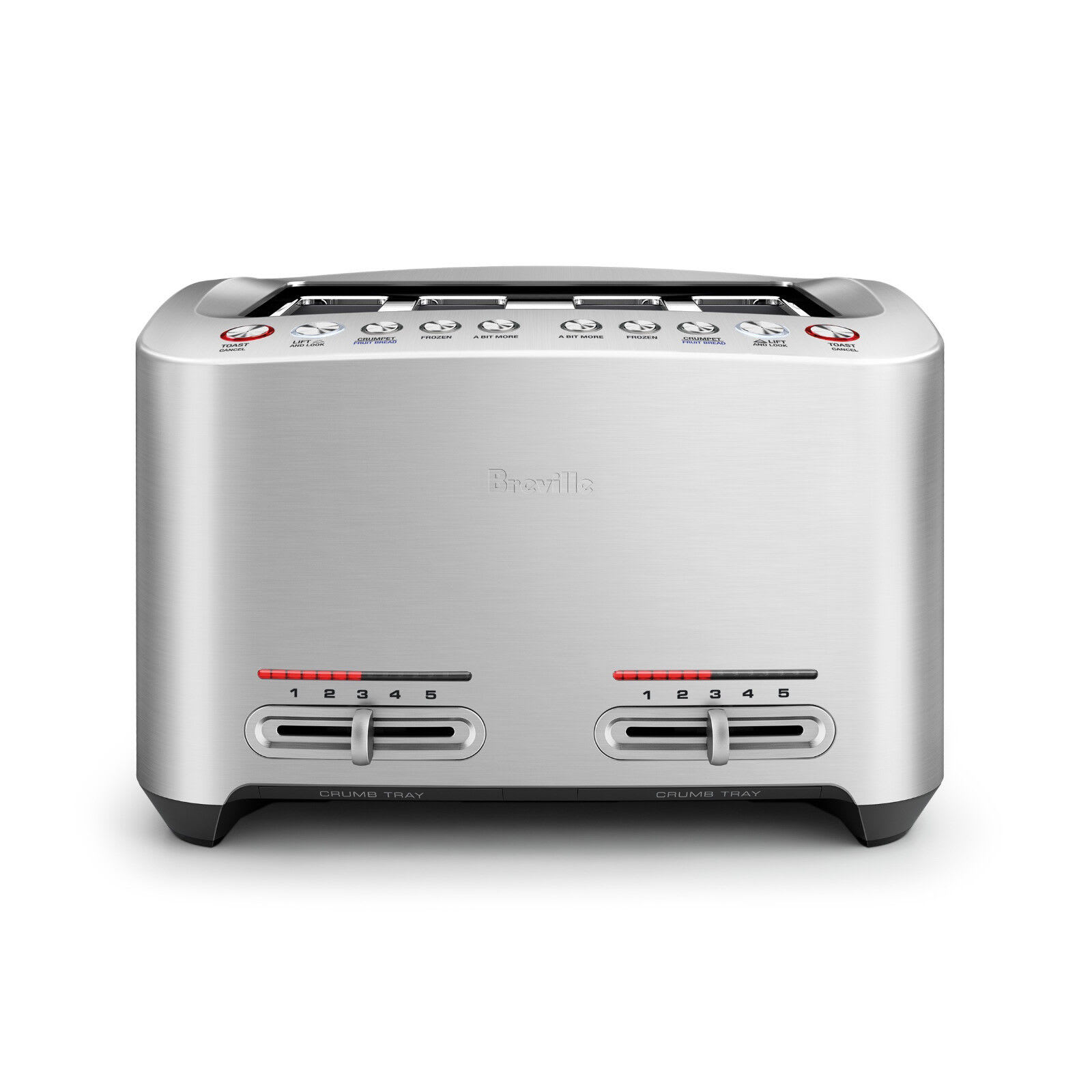 Check Breville BTA845BSS Smart Toaster price below:
add_circle
Excellent one-touch button
add_circle
Durable construction
Specification
Power: 2000 watts

Number of Slots: 4

Controls: One-touch buttons 

Size: 19.7cm x 28.7cm x 30cm.
Why It's Our Top Pick 
Breville's 4-Slice Extra Wide Slot Smart Toaster is ideal for larger bread slices. It allows you to set the browning level to your liking using the variable control setting. The automatic features make this bread toaster more efficient and help prevent over-browning - thanks to its motorized lift design. There's also cord storage in the base to keep children safe when the toaster is unused. 
The Breville BTA845BSS 4-slice extra wide slot smart toaster is a highly advanced and feature-rich toaster offering various innovative and convenient functions. They are easy-to-use features and provide precise control over the toasting process.
Key Features
The toaster features extra-wide slots that fit larger bread slices, English muffins, and bagels. It is built with an LED panel that shows the browning progress and time remaining. You can lower and raise the bread without interrupting that toasting process by pressing the auto lift and look button. Its motorized lift ensures even toasting and makes it easier to remove smaller bread slices. 
Why Buy This
Breville added bagel and defrost functions to toast bagels and defrost frozen bread perfectly. It includes a removable crumb tray that allows for easy cleaning and maintenance.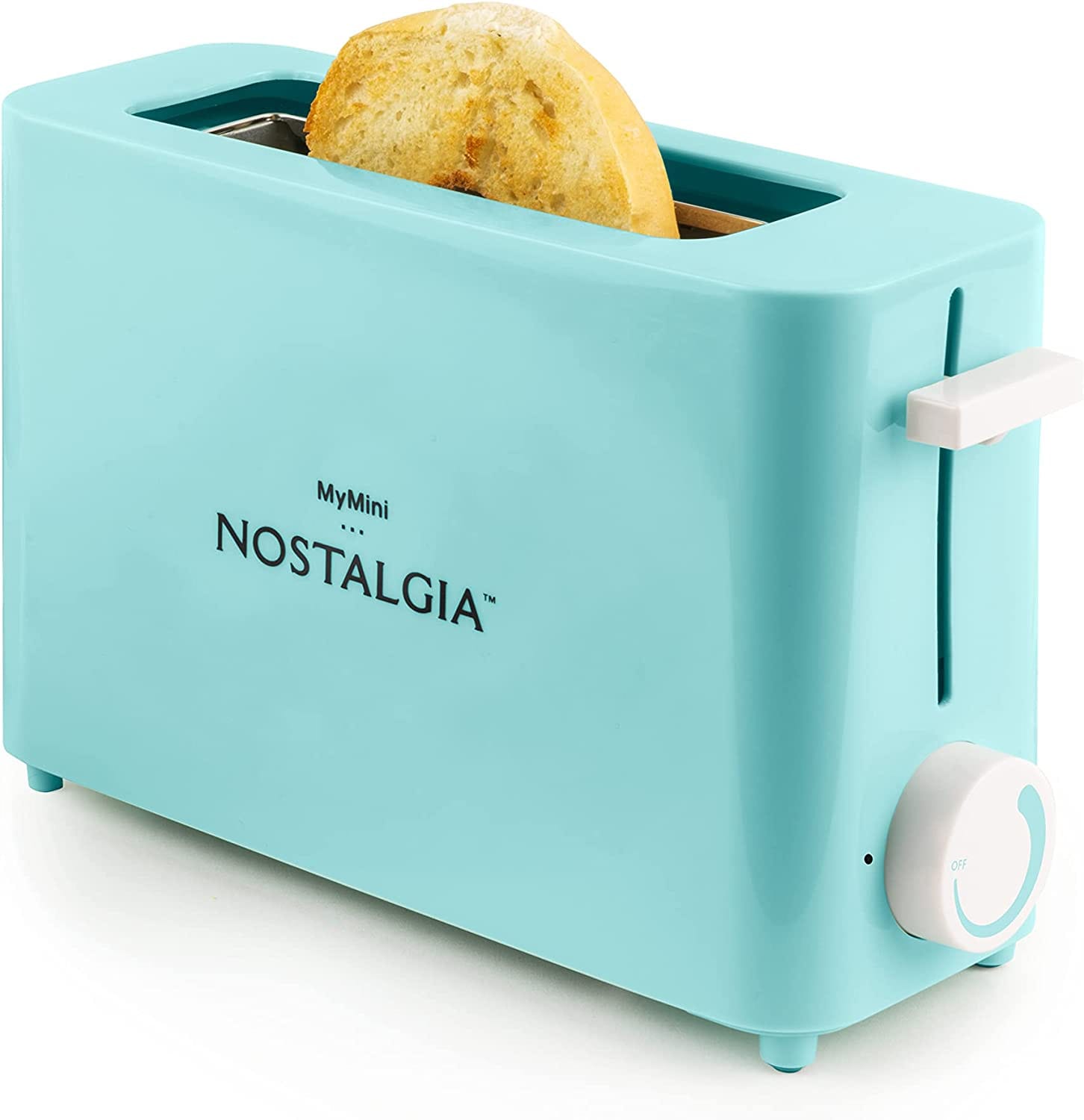 Check My Mini Nostalgia Toaster price below:
add_circle
Can toast bread faster than other brands
add_circle
Simple to operate
Specification
Power: 500 watts

Number of Slots: 1

Controls: Selector dial 

Size: 9.49" x 3.74" x 6.22"
Nostalgia, My Mini, is the fastest toaster in Australia that can produce tasty and crispy bread in minutes. It is ideal for a single person who enjoys toasting bread every morning.
Key Features
Its compact size makes the toaster perfect for gift-giving. A cord holder at the bottom of the unit ensures neat storage. Even though the toaster only has one slot, the manufacturer provides that it can hold thick and large bread slices. A manual control knob lets you adjust the toast level to your liking. Lastly, it comes in cute colors that look good in any kitchen.
Why Buy This
The toaster's slide-out crumb tray will collect the mess, making cleanup easier. It works perfectly for toasting bread and bagel. It is ideal for installing in condos with various color designs.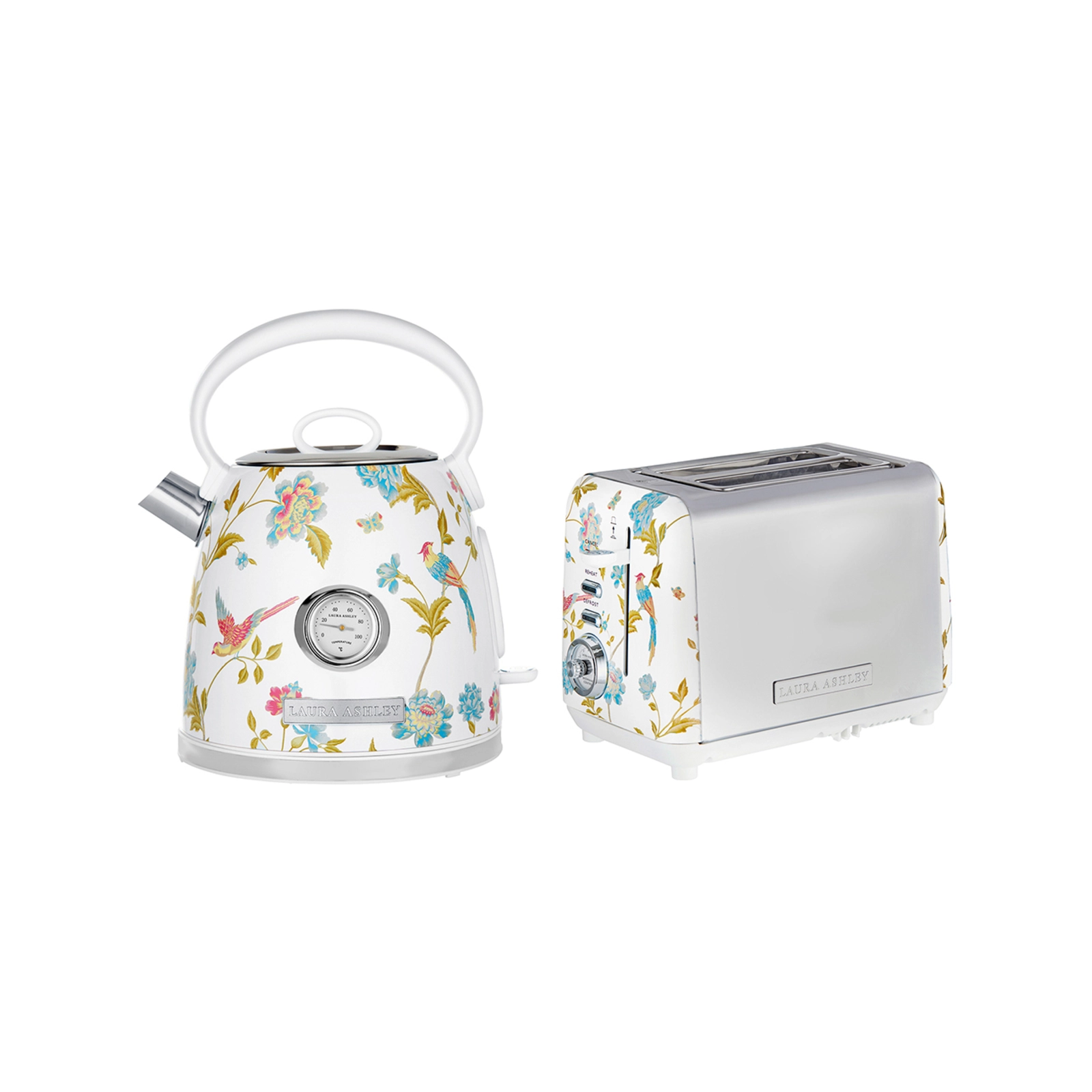 Check Laura Ashley Combo Toaster price below:
add_circle
Get two kitchen appliances at a lower cost
add_circle
Easy to operate
Specification
Power: 2200 watts 

Number of Slots: 4

Controls: Variable controls 

Size: 28.5cm x 29cm x 19.3cm
A perfect morning begins with a cup of coffee and toasty bread. To provide you with the ideal breakfast, Laura Ashley offers a kitchen collection with a kettle and a 4-slice toaster at a reasonable price. 
Key Features
The self-centering design can toast the bread evenly on both sides. The toaster can guarantee perfectly cooked, ready-to-eat bread thanks to its defrost and reheat functions. Using one of its seven toast settings, you can toast bread until golden brown. Because it has four wide racks, you'll have plenty of room to cook more bread. The kettle can make seven cups of tea with a temperature gauge for easy use. They look good together in the kitchen.
Why Buy This
The toaster's overall design makes a stylish appearance in the kitchen, which most households like. These two items have unique features that will enhance every breakfast experience. Besides, the brand gives a 2-year warranty for peace of mind.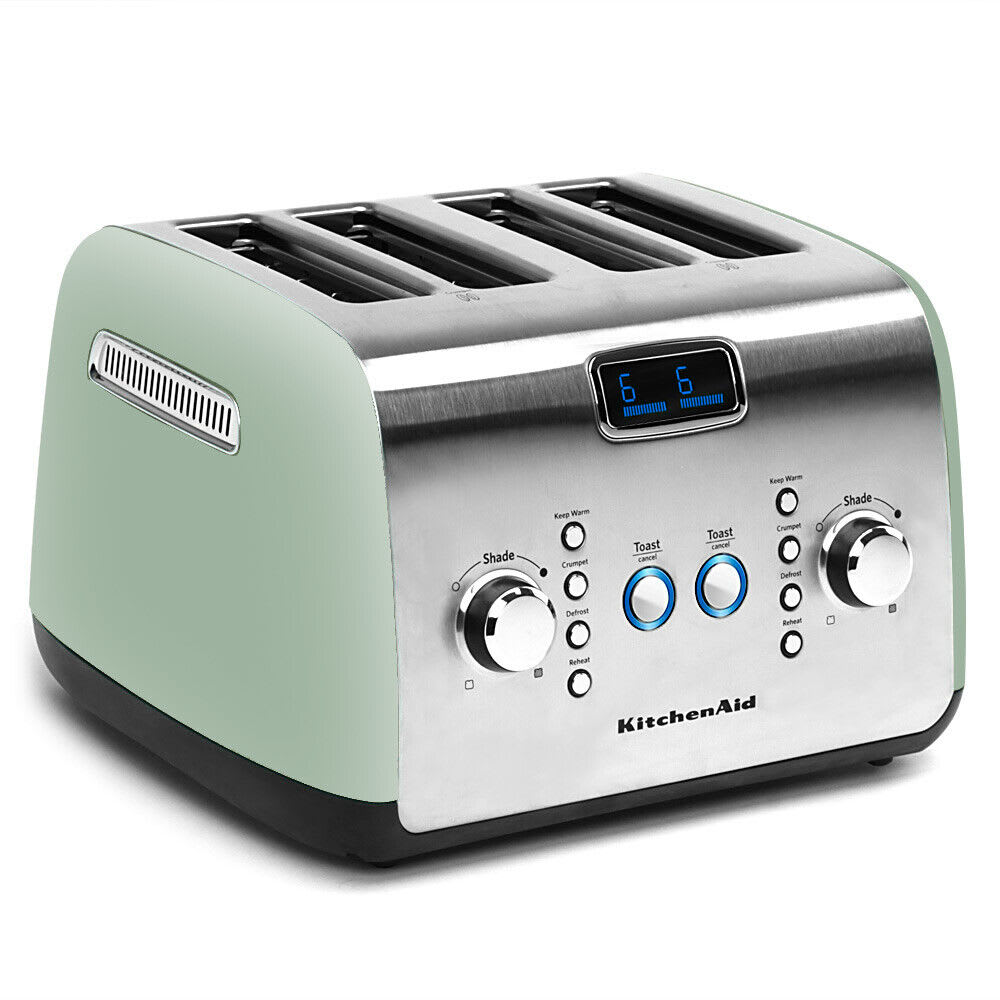 Check KitchenAid Artisan Toaster price below:
add_circle
It has a keep-warm function to serve bread freshly cooked
add_circle
It has an impressive design
add_circle
Leaves bread golden toast
remove_circle
The alert noise can be annoying
Specification
Power: 1800 watts 

Number of Slots: 4

Controls: Multi-function buttons 

Size: 29.2cm x 21cm x 33.3cm
You can turn bread slices into masterpieces with the KitchenAid Artisan 4-Slice Toaster. It saves space and is one of the main reasons you should buy one. In addition, it has the best features, including a digital display and a motorized lift for better convenience.
Key Features
This 4-slice toaster is made of durable metal with a sleek design, making it perfect for all kitchen interiors. It can toast bread in a light or dark shade through its seven-dial settings. 
It lets you toast, defrost, or reheat thick bread slices in its extra-wide slots. The LCD monitors the progress of the toasting and has built-in audio to notify the family when the bread is ready. Last, there is a removable crumb tray for easy cleaning. 
Why Buy This
The Pistachio design of the KitchenAid Artisan 4-Slice Toaster makes it look good on any kitchen counter. It also has two separate digital displays to toast bread precisely how you want it.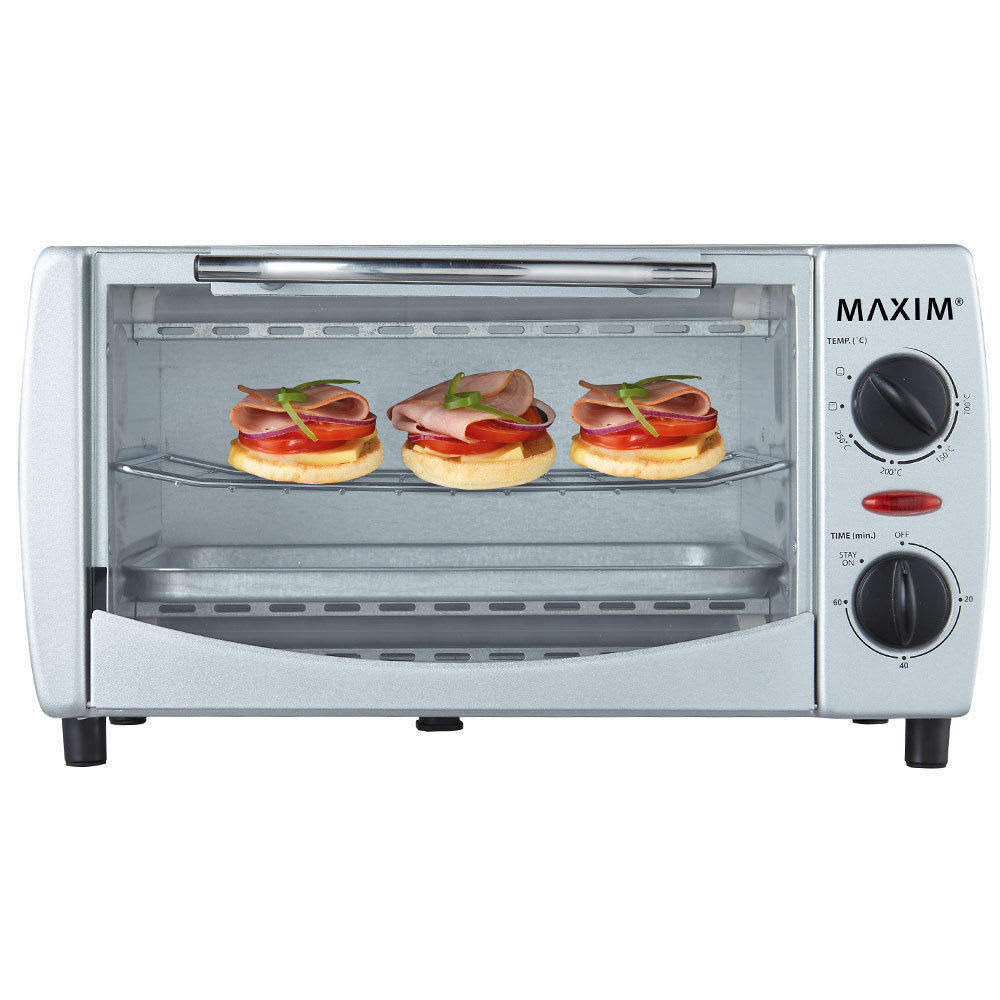 Check Maxim Electric Toaster Oven price below:
add_circle
A great addition to any benchtop
add_circle
Can toast bread slices perfectly
remove_circle
The baking tray is not that durable
Specification
Power: 1000 watts 

Number of Slots: 9-liter capacity 

Controls: Adjustable temperature control 

Size: 37cm x 28.9cm x 20cm 
Maxim ensures that the oven and toaster functions have different temperature and time controls for convenience. It is among the brands you must consider when looking for a new toaster with a large capacity to meet various kitchen needs.
Key Features
The toaster oven is compatible with various power plugs in Australia. It saves much energy when grilling, reheating, toasting, and baking. It has a temperature setting and a timer to adjust to meet your toasting requirements. They also added a heat indicator to help monitor the cooking process. By adding a pull-down door made of tempered glass for easier access, Maxim ensures that the appliance will last for years to come.
Why Buy This
First, the Maxim 9L Electric Toaster Oven is the best toaster in Australia with an oven function due to its low price. It can do multiple things simultaneously, which is excellent for busy people. The toaster oven's energy efficiency is another factor that attracts many buyers' attention.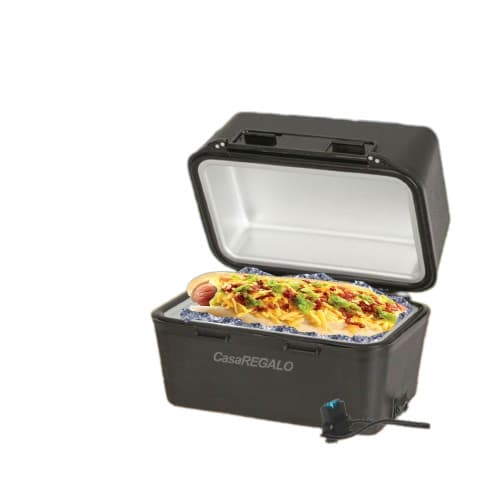 Check CasaREGALO Portable Food Warmer Toaster price below:
add_circle
Very affordable
add_circle
Travel-friendly
Specification
Power: 12 volts

Number of Slots: 1

Controls: n/a

Size: 80mm x 200mm x 170mm
You can use this as a sandwich toaster to make delicious bread anywhere you go. The CasaREGALO 12V Portable Food Warmer is ideal for camping and traveling as the toaster works by plugging it into a caravan unit. It is energy-efficient, so there are no worries about losing gas.
Key Features
The heating plates are made of stainless steel and are non-stick, making them simple to clean after use. It must be plugged into the caravan's cigarette lighter at the right temperature to ensure you get the best toast. It has a clip lock for even toasting and you will know if the meal is already cooked. 
Why Buy This
Owning a car with a 12v outlet makes CasaREGALO 12V Portable Food Warmer a perfect choice. It has an entirely portable design, meaning it won't occupy plenty of room inside the vehicle. Indeed, this is an on-the-go toaster you can find in the market.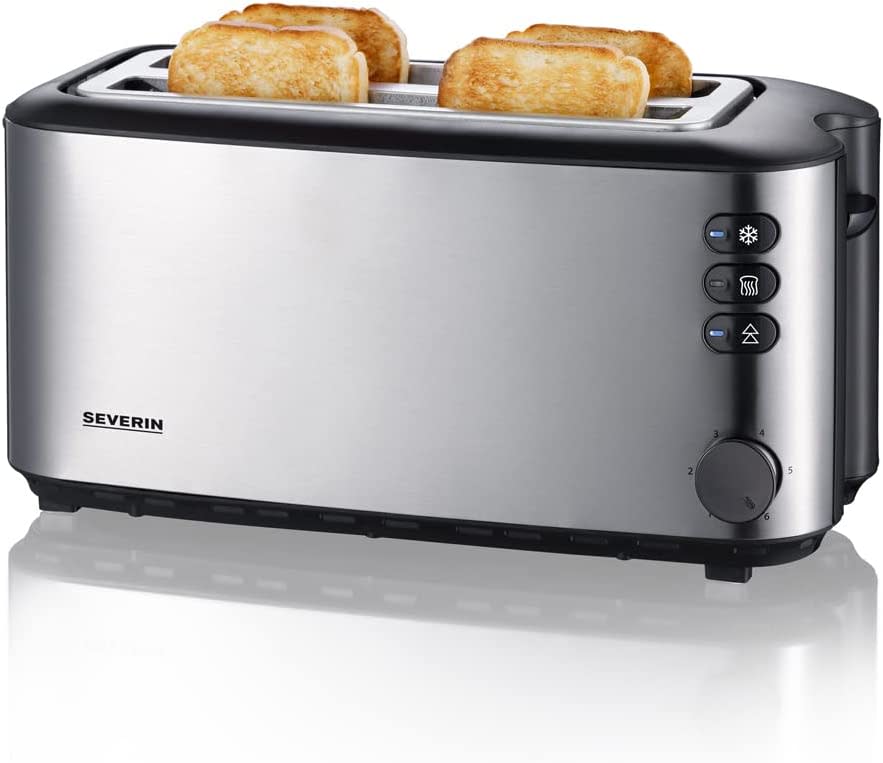 Check Severin 4-Slice Long Slot Toaster price below:
add_circle
It guarantees even toasting with six browning settings
add_circle
Promotes easy maintenance
add_circle
Perfect for small spaces
remove_circle
Bad ergonomics, especially the cable placement
Specification
Power: 1400 watts 

Number of Slots: 4

Controls: Dial and button 

Size: 17.6" x 7.6" x 6.9"
According to Severin, the 4-slice toaster with long and wide slots can toast extra-large sandwiches. You'll enjoy evenly browned slices of bread. According to customer reviews, this one is also the best Amazon toaster to try.
Key Features
The toaster has a sleek and compact design that takes up minimal space on the kitchen counter, with a cool-touch exterior that prevents burns. Even beginners can use the toaster with classic control buttons and a high-lift lever to easily retrieve bread. The automatic temperature control is designed to ensure even toasting of bread slices. It can guarantee multiple functions, like serving buns and croissants with the proper browning and heating settings. 
Why Buy This
Based on toaster reviews, Severin 4-Slice Long Slot Toaster is best for newbies with its user-friendly control panel. Its extra-long and wide slots can toast artisan bread, thick slices, and bagels.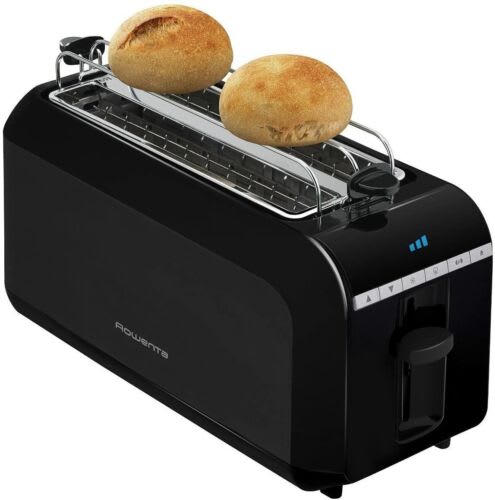 Check Rowenta 2-Slice With LCD Display Toaster price below:
add_circle
It includes a defrost and reheat function
add_circle
The removable crumb tray makes the toaster mess-free every after use
Specification
Power: 1600 watts

Number of Slots: 2

Controls: LCD screen 

Size: 40cm x 16.5cm x 22cm
With LCD Display's various functions and browning levels, you can personalize your toast with the Rowenta 2-Slice Toaster. It is an excellent choice for people who want a durable toaster, stylish and versatile.
Key Features
The toaster features a sleek, stainless steel construction for extended use. It can accommodate different types of bread, such as bagels and English muffins, through the extra-wide slots. It is designed with a high-lift lever to help remove small slices of bread without burning your fingers for easy maintenance. Rowenta also highlights using a warmer rack for toasting buns and croissants. 
Why Buy This
The toasting process can be easily monitored- thanks to the digital display. It has eight browning levels, allowing you to select the ideal toasting level for any bread. Additionally, the slot design qualifies users to combine bagels and bread in one toasting.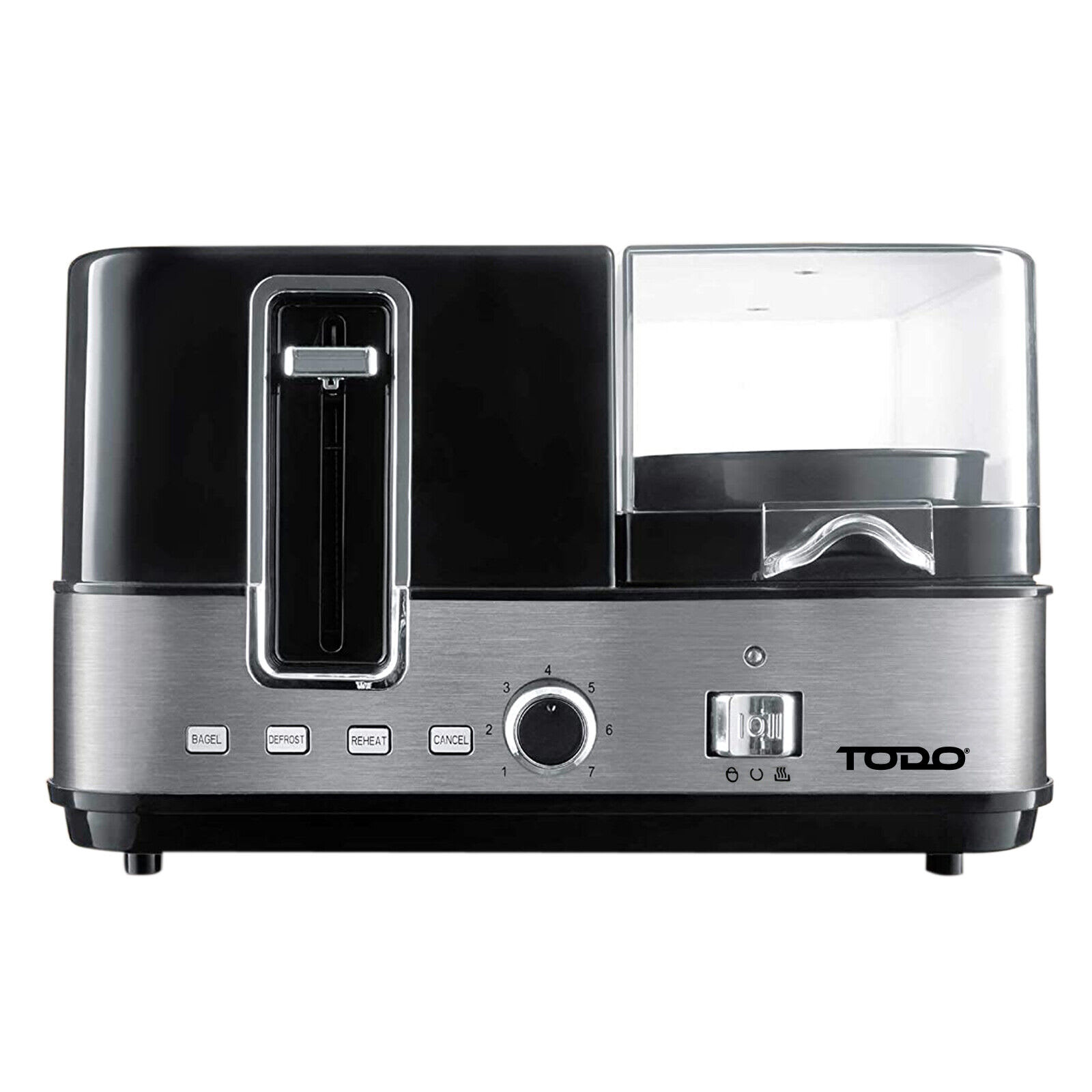 Check TODO Breakfast Master Toaster With Egg Cooker price below:
add_circle
The mini grill plate is ideal for cooking bacon
add_circle
An all-in-one toaster
add_circle
Energy-efficient
remove_circle
A bit bulky
Specification
Power: 1400 watts 

Number of Slots: 2

Controls: Dial and button 

Size: 310mm x 190mm x 260mm
Toasted bread and eggs are an ideal morning meal. The TODO Breakfast Master Toaster makes it easy to fry bacon, eggs, and two slices of bread simultaneously. The central unit can feed large families requiring less effort. 
Key Features
TODO utilized both dial and button controls to help families impeccably prepare breakfast. There are four toasting modes to choose from, including defrost and reheat options in case there are leftovers from last night. They installed a LED indicator to help you track the cooking progress. The unit is easier to clean because some parts, like the egg holder, steamer bowl, and poaching tray, are detachable. 
Why Buy This
The Breakfast Master Toaster With Egg Holder is a morning companion that can make a delicious meal. It comprises simple parts for frying bacon, poaching eggs, and toasting bread. The unit uses 1400 watts in total.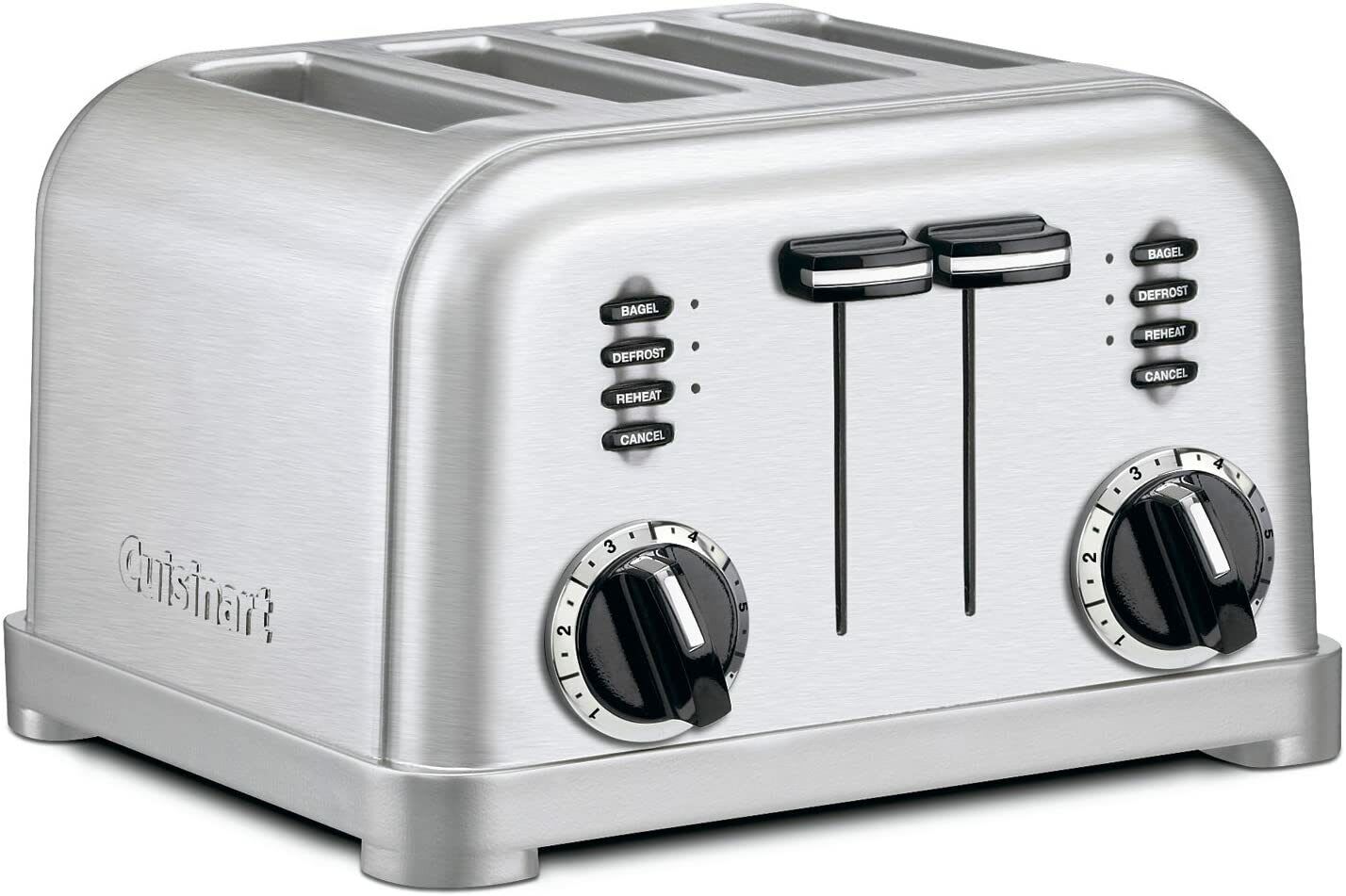 Check Cuisinart CPT-180P1 Metal ClassicToaster price below:
add_circle
Suitable for larger households
add_circle
It has a shade control setting
remove_circle
Flimsy temperature control knobs
Specification
Power: 900 watts 

Number of Slots: 4

Controls: Dual control panel 

Size: 5" x 10. 65" x 7. 5"
The CPT-180P1 Metal Classic 4-Slice Toaster from Cuisinart is long-lasting and versatile enough to handle crumpets, bagels, and frozen bread. It fits well with any kitchen decor with its modern and sleek design. 
Key Features
This toaster has a unique setting for toasting crumpets, ensuring they are toasted to perfection on the top and bottom. The dual control panels make it easy to toast two different types of bread simultaneously, with different settings. It includes reheating, defrosting, and toasting bagels. Families can toast up to four slices of bread in 1.5 inches-wide slots. 
Why Buy This
Cleaning messes during the toasting process is made more manageable by the removable crumb tray and high lift lever. Cuisinart gives you no worries in eliminating smaller pieces of bread stuck in the toaster. 
---
What is a Toaster?
A toaster is a tiny kitchen gadget used to rapidly toast bread, bagels, English muffins, and other bread items. It is a must-have to prepare breakfast in a breeze. Ultimately, the best toaster for you will depend on your personal needs, preferences, and budget. You can research and compare different models based on features, cost, and customer reviews to find one that meets your requirements.
---
How to Use Toaster?
A good toaster is one of the most simple kitchen tools to use. Hence, follow these steps for optimal performance of your best toaster in Australia: 
Step 1:  Plug in the toaster and ensure it is clean and crumbs-free.
Step 2: Adjust the toaster's settings, which typically include a timer and a temperature or heat control.
Step 3: Insert the bread or other food product into the toaster slots, centering it as much as possible.
Step 4: Press the toaster lever to activate the mechanism and begin toasting the food.
Step 5: Wait for the toaster to finish toasting, which can take 1-3 minutes, depending on the settings and the toasted food type.
Step 6: Once the toaster is done, the bread or other food product will automatically pop up from the toaster slots.
Step 7: Use tongs or a heat-resistant spatula to remove the toasted food from the toaster.
Step 8: Enjoy your deliciously crispy, warm toasted bread or snack!
---
Buying Guide: How to Choose Toaster
It is only enough to understand how a toaster works by having the best toaster choice. To complete the experience, here are some tips to help you choose a new toaster that is an excellent addition to the kitchen. 
Size 
Toaster sizes vary a lot. Hence, consider how much space you have in your kitchen and what size of bread you typically toast before buying. A compact toaster might be ideal for limited counter space. If you have a big family or often host brunches, you may want a toaster that can handle more than two slices of bread at once.
Toasting Options
Some toasters offer multiple toasting options, like bagel and frozen. If you frequently toast bagels or frozen bread, look for a toaster to accommodate these things. 
Settings
Depending on your preference, some toasters come with adjustable settings for browning levels so you can get the perfect toast every time. Dial and button control panels will make it easier to operate.
Safety Features 
Because toaster fires are a common cause of kitchen fires, you should look for a toaster with an automatic shut-off feature or a fire-resistant casing. Reputable brands will make it clear if the toaster has passed safety certifications. 
Price
Many factors influence the toaster cost. Look for a toaster within your price range, and ensure it meets your toasting needs. 
Brand Reputation And Reviews 
Do some research to see if the toaster brand you're considering is known for being reliable and long-lasting. Positive consumer feedback is also helpful in picking the best toaster in Australia. 
---
Best Toaster Brands in Australia
Choosing the best toaster brands is crucial as they are likely to offer higher-quality and more durable products. Reputable brands prioritize craftsmanship and materials, ensuring that their toasters last. It guarantees better performance, reliability, and value for your money.
Smeg Toaster
The Smeg toaster is known for its sleek and stylish design, making it a statement piece in any kitchen. It features multiple browning levels and wide slots to accommodate various bread sizes. It has a convenient defrost and reheat function for added versatility.
Breville Toaster
The Breville toaster is praised for its advanced technology, including its "A Bit More" button that allows you to toast for a little longer. The "Lift and Look" feature lets you check the progress without interrupting the toasting cycle. It also has a durable stainless steel construction and a high-lift lever to remove smaller items quickly.
DeLonghi Toaster
The DeLonghi toaster is known for its modern design and functionality. It features a unique "Extra-Lift" position that raises the toast higher for easy retrieval and a "Bagel" setting that toasts the cut side of the bagel while warming the outside. It also has multiple toasting functions and a removable crumb tray for easy cleaning.
Target Toaster
The Target toaster is lauded for its affordability and simplicity. It has multiple browning settings and wide slots to accommodate different bread sizes, making it suitable for everyday toasting needs. It also has a compact design, ideal for kitchens with limited counter space.
Sunbeam Toaster
The Sunbeam toaster is known for its durability and performance. It features a durable stainless steel construction and wide slots to accommodate thicker slices of bread and bagels. It also has a high-lift lever for easy removal of smaller items and a removable crumb tray for easy cleaning.
---
Toasters Price Range here in Australia
The toaster price in Australia can vary depending on the brand, model, features, and where you purchase them. Here is a general price range for different types of sandwich toaster and bread toaster in Australia:
Budget range: $20 - $50: These toasters are typically basic models with standard features such as variable browning control, wide slots for bread, and simple functionality. They may not have advanced features or be made of premium materials, but they can still effectively toast bread.
Mid-range: $50 - $100: In this price range, you can find various toasters from reputable brands with additional features such as multiple toasting functions (e.g., bagel, defrost), higher-quality materials, and more stylish designs. These toasters often offer better performance and durability compared to budget options.
Premium range: $100 and above: Premium toasters in Australia can range from $100 to several hundred dollars or more, depending on the brand and features. These toasters usually offer advanced features like digital displays, smart functions, wider slots for thicker bread, premium materials such as stainless steel, and sleek designs. 
---
Where to Buy Toasters in Australia?
You can buy the best toaster choice in Australia from various sources, including:
Retail stores: Many large retail stores, such as department stores, electronics stores, and kitchen appliance stores, carry many toasters from different brands. 

Online marketplaces: Online marketplaces, such as Amazon, eBay, and Kogan, offer a wide selection of toasters from various brands, allowing you to compare prices and features conveniently from the comfort of your home. Many retailers also have online stores where you can purchase toasters directly from their websites.

Specialty kitchenware stores: Some specialty kitchenware stores offer a wide range of kitchen appliances, including toasters. These stores may have a curated selection of high-quality toasters from premium brands. They may provide personalized assistance and advice to help you choose the right toaster for your needs.

Appliance stores: Some specialized appliance stores, such as The Appliance Shed, focus on kitchen appliances and offer a variety of toasters from different brands.

Supermarkets and department stores: Many supermarkets, such as Woolworths, Coles, and Aldi, carry a selection of basic toasters at budget-friendly prices. Department stores like Kmart and Target also offer a range of toasters at affordable prices.

Brand websites: Official websites of toaster brands, such as Smeg, Breville, DeLonghi, Sunbeam, and Russell Hobbs, often have online stores where you can purchase their products directly.
It's always best to compare prices, read reviews on the fastest toaster in Australia, and check for promotions or discounts to find the best deal when purchasing a toaster in Australia.
---
Conclusion
Various online sources and reviews show that the best toaster in Australia depends on individual preferences and needs. However, some of the top-rated toaster brands available in Australia include Breville, Cuisinart, KitchenAid, and Maxim. These toasters offer variable browning control, extra-wide slots, high-lift levers, and user-friendly interfaces. Click on the links to choose the toaster ideal for your family.
---
Related Articles