Probiotics are well known for their advantages, including improving digestion and bolstering immunity by assisting with nutrient absorption and assimilation.
Indeed, probiotics are crucial for our health. Our bodies can better fend off sickness and illness when the beneficial bacteria are correctly balanced. If you're looking for the best probiotics that suit your needs, here we've listed Australia's top 10 best probiotics.
---
10 Best Probiotics in Australia 2023 - Top Brands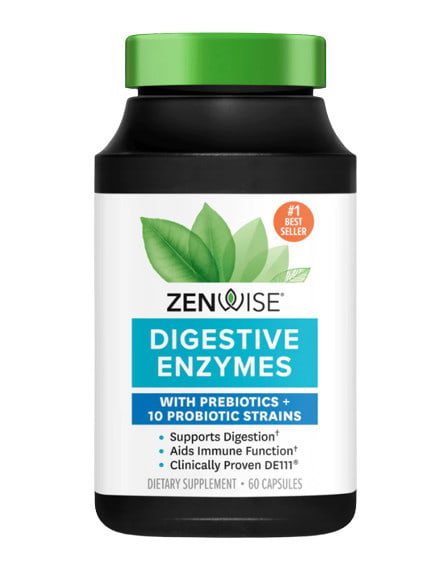 Check Zenwise Digestive Enzymes Prebiotics Plus Probiotics price below:
add_circle
Complete daily digestion formula
add_circle
Clinically proven to work in hours
add_circle
Fast-acting probiotics
add_circle
With prebiotics and probiotics
Why It's Our Top Pick
Surely you've got wind of this viral probiotic on Tiktok! It deserves to be the high-rated probiotic because it is fast-acting and can easily digest the five hard foods. 
Key Ingredients
With its complete digestion formula, this probiotic tablet includes Turmeric, Ginger, Green Papaya, Inulin, Apple Pectin, Bladderwrack, Fennel, and Wakame, which are all effective in aiding gut health and stomach comfort.
Effectiveness
It only requires one tablet before a meal to ease occasional bloating, gas, and discomfort from food and drink. It replenishes digestive enzymes that may diminish with age to aid in the breakdown of alcohol, meat, dairy, fried meals, raw vegetables, and other dietary groups.
Customer Reviews
"This is great for gut health. You take it before you eat to help with gas and upset stomach."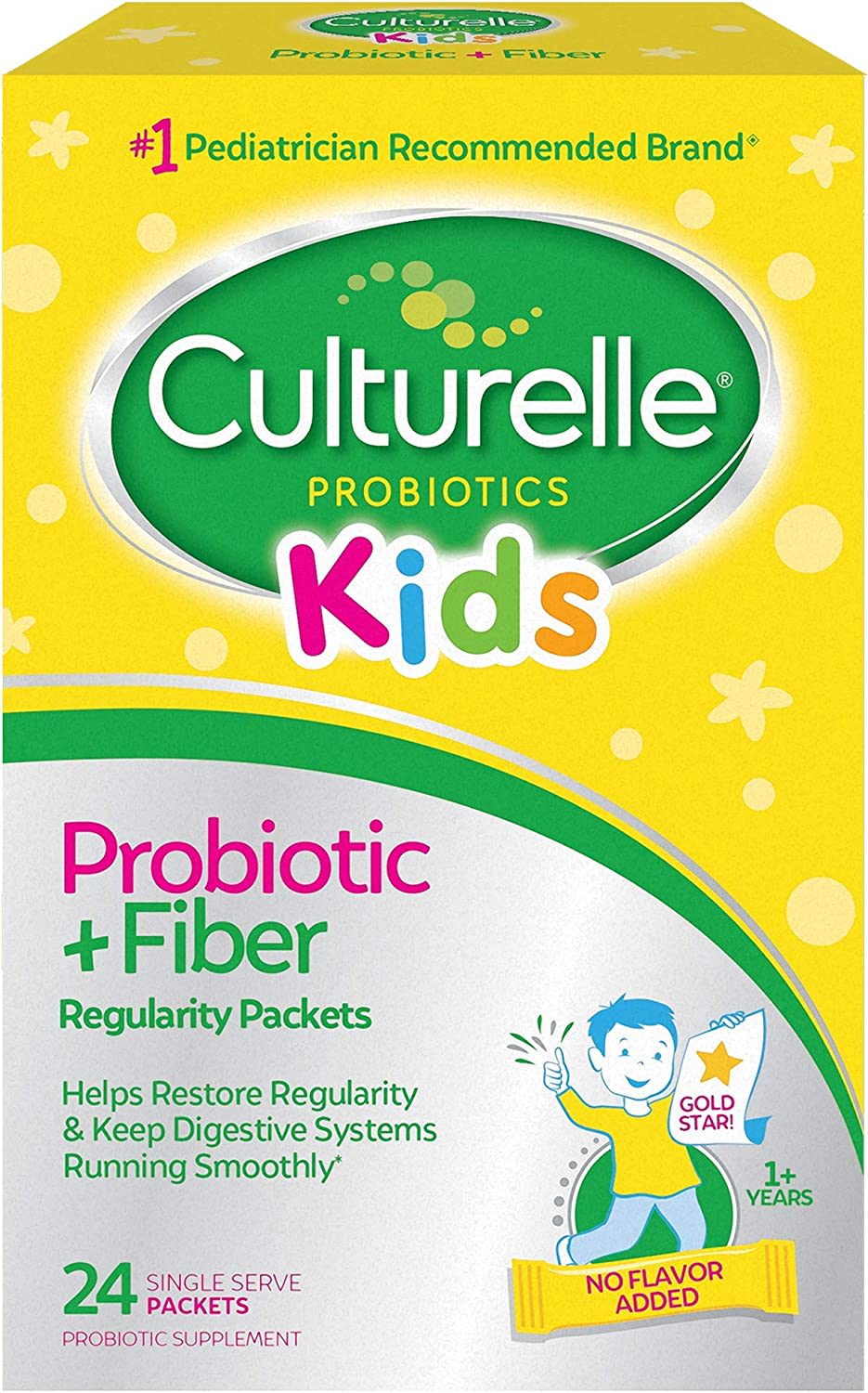 Check Culturelle Kids Probiotic & Fiber price below:
add_circle
Easy to take and flavorless
add_circle
Aids constipation
add_circle
Naturally-sourced ingredients
All parents would agree that supporting their children's natural defense mechanisms is crucial to enhance their general health and minimizing sporadic stomach distress. Culturelle® Kids Packets work to improve a child's health by fostering a balanced population of beneficial and harmful bacteria in the digestive system. 
Key Ingredients
It includes the probiotic strain Lactobacillus rhamnosus GG, which help lessen sporadic digestive issues, including acute infection or antibiotic-associated diarrhea, by re-establishing the balance of good gut flora in their digestive system. 
Effectiveness
It acts naturally with the microbiome of your child, which makes up 70% of their immune system. It is a gentle probiotic specifically designed for your child's digestive system. 
Customer Reviews
"You add this to morning water and you won't have issues in months. It is a must-have for young children with digestive issues."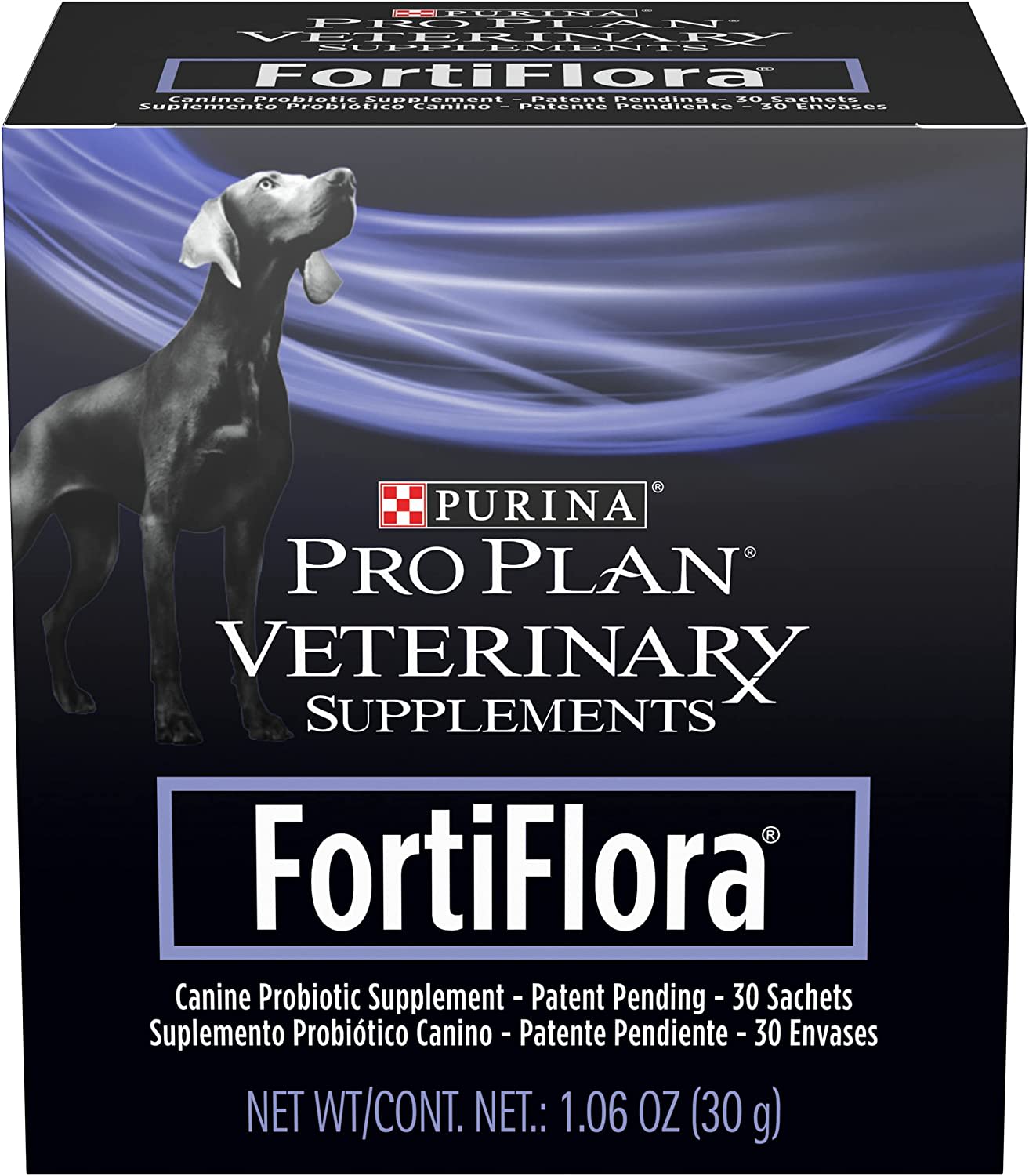 Check Purina FortiFlora Probiotics for Dogs price below:
add_circle
Promotes normal intestinal microflora
add_circle
Helps reduce flatulence
add_circle
Recommended by veterinarians
remove_circle
Slightly more expensive than other brands
This probiotic supplement from Purina FortiFlora can help your doggo with the nutritional management of adult dogs and puppies with diarrhea.
Key Ingredients
Your dog will benefit the most from each serving thanks to their unique microencapsulation method, which improves the stability and survivability of the bacteria until they reach the intestinal tract. Plus, it helps your dog's immune and digestive system and contains antioxidants.
Effectiveness
This safe and effective probiotic dog supplement is easy to provide by mixing the powder into your dog's regular food. It can help regulate the diet of dogs with diarrhea. Additionally, FortiFlora for dogs supports your dog's digestive health and aids in reducing gas in dogs.
Customer Reviews
"This product stopped the anxious 11-month-old rescue puppy from constantly having diarrhea. She is always afraid of loud noises and dogs while outside, so she got colitis. It was treated with antibiotics, but diarrhea reoccurred again. After two weeks of giving her this probiotic, she only had diarrhea just once."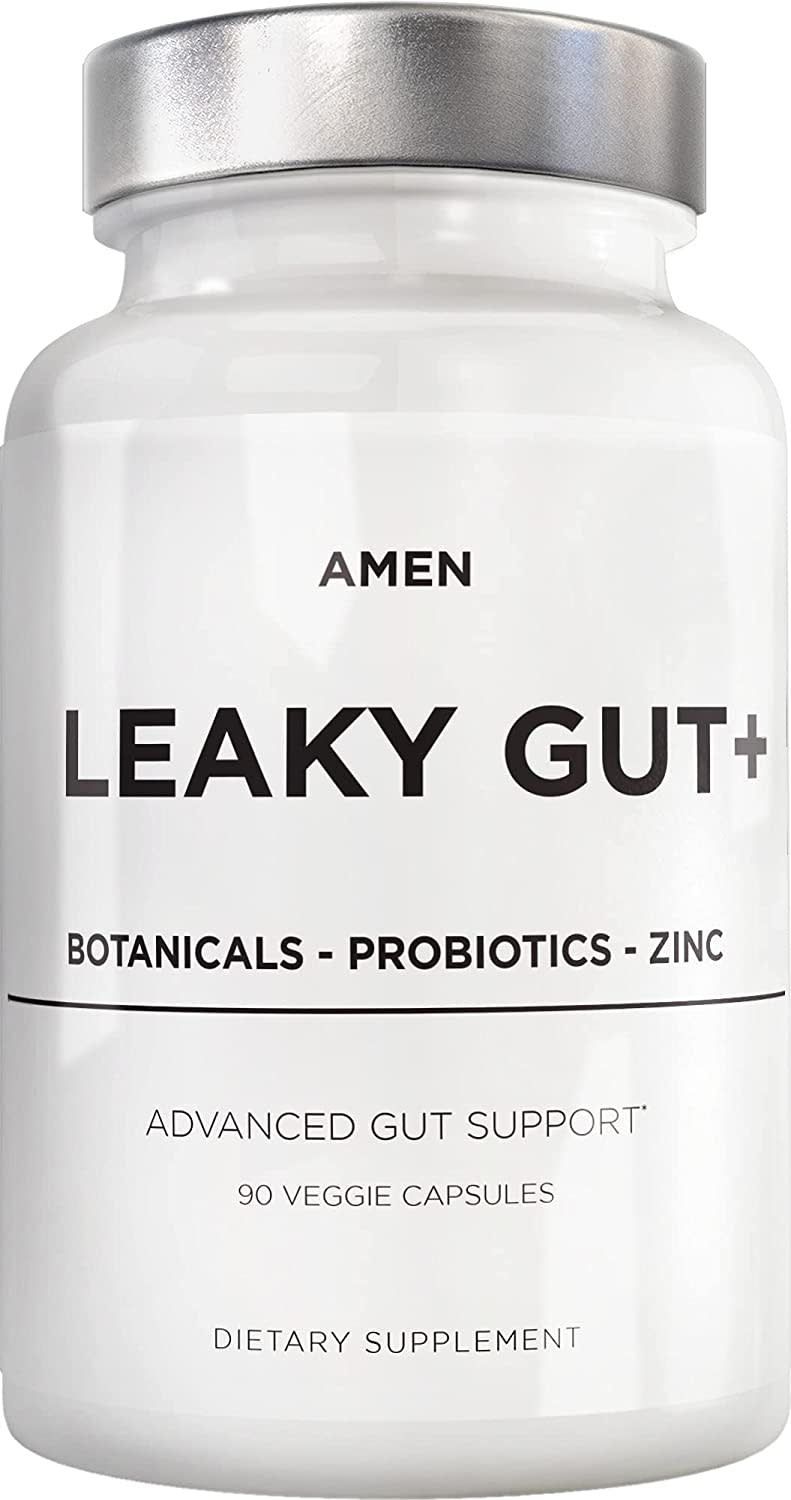 Check Amen Leaky Gut Probiotic Supplements price below:
add_circle
All-in-one digestive supplement
add_circle
No after taste
add_circle
Increases metabolism
add_circle
Increases energy level
Amen Leaky Gut Plus is a comprehensive digestive supplement with accessible L-glutamine, zinc, organic turmeric, licorice root, and marshmallow root in a convenient capsule shape. Best of all, it also contains a variety of probiotics!
Key Ingredients
The Amen Leaky Gut supplement also includes a concentrated licorice extract treated to eliminate glycyrrhizin (DGL). Licorice root is related to regularity, mobility, and digestive health.
Effectiveness
Suppose you experience persistent constipation, bloating, nutritional problems, memory loss, excessive tiredness, and skin issues. It is known to improve your overall appetite and general well-being. You'll no longer feel tired and foggy – making your energy levels immediately begin to spike. 
Customer Reviews
"This supplement would help boost motivation for weight loss. If you take the "Leaky Gut" for three weeks, you'll lose 6 pounds. Be focused on a healthier diet and motivation to become more active. Big plus that there's no aftertaste."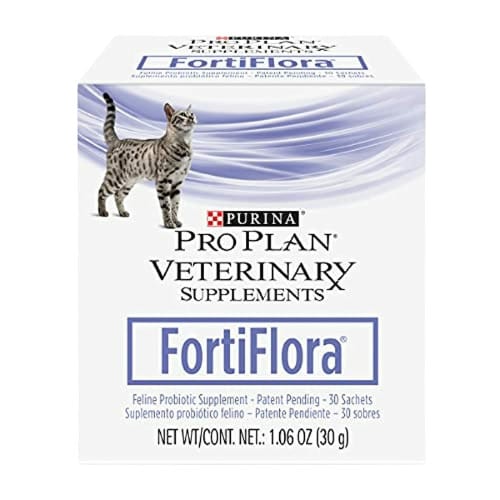 Check Purina FortiFlora Cat Probiotic Powder Supplement price below:
add_circle
Cat-friendly flavor
add_circle
Promotes intestinal health
add_circle
It is safe for cats
With FortiFlora Feline Probiotic Supplement from Purina Pro Plan Veterinary Diets, you can aid in regaining your cat's digestive balance and health. This safe and efficient probiotic powder supplement is made especially for managing diarrhea in adult cats and kittens through food. 
Key Ingredients
Each dose of Fortiflora for cats includes antioxidants to help the immune system. A guaranteed quantity of live microorganisms is included in each package to support healthy gut microbiota. 
Effectiveness
This probiotic for cats uses a specialized microencapsulation procedure that encourages the stability of the bacteria to increase their survivability as they move through your cat's digestive tract. Plus, it enhances your cat's digestive health when given together with its diet. 
Customer Reviews
"The cat has had issues with his bowels since he was 11 months. He is now 15. This new vet said to try probiotics. They are not inexpensive, but he has been regular since putting this in his food. He dislikes almost everything, but he loves the flavor of this product and gobbles it right up. Not more hard tiny turds for him! Thank you!"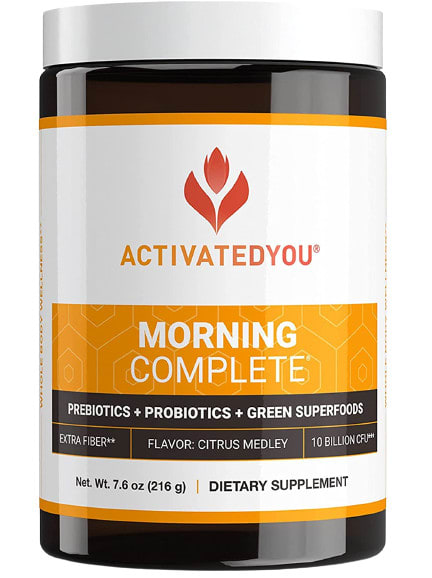 Check ActivatedYou Morning Complete with Probiotic price below:
add_circle
No after taste
add_circle
Improves gut health
remove_circle
It does not dissolve well
Your morning is complete with this effective daily wellness beverage that includes a specially chosen combination of nutrients to assist healthy digestion, daily energy levels, and overall wellness.
Key Ingredients
It is mainly composed of leafy greens nutrients. It also contains five more carefully chosen nutrient mixes to boost metabolism, keep spirits high, and aid the body's defense against oxidative stress.
Effectiveness
Your body might have to adjust to these probiotic side effects – it will mess with your stomach at first. However, once you have gotten used to this supplement, all the side effects will subside, and everything will feel normal again, but with added significant impact! 
Customer Reviews
"Being in menopause and dieting, you need all the help you can get. You tried the apple threw it away, couldn't drink it, ordered the citrus, and loved it! This product has changed my life. You used the bathroom every morning now instead of twice a week prior. After decades of searching for help, you finally found it. You will not regret it. You automatically place your order because you cannot miss a day!"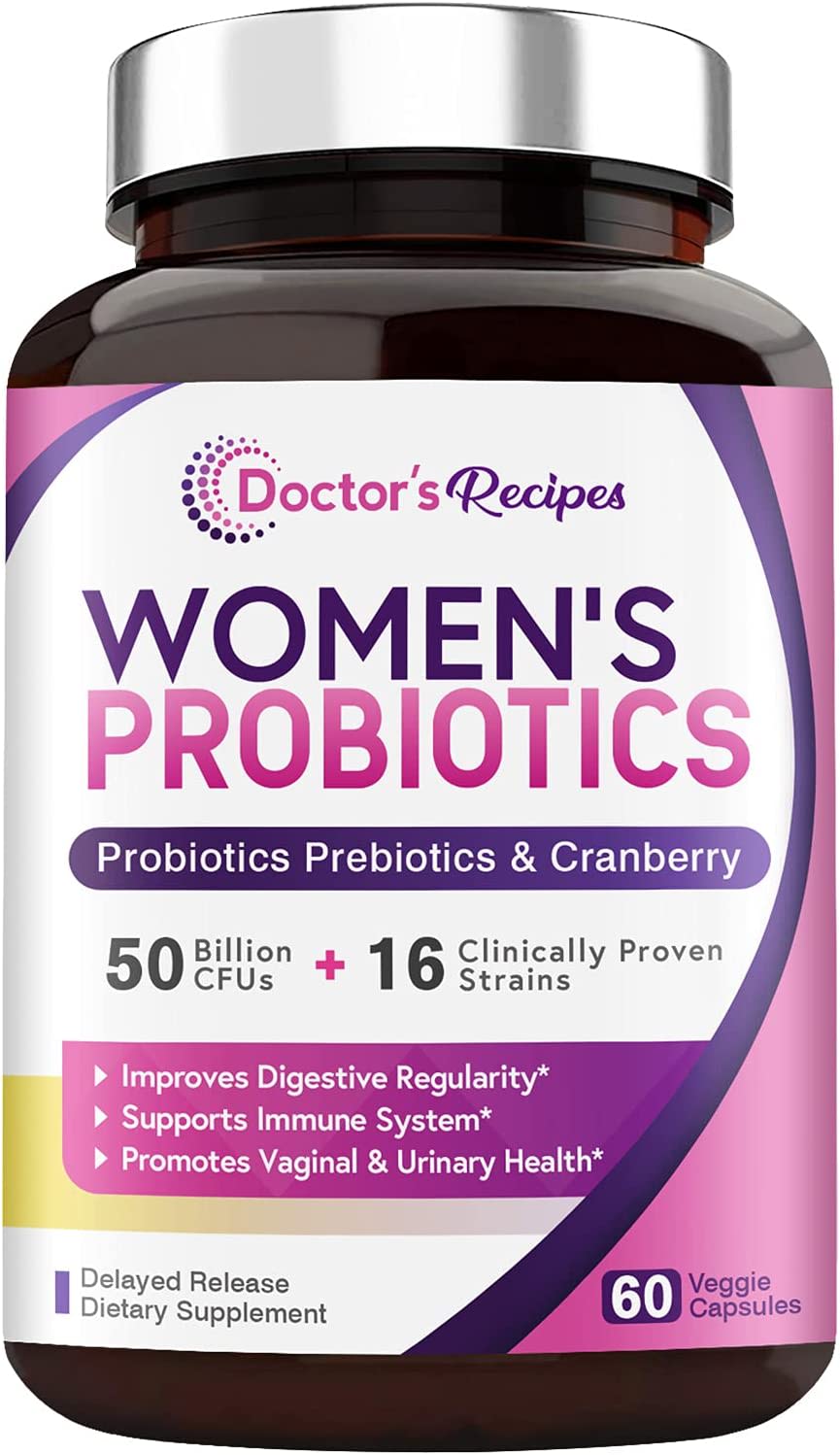 Check OmniRecipes Probiotic for Women price below:
add_circle
Promotes digestive and immune health
add_circle
Maintains vaginal and urinary health
add_circle
Eases stomach discomfort
Meet the powerful digestive and immune supplement specifically formulated for women – this daily probiotic supports immune and digestive health and contains 50 billion CFUs from 16 clinically tested strains.
Key Ingredients
This probiotic combines probiotics, prebiotics, and cranberries to support vaginal and urinary health and digestive and immunological health. Additionally, cranberries improve urinary tract cleaning.
Effectiveness
Undoubtedly, these women's prebiotics supply the resources we need to survive. In contrast, probiotics are beneficial microorganisms that assist in maintaining microbial balance. It effectively enhances survivability since the delayed release delivery enables strains to endure stomach acid and arrive at your intestinal tract alive.
Customer Reviews
"You've only used this briefly, but baby listens; it worked within 24 hours. You/ve always battled with gut issues as someone with PCOS and high inflammation issues. You'll be glad you found this product; the extra cranberry puts the icing on the cake. You'll definitely be buying more."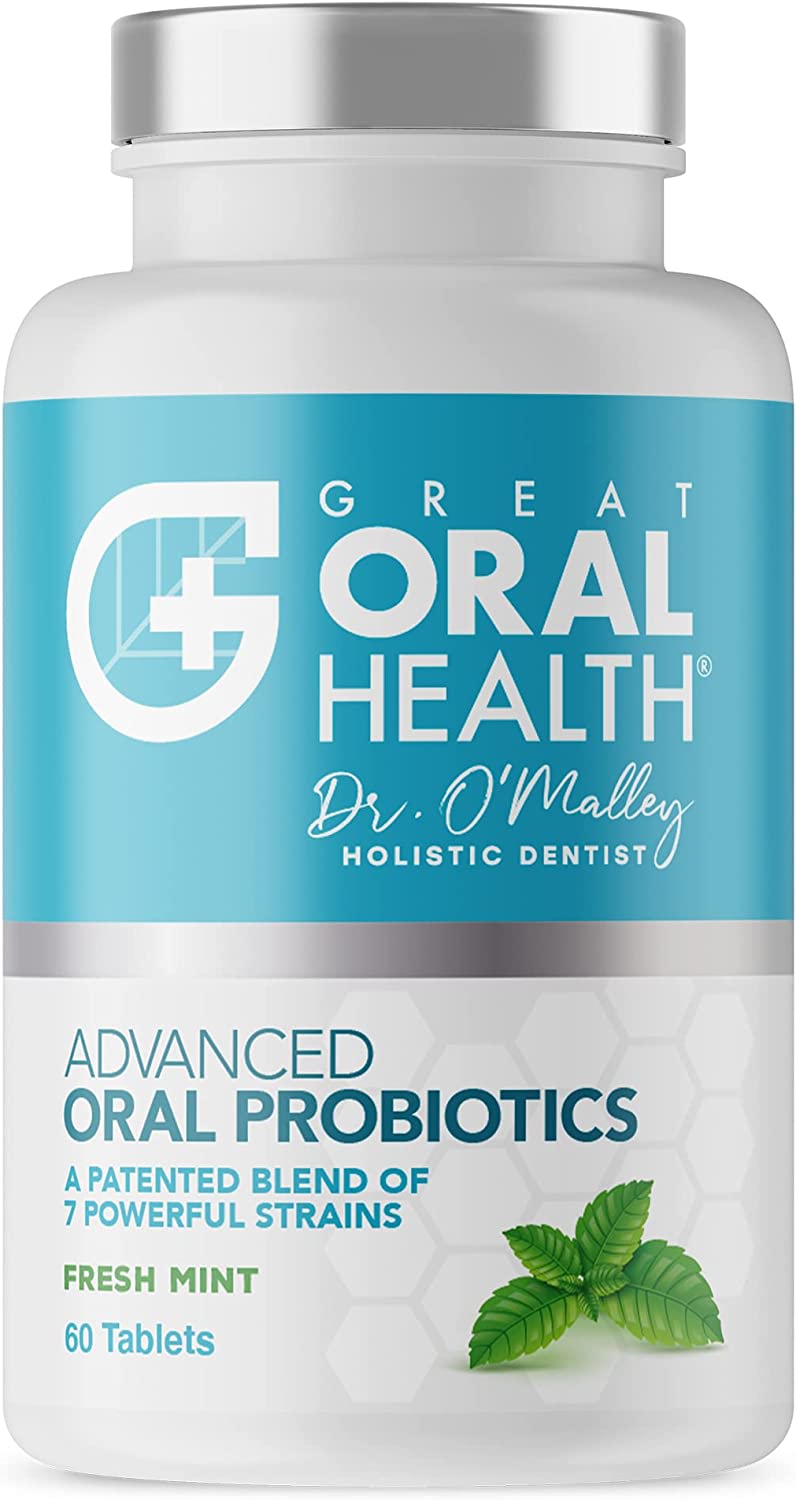 Check Chewable Oral Probiotic for Mouth price below:
add_circle
Protects teeth and gums
add_circle
Boosts immunity
add_circle
Includes seven powerful probiotic strains
This advanced oral health protection assists you in keeping your mouth healthy – thanks to Dr. Paul O'Malley's combination of protective oral probiotics that act as a strong barrier against "bad" bacteria. 
Key Ingredients
These chewable, oral probiotics are vegetarian, gluten-free, lactose-free, and have a natural, sugar-free mint flavor to help you maintain a healthy mouth. Best of all, it is 100% FLUORIDE and BLEACH-FREE and free of artificial flavors, colors, and sweeteners. 
Effectiveness
Some reviews have claimed that after two days of using these, their gums look better than they can ever recall. Instead of red, they are beautiful, healthy pink – making their mouths feel fresh, robust, and healthy. 
Customer Reviews
"Gives you the added boost that all is good in my mouth. No complaints or turned-up faces due to bad breath, and finally, an uncoated pink tongue which you never saw before with all the brushing and tongue scraping. Buying a second bottle."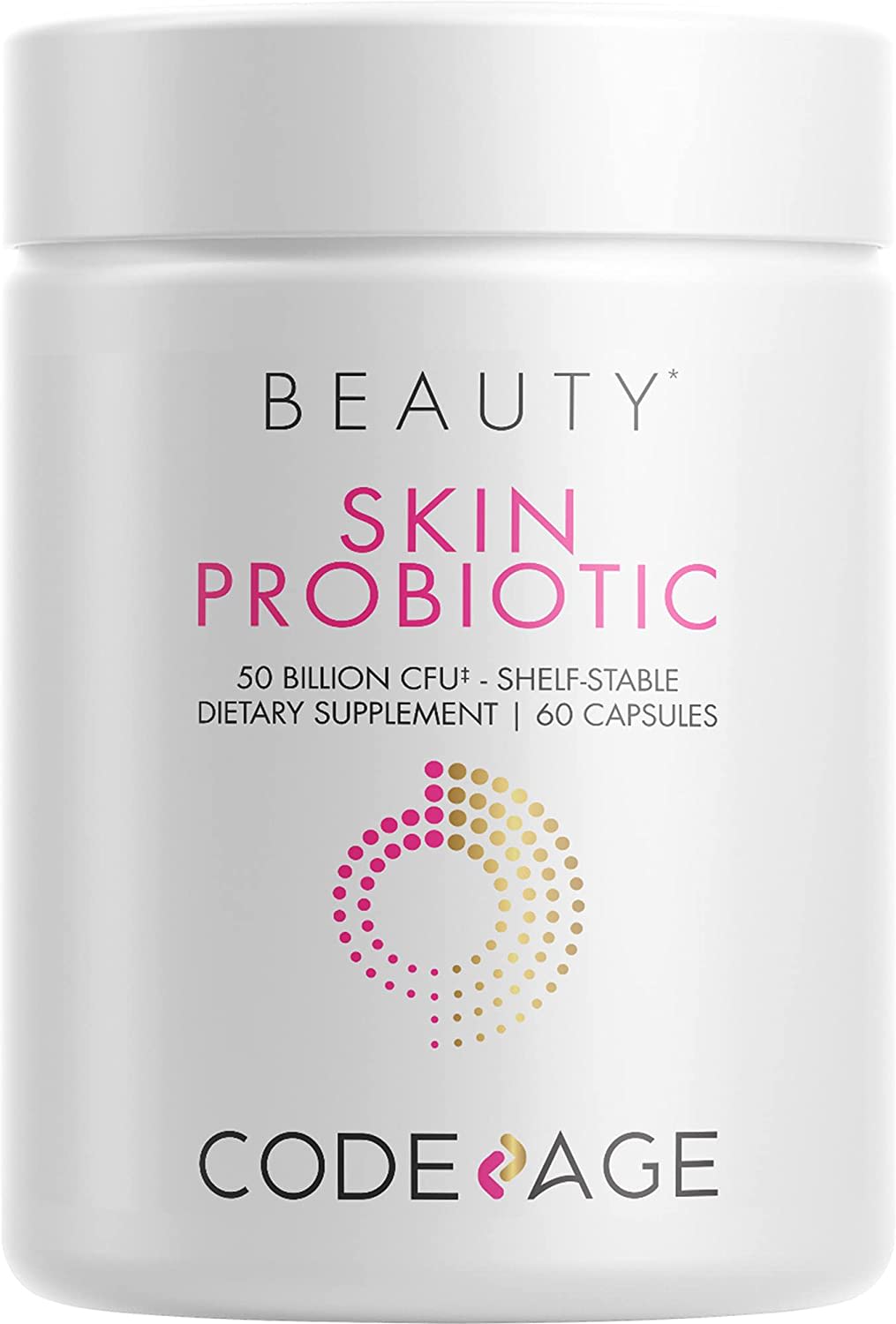 Check Codeage Skin Probiotic price below:
add_circle
Improves skin conditions
add_circle
Works great in clearing up hormonal acne
This product helps you with your skincare journey – it has a quality all-in-one probiotic supplement designed exclusively to assist your skin. 
Key Ingredients
It contains 50 billion CFUs* of probiotics from 19 different strains. Plus, s botanical combination consisting of açai powder, ginger and rose hip extracts, Triphala, fenugreek, and 30 mg of phytoceramides per serving is in this advanced prebiotic and probiotic solution.
Effectiveness
Indeed, this product is a game changer to your skincare and health routine – it gives you more glowing skin and clears the skin from the inside out. People who also deal with cystic acne have claimed the effectiveness of this probiotic. 
Customer Reviews
"Yes! It works! You have been plagued with cystic acne for about ten years. It cleared up the problem. You can now wear makeup without dry bumps to cover. It took about two weeks to see a difference. It has been almost five months, and the bad acne is gone! The face is soft and clear of those awful cystic bumps."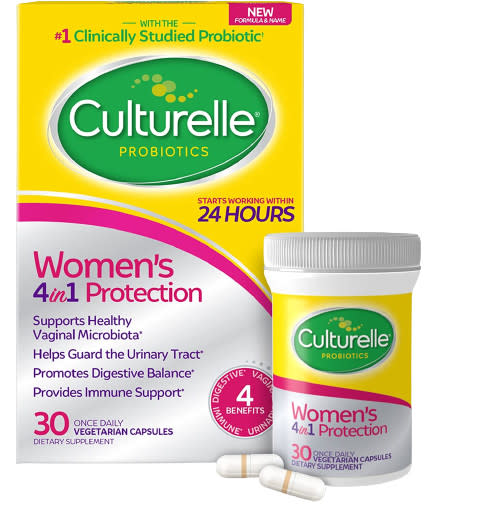 Check Culturelle Probiotic for Women price below:
add_circle
Easy to swallow
add_circle
Regulates gut health
add_circle
Safe for pregnant women
Culturelle Women's Healthy Balance stands out from other probiotics for women because it comprises five clinically tested strains. This unique mixture supports your body's natural ability to balance out good bacteria.
Key Ingredients
A handy once-daily pill of a multi-strain probiotic combination for women that supports immunological, digestive, and vaginal health naturally with your body is included in this probiotic – addressing women's specific needs. Plus, it consists of the LGG strain, which supports the immune system. 
Effectiveness
This daily probiotic maintains women's bodies with natural balance while protecting them from the inside out. It also balances the adverse effects and daily pressures in your body. 
Customer Reviews
"You didn't notice any immediate changes the first week or so. Your stomach is constantly upset, so if it did upset others' stomachs, you didn't notice. (You've struggled for a year now with a constant upset stomach, low energy levels, and bad bloating.) You've finished the entire bottle and can confidently say it greatly helped your gut health and energy levels. You now have an appetite in the morning and sleep better, not to mention you lost about 5 pounds since taking it (likely from no longer being so bloated 24/7)."
---
What is a Probiotic? Probiotic vs. Prebiotics
Here's a quick comparison of pre and probiotics:
For enhancing immunity and digestive health, probiotic supplements are growing in popularity. Probiotics are live bacteria that can help maintain a healthy balance of good bacteria in the stomach and are present in many food sources, including yogurt and other fermented foods.
On the other hand, Prebiotics are those chemicals that originate from carbohydrate types (mostly fiber) that are indigestible to humans. The helpful bacteria in your gut consume this fiber. Also, it is best to remember that there are some probiotic side effects– it depends on how your body will react to it. 
---
Different Types of Probiotics
Many probiotic supplements have different properties depending on the exact strain, dose method, and intended usage. All probiotic supplements may benefit general health, but depending on factors like age or pre-existing medical conditions, some may be more suitable for certain people than others. Below are the most common types of probiotics you'll find in Australia:
Capsules

Liquids

Powders

Probiotic Drinks
Remember to tailor your probiotic supplements to match your needs and preferences in terms of your health. 
---
Buying Guide: How to Choose a Probiotic
Understanding the probiotic benefits and choosing a supplement that fits your needs are essential if you're considering buying probiotic supplements in Singapore. Here are some guides that you might want to consider:
Choose a Gold Standard of probiotics to restore equilibrium to the gut flora. This type of probiotic is a combination of live probiotic cultures given with their host environment in a formulation. 

Before choosing a probiotic supplement, check the label for standardization, shelf stability, and delivery system technology.

Look for probiotic solutions containing prebiotics to maximize the probiotics' therapeutic benefits. 

Ensure the probiotics supplement does not contain any that conflict with your allergies or dietary restrictions. If it does, double-check your dosage amounts and, if necessary, consult a nutritionist or healthcare professional before starting to take the supplement. 
---
Best Probiotics Brands in Australia
Looking for the best probiotic brands is essential to your decision-making. Here we listed some of Australia's best probiotics brands. 
Culturelle Probiotic
Since 1998, Culturelle® products have been utilized in clinical investigations and have proven safe and effective for all age groups. Their product line is FDA's most recent reasonable manufacturing procedures.
Zenwise Probiotic
Their BioCore® Optimum Complete enzyme combination aids food digestion and encourages nutrient absorption. It also relieves bloating, gas, and indigestion, boosting digestive enzyme replacement.
Doctor's Recipes Probiotic
Doctor's Recipes solely offers non-GMO goods. The items' quality and safety are the priority above all else. A third-party lab in the USA independently tests and accredits every Doctor's Recipes product.
Purina Probiotic
A safe and effective strain of helpful bacteria is present in Purina Pro Plan Veterinary Supplements FortiFlora Canine Probiotic Supplement, which supports and restores healthy intestinal microbiota. 
ActivatedYou Probiotic
ActivatedYou's innovative formula combines the most recent advances in modern nutrition and health with ancient Eastern customs and ingredients. 
---
Probiotics Price Range Here in Australia
The probiotic price in Australia differs on the brand, the probiotic, the quantity, and the purchase location. Generally, probiotics can range from around AUD 10 to AUD 60 or more.
Probiotic supplements are commonly available in pharmacies and health food stores. They can cost between AUD 10 to AUD 40 for a bottle of 30-60 capsules or probiotics tablets. Probiotic powders, often used in smoothies or mixed with water, can cost between AUD 20 to AUD 60 for a jar of 150-300 grams.
It's important to note that some probiotic products may be more expensive due to the inclusion of specific strains of bacteria, higher potency, or additional ingredients. Also, purchasing probiotics online may affect the price due to shipping and handling fees.
---
Where to Buy Probiotics in Australia?
Probiotics are widely available in Australia from various sources such as pharmacies, health food stores, supermarkets, and online retailers. Here where you can get the best probiotic in Australia. 
Pharmacies often offer a range of probiotic supplements. You can find a pharmacist to advise you on selecting the right probiotic.

Health food stores may also have probiotics and other health supplements and products.

Supermarkets often have a health and wellness section where you can find probiotics and other vitamins and supplements.

Online retailers such as iHerb, Amazon, and HealthPost offer probiotic supplements.
Choosing a reputable brand and checking the expiry date before purchasing probiotics is essential. It's best to check probiotic reviews to get an idea of the effectiveness and quality of the product– and the probiotics best in Australia. 
---
Conclusion 
Taking probiotics is undoubtedly an investment toward a healthy life. It helps you digest while you keep the necessary nutrients in your body. All of the best probiotics you could find in Australia are on our list, so we hope you find the best one that works for you.
---
Related Articles