Each top-rated eyeliner has its own advantages, ranging from waterproof and long-lasting to smudge-proof and easy to apply. Choosing the best eyeliner can be daunting for those new to makeup.
Whether you prefer a subtle everyday look or a dramatic winged eye, the best eyeliner Australia suits your needs. We have explored some of the eyeliners that are tried and tested by many makeup enthusiasts. Keep scrolling because this article may help you choose the right eyeliner.
---
10 Best Eyeliners To Buy In Australia 2023 (Liquid, Pencil, Gel)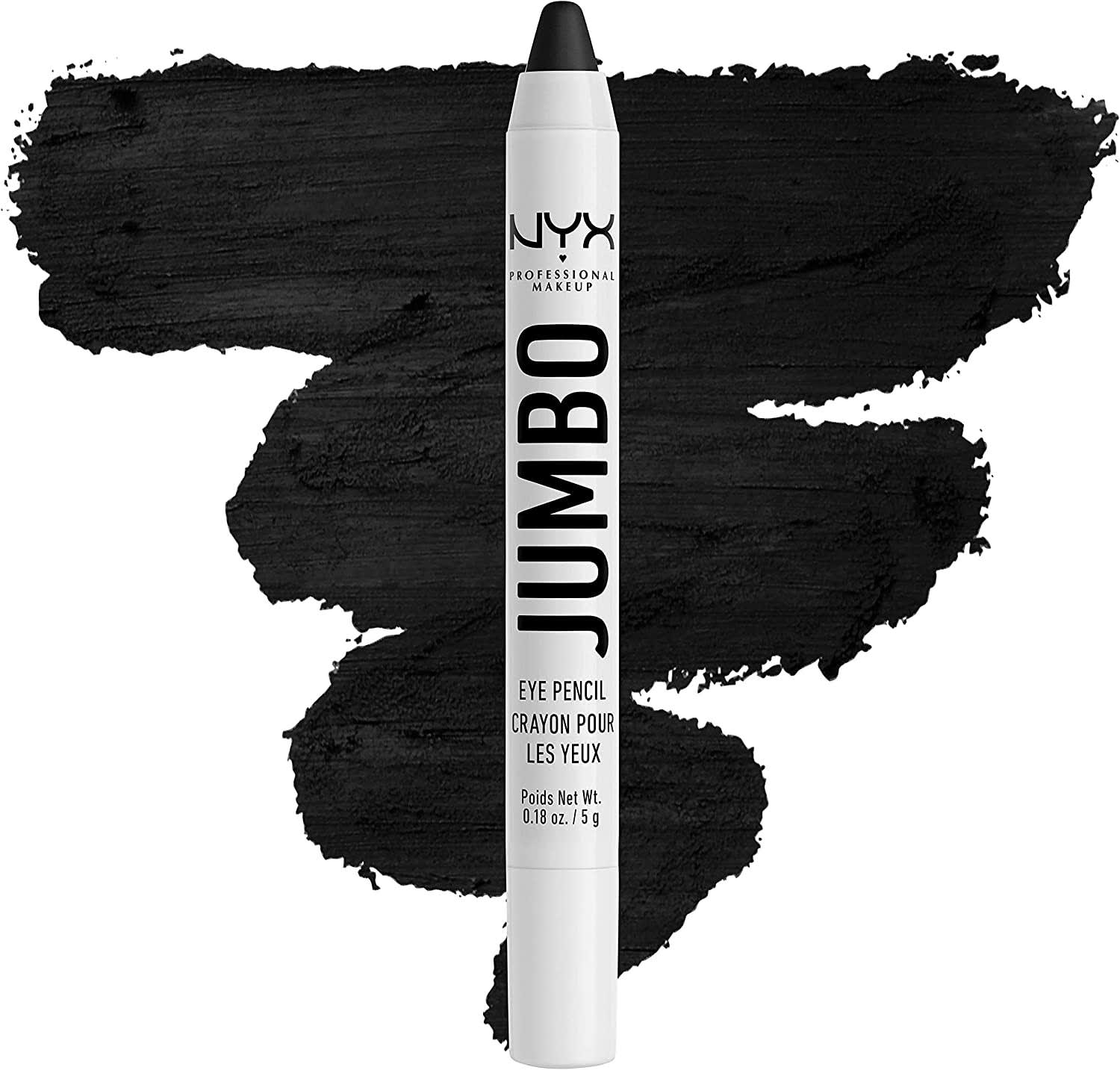 Check NYX Professional Makeup Jumbo Eye Pencil price below:
remove_circle
People with medium skin tone experience chalky texture
Why It's Our Top Pick
It is the best eyeliner Australia for all skin tones. The NYX Professional Makeup Jumbo Eye Pencil is available in vivid colors and has a creamy texture that makes it easier to blend. You do not need to retouch your eyeliner with the Jumbo Eye Pencil; you only need to swipe it once. Plus, it is cruelty-free and long-wearing.
Create a dramatic eye look with the NYX Professional Makeup Jumbo Eye Pencil. However, it is sharpenable to help you control the thickness. 
Key Ingredients
The eye pencil has a creamy formula that helps the eyelids look smoother. NYX has created an eyeliner that glides easily and matches skin tone by combining mineral oil and powder. Tocopheryl acetate, an antioxidant with vitamins C and E to protect against UV rays, is added. Chromium Oxide and Ferric Ferrocyanide are two of the ingredients that aid in improving the eyeliner's pigmentation.
Effectiveness
The Jumbo Eye Pencil is super velvety and easy to smudge. It is a perfect choice if you like smoky eye effects. In a single swipe, it can style the eyelid. Additionally, due to its shimmery finish, some use Jumbo Eye Pencil as a highlighter.
Customer Reviews 
One buyer claims the NYX Professional Makeup Jumbo Eye Pencil is a good highlighter. Thanks to its creamy texture, it is also easy to swipe on the skin.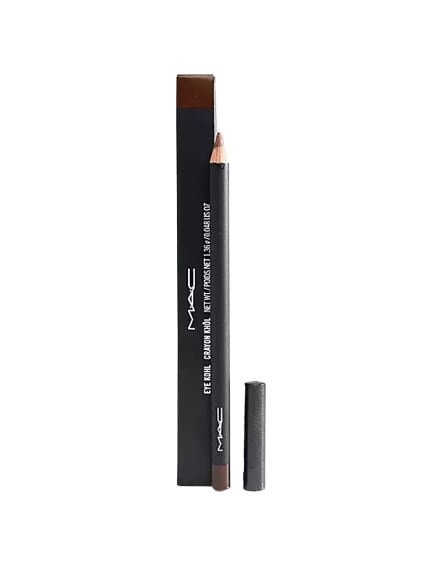 Check MAC Eye Kohl - Teddy price below:
add_circle
It leaves a matte finish
add_circle
Safe for people who wear contact lenses
add_circle
Recommended by experts
remove_circle
It needs to be sharpened more often
The well-known cosmetics company MAC makes an eye pencil that is ophthalmologist-tested. The eyeliner is fragrance-free and has a matte finish making it safer to wear.
Key Ingredients
MAC added chromium Oxide, Ferric Ferrocyanide, Manganese Violet, and Ultramarines as color enhancers. These guarantee a pearly, silky finish that will last long. Beeswax and castor seed oil make the eye pencil easy to apply as they help moisturize the skin. Other components are Tocopherol, Aluminum powder, Titanium Dioxide, and Citrus extract.
Effectiveness
The MAC Eye Kohl-Teddy can make drawing a subtle, rounded line around the eyelids or waterline easier. It is long-wearing and light to wear. Make sure to sharpen the eye pencil every after use for better performance. 
Customer Reviews 
The MAC Eye Kohl-Teddy stays put all day, according to many customers. Its light and soft texture and easy application impress many users.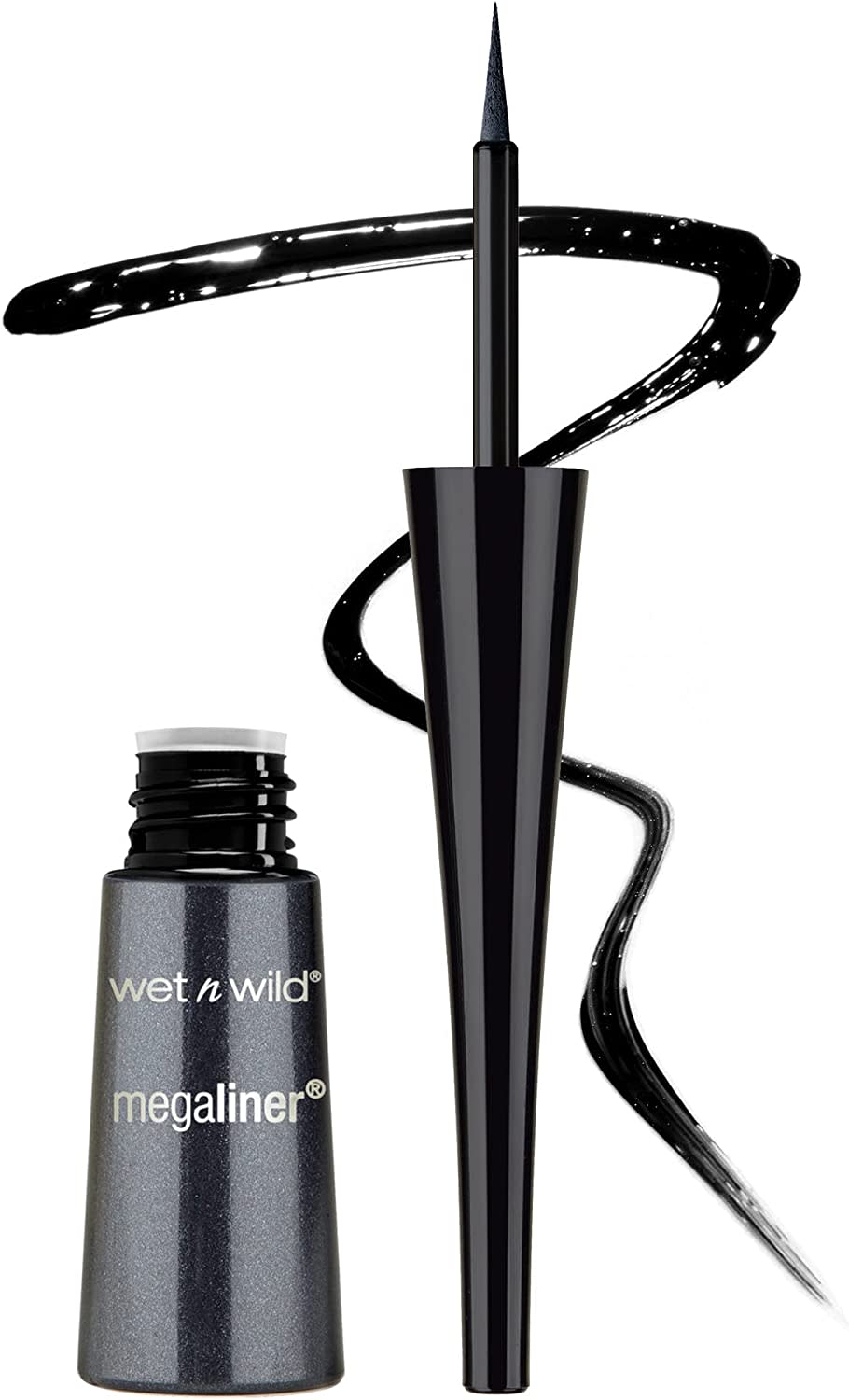 Check Wet & Wild Megaliner Liquid Eyeliner price below:
add_circle
Very pigmented
add_circle
Used safe ingredients
add_circle
It dries out quickly
remove_circle
It is not suitable for oily lids
The Wet & Wild Megaliner Liquid Eyeliner is a fluid formula that dries faster than its competitors. It is smudge-proof. Quick and precise application of eyeliner is made possible by the flexible brush.
Key Ingredients
High-definition, long-lasting pigment is the end product of the polymer blend. Although the liquid eyeliner contains water, other ingredients help it dry quickly. Phenoxyethanol, sodium citrate, and propylene glycol are just a few examples. What is more, it is a vegan equation and cruelty-free.
Effectiveness
The Wet & Wild Megaliner Liquid Eyeliner is ideal for people with sensitive eyes - thanks to the non-harsh ingredients. It is excellent for creating thin lines with its easy-control Inkwell applicator. 
Customer Reviews 
Based on the results, more customers claim the Wet & Wild Megaliner Liquid Eyeliner is a good deal. The dark shade is the smash hit among eyeliner tones. Using this top eyeliner for any event will make you stand out.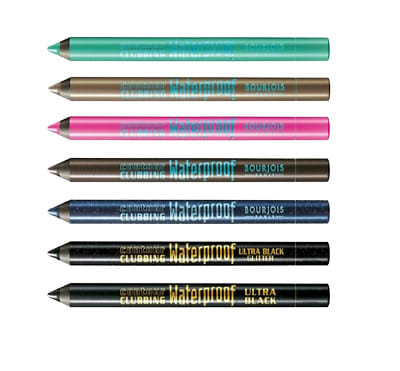 Check Bourjois Contour Clubbing Waterproof Eyeliner price below:
add_circle
Long-lasting eyeliner
add_circle
It does not irritate sensitive eyes
add_circle
Available in colorful shades
The best waterproof eyeliner for all-day wear in Australia is the Bourjois Contour Clubbing. It comes in a variety of shades and has a finish that is exceptionally smooth and shimmery. The eyeliner will leave a vibrant effect when you wear it at night. 
Key Ingredients
Vitamin E and jojoba oil are the main ingredients that are safe for the eyes. Additionally, they nourish the eyelid, making it appear softer and more appealing. Bourjois added cotton oil to the eyeliner formula to make it more comfortable for people who wear contact lenses. Conversely, Cyclopentasiloxane makes the eyeliner easy to glide on and dry, giving it a silkier feel when applied.
Effectiveness
The Bourjois Contour Clubbing Waterproof Eyeliner will make your lash line more intense. Therefore, select a color that compliments your skin tone. Aside from making eyes pop, smudge the formula to serve as an eyeshadow. 
Customer Reviews
The majority of buyers believe that the waterproof claim is valid. It neither smudges nor causes redness, making it on the list of the best eyeliner Australia.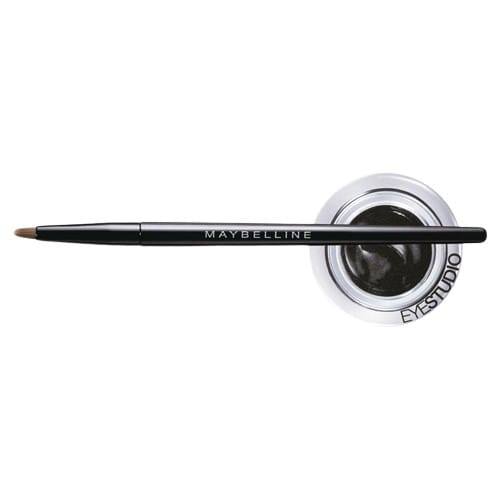 Check Maybelline Lasting Drama Gel Pot Eyeliner price below:
add_circle
Dermatologist tested
add_circle
A long-lasting gel formula
remove_circle
Some purchase does not include a brush
Maybelline is one of the eyeliner brands found in every drugstore. The Lasting Drama Gel Pot Eyeliner is a makeup artist's choice from the brand, which can stay put within 24 hours. 
Key Ingredients
The Maybelline Lasting Drama Gel Pot Eyeliner does not contain any oil. Methicone, a silicon-based polymer, gives the eyeliner a smooth feel and makes it easy to spread. Titanium dioxide, ultramarine, chromium oxide, and other safe chemicals are the grounds of the eyeliner's intense shades. 
Effectiveness
The gel-based eyeliner is both smudge-proof and highly pigmented. Applying winged eyeliner will be easier with a brush, particularly in drawing a sharp line. It is allergy-tested and is safe for sensitive eyes. 
Customer Reviews 
Customers' top comments include that it is easy to use and does not smudge. It is less expensive than other well-known gel-based eyeliners and has a better consistency.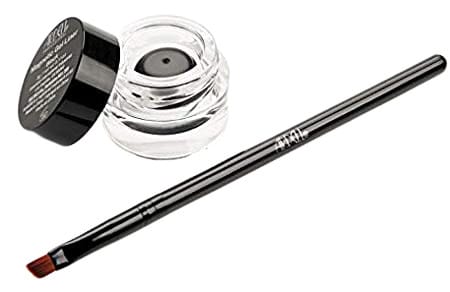 Check Ardell Professional Magnetic Gel Liner price below:
add_circle
Eliminates the need for adhesive
remove_circle
It has a gloopy consistency
Ardell Professional Magnetic Gel Liner makes false eyelash application less stressful. The liner's magnetic properties allow the eyelashes to adhere to it, even without traditional lash adhesive. 
Key Ingredients
The key ingredients include iron oxides that create a magnetic attraction to the eyelashes and a gel liner that provides a smooth application. It contains Methyl Trimethicone, which aids in the rapid drying of the eyeliner and quickly evaporates from the skin. Additionally, the isododecane plays a vital role in ensuring a matte finish and retaining moisture simultaneously. It also causes the eyeliner to spread quickly on the skin with an intense pigment. 
Effectiveness
This product is also long-lasting, waterproof, and smudge-proof, ensuring that your eyelashes stay in place for an extended period. Additionally, it gives you a smooth and precise finish, which can last for all-day wear.
Customer Reviews 
According to one customer, the waterproof gel eyeliner is difficult to remove, even with coconut oil. It is also thicker and harder to apply, but the brush can help.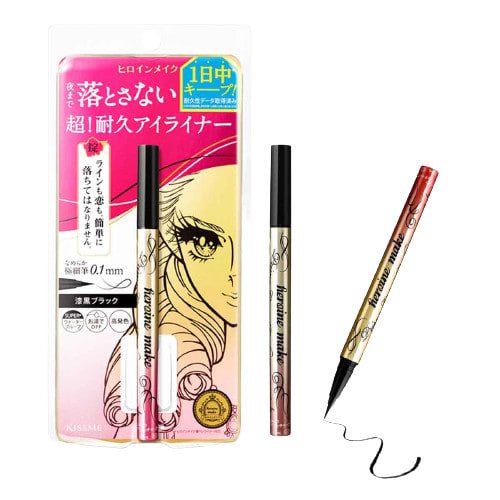 Check KISS ME Heroine Make Prime Liquid Eyeliner price below:
add_circle
Easy to remove with warm water
No big surprise that Koreans have the best eye look with the KISS ME Heroine Make Prime Liquid Eyeliner Rich Keep. The water-resistant polymer keeps the eyeliner from smudging, even in wet or humid conditions. 
Key Ingredients
The key ingredients of KISS ME Heroine Make Prime Liquid Eyeliner Rich Keep include iron oxide that gives the eyeliner a deeper color and helps it to last longer on the skin. Panthenol, a soothing ingredient, helps to prevent irritation or inflammation. The brand used carbon black making the eyeliner more dramatic and intense looking. Lastly, hyaluronic acid helps keep the moisture in the eyelids, preventing dryness and flakiness. 
Effectiveness
It is a long-lasting formula with serum ingredients that care for the skin condition. It has a broader tip, which makes it easier to apply eyeliner to the corner of the eye. There is an ink adjuster to help you control the application. 
Customer Reviews 
It is smudge-proof. One of the benefits of using liquid eyeliner is it helps strengthen the skin around the eyes and gives the eyelid a smoother texture.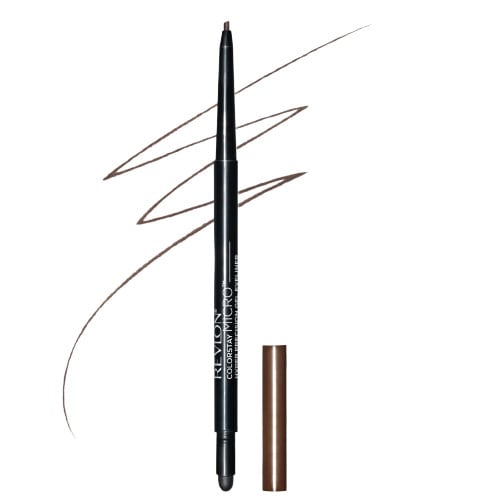 Check Revlon ColorStay Micro Gel Waterproof Eyeliner price below:
add_circle
It provides an intense pigmentation
add_circle
Made of micro-tip applicator to deliver precise details
The Revlon ColorStay Micro Gel Waterproof Eyeliner is a professional eyeliner that delivers long-lasting results with minimal touch-ups needed. It is ophthalmologist-tested, safe for contact lens wearers, and suitable for sensitive eyes. 
Key Ingredients
Revlon uses silicone-based ingredients, like Cyclopentasiloxane and Trimethylsiloxysilicate, that help to create a smooth and even application of the eyeliner. It has a brown pigment that is easy to blend when achieving a smoky eye. In addition to that, a plant-based ingredient called Tocopherol works as an antioxidant to protect the skin from environmental stressors.
Effectiveness
The effectiveness of Revlon ColorStay Micro Gel Waterproof Eyeliner - Brown is due to its long-lasting, waterproof formula that stays put for up to 24 hours without smudging or fading. The micro gel technology allows for smooth and precise application, while the pigments provide a rich and bold brown color. The eyeliner is also smudge-proof and transfer-resistant, perfecting for all-day wear. 
Customer Reviews 
Many customers have trusted the Revlon brand for quite a long time, and this brown eyeliner does not disappoint. You will enjoy ultra-precision and a more careful eye look with it.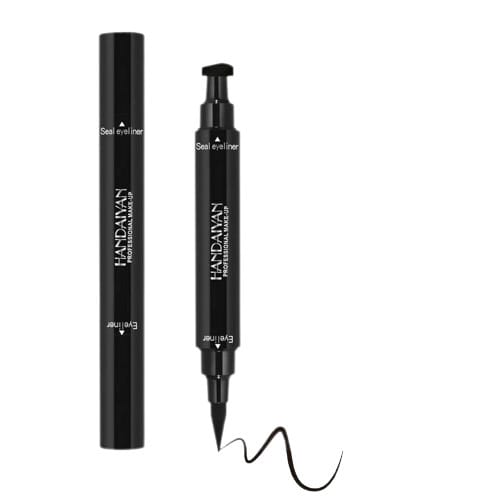 Check HANDAIYAN Winged Stamp Eyeliner price below:
add_circle
Suitable for beginners
remove_circle
Limited to winged eye style
The stamp features a pre-shaped wing shape, which helps to eliminate the need for users to draw on the wing themselves. Therefore, get the HANDAIYAN Winged Eyeliner Stamp to quickly create the perfect winged eyeliner look.
Key Ingredients
Water is the base ingredient in this winged eyeliner stamp. The carbon black is the reason behind an intense black pigment, making the eyeliner more visible and attractive. It is also infused with a moisturizing agent, glycerin, to keep the skin around the eye area hydrated. 
Another ingredient is the Acrylates Copolymer, which helps the eyeliner formula remain on the skin for extended periods. 
Effectiveness
The formula is quick-drying, smudge-proof, and long-lasting, making it perfect for all-day wear. It is also waterproof, sweatproof, and humidity-proof, ensuring the winged eyeliner stays put, even in adverse weather conditions. Additionally, the formula is free of harmful substances such as parabens, sulfates, and phthalates, making it safe for all skin types. 
Customer Reviews 
Overall, HANDAIYAN Winged Eyeliner Stamp is a must-have product for those looking to achieve a flawless and precise winged eyeliner look with minimal effort. Most consumers are amazed that they can do winged eye in a breeze.

Check INGLOT Liquid Eyeliner price below:
add_circle
Lightweight formula
add_circle
Good for sensitive skin
add_circle
It guarantees a flawless matte finish
The INGLOT Liquid Eyeliner has a matte finish, providing a long-lasting, smudge-proof, and water-resistant result. Its lightweight formula dries quickly and offers an intense color payoff. 
Key Ingredients
The INGLOT Liquid Eyeliner has a matte finish and is suitable for all skin types. That is to enriched with nourishing ingredients like Glycerin and Butylene Glycerin. They also added butylene glycol, a humectant that helps moisten skin. The carbon black and other pigment enhancers help produce a deep shade in every application, which can last longer than its rivals. 
Effectiveness
The matte liquid eyeliner has a flexible, fine-tipped brush that allows for precise application, making it perfect for creating thick and thin lines. INGLOT Liquid Eyeliner is free of parabens, fragrances, and alcohol, making it safe for everyday use. 
Customer Reviews 
The INGLOT Liquid Eyeliner is an excellent option for people who want a liquid eyeliner that stays on all day, is easy to apply, and doesn't budge. One user finds it incompatible with oil-based makeup, which is worth considering.
---
What is Eyeliner?
Eyeliner is a cosmetic product that outlines the eyes and creates a more defined and dramatic appearance. It comes in various forms: liquid, gel, pencil, and powder. Eyeliner has been a popular makeup item for centuries and is still widely used today. It can help enhance the eyes' natural beauty and create many different looks. Whether a person is looking for a subtle enhancement or a bold statement, eyeliner can be a valuable tool in achieving the desired effect.
---
Types Of Eyeliner
The best eyeliner to use to complete your makeup look can be limitless. Perfect eyeliner application also takes skill and effort. We then made a list of the different types of eyeliners and how they work:
Pencil Eyeliner 
The most common type is pencil eyeliner which is easy to maneuver and blend. It is less expensive, making it more suitable for beginners. If you want a no-makeup look, use brown pencil eyeliner to look more natural.  
Liquid Eyeliner
A winged cat eye looks best when applied with liquid eyeliner. When using liquid eyeliner, ensure your hands are not shaky, which could ruin everything. 
Gel Eyeliner
Gel eyeliner is simple to apply and can do various styles, for example, cat eye and winged eye. It does not smudge and comes with a brush applicator for more precise results. 
Cream Eyeliner
This type of eyeliner is like a creamy substance that glides smoothly across the lash lines. It can perform a smoky eye effect, yet it is not waterproof and as long-lasting as gel eyeliners. Kohl eyeliner is a cream-based eyeliner that gives off a natural appearance.
Powder Eyeliner
Powder eyeliner is the most versatile on the list. It can be an eye shadow, brow enhancer, and mascara. It is smudge-proof and can last longer compared to other types of eyeliners. 

Marker Eyeliner
Marker eyeliner is almost similar to liquid eyeliner but dries out faster. It is best for making a cat-eye effect with consistent thick and thin lines. 
Glitter Eyeliner
It is a modern type of eyeliner that is high-pigmented. It comes in different colors, which you can wear on any occasion. 
Waterproof Eyeliner
Many good eyeliners are waterproof. Even though this is more expensive, the eyeliner will stay put throughout the day, even if you sweat or cry.
Dual-Ended Eyeliner   
More eyelid styling will be possible when you use eyeliner with two-tip applicators. It typically comes in two colors that are easy to combine to leave a lasting impression. 
---
Buying Guide: How Do I Choose Eyeliner For My Eye Shape
Each person's eyes are unique. There are different styles of eyeliner that you can try to see which one works best for you. Here is a general guideline on picking the best eyeliner Australia for a particular eye shape:
Any eyeliner would work to enhance almond-shaped eyes. You can experiment with both thin and thick liners, depending on the look you want to achieve.
You can use slightly winged eyeliner to create the illusion of elongated eyes. Avoid applying eyeliner on your waterline, as it can make your eyes appear even rounder.
For hooded eyes, use a thin eyeliner or avoid applying it on the eyelid. Instead, you should apply it above your lash line to create a wing.
To create the appearance of larger eyes, use a thin eyeliner on the upper lash line and extend it slightly beyond the outer corner of your eye. 
Use a winged eyeliner to lift the corners of downturned eyes. Avoid applying liner on your lower lash line, as it can draw focus downwards.
---
Best Eyeliner Brands in Australia
Choosing the best brands of eyeliners ensures that you get a product that is of high quality, long-lasting, and easy to apply. These brands use high-quality ingredients, have a wide range of shades and textures, and offer excellent performance, making them a worthwhile investment for any makeup enthusiast.
MAC Eyeliner 
MAC's eyeliners are known for their long-lasting wear and high pigmentation, making them ideal for those who want a bold, dramatic look. They also come in various shades and finishes, so there's something for everyone.
Maybelline Eyeliner
Maybelline's eyeliners are affordable and widely available, making them the best choice for those on a budget. They offer both pencil and liquid liners, as well as waterproof options for those who need extra staying power.
Bobbi Brown Eyeliner
Bobbi Brown's eyeliners have natural ingredients making them gentle on sensitive eyes. They also have a range of shades and textures to find the perfect liner for any occasion.
Estée Lauder Eyeliner
Estée Lauder's eyeliners are smudge-proof and long-wearing, making them an excellent option for those who need their liner to last all day. They come in pencil and liquid formulas and are available in various colors to suit any skin tone.
Stila Eyeliner
Stila's eyeliners are known for their intense color payoff and long-lasting wear. They offer liquid and pencil formulas and a range of unique shades and finishes like glitter and metallics. They also have a smudge-proof formula that won't budge or fade throughout the day.
---
Eyeliners Price Range here in Australia
The price range of eyeliners in Australia can vary widely depending on the brand, formulation, and where you purchase them. 
Generally, drugstore brands such as Maybelline and Rimmel have eyeliners that range from $10 to $20. Mid-range brands like Bobbi Brown and Estée Lauder have eyeliners that typically range from $30 to $40. High-end brands such as MAC and Stila can have eyeliners that range from $40 to $60 or more. 
However, prices can fluctuate due to promotions or sales.
---
Where to Buy Eyeliners in Australia?
You can buy the best eyeliner from various retailers in Australia, including drugstores, department stores, beauty supply stores, and online retailers.
For drugstore brands, you can find them at stores like Priceline and Chemist Warehouse and supermarkets like Coles and Woolworths.
For mid-range brands, you can find them at department stores like Myer and David Jones and Sephora and Mecca stores.
For high-end brands, you can find them at dedicated MAC stores, Sephora, Mecca, and high-end department stores like David Jones.
Online retailers also offer various eyeliners from various brands and price ranges.
---
Conclusion 
It is easy to find the best eyeliner Australia. Consider factors like how pigmented it is, how long it lasts, how precise the applicator is, and the overall formula. Regardless of whether you prefer eyeliner in the form of a pencil, liquid, or gel, you are sure to find one that can assist you in achieving the look you want. If you want the best cat or winged eye look, choose a product from reputable brands. 
Eyeliner of high quality can give your eyes a more natural appearance, add color, or create a bold, dramatic look.