A body wash is a daily essential for basic hygiene. It is packed with ingredients, both moisturizing and healthy for the skin. The more it lathers, the better it cleanses the body from impurities and other dirt. Some body wash has extra features like brightening and softening the skin. Therefore, knowing your skin care needs will help you choose the best body wash in australia and easily weigh down your options.
---
10 Best Body Washes in Australia 2023 - For All Skin Types

Check J.R. Watkins Body Wash price below:
add_circle
Affordable yet high-quality
add_circle
Suitable for sensitive skin type
add_circle
It has a pleasant smell
Why It's Our Top Pick 
The Lemon Cream Body Wash is safe for all skin types. It is plant-based with no harmful ingredients like paraben, phthalates, and dyes. J.R. Watkins has to offer the best body wash in australia that will cleanse and bring natural moisture to the skin instantly. Its lemon scent is not that strong but can guarantee freshness all day. You will surely take delight in softer and smoother skin every after-wash. 
Overview
J.R. Watkins ensures your skin is moisturized and healthy with the Lemon Cream Body Wash. It has a citrus fragrance that can make restrooms heavenly and refreshing. 
Key Ingredients 
It is 97% natural with a squeeze of lemon scent. The blend of ingredients is gentle on the skin, including glycerin, which helps improve skin moisture and elasticity. Cocamidopropyl is known for its ability to rinse dirt and excess oil for better personal hygiene and enhance the body wash's creamy texture. It also contains a mild foam booster to help wash off dirt thoroughly. 
Effectiveness
It is excellent for keeping the skin damped and fresh-looking the whole day. The fragrance is enjoyable and relaxing. The body wash is naturally produced and affordable, making it better than any other soap. 
Customer Review 
Many buyers claim the Lemon Cream Body Wash hydrates their skin. They also love the refreshing lemon scent, which is not too strong.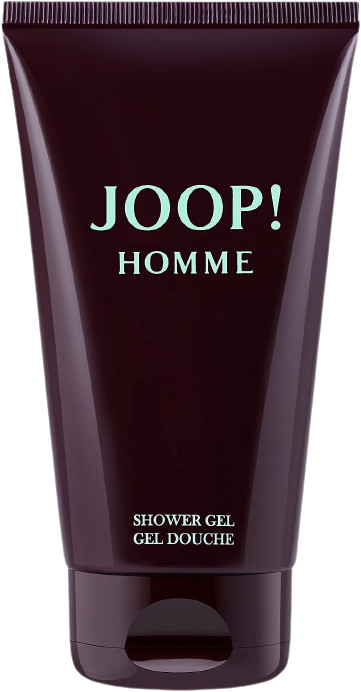 Check JOOP! Homme Shower Gel Body Wash price below:
add_circle
It has a very impressive scent and texture, specially made for men
add_circle
It thoroughly cleanses the skin
Overview
JOOP! Homme Shower Gel helps remove impurities without drying your skin after a bath. It is for men with a floral and woody scent to benefit their senses. 
Key Ingredients 
The shower gel contains ingredients that will clean and relieve the skin from possible irritations. Its unique fragrance comes from flowery and woody notes that are gentle on the nose. The brand combines the scents of bergamot, jasmine, lily, and tonka bean, with a touch of vanilla to deliver a sweet-smelling body wash. 
Effectiveness
This shower gel lathers a lot. Additionally, its appealing, long-lasting cologne scent is another reason to buy this product. 
Customer Review 
Most men love its scent, saying the JOOP! Homme Shower Gel is a must-have. It functions well to keep the skin spotless.

Check L'Oreal Men Expert Barber Club Body Wash price below:
add_circle
It is fragrant
add_circle
It is fragrant
add_circle
It nourishes skin and hair
Overview
Sweet scents do not particularly appeal to men. Consequently, L'Oreal offers a shower gel with a manly fragrance using cedarwood. 
Key Ingredients 
Dermatologists recommend this body wash for cleansing. The cedar essential oil creates a masculine scent unique from other body washes. With the pop oil quatern, the shower gel quickly draws moisture into the skin without a greasy feeling. L'Oreal adds sodium chloride to exfoliate the skin's top layer and help hold other nutrients. It also has a thick gel formula to create more bubbles, which is necessary for washes. 
Effectiveness
The Barber Club Shower Gel is an all-in-one soap for the body, face, and hair. Whether you have dry, oily, sensitive, or a combination skin type, this body wash is worth considering. The masculine fragrance can last all day, even after sweating.  
Customer Review 
The shower gel reviews show that most men use the bath formula to care for the skin and beard hair. It eliminates dirt and oil, leaving their skin elastic and smooth.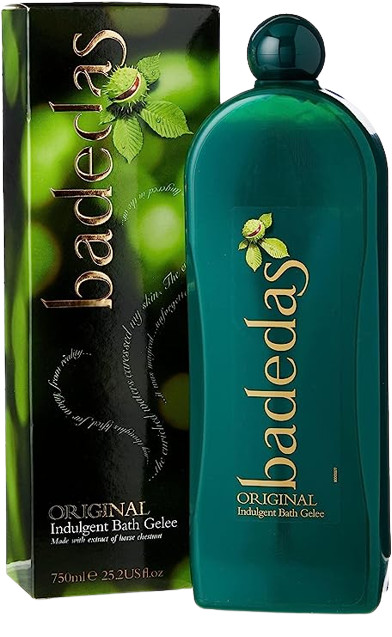 Check Badedas Original Body Wash price below:
add_circle
It is perfect for a bubble bath
add_circle
It is a mood booster
add_circle
Contains antioxidant
remove_circle
It contains propylene glycol, which influences other buyers' decision
Overview
The horse chestnut extract is beneficial for skin health. Badedas impresses women with the bath gel's skin-softening effects. 
Key Ingredients 
It can boast a green scent that lifts every woman's mood. The natural extracts are added to the body to add moisture to the skin, making it feel soft and relaxed. Horse chestnut is the main ingredient, rich in antioxidants to fight against skin damage, like inflammation and allergies.  
Effectiveness
It has a forest fragrance that smells fresh and can last longer. In addition to that, the soap lathers and rinses easily with water. It indeed leaves the skin moist and fresh. 
Customer Review 
Most users enjoy the Original Indulgent Bath Gelee's non-floral scent. It foams better than its competitors, getting the whole body clean.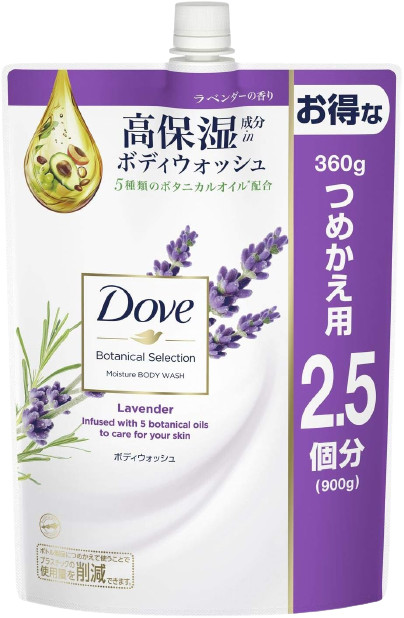 Check Dove Botanical Selection Moisture Body Wash price below:
add_circle
Rich in hydrating ingredients
add_circle
It has a relaxing scent
add_circle
It can hold skin moisture for a long time
Overview
Dove is an excellent brand for hydrating dry skin. Infiltrated with five botanical oils, this body wash will enrich your skin with incredible moisture. It has the fragrance of lavender that amounts to its capability to care for your skin. 
Key Ingredients 
This body soap has moisturizing properties in the form of natural oils from argan, jojoba, avocado, apricot, and grapeseed extracts. It is dye- and paraben-free, making it gentler on the skin. Dove crafted the body wash with a lavender scent for a more relaxed bath time, while the glycerin ingredient penetrates dry skin to lock in moisture. 
Effectiveness
It benefits dry and sensitive skin, all thanks to its mild scent. After a long day outdoors, the skin will remain damp and fresh. Moreover, the body soap is not that greasy on the skin. 
Customer Review 
Many people buy this refill pack of body wash to meet their daily bath needs. It is plenty and has the best body wash smell everyone loves.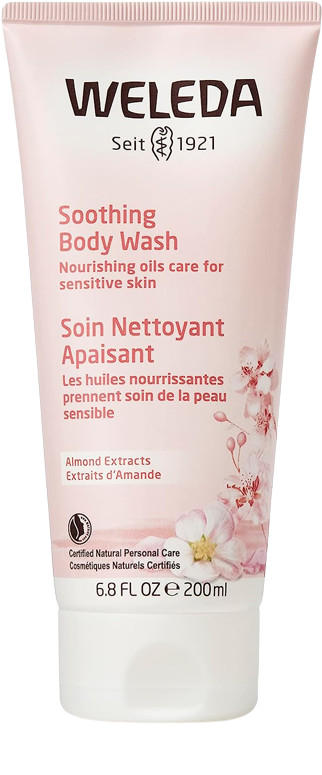 Check Weleda Soothing Body Wash price below:
add_circle
It leaves the skin clean and smooth
add_circle
It can stop body acne appearance
add_circle
It has a beautiful smell
remove_circle
It does not lather much
Overview
Weleda formulates a gentle cleanser with a sweet almond scent to increase moisture levels and prevent skin irritation. It also works as a treatment for eczema breakouts and ensures no tightness in the skin after wash. 
Key Ingredients 
The body wash contains almond oil - a source of unsaturated fat and linolenic acid. This ingredient is excellent for delicate skin, leaving it as soft as an infant's. It is a cream formula made of shea butter, coco-glucoside, and glycerin to hold dampness on the skin. Carrageenan is also a safe ingredient keeping the body wash creamy and the skin well-hydrated. 
Effectiveness
This body wash is the best option for skin sensitivity like eczema. It is also effective for the face to clear out breakouts after a few uses. 
Customer Review 
One customer says the Weleda Almond Soothing Body Wash eases skin breakouts. It does not cause burning or body acne.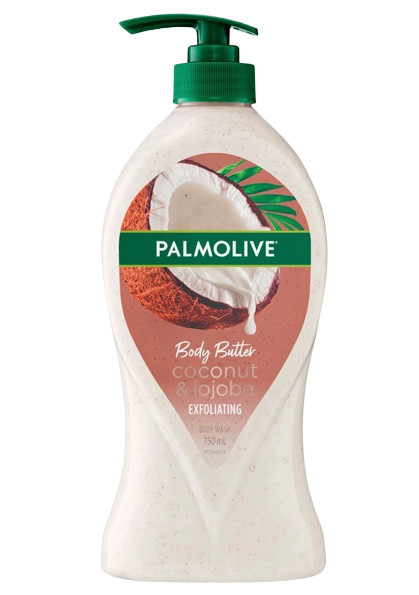 Check Palmolive Body ButterExfoliating Body Wash price below:
add_circle
It excellently renews skin
add_circle
Very affordable
add_circle
It has a sweet-smelling fragrance
Overview
Say goodbye to dead skin cells with Palmolive's Exfoliating Body Wash and enjoy more brilliant skin. It consists of natural fruit seeds in a creamy formula, which won't scratch your skin. 
Key Ingredients 
The apricot seed makes up the exfoliating properties of this body wash, and it is powdery. It also highlights using jojoba extract to create more radiant skin that feels silky. It has a creamy coconut scent, which also helps hydrate the skin and is safe for a daily wash. 
Effectiveness
A small amount of this body wash lathers well. It is outstanding in wiping out dead skin cells, resulting in a softer surface. 
Customer Review 
Palmolive is a trusted brand in the market, getting positive feedback. Most customers agree that the body wash is not harsh on the skin.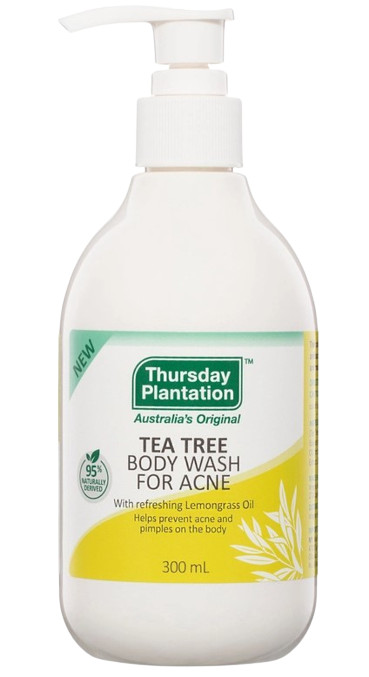 Check Thursday Plantation Tea Tree Body Wash price below:
add_circle
It has a simple formula but effective
add_circle
It won't cause skin dryness
Overview
Tea tree extract is the primary ingredient of Thursday Plantation's body wash, which effectively treats body acne. It will clear out skin breakouts and prevent new acne appearance. 
Key Ingredients 
This body wash has antibacterial properties that help purify skin and prevent pimples. It also does not clog pores. The Tea tree oil is known for its cleansing ability, ideal for skin conditions recovering from breakouts. The lemongrass scent lets you take a bath feeling pure and refreshed. It is 95% made of herbal extracts and is soap- and alcohol-free.  
Effectiveness
The tea tree body wash is adequate for normal, dry, and oily skin types. It is vegan-friendly, showing visible results in a few weeks. It filters out skin impurities causing the breakout.
Customer Review 
This body wash's soothing ability wows many consumers, especially those with back acne. They experience reduced occurrence of back acne and pimples on the face. 

Check Ecostore Ultra-Sensitive Body Wash price below:
add_circle
Fragrance-free
add_circle
Ideal for sensitive skin
remove_circle
Complaints about the nasty smell
Overview
Nowadays, it is hard to find a fragrance-free body wash. Look no further than Ecostore Ultra-Sensitive Foam Body Wash - unscented makes this body wash a safer formula for all skin types.
Key Ingredients 
The key ingredients are non-chemical, which results in no fragrance body wash. There is no smell of coconut oil and citric acid, even if they come with the elements. Decyl glucoside, an emulsifying agent, increases the foaming capacity of the body wash. An antimicrobial agent is added to help kill bacteria and replenish the skin. It also has hydrating properties to leave the skin healthy and soggy. 
Effectiveness
It is most suitable for individuals who do not like scented body wash and have skin problems. It is the best body wash in australia that cuts down your expenses without compromising personal care. 
Customer Review 
Realizing it has a low pH level, one customer used it as a feminine wash and delighted in great results. A buyer is also impressed with its foaming amount that covers the skin thoroughly.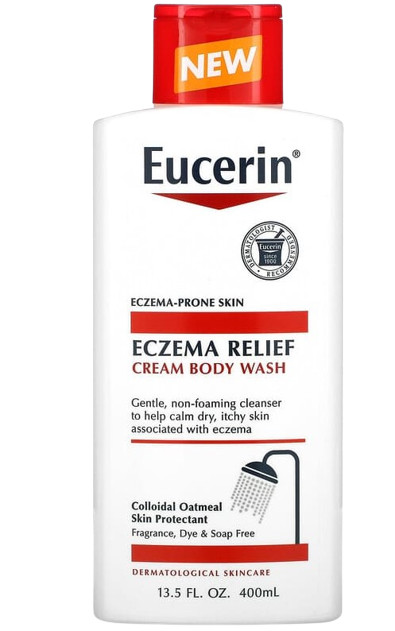 Check Eucerin Eczema Relief Cream Body Wash price below:
add_circle
A gentle formula
add_circle
It gets rid of skin irritation
remove_circle
A bit expensive
Overview
Eczema-prone skin will thank Eucerin for producing a body wash that will relieve itchiness. It is fragrance- and soap-free, crucial for calming sensitive skin. It is dermatologically tested. 
Key Ingredients 
Enriched with colloidal oatmeal, a natural ingredient for irritated skin, this body wash can alleviate eczema symptoms. It also features a lower pH level for the skin carrier to stay robust. It boosts ceramide in the skin to remain moisturized and nourished. Then, it will restore the skin's health over time. 
Effectiveness
The Cream Body Wash can aid mild to moderate cases of eczema. It is soothing to ease skin irritation due to rashes and eczema. The no-foam formula is vital for revitalizing the skin barrier. 
Customer Review 
Customers consider Eucerin to be the best body wash brand for eczema. The non-foaming texture amazes them since it is superb in calming skin conditions.
---
What is Body Wash?
The body wash is a liquid soap or cleanser specifically formulated for cleansing the body. It is used in the shower or bath to remove dirt, sweat, oil, and other impurities from the skin. Body washes typically come in various scents and formulas to cater to different preferences and skin types. They are commonly used with water and lathered onto the body before being rinsed. Body wash helps keep the skin clean, fresh, and hydrated while providing a pleasant fragrance.
---
Types of Body Wash
There are many types of body wash available on the market today. Some popular varieties include: 

Moisturizing body wash
These products hydrate the skin and prevent dryness. They often contain ingredients like shea butter, glycerin, or aloe vera. 
Exfoliating body wash
These body cleansers have microscopic bits or beads that gently exfoliate dead skin cells and leave the skin feeling smoother. 
Antibacterial body wash
These body washes will kill bacteria and prevent the spread of germs. Some ingredients are tea tree oil or benzoyl peroxide. 
Sensitive skin body wash
These body washes are designed explicitly for sensitive or easily irritated skin. They are typically hypoallergenic and free from harsh ingredients such as fragrances or sulfates. 
Natural or organic body wash
These body washes are out of natural or organic ingredients, often without synthetic chemicals. They contain essential oils, herbal extracts, or plant-based cleansers. 
Energizing or invigorating body wash
This body wash often contains ingredients like citrus, mint, or eucalyptus, which can provide a refreshing and awakening sensation to the skin. 
Clearing or acne-fighting body wash
These body washes will help treat and prevent acne breakouts on the body. They often contain ingredients like salicylic acid or benzoyl peroxide. 
Hydrating body wash
These body washes will provide deep hydration to the skin, often containing ingredients like hyaluronic acid or ceramides.
Soothing or calming body wash
This body wash often contains ingredients like chamomile, lavender, or oatmeal, which can help to calm irritated skin. 
Toning or firming body wash
These body washes will help tone and firm the skin, often containing ingredients like caffeine or peptides that may promote collagen production. Choosing a body wash that suits your needs and skin type is essential.
---
Buying Guide: How to Choose a Body Wash
We recommend the following tips for buying the best body wash in australia that suits your skin type and provides additional benefits.
Skin type.

Choose a body wash that suits your skin type. If you have dry skin, look for a moisturizing body wash. If you have oily skin, look for a body wash that helps control oil. 

Scent.

Choose a scent you like that is not overpowering. A fragrance-free body wash suits people with sensitive skin. 

Look for natural ingredients.

Look for body washes that contain natural ingredients such as aloe vera, tea tree oil, and coconut oil. These ingredients are gentle on the skin and provide additional benefits. Avoid body washes that contain harsh ingredients such as sulfates, parabens, and phthalates. They can irritate the skin and cause dryness, redness, and itching. 

Check the pH level.

The ideal pH level for a body wash is between 4.5 and 5.5. This pH range is similar to the pH level of your skin, and it helps maintain the skin's natural balance.

Budget.

Many different types of body washes are available at various price points, so you should be able to find one that fits your budget.  
---
Best Body Wash Brands in Australia
Here are some of the best body wash brands in Australia:
Dove Body Wash
Known for its moisturizing and gentle formulas, Dove offers a wide range of body washes that cater to various skin types and needs. Their products are often dermatologist-recommended and designed to keep your skin soft and hydrated.
Dettol Body Wash
Dettol is a trusted brand regarding personal hygiene and cleanliness. Their body washes can provide effective cleansing while protecting against germs and bacteria.
Palmolive Body Wash
Palmolive offers diverse body washes with different scents and ingredients, catering to other preferences and skin types. Their products are known for their refreshing and invigorating qualities.
Aveeno Body Wash
Aveeno is recognized for using natural ingredients, mainly oat extracts, which are beneficial for sensitive and dry skin. Their body washes are often free from harsh chemicals and suitable for people with various skin concerns.
Cetaphil Body Wash
Cetaphil is renowned for its gentle skincare products, particularly suitable for sensitive or eczema-prone skin. Their body washes are mild and non-irritating, making them ideal for daily use.
---
Body Wash Price Range Here in Australia
The price range for the best body wash smell products in Australia depends on the brand, bottle size, and the specific product's formulation. Generally, you can find the best body wash at various prices to suit different budgets. 
Budget-friendly options: These could start from around AUD 3 to AUD 8 for standard-sized bottles (250ml to 500ml) of popular mass-market brands.
Mid-range options: Body washes from well-known brands might be priced between AUD 8 to AUD 15 for a standard-sized bottle.
High-end or specialized options: Premium or specialized body washes, such as those with natural or organic ingredients, might range from AUD 15 to AUD 30 or more for a standard-sized bottle.
---
Where to Buy Body Wash in Australia?
You can buy the best body wash Australia from various physical and online retailers. Here are some familiar places where you can find body wash products:
Supermarkets: Major supermarket chains like Coles, Woolworths, Aldi, and IGA typically have a wide selection of body wash brands and scents in their personal care aisles.
Drugstores/Pharmacies: Stores like Chemist Warehouse, Priceline Pharmacy, and TerryWhite Chemmart also stock a variety of body wash options from different brands.
Department Stores: Larger department stores such as Myer and David Jones often have a beauty and personal care section where you can find a selection of body wash products.
Health and Beauty Stores: Dedicated health and beauty stores like The Body Shop, Lush, and Sephora may offer various natural, organic, or premium body wash options.
Online Retailers: You can purchase a body wash from online platforms, including official brand websites, Amazon Australia, eBay, and other e-commerce websites.
Specialty Stores: Some stores specialize in natural or organic skincare products, and they may carry a selection of body washes that cater to specific skin types or preferences.
Discount Stores: Retailers like Kmart and Target often have various affordable body wash options.
When buying body wash, consider your skin type, specific skin concerns, and preferences for scents and ingredients. Online shopping provides convenience and the ability to compare prices and body wash reviews, while in-store shopping allows you to smell and test the products before purchasing. Always check the product's label and reviews to ensure it meets your skincare needs.
---
Conclusion
You will feel great throughout the day if you use the best body wash australia in the market. The body wash is available in different textures, similar to gel, cream, and liquid. Each contains nourishing ingredients to keep the skin's surface youthful and hydrated. Consider your skin type because the best results depend on it. Visit the above links, review the products, and proceed to check out.
---
Related Articles