Eating something that isn't fresh can cause you to lose your appetite and harm your bellies. A fridge matters for every household to allow them to store food for added shelf life- and say goodbye to spoilage! It also has ample space for cold beverages, which makes your home party-ready. 
The market now offers affordable and energy-efficient fridges. To help you pick, we've listed 10 of the best fridges Australia below, based on product ratings and our knowledge of each item. 
---
10 Best Fridges in Australia 2023 - Top Brands & Reviews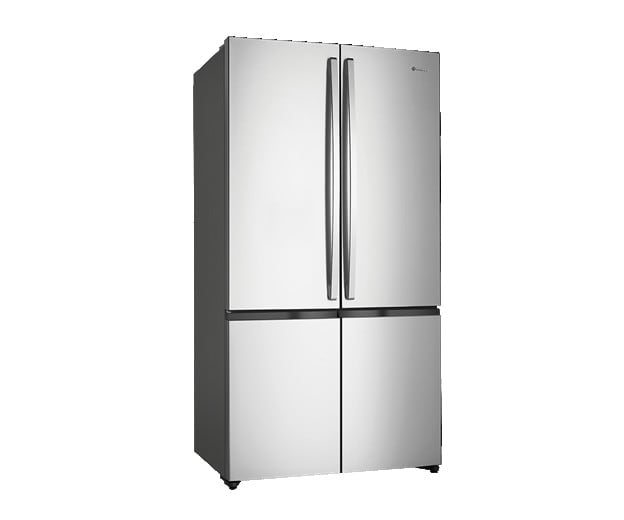 Check Westinghouse WQE6000SB 541L French Quad-Door Fridge price below:
add_circle
Additional storages
add_circle
Includes an egg tray
add_circle
Spill-resistant
remove_circle
It is expensive
Product Specification
Type: Freestanding French Quad-Door Fridge 

Size: 896mm x 781mm x 1725mm 

Capacity: 541L
Why It Is Our Top Pick
With its FlexSpace Technology, the Westinghouse WQE6000SB French Quad-Door Fridge delivers a broader room for endless food storage. It has freezer space too, with seven compartments for all contents. The fantastic features of this fridge include dual-sealed crispers, adjustable door bins to hold either small or large items and spill-safe glass shelves. The fridge is a fingerprint-resistant door finish with easy-to-adjust interior controls. 
The best fridge choice comes from the Westinghouse brand, known for its multi-door fridge design that can fit up to 600L items. They created many great refrigerators, including the French Quad-Door Fridge. Look at its beautiful features; this could be your new favorite fridge! 
Key Features
There are several compartments in this quad-door fridge for specific items like fresh foods, beverages, and even ice cubes. Westinghouse has the most innovative fridge on the market with a touch-control system, a door alarm, and a quick-freeze function. All compartments are lockable, thanks to the FamilySafe technology, which regulates humidity and airflow.
Why Buy This
Despite the spacious design, LED lighting allows you to enjoy better visibility of the fridge content. Electronic controls for optimal performance include a temperature sensor and other diagnostic features.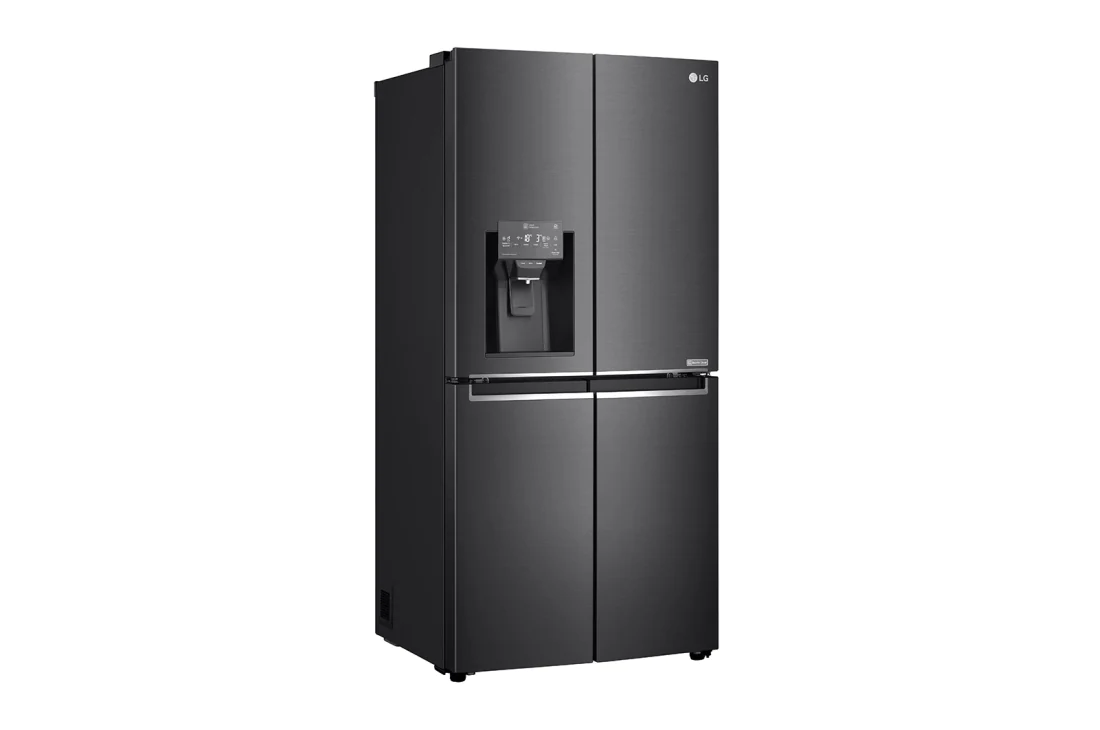 Check LG GFL570MBL 506L Slim French Door Fridge price below:
add_circle
Easy to organize
add_circle
It has an excellent internal layout
Product Specification
Type: French Door Fridge 

Size: 835mm x 1787mm x 734mm

Capacity: 506L 
The LG Slim French Door Fridge, which features an inverter linear compressor, is quieter than conventional refrigerators. Thanks to Pure N Fresh, the air filtration system will leave a "wow" effect, reducing odor on the fridge shelves.
Key Features
The linear cooling system keeps products fresh and prevents temperature fluctuations. LG, the best fridge brand Australia, also ensures cool air flows from the front to the back. Even though it is a slim fridge, the retractable shelf can hold big platters and tall bottles. It now has an ice system to cool items on the top shelves. 
Why Buy This
The fridge settings will surely please you, but first, download the LGThinQ app. It allows you to adjust the temperature of the refrigerator from anywhere. Its aesthetic design can also meet your fridge needs in confined spaces.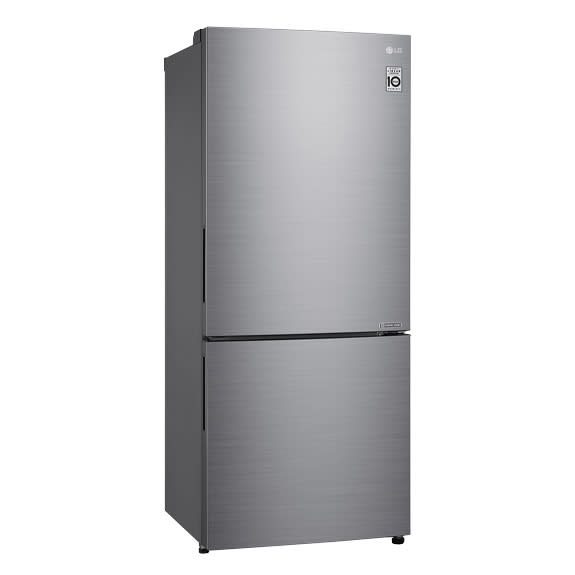 Check LG GB-455PL 454L Bottom Mount Refrigerator price below:
add_circle
Less maintenance
add_circle
It has a long-lasting design
add_circle
It has many added features
remove_circle
Can produce noise
Product Specification
Type: Bottom Mount Fridge 

Size: 1720mm x 700mm x 700 mm

Capacity: 454L
Storing a decent amount of food in a fridge is possible with LG. It can keep food fresh and healthy for extended periods while saving energy. Because it can quickly cool food, its overall performance will impress you. In addition, it is very stylish and compact— say 'hello' to a beautiful kitchen setup! 
Key Features
The LG GB-455PL Bottom Mount Refrigerator has an energy rating of 4.5, sufficient for food protection. The fridge is stainless steel for extra durability, easily matching any kitchen look. It has four frost-free glass shelves, making it easier to organize and clean the refrigerator. It has plenty of space, with additional containers, to fit all the groceries you will store. 
Why Buy This
The Bottom Mount Fridge offers enormous storage for your groceries. Thanks to its build quality and material, it has retractable shelves to provide space for bulky items. Last but not least, it has a door alarm to help you feel less anxious about losing some food in the fridge and a reversible door hinge that is easy to customize.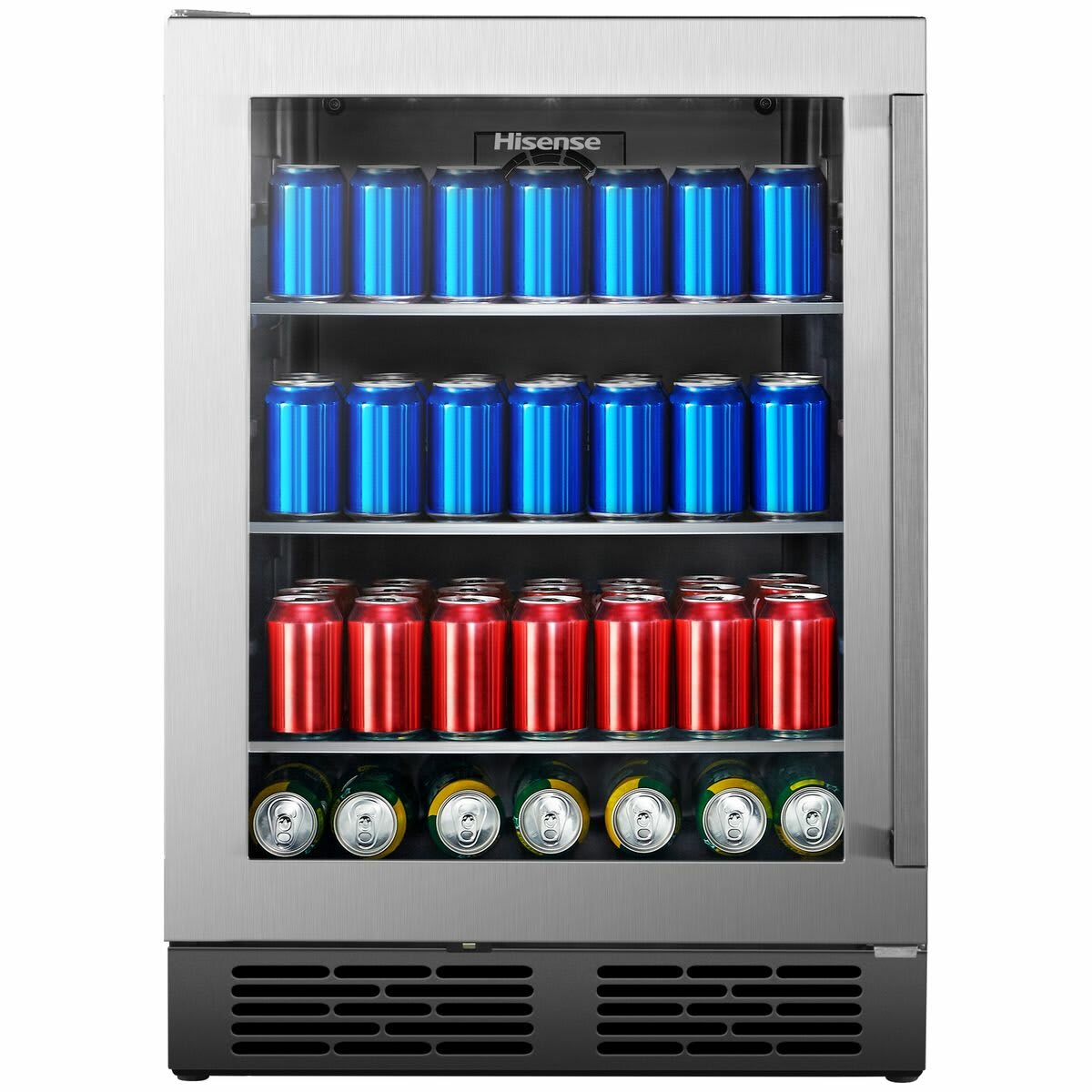 Check Hisense HRBC140 Can Beverage Bar Fridge price below:
add_circle
A great bar fridge
add_circle
Made of a self-closing door
add_circle
Its shelves won't sag when fully loaded
remove_circle
It has limited shelves for different heights of beverages
Product Specification
Type: Beverage chiller 

Size: 862mmx595mm

Capacity: 140 bottles or cans 
A fridge made by Hisense is ideal for keeping canned beverages cool and away from sunlight. Due to its simple design and installation, you can complete your mini bar with a fridge. This indoor refrigerator has a large storage area that can house up to 140 medium-sized cans and a wide temperature range to keep various drinks chilled. Overall, the HRBC140 is your typical fridge for beers and sodas.
Key Features
This mini bar fridge promises to reduce heat transfer by using triple-glazed glass, tempered and dual-layer Low-E glass. In addition, the drinks will be visible to audiences - thanks to its no-frost design! There's no need to guess which drink you'll get with the added interior LED light. Lastly, it has adjustable shelves to provide space for taller drinks. 
Why Buy This
It has a digital touch control that makes it easier to adjust the temperature to suit your needs. The fridge alarms if you leave its door open for more than two minutes, saving you energy. The Can Beverage Bar Fridge is for you if you want to keep the fridge safe from UV rays that could damage any refrigerator.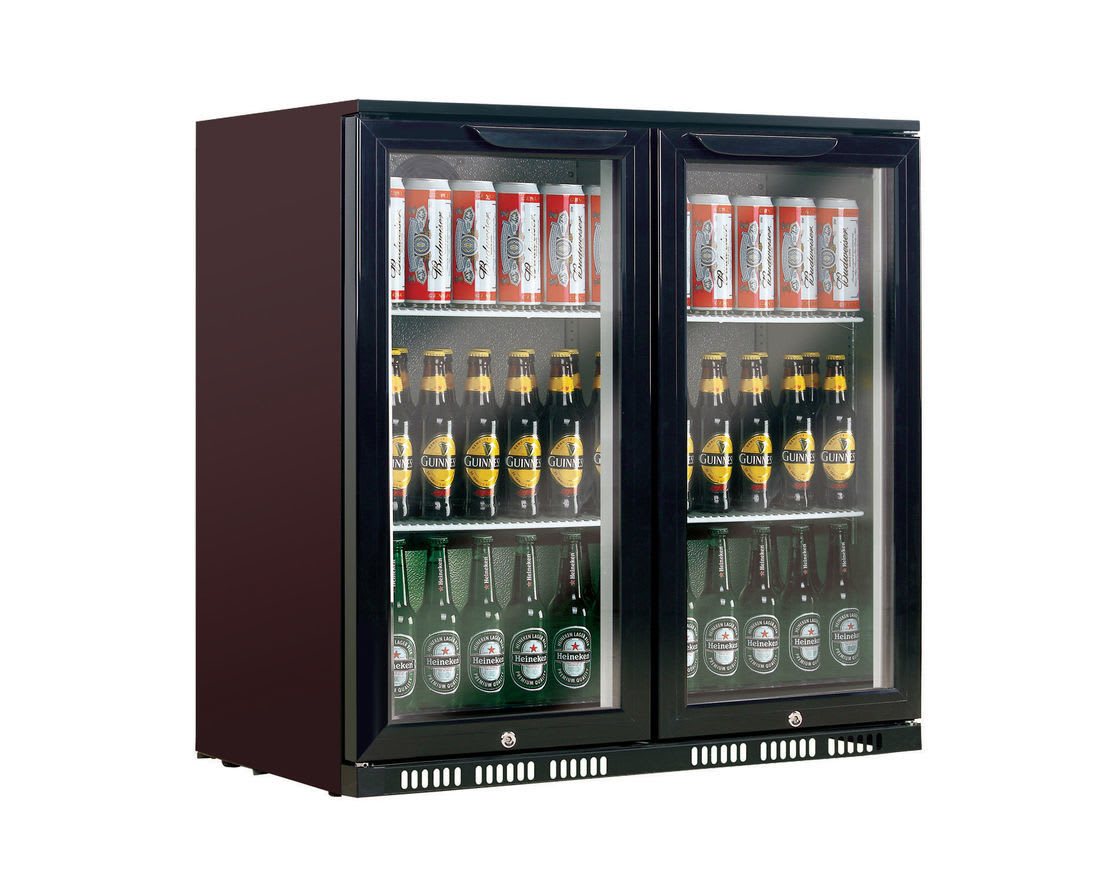 Check Heller HUB210 Double Glass Door Bar Fridge price below:
add_circle
Eco-friendly refrigerator
Product Specification
Type: Double Door Bar Fridge 

Size:

865mm x 496mm x 846mm

 

Capacity: 210L
One thing to remember is to have a clear view of the fridge's contents. The bright LED lighting of the Hellen Double Glass Door Bar Fridge will help you find what you need even before opening the fridge. It features a self-closing door for a more consistent temperature range throughout. 
Key Features
To make the most of the space in the fridge, you can utilize its four shelves to store different beverages. Its interior is made of hammered aluminum to ensure all the contents are well-chilled and also works for durability. Built-in locks and automatic defrosting are two additional features. 
Why Buy This
There is a digital display controller to fix the fridge's temperature level faster and more conveniently. It is also fan-assisted as an added cooling feature. On the other hand, the fridge has ample space for commercial use. It is simple to arrange according to your preferences.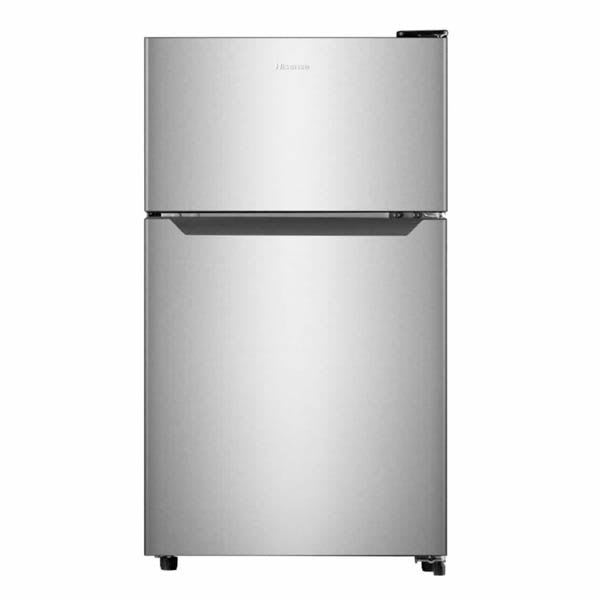 Check Hisense HRTF92S 92L Top Mount Refrigerator price below:
add_circle
Budget-friendly
add_circle
The fridge opening is very flexible
remove_circle
The freezer function freezes the shelves, which frustrates some users
Product Specification
Type: Top Mount Fridge

Size: 475 mm x 547mm x 857 mm

Capacity: 92L
Hisense's 92L Top Mount Refrigerator is a great way to store food for a small household at a great price. The fridge can boast a 2-star energy rating, which will be cost-effective in the long run. You'll also love the product's silver stainless steel finish if you want a grander kitchen look. 
Key Features
This top-mount fridge can ensure durability while holding numerous items all at once. It has dedicated storage for fruits and vegetables, which is humidity-controlled to ensure freshness. In addition, the LED lighting aids in improving the display panel's clarity for viewing the contents. It is designed with a 26L freezer capacity to accommodate a small household size. 
Why Buy This
Apart from being affordable, the fridge has a reversible door design, which you can install to your liking. The motor's design preserves excellent airflow while releasing a whisper-quiet performance. In addition, there are two glass shelves and a vegetable bin with exceptional durability.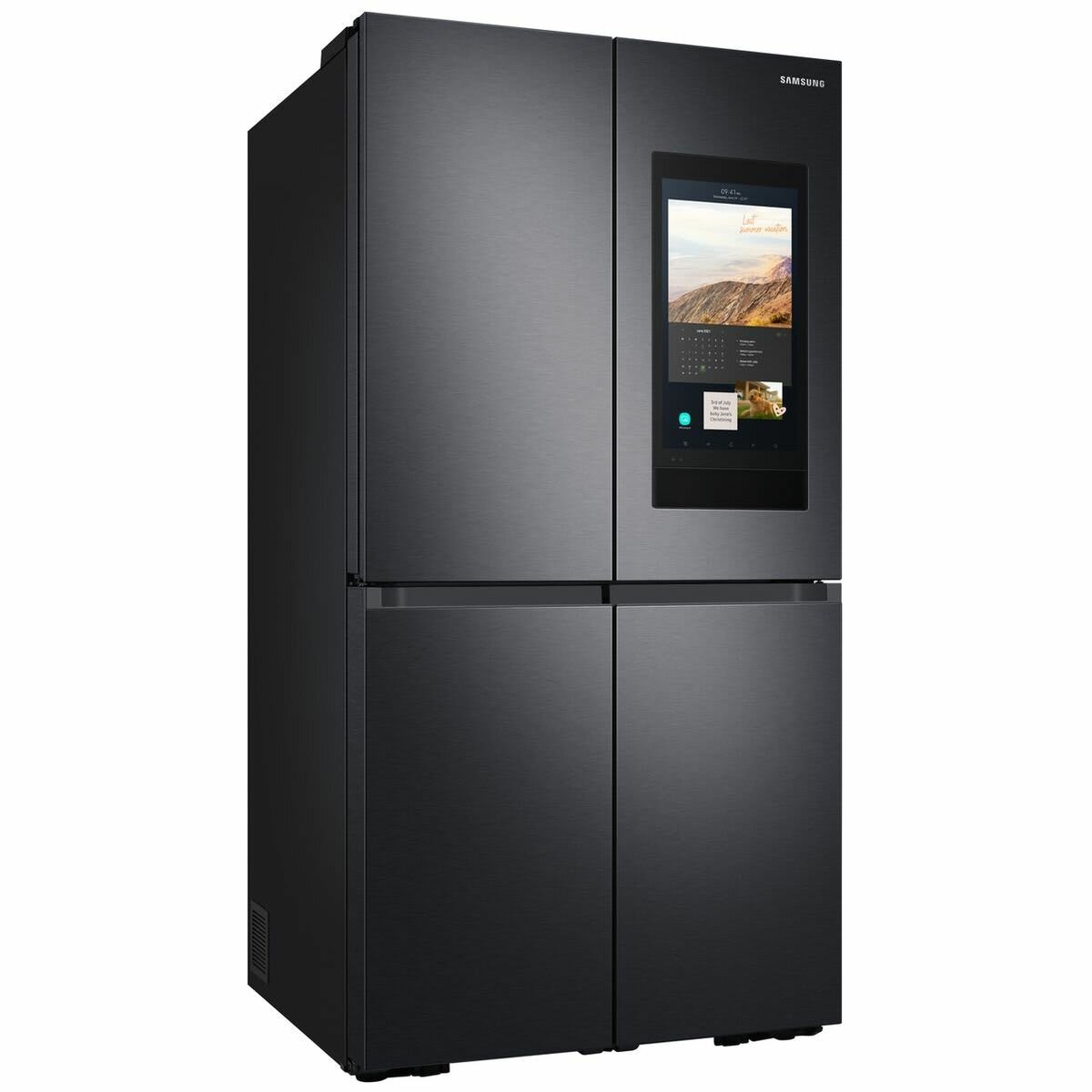 Check Samsung SRF9700BFH 810L Family Hub Refrigerator price below:
add_circle
You can stall it with a 360-degree camera for monitoring
add_circle
Features voice control for unlocking multiple functions
add_circle
Powered by Digital Inverter Technology for optimal performance
remove_circle
Very expensive
Product Specification
Type: French Door Smart Fridge

Size: 1825mm x 912 mm x 861mm  

Capacity: 810L
Samsung, a reputable brand, has to offer a more innovative way to store food - with the Family Hub Refrigerator that is Wi-Fi enabled! Using SmartThings technology, the refrigerator can guarantee access to never-ending entertainment at your fingertips. You can play music, watch movies, and even call while keeping food safe. 
Key Features
This French door smart fridge includes a beverage center, dispenser, and BPA-free autofill jug for drink storage. It uses AI technology to manage your meal plans and has a home screen from which you can access various smartphone apps. Additionally, a tap-view function lets you see what's inside the fridge. Also, the added dual ice maker allows you to chill drinks whenever possible.  
Why Buy This
The 810L Family Hub Refrigerator from Samsung can give you complete access to the recipes for the food you want to cook. There's a specific room for each food supply to keep them fresh. In addition, you can make a to-do list on the home screen so you remember essential schedules. Introducing a flat door style that looks like it was built-in will also impress the household.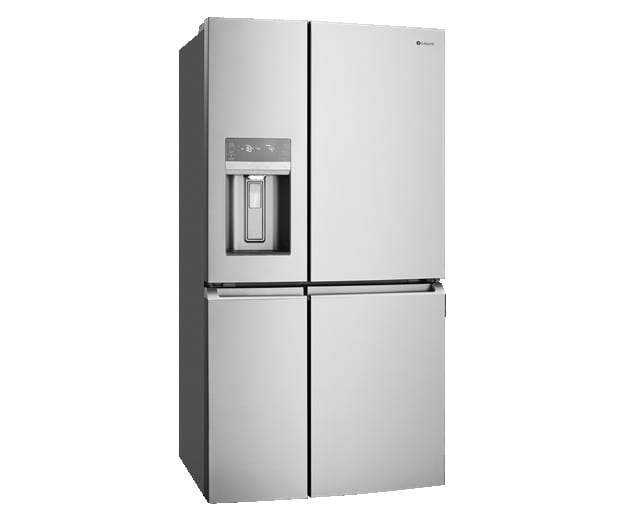 Check Westinghouse WQE6870SA 609L French Door Refrigerator price below:
add_circle
Has electronic controls that promote cost-efficiency
add_circle
It has an exquisite design
add_circle
An award-winner appliance with an ice maker, according to the fridge review australia
Product Specification
Type: French Door Fridge 

Size: 913mm x 749mm x 1782mm

Capacity: 609L
The Westinghouse French Door Fridge Series is said to have an ice maker with a button, according to fridge reviews australia. It is most popular in the market due to its user-friendly layout, even though it can be pricey for individuals with limited budgets. You won't be sorry that you bought a high-quality refrigerator from Westinghouse!
Key Features
Westinghouse's 609L French Quad-Door Fridge has a 3.5-star energy rating, ensuring lower electricity costs. The fridge, made with a Dual Cooling System, will evenly distribute cool air to meet every requirement for fridge content. Each drawer has a predestined temperature setting and has a split door design to place items in the fridge accordingly. Westinghouse added foldable shelves to fit small to large pieces of stuff. 
Why Buy This 
Drinking cold coffee is essential to make you feel better in the morning. Fortunately, this fridge series has a high-quality ice maker to quench your thirst. Plus, it will save foods from spoilage with multiple storage options for meat, snacks, and other beverages,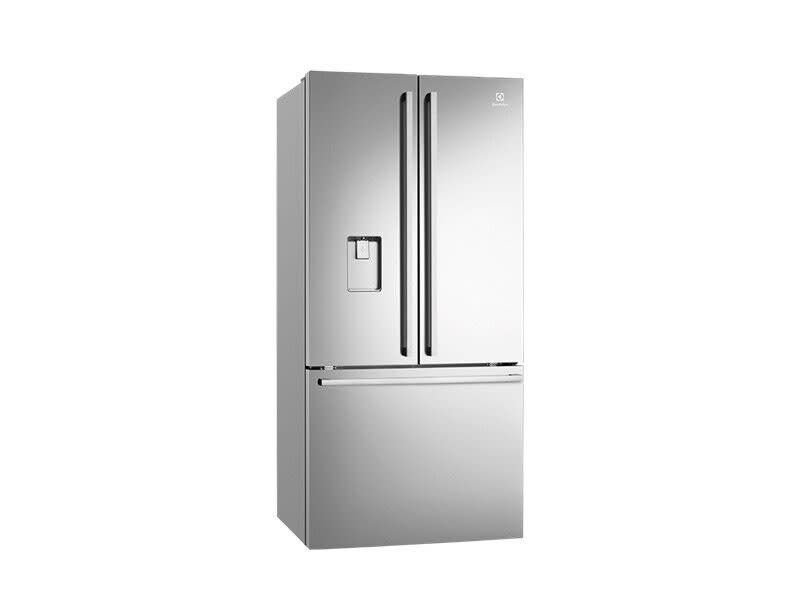 Check Electrolux EHE5267SA 524L French Door Fridge price below:
add_circle
With LED lighting for visibility
add_circle
It can provide a lot of cool water
remove_circle
It may need significant repairs during its limited lifespan
Product Specification
Type: French Door Fridge 

Size: 796mm x 781mm x 1725mm

Capacity: 524L
A water dispenser plays a significant role when looking for a fridge. You can have a filtered drink any time with the Electrolux EHE5267SA French Door Fridge, which features cutting-edge, ultra-slim water tubing! Its minimalist design and ample interior space will maintain food freshness. 
Key Features
FreshPlus Cooling Technology from Electrolux encourages energy economy for the environment's sake. It is made of a double-insulated crisper divider for a more stable temperature to preserve delicious food taste. The re-cooling process will be faster after opening the fridge, thanks to FreshPlus Technology! 
Why Buy This 
The door finish of this fridge is stainless steel, which is scratch-resistant and can go with any kitchen style. It has a large interior where you can store your favorite dishes and filter cool water for daily refreshments.
Check LG 370GE Thermaster Colorbond Single Glass Door Fridge price below:
add_circle
Less expensive compared to other commercial fridges
add_circle
Has an attractive design
remove_circle
Can only store drinks
Product Specification
Type: Glass Door Beverage Fridge 

Size: 610mm x 610mm x 1973mm

Capacity: 370L 
A glass-door fridge is ideal for beverage storage that offers maximum visibility. No worries, LG used two layers of tempered glass to prevent potential damage due to strong impacts. Its high-cooling capacity is commercially approved, keeping beverages cool when served.
Key Features
It has a straightforward design with a self-closing glass door to save energy. The fridge is portable and simple to move around, with the help of sturdy castors. LED lighting and a fluorescent lamp illuminate the fridge to make it look appealing. It will defrost automatically and is easy to maintain.
Why Buy This 
Choose the LG 370GE Thermaster Colorbond Single Glass Door Fridge to sell cool drinks. It is ideal for commercial use. It produces a noise level of up to 60 decibels, which is normal. You can adjust the shelves in case of storing tall drinks. 
---
What is a Fridge?
Compared to other home appliances, fridges can guarantee food safety which is essential for daily use. Fridges are usually installed in the kitchen, which needs the power to operate in various temperatures to protect foods from bacteria that can cause sickness. One thing to note is that bacteria can grow at a temperature between 40 and 140 degrees F, making a fridge that can be set below 40 degrees the best choice. 
---
Importance of a Fridge/Refrigerator 
Busy people, for instance, prepare extra food for daily consumption, which is also less hassle. It can result in leftovers that will develop mold and bacteria without using a fridge. You can get illnesses like food poisoning, diarrhea, and even more severe infections. That is why homeowners should practice buying what they can consume to prevent spoilage. 
However, having a refrigerator promotes safe consumption as you can enjoy fresh foods and leftovers. It is also eco-friendly, avoiding food waste that produces methane worse than carbon dioxide, which may affect the planet.
---
Different Types of Fridges 
Finding a fridge that works for you is easy. Besides, you must figure out how to customize the fridge settings to ensure everything inside is safe. The best refrigerators in australia may vary in installation styles that you need to know.  
French Door Fridges 
If you consider a fridge with less freezer capacity, french door types are the best option. It has adjustable shelves and more compartments, which are easier to organize. Part of the fridge is an ice and water dispenser for better convenience. 
Side-By-Side Fridges 
It is a 2-in-1 kitchen appliance with a freezer and refrigerator on each side. It is perfect for narrow spaces that can store food at eye level. 
Bottom Mount Fridges
There is a separate compartment for the freezer and refrigerator. You don't need to open the entire fridge to get fresh vegetables. Aside from its easy access design, this type of fridge is affordable. 
Top Fridges 
It is the opposite of bottom mount fridges in terms of the setup. A traditional fridge can give you more access to frozen than fresh items. 
Undercounter Fridges
The under-counter fridge is ideal for installing cabinets storing food and drinks. It has a unique feature: a reversible door for easier access. It does not include a freezer but has a particular temperature setting to keep foods safe. 
---
Buying Guide: How to Choose A Refrigerator/Fridge 
It's crucial to get a suitable fridge based on the amount of food you need to store. Hence, the following factors will help you choose the best quality fridge. 
Cost.

Different types of fridges can vary in price, so count your budget when purchasing a fridge. See whether the refrigerator's features match your food storage needs and if they are worth the money. Most fridge reviews show the estimated price to help you have a budget. 

Total Capacity.

Determine how much food and beverages the fridge can contain. Small families may opt for bottom-mount fridges, while French and side-by-side models best suit larger households. 

Measure Your Kitchen Area.

Only buy top freezers if you want a fridge that will cause trouble when living in tight spaces. They'll require more open space. In contrast, a compact fridge is in the market to help you optimize your space. 

Number of Compartments.

Since a fridge is an ideal storage, it must have drawers for fruits and vegetables. They come in different sizes and are adjustable to organize items accordingly. Some products, such as dairy and meat, would demand separate spaces to prevent contamination.   

Other Features.

The best fridge brand will offer features, like an exterior dispenser and spill-proof shelves, that help you clean the fridge faster. 
---
Best Fridge Brands in Australia
The best fridges to buy in 2023 rely on several factors, such as price, capacity, and convenient features. When shopping for a fridge, identify your purpose: home or commercial use. Last but not least, always consider finding an eco-friendly fridge, which most top brands today produce. Some of the possible options are listed earlier, so check them out! 
Some of the best refrigerator brands in Australia are:
Samsung Fridge
It is known for its smart features, energy efficiency, and stylish design.
LG Fridge
It offers a range of refrigerators with smart features and innovative designs.
Fisher & Paykel Fridge
It offers refrigerators with unique designs and functionality, such as active, innovative technology and easy-to-use controls.
Bosch Fridge
They are known for their energy efficiency, quiet operation, and sleek design.
Westinghouse Fridge
Offers a range of refrigerators with innovative features, including frost-free technology and adjustable shelving.
When choosing a refrigerator, key features include size, energy efficiency, storage options, design, and advanced features such as frost-free technology, smart features, and adaptable shelving.
---
Fridge Price Range here in Australia
The price range of different types of refrigerators in Australia can vary, but here is a rough estimate based on average costs:
Top-freezer refrigerators: $500-$1500

Bottom-freezer refrigerators: $800-$3000

Side-by-side refrigerators: $1000-$5000

French-door refrigerators: $1200-$5000

Compact refrigerators: $300-$800
These estimates vary greatly depending on the brand, size, features, and energy efficiency rating. Researching and comparing different models is best to find the best option for your budget.
---
Where to Buy Fridges in Australia?
There are many places to buy refrigerators in Australia, including:
Retail appliance stores such as Harvey Norman, The Good Guys, JB Hi-Fi, and Bing Lee

Online marketplaces such as Amazon, eBay, and Catch

Manufacturer websites such as Samsung, LG, and Bosch

Department stores such as Myer and David Jones

Independent appliance stores in your local area
It is always best to compare prices and features across different retailers to find the best deal. Additionally, many retailers offer delivery and installation services for an additional fee.
---
Conclusion 
The best fridges to buy in 2023 rely on several factors, such as price, capacity, and convenient features. When shopping for a fridge, identify your purpose: home or commercial use. Last but not least, always consider finding an eco-friendly fridge, which most top brands today produce. Some of the possible options are listed earlier, so check them out!
---
Related Articles