These days when food deliveries are so prevalent, they significantly affect the environment. Many people who want to order food online or in stores contribute to increased plastic waste. The convenience of eating out may draw people to it, despite the adverse health effects. A slow cooker can help you avoid these issues, which will unquestionably improve the quality of your diet!
With so many options, finding the best slow cooker in Australia that will meet your daily needs is easy. Whether you're using it to prepare meals for two people or a large group, there'll be a good slow cooker for you. 
---
10 Best Slow Cookers in Australia

2023

- Top Brands & Reviews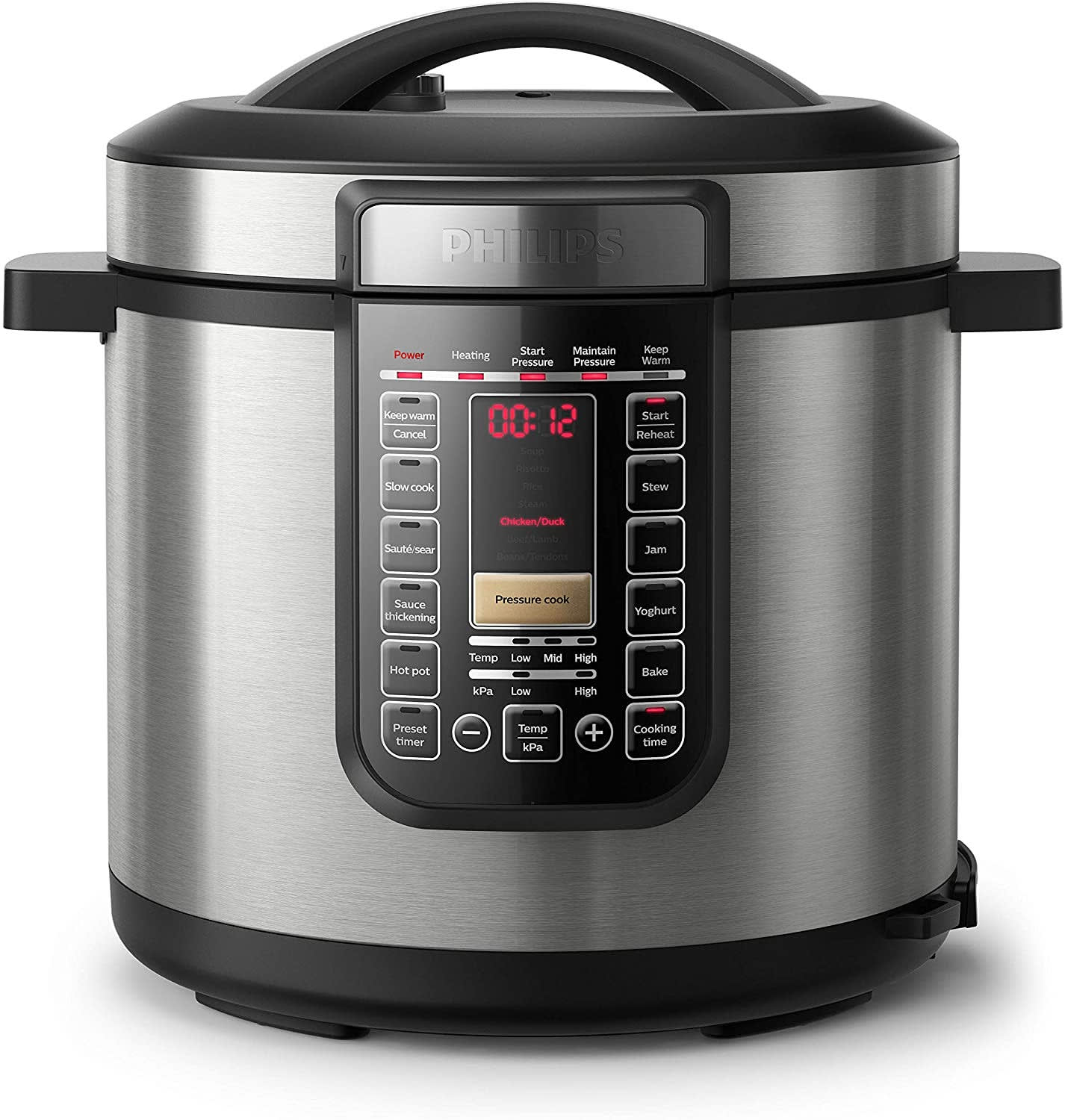 Check Philips HD2774 All-in-One Slow Cooker price below:
add_circle
Sturdy construction
add_circle
Supports a "set and forget" cooking style
remove_circle
Difficulty in removing food odor from the lid
SpecificationCapacity: 8 liters 
Power: 1500 wattage 

Material: Stainless steel
Why It's Our Top Pick 
Philips is a well-known brand that has developed a multi-cooker that can prepare food 35 percent faster than its rivals. It offers 20 pre-set cooking programs with a large-capacity stainless steel pot for greater versatility. These include steam, baking, hot pot, and saute functions to make it easier to maintain a healthy lifestyle. Indeed, it secures the best slow cooker meals to satisfy your tummy. The brand also includes safety features to ensure you enjoy cooking your favorite dishes.  
Philip's all-in-one cooker requires minimal upkeep for optimal performance. There is a stainless steel bowl to prepare meals for your loved ones immediately!
Key Features
You can customize the parts of this slow cooker to suit your cooking preferences. You must adjust the cooking time, temperature, and pressure level through the touch panel to achieve the best texture and flavor. It is because you can cook some meal ingredients more quickly than others. It also comes with a pot made of food-grade stainless steel, which can be more durable when used a lot. 
Why Buy This
A multi-cooker at a reasonable price has good value for the money. There'll be simple buttons to press for every meal you want to cook. It is for both experts and beginners in the kitchen.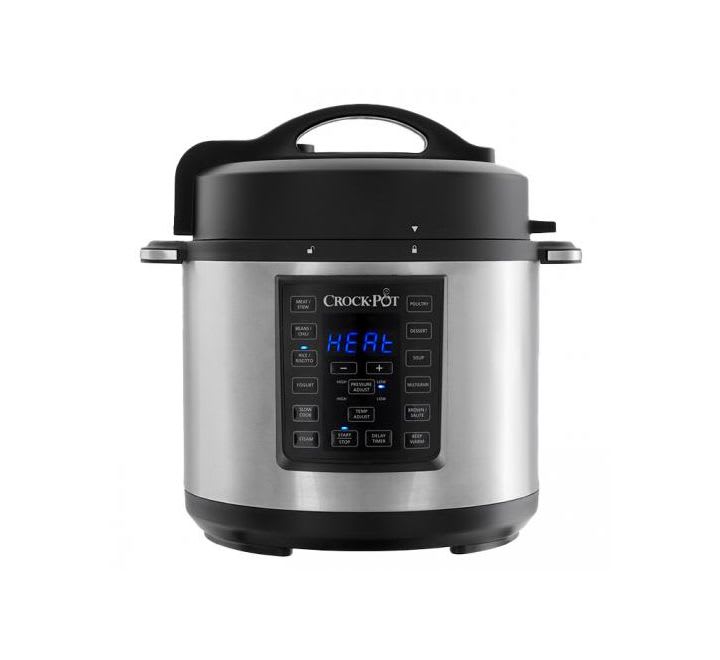 Check Crock-Pot CPE200 Express Multi-Cooker price below:
add_circle
The slow-cooker function is excellent
add_circle
Cooks a meal quietly
add_circle
Allows easy monitoring of the cooking time
Specification
Capacity: 5.7 liters 

Power: 1000 W

Material: Stainless steel 
With a timer, the Crock-Pot will watch over a meal while you're busy with other chores. The manual setting also gives you complete control over cooking dishes. Additionally, the airtight lock ensures even and safe cooking.
Key Features
The Express Multi-Cooker comes with a non-stick bowl that is easy to clean. It can prepare meals for up to six people with its seven cooking programs, 70% faster than other cooktops. With the auto-warm function, you can always be ready to serve food without having to reheat dishes. You'll also get a recipe book to help you decide what to cook.
Why Buy This
You can activate the pressure cooker function with the Crock-Pot, which is most suitable for meat dishes. Additionally, there is a delay-start button for better temperature and pressure control when cooking.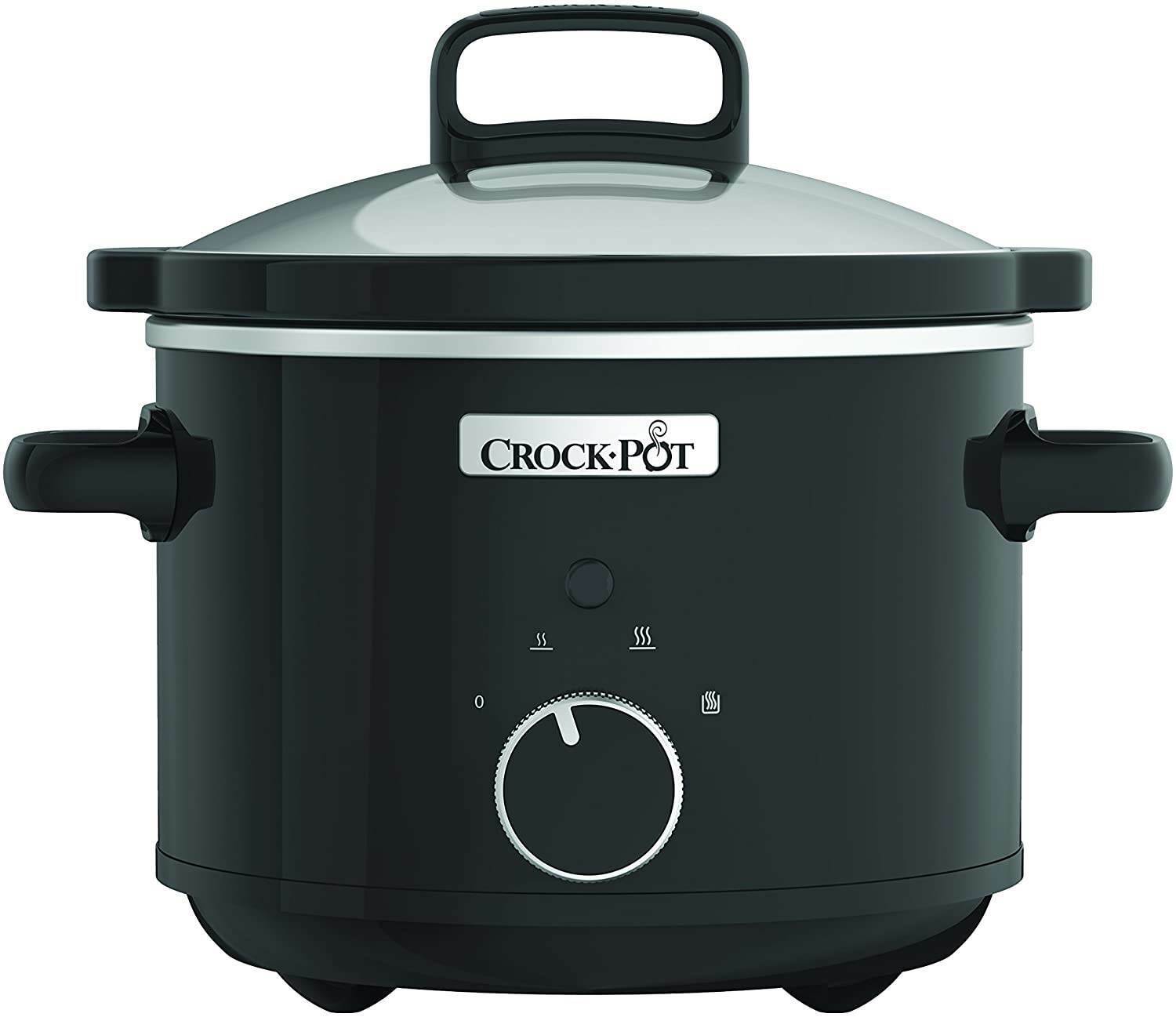 Check Crock-Pot CSC046X Slow Cooker price below:
add_circle
Very affordable
add_circle
It comes with a recipe booklet
add_circle
Compact design
Specification
Capacity: 2.4 liters 

Power: 130 W 

Material: Stainless steel 
A Crock-Pot Slow Cooker is here to serve a dish that is ideal for small households. It has enough room for you to cook a dish you want gently. Plus, it is energy-efficient and suitable for everyday use! 
Key Features
This mini slow cooker's ceramic pot and tempered glass lid will deliver the best meals. It has a warming function and two temperature settings to keep food ready for serving. You can safely check on the dish with the slow cooker's cool-touch handles without getting hurt. The minimalist design of this slow cooker will also complement any kitchen counter.
Why Buy This
The Portable Slow Cooker from Crock-Pot might be the best option for small families. It can feed two people and has access control functions.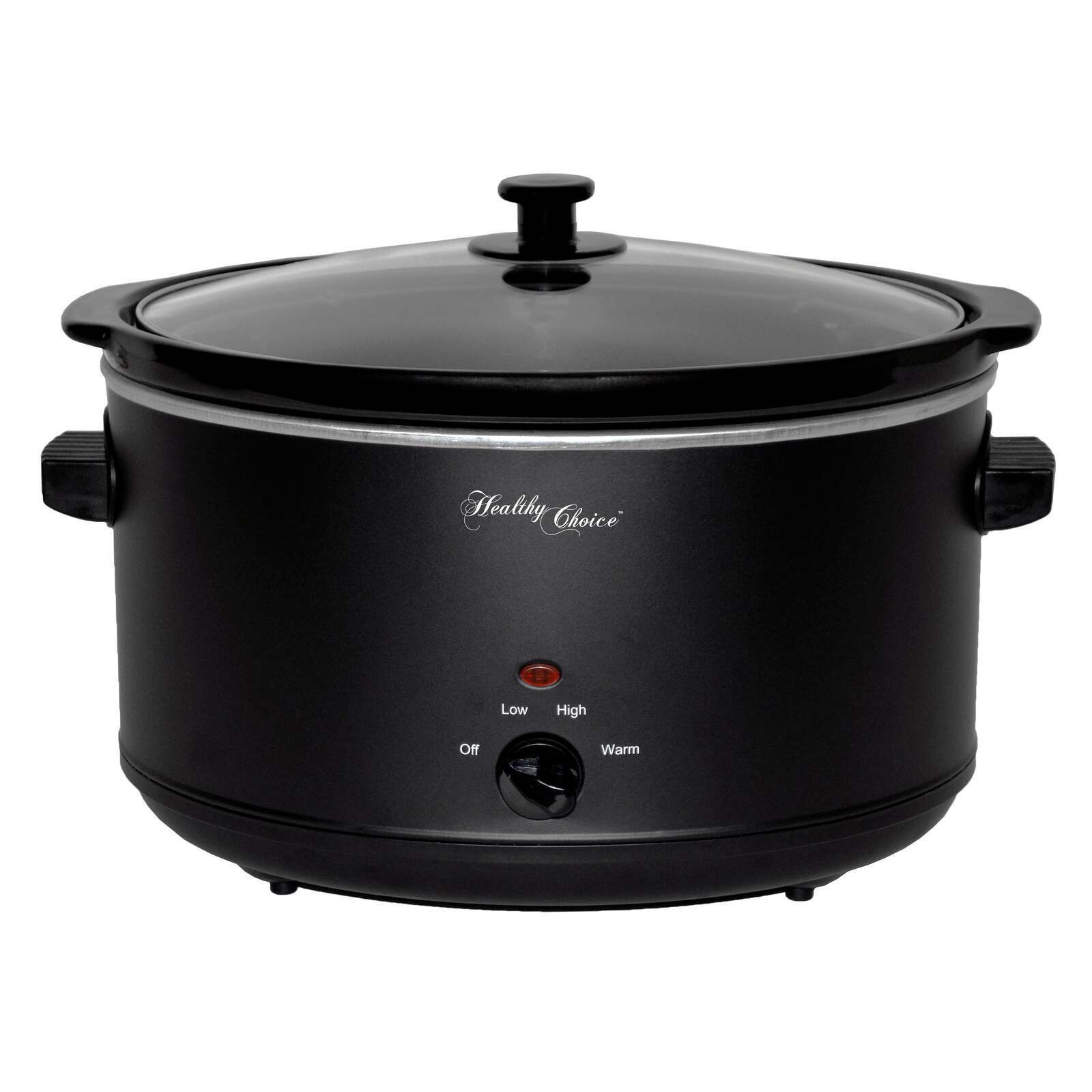 Check Healthy Choice SC800 Slow Cooker price below:
add_circle
Suitable for larger households
add_circle
Easy to operate
Specification
Capacity: 8 liters 

Power: 300 W

Material: Stainless steel
Using a vast slow cooker to make nutritious and delicious meals makes hosting many guests easier. This ceramic pot has eight liters capacity. You can cook many dishes at once!
Key Features
Despite its sleek design, it will only take up a little space in the kitchen. It can guarantee better-quality home-cooked meals than its rivals with its three temperature settings. The keep-warm mode can operate for up to four hours, using less energy to ensure the food is served hot and fresh. The high-capacity ceramic pot has a tempered glass lid and cool-touch handles for extra safety.
Why Buy This
The glass cover lets you observe the dish's progress without opening the lid. The simple control knob is easy for beginners to use. In light of its enormous capacity, the fact that it uses less energy is also shocking.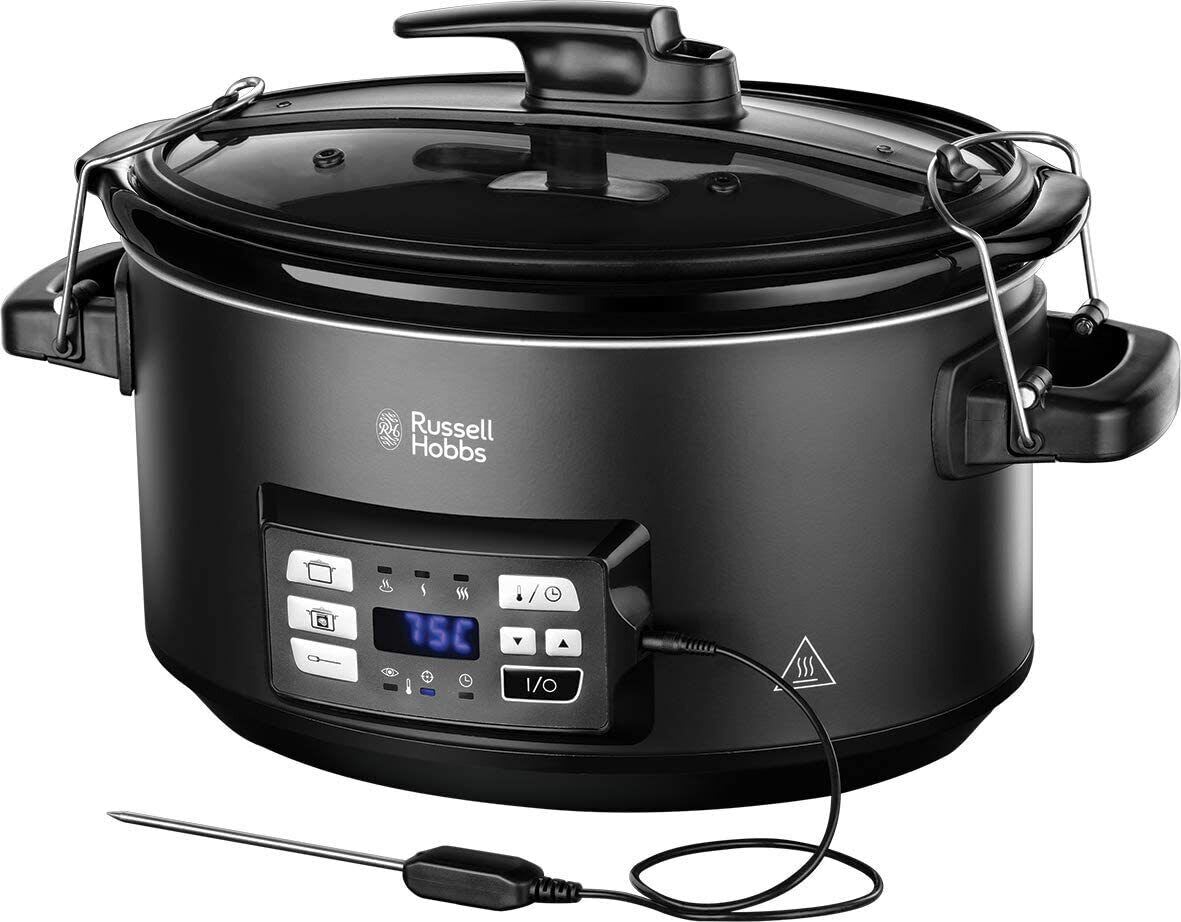 Check Russell Hobbs RHSV6000 Slow Cooker price below:
add_circle
A multi-functional slow cooker
add_circle
It maintains an accurate temperature to cook rare to medium-rare steak
add_circle
Cost-efficient
remove_circle
A bit bulky
Specification
Capacity: 6 liters 

Power: N/A

Material: Aluminium 
The sous vide ceramic pot in a digital 3-in-1 cooker can perfectly cook steak and vegetable dishes. The meat does not lose its flavor, and The slow cooking process can ensure the f. Therefore, make dinner a breeze with Russell Hobbs' digital slow cooker!
Key Features
The ceramic bowl is removable and dishwasher-safe. Thus, it is easier to clean after eating. Select the right temperature, way of cooking, and target time to cook your dish, and then press the start button. It also has a lockable lid, and a cool-touch handle to transport the slow cooker safely.   
Why Buy This
Russell Hobbs 6L Slow Cooker adds ingredients to the cooktop and sets your desired cooking time. The tempered glass lid can keep an eye on the dish and doesn't make any mess.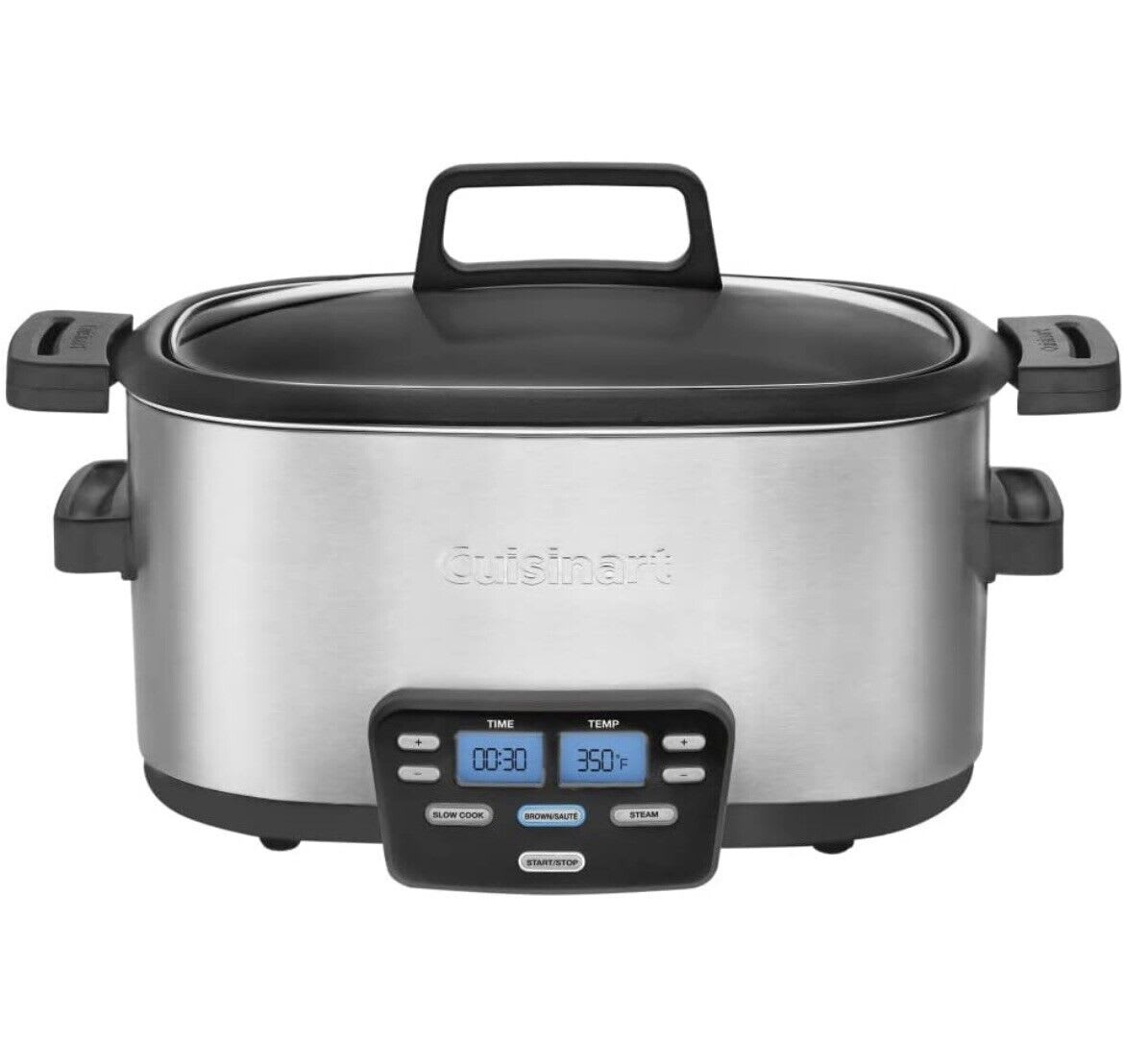 Check Cuisinart MSC-600 Cook Central Multi-Cooker price below:
add_circle
Multi-functional
add_circle
You can adjust the temperature manually
Specification
Capacity: 5.7 liters

Power: 1350 W

Material: Brushed stainless steel 
To get the best flavors, you can slow-cook lamb shanks using the Multi-Cooker from Cuisinart. To reduce mess, quickly cook the meat via saute setting and switch it to the slow cook set afterward.  
Key Features
The non-stick stainless steel tray can be a single cooking pot for larger families. Its programmable control panel lets you quickly saute, steam, and slow-cook meats and vegetables. The added countdown timer and auto-shutoff feature enables you to cook healthily. There is also a separate screen that displays the temperature and time to keep you fully aware. Additionally, these are adjustable.
Why Buy This
Cuisinart has the best rated slow cookers in the market. They are good at multitasking in the kitchen, which is ideal for busy people who love to cook. As mentioned, it can make the most delicious lamb shanks for the guests!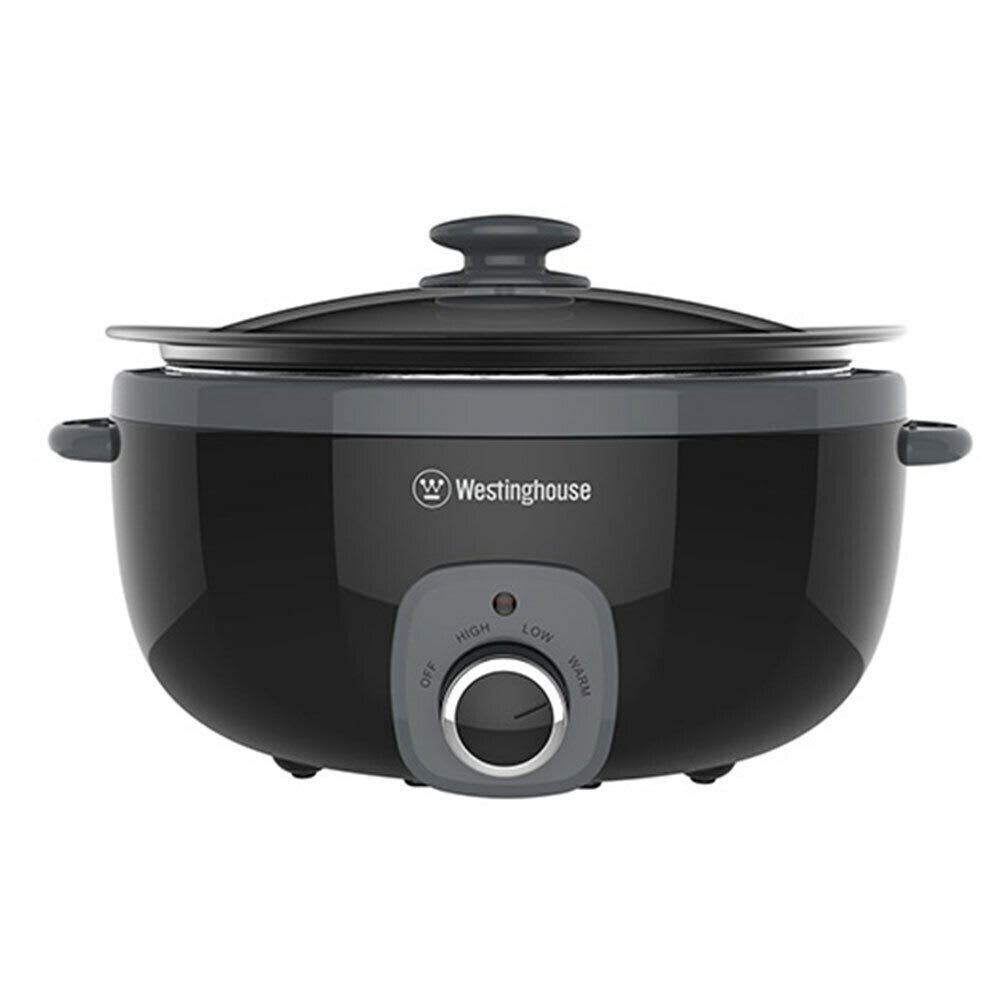 Check Westinghouse Electric Slow Cooker price below:
add_circle
The non-stick pot is removable and easy to clean
add_circle
It has safety features, like cool-touch handles
Specification
Capacity: 3.5 liters  

Power: 163 W

Material: Stainless steel 
The added convenience makes Westinghouse 3.5L Electric Slow Cooker the best choice - once plug-in, you are ready to go! 
Key Features
In addition to being lightweight, the resulting design for your kitchen counter is pleasing. Westinghouse used a tempered glass lid because it is easier to monitor what's inside and is more durable. The slow cooker's ceramic insert makes it ready to roast meats perfectly, from low to high temperature, with warm settings to keep the meat fresh when served.
Why Buy This
Westinghouse produces an energy-efficient slow cooker that is well worth the money. The design as a whole is very minimalist, and it can cook your favorite dish to perfection.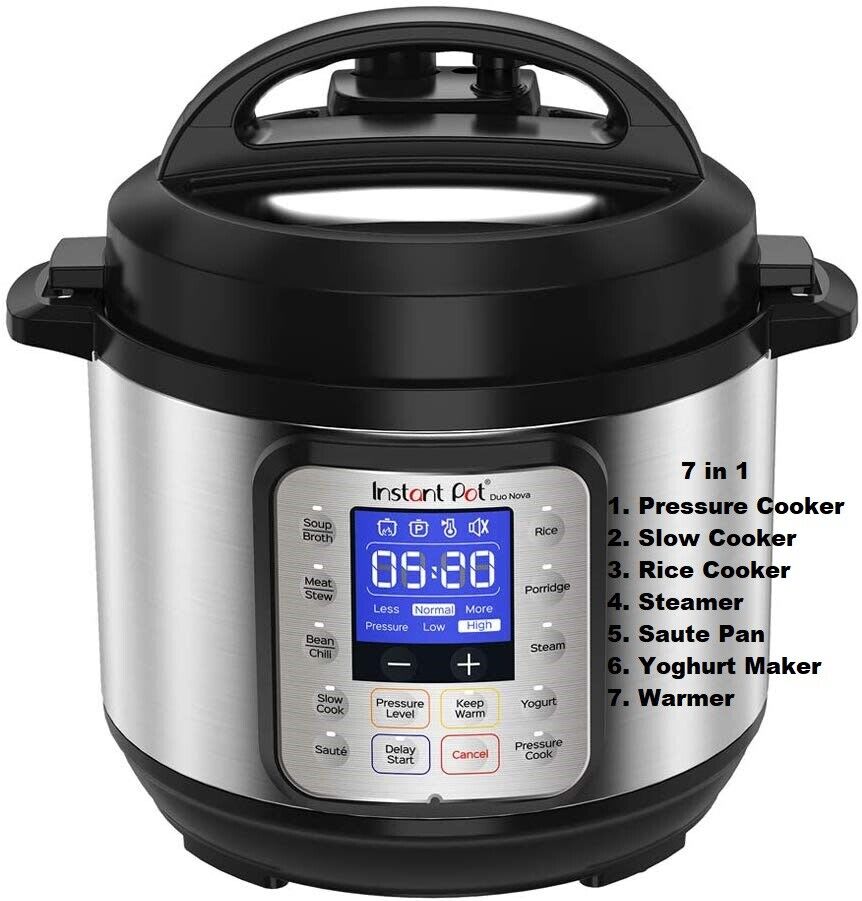 Check Instant Pot Duo Nova 7-in-1 Electric Slow Cooker price below:
add_circle
Can boast a smart design
add_circle
Retains meal flavors excellent
remove_circle
Not that instant to cook meals
Specification
Capacity: 3 liters

Power: 1000 W

Material: Stainless steel 
With the Instant Pot, you can use seven cooking functions in one home appliance, saving more space in the kitchen! It has smart controls that back up the cooking process and produce excellent results.
Key Features
You can use the slow cooker to be more tender and flavorful for various cooking tasks, including meats. The meal, which can feed up to three people, is sealed in all its nutrients and aroma - thanks to the lid's durable construction. It has an LCD monitor that lets you see how the meal progresses and makes cooking extremely convenient. For minimal mess, it has a safe steaming button. 
Why Buy This
The one-touch function of this slow cooker makes it worth adding to your shopping list because many people are looking for a slow cooker that is simple to use. It is a multi-cooker that cooks food 70% faster than competing brands.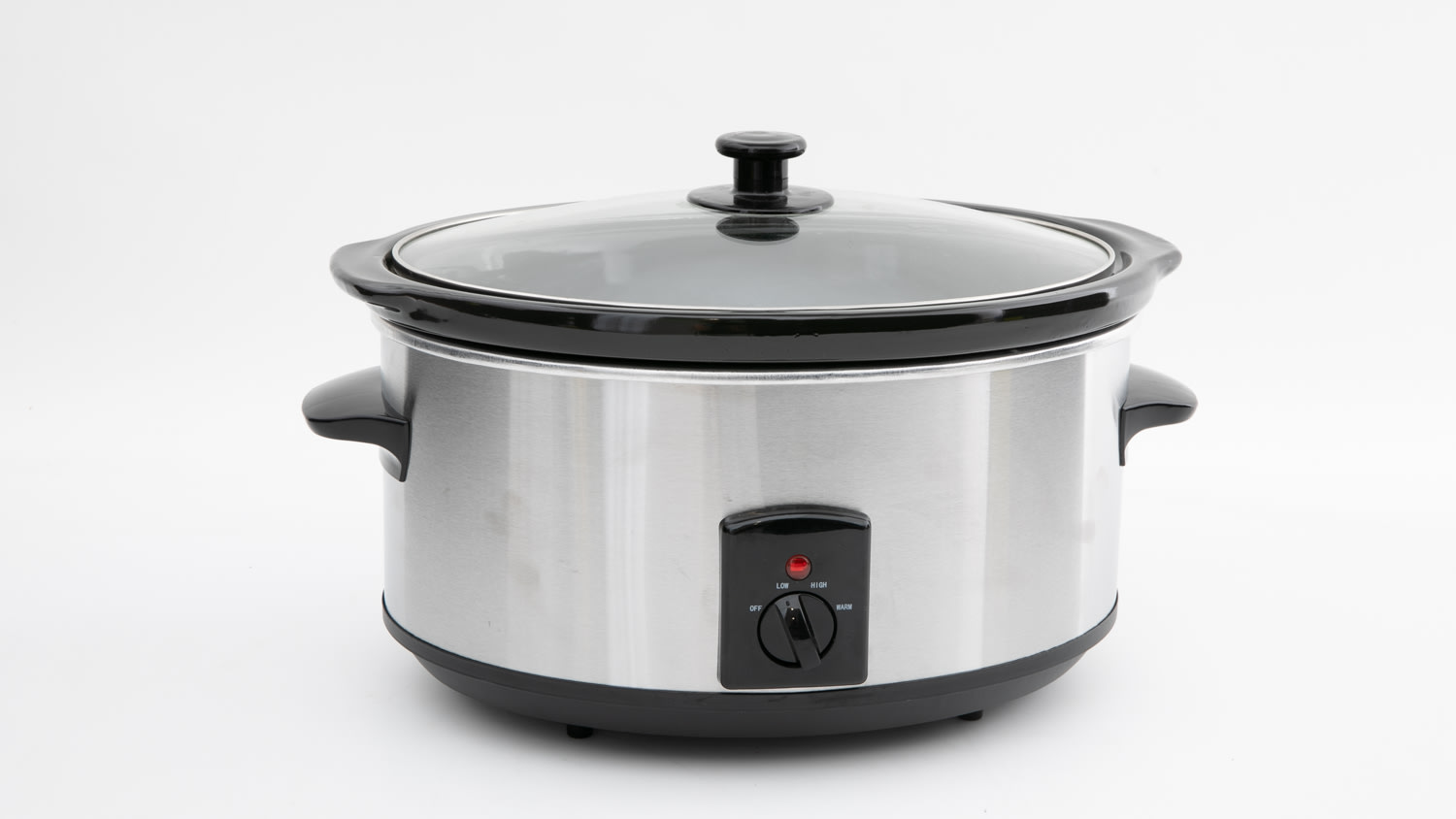 Check Anko 5L Overnight Slow Cooker price below:
add_circle
Cheap but high-quality slow cooker
remove_circle
here is no lock on the lid, which can make a mess
Specification
Capacity: 5 liters

Power: 260 W

Material: Stainless steel 
The Anko brand has the most affordable slow cooker on the list, but it will still provide you with the essential features you need for cooking. The sturdy construction and ceramic pot are enough for long-term use. If you want a slow cooker but have a limited budget, this item is for you!
Key Features
For less than $40, you can get 5 liters of cooking space with Anko's Slow Cooker. You can also save energy and prepare delicious meals every day. Low, high, and warm are the three temperature options. It is crucial to avoid overcooking your food by using the control knob to set the right temperature for each meal.
Why Buy This
Despite its low cost, the Anko Slow Cooker has a larger capacity than its competitors. Its ceramic pot and straightforward design make it simple to clean and use.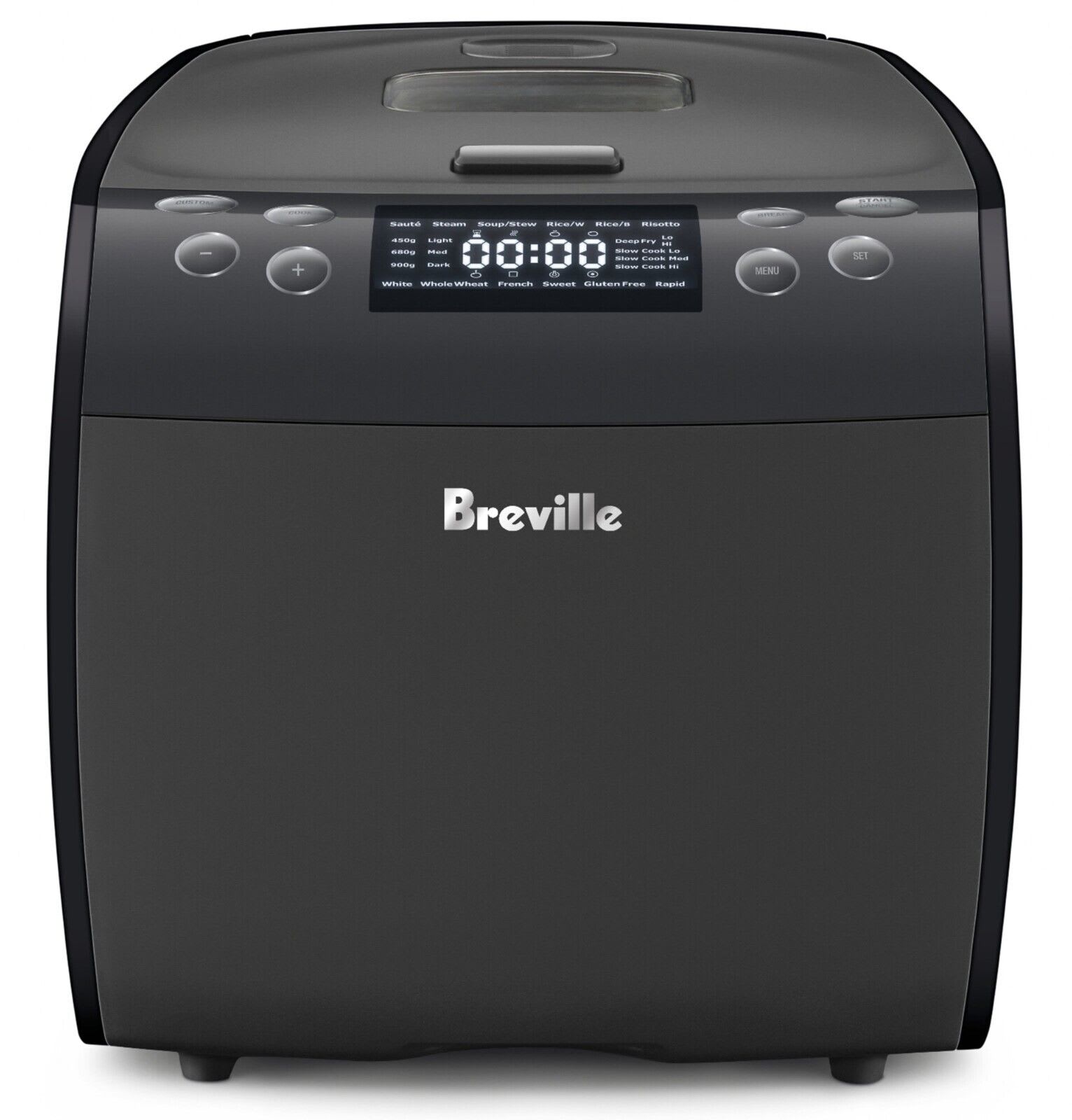 Check Breville 9-in-1 Multi Chef Slow Cooker price below:
add_circle
All the controls are user-friendly
add_circle
Can cook several kinds of dishes
Specification
Capacity: 5 liters 

Power: 1900 W 

Material: Brushed stainless steel 
Breville is the best slow cooker brand for combining multiple functions into a single appliance. Features are ready for you no matter what you are about to cook. 
Key Features
The independent controls on this multi-cooker allow you to customize the heat level for each cooking task. Its built-in sensors make setting a more accurate temperature easier and prevent dishes from being overcooked. The keep-warm mode will kick in when the meal is ready for slow cooking.
Why Buy This
Breville is the ideal brand for buying a slow cooker with various cooking tools. They can provide you with everything you need to get started. 
---
How Does the Slow Cooker Function?
After a long day, top slow cookers are an excellent tool for cooking dinner. The new technologies eliminate the need to monitor the food as it cooks. The best thing about this cooktop is that it gradually cooks food until it has the right flavor and texture. A slow cooker works for meats that might take time to tender and for veggies to stay fresh. 
Understanding the components of a slow cooker—the inner pot, the outer casing, and the glass lid—is necessary before you begin. Each serves a purpose in providing you with a satisfying meal.
The inner pot is ceramic for healthier cooking. You must place the meat and ingredients there and let them cook slowly. Wait several hours for the meat to cook, ensuring the heat level is low to let out moisture. A slow cooker has three heat settings, one of which is a warm cook setting that keeps the dish ready to serve. 
The outer casing helps to encapsulate heating elements for even cooking. At the same time, a tempered glass lid better retains heat and produces moisture. 
---
Pressure Cooker Vs. Slow Cooker
These cooking tools are the total opposite of each other. One is intended for fast cooking, while the other has to simmer dishes. 
With a pressure cooker, hot steam quickly tenderizes the meat. It has a sealed area that lets moisture promptly build up and cooks meat cuts. Separate meat browning is also eliminated without compromising flavor with its saute function. Additionally, this prevents excessive oil use, which can harm your health.
On the other hand, a slow cooker uses a low temperature to soften meat recipes with all of the ingredients added to the pot. It will take hours but uses less energy than a pressure cooker. The best slow cooker meals include a lamb shank, beef shin, ox cheek, and much more. With the low-temperature setting, it can also prevent meals from being overcooked. 
---
Buying Guide: How to Choose a Slow Cooker
Finding a slow cooker that is best for you can be challenging. Well, think about the following things when shopping for one:
---
Budget 
Choosing the best slow cooker for your budget will be easier if you know how much it will cost. Depending on the intended use and added features, prices range from $30 to more than $300.
Cooking Capacity
Buy a smaller slow cooker if your goal is to heat leftovers. As the cooking need increases, so is the size of the slow cooker you might purchase. 
Functionality
The most common feature of a slow cooker is the low and high-temperature settings. You'll have to look for additional features to get the most out of the cooking tool. Others might boast smart buttons to make your life a lot easier. Although each unique feature will ensure excellent comfort, it could add to the overall cost.
Read Testimonials
The slow cooker reviews online are crucial in determining which product is worth every penny. Always verify your sources and beware of fake reviews.

---
Best Slow Cooker Brands in Australia
There are several brands of slow cookers available in Australia. These brands offer a variety of models with different sizes and features to suit different cooking needs and preferences. 
Philips Slow Cookers
Philips offers a range of features, such as a programmable timer, an automatic keep-warm function, and multiple cooking modes. Some models even have a sauté/sear function, allowing you to brown meat and vegetables before slow cooking.
Russell Hobbs Slow Cookers
Russell Hobbs has a range of top slow cookers with features such as a programmable timer, auto keep-warm function, and a removable ceramic pot. The lid and pot are dishwashers safe, and the compact design makes storage easy.
Panasonic Slow Cookers
Panasonic slow cookers feature a large capacity, perfect for cooking meals for a family or gathering. They also come with various cooking modes, including a sauté/sear function, a programmable timer, and an automatic keep-warm function. 
Cuisinart Slow Cookers
Cuisinart slow cookers have various features, such as a digital display, a programmable timer, and multiple cooking modes. The removable ceramic pot and tempered glass lid are dishwashers safe. 
Crock-pot Slow Cookers
This brand of best slow cooker meals has various features, such as a programmable timer, automatic keep-warm function, and different cooking modes. Some models also have a searing function for browning meat and vegetables. The stoneware pot has a compact design that is perfect for small kitchens.
---
Slow Cooker Price Range here in Australia
Australia's slow cooker price range varies depending on the brand, size, and features. Typically, best rated slow cookers in Australia can range from around $30 for basic models to over $300 for high-end models with advanced features.
However, the most popular slow cooker price is between $50 to $150. Generally, larger slow cookers with more features tend to be more expensive, while smaller and simpler models are more affordable.
---
Where to Buy Slow Cookers in Australia
Digital slow cookers are widely available online and in physical stores in Australia. Here are some popular options:
Major department stores 

Electronics and home appliance retailers 

Online retailers like Amazon Australia and eBay 

Kitchen specialty stores 

Supermarkets 
It's important to compare prices and features across different retailers before purchasing to ensure you get the best deal and the right slow cooker for your needs.
---
Conclusion
With the earlier recommended brands, you can cook the best meals in a slow cooker. Home-cooked meals will be healthier during your busy days. Read the product specifications carefully to ensure you're getting the right slow cooker and not wasting money. Last but not least, visit the provided links to easily weigh down your choices and share with us your thoughts!