Do you enjoy preparing meals at all hours of the day or night? Adding an oven to your kitchen will allow you to innovate dishes with your touch of ingredients! There are reputable brands of ovens that guarantee a multi-feature from which to choose. 
Below is our knowledge of the 12 best ovens in Australia based on overall market ratings. Use the list if this is your first time buying an oven.
---
10 Best Ovens in Australia 2023 - Top Brands & Reviews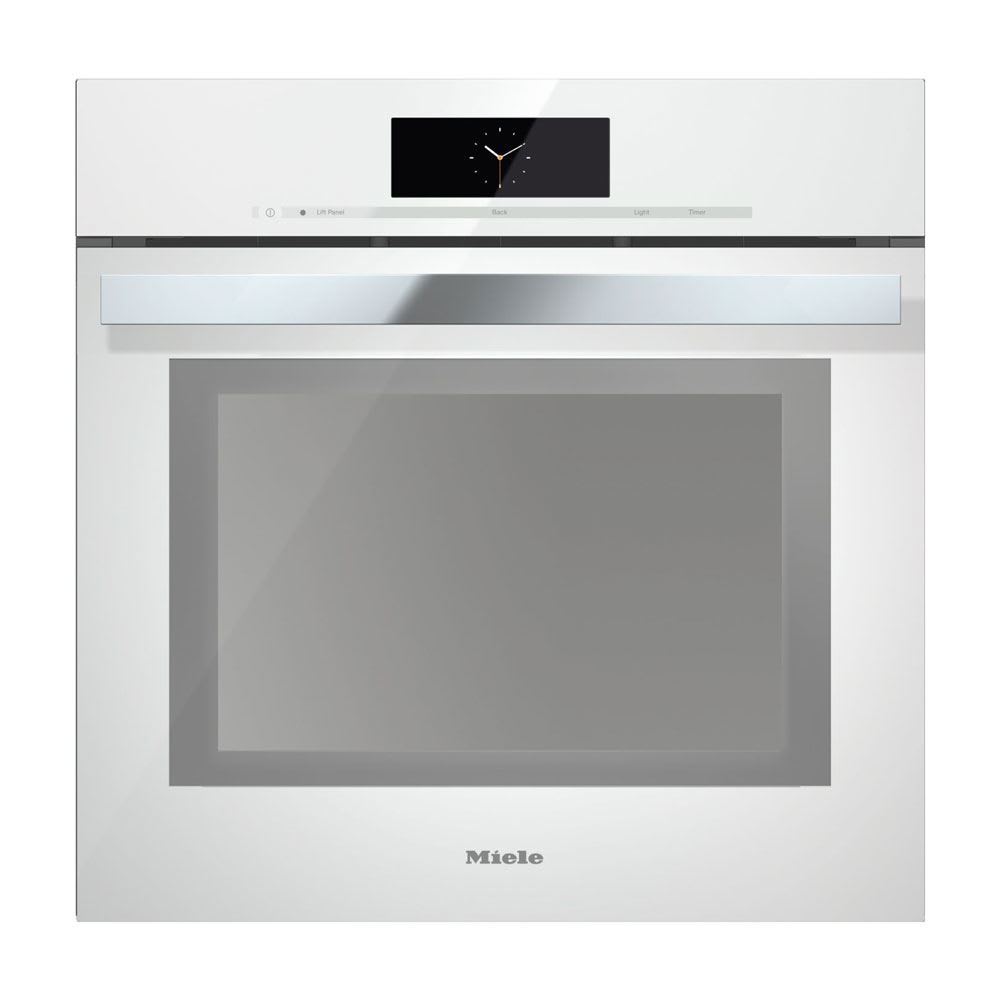 Check Miele DGC6865 Steam Combination Oven price below:
add_circle
Inclusive of many cooking accessories, like a tray, baking rack, and containers
add_circle
Highly versatile
add_circle
Cleaning convenience
Product Specification 
Capacity: 68L

Cooking function: Multi-function 

Temperature range: 40 to 225 degrees C

Material: Stainless steel

Dimension: 21.56" x 23.23" x 22.38" 
Why It Is Our Top Pick
With its fantastic versatility, the Miele DGC6865 Steam Combination Oven fulfills almost all cooking needs, from baking to roasting meats. It also has a huge oven cabinet, making it stand out from its competitors. The superb features of this oven include multi-steam cooking, a food probe for precise temperature control, and an automatic menu. The oven has a perfect-clean finish and flexible side racks. 
Miele makes the best ovens Australia. It is known for its steam combination oven, which can unlock many delicious dishes. The DGC6865 Steam Combination Oven is one of several series of ovens to choose from. Skip down to the highlights of the oven below—this deserves a place on your shopping list!
Key Features
With this steam combination oven, roasting and baking will never be the same again. The Multi-steam design delivers the appropriate amount of moisture and the food's natural and healthy flavor more quickly. Say hello to its automatic programs for each meal, which let you cook three dishes simultaneously without having to control the temperature or time!
Why Buy This
It is unnecessary to always watch for the dishes while cooking because of the food probe. It will indicate the remaining time until the meal is cooked. Based on oven reviews, it also encourages maximum flexibility, from cooking to oven cleaning.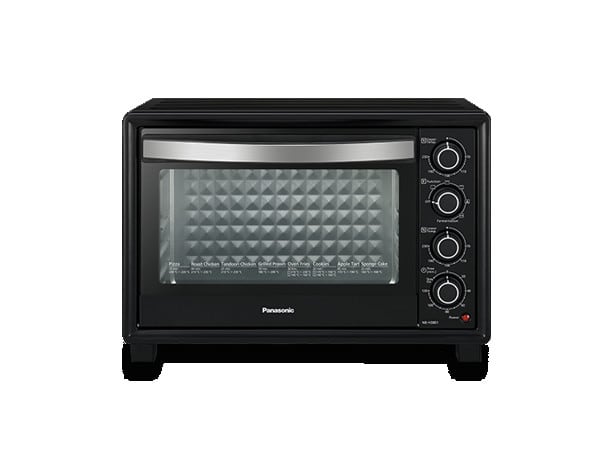 Check Panasonic 38L Benchtop Electric Oven price below:
add_circle
It has unique added functions
add_circle
A reputable brand
add_circle
User-friendly design
remove_circle
Some users question the oven's temperature range
Product Specification 
Capacity: 38L

Cooking function: 6

Temperature range: 70 to 230 degrees C

Material: Combination of glass and enamel

Dimension: 15.4cm x 21cm x 14.3cm 
Panasonic is a famous brand that offers a portable electric oven with many cooking functions. The rotisserie design delivers independent temperature control throughout the oven. Indeed, this oven will arouse the master chef inside of you! 
Key Features 
Although the Panasonic 38L Benchtop Electric Oven has a compact design, you can cook a wide range of dishes. Its insulated dual-layer glass door helps minimize temperature shifts for more consistent results. Three door openings support a multi-stage meal preparation. 
Why Buy This 
Take profit from Panasonic's Benchtop Electric Oven due to its versatile functions. It has a convection mode for cooking healthy recipes. You can also make yogurt with the oven's fermentation mode.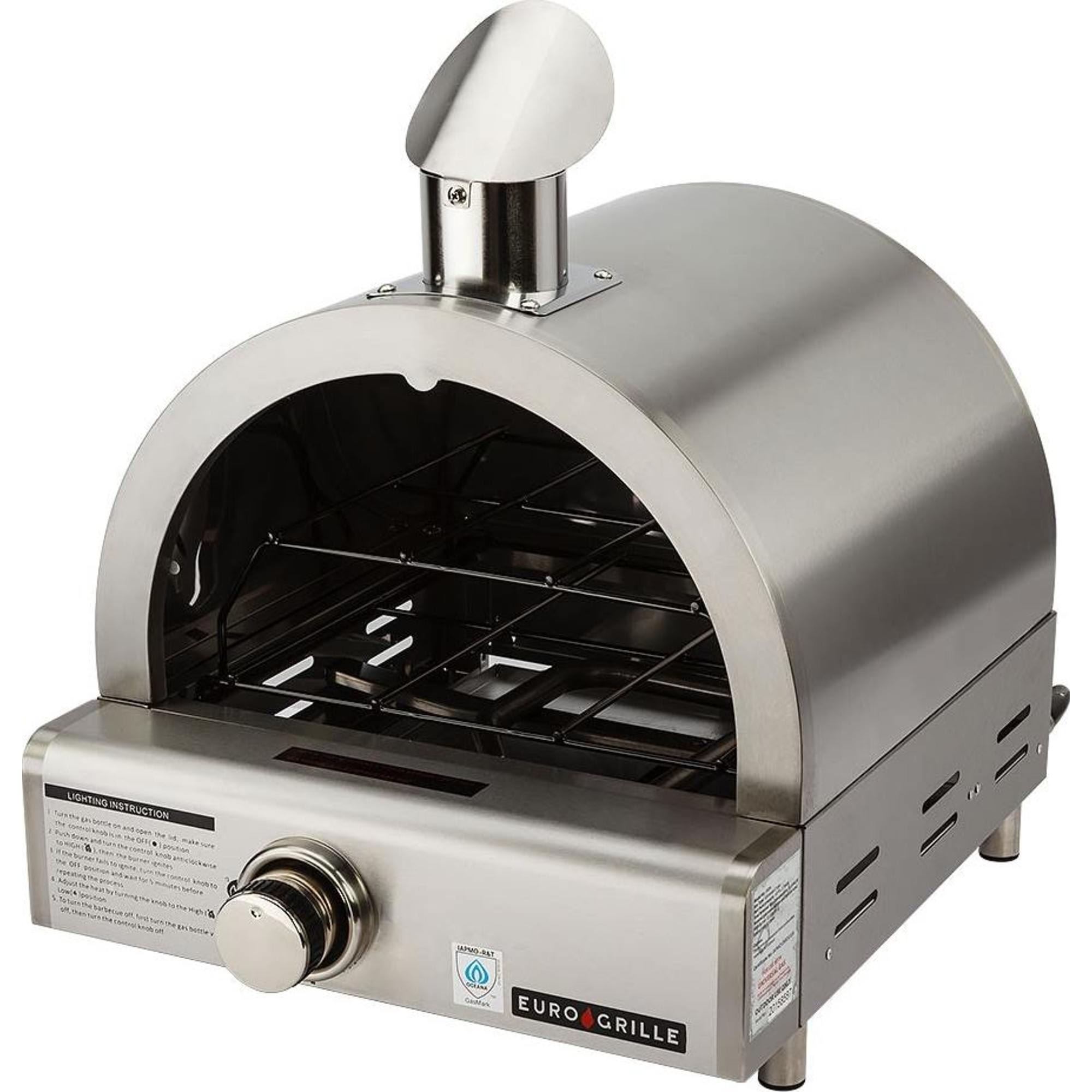 Check EuroGrille Benchtop Elite Pizza Oven price below:
add_circle
It has a dip tray that helps keep things clean
add_circle
Has space-efficient design
remove_circle
It needs to be assembled
Product Specification 
Capacity: Two 12" pizzas 

Cooking function: Designed to cook various foods  

Temperature range: Preheat ability under 20 minutes 

Material: A combination of stainless steel, nonstick enamel, and cordierite ceramic stone

Dimension: 520mm x 430mm x 570mm
With the EuroGrille Benchtop Elite Pizza Oven, you can make as many pizzas as you want without spending money on them! You won't have to burn wood or coal to get started - thanks to its plug-and-go design! 
Key Features
Even with less supervision, the built-in thermometer helps keep the crust from burning. After connecting the LPG tank to the oven and resetting the electric ignition, you'll be able to cook two pizzas in less than 20 minutes. Additionally, the 12" cordierite ceramic stone can hold moisture for a crunchier crust if you want an artisan pizza flavor.
Why Buy This
With its pretty stainless steel body, this pizza oven promotes a less hassle method of satisfying your cravings. The backward design of the chimney prevents smoke and heat from directly hitting your face while you're cooking! EuroGrille ensures to deliver pizzas out of your recipe.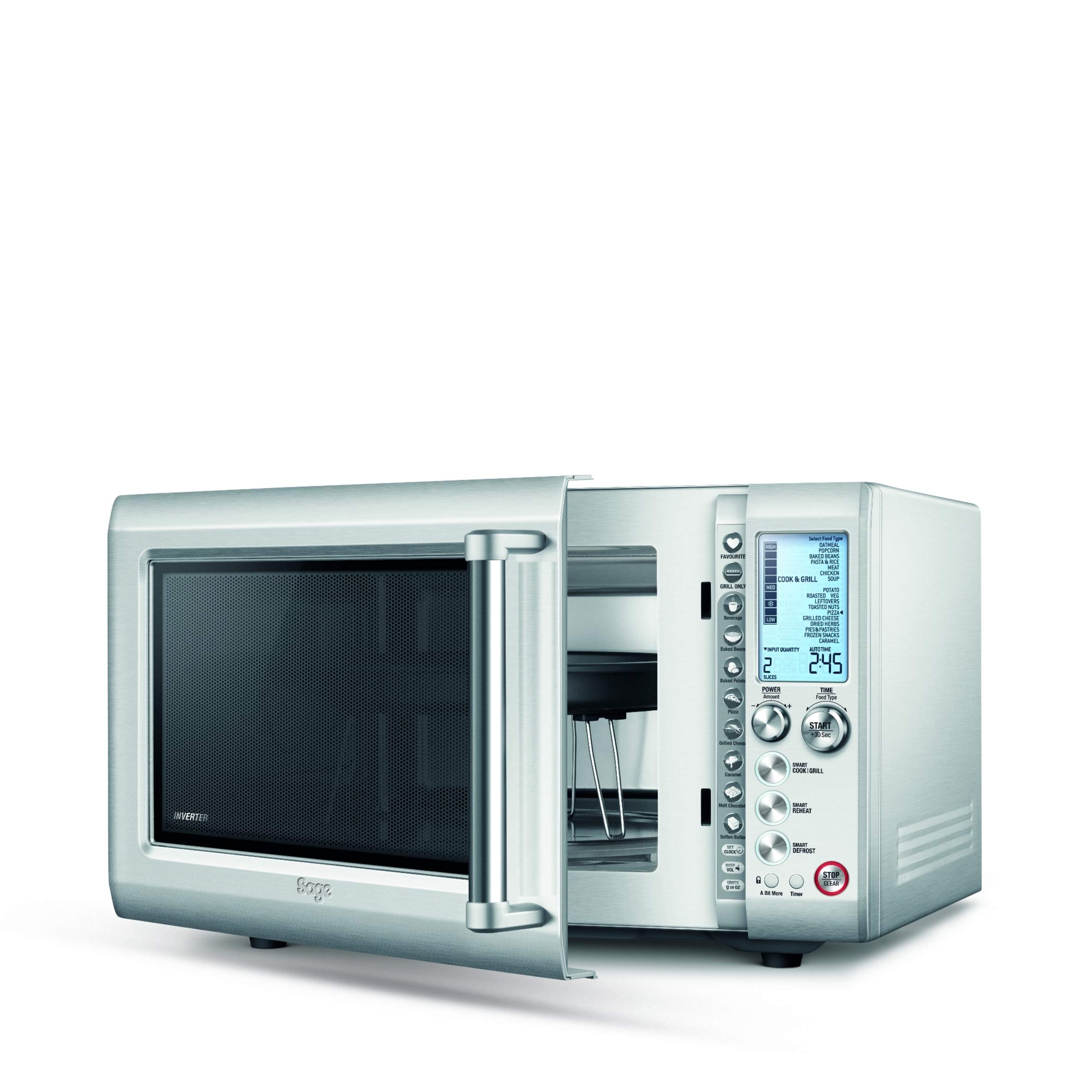 Check Breville BMO700BS Microwave Oven With Quick Touch Grill price below:
add_circle
It is conducive to reheating food
add_circle
Excellent quick-touch feature
remove_circle
Some users complain about the uneven cooking result
Product Specification 
Capacity: 34L

Cooking function: 3

Temperature range: 10% to 100% 

Material: Polished stainless steel 

Dimension: 34cm x 57cm x 37cm 
The inverter technology delivers non-soggy but crisp dishes to your table. Breville also added a quick-touch feature for cooking, defrosting, and reheating, saving time and effort in exploring the oven's smart menu setting. Most importantly, the microwave oven is child-safe!  
Key Features
Using the quick-start button on the Breville BMO700BS Microwave Oven, you can cook meals in just 30 seconds. First, choose a power setting between ten and one hundred percent, depending on the dish you're cooking. You can achieve consistent results by using the one-touch buttons and shortcut panels. There's what is known as the favorite setting, where you can create your meal presets.
Why Buy This
The Breville Quick-Touch Microwave Oven eliminates the need to calculate the ideal cooking time for various dishes. It has a control system designed specifically for certain meals that is simple to use. This microwave oven, for instance, can bake snacks, melt chocolate, make popcorn, or any of your favorite meals.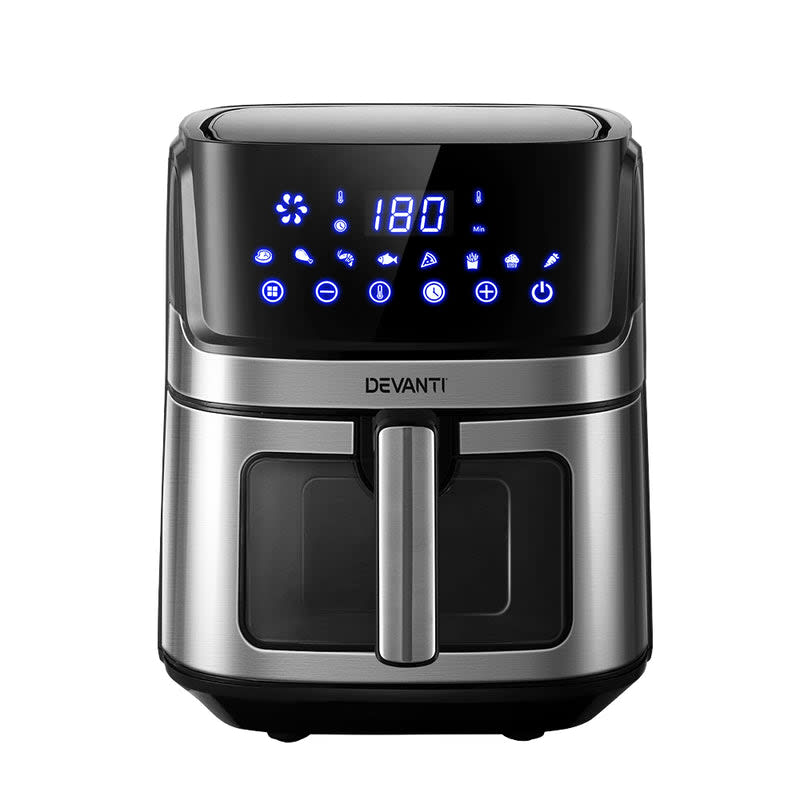 Check Devanti 6.5L Multifunctional Air Fryer Oven price below:
add_circle
Has LCD touch control panel
add_circle
Offers a massive capacity at a low cost
add_circle
SAA and CE approved
Product Specification 
Capacity: 6.5L

Cooking function: 8

Temperature range: 80 to 200 degrees C

Material: Stainless steel exterior 

Dimension: 29cm x 36.5cm x 33.5cm
With Devanti's Multifunctional Air Fryer Oven, you can indulge in fried foods guilt-free! Despite requiring no oil, they promise a delicious meal for you. It is dishwasher-safe, making the oven easier to clean and ensuring food safety at all times.
Key Features
Each of the eight cooking presets in the air fryer oven will make fried foods with less fat than usual. That's because of its nonstick pan! It also features a tempered glass design for precise food monitoring. You can set the timer depending on the food you'll be cooking. In addition, it can maintain proper airflow to cook foods evenly. Devanti Multifunctional Air Fryer Oven has cool-touch handles to keep your hands from burning.
Why Buy This
Most households are impressed by its capacity to produce exceptional meals with less power consumption. If you want to make crunchy snacks, it comes with a crisper tray that you can remove for cleaning. The non-slipping design is an added feature to guarantee safety.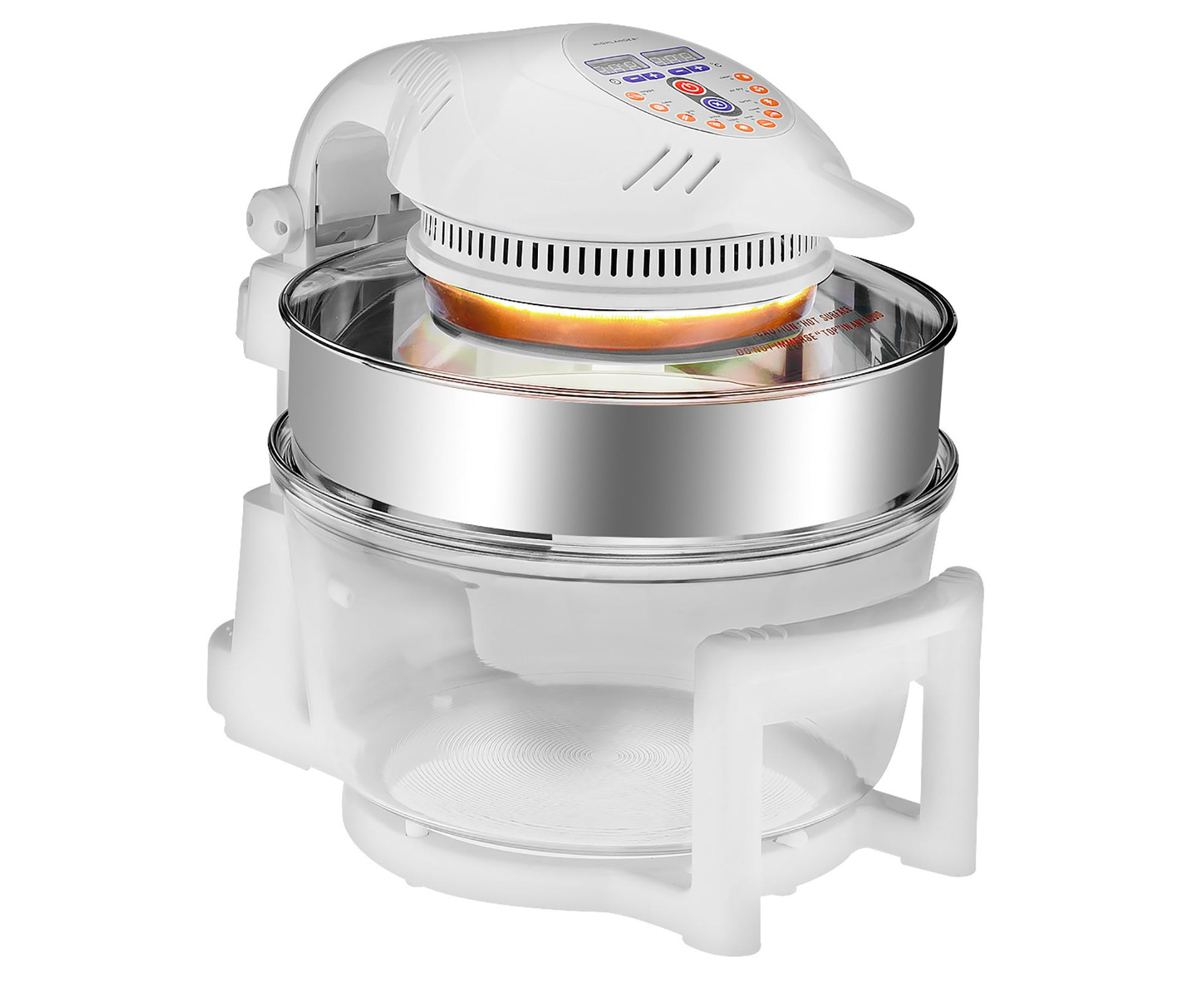 Check Highlander 17L Turbo Fan Digital Convection Oven price below:
add_circle
Very affordable
Product Specification 
Capacity: 17L

Cooking function: 10 

Temperature range: 125 to 250 degrees C

Material: Glass bowl

Dimension: 47cm x 36cm x 37cm
The Turbo Fan Digital Convection Oven is an oil-free oven from Highlander that can cook food twice as quickly as conventional ovens. You can promptly caramelize vegetables or roast chicken in this oven without losing its juicy flavor. 
Key Features
A busy lifestyle makes Turbo Fan Digital Convection Oven by Highlander the best choice. It has self-cleaning features, which can defrost the oven not to compromise healthy eating. The built-in fan, which evenly distributes heat, will accelerate cooking. A digital timer supports each preset menu to ensure the food has the right texture.
Why Buy This
The tempered glass bowl is very sturdy and can withstand cooking heat. It is a benchtop model, so it works best in small kitchens. Highlander has your back to succulent dishes made with roasted meat!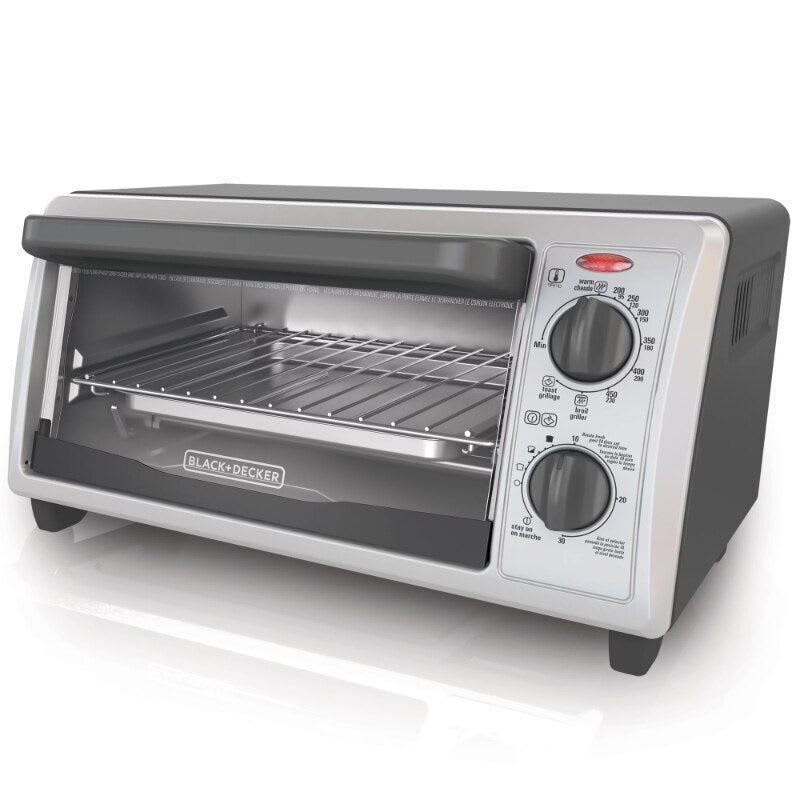 Check Black & Decker TO1760SS 4-Slice Toaster Oven price below:
add_circle
It fits well on a small countertop
add_circle
Made of a removable tray to catch crumbs for easy cleaning
remove_circle
The oven's exterior can quickly get hot, which is dangerous for children
Product Specification 
Capacity: Can fit up to 4 slices of bread or less than 10L 

Cooking function: 4

Temperature range: Constructed with a convection heating system 

Material: Plastic 

Dimension: 29.54 x 42.93 x 23.04 cm
The Black & Decker Toaster Oven makes it much simpler to toast pizza and bread. It is also made for baking, broiling, and keeping food warm. Due to its portability, you can put the toaster oven on any kitchen top. 
Key Features
The toaster oven has convection technology, which circulates heat throughout the appliance to produce quick and uniform results. Despite its small size, it can cook a 9-inch pizza and various snacks and dishes. Black & Decker included a rack and baking pan to ensure a snug fit in the oven.
Why Buy This
Black & Decker makes it possible to find a toaster oven that cooks food naturally. They are one of the best oven brands in Australia and have received favorable customer feedback. And, with this well-built oven, you can make good bread toast in less than a minute.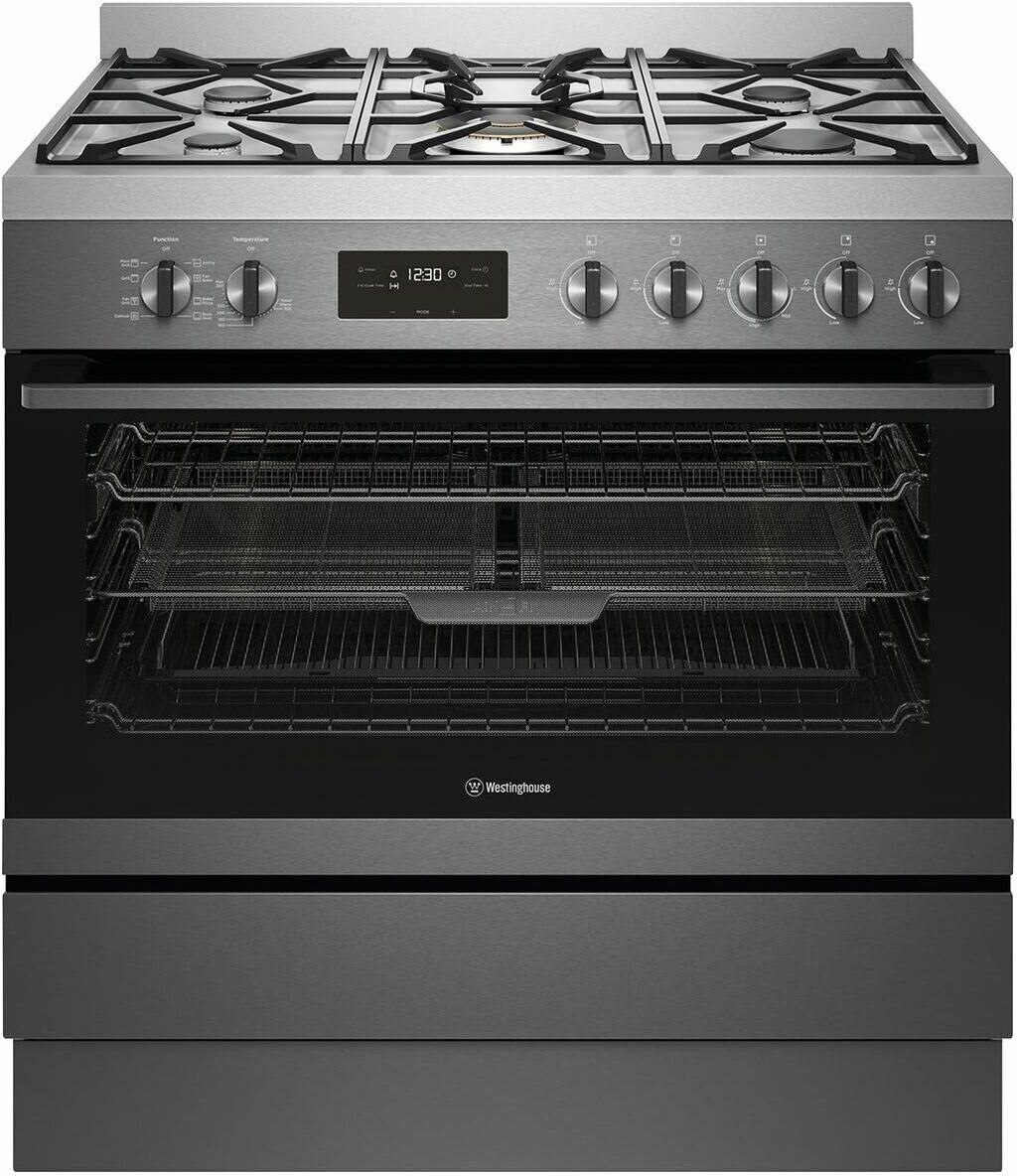 Check Westinghouse 125L Dual-Fuel Freestanding Oven price below:
add_circle
Quiet operation
add_circle
Has smart features
add_circle
Awe-inspiring design
remove_circle
It takes time to heat up
Product Specification 
Capacity: 125L 

Cooking function: 10 

Temperature range: 80 to 260 degrees C

Material: Dark stainless steel 

Dimension: 910mm x 895mm x 600mm
A freestanding oven made by Westinghouse is ideal for households that love to cook and have large kitchen spaces. It has a lot of room for air-frying and grilling and can hold multiple pans. The top design features a five-burner stove that lets you simultaneously prepare various meals. Overall, the Dual-Fuel Freestanding Oven is safer and has ease of use. 
Key Features
The Westinghouse Dual-Fuel Freestanding Oven can cook food evenly, thanks to its twin fan system that evenly distributes heat. One of its ten cooking functions is the ability to steam, bake, and seamer pasta dishes. It has a clever double-valve flame system that makes it easy to control your cooking.
Why Buy This
Cleaning the freestanding oven is not a problem anymore with its PyroClean feature. Once activated, it will turn food residue into ash for you to wash off easily. It has a sophisticated appearance and all the features necessary to impress you with its excellent cooking results.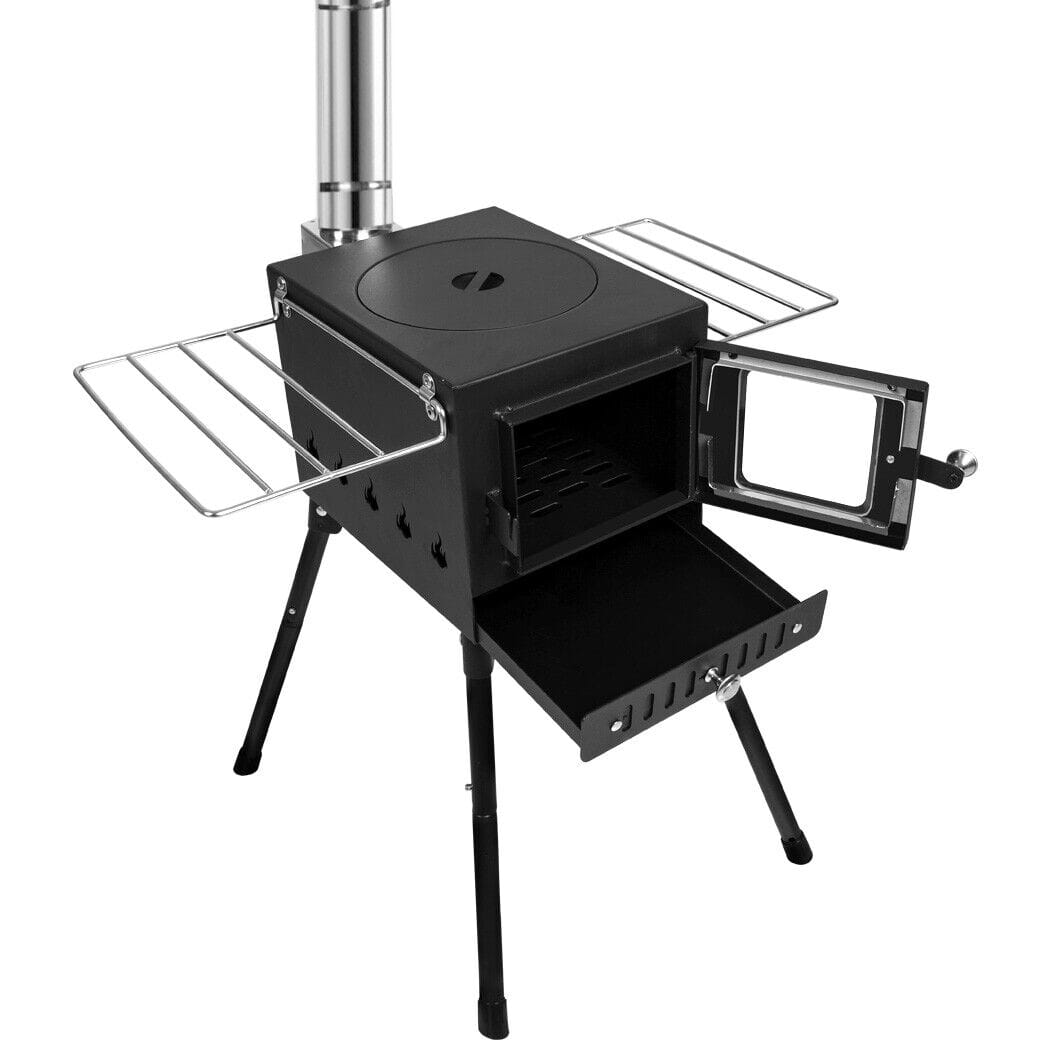 Check Moyasu Portable Caravan Camping Oven price below:
add_circle
Easy to set up
add_circle
Great BBQ stove
Product Specification 
Capacity: Can fit up to two pans or pots 

Cooking function: For grilling 

Temperature range: Depends on the fuel used 

Material: Combination of carbon and stainless steel

Dimension: 55cm x 42cm x 54cm
The Moyasu Camping Oven is a portable grilling option that makes camping with friends more enjoyable. It is portable anywhere you go. On the camping stove, you can make barbecues and eat them right away while you talk about life. 
Key Features
Moyasu used a multi-dry fuel option to produce heat and slowly cook dishes through the camping oven. The sliding vents help to empty the ash and clean the oven quickly. It has a foldable food tray to cool down the BBQs before serving. 
Why Buy This 
This camping oven is quick to assemble, with its foldable legs ideal for travel. The purchase includes a hook and gloves to complete your camping experience.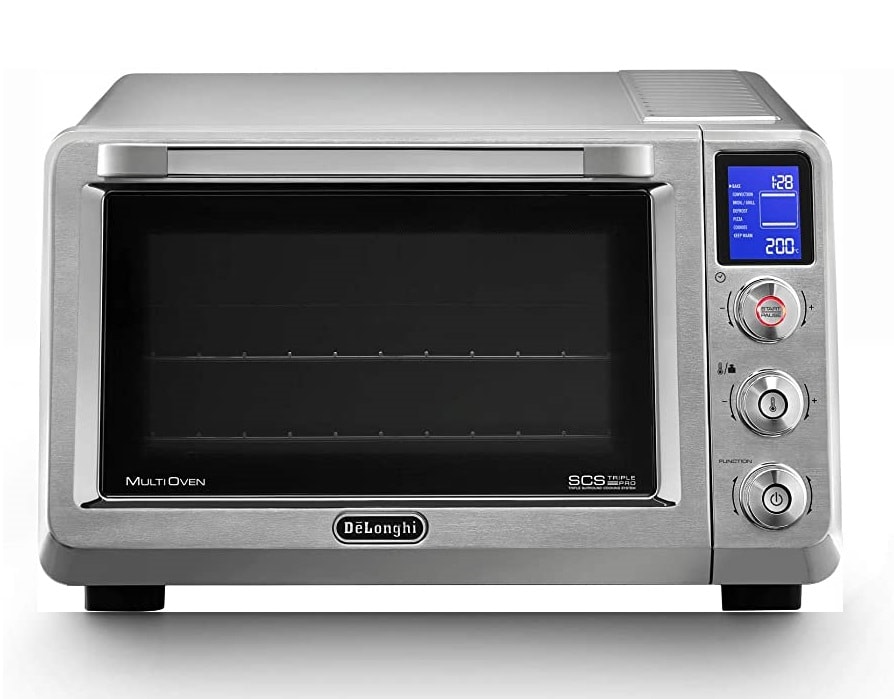 Check De'Longhi EO241250M Mini Benchtop Multi Oven price below:
add_circle
Shuts down automatically
remove_circle
A bit noisy
Product Specification 
Capacity: 24L

Cooking function: 6 

Temperature range: 80 to 220°C

Material: Stainless Steel

Dimension: 17.5cm x 19.1cm x 12cm
With the De'Longhi Multi Oven, you can make snacks right on your countertop! It has six cooking modes that let you create delicious dishes. This mini oven has everything that you need at a great price. Moreover, digital functions are added for ease of use. 
Key Features
Featuring a triple surround cooking design, De'Longhi Mini Benchtop Multioven will cook dishes evenly. It ensures a lump of well-done, tender, and crispy meat before serving. There's a dual cooking function to help you prepare recipes quickly and a digital timer to let you know when the meal is finished. It has a glass insulated double door that reduces heat loss resulting in a faster cooking time. 
Why Buy This
This Mini Benchtop Multi Oven by De'Longhi is an excellent option if your kitchen is small. It has all of the features you need without taking up too much space. You will also receive a baking pan and crumb tray and download a cooking recipe app!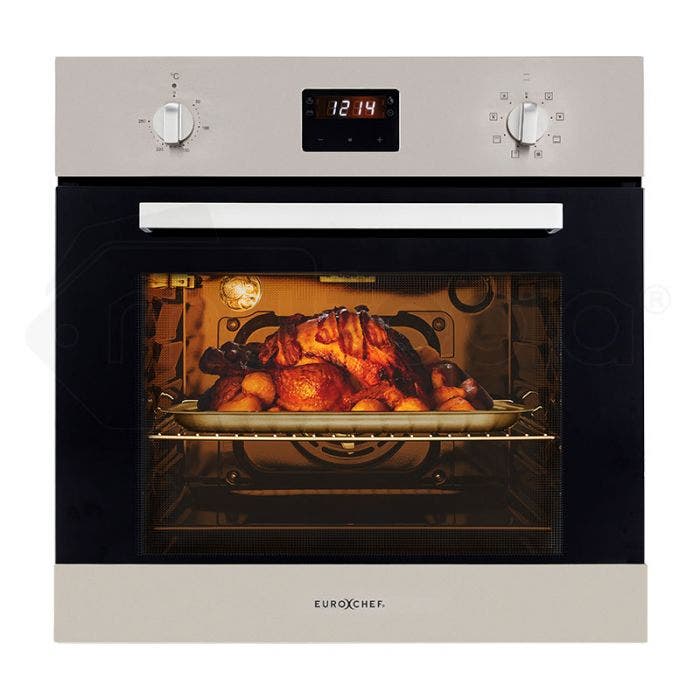 Check EuroChef OE708A Built-In Electric Wall Oven price below:
add_circle
Good quality electric wall oven for the price
add_circle
Multiple oven functions
Product Specification 
Capacity: 70L 

Cooking function: 8 

Temperature range: Up to 250 degrees C 

Material: Enamel 

Dimension: 552mm x 541mm x 575mm
The Built-In Electric Wall Oven is a highly efficient oven suitable for modern kitchens, thanks to its European style! The oven's enamel interior and panels that are simple to remove mean you won't have to worry about cleaning it. However, the oven must be installed by a licensed electrician for safety. 
Key Features
Eurochef used a door with double glazing to keep the oven's temperature constant while cooking. It has a set timer to prevent meals from being over- or undercooked. Besides that, you can operate the oven with a single touch. Plus, it has an auto-shutoff feature for convenience. Last but not least, this electric wall oven has a viewing window and a bright oven light for easy monitoring. 
Why Buy This
When installed, this wall-mount oven can help save space. You'll also have a choice of cooking functions to make the most of the oven's capacity. Inside the oven are a baking tray and a wire shelf for grilling, which you can remove for cleaning.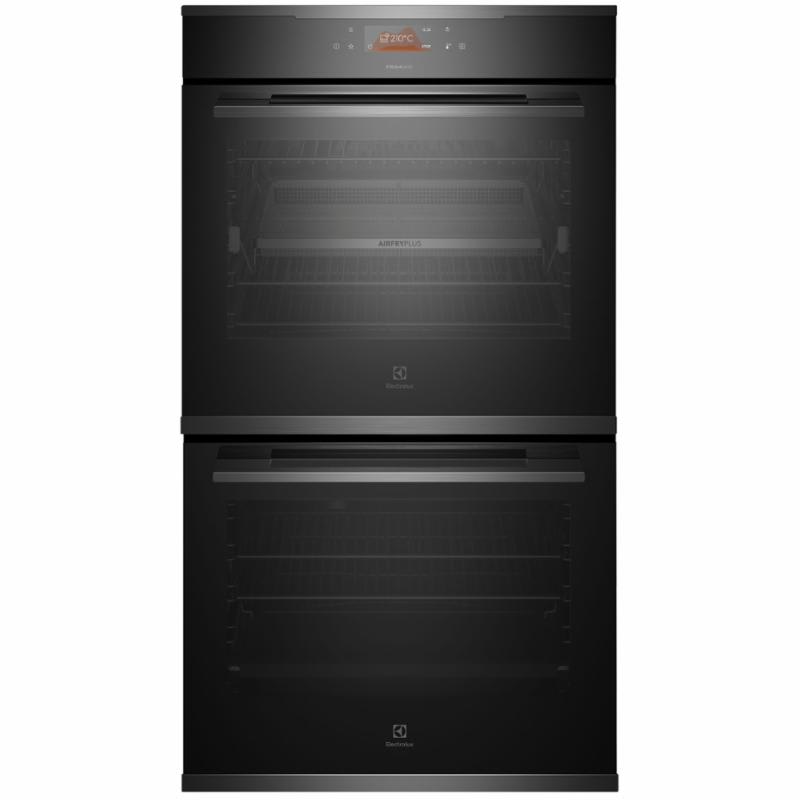 Check Electrolux EVE636DSE Double Oven price below:
add_circle
The temperature level is easy to control
add_circle
Can guarantee a baking result of the highest possible quality
add_circle
All of the features make cooking a lot more convenient
remove_circle
Users must read the manual to manage the double oven well
Product Specification 
Capacity: 72L

Cooking function: 17

Temperature range: Electric double oven type 

Material: Dark stainless steel

Dimension: 596mm x 1083 mm x 572mm 
The Electrolux EVE636DSE Double Oven is a good choice if you want an oven with various cooking programs to suit your needs. The oven has a menu setting that can easily adjust to ensure precise cooking. It can determine whether the meat has been cooked to your delight! 
Key Features
This multifunction double oven has four main features - SteamBake, Air Fry Plus, Steam Cleaning, and TFT touchscreen control. Its slide-out trays make it easy to get to the dishes and keep your hands safe from burning. Utilize the cooking features with automatic controls to achieve great results. 
Why Buy This
You should add the award-winning Electrolux oven to your shopping list. It costs a lot but has excellent features that can help you with your cooking hobbies. Additionally, it complements your kitchen's aesthetic.
---
What is Oven?
One of the essential cooking tools is an oven, which has many uses and features. Depending on your kitchen size and preferences, it can either be mounted on the countertop or fixed to the wall. Ovens are also the best choice for busy people who want to save time and effort while reheating a meal.
Different Types of Ovens
Ovens function with two fuel options - gas or electric. The first option is ideal for baking and roasting because it utilizes natural gas to produce heat and retain food moisture. In contrast, electric models are the most common and convenient to use at a lower price. It cooks food evenly and is more versatile, unlike gas ovens. Additionally, there are two major types of ovens, such as:
Freestanding Ovens 
A freestanding unit has various cooktop options and can be installed without professional help. Its flexible design makes it simple to move around the kitchen whenever you want. 
Built-In Ovens 
It is a space-saving unit installed mainly by professionals in cabinets. A few of its many uses include grilling, roasting, and pizza making. 
---
Buying Guide: How to Choose an Oven
Try to compare ovens rather than jumping to conclusions to find the best option for your requirements. Here is a list of what you should be on the lookout for:
Get in touch with a licensed oven fitter
It can be hard to fix ovens on your own. Well, most oven brands offer installation services to ensure that the parts are correctly wired.  
Choose ovens that maximize efficiency 
It depends on the type of appliance, but gas ovens can ultimately use less energy than electric ovens.
Opt for an oven size that is suitable for your family's needs
For instance, freestanding ovens may require more space than built-in models. Select an oven size that best suits your kitchen and cooking requirements.
Aim to learn the oven settings 
Ovens can cook a wide range of dishes, so a thorough understanding of how they work is essential. Additionally, keep in mind that it can function at various temperature settings depending on your cooking needs.
Other oven features
Today's market innovates ovens with impressive features, such as multiple shelves, durable glass doors, and smart functions. Some ovens for sale even brag about having built-in cameras for cooking shows. 
---
Best Oven Brands in Australia
These five brands offer a range of ovens with various features to meet different cooking needs and preferences.
Westinghouse Oven
Westinghouse is a well-known brand in Australia, known for its high-quality, affordable home appliances. Their ovens are no exception, featuring easy-to-use digital controls, self-cleaning options, and large-capacity cavities.
Miele Oven
Miele is a premium German brand renowned for its high-end appliances and superior quality. Their ovens focus on performance and durability, with features such as precise temperature control, heavy-duty construction, and advanced cooking functions.
Bosch Oven
Bosch is a leading home appliance market brand known for its innovative technology and sleek design. Their ovens have cutting-edge features, such as automatic temperature control, fast preheating, and advanced safety features.
Electrolux Oven
Electrolux is a Swedish brand known for its stylish and efficient appliances. Their ovens have advanced features, such as precise temperature control, multi-functional cooking options, and easy-to-use digital controls.
Fisher & Paykel Oven
Fisher & Paykel is a New Zealand-based brand known for its innovative and high-quality appliances. Their ovens have the latest technology, including easy-to-use controls, precise temperature control, and multifunctional cooking options.
---
Oven Price Range in Australia
The price range for ovens in Australia can vary widely depending on the brand, size, features, and type of oven. You can expect to spend anywhere from AUD 300 to AUD 5000 or more for an oven in Australia.
Here is a rough estimate of the price range for some common types of ovens:
Freestanding electric ovens: AUD 300 to AUD 1500

Built-in electric ovens: AUD 600 to AUD 2500

Gas ovens: AUD 400 to AUD 1500

Wall ovens: AUD 800 to AUD 3000

Double ovens: AUD 1500 to AUD 5000
Remember that these are rough estimates, and prices may vary based on specific models, brands, and retailers.
---
Where to Buy Oven in Australia?
There are several options for purchasing ovens in Australia, including online and brick-and-mortar retailers. Some of the most popular options include:
Appliance retailers: Major appliance retailers such as Harvey Norman, The Good Guys, and Bing Lee offer a wide selection of ovens from various brands and often provide in-store displays where customers can see the ovens in person and get advice from knowledgeable sales associates.
Online retailers: Online retailers such as Amazon and eBay offer a large selection of ovens, with the convenience of shopping from home and often competitive pricing.
Manufacturer websites: Many oven brands, such as Westinghouse, Miele, Bosch, Electrolux, and Fisher & Paykel, have websites where you can view their entire product range and purchase ovens directly from the manufacturer.
Regardless of where you buy your oven, it's essential to research and compare different models, read customer reviews, and understand the warranty and return policy before making a purchase.
---
Conclusion 
The best ovens will undoubtedly meet your expectations for cooking in 2023. Before making a purchase, you should be aware that they may vary in price, size, and features. Think about getting a multi-function oven because it will allow you to cook whatever meal you want. Before buying an oven, compare the leading brands above!