Carrying a little one can be tiring; this is where the best baby carrier australia can help. A baby carrier is versatile and can fit from infancy and as the child grows. The extra durable, high-quality fabric, straps, and soft cushioning can support the baby and provide optimal comfort. It allows you to do other errands while not letting your guard down in caring for the baby. 
Searching for the best baby carrier to buy is made easier with the list below. We piled items from reputable brands, offering features that you and your baby needs.  
---
10 Best Baby Carriers in Australia 2023 - Top Brand Reviews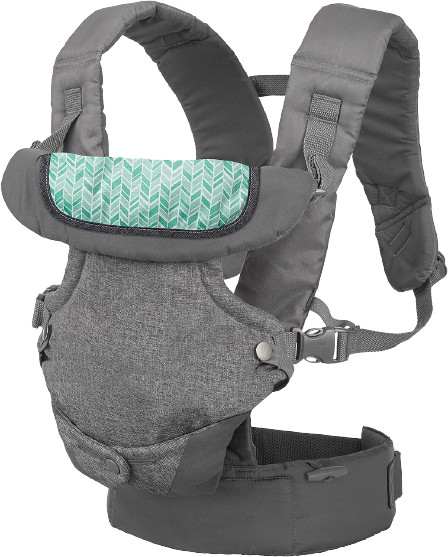 Check Infantino Flip Advanced 4-in-1 Convertible Baby Carrier price below:
add_circle
It guarantees extra comfort from head to toe
add_circle
Great versatility
Why It's Our Top Pick 
We recommend Infantino Flip Advanced as the best baby carrier in australia because of its versatile design. Due to the adjustable shoulder straps and waist belt, it can carry infants weighing up to 32 pounds. You can use the baby carrier in four ways - facing-in narrow seat, facing-in wide seat, facing-out narrow seat, and back carry wide seat. Switching from one moving position to another is easy and quick, whichever suits your baby's growth. 
Overview
The Flip Advanced is all you need for taking newborns and toddlers everywhere you go without a hassle. It features head and lumbar support to protect babies from injuries. 
Highlighted Features
The material is a polycotton, making the baby carrier more comfortable from front to back. It has a cover bib to shield your clothes from dirt. It features a modified fitting and style depending on the child's height and weight. The cushioned head support is also great for babies' well-being.
Performance
It has a more relaxed touch than other baby carriers. It might be lightweight, but it can always hold a baby tight and ensures safety. The foot position is also impressive in supporting a toddler's thighs and knees. 
Why Buy This
Only a few more stocks are left, saying Flip Advanced is a great buy. It is for long-term use because of its sturdy fabric and styling features.
Check Suavinex Red Wrap Baby Carrier price below:
add_circle
It is machine-wash safe
add_circle
It can carry an 8-kilogram baby
remove_circle
The fabric is a bit heavy
Overview
Suavinex Baby Wrap promises a more relaxed way to carry a baby. Experts said you can release babies from stress by wearing them closer to you - which is possible with a baby wrap. 
Highlighted Features
Suavanix has taken all the parameters in designing a baby wrap, including the proper fabric and shape. The cotton and elastane materials make the baby wrap suitable for any body shape. It is flexible and can supply a good fit. You can also secure a better posture for the baby with its bandage style that is durable and easy to adjust. 
Performance
It is easy to put on, keeping the child warm. It is highly versatile, causing the child to feel calm. Even so, it could be better for summer due to the heavy fabric used. 
Why Buy This
The baby wrap carrier is essential for travel and everyday use. There is a guide on how to wear the baby wrap, and it is very portable.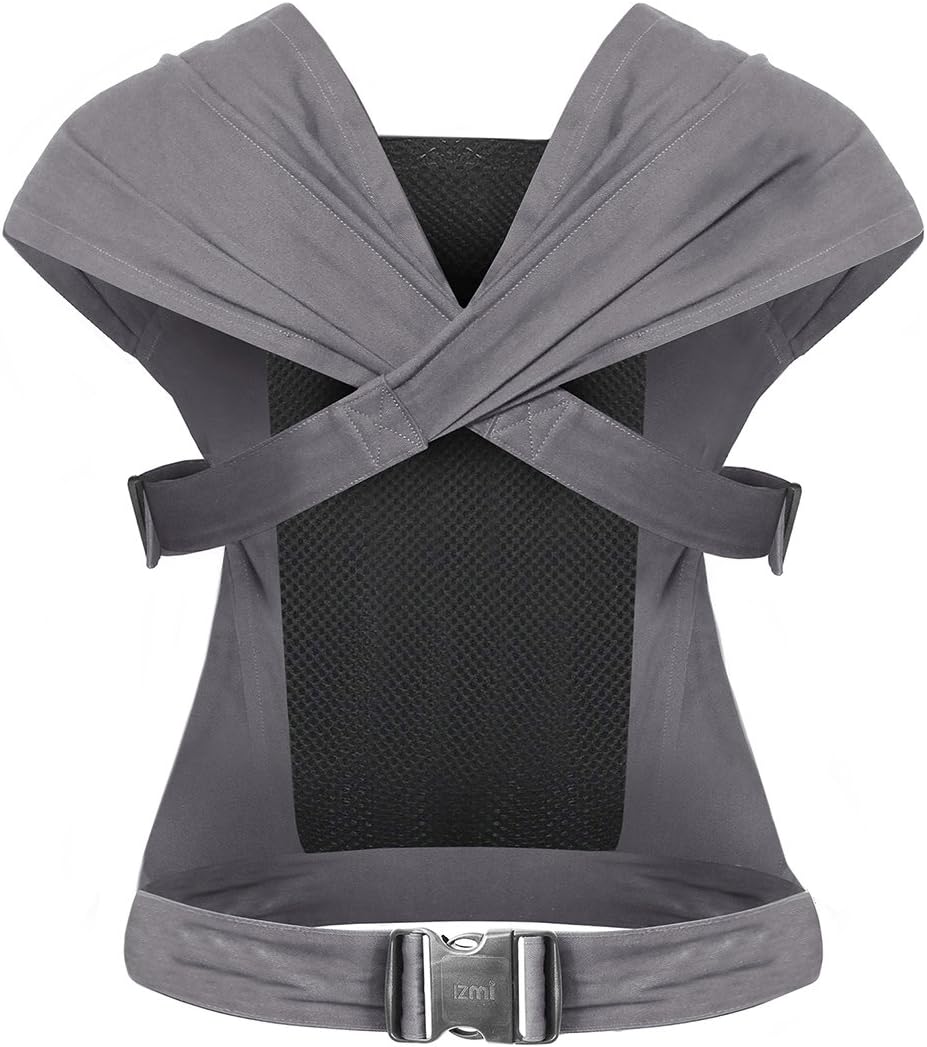 Check Izumi Breeze Baby Carrier price below:
add_circle
It fits nicely for newborns in many ways
add_circle
The material is sturdy and comfy
add_circle
It has excellent ventilation
Overview
A newborn requires a carrier that guarantees maximum comfort and proper ventilation. Look no other than the Izmi Breeze, a snug-fitting baby carrier with a mesh panel for more fabulous wear. 
Highlighted Features
It has an ergonomic design keeping you hands-free in carrying the baby. The lining and straps are cotton and polyester, which are extra breathable and soft. The front and side holding position is perfect for newborns. It is also easy to clean and quick-drying. 
Performance
It has an adjustable seat width for the baby carrier up to toddler years. This feature protects the baby's hips in every position. The baby carrier is compact and has a mesh insert for added comfort. 
Why Buy This
Izumi Breeze allows proper airflow on all sides to prevent suffocation. Such a cooling feature is crucial for newborns who easily get irritated. Moreover, the baby carrier supports the head, neck, and hips better than its competitors.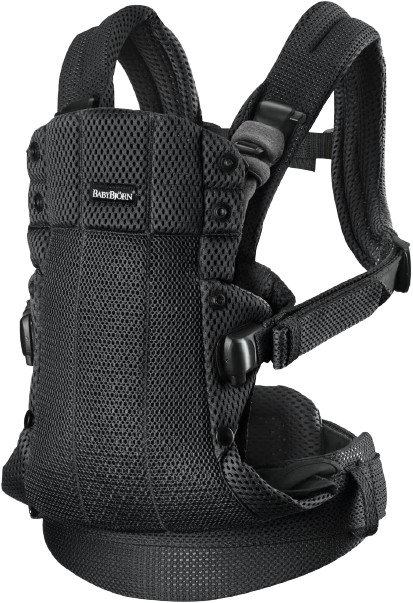 Check Baby Bjorn Baby Carrier price below:
add_circle
Easy to take off
add_circle
It uses very soft materials
Overview
Supporting a child's back is essential. Baby Bjorn offers the most reasonable baby carrier to protect your child's back. It uses soft materials to ensure your baby gets the right amount of comfort. 
Highlighted Features
The baby carrier has a stylish design that suits all gender. It is fully mesh with padded shoulder straps and extra cushioning to support the baby's back. It is 80% polyester; the rest are cotton and elastane for comfort. Additionally, it has a leg zipper cover that helps prevent scratching the baby's skin.
Performance
You will be satisfied with how the baby carrier benefits the baby's posture. It allows the child to move without harming its back. Parents can fasten the carrier at the front, which adds comfort for securing the baby's back. 
Why Buy This
If you are a first-time parent, it can be anxious to keep the baby's back away from danger. An extra-padded carrier is necessary to avoid hurting a baby; then, Baby Bjorn considers safety in making this baby carrier.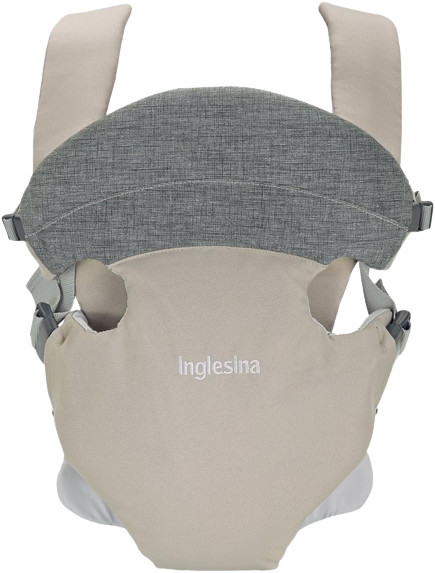 Check Inglesina Front Belly Baby Carrier price below:
add_circle
The front orientation supports direct contact with the baby
add_circle
Its color design suits all gender
add_circle
Easy to open and close
Overview
A front baby carrier by Inglesina has adjustment options for you and your baby's comfort. It reduces the anxiety of every mom wanting to monitor the baby constantly. 
Highlighted Features
The belly carrier is 100% cotton and is available in two colors. The front design comes with a high-quality belt to hold the baby. It is easy to alter the shoulder strap for the correct carrier fitting. It has a fashionable design that you can wear on your first family trip. 
Performance
Its aesthetic look is a plus to its overall quality, which most parents love about the product. It makes combining the belly carrier with any outfit easier. The insert carabiners also let you fasten and unfasten the belly carrier faster than button styles. 
Why Buy This?
It is the most convenient baby carrier for short trips. It can carry a maximum weight of 9 kilograms with a headrest made of soft cotton jersey. The Front Belly Carrier also provides better access to the baby anytime.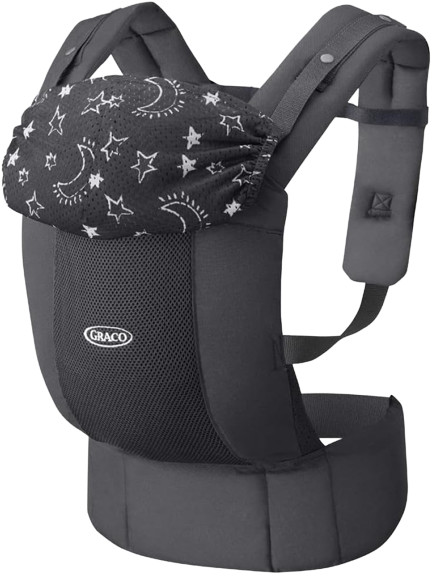 Check Graco Loo-Pop Baby Carrier price below:
add_circle
The breathable mesh is robust
add_circle
Travel-friendly
remove_circle
A bit rough
Overview
Graco has the best-selling baby carrier that can prevent fatigue during hiking. It also has sun protection to shield the baby from the hurtful impacts of sunbeams.
Highlighted Features
The Loo-Pop Baby Carrier is made of mesh fabric to maintain proper airflow and is soft on the skin. It also prevents insect bites. It has a buckle strap system, which is more durable and easier to fasten in place. Pull down the belt closure to adjust the carrier's fitting and reduce fatigue. This foldable and easy-to-store baby carrier makes it the right choice for outdoor trips.   
Performance
Graco is a trusted brand for producing heavy-duty baby carriers. This one looks best in a 2-way hugging style suitable for hiking. The material is lightweight and hooded to protect your little one from sun exposure. 
Why Buy This
With the Graco brand, you will get a top-tier baby carrier for your following hiking plans with your child. It locks into place with the belt and buckle strap design. So, worries about the baby falling off the carrier or not feeling comfortable.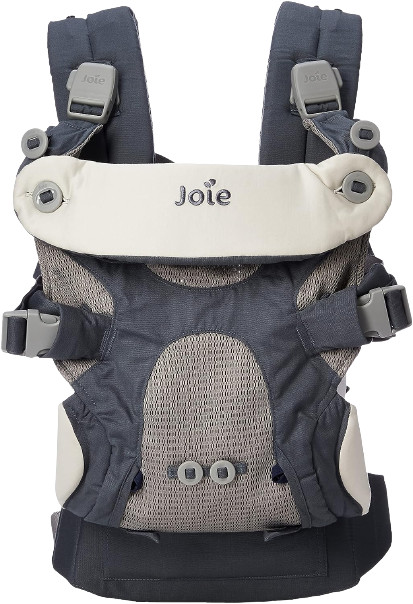 Check Joie Sabby Baby Carrier price below:
add_circle
It allows multiple carrying styles - face-to-face and forward facing
add_circle
It improves protection
add_circle
It enhances airflow
Overview
Joie Sabby Baby Carrier is quick to install with a bib and sun cover ideal for travel. Generally reasonable for newborns up to 2 years old. 
Highlighted Features
It has a magnetic buckle for ease of installation from the shoulder, back, and hips. It comprises cotton, polyester, and spandex material, making up a baby carrier that is cool to wear and sturdy. It is easy to carry due to the lightweight cotton material, hence easier to dry after washing. 
Performance
This best baby carrier in australia ensures better stability no matter the baby's position with the buckle design. The Sabby Baby Carrier is cheaper than other travel baby carriers yet has very satisfying features, like a bib and sun cover.  
Why Buy This
Joie used organic cotton, which is safe for the baby's delicate skin. It is your companion for short or long travels, requiring less installation time. One buyer is pleased with the magnetic buckle securing the carrier over time.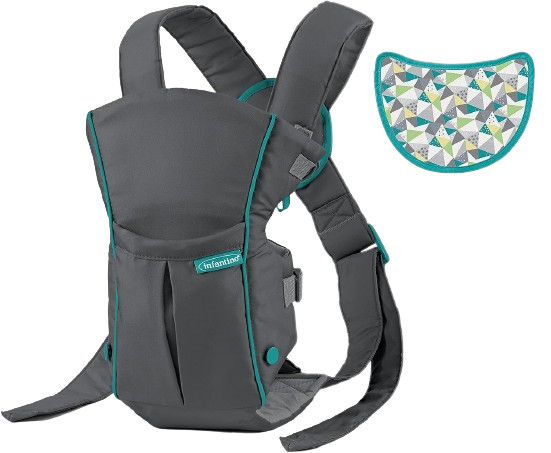 Check Infantino Swift Classic Baby Carrier price below:
add_circle
It has excellent storage
add_circle
Perfect for quick trips like grocery shopping
add_circle
The buckle system is high-quality and easily adjustable
remove_circle
Not washing machine safe
Overview
Parents have a lot of essentials to bring while going out with a baby. It makes Infantino Swift Classic Baby Carrier a decent purchase, with a considerable pocket to keep your baby's stuff within reach. 
Highlighted Features
It has an expandable front pocket to store parent and baby stuff. Infantino also includes a detachable bib cover for easy cleaning. The carrier's side strap is gentle on the skin, while the padded back strap features a one-touch adjustment. It also highlights a cushioned head support, whether the baby is facing in or facing out. 
Performance
We recommend Swift Classic for parents who want to avoid bringing an extra bag when going out. It has adequate space for the baby's essentials while staying robust while carrying a baby. In addition to that, the fabric is easy to wipe and clean. 
Why Buy This
It has the best baby carrier review regarding baby comfort and safety. If you are looking for a compact yet functional baby carrier, then Swift Classic is the right choice.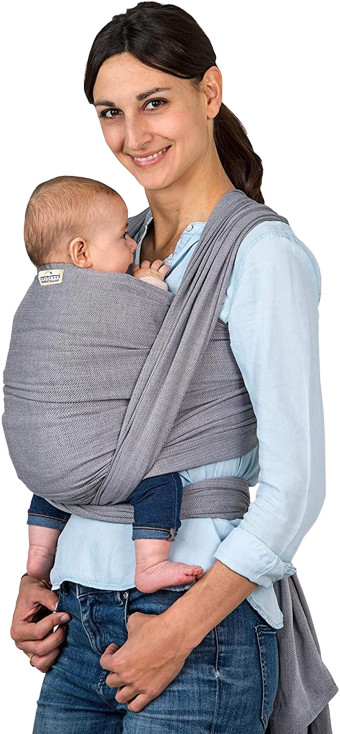 Check AMAZONAS Sling Baby Carrier price below:
add_circle
Less expensive
add_circle
It has durable stitching
add_circle
It is cool and gentle on the baby's skin
remove_circle
It will take time to fasten the baby's sling
Overview
Say hello to an easy-to-tie baby carrier, recommended for babies up to 15 kilograms. AMAZONAS, featuring a baby sling with a longitudinal strap design, lets your child develop good posture. It won't sore the baby's back and curves and can move freely.  
Highlighted Features
Flexible cotton makes the child sling entirely lovely to wear. The band quality will only easily break if the baby sling fits too tight. There is a brand label to help you wrap the material in the proper places to protect the child's back. Wearing the baby sling comes in two unique ways - front or diagonally. The latter position is perfect for breastfeeding moms. 
Performance
AMAZONAS highlights the cross twill stitching, making the baby sling stronger to carry heavier weight. The fabric is delicate on the baby's skin and is not difficult to wash for the following use.
Why Buy This
It has the ideal length and width for conveying a 3-year-old kid. It is also great for the baby's back and does not limit movements because of its elastic design.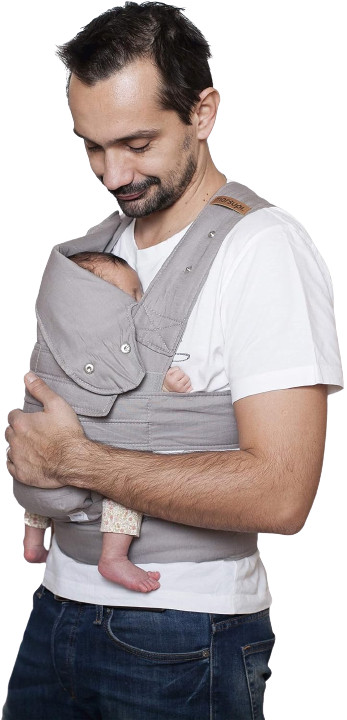 Check Marsupi Breeze Baby Carrier price below:
add_circle
Suitable for newborns
add_circle
Good for long walk naps
add_circle
It also works as a baby sling
Overview
Babies also love dad's cuddle. Marsupi Breeze Baby Carrier has a linen mixture and color design suitable for men. Get the bigger size to guarantee cozy fitting.
Highlighted Features
The linen cotton blend gives off a baby carrier that is breathable and robust to carry up to 15 kilograms. Its bridge width is easy to adjust to support both parent's and baby's hip and stomach. Marsupi adds a velcro system to adjust the waist belt, shoulder strap, and overall fitting without knots or buckles. 
Performance
It is orthopedically approved and fits well with men's body size. It is super soft, however, keeps the newborn's head safe. The baby carrier has an easy-snap velcro system and does not require extra effort to keep it in place. 
Why Buy This
Most fathers adore how easily the Velcro system adjusts the baby carrier. It is less hassle and quicker to put on and off. 
---
What is a Baby Carrier?
A baby carrier can carry an infant or young child close to a caregiver's body, usually a parent. It allows hands-free mobility while providing a secure and comfortable environment for the baby. Baby carriers come in various styles, such as wraps, slings, soft-structured carriers, and backpack carriers, each offering different carrying positions and features to accommodate the baby's age and the caregiver's preferences. The primary purpose of a baby carrier is to promote bonding between the parents and the baby while offering convenience and ease of movement for the parent.
---
What Age is Appropriate for the Baby Carrier?
The appropriate age for using a baby carrier depends on the type of carrier and the specific manufacturer's recommendations. However, most carriers are generally ideal from birth until your baby starts to walk independently (usually around 12-18 months). 
There are carriers specifically designed for newborns to provide the necessary head and neck support. These carriers often have inserts or adjustable features to accommodate newborns' small size and developmental needs. Following the manufacturer's guidelines regarding each carrier's minimum weight and age requirements is essential. 
As your baby grows, they develop better head control and neck strength, allowing for the use of different types of carriers. Soft-structured carriers and mei tais offer better support for older infants and toddlers. However, it is essential to check weight limits and age recommendations provided by the manufacturer for each specific carrier. 
Always prioritize your baby's safety and comfort when deciding if they are ready for a particular carrier. It is also a good idea to consult your pediatrician or a babywearing educator for personalized advice based on your baby's unique needs and development.
---
Buying Guide: How to Choose Baby Carrier
In buying the best baby carrier in australia, there are several factors you need to consider to ensure the safety, comfort, and convenience for both you and your baby. Here is a buying guide for you: 
Safety:

Your baby's safety is your top priority. Look for carriers with sturdy materials, adjustable straps, and proper buckles or closures. Make sure it has a secure and reliable waist belt or waistband. Check for certified safety standards, like ASTM or JPMA certification. 

Age and weight limits:

Consider the age and weight of your baby. Some carriers are designed for newborns, while others are suitable for older infants or toddlers. Ensure your chosen carrier can safely and comfortably accommodate your baby's weight.

Ergonomics:

Opt for carriers that provide proper head and neck support for your baby. Look for carriers that promote the natural 'M' position with knees higher than the hips, which is vital for proper hip and spine development. It should distribute your baby's weight evenly to avoid strain on your back and shoulders.

Types of carriers:

There are various types of carriers available, including wraps, ring slings, soft-structured carriers, and mei tais. Each has its features and benefits. Consider your lifestyle, preferences, and ease of use to determine which suits you best. 

Comfort for both baby and parent:

Look for carriers that offer padded shoulder straps and waistbands. Ensure the carrier has enough support to prevent discomfort during extended periods of use. Ensure the fabric is breathable to avoid overheating for you and your baby.

Easy to adjust:

Choose an easily adjustable carrier to fit different body types and sizes, ensuring both parents can use it comfortably. Flexible carriers accommodate growth spurts, allowing you to use them longer. 

Easy to clean: Babies can be messy, so choose a carrier that is easy to maintain. Look for carriers that are machine washable or have removable and washable parts. 

Reviews and recommendations:

Read the best baby carrier review and seek advice from other parents to understand their experiences with different carriers. Look for reputable brands known for their quality and reliability. 

Try before you buy:

Try the carrier before purchasing. Test its comfort, ease of use, and security with your baby. Many stores or babywearing groups have resources to help you try different carriers before deciding. 
---
Best Baby Carrier Brands in Australia
Choose the best quality, safety, and comfort brands, ensuring a reliable and enjoyable experience while carrying your baby. The following are five popular and well-regarded brands of the best baby carrier to buy:
Ergobaby Baby Carrier
Known for their ergonomic designs and comfort for parents and babies, Ergobaby offers a wide range of carriers suitable for different ages and carrying positions.
BabyBjörn Baby Carrier
A well-established brand from Sweden, BabyBjörn is famous for its simple and easy-to-use baby carriers, focusing on safety and comfort for the baby and parent alike.
Tula Baby Carrier
Tula is loved for its stylish designs and versatile carriers that cater to various age ranges, allowing parents to carry their babies in different positions as they grow.
LILLEbaby Baby Carrier
This brand is recognized for its versatility, offering carriers with multiple carrying positions and adjustable features, making it suitable for newborns up to toddlers.
Boba Baby Carrier
Boba carriers are favored for their simplicity and comfort, providing a snug and secure environment for babies while keeping parents' comfort in mind.
---
Baby Carriers Price Range Here in Australia
The baby carrier price in Australia can vary based on the brand, type, and features. On average, you can expect to find the best selling baby carrier in the following range:
Budget Range: $30 to $80 - Basic models and simpler designs.
Mid-Range: $80 to $150 - Better quality materials and additional features.
High-End: $150 to $300+ - Premium brands, ergonomic designs, and specialized features.
---
Where to Buy Baby Carriers in Australia?
You can buy baby carriers in Australia from various physical and online retailers. Here are some familiar places where you can find baby carriers:
Baby stores: Local baby stores and specialty shops often carry a selection of baby carriers, allowing you to try them out in person before making a purchase.
Department stores: Larger department stores may have a baby section with a range of baby carriers.
Online retailers: Popular platforms like Amazon Australia, eBay, and MyDeal often have various baby carriers from different brands.
Baby expos and fairs: Check for baby expos and fairs in your area, where you can explore and purchase baby carriers directly from manufacturers and retailers.
Specialty websites: Some websites are dedicated to baby products and offer a wide range of baby carriers with customer reviews and ratings.
Always check the seller's credibility and read baby carrier reviews or recommendations before purchasing, especially online or second-hand. Additionally, when purchasing baby carriers, ensure they meet safety standards and guidelines for the age and weight of your child.
---
Conclusion
Indeed, holding a baby hands-free will make every parent's job much more manageable. Buying the best baby carrier australia ensures not to overlook even a single action of the baby. It allows you to do another errand while babysitting, making things safer. Measure the perimeters before buying, for example, the baby's weight and age limit, to get the right size and type of carrier promoting comfort. Testing and wearing the baby carrier is also alright, then proceeding to check out.
---
Related Articles