Quilts have a vibrant history that dates back centuries. They are born initially out of necessity for warmth and practicality until quilting has evolved into an art form and a beloved tradition. Traditionally, quilts were made by sewing together layers of fabric, an insulating middle layer, and a decorative top layer. 
Choosing the best quilt in australia for your bedding involves considering size, material, style, comfort, and personal preferences.
Whether you opt for a vintage quilt with intricate stitches or a contemporary quilt with modern patterns, quilts uniquely add charm, warmth, and personality to any bedroom.
---
10 Best Quilts in Australia 2023 - Product Reviews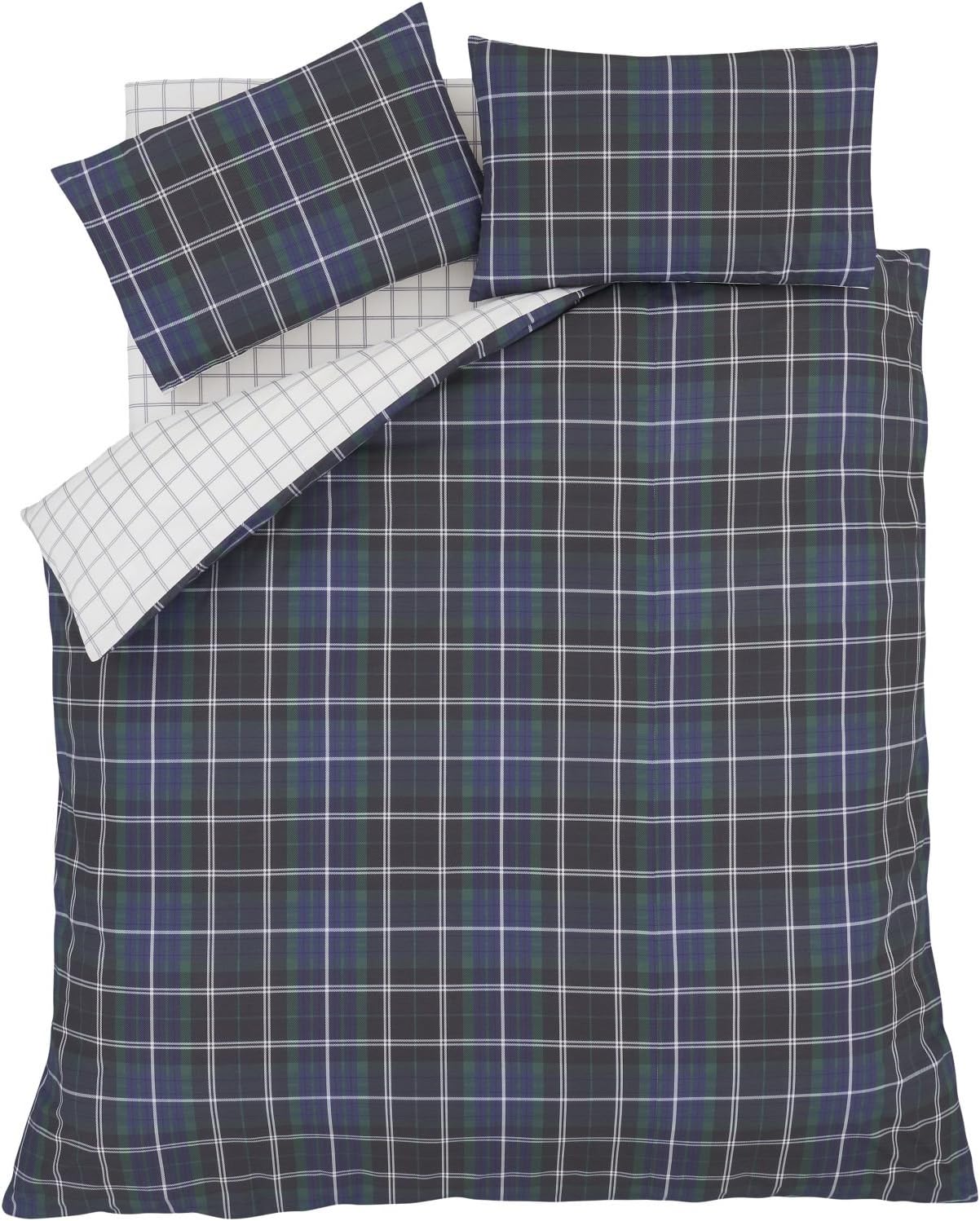 Check Catherine Lansfield Brushed Tartan Check Quilt price below:
add_circle
Ideal for winter use
add_circle
High-quality cotton material and color design
add_circle
It has a minimal packaging
Why It's Our Top Pick 
Made of brushed cotton fabric, Catherine Lansfield Quilt Set is perfect for the cold weather. It is durable and soft, and you can buy it at an affordable price. It has a texture similar to that of a hotel, which causes beds to feel more homey. We recommend it as the best quilt in australia due to its high quality and style that protects you from the freezing climate. 
Overview
With this quilt set, you can make your bed cozy every day. It is reversible with a tartan navy and white check design to suit your room. 
Highlighted Features
A cotton quilt is essential for a more restful sleep in the winter. It is very stylish and comes with a pillowcase to provide maximum comfort. To avoid overdoing the bedding, the brand also offers a fitted sheet that matches the quilt's design. 
Performance 
It is an everyday essential where to roll your back and feel comfortable. Its cozy texture is excellent for winter, keeping you warm at night.  
Why Buy This
One customer claims the quilt is soft and comfy, perfectly made for cold months. Some users added the color does not fade quickly after a machine wash.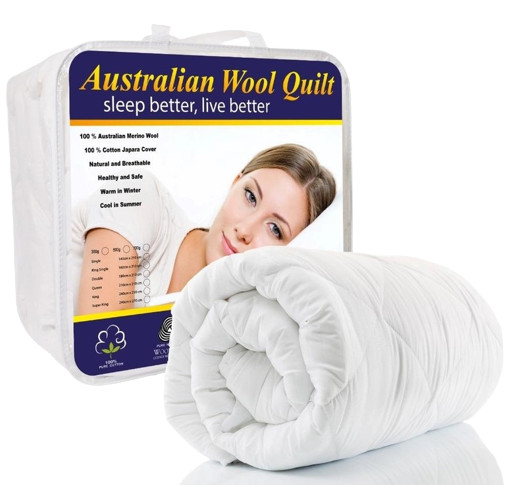 Check Australian Merino Wool Quilt price below:
add_circle
It is chemical-free
add_circle
It is fire-resistant
add_circle
It gained a 5-star rating on quilt reviews
Overview
Quilts made of wool are hypoallergenic and breathable. With the Australian Merino Wool Quilt, there will be no sweating while sleeping. 
Highlighted Features
The wool quilt has diamond stitching to lock in warmth and encourage proper airflow for you to sleep better. It comes with a hypoallergenic cotton Japara cover that helps regulate body heat. There are weighed options to suit your ideal comfort, which range from 500 to 700 GSM - the thicker, the better for colder nights. 
Performance 
When it comes to providing superior comfort, this wool quilt excels. It will keep you warm when the weather conditions are cold and stay away from sweat during summer. Indeed, this best quilt australia is the most versatile blanket on the list. 
Why Buy This
This wool quilt has the highest quality at a reasonable price, providing a cozy and warm bedroom. It is naturally made with five layers of wool that can regulate body temperature regardless of the weather.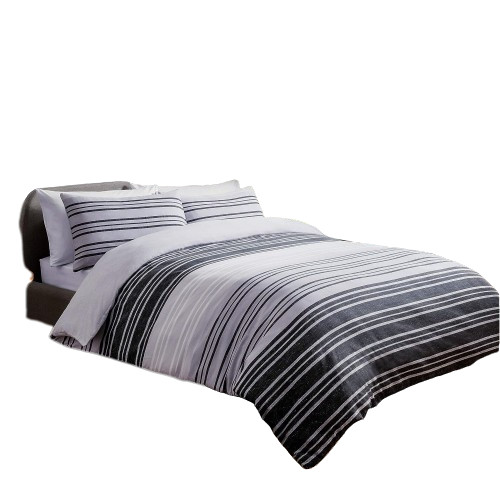 Check Sleepdown Reversible Quilt price below:
add_circle
The materials feel nice on the skin
add_circle
It has a great design
add_circle
Very affordable
remove_circle
It is see-through
Overview
The best quilt to buy for hot sleepers is a quilt cover set made of thin fabric. Then, this reversible quilt cover from the Sleepdown brand is an ideal choice - with a pillowcase in every purchase. 
Highlighted Features:
They use 52% of polyester; the remaining material is cotton. It is machine-washable and safe for air drying and minimal ironing. It has a striped pattern that will suit any room design. The polycotton blend is soft to the touch and perfect for warm weather. 
Performance
The bed linen has the right thickness, making it suitable for summer. However, the color design can quickly fade after a couple of washes. To preserve the quilt's design, avoid soaking it in water for an extended period. 
Why Buy This
Sleepdown Quilt Cover Set has four sizes: single, double, king, and super king. Each one has two pillowcases with matching designs to offer comfortable sheet material.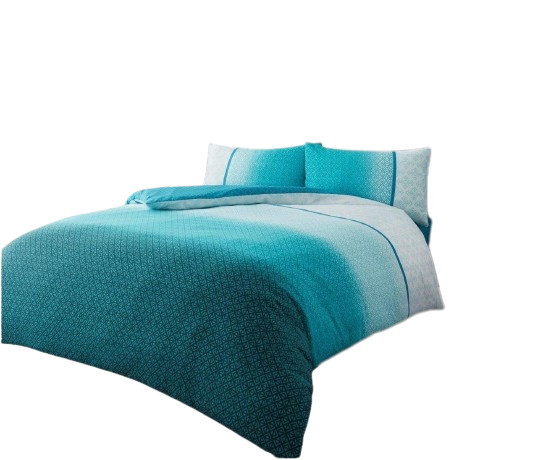 Check GAVENO CAVAILIA Luxury Urban Ombre Quilt price below:
add_circle
It has a soft and smooth surface
add_circle
It has a trendy design
add_circle
Easy maintenance
remove_circle
It can be hard to find inner cushions that will fit with the quilt
Overview
GAVENO CAVAILIA offers a super soft quilt cover set to grant you restful sleep at any season. It also guarantees a quick change of bed covers with its button design to secure the material. 
Highlighted Features
The Luxury Urban Ombre Bed Set comprises 3-piece bedding: two pillowcases and a duvet cover. You can enjoy a 2-in-1 quilt at one price with its reversible design. The teal color is fantastic on the eyes and can match every bedroom decor. It is a polycotton quilt, producing a smooth surface for good sleep. Plus, the button feature will hold the quilt overnight in between folds. 
Performance 
This polyester-cotton quilt is easy to wash and dry. It also ensures no skin irritation in the household due to its hypoallergenic materials. 
Why Buy This
The bed cover is vast and can maintain a good finish, even after a few washes. It looks stylish, as the design of the quilt suits all seasons.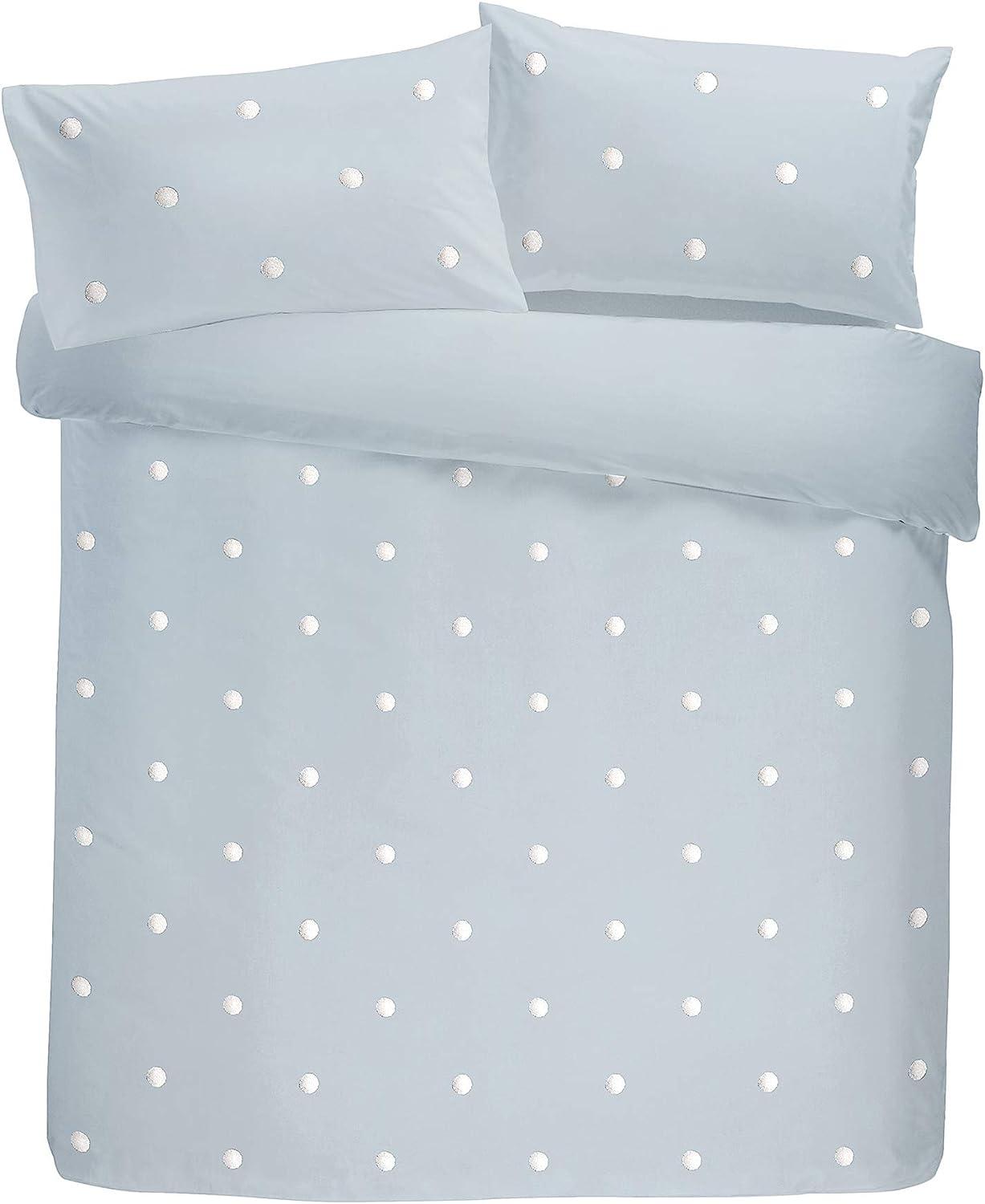 Check Appletree Garden 3 Pieces Quilt price below:
add_circle
It has a soft and thick cotton material
add_circle
It helps you to fall asleep faster by keeping you warm
add_circle
Suitable for tumble drying in reducing crease
Overview
With multiple thread counts, Appletree Garden can make your bed a more comfortable place to sleep. It is also a quilt made of 100 percent cotton, essential to combat the cold. 
Highlighted Features
It has a textured design with white dots, which give your bedroom details. Natural cotton is used to make the quilt warmer for winter use. It is thicker than other best quilt covers in australia but can dry quickly. You can also safely iron the material to improve its finish when laid on the bed. 
Performance 
Overall, the quilt has a luxurious design that helps calm your body during a cold restful night. The cotton fabric is soft and thick, and does not show creases after washing. 
Why Buy This 
We highly recommend Appletree Garden 3 Pieces Quilt Cover Set. You will surely love how durable this quilt is with a polka dot design that won't come off quickly.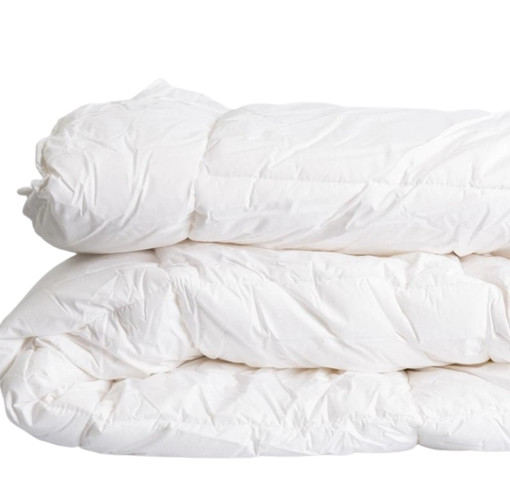 Check Dacron Extra Loft Winter Quilt price below:
add_circle
It has a thick filling that will benefit every sleep
add_circle
The quilt is lightweight
add_circle
Health professional certified
Overview
The Dacron quilt is built with 500gsm fiber filling, yielding great support for the body while resting. Its top-notch grade materials are excellent for winter evenings and can convey an extra weight, yet they are breathable for extended use.
Highlighted Features
It is jam-packed with INVISTA fiber, which is lightweight and premium quality. The quilt cover is pure cotton Japara, ensuring a durable and smooth touch for a cozier sleep. It has bound edges for a more durable build and avoids slipping from the bed's corner once the quilt is tucked in.
Performance 
This high-loft quilt is most suitable for kids and adults having back and respiratory problems. Although the quilt is heavy, it guarantees no cold spots but long-lasting comfort and warmth. 
Why Buy This
Dacron Winter Quilt helps prevent skin irritation and breathing difficulty, as you can wash the material at a higher temperature to remove allergens. It is worth the price and is available in five sizing dimensions.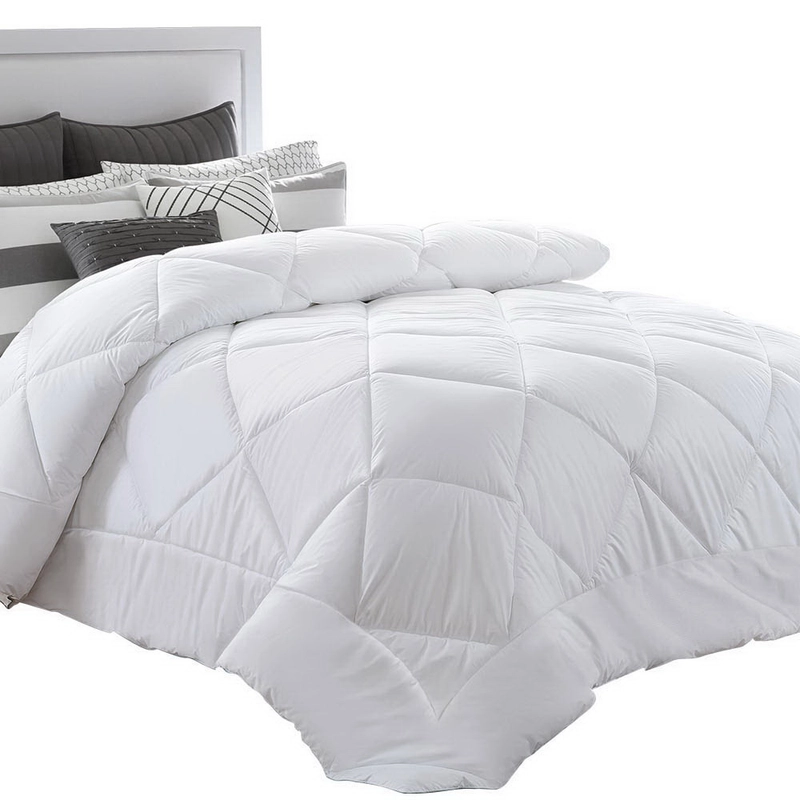 Check Giselle Bedding Bamboo Blend Microfiber Quilt price below:
add_circle
It is thermo-regulating
add_circle
It has anti-bacterial properties to prevent dust mites and mold appearance
add_circle
It is easy to store
Overview
Wake up feeling refreshed with Giselle Bedding Bamboo Blend Microfiber Quilt. It promises quality sleep, thanks to eco-friendly materials that help prevent moisture and keep perfect warmth overnight. 
Highlighted Features
The bamboo quilt has inner vents to allow proper airflow for absolute comfort while sleeping. It is made entirely of microfiber and has a double diamond stitch to help keep heat in and prevent wear and tear. It has combined bamboo and hollow fiber, making the quilt plushy and lightweight. It is 800 GSM thick but still a good choice to resist warmer climates.
Performance 
The bamboo quilt has the same elegant feel as hotel blankets, which need not be ironed most of the time. It is plain white with visible diamond stitches to add style to your room. It does not require bleach or tumble drying, making it easier to care for. Wash the item in warm water to avoid causing the fiber filling to deform. 
Why Buy This
It is a hygienic, lofty quilt to help you achieve better sleep quality. It has bigger sizes ranging from queen, king, to super king quilt dimensions. Each one will guarantee you luxurious comfort and no back pain in the morning.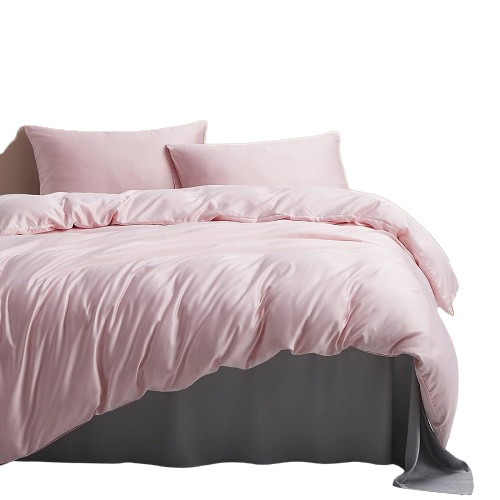 Check RFFLUX Microfiber Silk Bed Linen Quilt price below:
add_circle
Perfect for summer use
add_circle
It is lightweight
remove_circle
No care instruction
Overview
The RFFLUX Microfiber Silk Bed Linen will enhance your hair and skin health. Thanks to this fabric, you won't wake up with tangled hair or new acne. It is a result of the smooth surface of the blanket getting you a goodnight's rest.
Highlighted Features
Featuring a hidden zipper and corner ties, you can quickly put in and take off the quilt and sleep peacefully. The brand uses solid colors to make bedrooms more elegant. It is very minimalist, but it works with most room decor. The microfiber fabric is suitable for hand-washing without causing damage to the stitches.  
Performance 
Washing off dirt is not an issue with this stain-resistant silk bed material. It is a hotel-quality bedcover that works for rooms of all genders. The silk fabric does not irritate the skin and is excellent. 
Why Buy This
A silk quilt is the best option for taking care of the skin. Its smooth finish is skin-safe and promotes a night of very relaxing sleep. This bed cover is suitable if you want a more youthful bedroom appearance.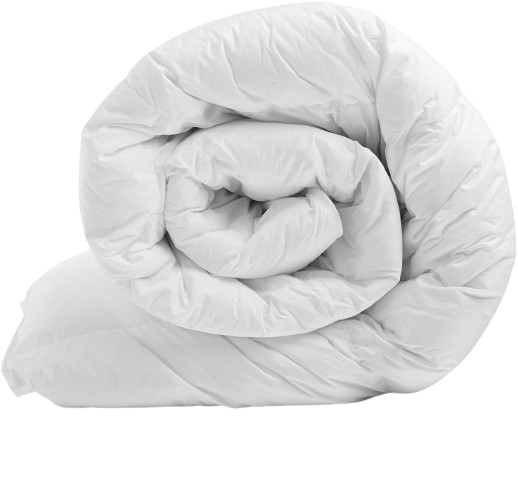 Check Alreya All-Season Cotton Surface Quilt price below:
add_circle
An all-season quilt
add_circle
Machine washable
add_circle
It is highly breathable
remove_circle
Not that thick
Overview
Alreya All-Season Cotton Surface Quilt has great dampness control, which people with asthma can profit from. It uses skinny, hollow fiber you cannot sniff easily compared to animal feathers. 
Highlighted Features
Alreya fills the blanket with hollow fiber that battles against bacteria and dust mites to keep the bed clean and fresh. It also maintains the shape of the quilt and regulates temperature and breathability. It weighs as light as a feather but gives comfort as delicate as cotton. In addition, square quilting ensures no formation of cold spots for long-term use. 
Performance 
Allergy sufferers can enjoy this quilt in different seasons. It is not excessively blistering for summer use and makes you feel great in winter. Vegan people love this quilt, even though it is not as fluffy and thick as other bed covers. 
Why Buy This
Alreya All-Season Cotton Surface Quilt is a good buy if you want a bed cover that is stiff rather than fluffy. You will get a vacuum bag and a carry bag to protect the quilt from dirt when not in use.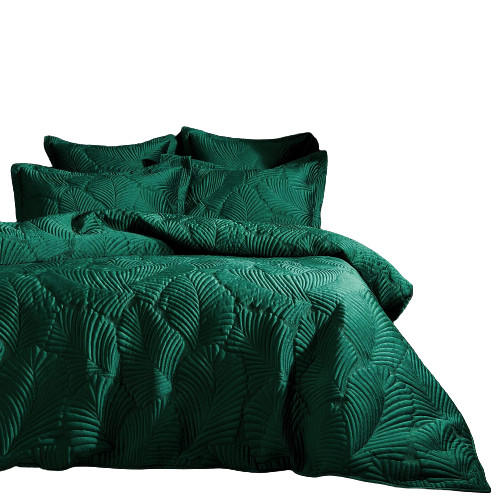 Check Paoletti Palmeria Reversible Quilt price below:
add_circle
It is easy to clean
add_circle
It has an excellent embroidery design
add_circle
It is cozier than other quilts
remove_circle
A bit expensive
Overview
Paolettu Palmeria offers a duvet cover set designed with the best quilt material from front to back. Its 100% polyester and cotton material can last long and stay fluffy through many washes.  
Highlighted Features
Paoletti Palmeria adds a button closure for a more seamless finish and easy removal of the duvet cover. Its polyester front has a velvety texture and is wear-resistant through washing. The quilt is versatile with a cotton reverse design, giving you a soft and fresher bedroom look. Its 180 thread count also keeps the fabric more vital for prolonged use. 
Performance 
It is soft, durable, and a luxurious quilt in four elegant colors. It has a perfect touch for cool nights. The material will stay robust with machine wash and dry cleaning. 
Why Buy This?
If you want to make your bed fluffier, Paoletti Palmeria is among the best quilt brands to search for. They have elegant quilts with Oxford pillowcases to ensure you get the perfect bedding set for your room.
---
What is Quilt?
A quilt is a type of bedding comprising three layers: a top layer, a middle layer of batting or stuffing for warmth, and a back layer. The layers are stitched or tied together in a decorative pattern, often using intricate designs or motifs. Quilts are either cotton, silk, wool, or synthetics and are often used for warmth and as a decorative accent on the bed. They come in various sizes, from crib size to king size.
---
Type of Quilt
What is the best type of quilt to buy? If this is your first time covering your bed with quilts, we will help you know the best type of quilt to buy with the following list. 
Patchwork Quilts.

These quilts are made by sewing together fabric pieces of different patterns and colors to create a patchwork effect. 

Appliqué Quilts.

Appliqué quilts involve sewing cut-out fabric shapes onto a base fabric to create decorative patterns. 

Bedspread Quilts.

These quilts are typically larger and designed to cover the entire bed, reaching the floor on all sides. 

Traditional Quilts.

Traditional quilts follow classic quilting patterns and designs, often featuring repetitive geometric shapes or imagery. 

Modern Quilts.

Modern quilts break away from traditional patterns and designs, often incorporating bold colors, asymmetrical compositions, and unique stitching techniques. 

Amish Quilts.

Amish quilts can boast minimalist designs, typically created using solid-colored fabrics and intricate quilting patterns. 

Memory Quilts.

Memory quilts are made using pieces of cloth from special clothing items, such as baby clothes or sentimental garments, to preserve memories and create a personalized quilt. 

Quilted Comforters.

These quilts combine decorative patchwork or quilting techniques with the warmth and thickness of a comforter, providing both visual appeal and practicality.
---
Buying Guide: How to Choose the Perfect Quilt
Choosing the perfect quilt for your bedding involves considering various factors. Here are some tips to help you pick the best quilt in australia in the market: 
Size.

Measure your bed to determine the appropriate quilt size. Decide if you want the quilt to drape over the sides of the bed or if you prefer a more snug fit. 

Material.

Consider the material based on your preferences and needs. Standard options include cotton, polyester, flannel, silk, or a blend. Cotton is breathable and easy to maintain, while silk offers a luxurious feel but requires more care. 

Thickness/Warmth.

Decide on the level of warmth you desire. Quilts come in different thicknesses, ranging from lightweight for summer use to heavy for colder seasons. Consider your local climate and personal preferences. 

Style and Design.

Choose a quilt that complements your bedroom décor and unique style. Decide if you prefer a traditional, modern, or rustic design. Consider patterns, colors, and quilt features like patchwork or appliqué. 

Maintenance.

Consider the quilt's care instructions and choose a fabric that suits your lifestyle and cleaning preferences. Some materials, such as dry cleaning or gentle washing, may require special care. 

Budget.

Set a budget for your quilt purchase. Quilt prices can range from affordable to luxurious. Consider your budget and find a quilt that offers both quality and value. 

Quality.

Check the stitching and construction of the quilt to ensure durability. High-quality quilts have tight stitching and secure edges. Read reviews or seek recommendations from trusted brands or retailers. 

Personal Preference.

Choose a quilt that you find visually appealing and comfortable. Feel free to touch and feel the fabric before making your final decision. 
---
Best Quilt Brands in Australia
Remember that individual preferences vary, so it's always a good idea to read quilt reviews and consider material, filling, warmth, and size before purchasing. Below are the best quilt brands in Australia. 
Sheridan: Sheridan is a well-known Australian brand that offers high-quality quilts made from premium materials like cotton, wool, and down. They are known for their luxurious and comfortable quilts, providing excellent warmth and durability.
Tontine: Tontine is a famous Australian bedding brand that has been around for over 60 years. They offer various quilts suitable for different preferences and budgets, from basic options to more luxurious ones.
MiniJumbuk: MiniJumbuk specializes in wool bedding products, including the best quilt to buy. They are known for using high-quality Australian wool, which provides excellent insulation and breathability, making their quilts ideal for various climates.
Logan & Mason: Logan & Mason is a brand that offers a diverse range of bedding products, including quilts. Their various quilt fillings and designs cater to different needs and preferences.
Actil: Actil is a reputable Australian brand that provides a selection of quilts made from premium materials, such as cotton and wool. The best quilt covers in Australia are known for their quality and comfort.
---
Quilts Price Range Here in Australia
The best quilt price in Australia depends on brand, size, material, filling, and overall quality. Here's a general price guide for quilts in Australia:
Basic Quilts: Basic quilts made from synthetic materials or lower-end cotton ranging from AUD 50 to AUD 150 for a single-sized quilt. Prices will increase with larger sizes like double, queen, and king.
Mid-Range Quilts: Mid-range quilts made from higher-quality cotton or synthetic blends can cost anywhere from AUD 150 to AUD 400 for a single-sized quilt. Again, larger sizes will be more expensive.
Premium Quilts: Quilts made from premium materials like high-grade cotton, wool, or down can have prices starting from AUD 400 and can go well above AUD 1000, especially for larger sizes and luxury brands.
Luxury Quilts: Luxury quilts made from premium materials like pure Australian wool or high fill power down can reach prices of AUD 1000 or more for single-sized quilts. Queen and king-sized luxury quilts can be even more expensive.
Remember that sales, promotions, and discounts can also impact prices. It's essential to compare prices and features across different brands and retailers to find the best quilt that fits your budget and preferences.
---
Where to Buy Quilts in Australia?
In Australia, you can buy quilts from various places, including physical stores and online retailers. Here are some popular options for purchasing quilts:
Department Stores: Major department stores like Myer, David Jones, and Big W often have a wide selection of in-store and online quilts.
Bedding and Linen Stores: Specialty bedding and linen stores like Adairs, Bed Bath N' Table, and Snooze are excellent places to find a variety of quilts in different styles and materials.
Online Retailers: Numerous online retailers in Australia offer a vast selection of quilts, making browsing and purchasing from the comfort of your home convenient. Some popular online platforms include Amazon Australia, eBay, Catch, and The Iconic.
Home Improvement Stores: Bunnings Warehouse and IKEA also carry bedding, quilts, and other home products.
Specialty Quilt Shops: Small specialty quilt shops nationwide focus on quilts and related bedding products.
Brand Websites: If you have a particular brand in mind, you can check their official websites to see their product offerings and purchase directly from them.
Discount Stores: Discount retailers like Target and Kmart offer budget-friendly quilt options.
When buying quilts, consider the material (cotton, wool, down, synthetic), quilt sizes, warmth ratings, and any specific features you may prefer, such as allergy-friendly options or eco-friendly materials. Additionally, check for quilt reviews and ratings to ensure you get a quality product that suits your needs.
---
Conclusion 
We hope the buying guide has helped you find the best quilt in australia for your needs and budget. Quilts serve as functional bedding, providing warmth and comfort, and as decorative pieces that add beauty and personality to a bedroom. Today, quilts come in various styles, from traditional to modern, and are available in multiple materials, sizes, and designs.
---
Related Articles