A good mattress is made of long-lasting materials that help you sleep better. To ensure its longevity and additional health benefits, such as reducing skin irritation and pain in the back and neck, selecting a mattress from reputable brands is essential. They used breathable components to balance quality and comfort in each mattress. 
To help you decide, we've listed below the key features and reasons why you must buy the best mattress brands in Australia. Choose the best mattress in Australia that will provide comfort and a restful night's sleep.
14 Best Mattresses In Australia 2023: Top Brands And Reviews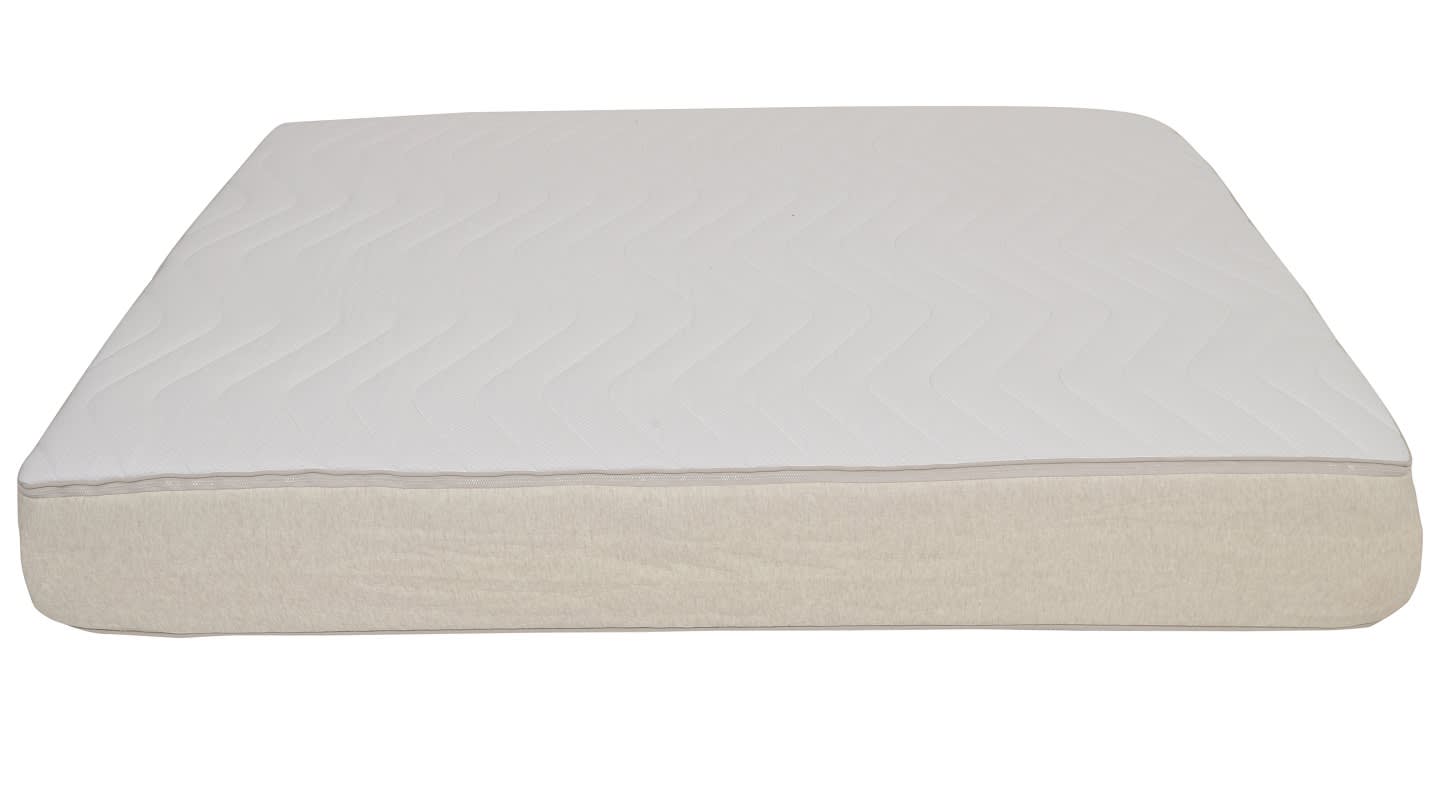 Check The Koala Calm As Mattress price below:
add_circle
Impressive mattress at a reasonable price
add_circle
Can relieve pressure
Product Specification 
Size: King

Material: Foam construction 

Firmness: Medium-firm 
Why It Is Our Top Pick
This mattress can guarantee award-winning comfort, made of Coolmax Technology to enhance breathability. It doesn't irritate the skin and can hold in moisture to keep you dry and cool. You won't have to stress about waking up in the middle of the night since the Koala Calm As Mattress completely blocks all motion.
Its multi-layered design deserves the top spot on the list. It is exceptionally comfortable - thanks to the temperature control provided by Kloudcell Foam! The mattress is available in a wide range of sizes, up to a king-size bed. 
Key Features
The Koala Calm As Mattress has three layers of high-density foam that can adjust to provide you with the level of back support and comfort you need. Flipping the Kloudcell layer will change the firmness of the foam until it works best for you. It has an anti-slipping bottom that does not make noise when your partner moves. Its antibacterial feature can prevent microscopic objects from interfering with your sleep.
Why Buy This
This mattress, created in collaboration with WWF Australia, aims to prevent habitat loss for koalas. It comes with a plush cover to protect against skin allergies. It is GECA certified, indicating that the brand complies with environmental laws and is chemical-free.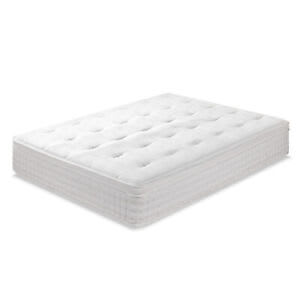 Check Zinus Euro Top Pocket Spring Mattress price below:
add_circle
Free from harmful substances
add_circle
Well-packed to maintain its shape
add_circle
Can support up to 150 kilograms
remove_circle
The mattress height can be too high
Product Specification 
Size: Queen 

Material: High-density foam 

Firmness: Medium-firm
The iCoil Technology ensures uninterrupted sleep on this mattress, which features a high-density foam to support the spine. It is CertiPUR-US certified. Hence, the Zinus Euro Top Pocket Spring Mattress can provide a medium-firm feel! 
Key Features 
The mattress has three layers of high-density foam inside, and the bottom layer has iCoil pocket springs. These are made naturally from seed oil rather than petrol-based to prevent skin irritation. Additionally, the foam's charcoal components aid moisture absorption and can reduce odor-causing agents. The euro top material covers the pocket spring mattress for a more comfortable feel.
Why Buy This 
The pocket springs in the mattress conform to your body shape, helping to alleviate back pain. Additionally, there won't be as much motion, so you'll get the best night's sleep. It is available from a single to a king-size bed.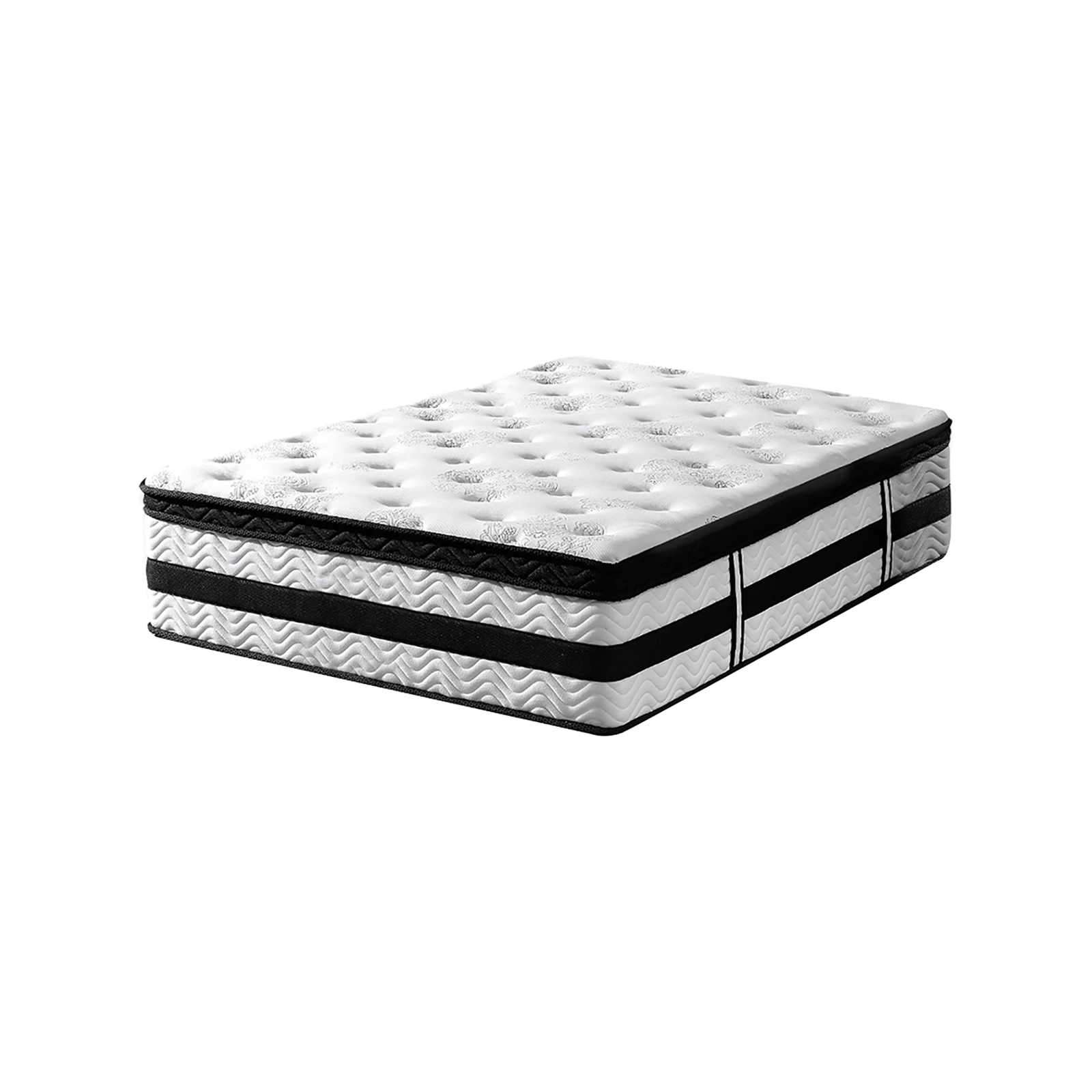 Check DreamZ Single Euro Top Pocket Spring Foam Mattress price below:
add_circle
It has a wide range of thick mattresses
add_circle
It is vacuum-packed for better performance
Product Specification 
Size: Single

Material: Gel memory foam

Firmness: Medium-firm
It can be rewarding to sleep alone on a mattress. DreamZ has created a new pocket spring mattress with egg crate foam construction to lessen body pressure and noise. Based on the comfort sleep mattress reviews, this product has everything you need— such as soft foam with high density!
Key Features 
DreamZ meets head-to-toe comfort due to the foam's thickness level. It has less than 4 cm of comfort foam for a more peaceful night's sleep and a dense pocket spring for increased durability. It is hypoallergenic and moisture-proof to prevent bad-smelling odor. It additionally features anti-disturbance 6-turn spring coils for couples. 
Why Buy This 
A single foam mattress like the DreamZ Pocket Spring Mattress is the right size for smaller bed frames. The fabric cover and the high-quality foam material are well worth the money. In addition, it is resistant to dust mites, preventing skin allergies.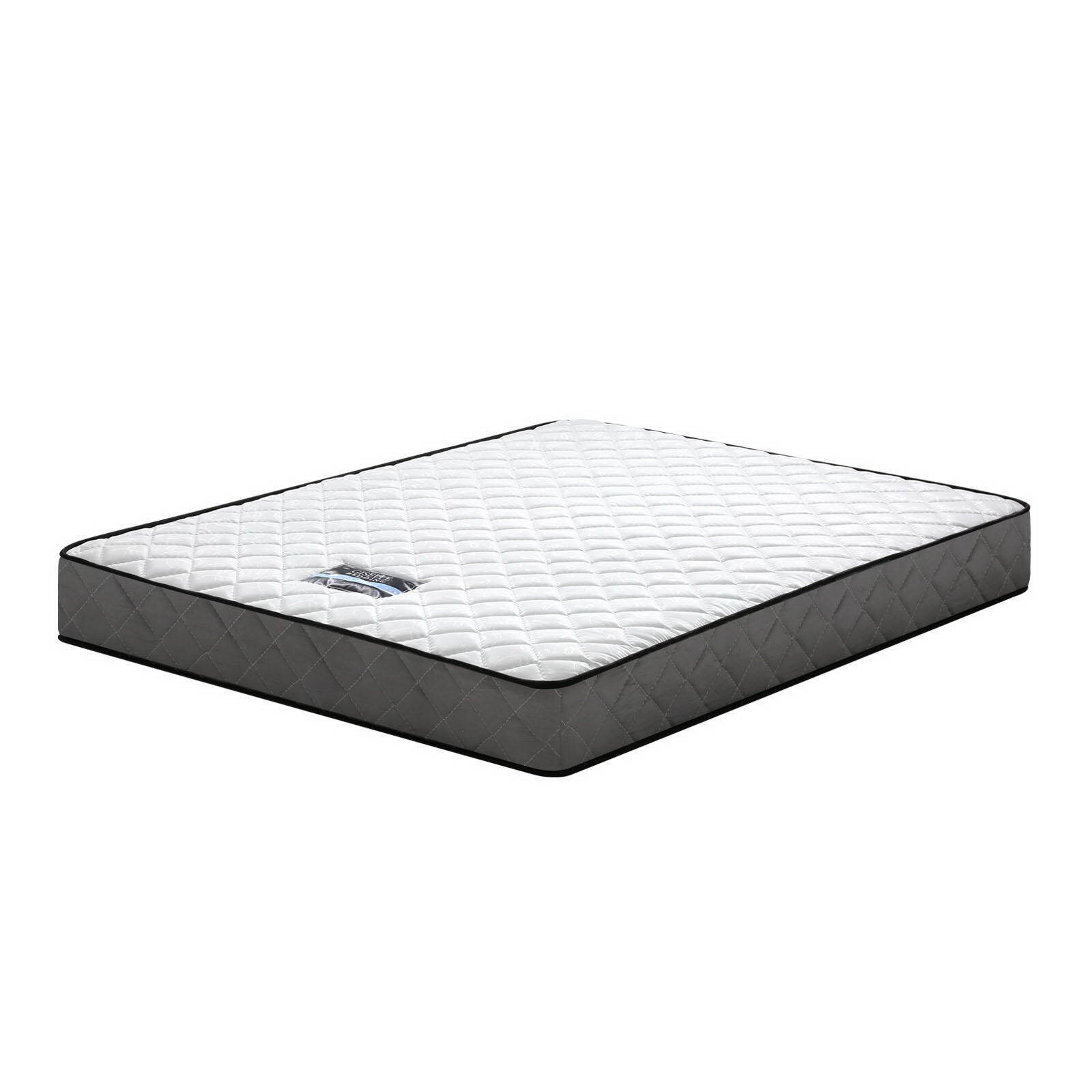 Check Giselle Bedding Innerspring Queen Foam Mattress price below:
add_circle
Very affordable
add_circle
Suitable for adults
add_circle
No evidence of deformation after prolonged use.
Product Specification 
Size: Queen 

Material: Comfort foam 

Firmness: Medium-firm 
For twenty years, Giselle Bedding offered the best mattresses in Australia. It comes with the Innerspring Queen Foam Mattress, which can unpack in less than ten minutes. Because the mattress' overall design will perfectly support your curves throughout the night, it won't cause you pain in the morning.
Key Features 
This medium-firm mattress has a high level of breathability to stop dust mites from ruining the material. A hypoallergenic Belgian-knitted fabric covers its foam layers, which feature a Bonnel spring system for durable support. In addition, the mattress has long-lasting edges for a better fit. 
Why Buy This 
Giselle Bedding is a good brand for a foam mattress that can promise full-body support. They use an enhanced coil system with a high-pressure capacity and a low noise level due to a faster rebound rate to remain asleep after a motion. Lastly, the thicker the foam, the more comfortable it will be.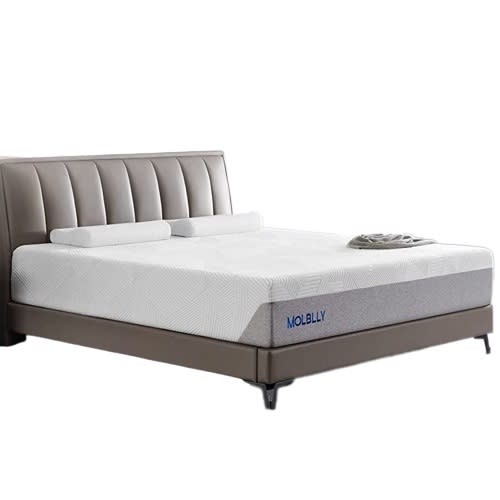 Check Molblly 10" Memory Foam King-Size Mattress price below:
add_circle
Perfect for adults
add_circle
It can help to relieve back pain
remove_circle
Poor quality control
Product Specification 
Size: King

Material: Gel memory foam 

Firmness: Medium-firm 
The Molblly King Mattress, which features gel memory foam, can ease pressure points for uninterrupted sleep. With its 10 inches of medium-firm foam construction, you won't feel any pain when you get up in the morning. It can fit perfectly in a box and is simple to assemble to its original shape within a few hours. 
Key Features 
The mattress brand Molblly is ideal for hot sleepers. It has a tight top and is made of cooling gel memory foam so that you can sleep in any position. The bed is much softer than firm but can prevent undesirable motion at night. To get the most out of the mattress's comfort, leave it to fluff for a day before putting it in the frame.
Why Buy This 
This Molblly King Mattress is the ideal choice for those who enjoy thick beds. It keeps you cool and fits any body shape, making it cozy all night. The gel memory foam and top fabric are CeriPUR US and Oeko-Tek certified, respectively, for excellent safety.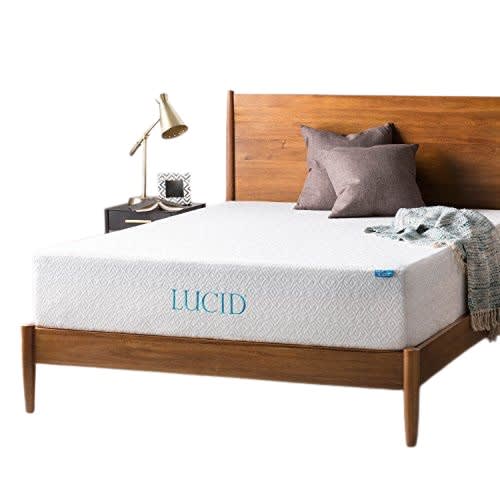 Check LUCID Full-Size Memory Foam Mattress price below:
add_circle
Excellent firmness
add_circle
A good solution for back aches
add_circle
Quick to expand to its full-size
remove_circle
The appearance of bed bugs is one of the major downsides
Product Specification 
Size: Double 

Material: Gel memory foam 

Firmness: Medium-firm
The LUCID Full-Size Mattress is infused with transition foam, gel memory foam, and bamboo charcoal foam to provide a firm feel of sleep. Due to its overall design, which helps regulate body temperature, this is ideal for side and back sleepers! Additionally, this is a mattress in a box for easier setup. 
Key Features 
The thin layer of memory foam allows air to flow through the mattress. In contrast, its top layer is made of gel infusion to keep a more comfortable sleep climate. It is also odor-resistant and hypoallergenic - thanks to the added bamboo charcoal that contributes to the overall moisture control. You can use it for full bed frames to complete the guest bedrooms.
Why Buy This 
The mattress is covered with a Tencel blend fabric, making it more ventilated. What's inside the mattress is impressive, knowing the price is not too expensive compared to other brands. The 7.5-inch thickness of the base foam is also sufficient to support your back.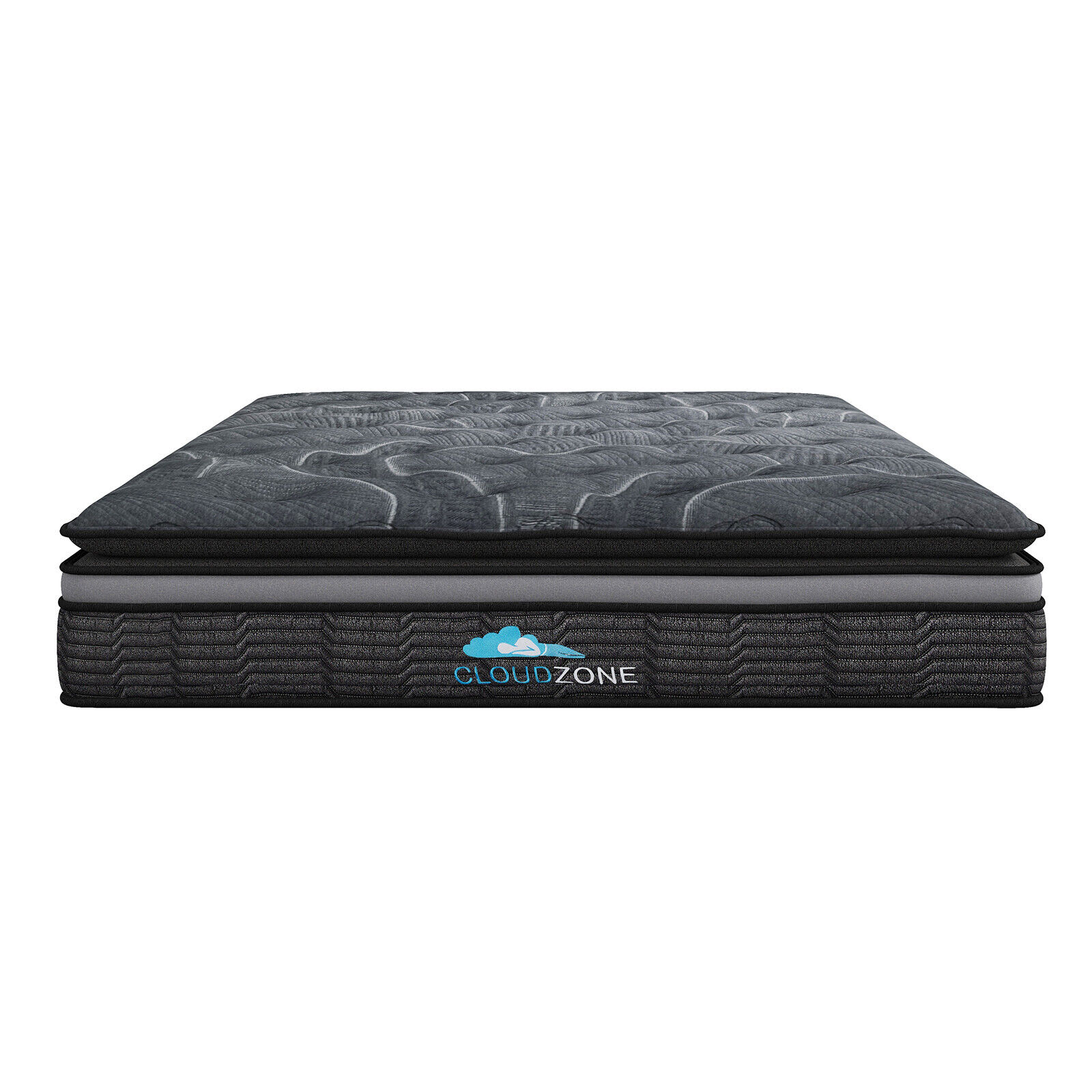 Check Cloud Zone Euro Top Pocket Spring Plush Mattress price below:
add_circle
Easy-to-clean mattress design
add_circle
Can guarantee superb comfort
remove_circle
A bit expensive yet has premium quality
Product Specification 
Size: Queen 

Material: High-density soft foam 

Firmness: Medium-firm
With this Euro Top Pocket Spring Plush Mattress, you'll sleep like you are on a cloud! This mattress's dual-layer pocket spring design will relieve all body parts. It also has a refreshing feel because of the ultra-soft fabric that will fit any body shape.
Key Features 
The charcoal color of the mattress makes it easier to maintain. Though it is soft foam, Cloud Zone can ensure a high-density, breathable mattress, allowing you to sleep deeper at night. Your comfort is the priority. 
Why Buy This 
It includes a breathable cover that keeps you feeling fresh until morning. The euro top padding enhances the soft, non-irritating texture, which you'll like the most about this mattress. It appears simple yet can offer a premium level of comfort.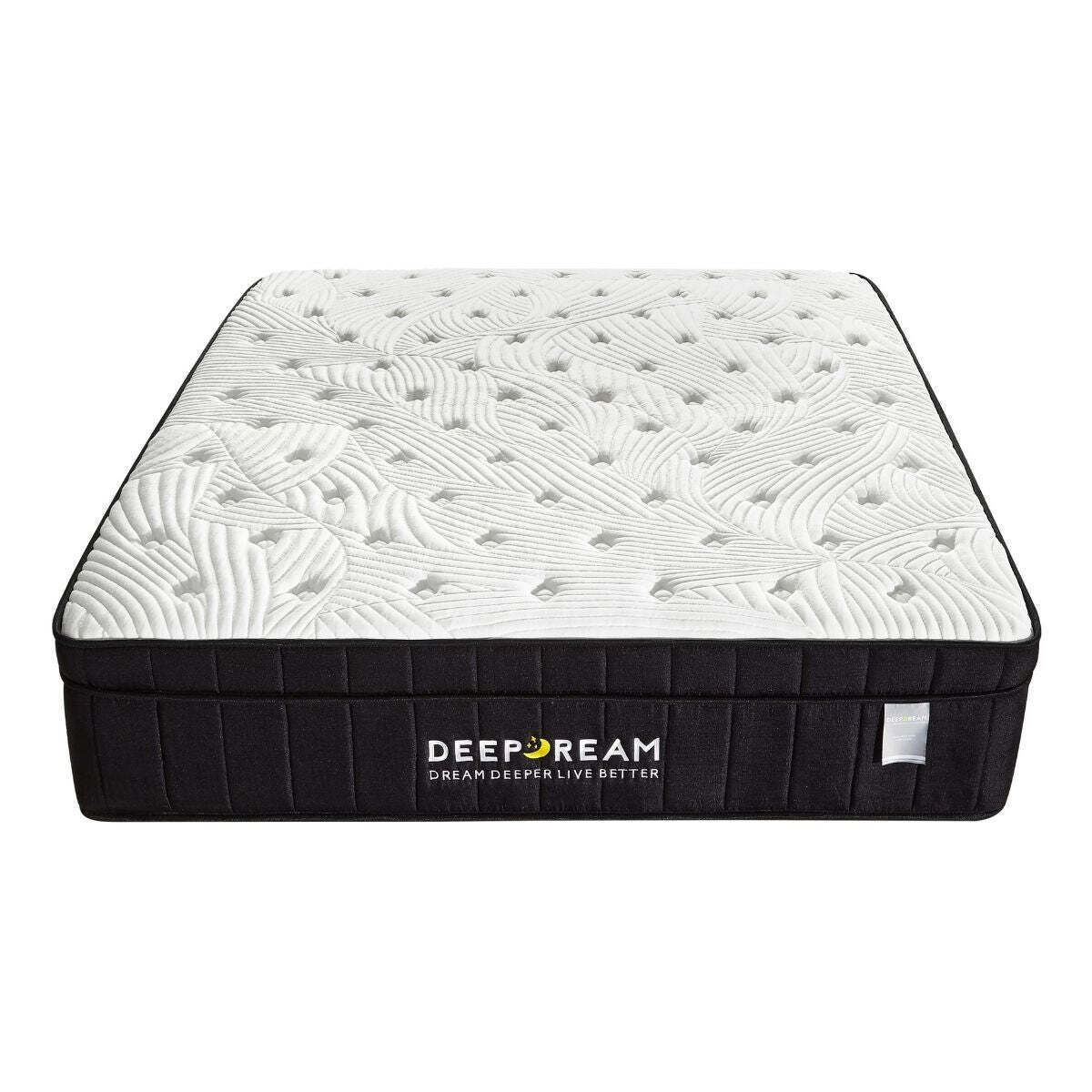 Check Deep Dream Pocket Spring King Single Mattress price below:
add_circle
The multi-layer foam is long-lasting
add_circle
Can absorb motion
Product Specification 
Size: King Single 

Material: Cotton, Charcoal foam 

Firmness: Medium firm
The Deep Dream Pocket Spring King Single Mattress is less expensive than its rivals when you take into account the comfort and the added warranty. It is charcoal infused to keep humidity under control and protect you from allergens and other bacteria. 
Key Features 
The pocket spring system provides the proper support for back sleepers. It also provides a 5-zone suspension that distributes comfort to different body parts - putting an end to back pain! Due to the durable cotton cover and 6-turn coil system, the cushion style can also prevent sagging over time. 
Why Buy This 
This comfortable mattress must be less expensive than other brands. Still, it is world-class foam layers that provide greater protection. As the product has been put through multiple pressure tests, you'll have a perfect, peaceful sleep.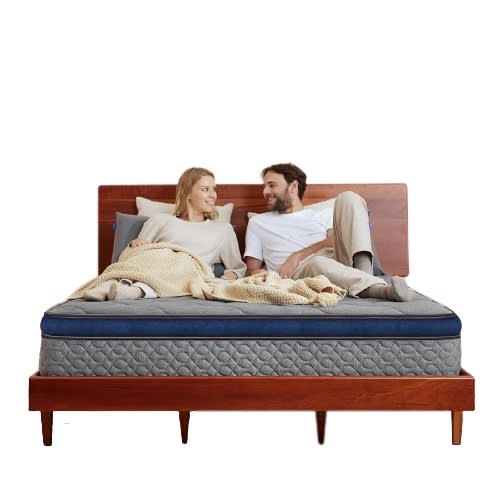 Check Newentor 25cm Queen Hybrid Mattress price below:
add_circle
Newentor offers a 100-night trial to test the mattress' quality
add_circle
CertiPUR-US approved
remove_circle
The edges could be firmer
Product Specification 
Size: Queen

Material: Gel memory foam 

Firmness: soft  
Better digestion and minimal back pain are two significant benefits when sleeping on your side. Newentor 25cm Queen Hybrid Mattress, which contours your body shape, can promise relief to every pressure point. You can breathe easily and isolate motion whether you sleep in a different position.
Key Features 
A multi-layer bed for side sleepers by Newentor, a brand known for making mattresses that are comfortable from head to toe! It can fit into a variety of bed frames and can go with a platform setup. The support layer is elastic foam and pocket springs, and the carbon fiber cover makes the mattress breathable and antibacterial. 
Why Buy This 
Your skin health is important when looking for a mattress. The Newentor 25cm Queen Hybrid Mattress now includes a bamboo charcoal fabric. Its fabric prevents moisture from entering the foam, promoting healthy sleep.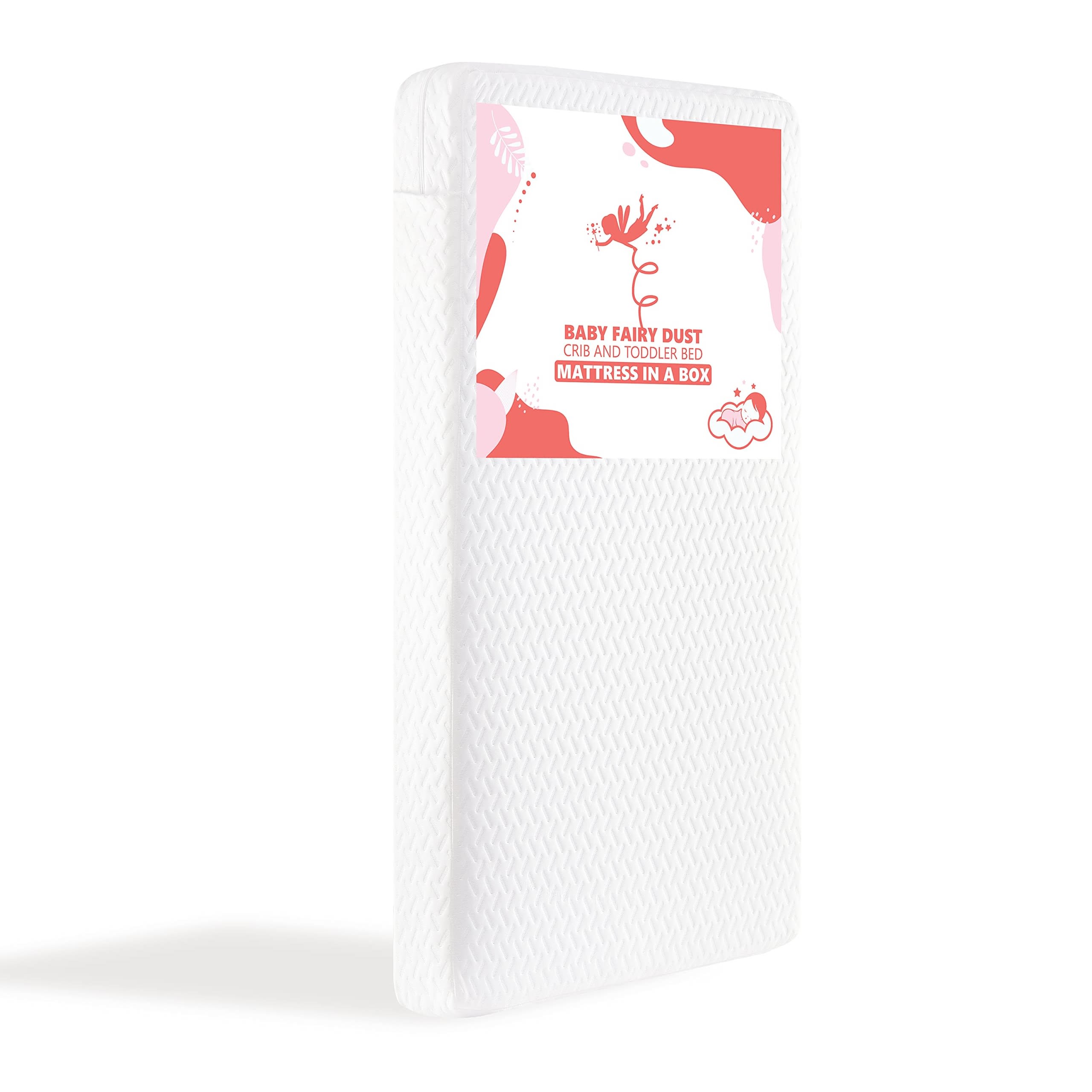 Check Dream On Me Baby Fairy Dust Mattress In A Box price below:
add_circle
100% safe for infants
remove_circle
Not water-resistant as advertised
Product Specification 
Size: Toddler 

Material: Memory foam 

Firmness: Firm 
Dream On Me is a trusted brand of foam mattress in a box that places safety first. It is JPMA, and Greenguard Gold certified. The baby mattress is made of fireproof fiber and fits in a full-size crib, so moms need not worry about a thing!
Key Features 
Infused with a plush top style, but the inside is a firm foam for breathability. The mattress is water-resistant, and infants will never again need to wake up in the middle of the night. Mothers will significantly appreciate the removable and machine-washable outer covers making the mattress easier to clean. 
Why Buy This 
The mattress is compatible with any full-size crib and is exceptionally light. It is constructed to a high standard and is safe for infants. In addition, it will only easily sag over time. The good thing is that a 7-year warranty is also included with your Dream On Me Baby Fairy Dust Crib Mattress purchase.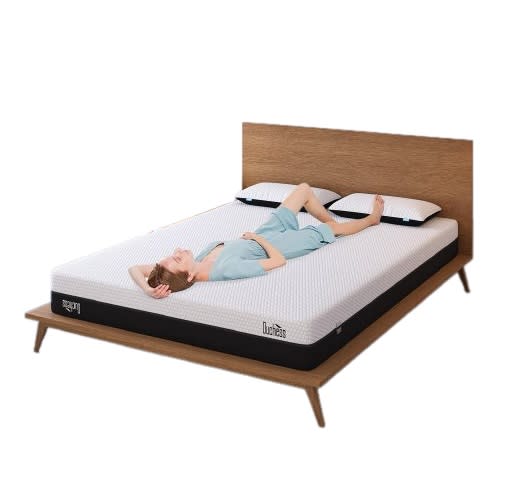 Check Duchess Double Memory Foam Mattress price below:
add_circle
Antibacterial feature
add_circle
Good ventilation
Product Specification 
Size: Double 

Material: Gel memory foam 

Firmness: Soft-firm 
It is a flippable mattress to supply two types of comfort - firm and plush support, in one product! You are free to choose which side you prefer. There are a lot of positive mattress reviews in Australia for the Duchess Memory Foam Mattress, which is enough reason to buy one!
Key Features 
It has three layers of foam, including cool gel memory foam, high-density support foam, and bamboo charcoal foam. As a result, you'll be able to rest easily and protect your spine, regardless of unwanted motions. It has a cover made of premium knitted fabric that can easily absorb moisture and is removable for washing.
Why Buy This 
Its flippable design is very impressive, providing you with a pleasant sleep in whatever position. With this memory foam mattress, you'll feel less motion transfer and eliminate dust mites up to 99%.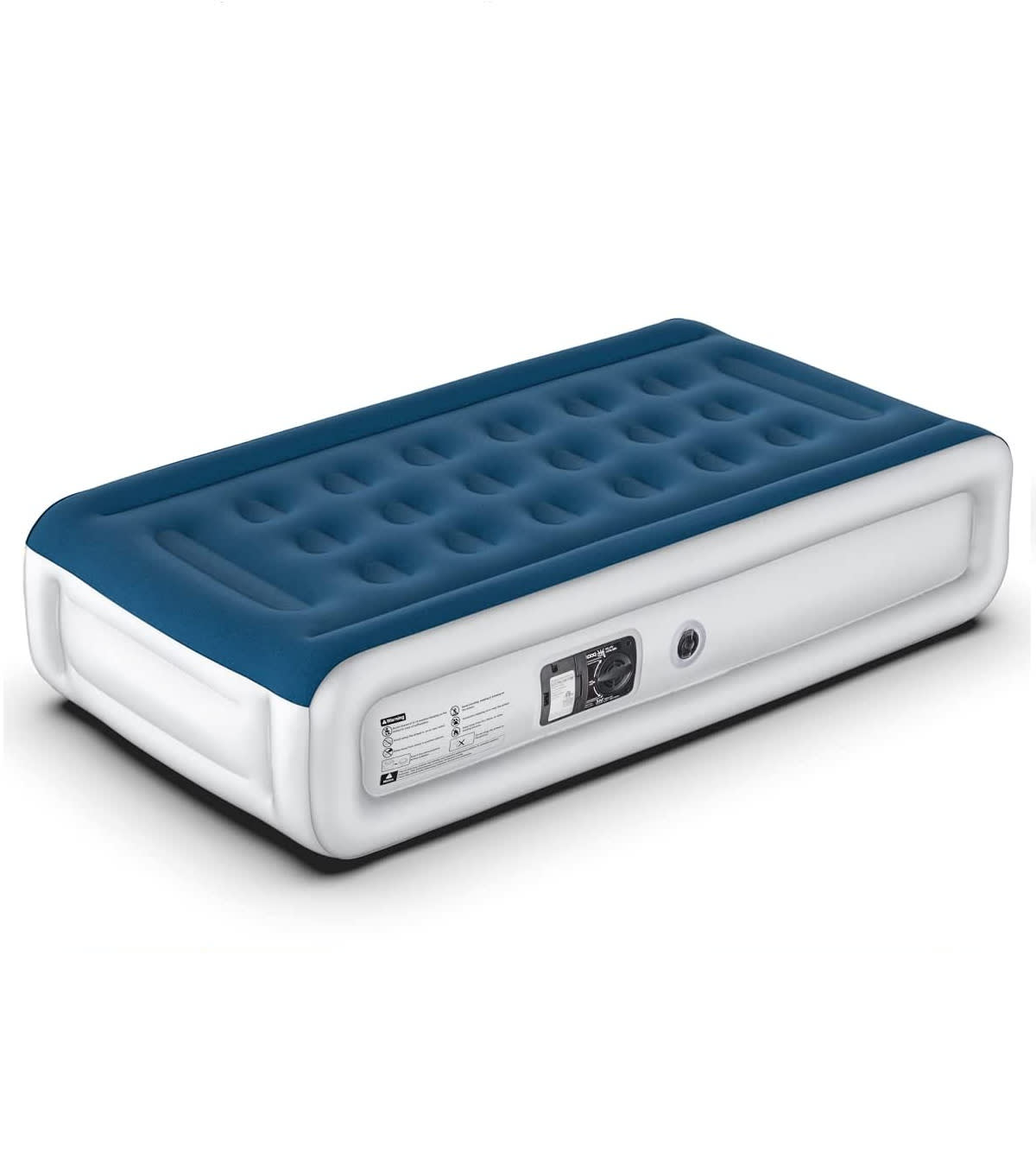 Check IDOO Twin-Size Self-Inflating Air Mattress price below:
add_circle
Highly durable
add_circle
Easy to inflate and deflate for storage
add_circle
An ideal air mattress for hiking
remove_circle
It might require you to be more cautious about bringing it near sharp objects
Product Specification 
Size: Single

Material: PVC 

Firmness: soft to medium-firm (depending on your preferences) 
This air mattress can be inflated using the built-in pump in less than five minutes to provide you with sleeping space. In contrast to the other mattresses on the list, it is a helpful camping tool. IDOO also included a storage bag to transport the airbed anywhere easily.
Key Features 
It has 18 air coils for long-lasting support while you sleep. The air mattress is a multi-layer material that is waterproof and puncture-resistant for extended use. With the addition of power cord storage, tucking a power cord away after use is no longer necessary. Therefore, say goodbye to messy cords!
Why Buy This 
The Self-Inflating Air Mattress from IDOO is a good option if you long to sleep right away. Even if you don't have a helping hand, setting up is a breeze. Additionally, despite its compact size, it can carry a maximum weight of 250 kilograms.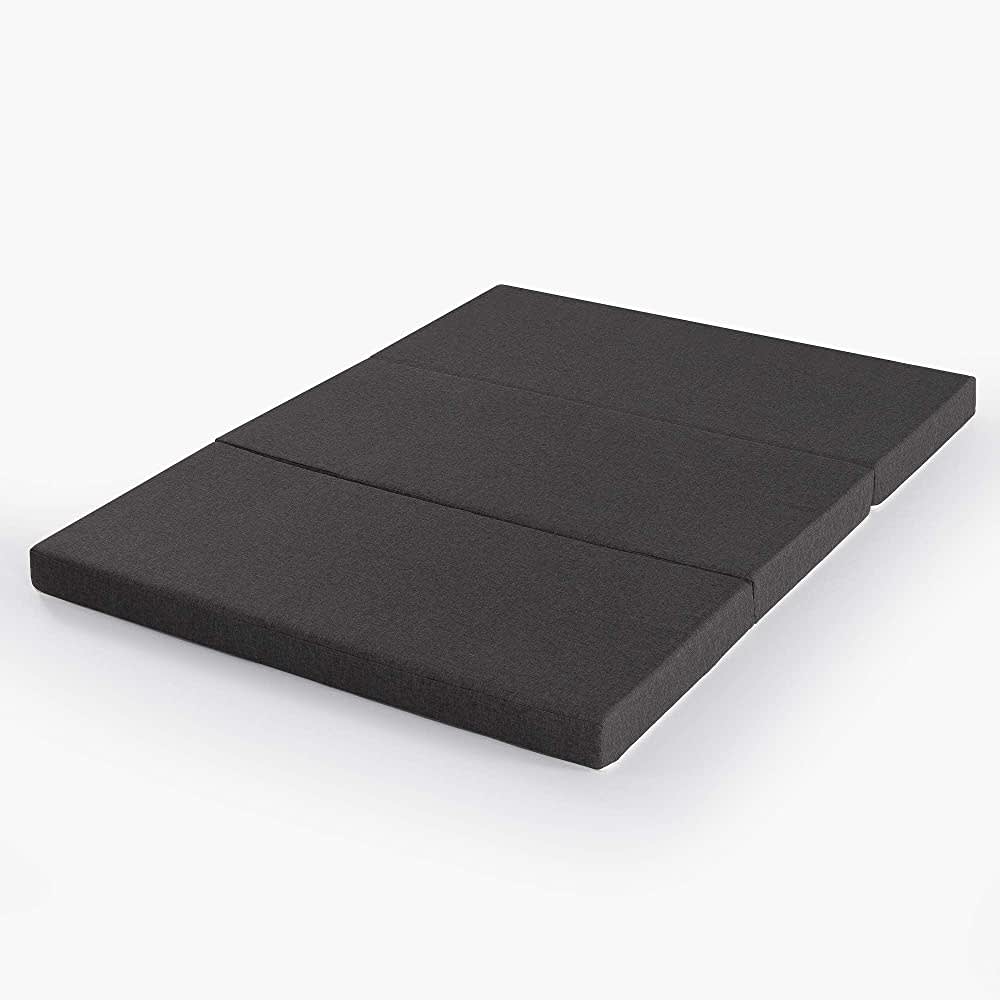 Check Zinus Trifold Camping Foldable Foam Mattress price below:
add_circle
Designed with high-density foam
add_circle
A portable bedding solution
add_circle
Can provide ample space for two
Product Specification 
Size: Double 

Material: Foam and fabric 

Firmness: Medium-firm 
If you want a mattress suitable for camping, you need to look for one that can feed you conveniently. The Zinus Trifold Camping Foldable Mattress has everything you need because it is simple to transport, fold, and unfold. Also, this mattress uses no waste to give you the comfort and safety you deserve.
Key Features 
The Trifold Camping Foldable Mattress from Zinus is ideal for caravan camping. Its two-foam layer design gives you maximum comfort. It is made to meet your sleeping needs, is completely recycled, and contains no chemicals. The best way to store this portable mattress, which you can use at home or on the go, is in a bed frame sold separately. 
Why Buy This 
It comes from natural ingredients and is the top mattress in Australia for camping. As a result of the polyurethane foam's ability to absorb moisture, the mattress will keep you fresh while you sleep.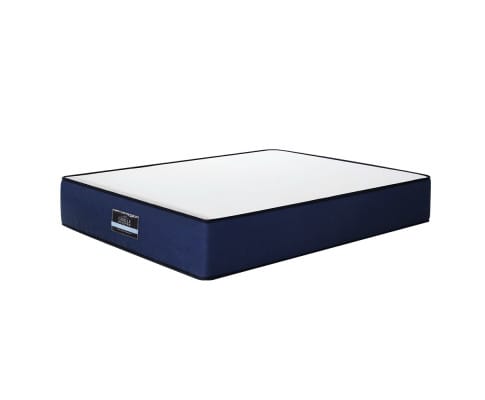 Check Giselle Bedding 7-Zone Latex Pocket Spring Foam Mattress price below:
add_circle
Combined a high-quality latex and coil system to distribute body support
add_circle
Elegant design
add_circle
Thick foam mattress
Product Specification 
Size: Queen 

Material: Natural latex 

Firmness: Medium-firm
Natural latex foam is ideal for pressure relief and has a better cushion design for more even body support. Giselle Bedding never fails to innovate a mattress of ultimate comfort, now with a 7-zone cloud-like contour to keep your body at ease. 
Key Features 
The company used quality and hypoallergenic textiles to make a firm mattress. This latex foam mattress features a coil system that provides superior pain relief regardless of body weight. It will be silent - thanks to its high-pressure capacity through the enhanced pocket spring system! The reinforced edges are stitched with long-lasting thread to keep dust mites out.
Why Buy This 
It is well worth the money to purchase a latex foam mattress with a zero-disturbance feature. It is accurately measured to avoid disappointing customers. Additionally, natural latex aids in temperature regulation, reducing mattress warmth.
---
What Kinds of Mattresses are there?
You must be aware of the following four major categories of the best mattress brands in Australia:
Foam Mattress 
This kind of mattress is best for relieving pressure and keeping you cool at night. It has a bouncy feature.
Innerspring Mattress
Steel coils make up this innerspring mattress, which may need a replacement for optimal performance. Despite being heavier than foam mattresses, it delivers a medium-firm feel. 
Air Mattress 
With an air mattress, you can stay away from a bed that sags over time. It has a foam layer for added comfort and is ideal for travel.
Organic Mattress
A mattress made of toxic materials can be harmful to the environment. As a result, eco-conscious consumers may choose an organic mattress to reduce chemical use.
---
What Type of Mattress do you Need?
The type of mattress people in Australia need may vary depending on their personal preferences, sleeping style, and any specific health conditions. However, here are some general factors that may influence the type of mattress that would be suitable for most people in 
Australia:
Climate: Australia has a varied climate; some regions are hot and humid, while others are cooler. As a result, people living in warmer areas may prefer a breathable mattress that helps keep them cool at night. In comparison, those in cooler regions may select a mattress that retains heat.
Support: A mattress that offers good support is essential for a good night's sleep. People in Australia may need a mattress that supports their back, hips, and shoulders depending on their sleeping style. For example, people who sleep on their back or stomach may need a firmer mattress that provides more support. In comparison, those who sleep on their side may prefer a softer mattress that cushions their pressure points.

Materials: The type of materials used in a mattress can affect its comfort and durability. In Australia, common mattress materials include latex, memory foam, innerspring, and hybrid mattresses that combine different materials. People with allergies may prefer a hypoallergenic mattress made from natural materials such as latex or organic cotton.
Budget: The cost of a mattress can vary widely, and people in Australia may need to balance their desire for a comfortable and supportive mattress with their budget. Some mattress types, such as memory foam or latex, are more expensive. In contrast, innerspring mattresses are often more affordable.
---
Buying Guide: How to Choose the Best Mattress
There are so many different mattress brands on the market that it can take time to know which is correct. First, know the types of mattresses to identify the most suitable ones.
Opt for a mattress that provides both comfort and back support. 
Sleeping in all positions might hurt your back. For this reason, finding a mattress that fits your body shape should be your top priority if you want the most comfort possible. Before purchasing, measure the mattress's firmness to ensure your ideal comfort level.
Do not buy a mattress that lacks a zero-disturbance feature. 
Sleep disruptions because of motion transfer can lower your mood. Therefore, choose a mattress with multiple spring coils that aid motion isolation.
Mattresses that boost excellent airflow are a good option.
Materials like gel memory foam and wool can improve breathability - thanks to their cooling properties! Additionally, this will prevent moisture buildup, which could result in the mattress's demise.
---
Best Mattress Brands in Australia
Having the right mattress can make all the difference when it comes to getting a good night's sleep. Knowing where to begin your search for the ideal mattress with so many alternatives available might be a task. Numerous well-known brands in Australia routinely score highly with consumers and industry professionals. Whether you're searching for a hard or soft feel, memory foam or hybrid construction, or a specific size or style, these brands have a selection of mattresses to meet your needs and tastes.
Slumberland Mattress
Slumberland mattresses are known for their quality construction and use of high-quality materials, such as natural latex and memory foam. Their mattresses provide excellent support and comfort, with features such as zoned support and individual pocket springs. Additionally, many Slumberland mattresses come with an extended warranty period, providing customers with peace of mind and confidence in their purchase.
Madison Mattress
Madison mattresses are known for their affordability and wide range of options. They offer mattresses in various sizes, styles, and materials to suit different needs and budgets. Madison mattresses also have a reputation for durability and quality, ensuring that your investment in a new mattress will provide long-lasting comfort and support.
King Koil Mattress
King Koil mattresses are known for their luxurious feel and high-quality construction. They use natural latex, memory foam, and high-density foam to provide excellent support and pressure relief. King Koil mattresses also feature a range of additional features, such as cooling technology and edge support, to provide the ultimate sleep experience.
SleepMaker
SleepMaker is one of Australia's leading mattress brands, known for its innovative design and high-quality materials. They offer a range of mattresses with various features, such as zoned support and pocket springs, to provide the best possible comfort and support. SleepMaker mattresses are hypoallergenic.
Mattress Price Range here in Australia
Mattress prices in Australia can vary depending on various factors, such as the size, brand, materials used, and additional features. Below is a general price range for the different mattress sizes and types available in Australia:
Single Mattress: $150 to $1,500

King Single Mattress: $250 to $2,000

Double Mattress: $300 to $2,500

Queen Mattress: $350 to $3,000

King Mattress: $500 to $4,000
Prices can also vary depending on the mattress type, such as foam, innerspring, hybrid, or latex. Generally, foam and innerspring mattresses are more affordable, while hybrid and latex mattresses are more expensive.
Additionally, luxury mattresses with premium materials and additional features, such as cooling technology and adjustable firmness, can cost significantly more. Prices for these mattresses can range from $4,000 to $10,000 or more.
---
Where to Buy Mattresses in Australia
There are many places to buy a mattress in Australia, including online and in-person retailers. Some of the most popular options include
Mattress Retailers: There are many mattress retailers throughout Australia, both large chains and smaller, independent stores. These stores typically carry various brands and mattress types. They often have knowledgeable sales staff to help you find the right mattress.
Department Stores: Many department stores in Australia, such as Myer and David Jones, carry a range of mattresses from various brands. These stores may also offer in-store testing and delivery services.
Online Retailers: Online retailers like Koala, Ecosa, and Sleeping Duck offer mattresses that can be ordered online and delivered directly to your home. These retailers often offer competitive pricing and extended trial periods to ensure you are satisfied with your purchase.
Furniture Stores: Many furniture stores in Australia also carry a range of mattresses, often as part of bedroom furniture sets. These stores may offer financing options and in-store testing.
---
Conclusion 
You can understand which mattress will serve you best by reading the mattress reviews in Australia above. They are selected randomly based on our knowledge and customer feedback. Each mattress option has different levels of thickness and a selection of materials used with only one goal - to guarantee a restful night! Visit the provided links to check on the product's availability.