Whether you are a professional or just ironing at home, a good quality ironing board can make the task much more accessible and efficient. It consists of a flat, padded surface mounted on a collapsible stand or legs, allowing it to be easily set up and adjusted to a comfortable height. Some ironing boards also have additional features, such as a built-in iron rest or clothes hanging rack, adding convenience. 
This article will discuss the best ironing board Australia, its advantages, and how to choose the right one for your needs. So, to make your ironing experience more enjoyable and achieve wrinkle-free clothes, continue reading to learn more about ironing boards.
---
10 Best Ironing Boards in Australia 2023 : Latest Brand Reviews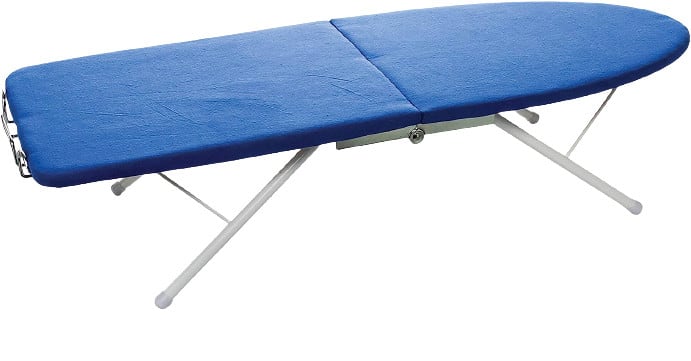 Check Camco Folding Ironing Board price below:
add_circle
Ideal for small spaces
remove_circle
Not for heavy-duty ironing
Why It's Our Top Pick 
Finding the best ironing board Australia that is compact will benefit remote ironing needs. Camco RV includes a carry bag letting you use the pressing board anywhere. It is a tabletop ironing board with a quality cotton cover that you can easily fold for storage. It is the best option if you want a premium ironing board that is easy to use.
Specifications 
Frame material: High-quality iron 

Board cover: Cotton 

Item weight: 400 g 
Overview 
For small spaces, an ironing board that folds out is essential. It is lightweight, portable, and sturdy, perfect for occasional ironing needs. 
Highlighted Features
It has a folding design, making it suitable for compact spaces. Its sturdy legs are easy to fold under for storage. Camco RV is also perfect for travel as it folds flat for easy transport. The iron frame material is light yet durable, featuring a chrome-wire iron nest to deliver excellent results. With a quality cotton cover, this ironing board guarantees no crease and easy maintenance.  
Performance
This folding ironing board is best for a quick touch-up over wrinkled fabrics. Unlike bigger ironing boards, it works well at a low price and will free you up some space.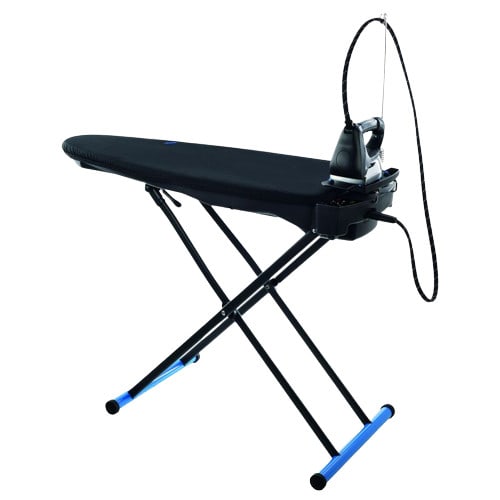 Check Euroflex Smooth-B2S Active Ironing Board price below:
add_circle
It has a bigger space for ironing
add_circle
Easy to adjust
add_circle
For commercial use
Specifications 
Frame material: Stainless steel 

Height settings: 9 adjustable levels

Power: 1950 W

Steam capacity: 800 ml 
Overview 
Say hello to an ironing board suitable for home and professional settings. It is feature-packed and offers three unique modes: heating, blowing, and extraction. Decide to iron fabrics like a pro with the Euroflex Smooth-B2S! 
Highlighted Features
With the active surface technology, this ironing board ensures support for the ironed garments. It adapts to the fabric's shape, minimizing pressure points and reducing the risk of creasing. The large iron rest area with a silicone pad will impress and protect you from heat damage. It has built-in steam functions that deal with coarse and delicate fabric types, avoiding creases and folds. 
Performance
Users of different heights will love this ironing board, providing nine height adjustment levels. It is the best ironing board Australia, with a large ironing surface ideal for bedsheets and tablecloths.

Check Household Essential Basic Sleeve Ironing Board price below:
add_circle
Cheap but offers many unique features
add_circle
Designed for everyday ironing
remove_circle
Some parts get rust easily
Specifications 
Frame material: Alloy steel 

Board cover: Cotton 

Dimension: 4.62" x 4.5" x 20"
Overview 
You can get the best ironing board for less than $60 with the same features as more expensive models from Household Essential Basic. It suits various portable ironing tasks, allowing you to iron clothes on a tabletop.
Highlighted Features
Made of an alloy steel frame, this ironing board can last long to help you with your laundry needs. It has a plastic top and a cotton cover, evenly distributing heat to avoid stains and ensure fabulous results. Thanks to its non-scuff leg design, you can iron on your bed or table and not cause scratches. There is a metal leg lock to assemble and quickly remove the iron board for storage. 
Performance
Using this mini ironing board, you can press clothes and remove creases from every corner. It is your quick remedy for casual ironing with a cotton cover that does not ruin fabric imprints. It also has the perfect size to iron out sleeves and collars.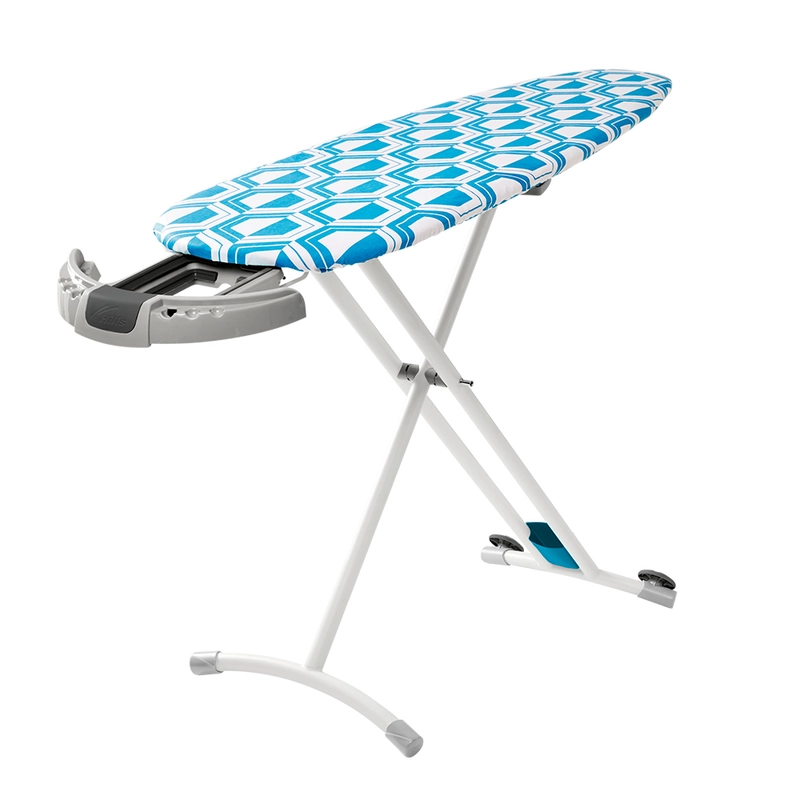 Check Hills Premium Padded Ironing Board price below:
add_circle
It has two wheels for better mobility
add_circle
Increased comfort
remove_circle
A bit pricier than its competitors
Specifications 
Frame material: Iron 

Cushioning: Silicone pads 

Item weight: 6.5 kg 
Overview 
This ironing table is easy to move around without lifting it off the ground. It has two wheels gliding smoothly and won't scratch the floor. Foot caps on the base also guarantee extra stability as you iron your clothes. 
Highlighted Features
The ironing board has hooks on the side to hang clothes without creases. Use the release-catch feature to adjust the board's height for comfort and lock the material. The cover's elastic hem and toggle will ensure the silicon pad fits perfectly. It lets you iron garments without having to fix the cushion multiple times. For convenience, casters are added to move the ironing board with no strain. 
Performance
This large, easy-to-move ironing board allows you to create wrinkle-free fabrics anywhere. Fold the material to make it easier to store, and you can lock it for extra safety. Moreover, Hills Premium provides the most stable padded surface to iron clothes quickly!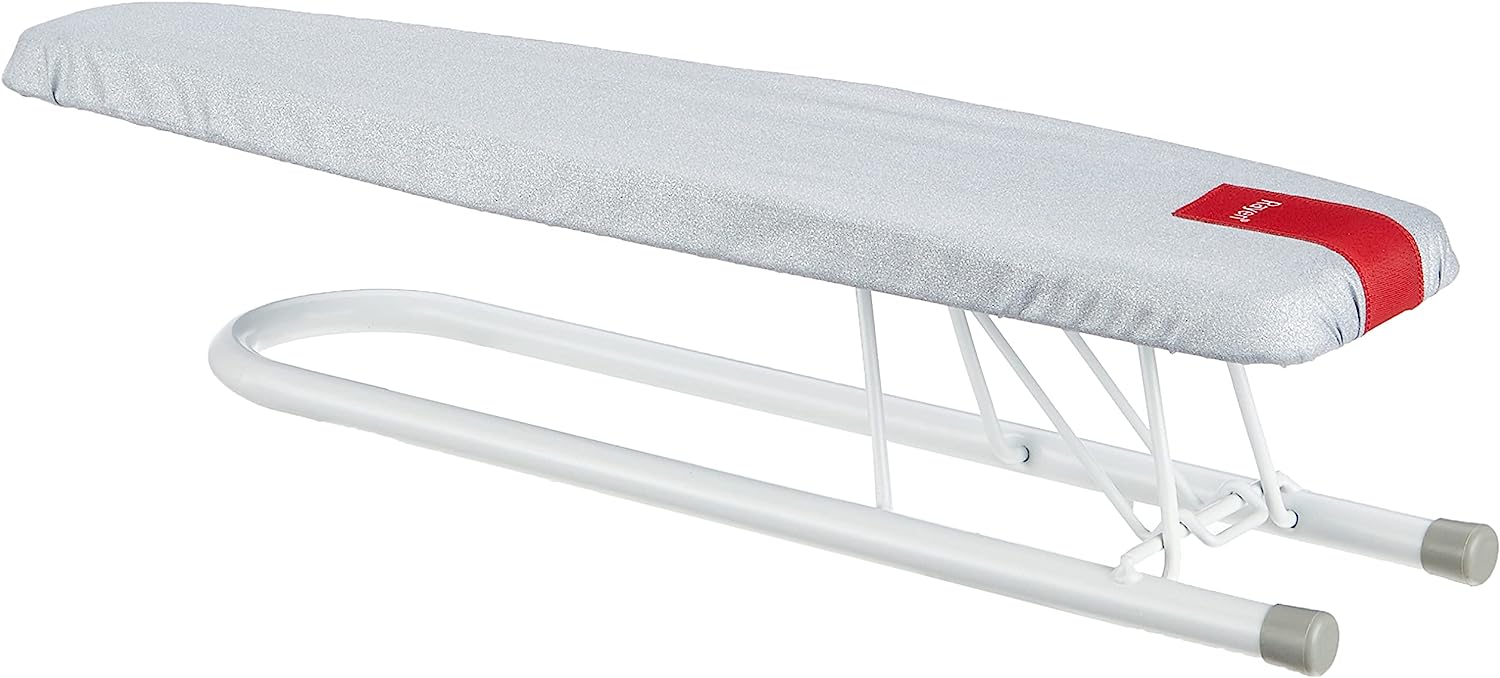 Check Rayen Underwire Sleeve Ironing Board price below:
add_circle
Compatible with steam ironing
add_circle
Great stability
Specifications 
Frame material: Metal 

Item weight: 2.2 lb 

Board cover: Metallic cotton 
Overview 
Rayen Sleeve Ironing Folding Board is perfect for steam irons. Its metallic cotton cover absorbs heat and locks vapor to prevent stains over clothes. Plus, you can fold it to save space for storage. 
Highlighted Features
This best ironing board has safety features like an anti-closure system made of a locking fuse for steaming delicate fabric. You can iron your clothes without getting wrinkles while avoiding burning them. It is a folding board with a base that does not slip so that ironing will be more stable. Additionally, each purchase comes with a solid-colored ironing board cover. 
Performance
It is excellent for ironing sleeves using steam irons. You can wear crease-free clothes right away with this ironing board. In addition, it is space-saving as it folds flat during storage. 
Check Astra Wall Mount Ironing Board price below:
add_circle
Provides ample space for your laundry
add_circle
No assembly required
add_circle
It has an aesthetic design
Specifications 
Frame material: Steel 

Board cover: 100% Cotton 

Dimension: 32 cm x 85 cm x 2 cm 
Overview 
Astra 3-in-1 is the best ironing board Australia that requires no assembly yet is wall mountable. Hang the ironing board on the wall like a picture frame during installation. This ironing board cabinet has space for ironing accessories, so you won't have to worry about storing ironed clothes.
Highlighted Features
Imagine a cabinet with an ironing board that you can use anytime - this is how Astra 3-in-1 looks. The board folds out in a breeze to support your ironing needs. It also rotates to allow different ironing positions for your comfort. The board cover can resist heat and water to keep clothes stain- and crease-free. To complete its sleek design, Astra added a full-length mirror. 
Performance
The ironing board cabinet must be installed close to the power outlet for your convenience. Astra 3-in-1 is well worth the price, with huge storage space and other unique features, like a thick mirror and rotating ironing board.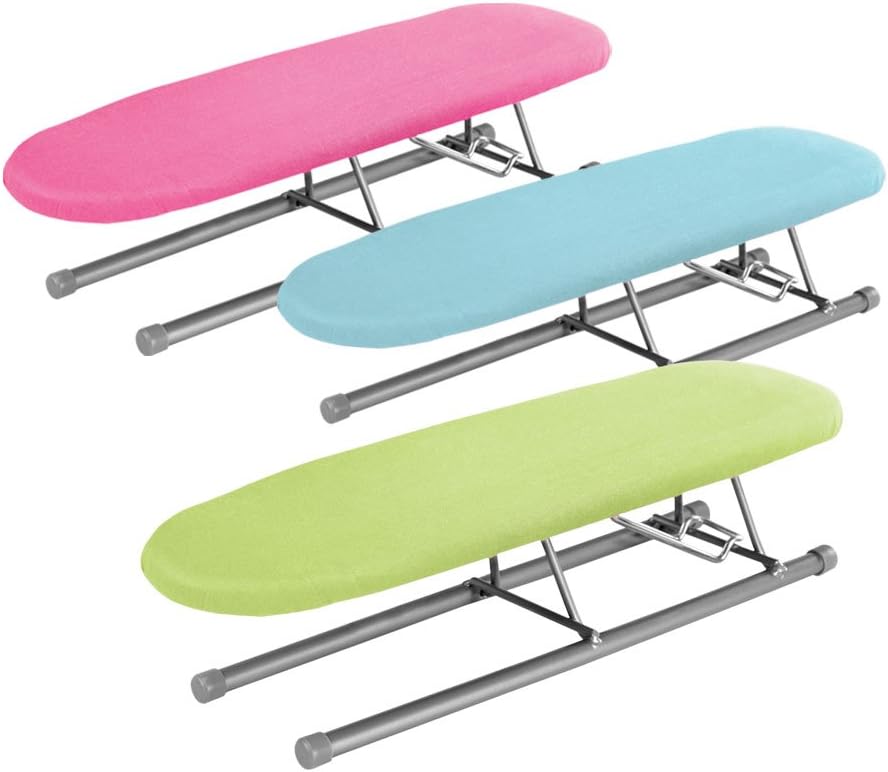 Check Metaltex Jeanette Sleeve Tabletop Ironing Board price below:
add_circle
A mini ironing board
add_circle
Less expensive
add_circle
Ideal for ironing baby's clothes
Specifications 
Frame material: Alloy steel 

Cushioning: Cotton, foam 

Dimension: 42 cm x 12 cm 
Overview 
Choose an ironing board from various colors to complement your style for under $50. With foam padding, you can avoid damaging delicate fabric while ironing at a higher temperature. 
Highlighted Features
This sleeve board is built with an epoxy-coated steel frame to prevent rust in the long run. It has a cotton cover with an extra-thick cushion, making it a better surface to iron out your clothes. Underneath is a sturdy steel mesh iron supporting the foam padding, which works for proper airflow and does not burn clothes. 
Performance
Any sleeved clothes can fit into this ironing board to eliminate wrinkles. You can take it on a trip to iron continuously with excellent results. Additionally, the iron mesh does not leave marks on t-shirts after ironing.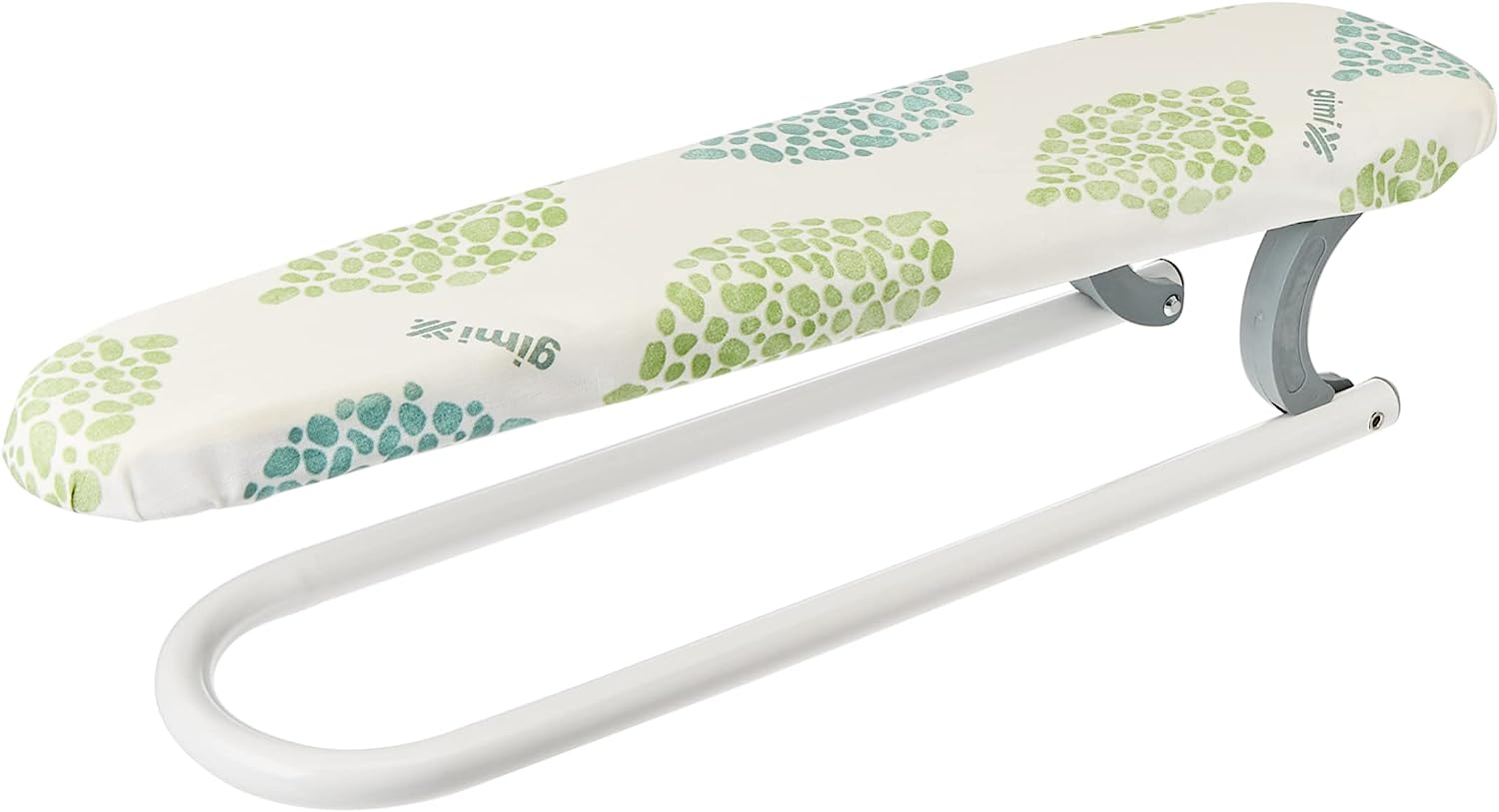 Check Gimi Planet Sleeve Ironing Board price below:
add_circle
It has an easy-to-fold design
add_circle
A great solution to prevent central creases on jeans
Specifications 
Frame Material: High-quality iron 

Item weight: 780 g 
Overview
Do you want a small ironing board? Gimi Planet has a lightweight and compact ironing board for you! It has an excellent design, and its features amaze many people.
Highlighted Features
This mini ironing board has long-lasting durability that helps produce crease-free laundry. Its clever design includes thick padding and a mesh, stable metal base you can rely on for quick ironing needs. It is also versatile that lets you iron fabrics on any side. 
Lastly, you can easily fold the ironing board after use for storage. 
Performance
Ironing your sleeves and trousers is much easier with Gimi Planet Ironing Board. It will take up little space and is ready to use once unpacked. It might be narrower than other ironing boards, but it is perfect for removing fabric wrinkles.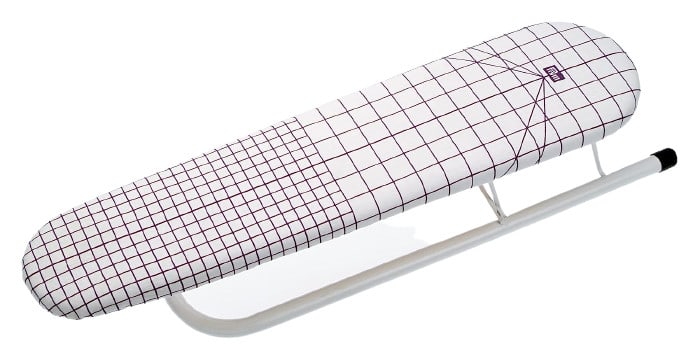 Check Prym Freestanding Ironing Board price below:
add_circle
Ease of installation
add_circle
Includes a stylish board cover
remove_circle
Not foldable
Specifications 
Frame material: Metal

Dimension: 52 cm x 12.5 cm 

Cover pattern: Metric grid 
Overview 
Making pants leg crease-free is easy with the Prym Freestanding Ironing Board. It has a narrow iron rest so as not to miss out on wrinkles on the fabric. 
Highlighted Features
The surface cover is heat-resistant, not to damage garments and the ironing board. It has a geometric pattern for a more thrilling ironing experience. No assembly and folding are required; you can store the ironing board in the corner. 
Performance
It is fantastic for ironing cloth sleeves and other tight garment areas. It is full metal from the frame to the support grid, hence an excellent choice to get ironing tasks done.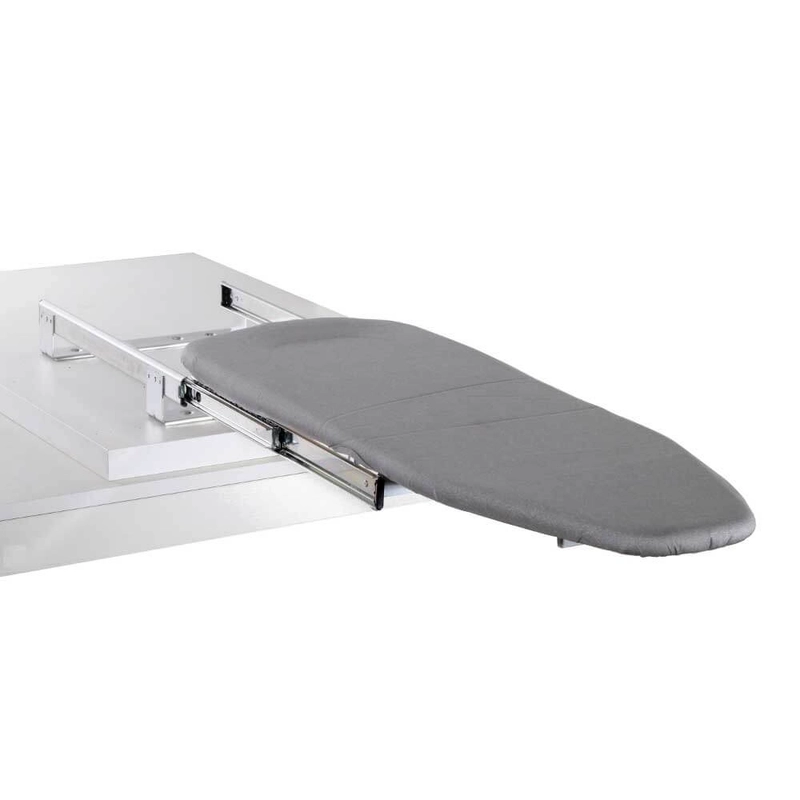 Check HEUGER Fold-Out Ironing Board price below:
add_circle
Ease of storage
add_circle
Sturdy construction
add_circle
It has a large ironing surface
Specifications
Frame material:

Plywood 

Installation:

Bottom-mount

 
Size:

400 mm 
Overview
HEUGER Fold-Out Ironing Board is both durable and space-saving. It takes up minimal space and can be stored in closets or tight areas when not in use.
Highlighted Features
The fold-out design locks into place to provide a stable surface for ironing. With the iron rest, you can press clothes neat and without injuries. It also has a heat-resistant cover, so the board remains in good condition with regular ironing. You can buy a replacement cover separately. 
Performance
Made of ball-bearing runners, the ironing board will remain durable even with frequent use and folding. Set up the ironing board by sliding it out from the steel runners, and you can start pressing garments. 
---
What is an Ironing Board?
An ironing board is a flat, padded surface for ironing clothes or other fabrics. It typically consists of a long, narrow board supported by four legs and an adjustable height mechanism. The board's surface is heat-resistant, padded fabric for easy and effective ironing. Ironing boards usually have a metal rest at one end, where you can place a hot iron while not in use.
When choosing an ironing board, consider factors such as your available space, frequency of ironing, and personal preferences. Each type has advantages, so select one that best suits your budget and needs. 
---
Different Kinds of Ironing Boards
Several ironing boards are available, each designed to suit different needs. Here are some common types of ironing boards: 
Traditional Ironing Board: This is the most common type of ironing board found in homes. It consists of a flat, padded surface mounted on a height-adjustable metal frame with legs. These boards often fold and have a built-in iron rest. 
Tabletop Ironing Board: Compact and portable tabletop ironing boards are smaller versions of traditional ironing boards. They are designed to be placed on top of a table or any other flat surface and can be easily stored away when unnecessary. 
Wall-Mounted Ironing Board: For those with limited space, wall-mounted ironing boards can be folded and stowed away discreetly in a wall cabinet or mounted on the back of a door. They save floor space and can be easily accessed whenever required. 
Over-The-Door Ironing Board: This type of ironing board can hang or attach to the back of a door. They are convenient for those who want to save space and have something other than a freestanding board. 
Built-In Ironing Board: Built-in ironing boards are installed directly into a cabinet or wall, usually in laundry rooms or walk-in closets. They provide a permanent and hidden ironing solution, eliminating the need for a separate board. 
Sleeve or Shoulder Ironing Board: These specialized ironing boards are smaller and narrower, specifically designed to iron sleeves, collars, and other small areas of clothing. You can use them on a regular ironing board or flat surfaces. 
---
How to Iron Without an Ironing Board?
If you do not have an ironing board, don't worry! You can still iron your clothes using alternative methods: 
Use a clean, flat surface

: Find a smooth, sturdy, and heat-resistant surface to iron on, such as a clean table, countertop, or even the floor (if it is clean and suitable). Ensure the surface is stable and won't quickly transfer heat or steam. 

Use a thick towel or blanket

: Place a thick towel or blanket on a flat surface to create temporary padding for ironing. It will provide some support and protection for your clothes. 

Hang garments

: For lighter fabrics like shirts or blouses, hang them on a hanger and smooth the wrinkles with your hands. Stretch the fabric gently as you iron to straighten out the wrinkles. 

Steam using a kettle or shower

: If your clothes are wrinkled but not excessively, use steam to help remove the wrinkles. Hang the garment in a steamy bathroom while the hot water runs in the shower. Alternatively, you can hold a steam-generating kettle near the garment (without touching it) and let the steam work its magic. 

Use a towel or cloth as an ironing pad

: If you need to iron a smaller item like a handkerchief or collar, lay a towel or cloth on a flat, sturdy surface and iron directly on top of it. It will provide some protection and support for smaller items. 
Always check the heat settings of your iron and test it on a small, inconspicuous area of the fabric before ironing to avoid any damage or discoloration. Additionally, be cautious when using alternative ironing surfaces and ensure they are stable and safe to use
---
Buying Guide: How to Choose an Ironing Board
The following factors will help you choose the best ironing board Australia that suits your needs and provides a hassle-free ironing experience.
Size and Height:

Consider the size and height of the ironing board. It should be large enough to accommodate the size of your garments comfortably. Additionally, make sure the height is adjustable to suit your individual needs. 

Stability:

Look for an ironing board that offers stability. Check if it has sturdy legs with non-slip caps to prevent wobbling or tipping over while ironing. 

Surface:

The ironing board's surface should be smooth and even to allow easy iron gliding. A mesh top is generally preferred as it provides better steam penetration and allows for faster ironing. 

Board Cover:

Consider the quality of the cover that comes with the ironing board. It should be durable, heat-resistant, and provide a smooth ironing surface. Some covers also come with additional features like scorch and stain resistance. 

Portability:

If you frequently move your ironing board around the house or need to store it in a small space, look for one that is lightweight and easily foldable. It will make it convenient to carry and store when not in use. 

Other Features:

Some ironing boards have additional features like a built-in iron rest, hanging rack, or storage area for laundry. Consider if these features are important to you and if they align with your needs. 

Price:

Set a budget for your ironing board purchase. Prices differ depending on the brand, size, and features. Compare different options within your budget to find the best value for your money. 

Reviews and Ratings:

Read ironing board reviews and ratings from other buyers before deciding. It will give you an idea of the overall customer satisfaction and any potential issues with the ironing board you're considering. 
---
Best Ironing Board Brands in Australia
Here are some of the best ironing board brands in Australia:
Hills Ironing Board
Hills is a renowned brand that offers high-quality ironing boards. They are known for their durable construction and sturdy design, ensuring ironing stability. Hills ironing boards often come with adjustable height options and spacious ironing surfaces.
Sunbeam Ironing Board
Sunbeam is a trusted brand that manufactures various household appliances, including ironing boards. Sunbeam ironing boards are designed for user convenience, featuring adjustable height settings, easy-to-use folding mechanisms, and different ironing surface sizes.
Minky Ironing Board
Minky is another famous brand known for its innovative and functional ironing boards. Minky ironing boards often have features like iron rest areas, heat-reflective covers for efficient ironing, and sturdy, stable frames. They offer a range of sizes to suit different needs.
Brabantia Ironing Board
Brabantia is a well-established brand that produces high-quality household products, including ironing boards. Brabantia ironing boards are known for their stylish designs, durability, and user-friendly features. They offer various sizes, adjustable height options, and features like heat-resistant iron rests and stable frames.
Robinhood Ironing Board
Robinhood is a reputable Australian brand that offers reliable ironing boards. Robinhood ironing boards are practicality and functionality in mind. They often feature sturdy construction, adjustable height settings, and spacious ironing surfaces.
These brands provide a wide range of options to cater to different preferences and budgets, ensuring you can find an ironing board that suits your needs in Australia.
---
Ironing Boards Price Range Here in Australia
The ironing board price in Australia can vary depending on the brand, size, features, and quality. Here is a general breakdown of the price ranges you can expect:
Budget Range: Ironing boards in the budget range typically range from $20 to $50. These are basic models with simple designs and fewer features. They may have fixed heights and smaller ironing surfaces.
Mid-Range: Mid-range ironing boards usually range from $50 to $100. These boards offer better quality, more features, and increased durability. They may have adjustable height settings, larger ironing surfaces, and additional functionalities like iron rests or built-in ironing board covers.
High-End Range: Ironing boards in the high-end range can cost $100 or more. These boards are often from well-known brands and offer premium quality, advanced features, and superior durability. They may have advanced height adjustment systems, large ironing surfaces, heat-reflective covers, and other innovative functionalities.
---
Where to Buy Ironing Boards in Australia?
You can buy ironing board from various retailers in Australia. Here are some familiar places where you can find them:
Department Stores: Major department stores like Myer, David Jones, and Target often have a section dedicated to household items where you can find a range of ironing boards.
Home Improvement Stores: Retailers such as Bunnings Warehouse and Masters Home Improvement offer a variety of household products, including ironing boards. They have a wide selection available for purchase.
Appliance Stores: Stores specializing in appliances, such as Harvey Norman, The Good Guys, and JB Hi-Fi, may carry ironing boards as part of their home essentials range.
Online Retailers: Online marketplaces like Amazon, eBay, and Catch.com.au provide a convenient option for purchasing ironing boards. You can browse many options and compare prices and features before purchasing.
Specialty Stores: Some specialty stores focus on home organization or laundry supplies and may have a selection of ironing boards. These stores include Howards Storage World and House.
Supermarkets: Larger supermarkets like Woolworths and Coles may have a limited selection of ironing boards in their household goods section.
It's always a good idea to check the websites or contact the stores in advance to ensure they have the specific ironing board model or brand you are looking for in stock.
---
Conclusion 
In conclusion, ironing boards are essential household items that provide a flat and stable surface for effectively ironing clothes. They are available in various sizes, types, and materials to suit individual needs. Consider durability in buying the best ironing board Australia to withstand high heat and pressure from irons. Overall, having an ironing board makes the ironing task more effortless and efficient.
---