Do you not have time to iron clothes? Below, we listed the best garment steamer in Australia as an alternative for flat irons. 
For wrinkle-free clothing, most individuals enjoy using garment steamers. This tool employs a steam flow to remove creases, requiring less time and effort than standard irons. Having the best garment steamer australia at home also means cutting costs from going to professional dry cleaners. It eliminates the use of an ironing board, and by only hanging the garment on a rack and steaming, it guarantees top-quality results. 
---
10 Best Garment Steamers in Australia 2023: Top Brands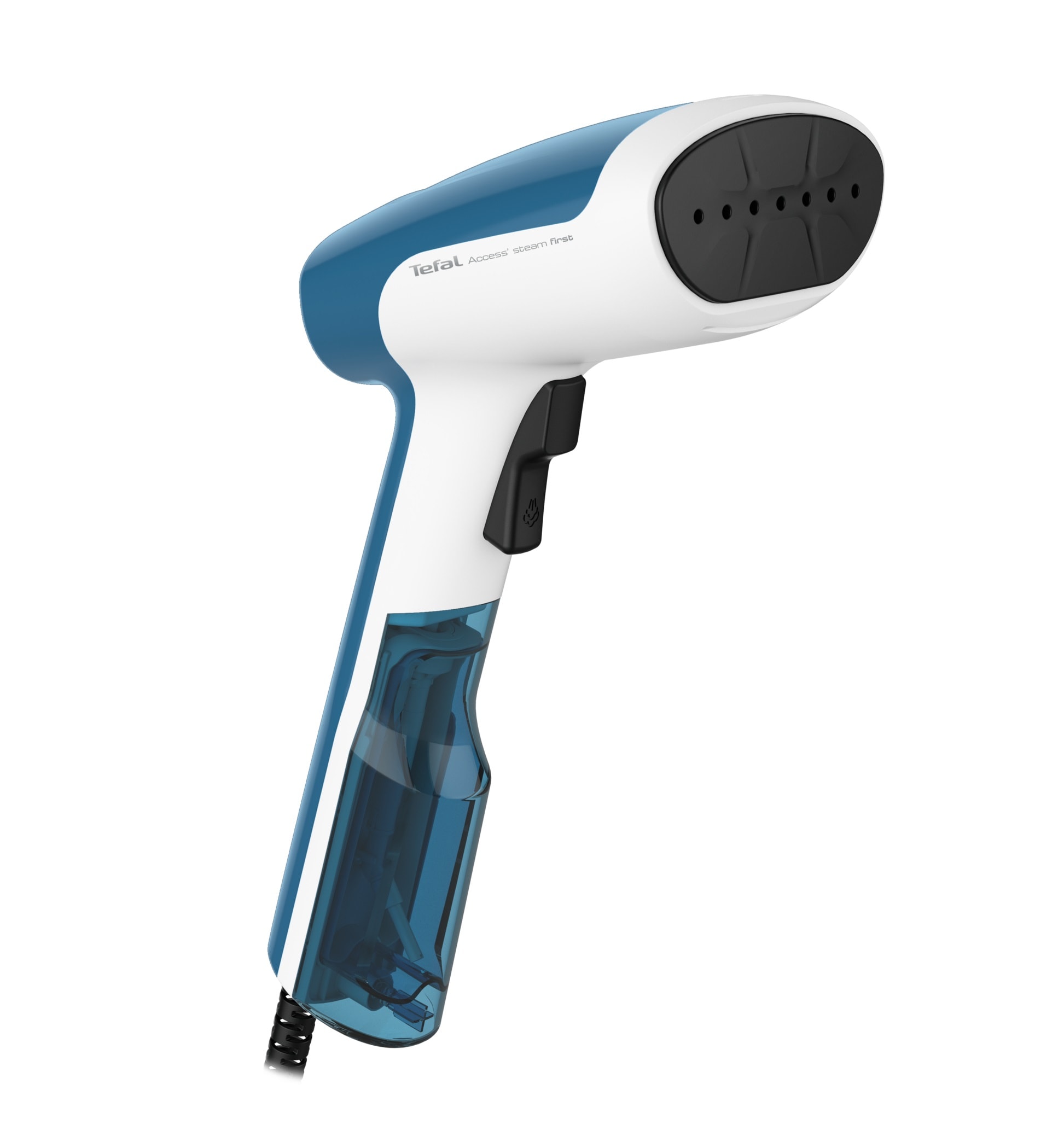 Check Tefal Access Steam First price below:
add_circle
A travel companion
add_circle
Suitable for daily steaming needs
remove_circle
It might consume more water to smoothen heavier fabrics
Why It's Our Top Pick 
The Tefal Access Steam First has a lightweight design, making it the best garment steamer in Australia. It won't cause hand fatigue and is easy to maneuver to keep clothes crease-free. It quickly gets warm and delivers continuous steam for garments to look as good as new. Plus, anyone can afford this garment steamer for under a hundred bucks. 
Product Overview
Add Tefal Access Steam First to your must-haves for traveling. Despite its small size, the garment steamer has fantastic features that work with any fabric. One is a steam brush with quick heating and strong steam release.
Specification/Features
Power Source: 1300 watts

Steaming Capacity: 70 milliliters 

Steam Settings: Fast heating and continuous steam release

Steam Nozzle/Head: not mentioned

Steam Output: 20 grams per minute 
The steam brush releases powerful steam to smooth clothes, making it suitable for fabric care. This handheld garment steamer is made of light, durable plastic. The 70-milliliter water tank would heat up in 15 seconds to begin steaming clothes. It is also simple to store in your home.
Performance
Its steam performance impresses a lot of households. With the Tefal Access Steam First, you can be sure of a quick, safe result that can last longer for everyday use. It also saves up energy compared to regular irons.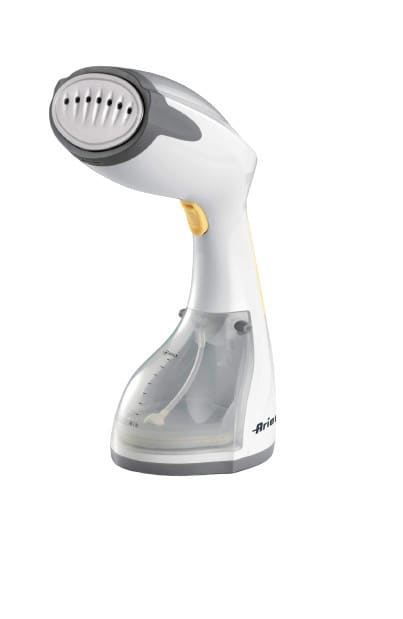 Check Ariete Vertical Deficiency Steamer price below:
add_circle
Durable construction
add_circle
Travel-friendly
remove_circle
It has less water capacity
Product Overview
The Ariete Vertical Deficiency Steamer is perfect for ironing curtains - no need for an ironing board to have curtains crease-free. It helps disinfect clothes, making them fresh and soft in a breeze. 
Specification/Features
Power Source: 1200 watts

Steaming Capacity: 260 milliliters

Steam Settings: Quick ironing

Steam Nozzle/Head: not mentioned

Steam Output: 20 grams per minute
It has a stainless steel sole that is safe for fabrics and provides quick results. Ironing requires hanging the clothes on a rack - all thanks to its upright design. Even beginners can enjoy using the garment steamer with the added water level indicator and easy-to-press button on the steamer's handle. 
Performance
Tefal added a long cord, making it possible to iron and steam the curtains from top to bottom. It is less expensive than standard irons and supports comfort and ease of use. Moreover, you can easily transport the garment steamer in a suitcase.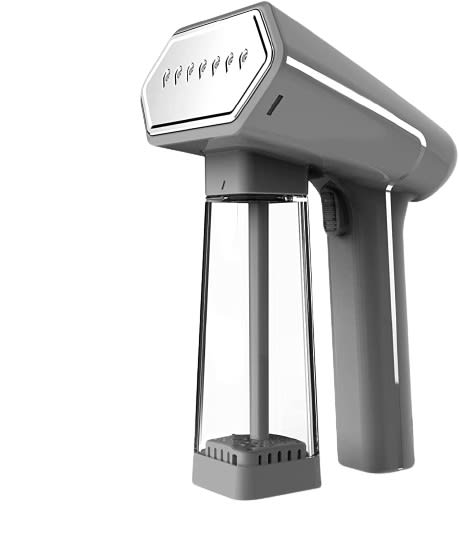 Check SteamOne Steamer And Steam Straightener price below:
add_circle
Effective at removing bacteria from clothing
add_circle
Ergonomic handle
remove_circle
Not as effective as regular irons at removing wrinkles.
Product Overview
SteamOne is one of the garment steamer brands trusted by professionals. They enjoy various benefits, including a shorter heating time, a compact design, and a powerful steam that is safe for all fabric types. 
Specification/Features
Power Source: 1800 watts

Steaming Capacity: 140 milliliters 

Steam Settings: Antibacterial steam function, 8-minute continuous steam

Steam Nozzle/Head: not mentioned

Steam Output: 28 grams per minute
It features a 1.9-meter-long cable for a more extensive scope of applications. The garment steamer's compact design promotes peace of mind, including a stainless steel plate and its grey chrome finish. It also has a backlit button to ensure the device works with a specific fabric in your sight. Lastly, having additional tools like a steam brush and crochet makes steaming easier.
Performance
This garment steamer can get rid of microbes and germs in your closet. When plugged in, it is ready to produce steam in forty seconds and allows you to steam garments for 8 minutes straight!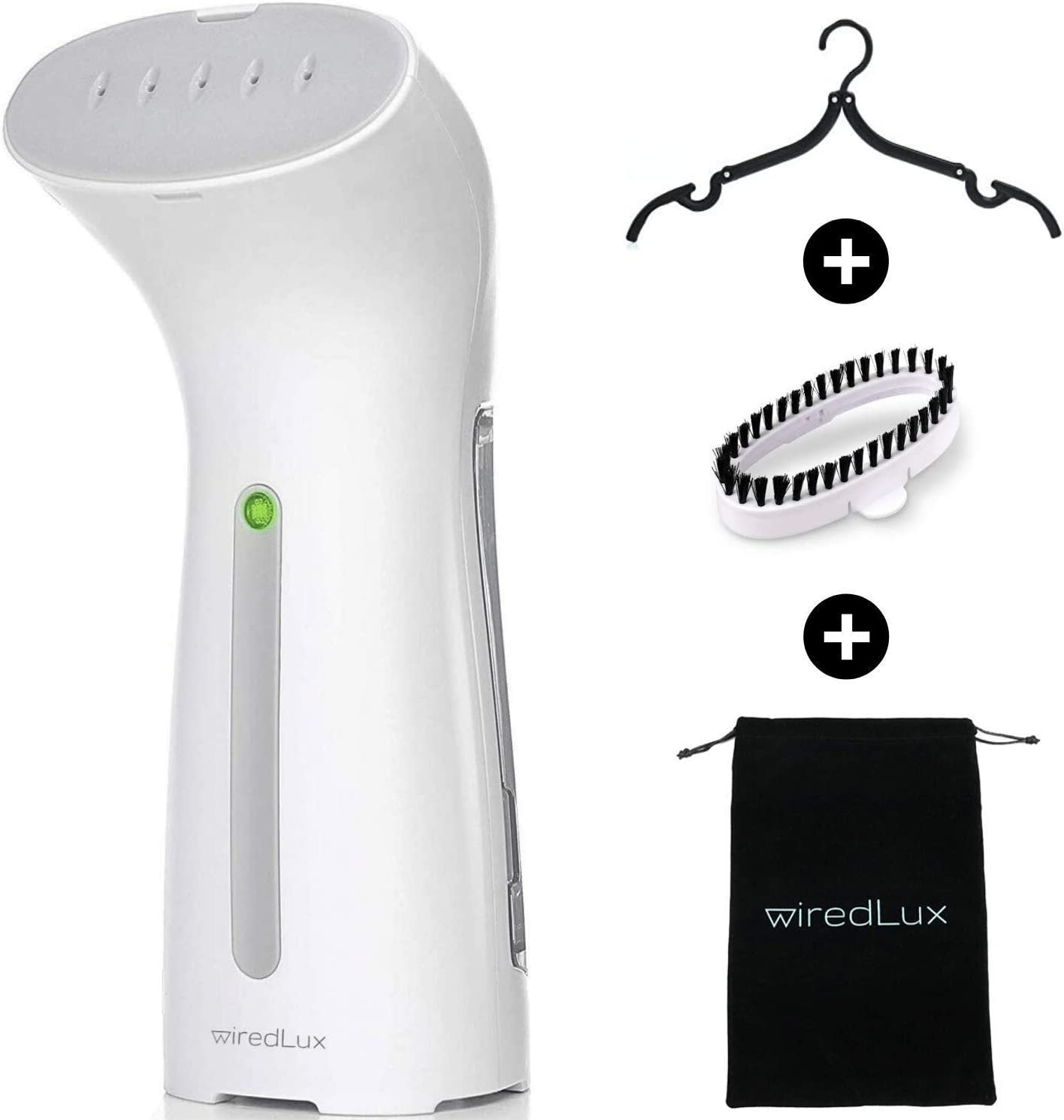 Check WiredLux Flat And Vertical Garment Steamer price below:
add_circle
Great value for the money
add_circle
Good for delicate fabrics
add_circle
Built with an integrated filter to deal with water impurities
remove_circle
A bit bulkier
Product Overview
This small clothes steamer can eliminate wrinkles and awful scents from your wardrobe and protect delicate fabrics like linen. It will save you time as the steam iron warms up in around 25 seconds, making your garments look wrinkle-free.
Specification/Features
Power Source: 800 watts

Steaming Capacity: 100 milliliters

Steam Settings: 360-degree steaming angle, 10-minute continuous steam

Steam Nozzle/Head: not mentioned 

Steam Output: not mentioned 
The garment steamer's leak-proof design makes it suitable for upright and flat ironing. Its cool-touch handle makes it easy to de-wrinkle clothing without burning your hands. While the steam head kills bacteria, removes odors from wardrobes, and is gentle on delicate linens. Additionally, you will get a carry bag, steam brush, and portable hanger to complete your steaming needs. 
Performance
What makes WiredLux Mini Garment Steamer unique is its versatile build. The steamer works in a 360-degree direction, so there will be no water leakage whether you use it as a vertical or flat iron.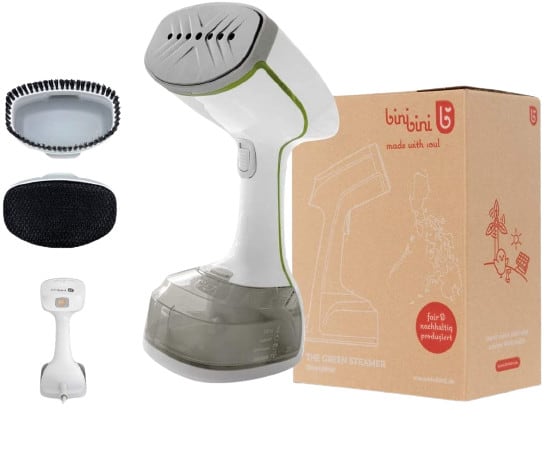 Check binibini b The Green Steamer price below:
add_circle
Had unique features
add_circle
Provides high-capacity water tank
Product Overview
The eco functions of the Green Steamer, such as turbo steam and auto shutoff, aid in energy saving. It is the best garment steamer in Australia to buy if you plan to steam clothes at home more than once a week. 
Specification/Features
Power Source: 1500 watts

Steaming Capacity: 230 milliliters

Steam Settings: Turbo steam, 27-minute continuous steaming 

Steam Nozzle/Head: not mentioned

Steam Output: 27 grams per minute 
Avoid refilling the tank more often with the steamer's extra large water tank, perfect for your daily laundry needs. It warms up in less than 30 seconds and has a lock button to enable continuous steaming. Either fine or fabric brush will work to remove wrinkles, depending on the fabric type. You can also switch on the turbo mode to quickly remove creases and foul odors. 
Performance
The device will shut down upon reaching the proper heat to steam fabrics. This feature saves up energy, making the garment steamer eco-friendly. You can adjust the speed level between normal and turbo modes to match your laundry capacity.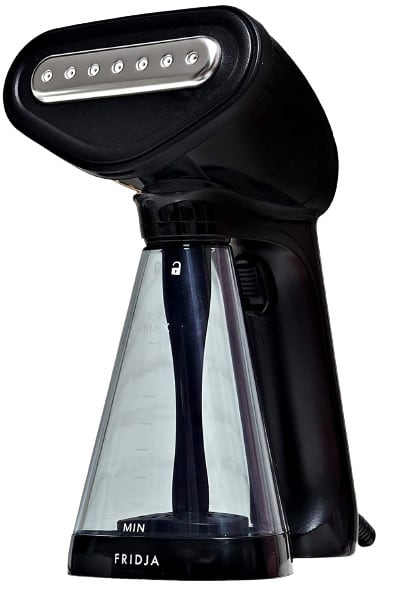 Check Fridja F-10 Clothes Steamer price below:
add_circle
Perfect for travels
add_circle
Made of durable stainless steel plate
remove_circle
It supplies inconsistent steam flow
Product Overview
Fridja F-10 includes a collar press and portable hanger, which helps to melt creases over suits. The brand will teach you how to use a garment steamer like this. 
Specification/Features
Power Source: 1500 watts

Steaming Capacity: 260 milliliters

Steam Settings: 14-minute continuous steaming, quick steam 

Steam Nozzle/Head: not mentioned 

Steam Output: not mentioned
An electric pump system is equipped, so Fridja F-10 becomes as good as full-sized steamers. It is made of an ironing plate that produces solid steam for fabric wrinkles. An auto-shutoff feature protects the garment steamer and clothing from damage. The key features also include a carry bag and a fabric guard. 
Performance
The handheld clothes steamer prevents arm fatigue because it is super lightweight. Apart from suits and dresses, Fridja F-10 can also smoothen beddings and curtains.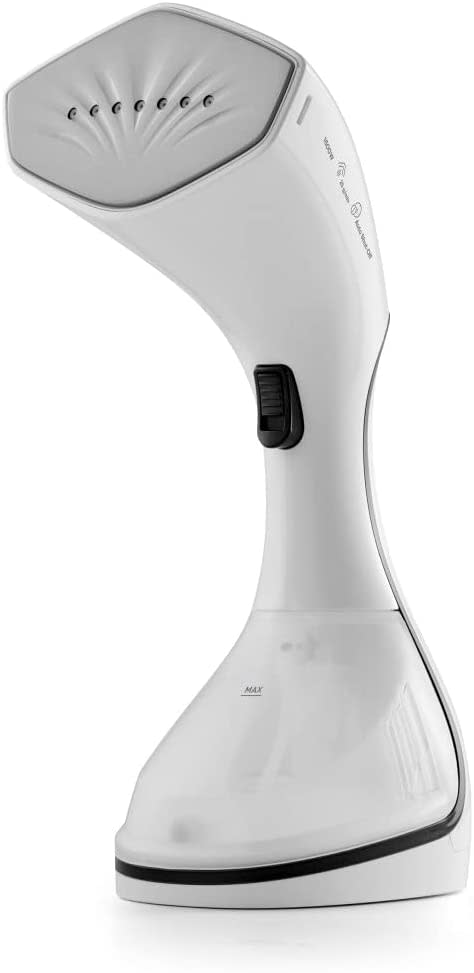 Check BEKO Travel Ceramic Steam Smoother price below:
add_circle
It warms up quicker than other steamers
add_circle
High-capacity water tank
add_circle
It has a modern design
Product Overview
A garment steamer made of ceramic plate, with seven steam outlets, heats faster than stainless steel models. BEKO also guarantees it is safe for all fabrics with a high-performance motor for effortless and quick steaming. 
Specification/Features
Power Source: 1600 watts

Steaming Capacity: 230 milliliters

Steam Settings: Anti-drip function 

Steam Nozzle/Head: not mentioned

Steam Output: 25 grams per minute
The BEKO Travel Ceramic Steam Smoother has a long cord to give you freedom for vertical steaming. With its modern design, you can easily grip and drive the steamer. Refill the tank with tap water when empty for continuous steam. It features an anti-drip function that helps prevent stains and protect the steamer from possible damage. It is Airmid certified to ensure your safety. 
Performance
It is a powerful, cost-efficient, portable garment steamer for everyday use. This ceramic garment steamer can surely provide hotter steam than its competitors. It is also suitable for cushion covers and other hard fabrics.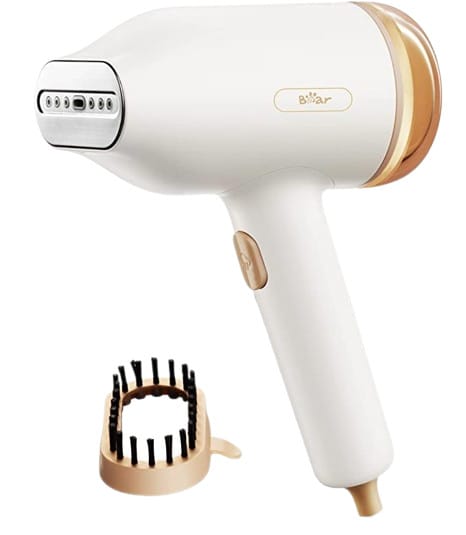 Check Bear 1000W Handheld Garment Steamer price below:
add_circle
A small but terrible garment steamer
add_circle
Powerful than its competitors
add_circle
Designed for a wide range of fabrics
Product Overview
This handheld steamer garment uses new technology to generate steam as fast as 10 seconds. Thus, you can press all types of fabrics quicker and save energy. It is compact and perfect for home and travel use. 
Specification/Features
Power Source: 1000 watts 

Steaming Capacity: 120 milliliters 

Steam Settings: 10-minute continuous steaming, 20-degree steaming angle, quick steaming 

Steam Nozzle/Head: not mentioned

Steam Output: not mentioned
It is portable yet has a longer power cord to easily iron clothes from the drawer. Thanks to its anti-spilling design, you can use the garment steamer in two ways - horizontally and vertically. The size of the tank can hold enough water to penetrate all fabrics and steam them with a single button press. You can attach the brush to eliminate dust with the help of strong steam.
Performance
It is the perfect size garment steamer to carry anywhere. It quickly heats up to remove stubborn creases, making clothes look new and soft. The lightweight item works well with silk, wool, cotton, linen, nylon, and plush fabrics.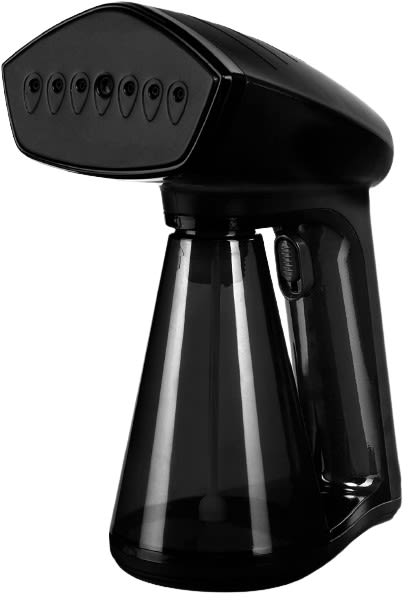 Check ZEEGMA Handig Iron Steamer price below:
add_circle
The brush attachment is ideal for a thicker fabric
add_circle
It has an ergonomic shape
add_circle
Includes a carrying bag
Product Overview
This steamer's anti-drip technology prevents water droplets from escaping and staining your clothes. It is portable, making it easier to take on the go.
Specification/Features
Power Source: 1500 watts

Steaming Capacity: 260 milliliters

Steam Settings: 3-levels of steam power

Steam Nozzle/Head: not mentioned

Steam Output: 30 grams per minute 
This steamer is designed for thicker fabrics, such as curtains, bed sheets, and woolen clothes, making it perfect for winter wear. It allows continuous usage of up to 8 minutes. It has a fast heating time of just 40 seconds, allowing for quick and efficient use due to its automatic shutoff feature activates when the water tank runs dry or the steamer overheats. You will be safer to use it. 
Performance
The ZEEGMA Handig Iron Steamer is highly efficient and effective in removing wrinkles and creases from thicker fabrics. It's dual function and large water tank capacity makes it a reliable tool for all your ironing needs. Its fast heating time and anti-drip technology provide quick and hassle-free results. Its portability and safety features make it a convenient and secure option for home or travel use.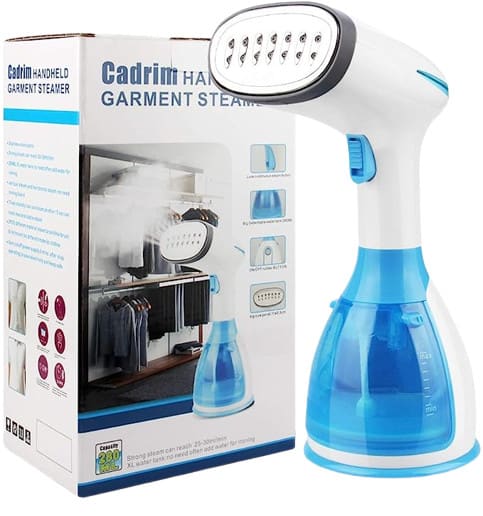 Check Cadrim Mini Iron And Steamer price below:
add_circle
High steaming capacity
add_circle
Improves safety
add_circle
Durable design
Product Overview
This portable iron and steamer guarantee top-quality garments care. It highlights a heat-resistant design, suitable for long hours of use. With Cadrim Mini Iron And Steamer, most commercial spaces make outfits crease-free.
Specification/Features
Power Source: 1500 watts

Steaming Capacity: 280 milliliters

Steam Settings: Lock continuous steam, vertical and horizontal steaming, quick steam 

Steam Nozzle/Head: not mentioned

Steam Output: not mentioned 
The garment iron and steamer is an efficient unit that works with any outfit. The fast-heating feature lets you start steaming 20 seconds after plugging it in. It can release constant steam for 9 minutes or beyond. Additionally, it won't trigger leakage, which enhances safety for every use. On the other hand, the ironing feature works well vertically to deliver clean and fresh fabrics.  
Performance
Thanks to its gravity water pump, you can use the garment steamer at any angle. Cadrim also added an auto shutdown to control temperature not going beyond its limit. Many businesses love the separate button for locking continuous steam, which helps them finish laundry faster.  
---
What is a Garment Steamer? How to Use Garment Steamer
A garment steamer uses hot steam to remove wrinkles and freshen clothes, curtains, upholstery, and other fabrics. It is a faster, safer, and more efficient alternative to ironing. Garment steamers are available in various sizes, shapes, and designs, but most consist of a water tank, a heating element, a steam nozzle, and a hanger or a rod to hold the garment. 
To use a garment steamer: 
Fill the water tank with distilled or filtered water and securely attach it to the steamer unit. 

Turn on the steamer and wait for it to heat up (usually takes 1-2 minutes). 

Hang the garment on a hanger or a flat surface. 

Hold the steam nozzle a few inches from the fabric, and move strokes upward to release the steam. 

If there are stubborn wrinkles, use the steam head to press down on the fabric and pull it taut. 

Repeat the process on all garment areas until all wrinkles are removed. 

Let the garment dry for a few minutes before wearing or storing it. 
Note: Always follow the manufacturer's instructions and safety guidelines when using a garment steamer. Only steam delicate fabrics or clothes with decorative prints or embellishments after testing them on a small inconspicuous area first.
---
Garment Steamer Vs. Cordless Iron
A garment steamer can quickly remove wrinkles and freshen up clothing without needing an ironing board or pressing down on the fabric, such as silk and lace, without damage. It also sanitizes items, such as bedding and upholstery, by killing bacteria and dust mites with steam. It is more expensive than a traditional iron and can take up more space as they tend to be larger and require a separate water tank. 
While a cordless iron provides a more precise and crisp result as it allows you to get into small areas, such as collars and cuffs. - It is perfect for heavier materials like denim and wool and is less expensive than a garment steamer. It can be more convenient with limited space as it does not require a separate water tank. 
Choosing between a garment steamer and a cordless iron will ultimately depend on your needs and preferences. Consider factors such as the types of fabrics you will be working with, your space limitations, and your budget.
---
Buying Guide: How To Choose A Garment Steamer
Considering these factors, you can find the best garment steamer in Australia to fit your needs and budget.
Type of steamer: There are two types of garment steamers - handheld and upright. Handheld steamers are easy to handle and are ideal for quick touch-ups and travel, while upright steamers are larger and are suitable for steaming more oversized garments. 
Water Tank Capacity: The water tank capacity of a garment steamer varies from one model to another. Choose a larger tank capacity model if you want to steam multiple garments simultaneously. 
Steam Time: refers to a steamer's time to heat up and produce steam. Look for a steamer that heats up quickly and can produce steam for a longer duration without the need for frequent refills. 
Power Rating: The power rating of a steamer determines how quickly it heats up and produces steam. A higher power rating means the steamer will heat up and make steam faster. However, a higher power rating also means higher energy consumption. 
Attachments: Check for the availability of attachments like crease tool, lint brush, and fabric brush, which make it easier to steam different types of fabrics, textures, and areas of garments. 
Durability: Ensure that the garment steamer you choose is made of high-quality materials to prevent breakdowns and keep it running efficiently for longer. 
Price: Garment steamers are available at varying price points. Choose a garment steamer that fits your budget while considering your requirements and preferences. 
Brand Reputation: Choose a well-known brand with a good reputation for producing a high-quality garment steamer review. 
Warranty: Look for a garment steamer with a reasonable warranty period to protect you against manufacturing defects or failures.
---
Best Garment Steamer Brands in Australia
In Australia, several reputable garment steamer brands are known for their quality and performance. Here are the five top garment steamer brands in Australia:
Philips 
It is a well-known brand globally and offers a range of high-quality garment steamers. Their steamers are known for their advanced features, durability, and effective performance.
Tefal 
It is another popular brand that manufactures reliable and efficient garment steamers. They provide a range of models with different features, such as adjustable steam settings and quick heat-up times.
Sunbeam 
A trusted Australian brand that produces a range of household appliances, including garment steamers. Their steamers are known for their user-friendly design, powerful steam output, and effective wrinkle-removal capabilities.
J-2000 Jiffy 
This is a reputable brand that specializes in professional-grade garment steamers. Their steamers are commonly used in commercial settings but are also popular among individuals who desire high-performance steamers for home use.
Kambrook 
It is an Australian brand that offers affordable and reliable garment steamers. Their steamers provide decent performance and are suitable for regular household use.
It's worth noting that availability and specific models may vary over time, so it's recommended to check the latest offerings from these brands when considering a purchase. Additionally, It is highly recommended to review feedback from customers and compare features to find the garment steamer that best suits your needs.
---
Where to Buy Garment Steamers in Australia?
Here are a few popular options for purchasing garment steamers in Australia from various locations:
Retail Stores: You can visit major retail stores that sell household appliances, such as department stores (Myer, David Jones), home improvement stores (Bunnings Warehouse), and electronics stores (Harvey Norman, JB Hi-Fi). They often have a dedicated section for garment steamers to compare brands and models.

Online Retailers: Online shopping platforms offer a convenient way to browse and purchase garment steamers from the comfort of your home. Some popular online retailers in Australia include:

Brand Websites: Many garment steamer brands have official websites where you can explore their product range and purchase directly. Visit the websites of the brands mentioned earlier, such as Philips (

www.philips.com.au

), Tefal (

www.tefal.com.au

), Sunbeam (

www.sunbeam.com.au

), J-2000 Jiffy (

www.jiffysteamer.com.au

), and Kambrook (

www.kambrook.com.au

), to find more information and links to authorized retailers.

Specialty Stores: Some specialty stores focused on home appliances, kitchenware, or clothing care may carry garment steamers. These stores may offer a wider range of options and well-informed personnel who can assist you in selecting the right steamer for your needs.
Before making a purchase, it's comparing prices, reading customer reviews, and checking the warranty and return policies is advisable. Additionally, watch for ongoing sales, promotions, or discounts that could help you get the best deal on your garment steamer.
---
Garment Steamer Price Range in Australia
The price range of garment steamers in Australia can vary depending on various factors, such as the brand, model, features, and overall quality. Here's a general overview of the price range you can expect:
Entry-level/Basic Models: Entry-level garment steamers typically have simpler designs, lower steam output, and fewer features. They are suitable for light use and are more affordable, typically from AUD 50 to AUD 100.

Mid-Range Models: Mid-range garment steamers offer better performance, higher steam output, and additional features such as adjustable steam settings, larger water tanks, and faster heat-up times. These models usually fall within the price range of AUD 100 to AUD 200.

Premium/Professional Models: Premium garment steamers are often designed for more heavy-duty use and have larger water tanks, advanced features, and stronger steam output. They may also have longer warranty periods and are built to last. Prices for premium or professional-grade garment steamers can range from AUD 200 to AUD 500 or more.
It's important to note that these price ranges are general estimates, and there can be variations depending on the brand, retailer, and any ongoing promotions or discounts. Additionally, prices may change over time due to market demand and product availability.
When considering the price, it's evaluating the features, performance, durability, and customer reviews is essential to ensure you're getting the best value for your money.
---
Conclusion 
In conclusion, garment steamers have become a popular alternative to traditional ironing. They offer a convenient and effective solution to removing wrinkles and creases from clothes, curtains, and other fabrics. The best garment steamer Australia has unique features, such as different steam settings, compact designs, and safety features, making them a suitable option for domestic and commercial use. Whether you want to save time or avoid damaging delicate fabrics, a garment steamer can be a valuable addition to your laundry routine.