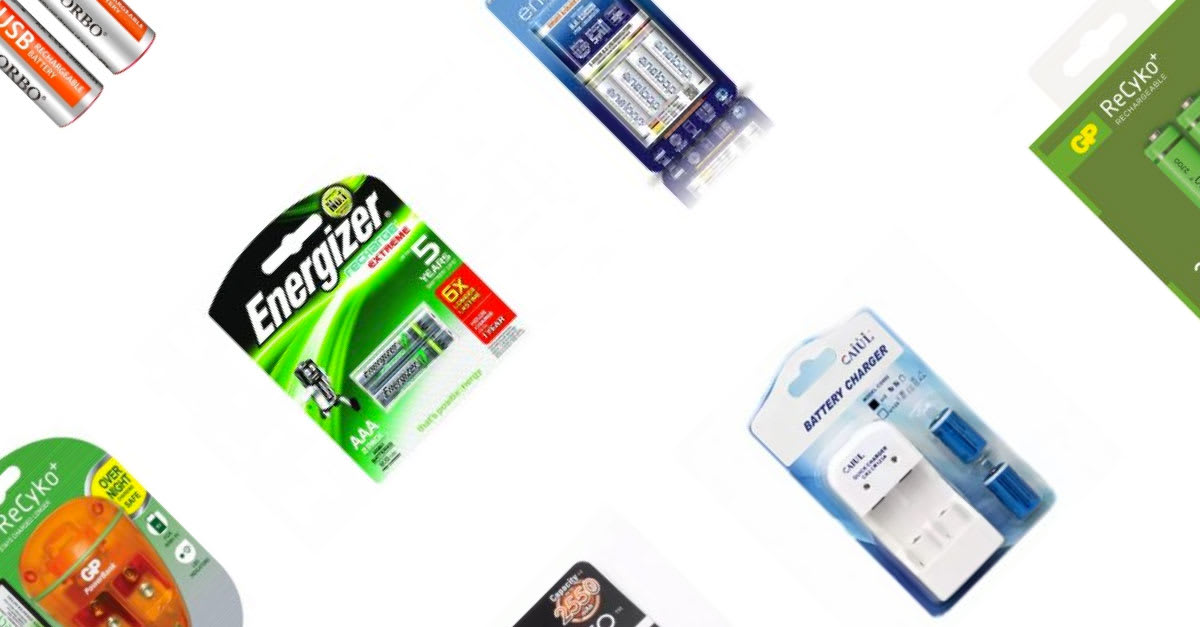 Back in the day, rechargeable batteries were a luxury. Not everyone owns one because they're not that essential, and they're expensive. Today, however, trusted battery brands now offer rechargeable batteries at an incredibly affordable price.
Furthermore, we are so dependent on devices that need a couple of cells for them to work. So why not invest in batteries that you can use again and again. Save money and be more practical with these eight rechargeable batteries.
Best rechargeable battery with charger
Price from SGD36.00
The first product on our list comes with a charger. And it's the one we best recommend for people who are new to rechargeable batteries. It comes with four 2,000 mAh that's powerful enough to power your TV remote for months. Plus, you can recharge these cells up to 2,100 times.
Other than its reliable power output, you'll also love its charging speed. It only takes about an hour and a half to load these batteries with juice completely. Overall, it's an excellent purchase for anyone in need of rechargeable batteries with a charger.
3 people added this to their wishlist
Best eneloop rechargeable AA batteries
Price from SGD25.80
If you need to power some heavy, high-drain electronics, then the battery you need is the Panasonic eneloop Pro. It has a high power capacity of 2,550 mAh. But what makes it ideal for devices like DSLR flashes and the likes is its quick energy cycle. That means it can ready up the next flash or burst of energy in just a matter of milliseconds.
This battery also excels in its performance longevity. It's able to preserve 85% of its maximum power even after a year of use, which isn't common for typical rechargeable cells. The only thing that you might dislike about it is its recharge limit; it can only handle about 500 recharges.
Best AAA rechargeable batteries
Price from SGD18.00
Some batteries are less common than others, and the perfect example is AAA batteries. Although you won't be using them on a lot of devices, they're still handy, especially for small electronics. If you need some AAA cells, we only recommend the Energizer AAA Recharge Extreme.
First of all, it's going to last up to five years. So you're going to save a lot of money as it's just going to be a onetime purchase. Second of all, it has an 800 mAh capacity, which is relatively high for AAA standards. And lastly, it's about SGD 12.00 apiece.
Best 18650 rechargeable battery
Price from SGD41.80
We all know the common batteries available everywhere such as AA, AAA, C, and Ds. However, some devices, especially new ones, need something more sophisticated. And we're talking about 18650 batteries that are used for vapes, new types of LED flashlights, and slim recorders.
The only 18650 rechargeable battery we recommend is the Nitecore NL1835HP. Why? Well, first and foremost, it's safe. One of the most common issues with low-quality 18650 batteries is that they overheat. But with this battery, you're assured that you'll have no problems whatsoever. It has a huge 3,500 mAh capacity and has a lifespan of about 500 recharges. The only problem is it comes in singles and is quite expensive.
Best 9V rechargeable batteries
Price from SGD29.90
Another battery that's not easy to find and has very limited use is the 9V or E cells. We suggest that you buy the GP ReCyko+ PB09 if you have kids that need to energize their toys, or if you have some gadgets that require this type of battery. It comes in two 9V batteries with a charger exclusively for this type of cell.
The GP ReCyko+ PB09 can be recharged up to 1,000 times. But not only that, it can also stay charged for up to a year. So if you won't be using it for a long time, you won't have to recharge it up before using.
Best USB rechargeable batteries
Price from SGD20.00
Next on our list is the most innovative battery of the bunch, the SORBO USB Rechargeable AA Battery. If you're not familiar with USB batteries, you might look at it as some kind of fancy flash drive. But it is what it is, a USB battery that recharges using any USB port.
Not only is it economical as you can recharge it up to 2,000 times, it's also super practical as you can carry without bringing a bulky charger. Although it only has a 1,200 mAh capacity, it's still worth buying because of its quick recharge feature. It only takes an hour to fill it up then you're good to go.
Best CR2 rechargeable batteries
Price from SGD17.90
The only reason you'd need to buy a CR2 battery is if you own a mini camera such as the mini 55/Pansonic camera. And if you do have one, you're going to love the Caiul CR2 Rechargeable Battery. The product gives you a pair of CR2 rechargeable cells and a dedicated charger.
It's ideal for traveling since it is super portable (both the charger and the cells). In addition, it's cheap and will only cost you around SGD 18.00.
Best high-capacity rechargeable batteries
Price from SGD11.80
Last on our list is the GP ReCyko+ 2 AA Rechargeable Battery. If you need batteries that can power devices for longer periods of time, this one is definitely for you. However, it isn't for fast-drain electronics but rather for toys or small tools that need a consistent stream of electricity.
It has a 2,700 mAh capacity. To put that into perspective, it can power your flashlight for about two or three days straight without turning it off. The only thing you might dislike about it is its recharge life; you can only recharge it for about 300 times, and that's it.
Disclaimer: The pricing shown is just a good indication of how much these products are worth. The prices could change based on the e-commerce promotions that are going on. If some of the products are not available, do email us at [email protected] Thank you!