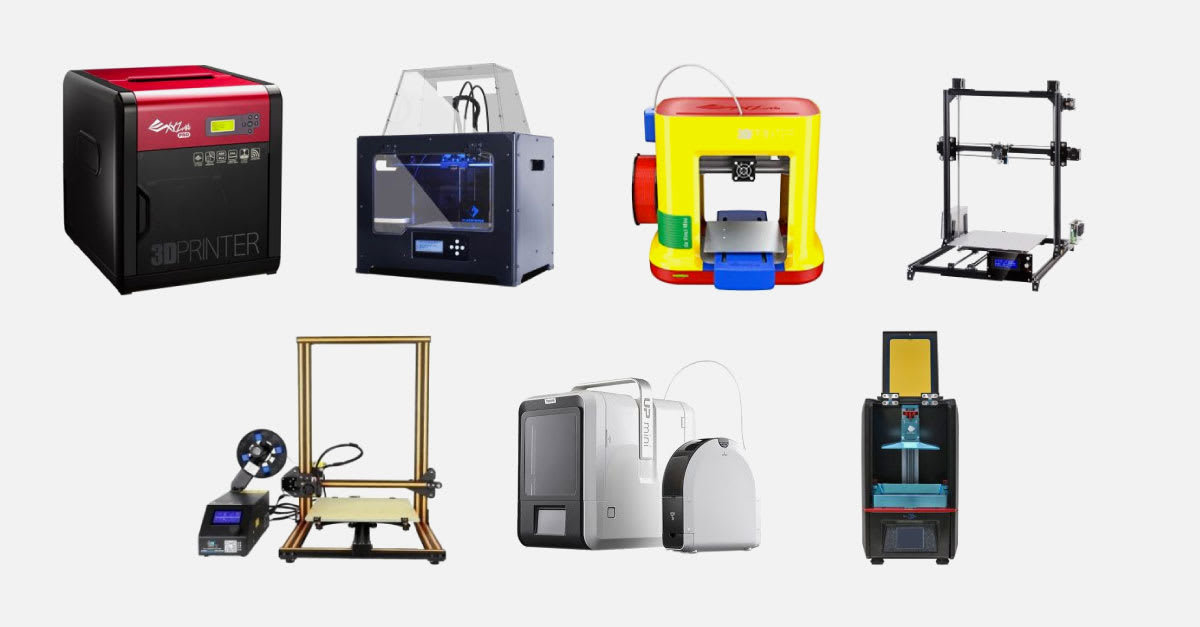 While 3D printing may seem intimidating, companies today have made them quite accessible and affordable for anyone. You may think that there isn't an urgent need for 3D printing, but it will play a major role in the future. After all, it is automated replication at a lower cost.
Even if you are not an enthusiast looking to build something, it's helpful to recreate small parts to your advantage. As they are no longer constrained to large businesses, consider owning one at home!
1. XYZprinting da Vinci 1.0 Pro
Best 3D printer with scanner and laser engraver
Price from SGD1,950.00
This multi-purpose 3D printer performs scanning and laser engraving. As a result, the printer is suitable for recreating physical objects. The laser engraving function allows for adding greater detail to the final product. Besides that, it is one of the few printers compatible with third-party filament materials. Overall, this is one of the most detail-oriented printers in the market.
2 people added this to their wishlist
2. FlashForge Creator Pro
Best 3D printer with dual extruder and enclosure
Price from SGD1,688.00
For printers with dual extruders, expect a colourful product with a solid build. This enclosed Creator Pro has integrated parts for better heat distribution. With this, you can print with a wide range of materials.
As a result, there'll be lower chances of deformities and a more efficient printing process. Moreover, it's based on open source technology thus, allowing more flexibility in the modification.
3. XYZprinting da Vinci miniMaker
Best 3D printer under SGD 1,000
Price from SGD899.00
The miniMaker is a value-for-money printer for families interested in 3D printing. This colourful printer is suitable for beginners (even children!) thanks to its easy setup. Not only that, the printer performs at a decent speed with smooth detailing. Its filaments are also quite affordable and are available in a wide range of colours.
4. FLSUN C Plus DIY 3D Printer
Best 3D printer under SGD 500
Price from SGD380.59
This DIY printer has more than just dual extruders – it includes a large build volume and auto bed-levelling. Built with two cooling fans, this supports long printing hours (around 1000 working hours) to ensure overheating doesn't occur. Additionally, the Y-axis positioning system and upgraded Z motors guarantee higher printing precision and detail.
5. Creality Ender 3 DIY 3D Printer
Best 3D printer under SGD 300
Price from SGD315.00
This printer packs more than its price. While it must be manually calibrated and assembled, the open source printer achieves a decent printing performance.
Furthermore, it prints various filament materials. With power recovery mode, the Creality Ender 3 can resume printing after a power outage. Its tight filament path also ensures greater compatibility with flexible filaments.
5 people added this to their wishlist
6. Creality CR-10
Best 3D printer with a large build volume
Price from SGD638.44
It's rare to find 3D printers with a large build volume at an affordable price. The easily assembled Creality CR-10 is that and more. With a build volume of 300x300x400mm, this popular printer includes a heated build-plate and solid metal build. It has also amassed a dedicated community, recommending it as suitable for beginners.
3 people added this to their wishlist
7. Tiertime UP Mini 2
Best 3D printer with automatic bed-levelling - suitable for beginners
Price from SGD1,299.00
The portable UP Mini 2 is a beginner's long-term investment as it's suitable for both starters and prosumers. This user-friendly printer comes with a dedicated software studio and is controllable via Wi-Fi. It also features interchangeable print surfaces, full enclosure, and automatic nozzle height detection. Overall, one is guaranteed higher product quality and detailing for the ideal 3D product.
8. Anycubic Photon
Best 3D printer for miniatures
Price from SGD719.80
For those interested in printing their own miniatures for tabletop games, the Anycubic Photon is a reasonable option amongst other SLA/DLP printers. This resin-based printer with 2K LCD masking screen can create finely detailed 3D miniatures at 25-100 microns. The Photon Slicer also finishes slicing a 30MB file in one minute! Results? Quick, simple, and high-quality miniatures at your disposal.
More: 8 Printers That Can Make Work, School, and Life Better
2 people added this to their wishlist
Disclaimer: The pricing shown is just a good indication of how much these products are worth. The prices could change based on the e-commerce promotions that are going on. If some of the products are not available, do email us at [email protected] Thank you!