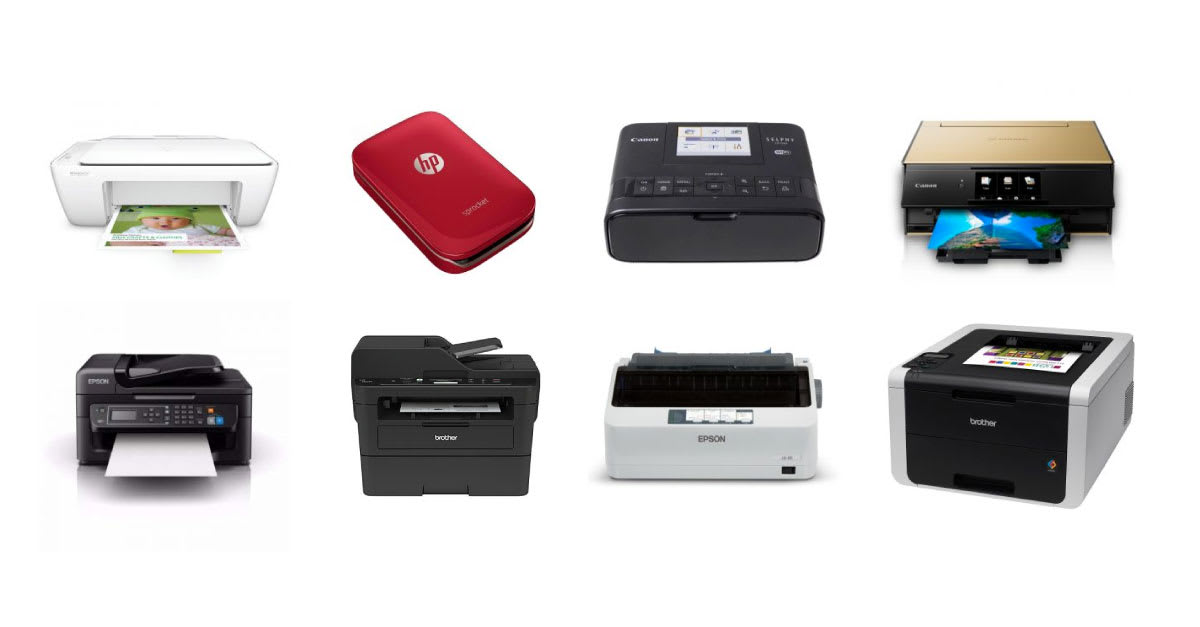 Physical documents and photographs are no longer that common, but we still love having them around. Although technology may have digitized almost everything with words and images today, there's still something about prints that we just can't get enough of. Like, who doesn't want to keep a family picture in their wallet, right?
If you're like us who wants to print their pictures and documents, you're going to need a printer. And lucky for you, we've covered eight of the best printers to help you with work, school, and for the mere joy of printing.
Best cheap 3-in-1 printer
Price from SGD40.90
First on our list is an incredibly affordable printer that's hands down versatile, the HP DeskJet 2130. For starters, it can print, scan, and photocopy in just a matter of seconds. However, the colored-print quality it produces is only decent at best.
Of course, due to DeskJet 2130's price, you can't expect it to yield jaw-dropping results. And aside from that, the ink cartridges for it to work are a bit expensive (which is common for cheap printers).
We recommend the DeskJet 2130 to people on a budget who wants to have a working printer at home. Although it doesn't print excellent pictures, it does well with text. It also gives you the privilege to scan documents and old photos to digitize them for less than SGD 40.00.
Best mobile wireless printer
Price from SGD139.00
If you love taking photos while on the go and eager to have physical copies right away, then the HP Sprocket is for you. At a glance, it's the same size as a power bank and weighs the same, too.
You can connect to the printer using your smartphone or tablet via Bluetooth. Although its accessibility is quite limited, it does compensate for its portability. Nonetheless, it's sturdy and prints quality photos.
The Sprocket is reasonably priced and doesn't need any ink for it to work. However, it does need its HP ZINK® Sticky-Backed Photo Paper, which is a bit expensive compared to other print papers. If you buy about 200 sheets of it (you can only load ten at a time), you'll end up spending more than what you paid for this printer.
Best portable Wi-Fi photo printer
Price from SGD179.99
If the previous product isn't good enough for you and you want to level things up, you'll appreciate the Canon Selphy CP1300. This printer is portable and yields high-quality photos that are sellable enough.
It's straightforward and easy to use. By only reading the button labels, anyone can use it. The maximum print size is 6 x 4 inches, so you're not stuck with one photo size compared to the HP Sprocket.
This printer is an ideal choice for professional photographers who'd like to offer their skills to the public. Since it's just around one kilogram, you won't have a challenge bringing it with you.
Best inkjet printer for home use
Price from SGD138.00
Next on our list is the one we strongly recommend for home use, the Epson WorkForce WF-263. In a nutshell, this printer is a staple; it can do everything a modern printer should do. So you can print, scan, copy, and even fax.
The WF-263 will help you with your school or work when it comes to faxing or printing documents. And with its superb printing speed (34 prints per minute), rush printing is possible. It also has a decent photo print output, which is a huge plus to help you save money when printing family photos.
Unlike office printers, this one is fairly easy to set up and use. Although operating it needs a bit of practice, you should be comfortable enough after a few days of using it.
Best black and white laser printer
Price from SGD225.99
The only time you'd want to opt for a black and white or monochrome printer is when you need to print a lot of text. And if you do have a lot of documents that need to be materialized, the Brother DCP-L2550DW is here for you.
First of all, it's heavy-duty and can print about 36 sheets per minute. It has a 250-sheet tray and has a single-sheet multipurpose feeder to give you other options. Although it's heavy (12 kilograms) and bulky, it does compensate for being super durable.
With the DCP-L2550DW, you'll enjoy low-cost printing at around 3 cents a page. You can go even less if you set the quality to low, which isn't a big deal since you're just dealing with text after all.
Best dot matrix printer
Price from SGD294.00
If you need to a printer for your business and you want to save a lot of money, then the Epson LQ-310 is for you. To start, this is a dot matrix printer, which means it uses impact technology (old school).
The main reason you'd want this printer is its durability and printing price. To give you a rough estimate, you might only be spending about a cent for every two or three sheets. Plus, since it operates by putting force/pressure to print, you can use carbon papers for instant copies. This type of printer is used by hospitals, repair centers, and other businesses for bills and customer documents.
The Epson LQ-310 is around SGD 300.00, but the time it will serve you and the savings you'll get is a sure return on investment. Perhaps, the only negative thing about this printer is that it's almost useless if you're not going to use it for business purposes.
Best all-in-one printer with scanner
Price from SGD369.00
If you want a printer that can give you the ultimate print quality, we recommend the Canon PIXMA TS9170. Although it's expensive, it won't let you down – every print will just put you in awe.
It's the best all-in-one printer of the bunch and can do just about anything. It has a full touchscreen display with simple navigation controls for a stress-free experience. And you can even use this printer without connecting to a computer or smartphone. You only need to insert a memory card and access the images you want to print on the display.
With an impressive processor and a 6-ink system, all your printed pictures will look vivid and beautiful. You can even tweak and enhance images using its creative filters straight from the machine! In addition, it looks classy with its gold casing and stylish box-like design.
Best color laser printer with duplex printing for offices
Price from SGD392.00
Last on our list is the Brother HL-3170CDW, a laser color printer designed for the working environment. The first thing we'd like to mention is it has a fast colored printing speed of around 22 prints per minute. If you need to print important presentations without settling for black and white, you'll be happy with its results.
This printer also has a duplex feature, which means you can print on both sides of the paper automatically. Plus, it's also super economical for colored printing standards. Each page will just cost about 17 cents! And that's already in high settings.
The only thing that we consider missing is a scanner. Although it's intended for office use to print loads of documents in high quality, a scanner would have made it better.
Disclaimer: The pricing shown is just a good indication of how much these products are worth. The prices could change based on the e-commerce promotions that are going on. If some of the products are not available, do email us at [email protected] Thank you!