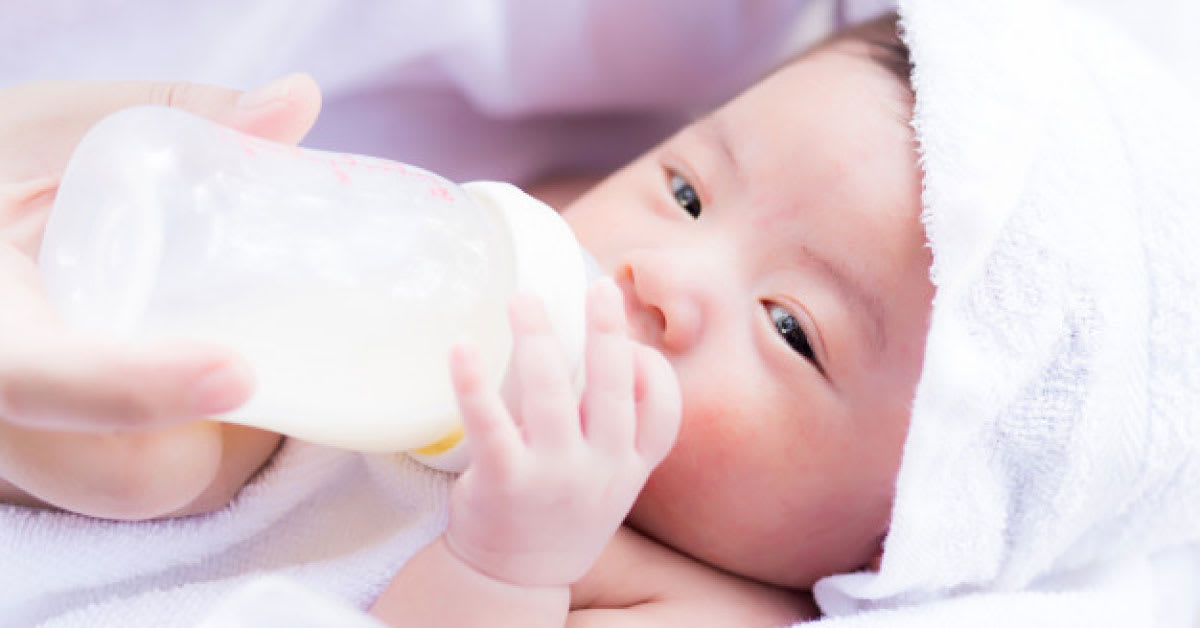 It's a blessing if all mothers can breastfeed their little one for as long as they can as breast milk is the best food for a newborn's growth and development. However, there are possibilities where breastfeeding is not an option. This includes health reasons, milk production struggles and tight schedules.
Therefore, some mommies turn to formulas for necessary nutrition to a healthy and happy developing baby!
Formulas can be difficult to decide on as there's a wide range of them. Therefore, here are some recommendations that are nutritious for your new bundle of joy.
Best for newborns with gas
Price from SGD69.85
Enfamil A+ Stage 1 Gentlease Infant Formula Baby Milk Powder is suitable for newborns at up to 12 months, especially if they struggle with gas and bowel movements. What this formula does is to ease the discomfort that comes from a developing digestive system.
Consisting of DHA and proteins that break down easily to create smooth digestion system, it will keep unwanted fullness of bowel movements. Moreover, the formula has choline to promote health brain and eyesight development during a baby's first year. A great choice when it comes to switching from breast milk or as their first formula!
Best milk for newborn to gain weight
Price from SGD62.40
Similac Abbott NEOSURE Infant Formula Stage 1 has the perfect formula for newborns who needs the necessary support and extra nutrition in their first-year development. Containing immunity ingredients plus increased protein, energy, vitamins and minerals, it provides extra calories to help nourish lightweight infants.
All of those supports growth with its calcium properties as well as phosphorus for baby's growing and stronger bones. Additionally, it helps to support your little one to have better gains in brain and eye development with AA and DHA.
Best soy milk powder for newborn
Price from SGD50.50
Some babies may be allergic to the protein in a cow's milk and requires a vegan option based on doctor's recommendation. Therefore, Dumex Mamil Gold Soy Infant Formula Stage 1 with prebiotics is a good support for a healthy digestive system.
Containing U.S.A Soy Protein Isolate, it mainly helps in supporting tissue building and healthy growth. The formula is suitable for infants with lactose intolerance which requires special feeding needs. Other features include Omega 3 & 6 essential fatty acids, precursors of DHA and ARA.
Best baby formula for constipation
Price from SGD66.90
If your baby experience constipation, stomach discomforts or other symptoms like colic, spit-up and uncontrollable crying, try the Similac Abbott Total Comfort Infant Formula Stage 1.
Apart from supporting your baby's total development and growth, it provides small gentle proteins and TummiCare System for complete nutrition to allow easy digestion and increasing stomach comfort. It's lactose free, prebiotics friendly and does not contain palm oil. Just what you need for a happy baby with less sleepless nights. Gentle on the tummy with less worries!
Milk for eczema babies
Price from SGD66.90
According to searches, hydrolysed proteins formula is less likely to trigger an allergic reaction in babies with eczema compared to other milk-based formula.
For that, there's the NESTLE NAN Sensitive Infant Formula Stage 1. Claimed to be optimised with a hypoallergenic protein blend which includes hydrolysed protein into pieces that are 10 times smaller, this makes it gentle for baby's consumption.
On top of that, it contains L.Reuteri Probiotics which suppresses the growth of potentially harmful bacteria and maintain your baby's healthy digestive system. With Iron and Zinc fortified, these will increase your child's natural defences. Moreover, having 25% less lactose than other similar formulas, this formula is suitable for sensitive babies who has allergic reaction.
Best powder milk for premature babies
Price from SGD63.45
This Enfamil A+ Stage 1 Post-discharge Infant Formula Baby Milk Powder is highly suitable for premature babies who're transitioning from hospital to home and requires lots of attention. This formula provides necessary and extensive support in growth and development with higher levels of protein, calcium as well as Vitamin D.
Best baby formula for newborns organic
Price from SGD53.80
Suitable for birth until 12 months old, Similac Organic 1 is USDA Organic and Gluten-Free. With Non-GMO and no palm oil, it contains EyeQ Plus and Vitamin E, well-known as an antioxidant which protects cells against damages by free radicals.
Other ingredients in Similac Organic 1 include DHA, AA, Omega 3, Omega 6, and Iron. It also contains Lutein which is an integral part to the eye's retina.
Disclaimer: The pricing shown is just a good indication of how much these products are worth. The prices could change based on the e-commerce promotions that are going on. If some of the products are not available, do email us at [email protected] Thank you!