Every household needs a refrigerator regardless of the number of occupants or members. In fact, the bigger the number, the bigger the fridge. In the market, there are so many types, sizes, and brands of refrigerators that are available. So how do you choose one from such a wide selection? You can start by knowing which kind to go for.
What are side by side refrigerators?
One popular choice of a refrigerator is the side by side type. This refers to refrigerators that have two doors which opens from the middle.
The reason why this type is so popular is that there are several benefits that come with it. Among the benefits are the fact that they are so conveniently designed as everything inside can be easily seen and accessed.
Another benefit is freezer space. As both freezer and refrigerator storage is designed to be equal, you can keep a lot more items and food in the freezer like ice-cream, fish, or sausages without worrying about something not fitting in the space. Also, depending on the design, you can get even more functions as an ice cube dispenser.
More: Keep It All Fresh & Cool with these 9 Best Refrigerators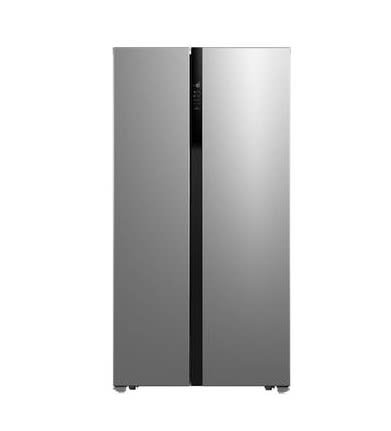 Midea Side-by-Side Refrigerator CE-BCD640WE-JT
SGD 1299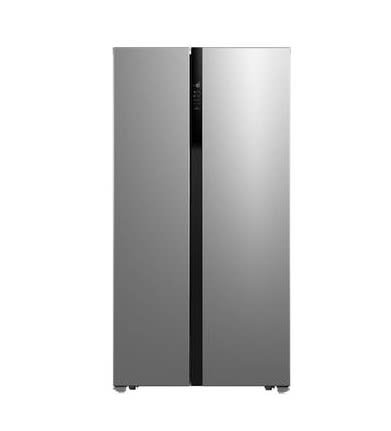 add_circle
3D air cooling to keep food fresh longer
add_circle
Infinite inverter for energy efficiency
add_circle
Super freezing to help maintain freshness and nutrition of food
add_circle
Large capacity with wider and deeper inner space
remove_circle
Does not come with water dispenser.
remove_circle
No ice tray/ice maker
The Midea CE-BCD640WE-JT offers a side-by-side refrigerator that meets our expectation in terms of size and value. While there isn't many fancy elements to it, it's a no-nonsense product that'll cater to a big family's needs.
Made with a huge capacity of 610L, the fridge has everything from a built-in icebox and even adjustable shelves to help you maximise space. There's also a Super Freezing function and 3D air cooling. They both work to quickly freeze and surround food with the right temperature so that the right level of freshness, nutrition and even colour can maintain.
As the fridge contains quite a larger capacity with wide and deep storage, this fridge uses an Infinite Inverter and equalizing refrigeration system. What they do is to keep food fresh longer without using too much energy by equalizing refrigeration power. This also leads to low noise generation and helps to maintain the fridge for longer-lasting use.
As a top-rated model among reviewers, the fridge is well-loved for its adjustable interior and sturdy performance.
---
More: 7 Mini Fridges That Can Be Your Ultimate Cooling Companions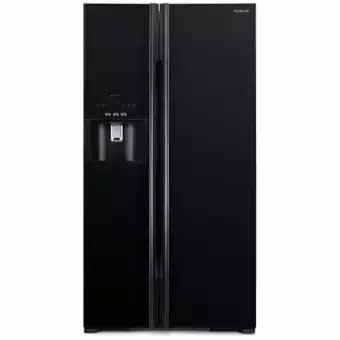 Hitachi R-S705GP2MS Side by side Glass Fridge
SGD 2189.00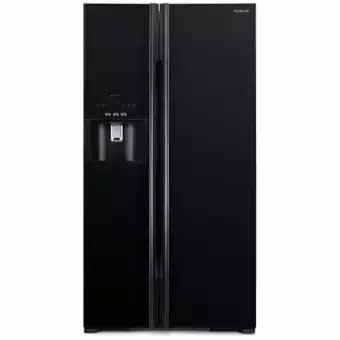 add_circle
Has ice and water dispenser
add_circle
Almost equal in storage
remove_circle
Also not the best for a small kitchen
Hitachi refrigerators are well-loved by locals as they stand by the brand product's reliability and durability. Nevertheless, the products are priced slightly on the higher side. but if you have the cash to spare, we recommend the Hitachi R-S705GP2MS.
With a net capacity of 589 litres (about 212L for the freezer), it's sure to have sufficient storage for you and your family. What's unique about this model is that it comes with an eco thermo sensor, so the fridge can sense the slightest change in temperature and adjust it accordingly. Moreover, by using a dual cooling system of both fan and inverter, this ensures that cooling efficiency is up to par.
While we cannot guarantee that this Hitachi fridge has the same well-insulated body found in many other models, it's at least working well according to several reviewers in terms of cooling power.
The other conveniences that this fridge provides include a door alarm, an automatic icemaker, mould-proof door, tempered-glass shelves as well as tank-type ice and water dispenser.
---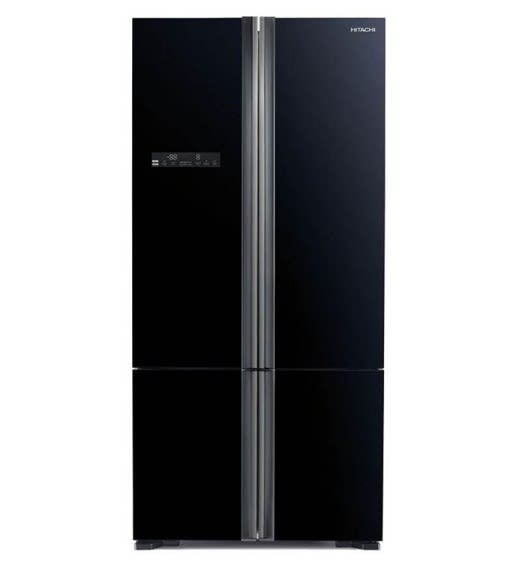 Hitachi RWB735P5MS 4-Door Refrigerator
SGD 2079.00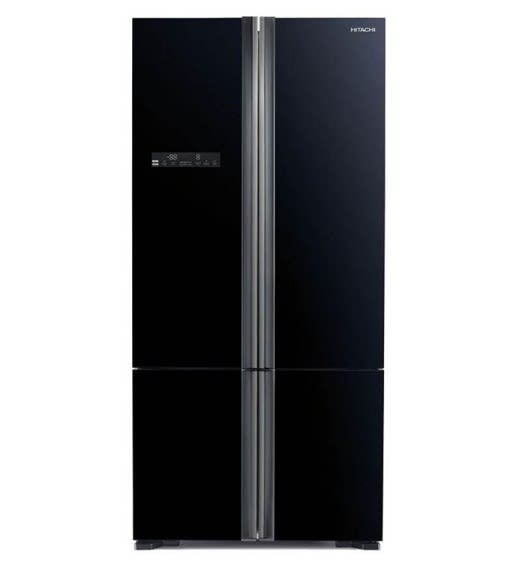 add_circle
Smart 4-door design to ensure energy-saving efficiency
add_circle
Has Selectable Mode Compartment to house different kinds of ingredients
add_circle
Made with well-insulated panel
remove_circle
Freezer is on the smaller side, and is at the bottom
Side-by-side fridges are bigger than your average top and bottom freezer fridges. Therefore, it's obvious that side-by-sides will consume way more energy. But, we've managed to track down a fairly energy-efficient fridge available locally.
First off, the Hitachi R-WB735P5MS has a total of 590L capacity and managed to keep the annual kwh rating at 376. That's because both the freezer and refrigerator are encased with 2 doors to ensure temperature don't escape unnecessarily. So if you like the idea of maintaining optimum power usage without stressing your fridge, this option is for you.
Secondly, the fridge uses a dual cooling system combining fan and inverter, which keeps the inside cool at all times efficiently as the dual-system offers a balance to saving both household electricity and reducing the impact on the ozone layer.
Contributing to the energy-efficiency on this fridge is Hitachi's signature built-quality, whereby it's built with a Vacuum Insulation Panel (VIP). This thin-layered panel offers a higher heat insulation performance as compared to Urethane, which is a conventional material for fridge panels.
Other highlights to fit one's lifestyle and ensure maximum useability of the fridge without wastage includes its Selectable Mode Compartment, whereby you can set the optimum temperature specifically for it to house either vegetables or meat and dairy items. Additionally, the other significant feature to help with energy-saving is its built-in alarm which will ring if you leave the fridge door open for too long.
---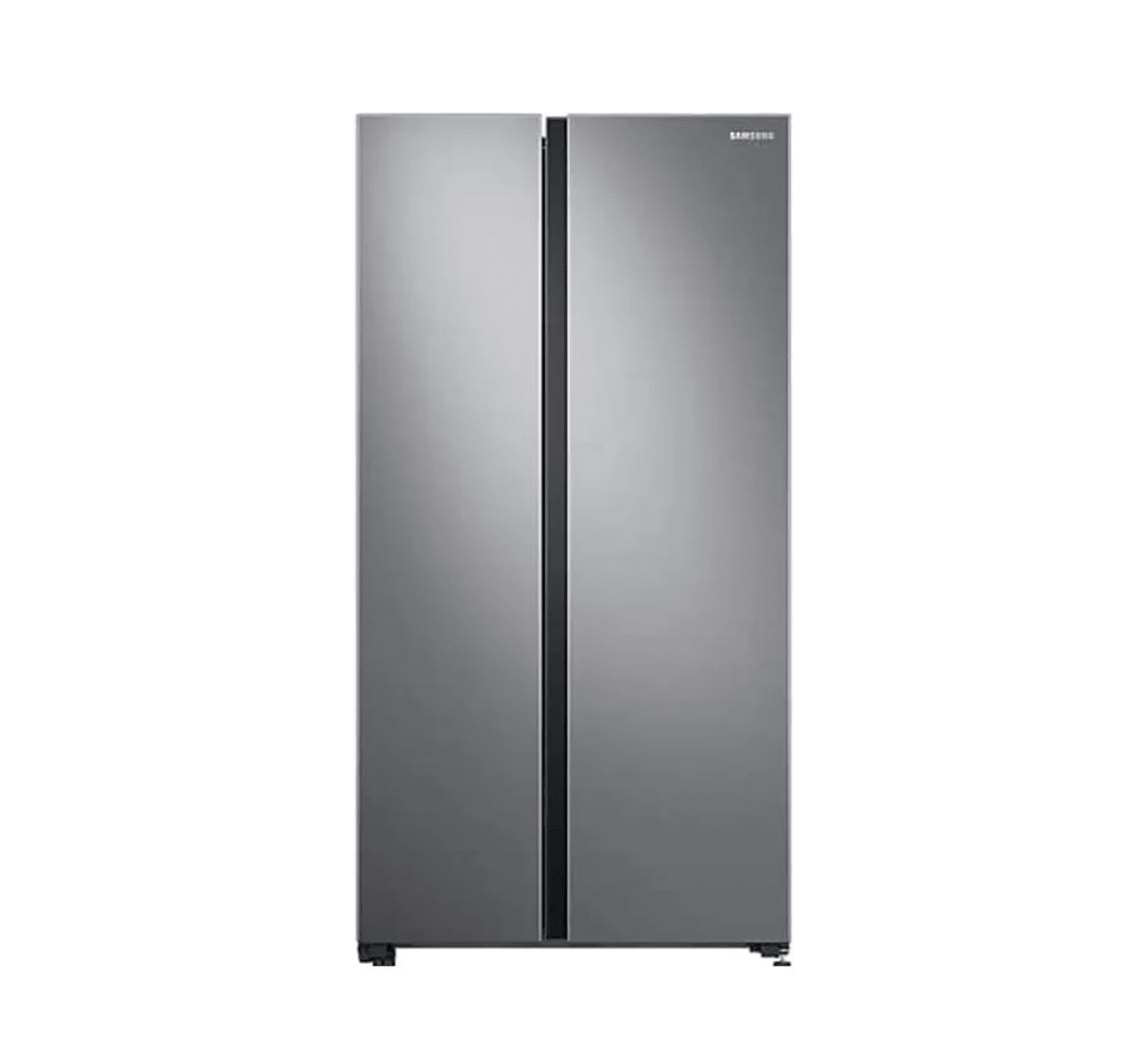 Samsung RS62R5004M9 Side-by-Side Fridge
SGD 1599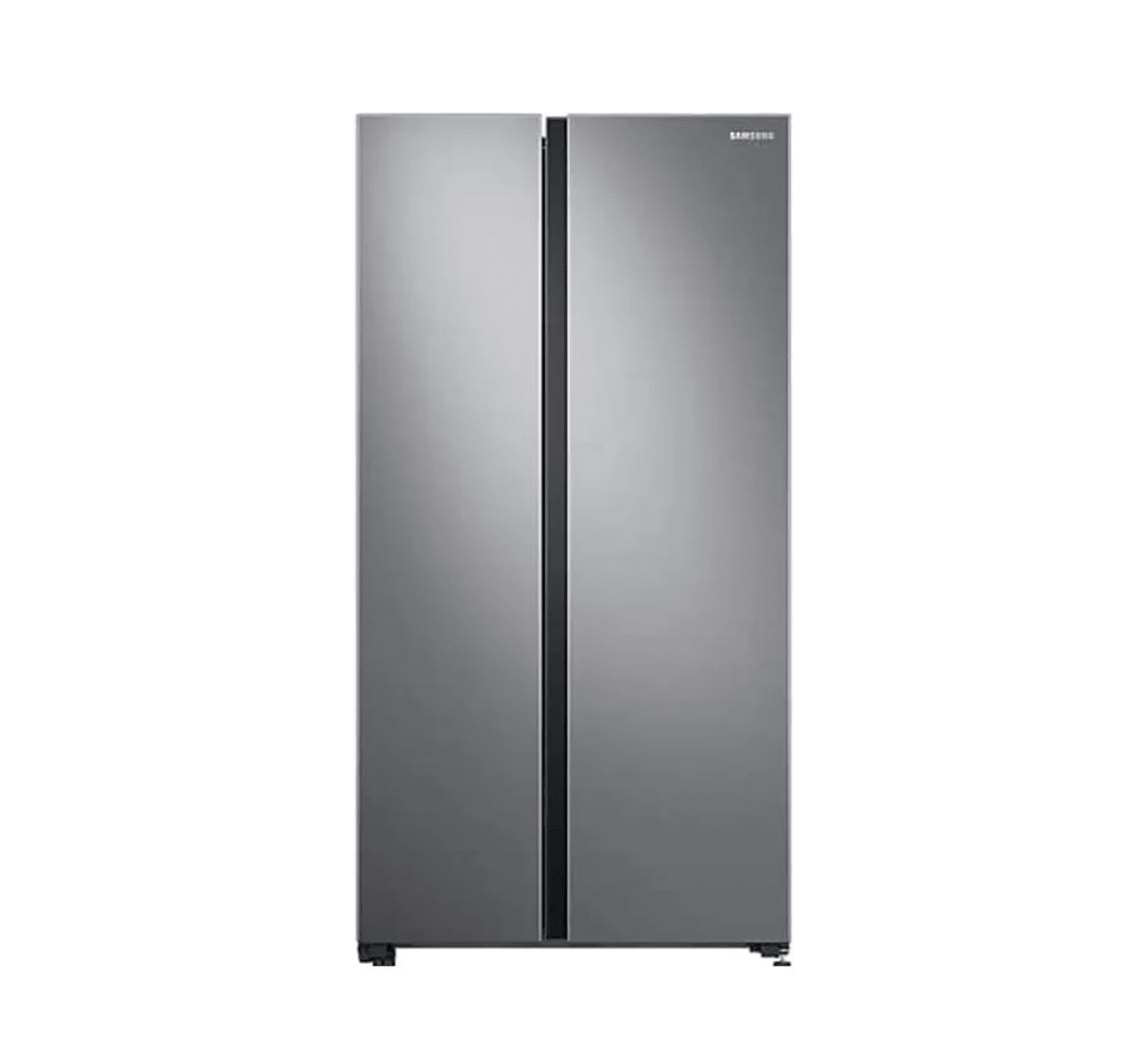 add_circle
Value for money
add_circle
Non-bottom-freezer
add_circle
Very nice, sleek design
One of the most crucial thing to getting a big fridge is that a) the layout should be good, and b) it shouldn't rob your wallet of maintenance fee.
Samsung's RS62R5004M9 manages to keep energy-saving efficiency at 2 ticks rating despite its huge 647 net capacity which is fit within a 90cm body width. That is because the fridge is built with thinner walls. The said thin walls are a mix of poly-urethane (PU) foam insulation and Vacuum Insulation Panels (VIP). VIP itself is a superior material in terms of insulation as compared to urethane which is found in many fridges. The mixture of both resulted in a thin yet, insulation-efficient panel for fridges to keep food cool.
With that, it works in tandem with Samsung's own digital inverter compressor, which ensures up to 50% more of energy-saving as compared to conventional fridges. The digital inverter is designed to automatically adjust the cooling speed all the while minimising noise for long-lasting use.
Other uses that'll help you reduce wastage and keep food at its optimum freshness include the fridge's own Power Cooling function, a built-in deodoriser filter and an all-round cooling detector to help adjust fridge temperature.
---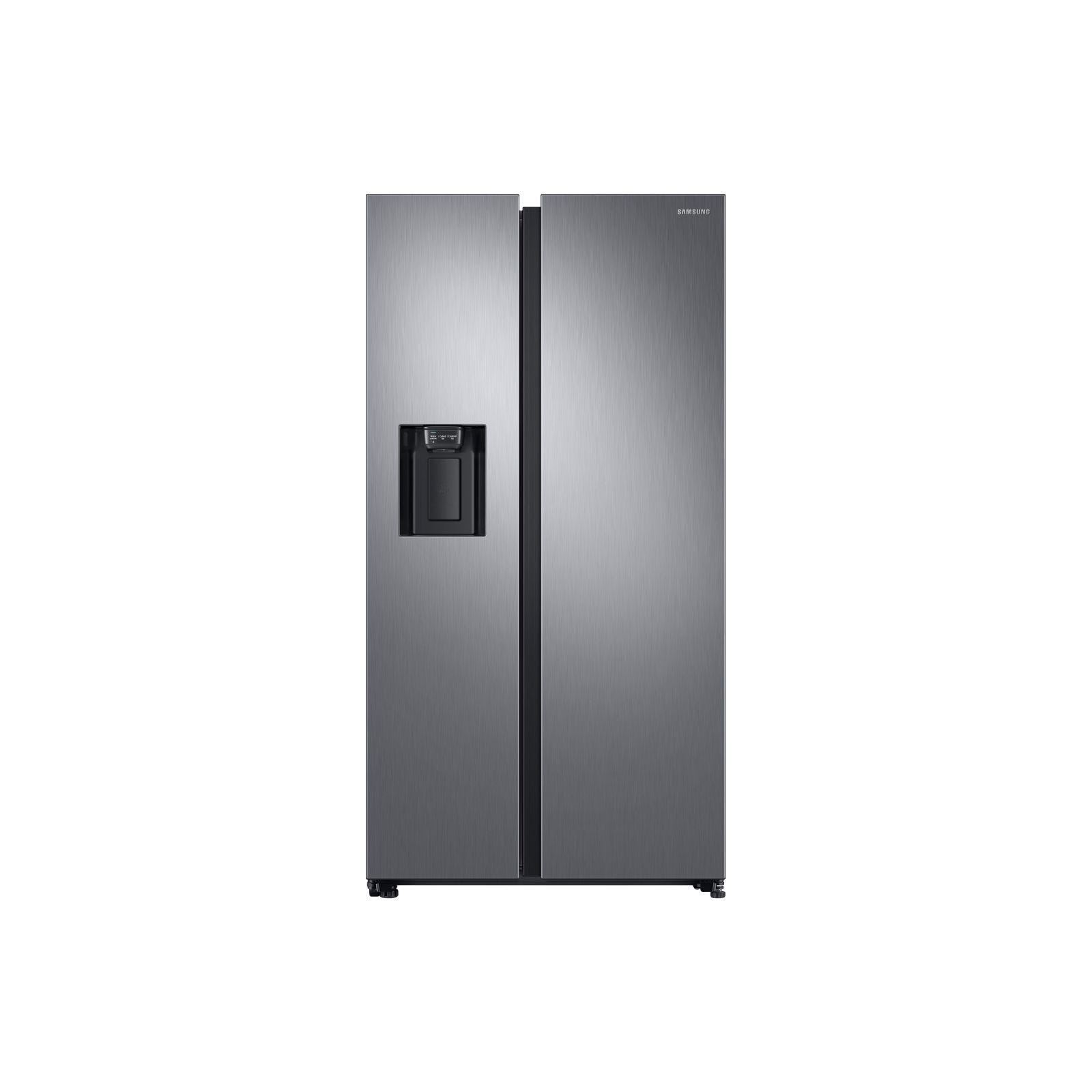 Samsung RS68N8322S9 Side-by-Side Refrigerator
SGD 2619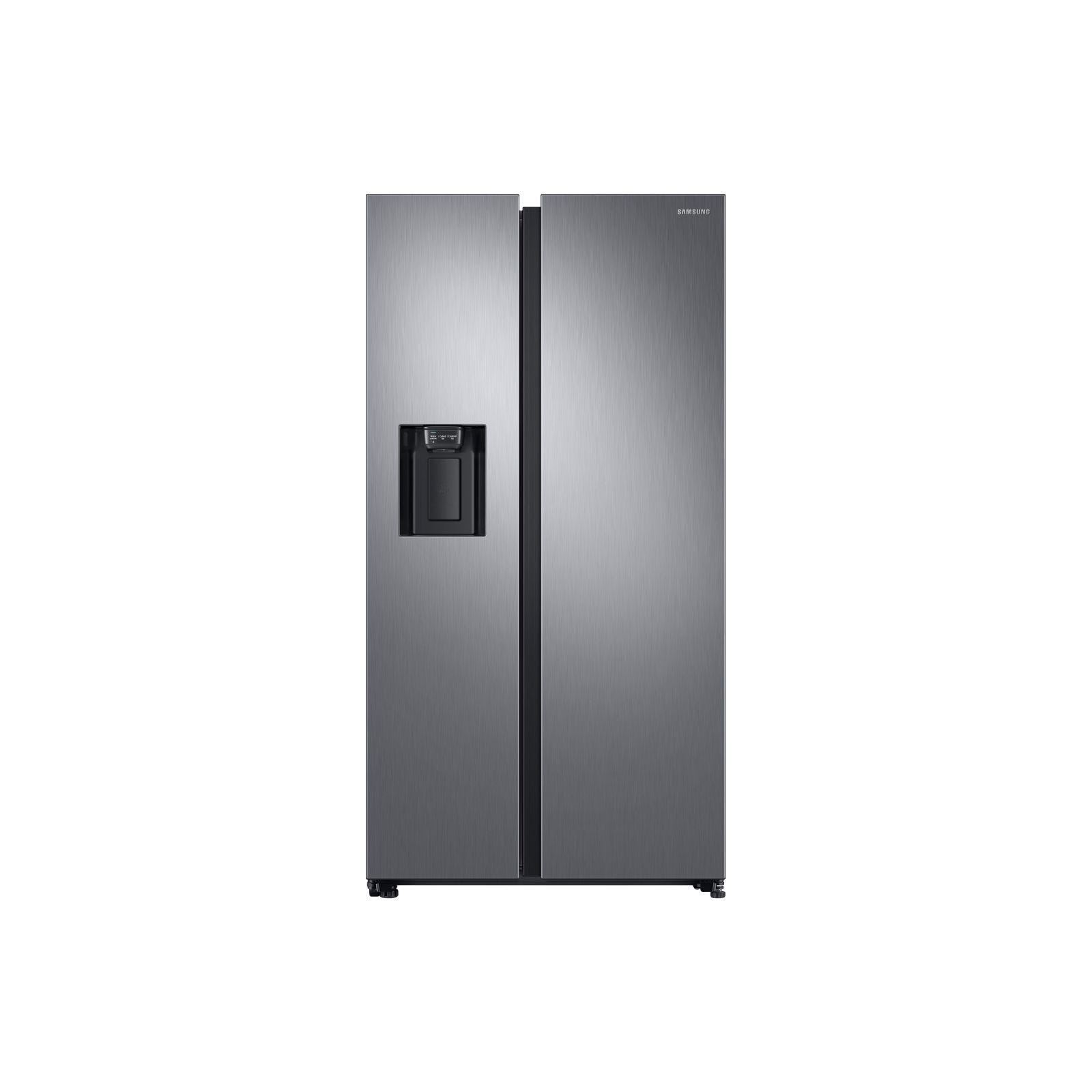 add_circle
Good body-width size for such a huge storage capacity
add_circle
Has SmartThings App support
add_circle
Good looking design
add_circle
Neat, straightforward compartment layout
add_circle
3 ticks energy-saving rating
remove_circle
Refrigerator (210L) is smaller than freezer (407L)
A fan of Samsung products? It's undeniable that Samsung is at the top of their game when it comes to innovative technology. And this charm extends to their RS58K65177P Side by Side Refrigerator, complete with almost everything such as huge space of 617L, smart and neat compartment layouts, 3 ticks energy efficiency and even an ice maker.
Ensuring that food stays fresh and of crisp, the fridge utilises Twin Cooling Plus technology to cool the fridge and freezer compartments separately by balancing cool air and humidity. Thus, it keeps an optimal environment for different types of food while preventing the mix of different food odours.
As the fridge uses an inverter compressor, the digital inverter works to detect and maintain consistency in temperature so that food is kept at peak freshness all the time. And how can we forget; the ice and water dispenser does not need any plumbing works to get up and about. This also means easier maintenance in the long run.
The Samsung RS68N8322S9 side-by-side fridge is by all means, not cheap. But it sure does offer a lot for years to come.
---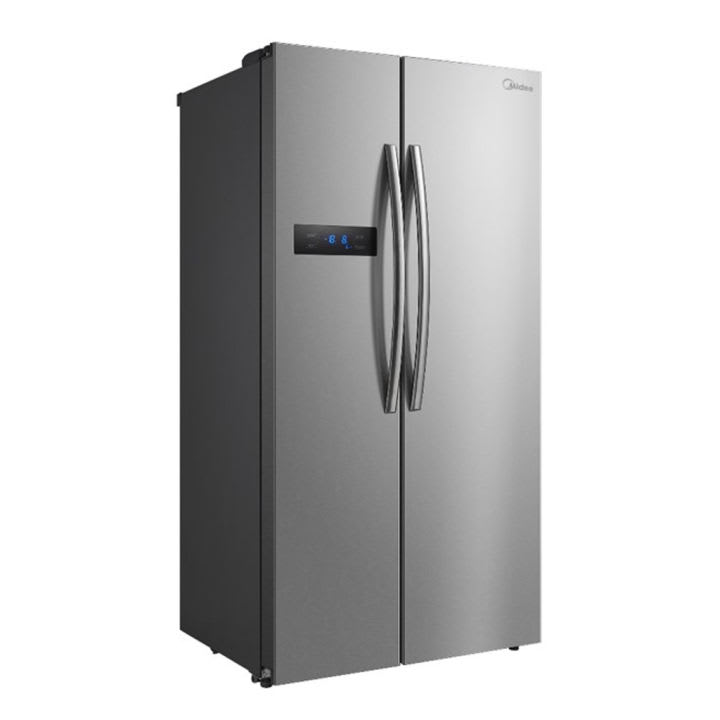 Midea MRM584S 515L Side by Side Refrigerator
SGD 1099.00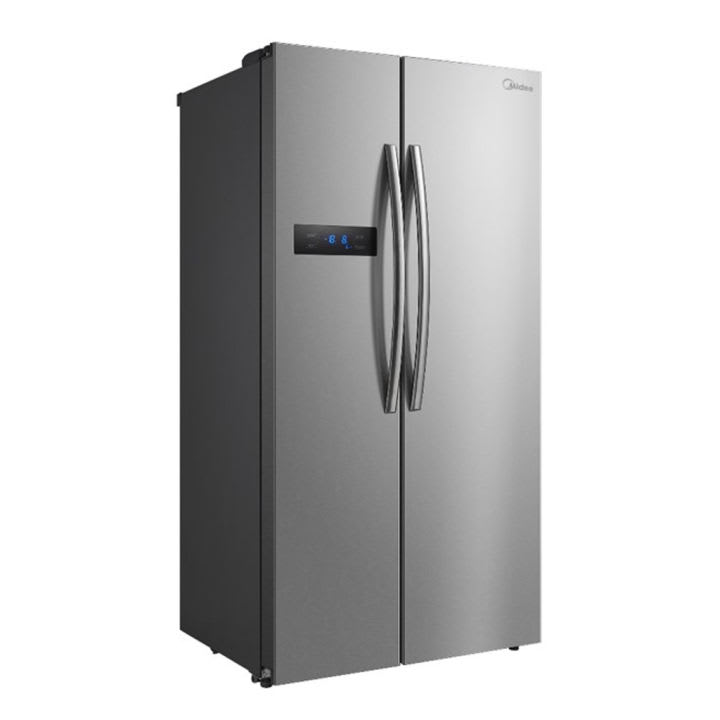 add_circle
Good for value
add_circle
Has all the basics in a side-by-side refrigerator
add_circle
Adjustable shelves for maximum utilisation in space
Side-by-side refrigerators aren't the cheapest type, but chances are that you need the space to accommodate both freezer and refrigerator items.
Enter Midea's MRM584S. It offers a capacity of 515L, with about 167L dedicated to the freezer and 348L to the refrigerator. With an energy rating of 2 ticks, the fridge ensures optimum control of cool air flowing throughout the unit with its mult-airflow system.
To make sure that no time is wasted during operation, the fridge has an electronic temperature control that'll detect any small changes in drops of temperature and adjust it so your food will always be preserved well. Moreover, there's a built-in deodoriser that actually removes any unpleasant smells while maintaining the flavours of your foods.
The layout is simple and big, with its shelves made of tempered glass and is adjustable. This way, you can move around to fit in something bigger should you need to. Aside from the big vegetable box, there's also a chiller box that lets you adjust its temperature in case you want to freeze something else more efficiently than just meat.
Midea among locals is considered a budget brand and that its built is just be so-so. But if you're looking for a budget refrigerator that'll give you a good amount of refrigerator + freezer space, get the Midea MRM584S.
---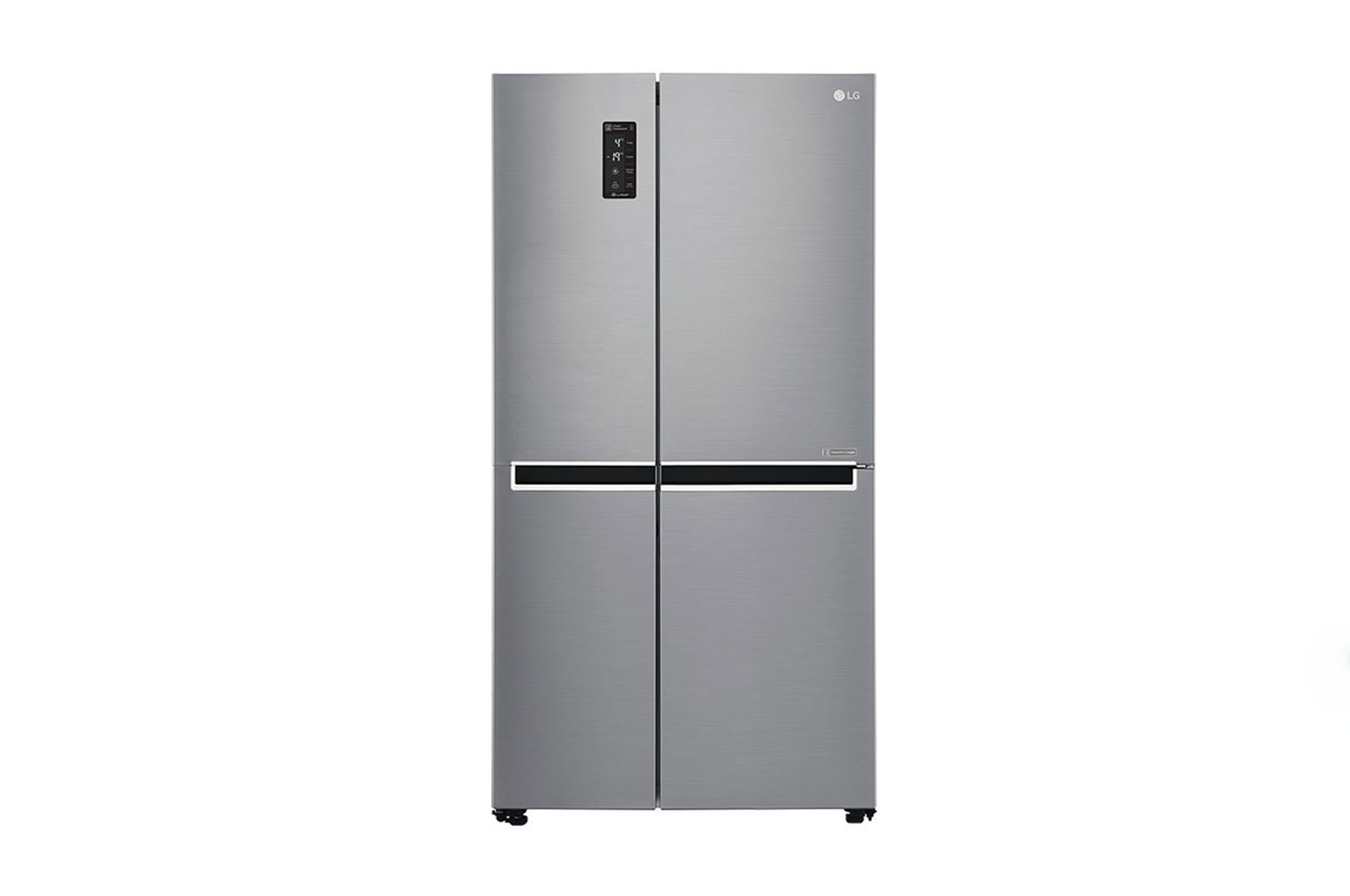 LG GS-B6269PZ Side by Side Refrigerator (626L)
SGD 1999.00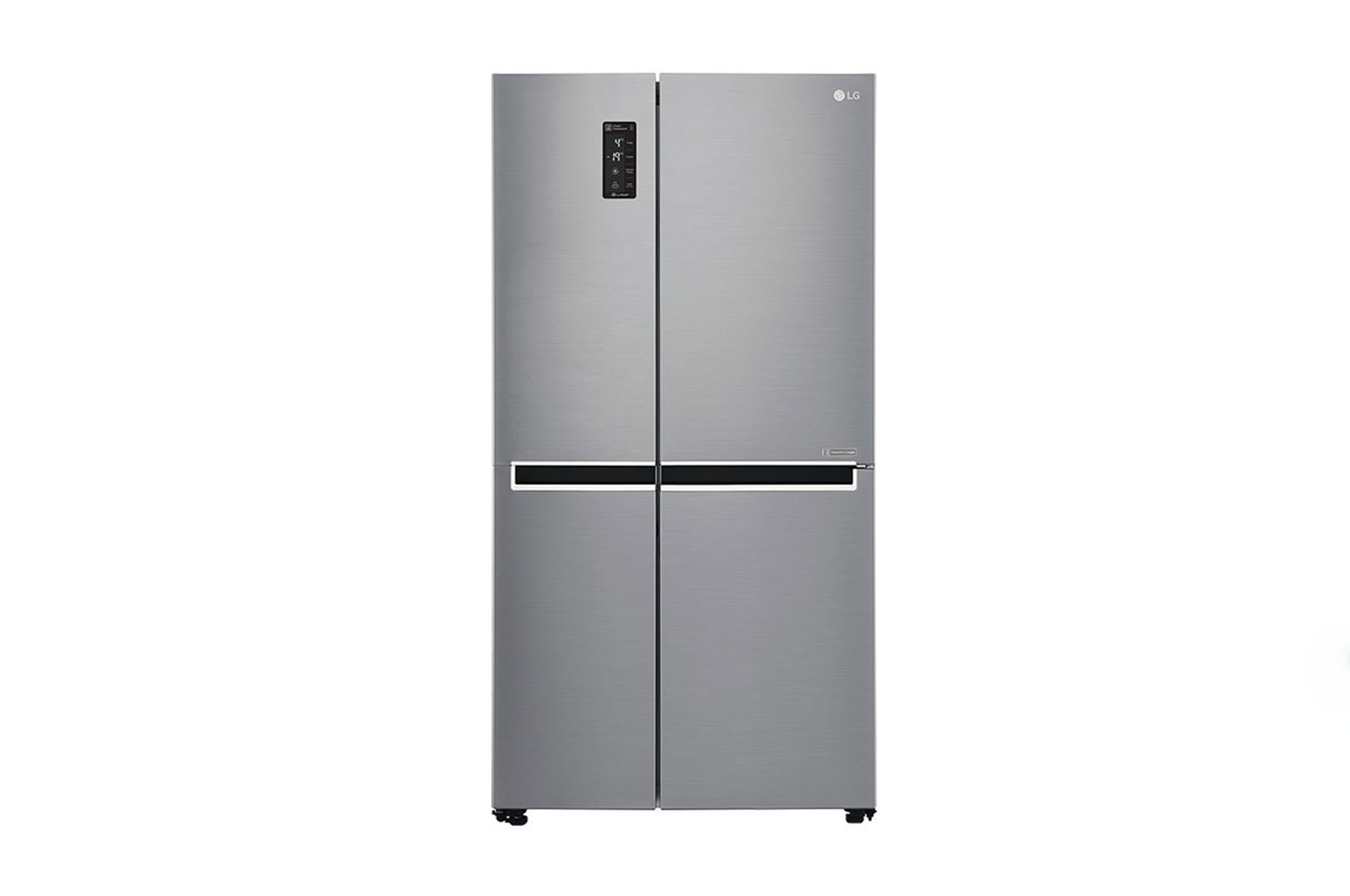 add_circle
High-quality built
add_circle
10-year warranty on unique inverter compressor
add_circle
Good technology that extends shelf-life of fresh foods
There are two main factors to us choosing this as the best LG side by side refrigerator: the big capacity load and its energy-rating.
For its inverter technology, the 626L fridge (freezer has 220L) utilises LG's very own unique Linear inverter Compressor functions with a linear piston drive. With that, it enables a smoother operation and less friction, which contributes to lower energy consumption by 32% more compared to other fridges. And LG backs its own motor's durability by offering a 10-year warranty on it.
Another unique feature to keeping food fresh and moist is the Moist Balance Crisper in the fresh food compartment, built with LG's NatureFresh technology. This feature works to capture any excess moisture from food and then uses it to maintain balance in humidity on food. You can even adjust it to suit either for vegetables or fruits.
And if you're away from home, the LG GS-B6269PZ supports LG ThinQ, which lets you control and diagnose your fridge via mobile app. The app allows you to do simple controls such as setting temperature, turning on HygieneFresh+ which cleans the air inside the fridge, as well as view diagnosis of the fridge's state.
Other highlights that we think makes it a winner as LG's best side by side fridge is on its built quality. The door panel is made with LG Bioshield technology, working to offer a tight-sealed shut and prevent the growth of mould. Meanwhile, the tempered glass shelves offer a support max weight of up to 150kg.
---
Disclaimer: The pricing shown is just a good indication of how much these products are worth. The prices could change based on the e-commerce promotions that are going on. If some of the products are not available, do email us at [email protected] Thank you!