Chinese New Year for 2020 falls on January 25th. And you know what that means; it's time to start decorating!
Welcome the Chinese New Year with colourful decoration to increase the flow of luck in your home and workplace. Not only that, but your guests will also be attracted by the matching theme of your house decorations. Out of ideas? Fret not as we have rounded up some fantastic CNY decoration ideas for you!
More: Say Gong Xi Fa Cai with These 9 Auspicious Chinese New Year Hampers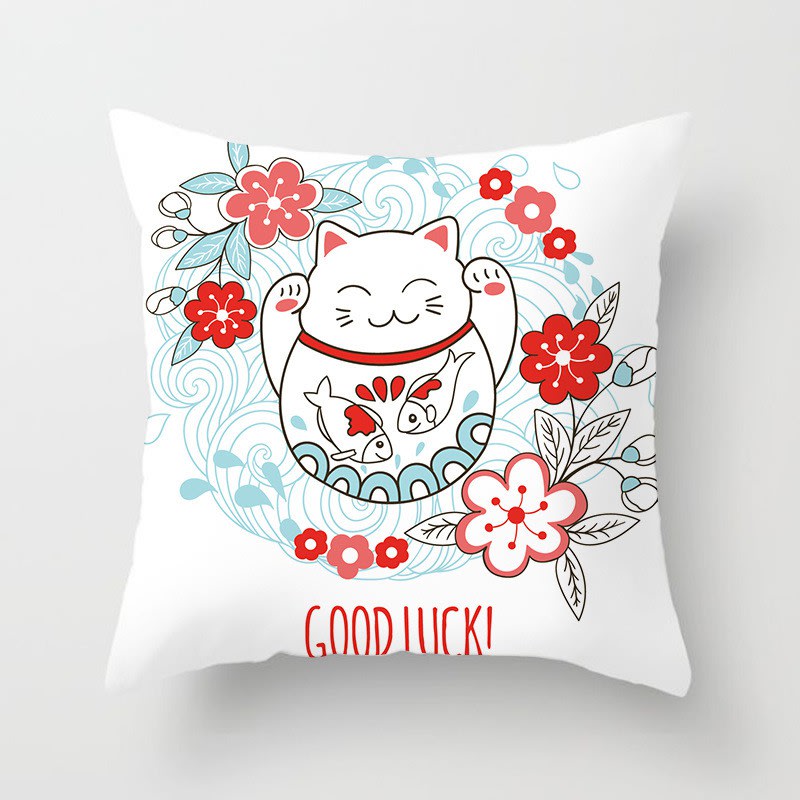 Fortune Cat Cushion Cover
SGD 12.3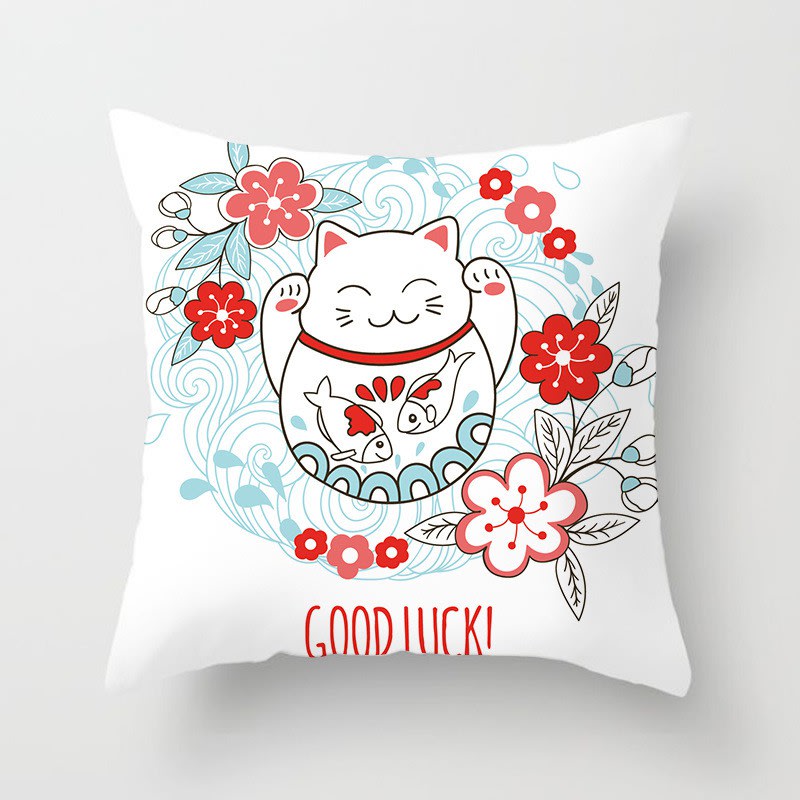 There's nothing wrong with wanting more "Ong" into your house, right? Have your sofa cushions be decorated with these covers that feature the lovable Fortune Cat. Available in a size of 45cm x 45cm, choose from the variety of simple to elaborated designs which will stand out great especially if your sofa is plain in colour.
---
More: Chinese New Year Won't Be Complete Without these 12 CNY Snacks and Goodies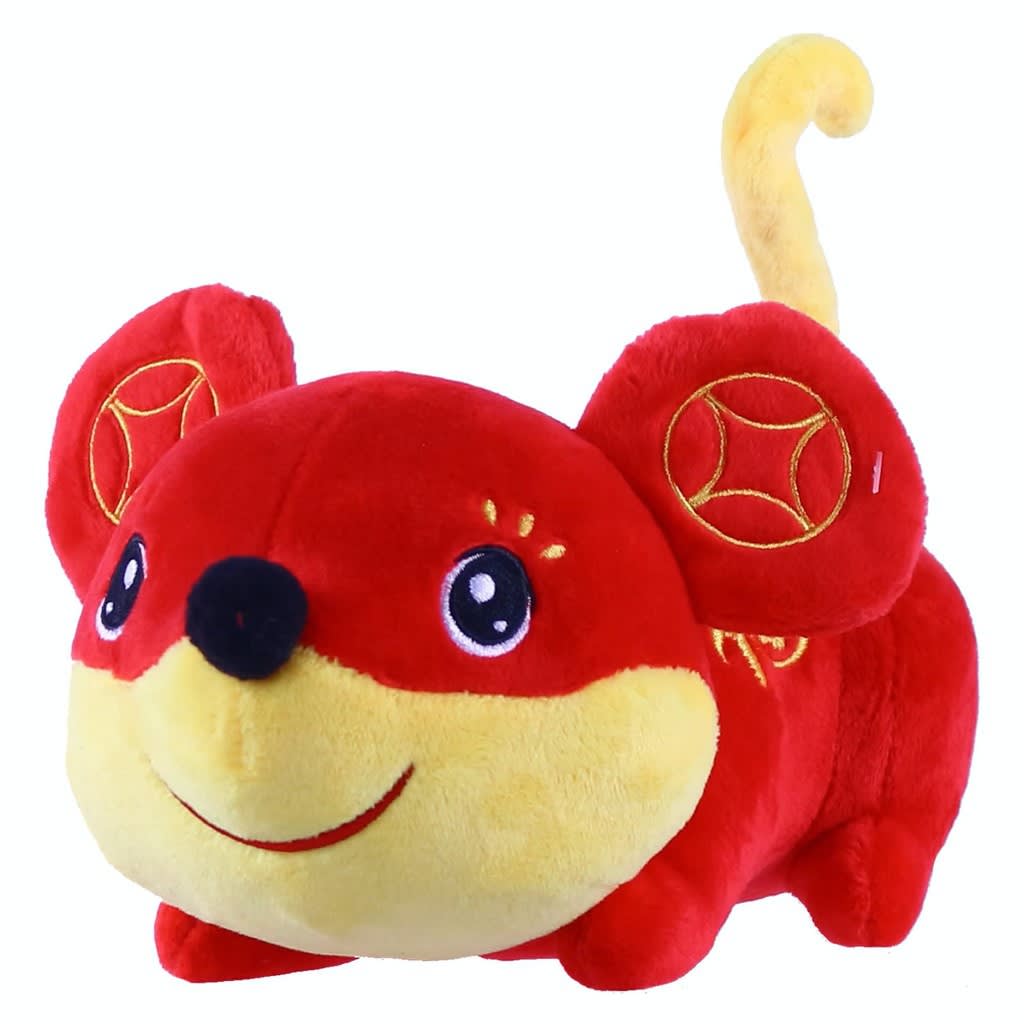 Partyforte Zodiac Rat Plush Toy
SGD 6.9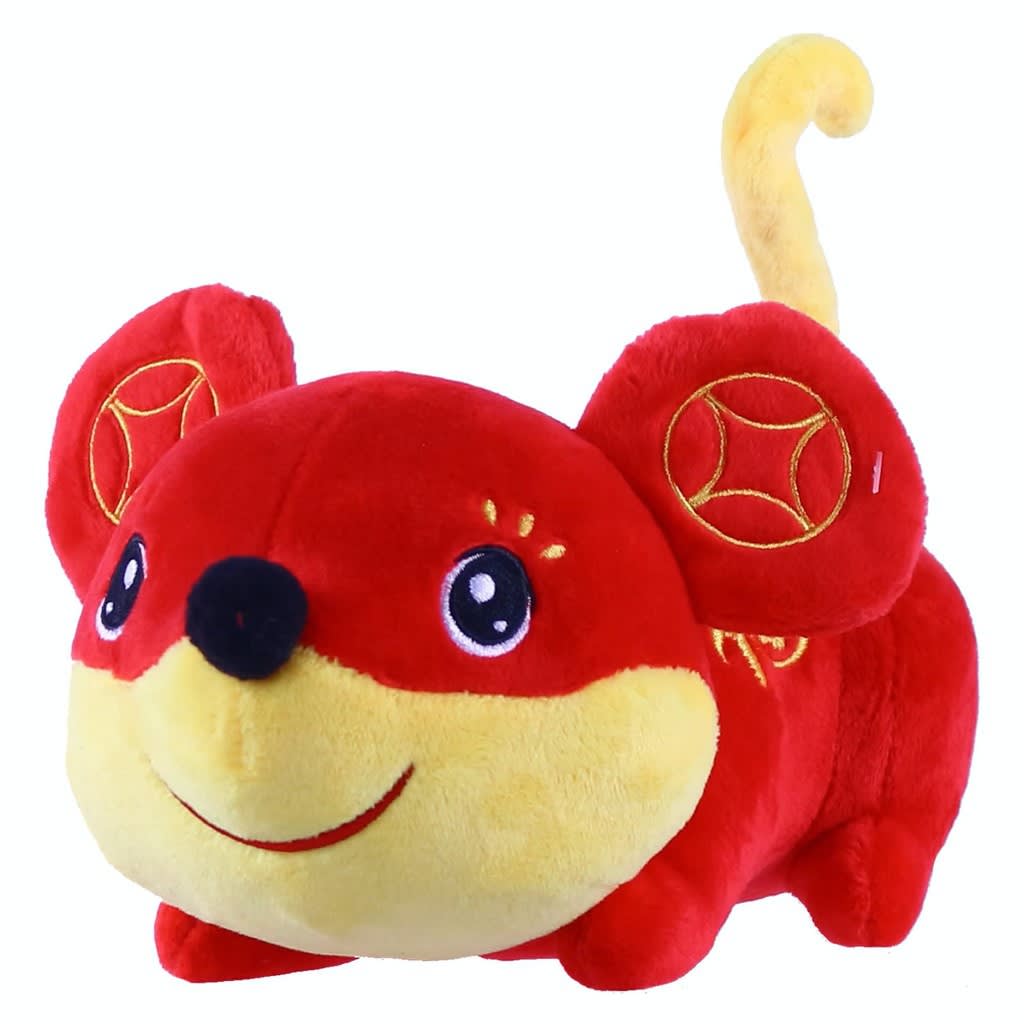 Why not welcome the year of the Rat by having a cute plush toy of it in your home? Bearing the colour red with gold embellishments and coming in three sizes, decorate your home with it on your sofa, cupboard or bed. Might we add that it'd make a cute mascot to your home especially among kids. The toy is also made of soft fabric and stuffing, making it a huggable one!
---
More: 9 Best Chinese New Year Dinner Menus and Sets in Singapore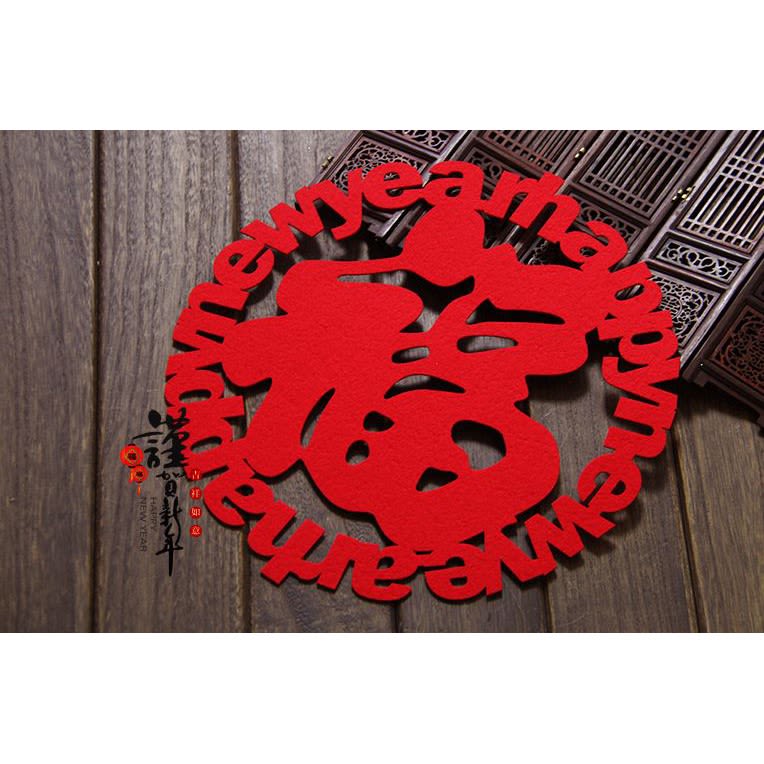 Fabric Happy Chinese New Year
SGD 8.8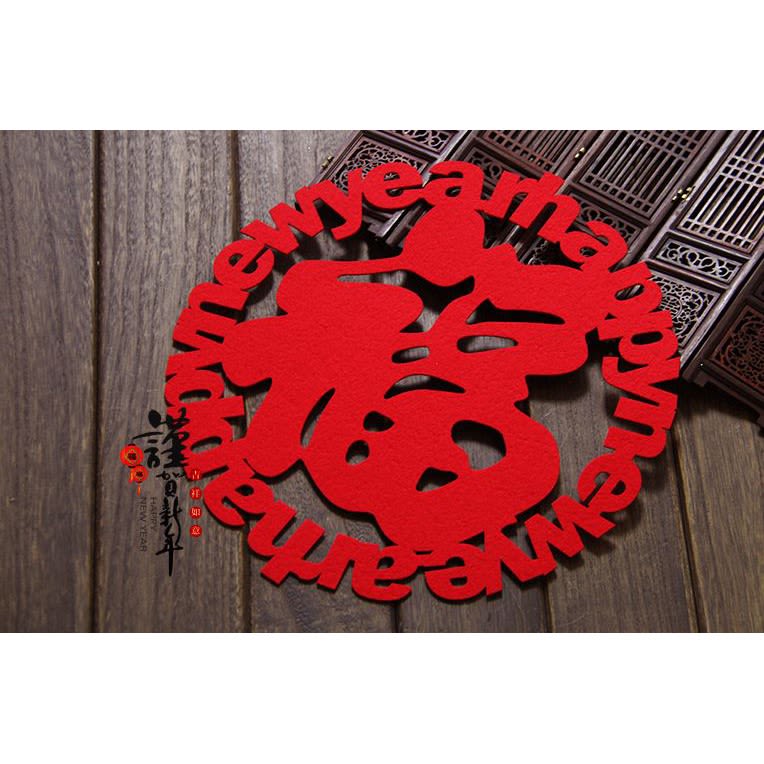 Unlike other sticker decorations, this one is made out of fabric felt. Thus, it'll give a 3D-like effect of popping out of wherever you attach it. The sticker is also cheap and ideal to have in any living room in showing your participation in the Chinese New Year celebration.
---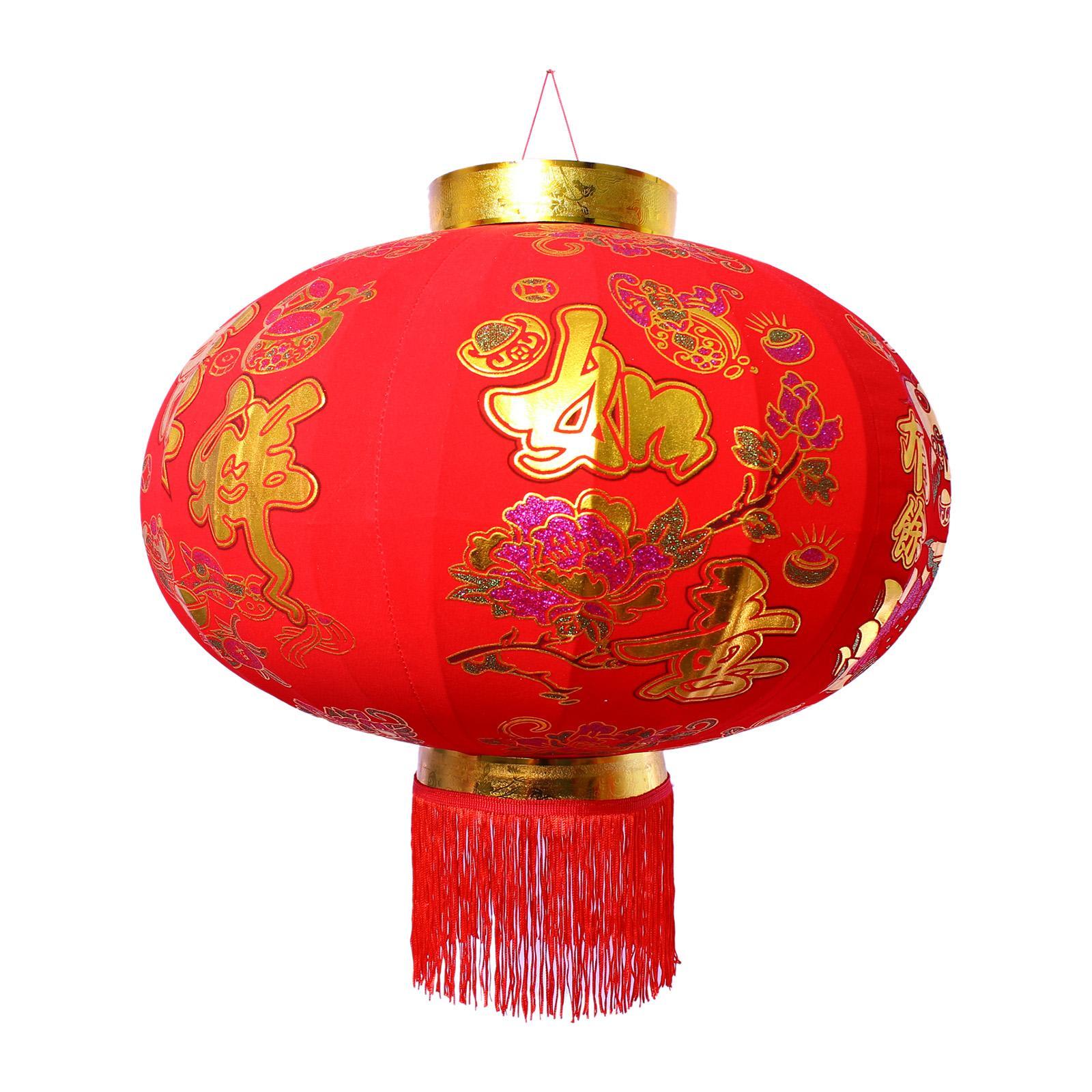 Partyforte Chinese New Year Red Velvet Lantern
SGD 58.8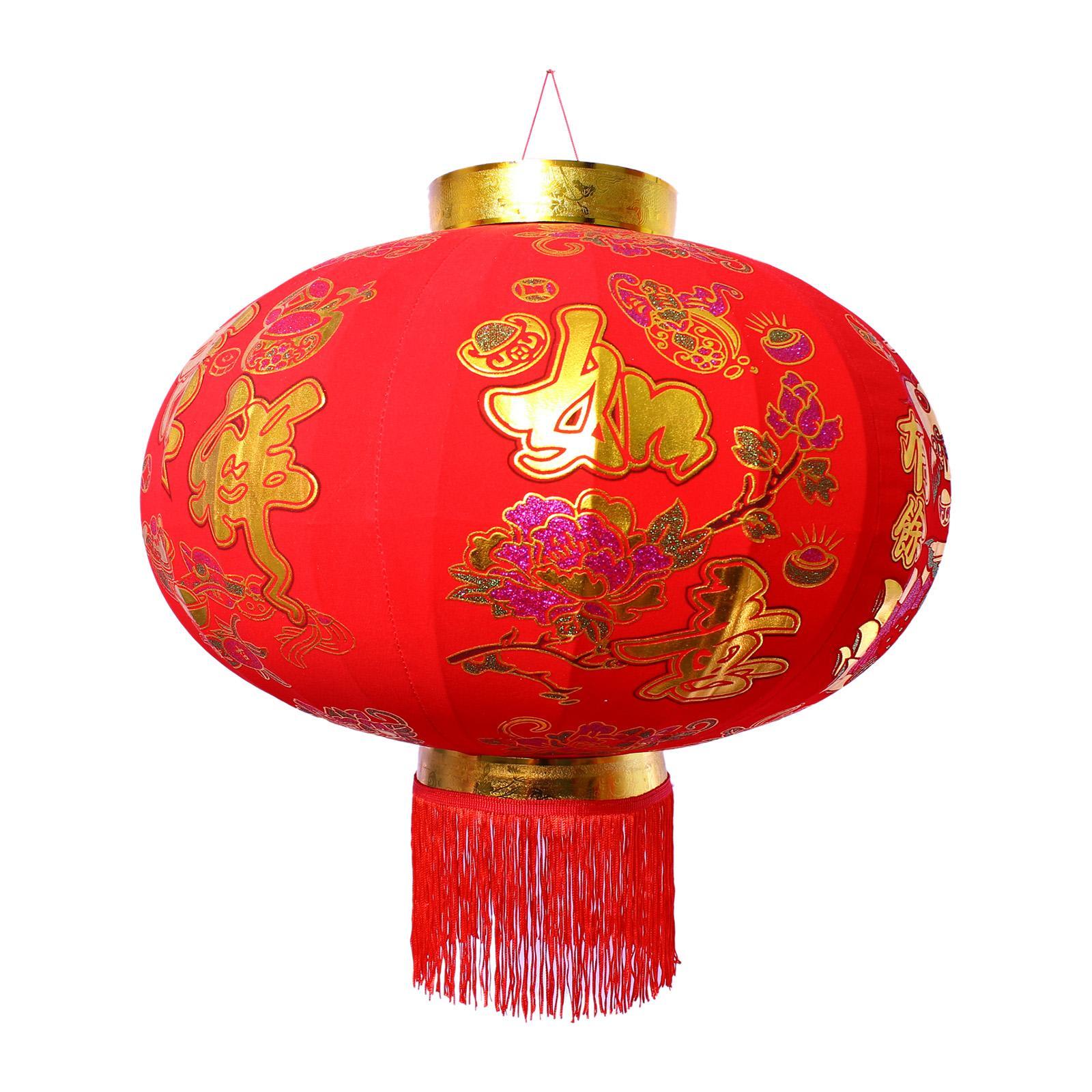 Hanging lanterns are great elegant pieces to have in your home for Chinese New Year! This one is perfect as it embodies a traditional design yet dons embellishment that makes it look new. Easily blendable with any type of interior, we imagine it to look beautiful when you hang it in the balcony for aesthetic pleasure.
---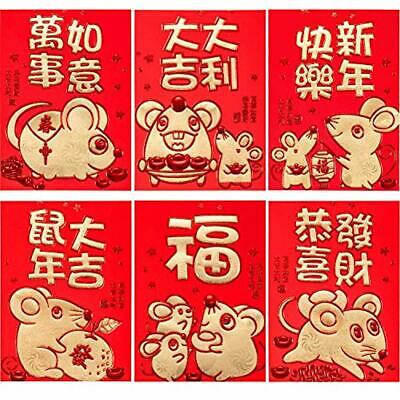 Year of The Rat - Chinese New Year Ang Pow
SGD 2.5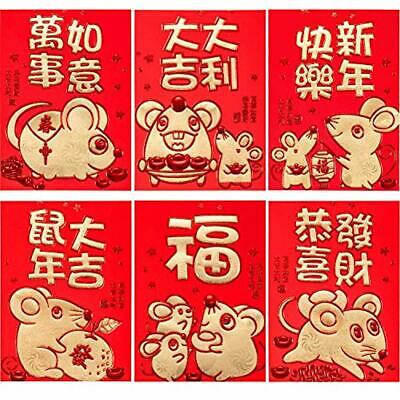 Chinese New Year is just strange without the sight of red packets (Ang Pow). Designed with gold lettering and artwork against a gorgeous shade of red, send your blessings (and generosity) with these cute packets. Otherwise, they'd make a great art piece on your wall too!
---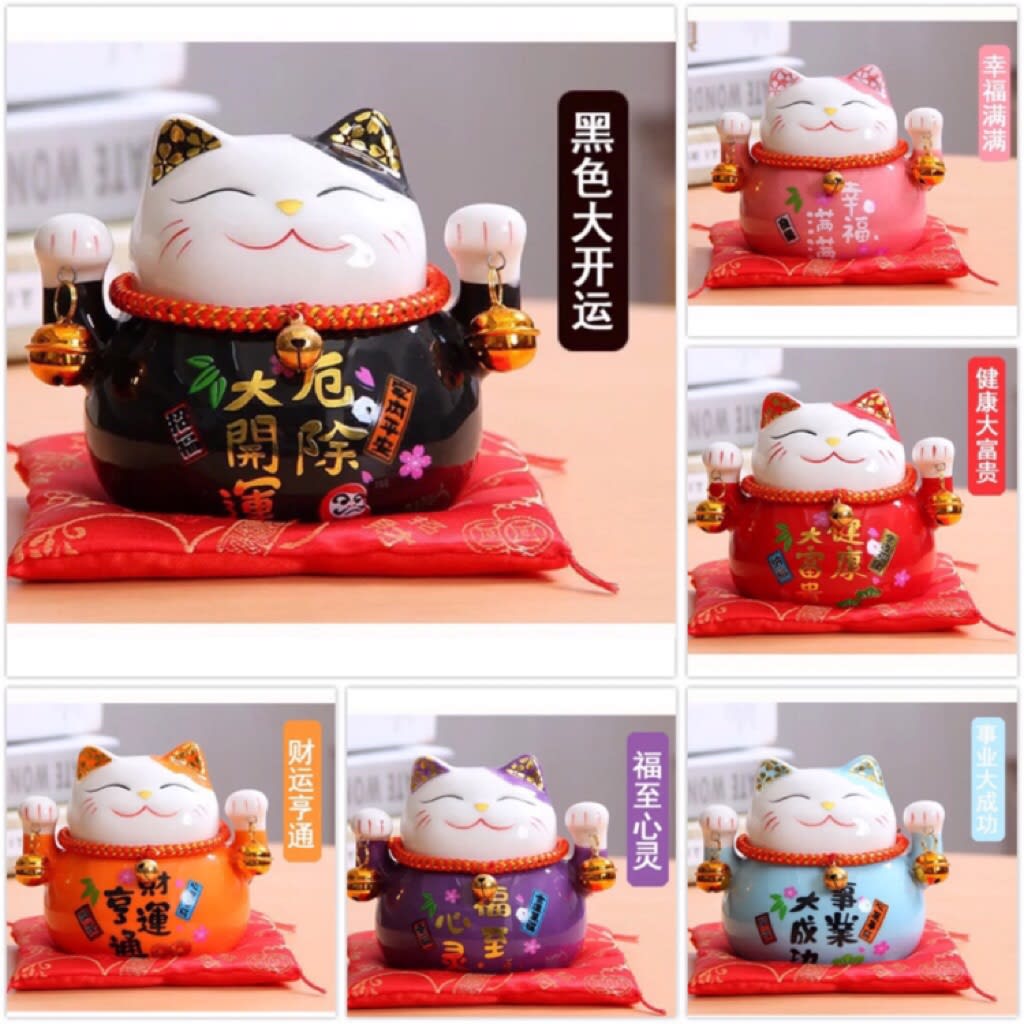 Fortune Cat Coin Bank
SGD 19.88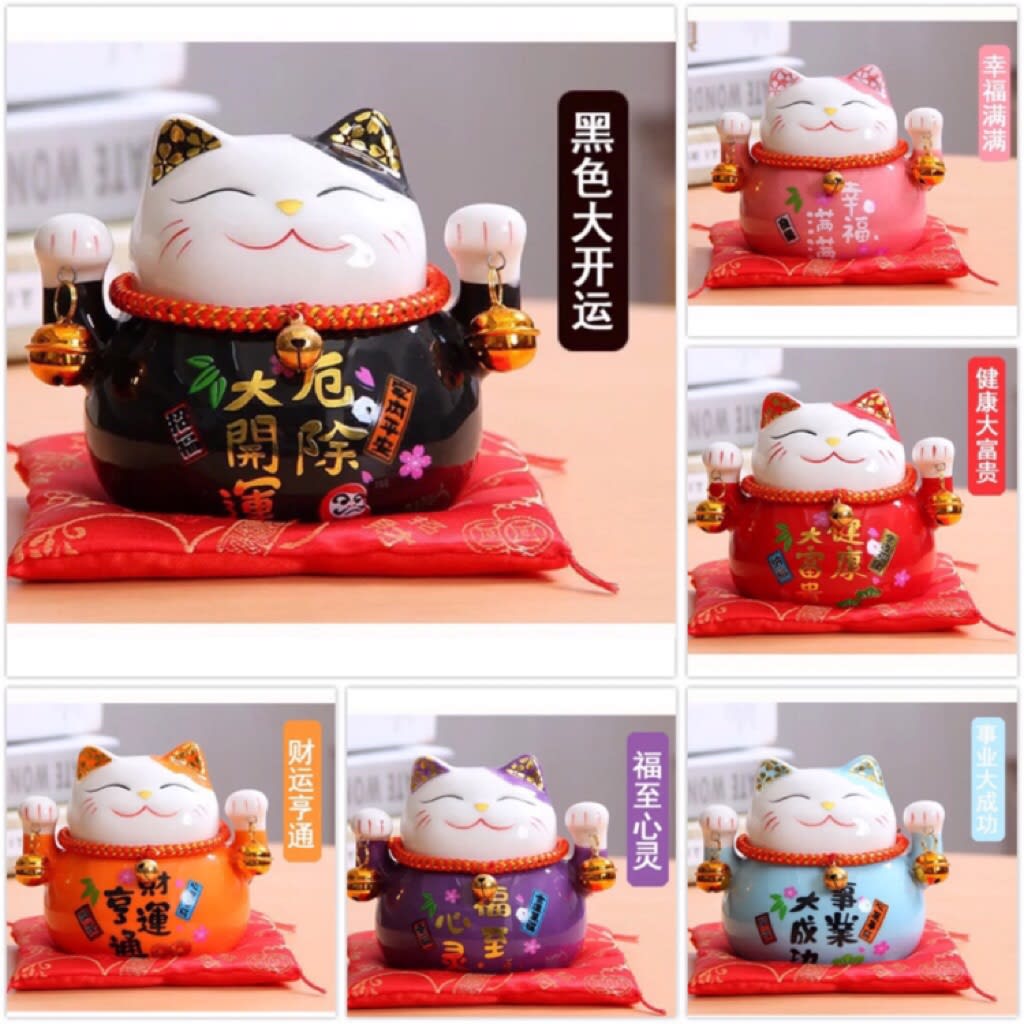 This kitty bank can be used as an actual place to store all your coins or even as a decoration piece! It looks super cute and attractive, too. Moreover, a waving cat invites good fortune into your home, so it's a win-win just by having it even after the celebration.
---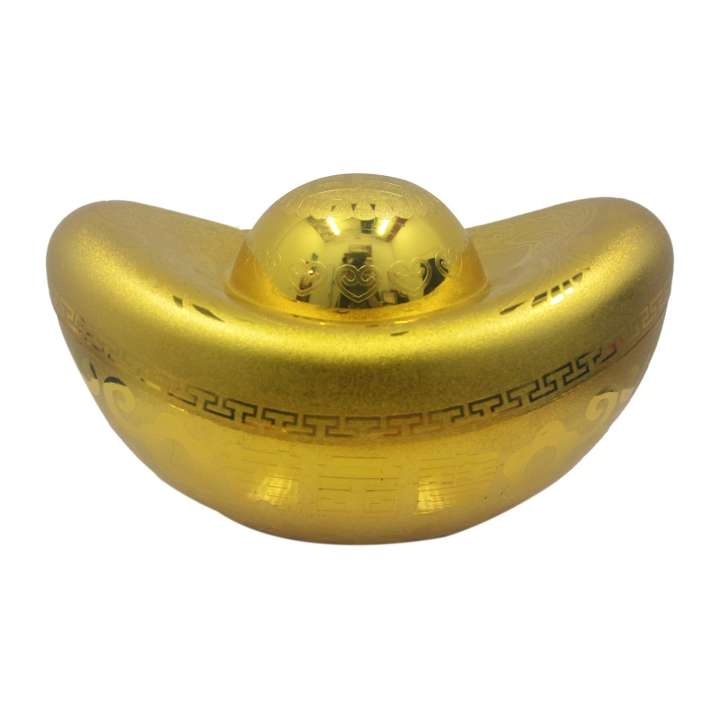 CGS CNY Gold Ingot Decoration
SGD 7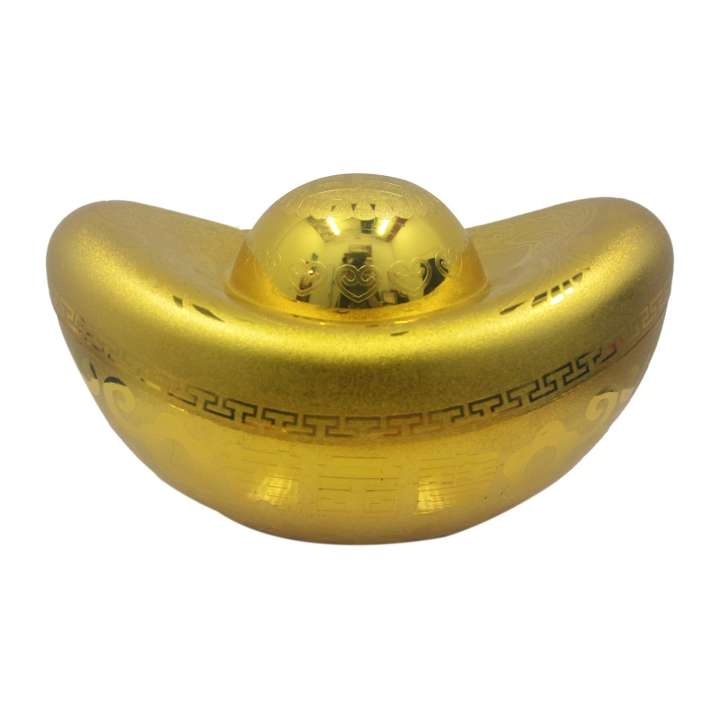 Invite the energy of wealth to flow into your home when you decorate with this piece of Gold Ingot. It can be placed anywhere and brings wealth to every place that has it, making it an ideal piece for businesses. If you have an office, you should buy one of these. The ingot also doubles as a secret storage space.
---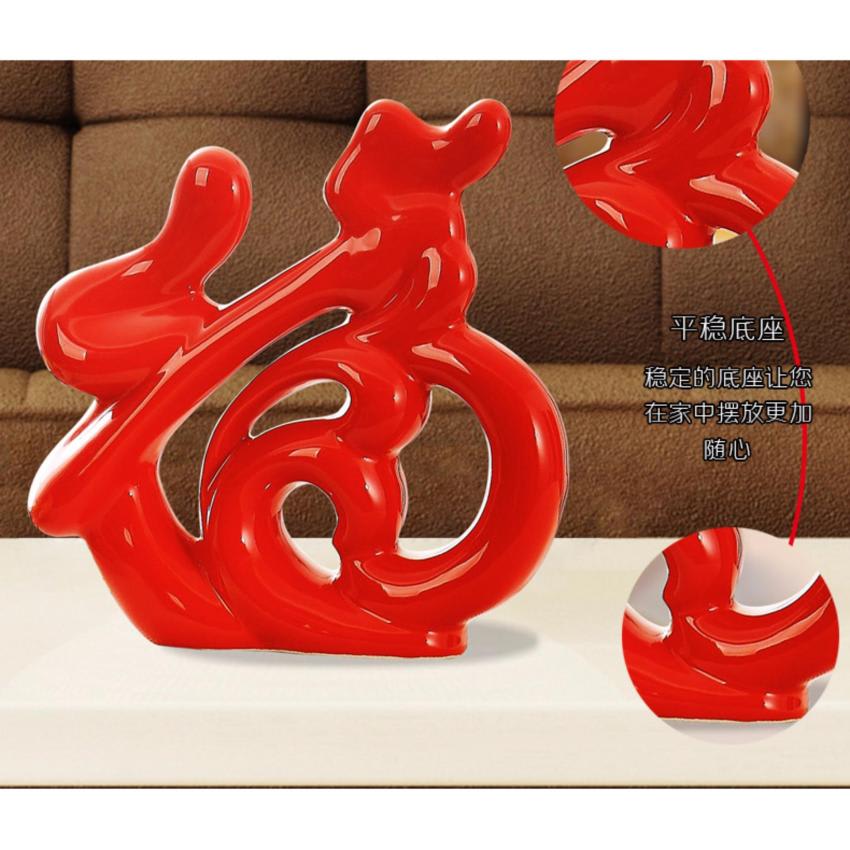 Red Fortune Wording
SGD 29.99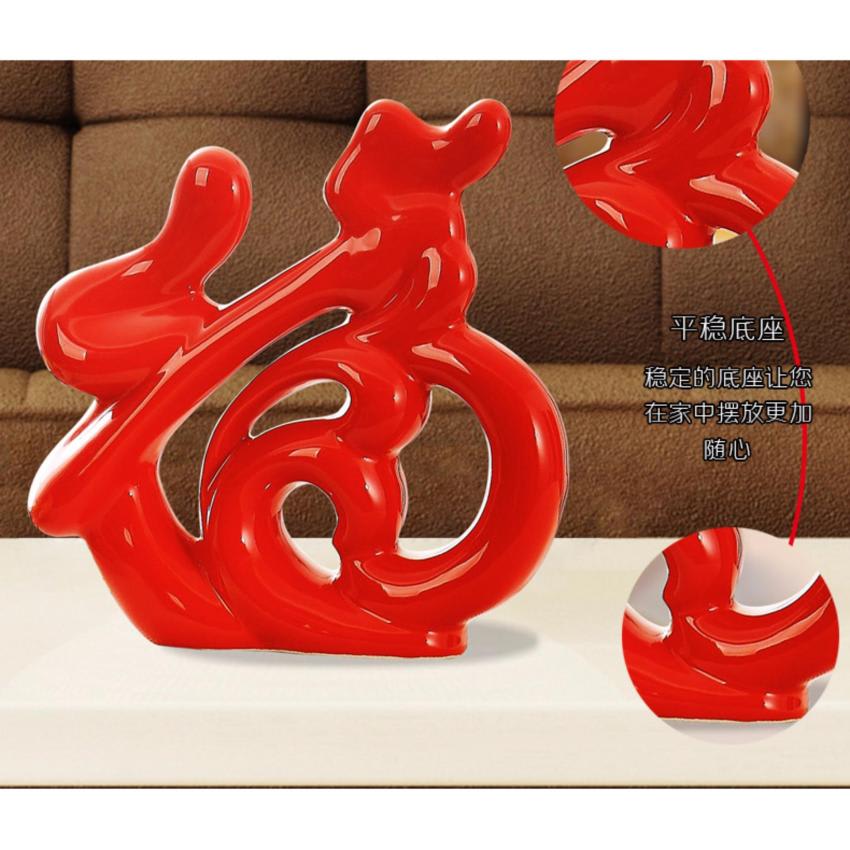 For a more elegant decoration, having a statue that says "Fortune" in Chinese letters would be a great additional piece. This piece is perfect for your living room. It's also a great addition to your office, store, or even as a wedding decorative.
---
Chinese New Year Wall Sticker - Bringing in the Auspicious
SGD 3.9
How about making it simple by decorating a plain wall with this auspicious wall sticker which involves a pair of koi fishes? Fish in general already represents good wealth, and the koi fish is a symbol of good business and academics. Wherever you want them to be, the sticker also makes a nice elegant piece as a daily decoration.
---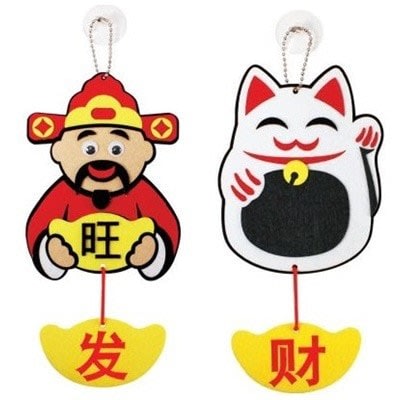 CNY Felt Deco Hanger Kit
SGD 3.5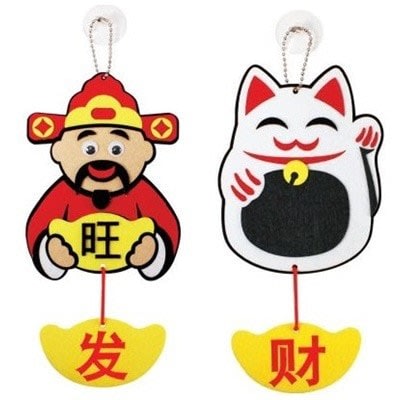 This CNY Deco Hanger Kit is made out of felt with a creative design of a wealth god or a fortune cat; both are symbols that represent money. Made with a suction cup for adhesive, it's perfect to hang them on a glass door or window The more you have these hanging around, the wealthier you'll be after the Chinese New Year.
---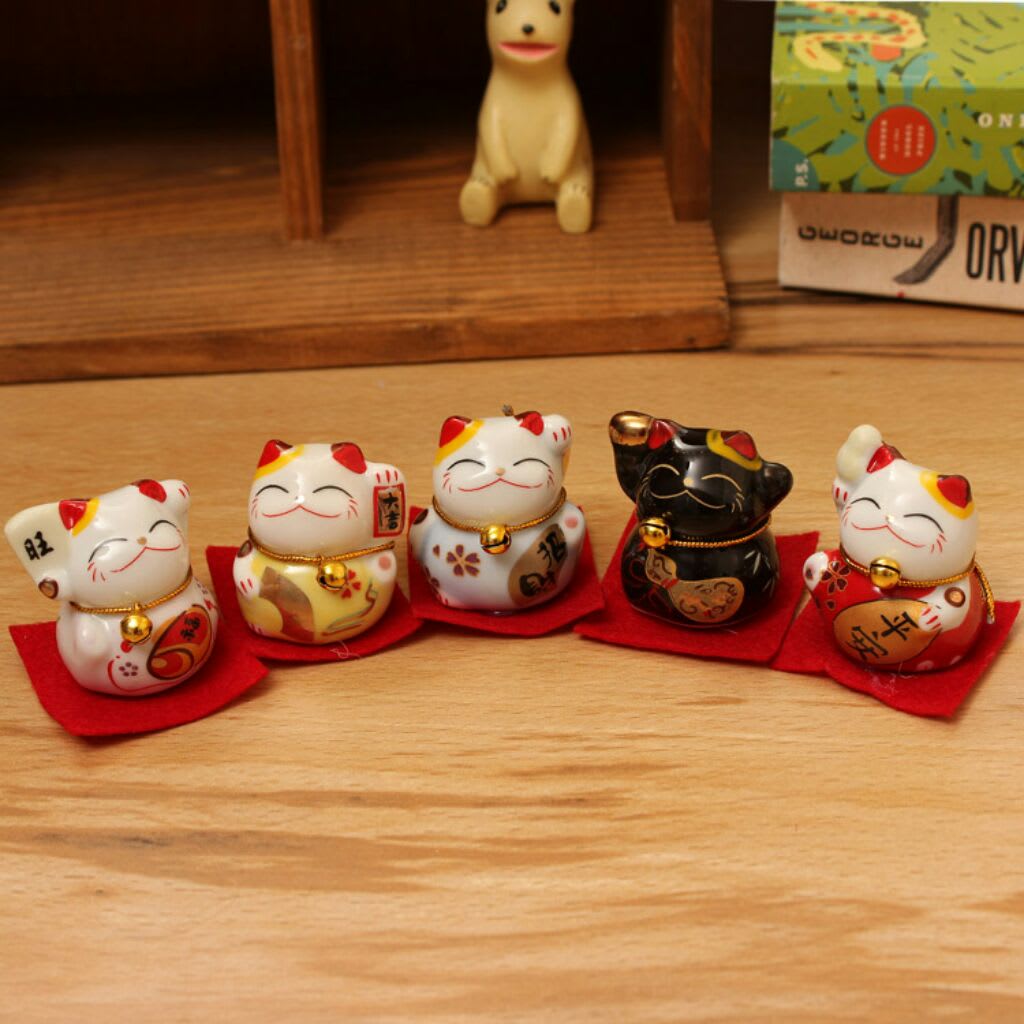 Five Blessings Fortune Cats
SGD 13.88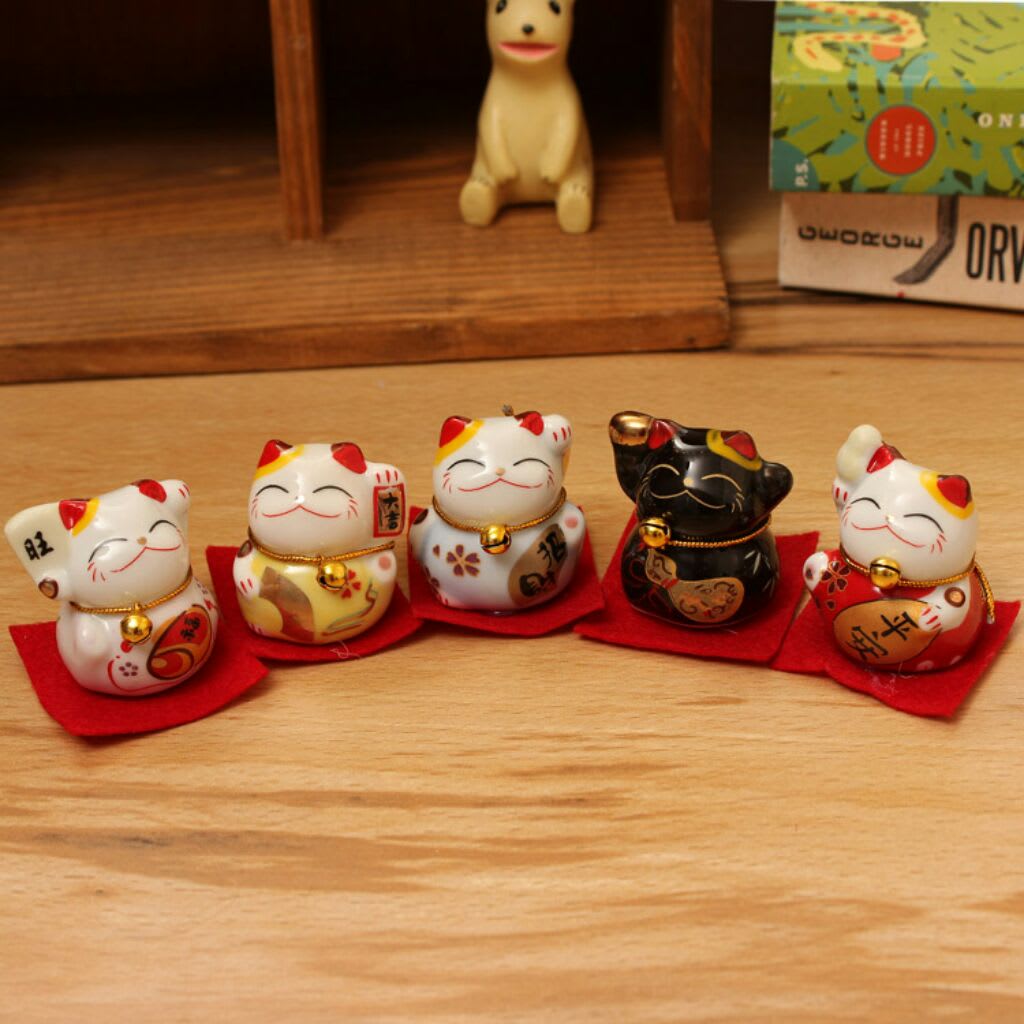 Cute yet symbolic, this set of Chinese New Year ceramic Fortune Cats are a great gift for when you go visiting. Each one of them holds a meaning according to their colour, bringing in wealth, health, safety, luck and wishes to anyone who has it.
---
---
How to Choose Your Chinese New Year Decorations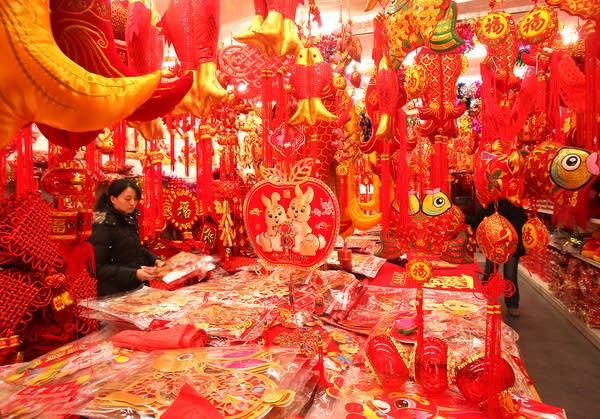 There are a ton of decoration ideas and pieces available in Singapore as the Chinese New Year draws closer. If you're having a tough time choosing which one should you buy, let us help you out.
Budget
First things first, remember that these are purely for aesthetics to bring in good luck and may provide a bit of usefulness. Set only what you feel is okay to be spent on so you won't impulse purchase. Not only is that unwise, but you might start your Chinese New Year low on funds, which isn't quite lucky, to begin with. The best thing you should do first is to set an amount. It should be something you're comfortable with.
Size
Once you have your budget, the next thing you want to consider is the size or your home or office, and the size of the decor. They don't come in as uniformed. All of the products here are unique and maybe bigger or smaller than others. To make sure you won't overdo stuff and make the place crowded, just pick a big ornament if you have enough space. If you live in an apartment, it's better to choose those that are simple and have extra use such as a food container or a floor mat – stickers work wonders, too.
---
Conclusion
Chinese New Year decors are accessories that make the celebration ten times better as they provide a brighter atmosphere in your home. But aside from that, they also invite good fortune to each and every family member. However, they should never be compulsory. What matters most is to be with family, to share your blessings with others, and to have a blast to start the year with happiness.
Disclaimer: The pricing shown is just a good indication of how much these products are worth. The prices could change based on the e-commerce promotions that are going on. If some of the products are not available, do email us at [email protected] Thank you!