Pressure cookers are a convenient kitchen appliance that one definitely needs in today's busy society. No time to cook? Easy. Simply prepare some ingredients and throw them into a pressure cooker.
It will work its magic and do all the work for you in a fraction of regular cooking time while maintaining excellent flavour. What's more, you can cook up an endless variety of dishes.
Before we run down on the cookers that are highly recommended, you should first know…
How to choose a pressure cooker?
To choose a pressure cooker, there are a few things to consider.
Capacity - How much do you want to cook? If you can pinpoint how much food you'll prepare at once, you can save some money by choosing the right size in the first place. Common size of a pressure cooker ranges from 1 litre to over 10 litres.
Below 5 litres: Suitable for a small family, couples, or if you're single.

5-7 litres: Suitable for families of 3-5 members.

7-10 litres: Suitable for large families of 6 or more members, or if you regularly cook for a larger group of people.

More than 10 litres: Suitable for catering purposes or cooking for more than 15 people.
Function - Depending on your preferences for a standalone type or a multi-cooker type with additional functions, many pressure cookers also offer different modes to cook different types of dishes. Some even lets you air fry or bake. Therefore, you should check the features to ease usage of the cooker.
Warranty - Some warranties do not cover replacement parts for their pressure cookers. So, it is best to select one that does include parts and accessories. So far, most branded pressure cookers offer at least 2 years of warranty.
Material - This will also determine the durability of your product. We'd recommend pressure cookers that uses stainless steel, which are much more durable, easy to wash, and resistant to rust and stain. Another common material (coat) is ceramic. This offers durability and fast heating too, as well as weighing lighter. But it won't last as long as stainless steel.
Handle - Last but not least; a pot filled with food can get heavy really quickly. So get a pressure cooker with two handles for easier lifting and less strain on one hand.
---
There are many existing as well as up-and-coming pressure cookers out in the market. Which one should you get? We've researched thoroughly to come up with this list of amazing pressure cookers for you to choose from.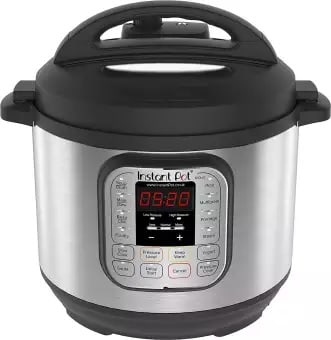 Instant Pot Duo 7-in-1
SGD 299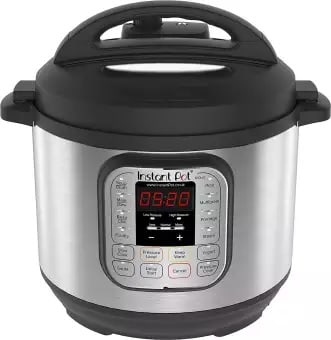 add_circle
Advanced safety features
add_circle
Extra sealing ring
add_circle
Cooks up to 70% faster
remove_circle
Does not have easy grip
The Instant Pot Duo 7-in-1 functions as a multi-cooker. It acts as a pressure cooker, slow cooker, rice cooker and yogurt maker. You can even use it to sauté/brown, steam, and warm up food, and all of these 7 features are found to be reliable for several users and reviewers. In terms of presets for certain food, the sizable cooker of 7.5 litres comes with a large control panel with 14 built-in programs.
Although the cooker claims to be straightforward and easy to use, we did find out that it's not all perfect for beginners to use. Rather, there's still a learning curve to adapt to. But once that has passed, you're rewarded with a talented product that'll last.
For starters, it's made out of stainless steel and with additional safety features, making it durable and safe to use. Plus, it cooks up to 70% faster than other cookers, saving you a great deal of time. Most importantly, pressure cookers are perfect for meats, and many reviewers find this cooker to cook them really, really well.
With all of these functions, this is one product with great value at a good price. Given that there's also a booklet that features 30 recipes, beginners and pro users alike will find joy in using the cooker.
---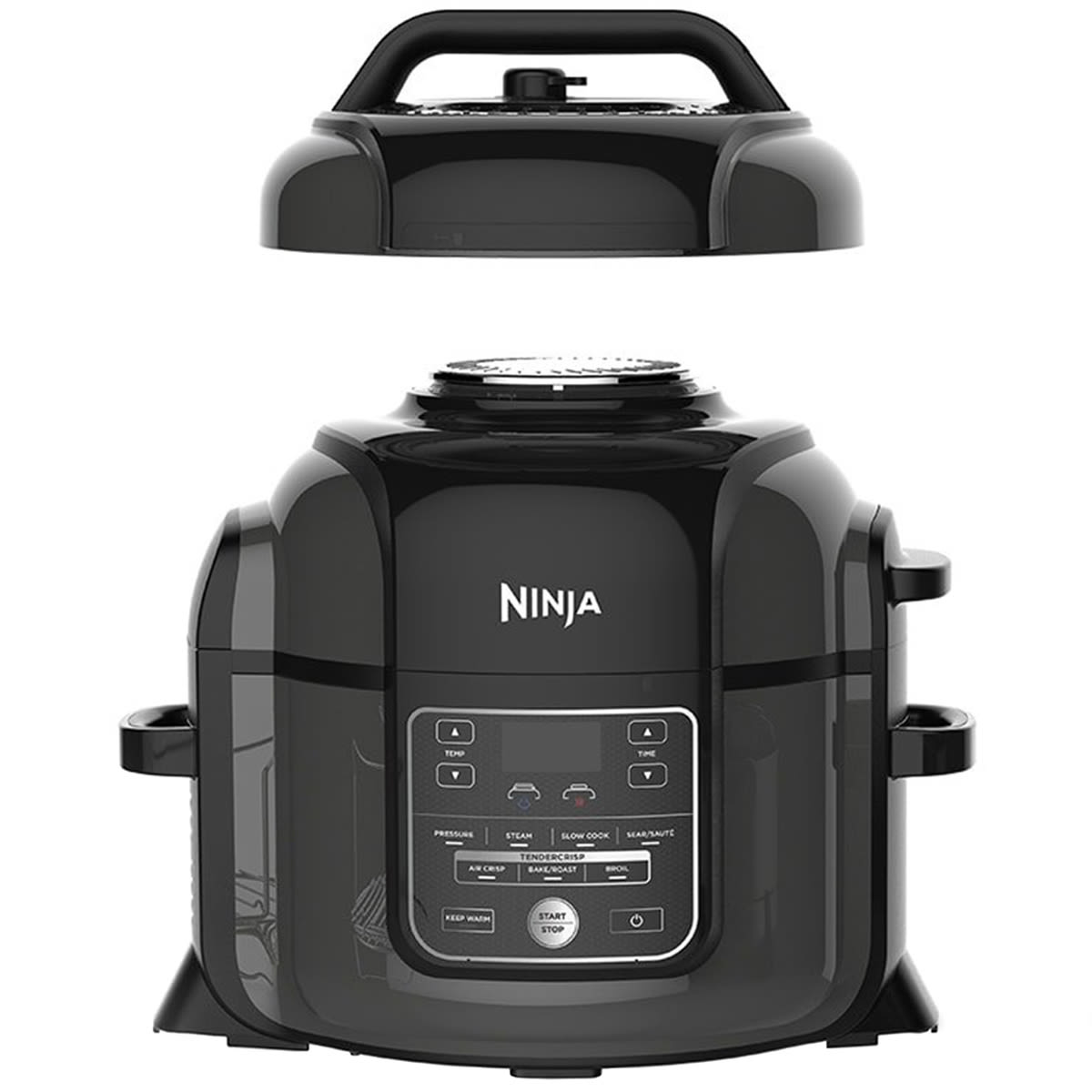 Ninja Foodi OP300 3.7L Pressure Cooker
SGD 399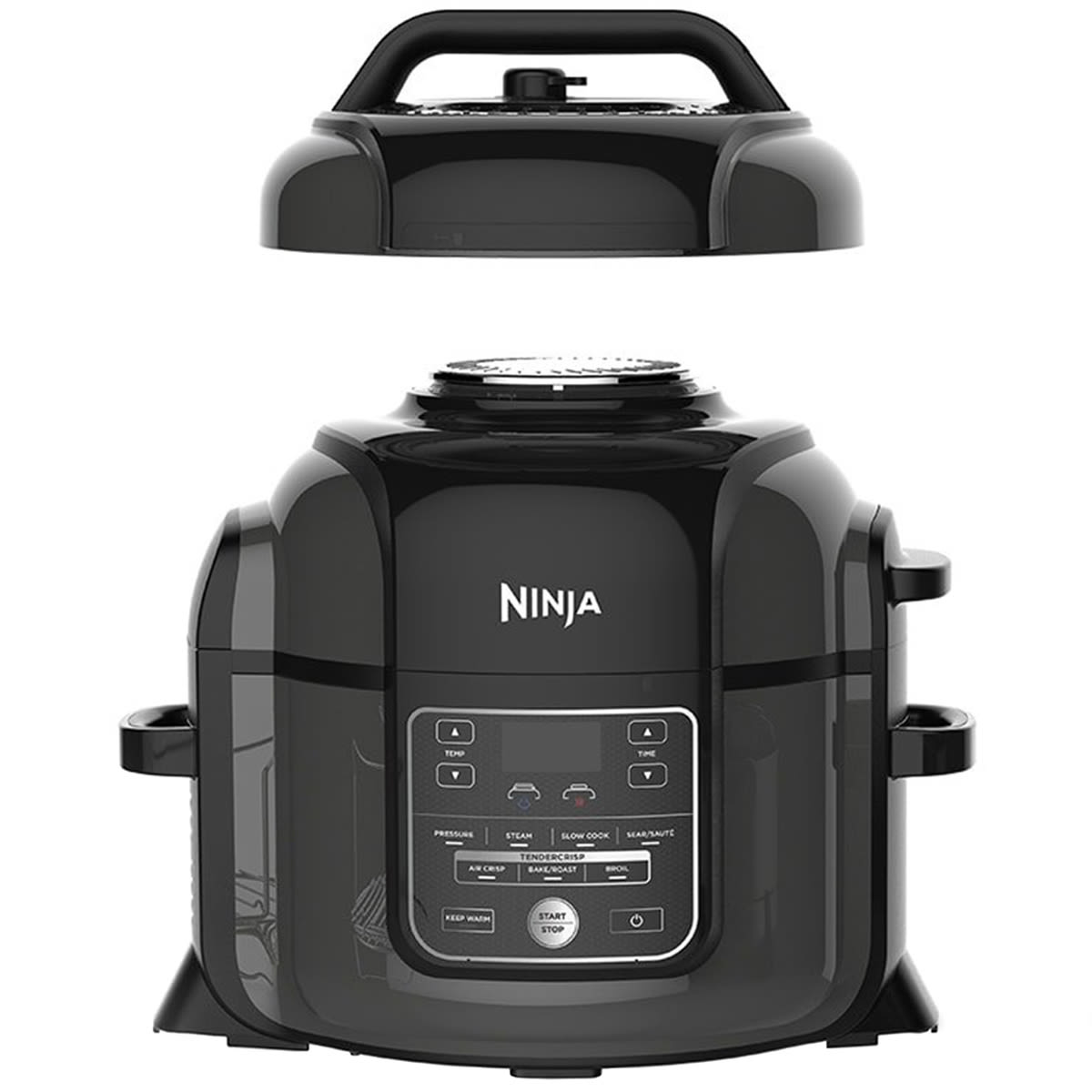 add_circle
Reversible rack
add_circle
Dishwasher safe
add_circle
Non-stick basket
add_circle
Superb range of functions
remove_circle
Large/takes up space
A multi-cooker cum air fryer is everything you can wish for to have in your kitchen, and rarely do we see a cooker that also works as an air fryer. This Ninja Foodi Multi Cooker comes with two separate cooking lids. Namely, one for slow cooking, pressure cooking, and sautéing, while the other for air frying, grilling, and roasting.
The cooker features a non-stick ceramic-coated basket along with a reversible rack to maximize cooking space. How does this work? You can pressure cook vegetables in the bottom, while you grill meat on the rack. Tadah, a full meal at one go.
Albeit expensive, this cooker justifies it for the industrial-size capacity - 6L cooking pot and 3.L frying basket. The fryer has an hour-long timer and can go up to 210 degree celsius. But, some users reported that over-fry may happen. This concern is something to think about for anyone new to air frying or even cooking.
On a lighter note, users have baked/roasted savoury food to replace the air fryer, and the results were much better; some even said that the chips were fried to perfection. Other perfect functions include searing and sauteeing, which is automatically done in the cooker itself, without needing to put them on another pan.
Lastly, the slow and pressure cooking function had cooked ingredients to "bites that are fresh and light". From all of these, you can see why this cooker is worth the time even if the air fryer is just average.
---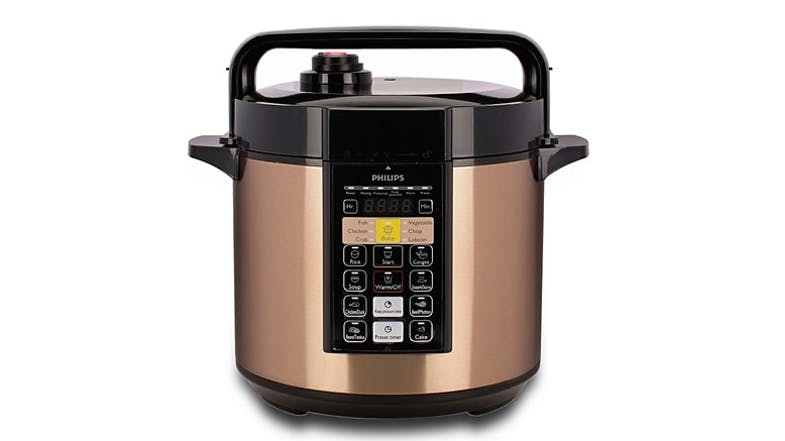 Philips HD2139 Viva Collection ME Computerized Electric Pressure Cooker
SGD 155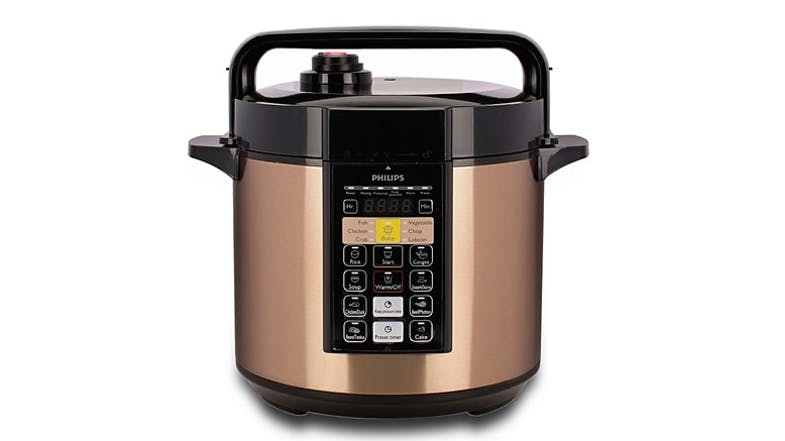 add_circle
Non-stick inner pot
remove_circle
Large/takes up space
With an affordable price, you can get a good value pressure cooker that is the Philips HD2139 Viva Collection ME Computerized Electric Pressure Cooker. It cooks meat, vegetables, and rice quite well. If you're wondering, it can also tenderise tough meat and keep rice fresh and warm for up to 12 hours. And all of these are done via the main unit which also sports a large LCD clock and timer display.
The 6-litre inner pot is extra thick to promote even cooking and is non-stick for easy cleaning. Users loved that it does heat up relatively fast, but not too fast that there's risks of burning. Results of dry pressure cooking are often good, and wet pressure cooking delivers concentrated and full-bodied flavours with the insides tender.
Some users did say that the baking function can produce results that are too moist. Moreover, smell of food cooked previously may linger. Despite those shortcomings, this cooker is a great budget option and would be a sweet addition to any kitchen thanks to its ease of use.
---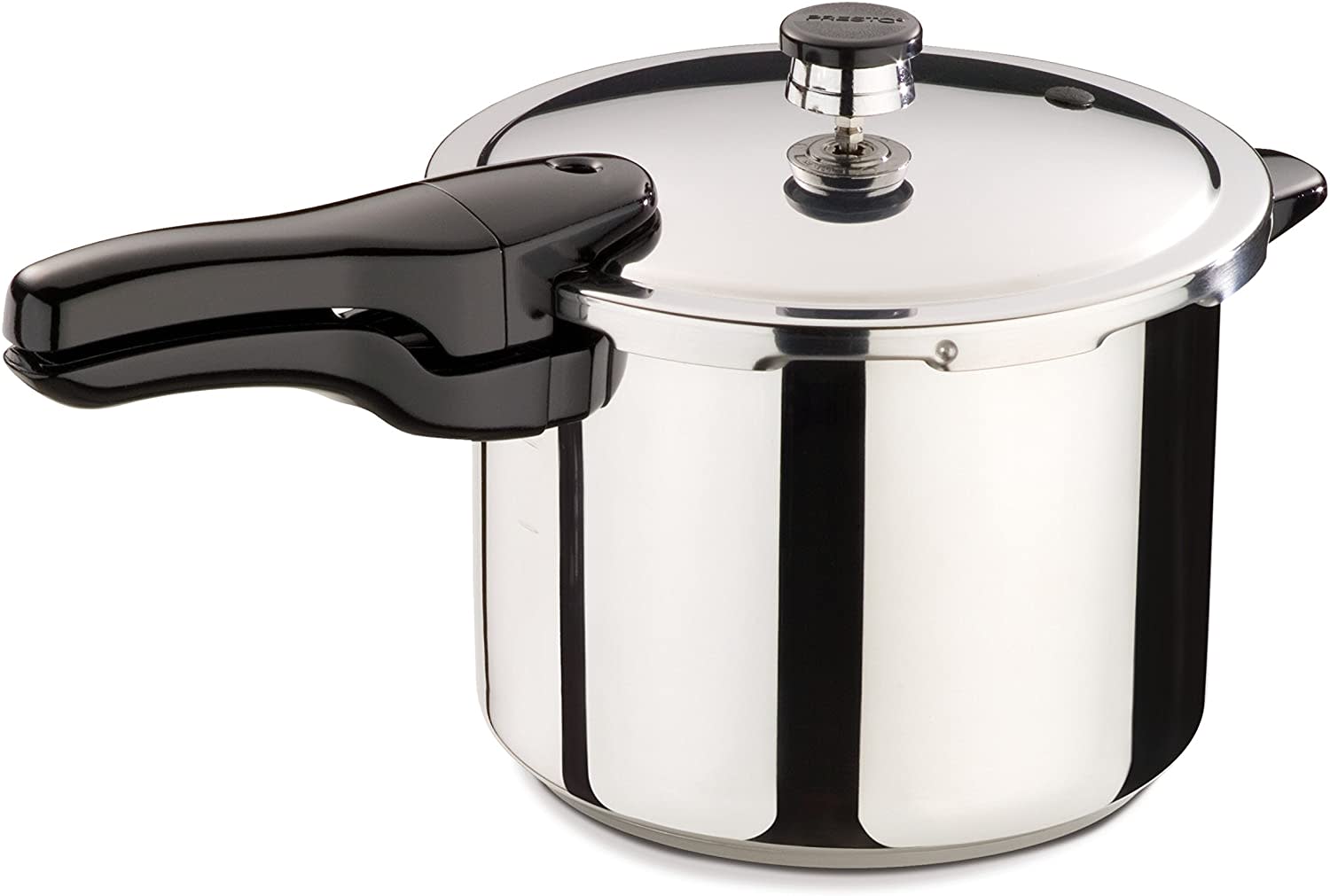 Presto 01362 6-Quart Stainless Steel Pressure Cooker
SGD 159.52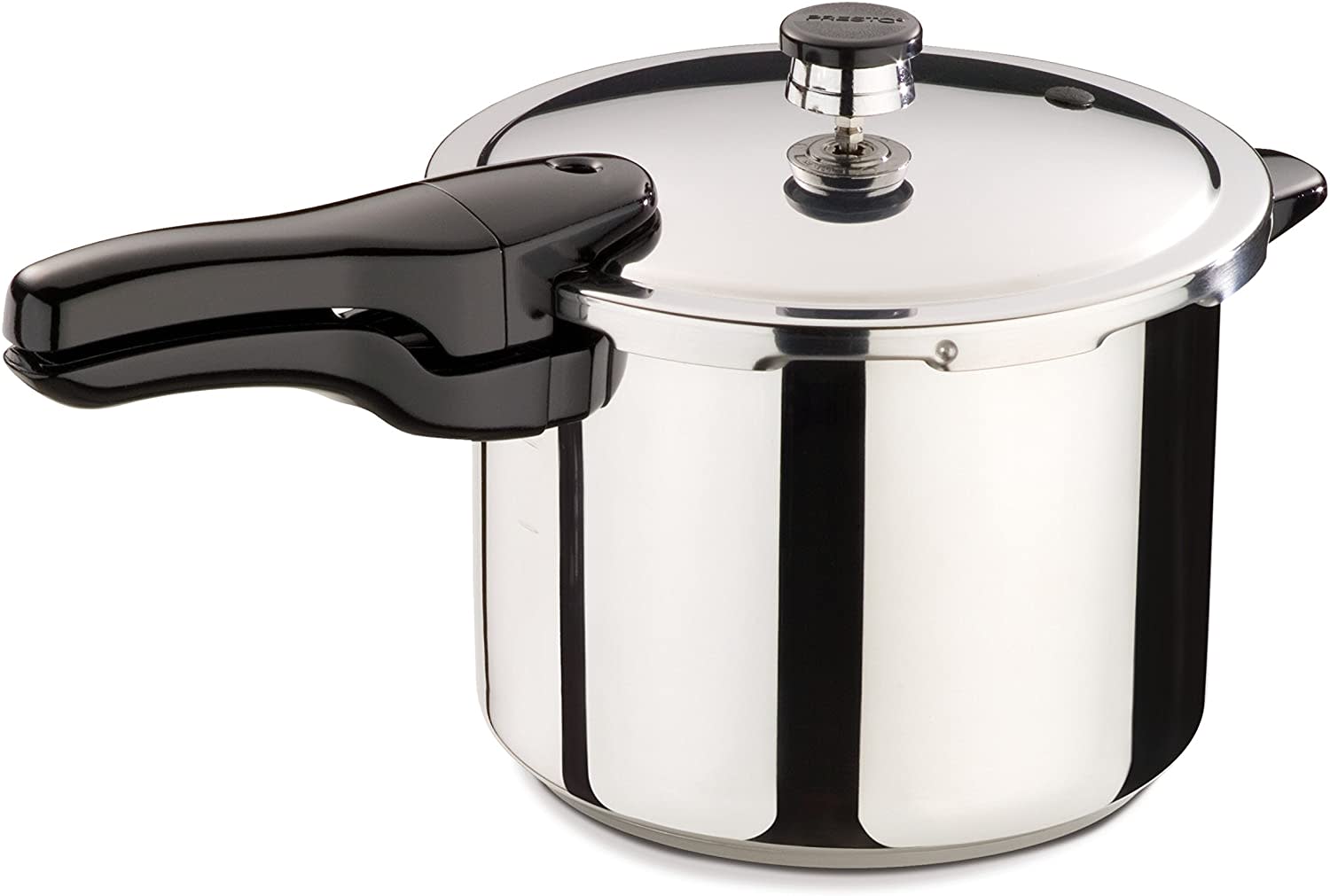 add_circle
Dishwasher safe
add_circle
Cover lock indicator to show pressure inside pot
add_circle
Cooks 3-10x faster than regular methods
remove_circle
Non-lasting handle
remove_circle
Unable to tenderize large chunks of meat easily
Looking for a basic pressure cooker? Usable on regular, smooth-top, and induction stoves, this 3.8-litre pressure cooker comes with a cover lock indicator to prevent the cover from being opened until the pressure has been safely reduced. To ensure even heating, its tri-clad base is made with an aluminium layer sandwiched between two stainless steel layers.
Despite its simple built, users have commented on the difficulty in cooking rice with softer texture (also mentioned in the instruction manual) as this cooker usually achieves results in a chewier texture. So depending on your preferred texture, you might have to be patient and go through a series of trial and errors.
That being said, it performs splendidly for meats, vegetables, and other ingredients, as promised by the brand. However, it takes a little more effort to tenderize large chunks of meat. So, to make cooking easier, prepare smaller pieces to cook, which will also be easier to chew.
---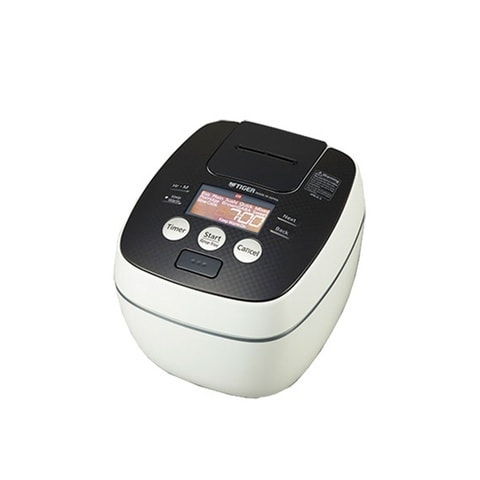 Tiger Pressure Induction Heating Rice Cooker (1.8L)
SGD 972.00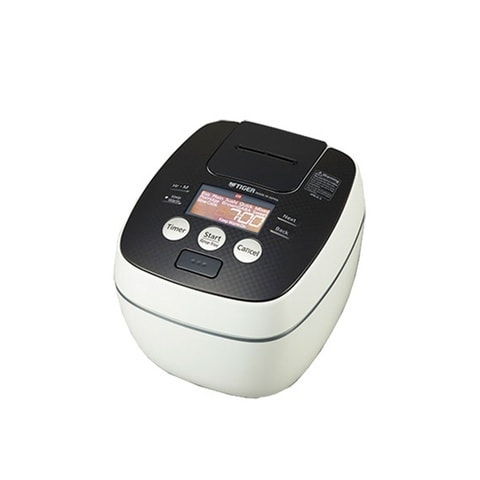 add_circle
Adjusts pressure accordingly when cooking to obtain ideal tastes and texture
add_circle
Premium rice-cooking
remove_circle
Certain types of dishes are not suitable to be cooked
The multi-talented Tiger Pressure IH Rice Cooker uses high pressure and induction heating to achieve rice that is fluffy and flavourful. It doesn't just cook white rice perfectly, but also brown and many more. Choose that easily from the menu setting which offers: Eco, Plain, Sushi, Quick Cook, Mixed, Porridge, Sweet, Brown GABA and Slow Cook.
Aside from that, the 11-layered, ceramic-coated inner pot is cleverly designed. It features a slightly rough surface in order to create bubbles easily, which then contributes to effective heat transfer. This essentially makes the cooker a quick one. The cooker is also embedded with heat retention glass beads to help the rice achieve its natural sweetness and texture.
Moreover, the cooker comes with a "tacook" (plate) which helps in separating food flavours and textures, therefore, allowing two dishes to be cooked simultaneously. IE, the main dish and your rice. Additionally, there are timer settings for you to control, so you can definitely cook more than rice.
Speaking of which, this appliance will cook the best fluffy rice as guaranteed by its users who stand by the quality and texture. Some even say that once you cook with this rice cooker, you won't ever go back to others. So, while it is on the pricier side, many agree that it is worth every penny.,
The slow cooking function has been demonstrated online that it can cook recipes such as mac & cheese, and chicken soup. However, certain foods such as thick curry or anything with unpeeled leaves may cause clogged pressure. To avoid that, we recommend (carefully experimenting and) sticking to the mini recipe cookbook that comes with the cooker.
---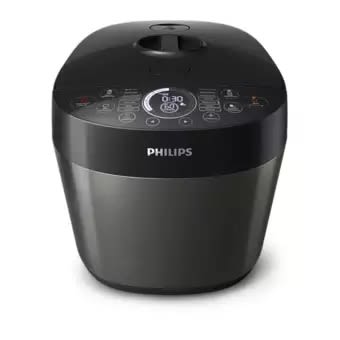 Philips Deluxe Collection Multi-cooker Pressure & Slow Cooker HD2145/62
SGD 332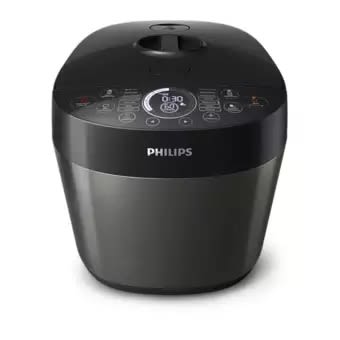 add_circle
Customization with cooking pressure to one's liking
add_circle
Option to add delicate ingredients at later stage of pressure cook
remove_circle
Inflexible rubber seal - must be placed accurately in position or else lid won't fit properly
This versatile pressure cooker cum slow cooker comes with the ability to cook up to 6 times faster. It has a dual temperature control system; pressure cook and multi cook. Steam, bake, sauté, and sear; it's an all-in-1 appliance.
With its programmable cooking time and pressure, you may follow them exactly or tweak the settings according to your liking, an option generally preferred. There also exists a sauce-thickening feature which allows you to control how thick you want your soup or sauce to be.
Plus, it has a function that allows the addition of delicate ingredients at a later time so that they won't end up too mushy. A downside to this cooker though is the lack of Asian cooking options. For instance, a user chose the 'Risotto' function to cook porridge as there is no such function for it.
Despite that, buyers are in love with the food texture, convenience, and time-saving factor that comes with this particular appliance, and many use it on a daily basis. So we do recommend this as a wonderful new addition to your kitchen for its functionality and results.
---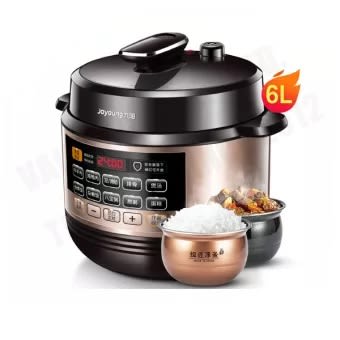 Joyoung Y-60C81 6L Electric High Pressure Cooker/Rice Cooker
SGD 99.9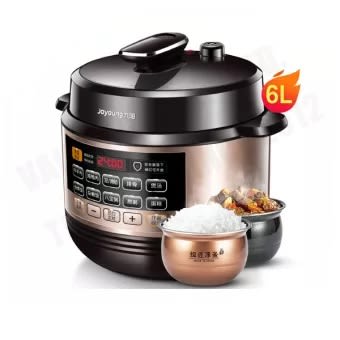 add_circle
Singapore Plug with Safety Mark
add_circle
Comes with English manual
add_circle
Lid Position Monitor that prevents the pressure cooker from operating if the lid is improperly positioned.
remove_circle
Chinese labels on touch controls
We are no strangers to soups as it is a healthy and delicious delicacy. Why not make one with this Joyoung pressure cooker? With 12 preset functions, you can cook almost everything from soup to porridge to poultry dishes with at least half the time of regular cooking, and it has a double-boiled soup function.
While its many preset functions adds points to its practicality, it does take a some time and effort to adjust and optimise ingredients according to the presets, as reviewed by users. For example, even a simple dish of brown rice took a little experimenting with the 'Quick Cook' option as it did not come out as desired. But one thing they agree on is its efficiency and speed in delivery.
In addition, taste, texture, and 90-95% of food nutrients are preserved within the dish thanks to its double-boil soup function, which makes the cooker special among others. so you get to enjoy a hearty, nutritious meal. Although from China with Chinese labels on the presets, it does come with an English manual and a Singapore plug with a safety mark, so the labels can be understood and it is safe to use here.
---
Disclaimer: The pricing shown is just a good indication of how much these products are worth. The prices could change based on the e-commerce promotions that are going on. If some of the products are not available, do email us at [email protected] Thank you!