Mini fridges are life-savers for those who cannot find space for a full-sized refrigerator, or for those who just need a little fridge to keep food and drinks chilled temporarily. Maybe you just want a mini-fridge to keep drinks, or you're a student staying in a dorm and would like to have a mini-fridge. Perhaps you'd just want a fridge you can carry around with to place in the car, for picnics or while at work.
Today, we're letting you in on some good mini-fridges that might just be your ultimate cooling companion.
More: Keep It All Fresh & Cool with these 9 Best Refrigerators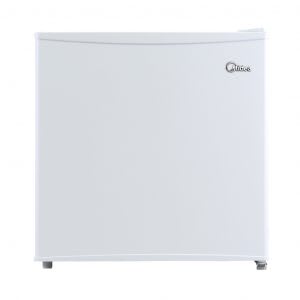 Midea MS50 Mini Bar Fridge
SGD 95.84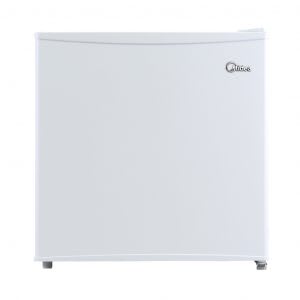 add_circle
2L bottle rack to store drinks
add_circle
Separate chiller compartment with ice cube trays
add_circle
Relatively spacious for a mini bar fridge
remove_circle
Difficult to understand user guide
remove_circle
May be noisy
remove_circle
No light in fridge
When it comes to a mini-fridge, you wouldn't need to expect much, but it should be of good value even if your needs are simple.
For those who'd like to use a mini-fridge be it in their bedrooms, for cosmetic or as another back-up, extra storage fridge can get the Midea MS50 Mini Bar Fridge. Its net volume is 45L and comes complete with a simple layout that holds multiple purposes such as a 6-egg tray, fridge space and a chiller which can store ice.
If you are left-handed, you'll be glad to know that Midea MS50's door rack is reversible. Built with adjustable legs, you can also fit the fridge comfortably on a counter if you wish. Moreover, feel free to fit a 2L bottle at the door rack.
On that separate chiller compartment, aside from ice cubes, you should be able to fit popsicles and some small ice cream tubs too.
Maintaining the fridge should be easy, as this product has an auto-defrost function should you need it. Other delights discovered by existing users include quiet operation and the good cool temperature that's enough to store some vegetables and fruits safely.
Dimensions: 472mm(H) x 492mm(W) x 450mm(D)
Energy rating: 2 ticks (179kwh)
Refrigerant: R600A
---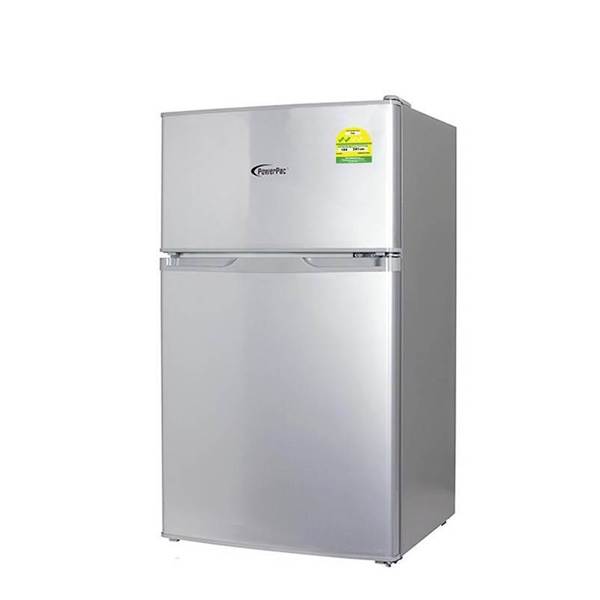 PowerPac 71L Mini Bar Fridge (PPF85)
SGD 299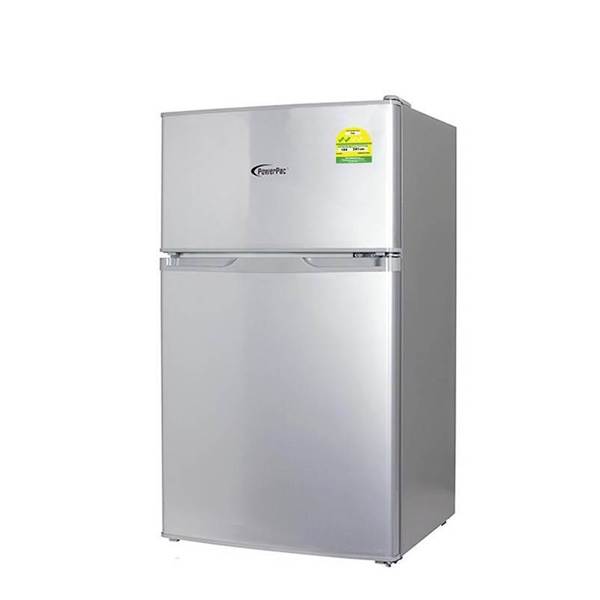 add_circle
Ample space in refrigerator
add_circle
Energy efficient compressor
add_circle
Good size for both refrigerator and freezer
remove_circle
No auto-defrost function
Experts recommend that breastmilk should be frozen if it won't be consumed anytime soon, as they can only be stored for up to 4 days. Meanwhile, breastmilk can actually be stored in the freezer for up to 12 months, and will still be much better than baby formula.
But we can't tell our baby to drink everything up. And whether a parent can or cannot produce a large volume of breastmilk, they would still benefit from a place to store breastmilk safely as it is liquid gold.
Out of most branded mini-fridges available locally, PowerPac's mini-fridge manages to offer both a 49L refrigerator together with a 22L freezer that will not break the bank. It offers your basic needs in a fridge: a levelled, temperature control that goes between 0 to 10 degrees, 2 shelves in the refrigerator, a vegetable compartment, and a separated freezer compartment, which can go at lowest to -18 degrees. The door also has racks for you to put bottled items and such.
In general, the fridge has favourable reviews for its overall good value and offerings. It's a good size as a small refrigerator and will come in handy as well as a flexible storage space for your breastmilk. Then when you are done, you can use it as a secondary fridge!
Dimensions: 825mm(H) x 475mm(W) x 445mm(D)
Energy rating: 2 ticks (241kwh)
Refrigerant: R600a(32g)
---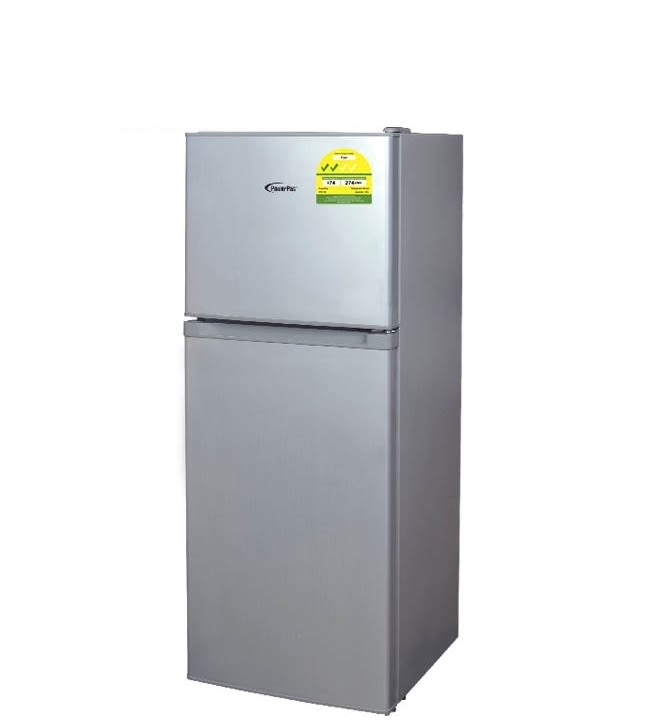 PowerPac 136L Mini Bar Fridge with Freezer PPF136
SGD 339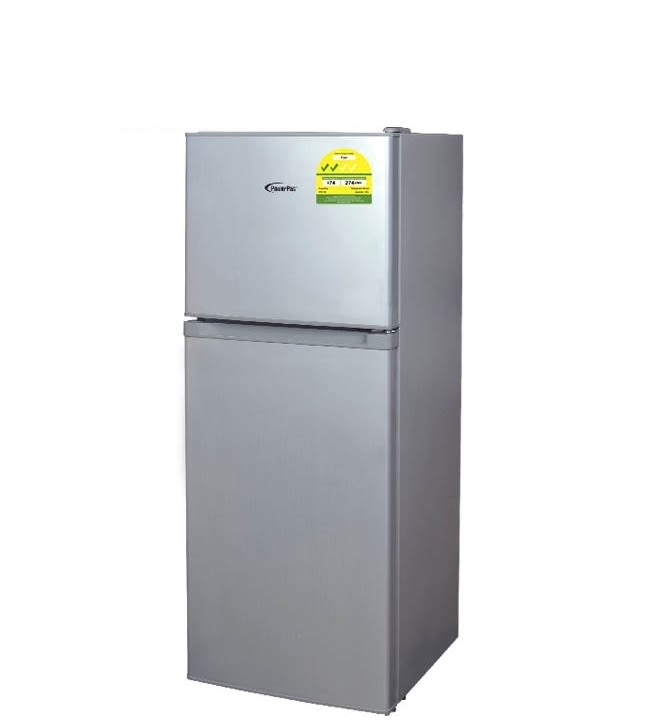 add_circle
Mini fridge with biggest refrigerator and freezer size
add_circle
Energy efficient compressor
add_circle
Has anti-bacterial and activated carbon filter interior
remove_circle
No auto-defrost function
Many mini-fridges don't come with a freezer. Even if they do, like the ones in a hotel, the freezer is usually limited in size and can probably fit in only a box of mini Magnums. Without a freezer, you're pretty much limited to only chilling and extending the freshness of foods. For those who don't want to afford a full-fledge fridge, or just needs something in between, should look to PowerPac's 136L mini-fridge.
Inside it comprises of a 97L refrigerator that's separated into shelves and actual vegetable storage, along with a 39L freezer. As experts recommend a minimum of 115L per person on fridge capacity, this is perfect for one person. You have a temperature-control which can go from 0 to 10 degrees for the refrigerator and up till -18 degrees for the freezer. This fridge is also well-equipped with a sealed door as well as carbon and anti-bacterial filter to ensure optimum freshness to your foods.
As expected from a fridge to deliver middle-ground expectations, users are pleased that the fridge is quiet for the most part, with the freezer being very cold. Because this is still quite a huge fridge than most mini-fridges, our next fridge with a freezer recommendation is PowerPac's 71L variant (PPF85).
Dimensions: 1265mm(H) x 470mm(W) x 409mm(D)
Energy rating: 2 ticks (274kwh)
Refrigerant: R600a(48g)
---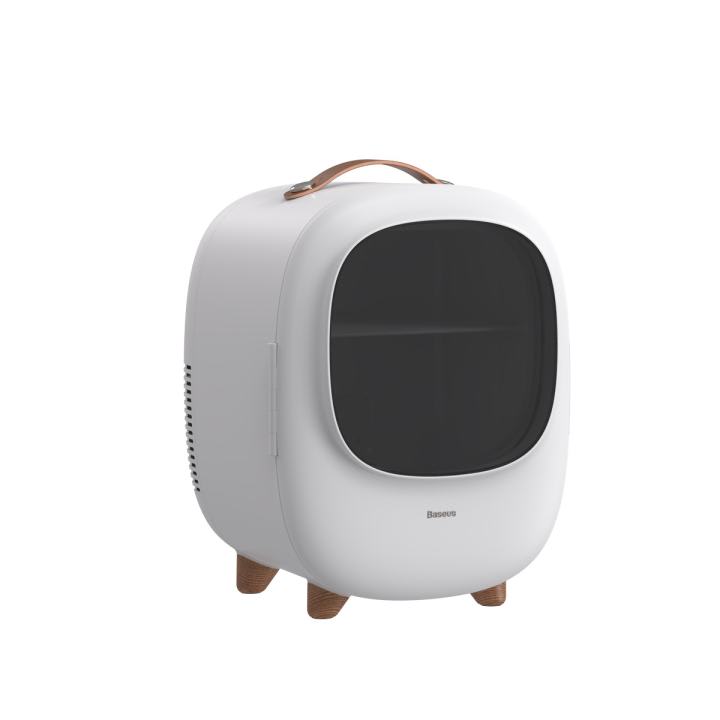 Baseus 8L Mini Fridge (Zero Space Refrigerator)
SGD 99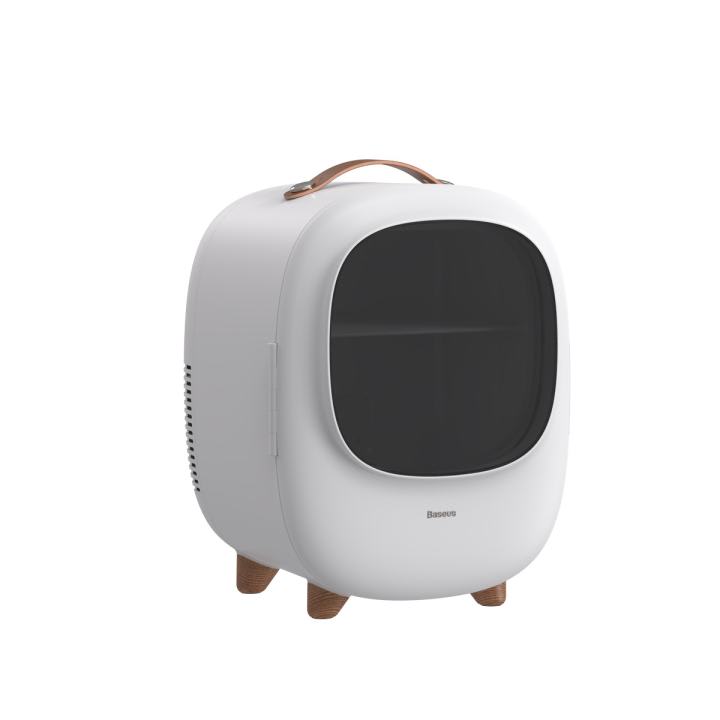 add_circle
Small and compact refrigerator that you can bring along with you
add_circle
Features both heating and cooling functions to ensure your food/drinks are at optimal temperatures
add_circle
Quick cooling feature to reach 0 degrees Celcius within 1.5 hour
add_circle
thick insulator layer for energy efficiency
add_circle
Quiet operation
remove_circle
Condensation occurs inside
remove_circle
No light inside
remove_circle
Not for those who needs a refrigerator for everyday use
Fridges are not that cheap of an item nor are they quite portable. Moreover, many cheap ones will be too noisy, or too inconvenient to have when you just want a small, chilled storage area to put your drinks in as a dorm student or if you want to put your water-based skincare products easily.
Enter Baseus, offering a solution to the problem with its 8L Portable refrigerator, which can reach as low as 0 degrees.
What will strike most people is its cute, simple design which will fit easily in your dorm. Making sure that it's affordable to maintain, the fridge uses only 1kwh per day. While that's about 365kwh per year, but the fridge is so easy to maintain, unlike a traditional fridge, that you can just turn it off whenever you want without needing to deal with any frost clean-up.
Holding a total capacity of 8L, the fridge keeps it simple with a shelved and base storage. This fridge also has a window to complete the look. Additionally, you can choose to have it on silent or normal mode. If need be, the fridge has warming capabilities as well at up to 65 degrees.
Reviewers love the silent operation and small, lightweight design. However, a common flaw is that condensation tends to appear at the base, which can be easily wiped away.
Dimensions: 360mm(H) x 275mm(W) x 290mm(D)
Energy rating: 1kwh per 24 hours
Refrigerant: N/A, uses semiconductor chip
---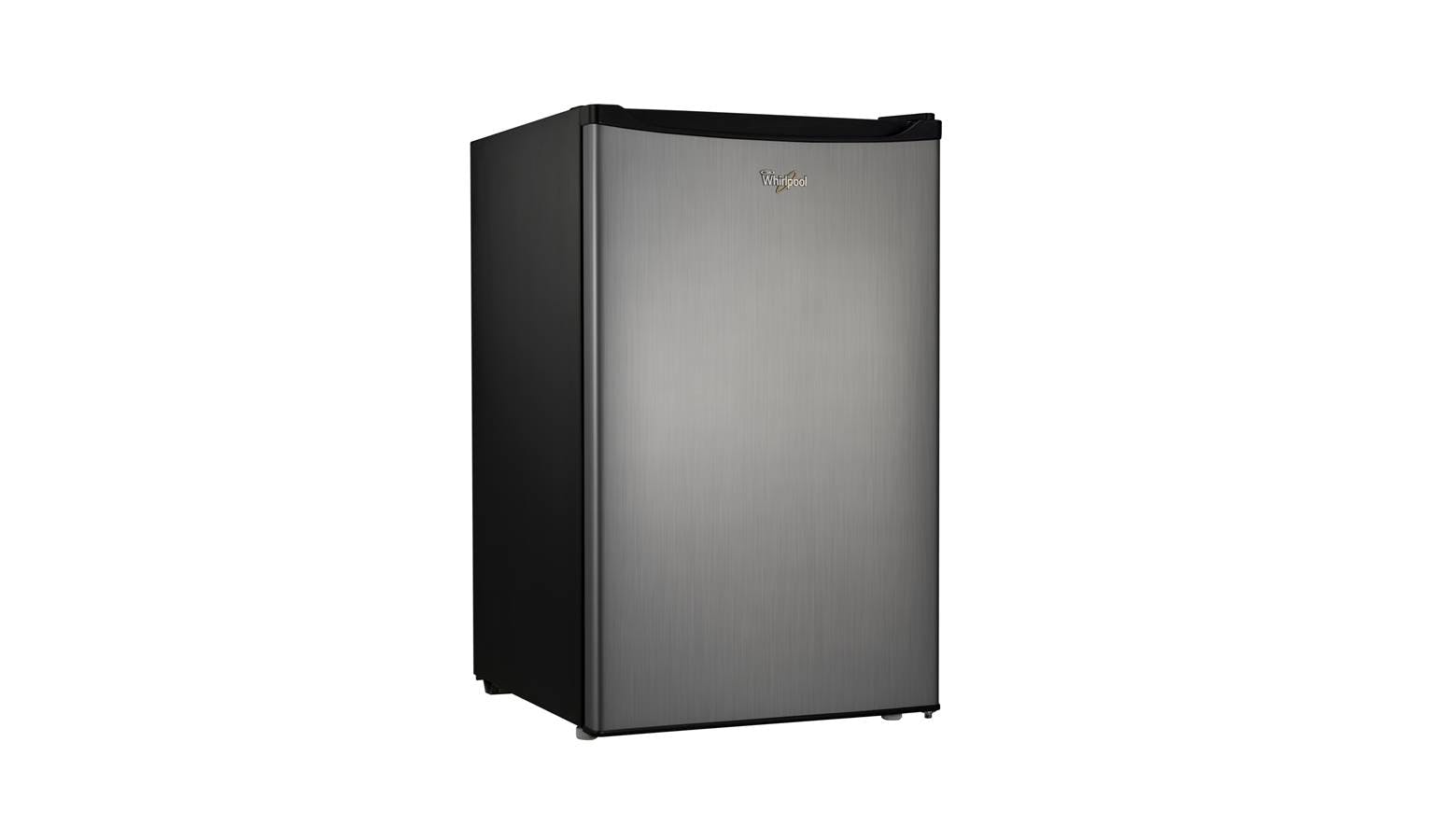 Whirlpool 127L Mini Bar Fridge WGD45SS
SGD 329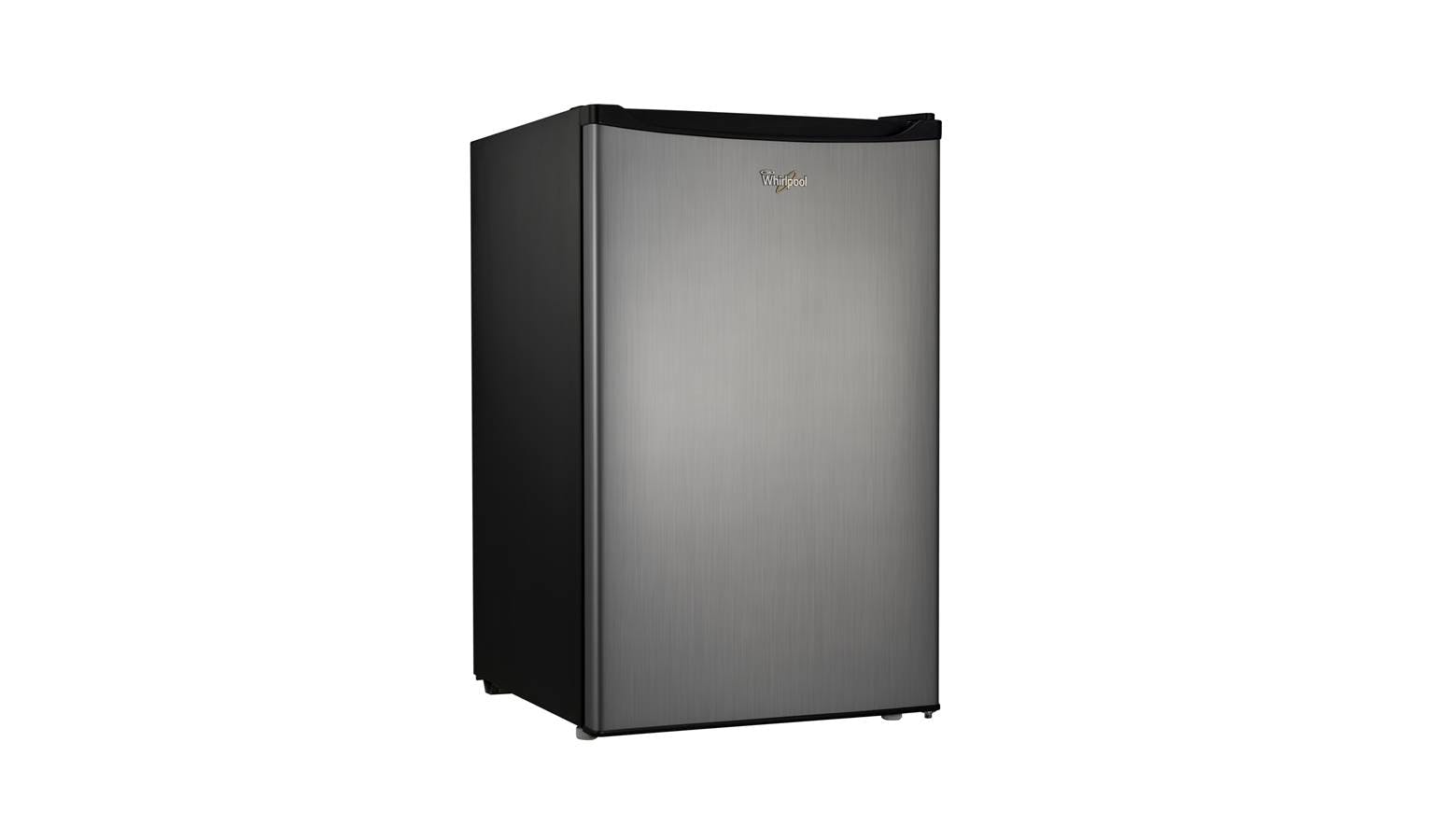 add_circle
Flexible layout (removable shelves)
For the one who loves their beer so much, that they decide to have a small fridge for it, we'd recommend the Whirlpool WGD45SS Mini Bar fridge. The reason is simple; check out that door drink layout! And if you're going to use your fridge for just beer, there's 127L of space for you to store your drinks (it's bigger than most hotel room's fridges).
The fridge seems to utilize almost every space available in it as much as possible. You get 4 layers of shelves, where 3 are for refrigerating items while the top one is a 10L freezer. We'd like to think that due to the 50 over centimetres fridge depth, you can perfectly chill more wine and beer bottles lying flat in the 103L refrigerator if the door rack is full.
Speaking of which, that door rack is well equipped with a can dispenser which can fit about 7 units. Moreover, there's also a 2L bottle rack and other 2 levels that are flexible to store anything else you want. And if need be, the glass shelves for the refrigerator compartment is also removable in case you need to store something else really big.
The flexible fridge is truly for anyone who just wants to store their beer safely and nicely without spending too much.
Dimensions: 840mm(H) x 506mm(W) x 567mm(D)
Energy rating: 2 ticks (190kwh)
Refrigerant: R600a(27g)
---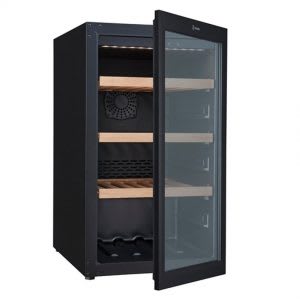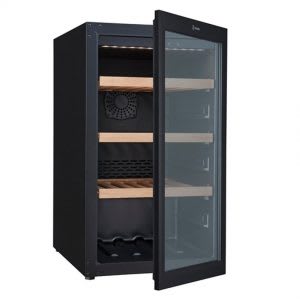 add_circle
3 wooden shelves rack to store up to 49 bottles of wine
add_circle
Frost free motor
add_circle
Quiet operation
add_circle
Touchpad temperature control
remove_circle
LED Display does not state current temperature
remove_circle
Lights only turn on when door is opened
Not too big and not too small, that's what we describe the Valenti VAW-47S Wine Chiller as.
The Valenti VAW-47S is quite simple in its design, with 3 shelves that are designed with stoppers to prevent the bottles from falling off. Its said-shelves are made of wood, which adds a classy touch and connection to wine cellars. This mini-fridge actually doesn't just cater to wine, but also other types of beverages too.
Its versatility is due to the touchpad temperature control, letting you set the temperature with much more accuracy.
In this wine chiller-fridge, you can fit about 47 bottled wine with 750ml capacity. It isn't big, but it's definitely a good start for newbies to wine. Don't worry if this small fridge seems fragile; users have said that its sturdy body is very well built. Finishing the aesthetic touch to this fridge-chiller is a see-through, frost-free glass door.
Interested in storing wine without being over the top? The Valenti VAW-47S is perfect for you, being vouched by reviewers for its quiet operation, well built and its ability to keep cool without getting warm ever.
Dimensions: 820mm(H) x 484mm(W) x 600mm(D)
Energy rating: N/A
Refrigerant: R600A
---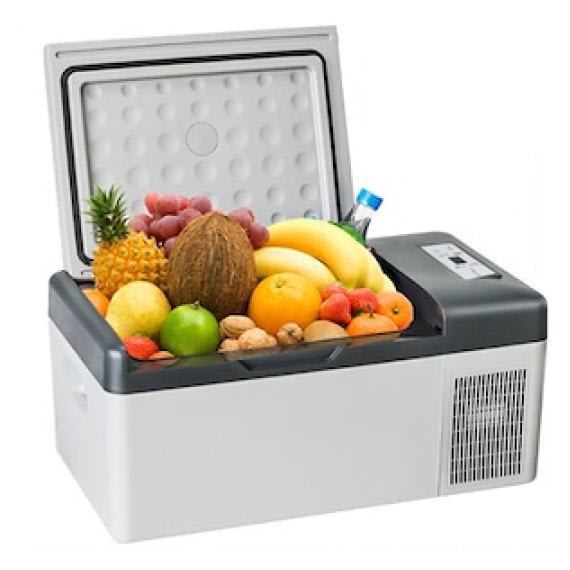 Iceberg Car Portable Fridge
SGD 219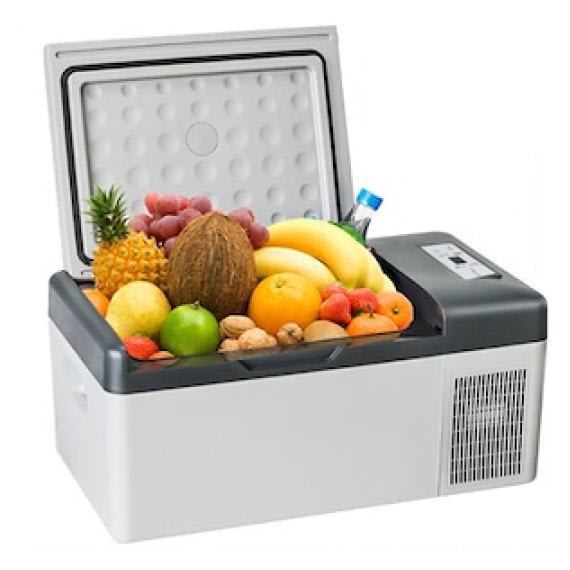 add_circle
Good temperature range
Portable fridges are possible! And we're not talking about those that can only be used with a home power socket. Iceberg offers a portable fridge in the shape of a chiller-box, that can be used whether in your home or a car.
In its smallest size, the portable fridge offers about 15L of capacity which should let you fit in 15 cans of cola. You can choose to freeze or chill your items, with or without ice. Even if choosing the latter, your fridge can go from 20 degrees to as low as -20 degrees, making it perfect to preserve even ice-cold foods.
Everything about the Iceberg Portable Fridge is smart. First off, its thick 40mm body ensures better temperature preservation. This lets the box continue to cool/chill your drinks safely even if there's a power failure for up to 72 hours. And controlling the fridge is easy too within the box's LCD display, or via its phone app. Not forgetting, you can even use the box to charge your phone if need be.
The other highlights that other users have (and you will) love are its low noise operation at 45db, the support for both AC and DC power source for home and car use, as well as steel body with a satisfactory weight (11kg for 15L capacity).
Dimensions: For 15L capacity; 320mm(H) x 570mm(W) x 260mm(D)
Energy rating: N/A, 40W
Refrigerant: N/A, uses LG compressor
---
Disclaimer: The pricing shown is just a good indication of how much these products are worth. The prices could change based on the e-commerce promotions that are going on. If some of the products are not available, do email us at [email protected] Thank you!