If you're a fan of baking, you would definitely have considered purchasing a stand mixer for your home as it is a convenient appliance to have in your kitchen. It makes baking fun and effortless as it does all the heavy work for you.
Essentially, a stand mixer is the ultimate kind of mixer that is able to work unsupervised, allowing you to multitask with minimal monitoring. It can help you do all the whipping, mixing, beating, and whisking while you prepare for the next steps.
Typically, it comes as a set with a heavy-duty motor mixer, a mounting base, a bowl, and a couple of attachments such as a whisk and a beater or paddle.
Stand mixer vs Hand mixer
An obvious difference between a stand mixer and hand mixer is, of course, the way they are used. The former is a stationary appliance while working on its own, whereas the latter is one that requires human manual movements. But that is not all there is to it. Both have their advantages and disadvantages as explained below:-
| | | |
| --- | --- | --- |
| | Stand Mixer | Hand Mixer |
| Price | Expensive | Cheap |
| Storage | Takes up a bigger space due to size and additional attachments | Takes up minimal space |
| Cleaning | More troublesome to clean as it comes with multiple parts | Quicker and easier to clean |
| Usability | Can be complicated to use due to features like timer and programmable settings that need to be tried and tested first, good for heavy duty mixing, large stationary bowl prevents splashing | Simple to use, doesn't come with additional features, requires physical strength to hold and control, good for quick and simple mixing, likely to make splashes easily due to inconsistent bowl position held by human |
| Mixing Capability | Can go on for a long time while maintaining constant speed and movement, suitable for tasks that require longer duration like mixing thick batter | Due to smaller motor, more suitable for quicker tasks like whipping egg whites or cream, may be affected when arm gets tired after a while due to the need for constant human manoeuvring |
For someone who bakes often and a lot, a stand mixer wins hands down given the situation. You won't need to exert so much energy and physical force to create decadent treats. In fact, the amount of effort that goes into baking will be halved at least with this useful item.
Now that we can see how much easier baking can be with a stand mixer, here's a list of them that we've found to perform really well.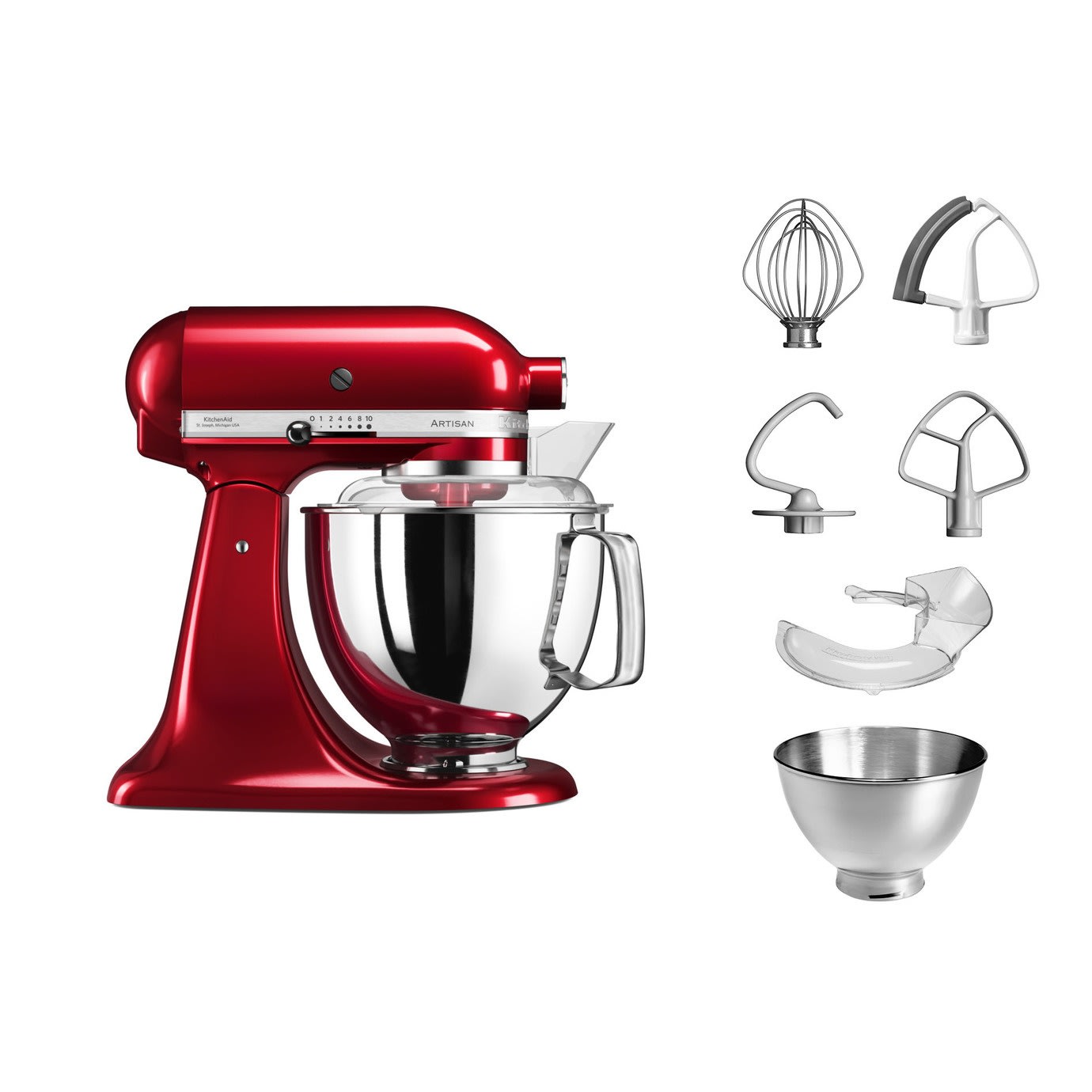 KitchenAid Artisan Tilt-Head Series Mixer (5KSM175PSB)
SGD 749.00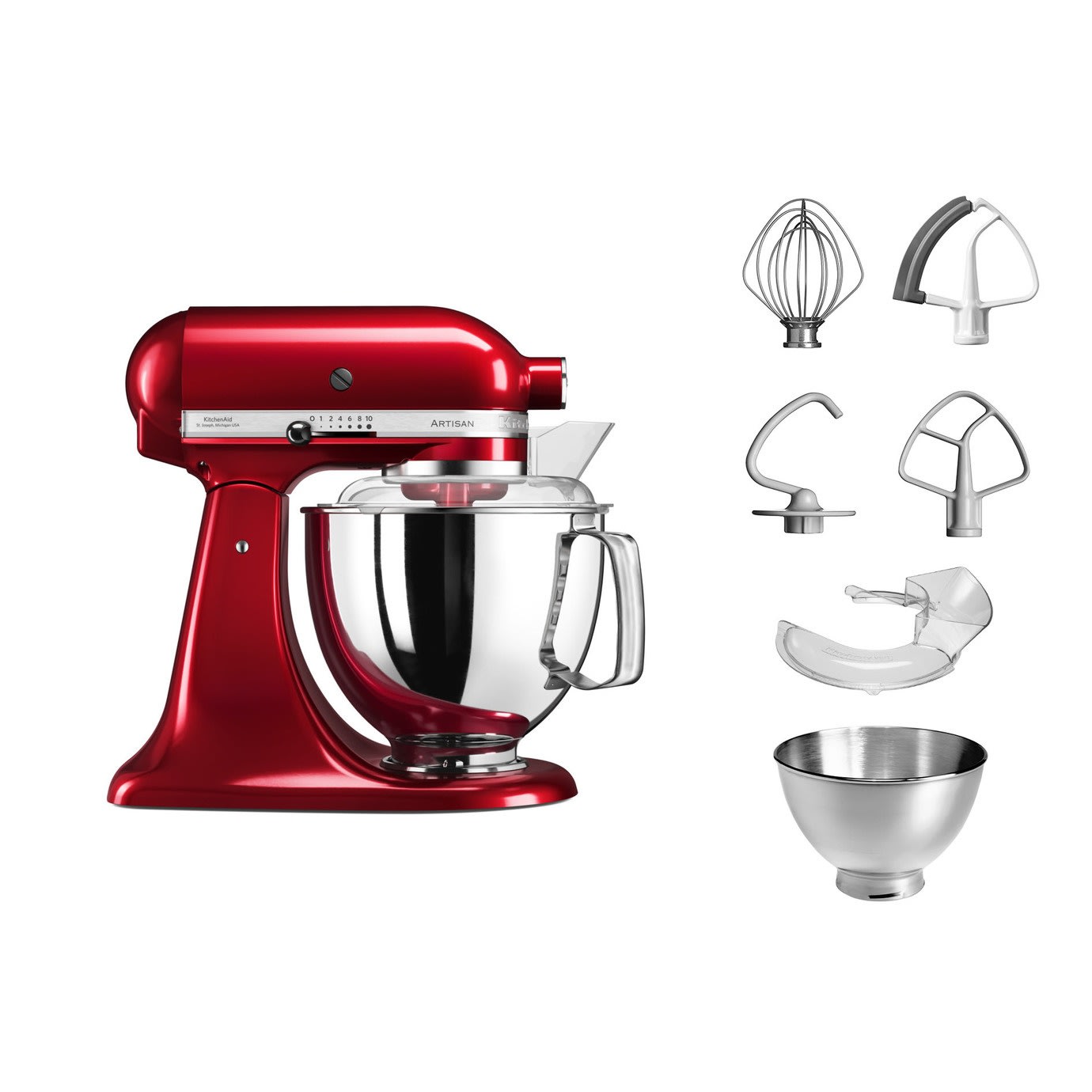 add_circle
Quiet when in use
add_circle
Quality is ensured to get mixing right
remove_circle
Wire whisk not dishwasher-safe
KitchenAid's Artisan Tilt-Head Series Mixer is a popular favourite for home bakers. Made of high grade die-cast zinc, this retro-style designed stand mixer has great function and durability. Not to mention, it has a variety of attachments that can be simply plugged in and put to work according to your baking needs such as a dough hook, whisk, and beater.
The flex edge beater scrapes every single last bit of leftover off the bowl thanks to its original planetary action that pushes ingredients to the centre of the bowl so that everything is well mixed. For added convenience, the mixer comes with a pouring shield that allows ingredients to be added to the bowl without making a mess.
Users have complimented its performance as it does a great job at both light and heavy mixes. They also like the fact that it is simple to use and is quiet when in operation, making baking a relaxing, panic-free hobby without fussing over breakdowns. While it does not come cheap, it is worth every penny as it will last you a long time.
---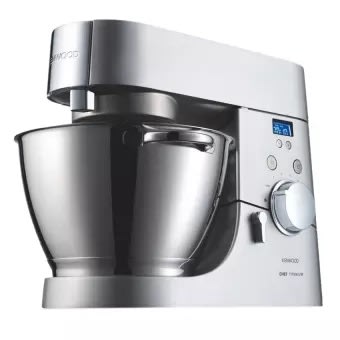 Kenwood Titanium Timer Chef KMC030
SGD 1211.77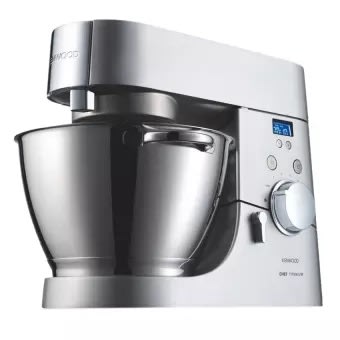 add_circle
Dishwasher safe
add_circle
Recipe suggestions
add_circle
Very powerful motor
add_circle
Good size that doesn't take up too much space
The Kenwood Titanium Timer Chef KMC030 is second to none as a professional stand mixer. Hailed as the best kitchen gadget of all time, it is a high-performance stand mixer that enables you to be as adventurous with your creations as you wish. It comes with many functions including a timer, electronic speed control and fold, as well as a food processor and blender. With its powerful motor, you will get to experience a wide range of speeds with its attachments.
This stand mixer has left such a positive impression on users that they just can't find anything bad thing to say about it. Powerful and efficient, yet quiet - that is the gist of most reviews. Users have used it to make all kinds of things like mousse, pasta, cake, and bread with amazing results, and it just makes the whole process simple, quick, and clean.
Even the food processor and blender accessories have no complaints in its way. The former's sharp blades chop, grate, and slice well, while the latter doesn't get flour residue in the bottom. What's more, it is of a good size and design that its fans choose to leave it in the kitchen as this multipurpose stand mixer doesn't take up much space. Overall, it is a highly recommended appliance.
---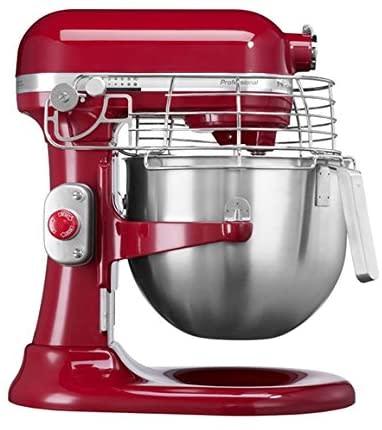 KitchenAid 7Qt Commercial Stand Mixer KSM7990
SGD 1659.00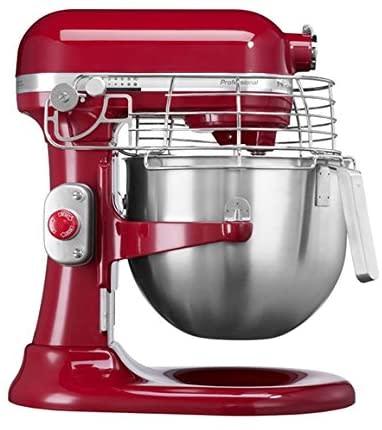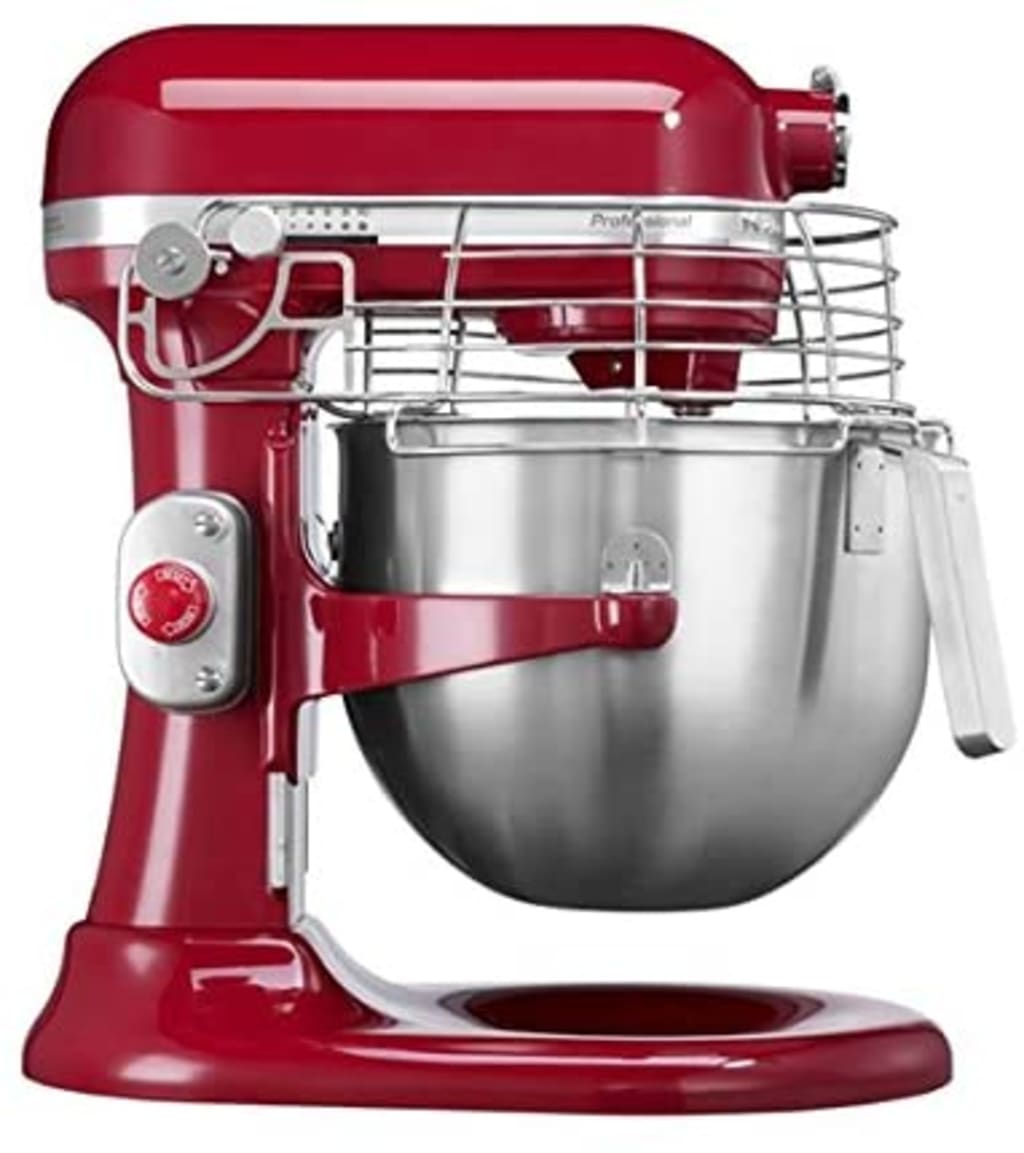 add_circle
Great at large batches
add_circle
Works well even after a few years
add_circle
Powerful without much struggles
The KitchenAid 7Qt Commercial Stand Mixer KSM7990 is as professional as you can get. Ideal for heavy loads, it powers through with a high efficiency motor and a capacity of 6.9 litres.
Its smooth-rounded, professionally designed bowl with a lift provides a sturdy and stable hold for mixing large batches and heavy ingredients. As far as the built-quality is concerned, the bowl and other accessories are all made of stainless steel to be long-lasting and dishwasher-safe.
Buyers love how robust this stand mixer is as they raved about how the appliance works just as well as when they first got it even though a few years have passed. They are pleased with how it mixes dough as they have tried up to triple batches albeit slowing a little due to sizable dough. However, it had no problem even with stiff dough.
On the other hand, the mixer is on the heavier side and definitely requires two hands to lift that some people considered just leaving it on the counter top despite the large space it took. Fortunately, it has a design that is easy on the eyes so it did not pose as a big problem. So jump on the bandwagon for it is time to get this KitchenAid stand mixer.
---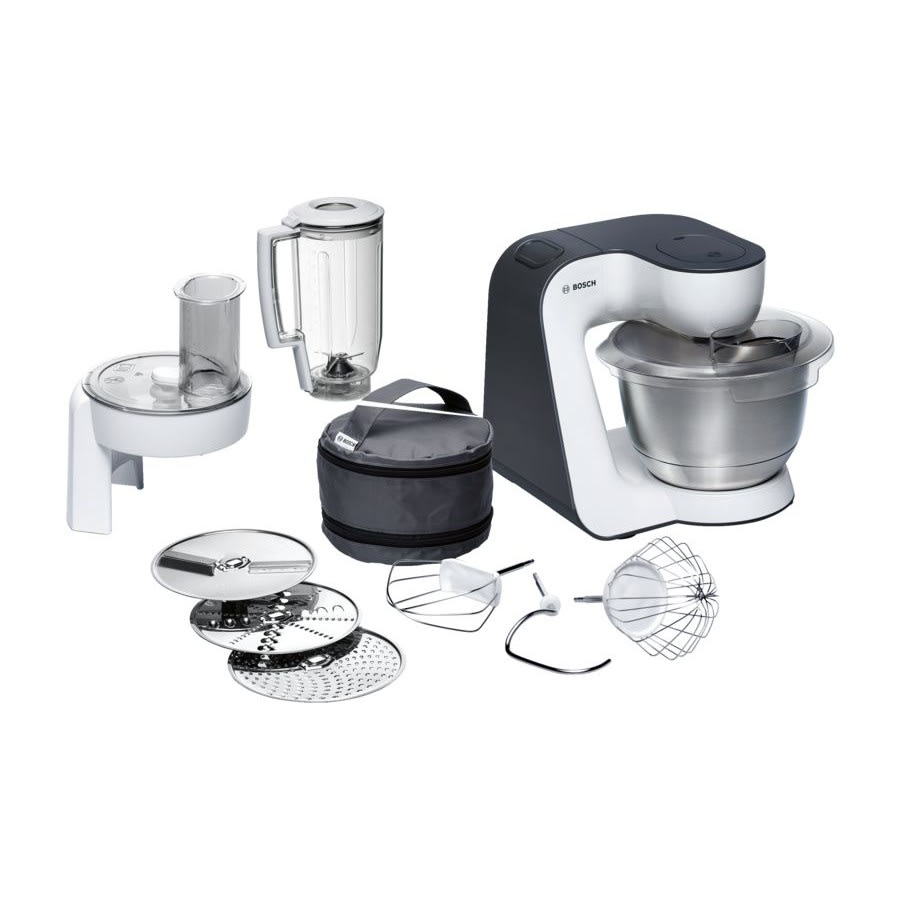 Bosch MUM52120GB Kitchen Machine
SGD 449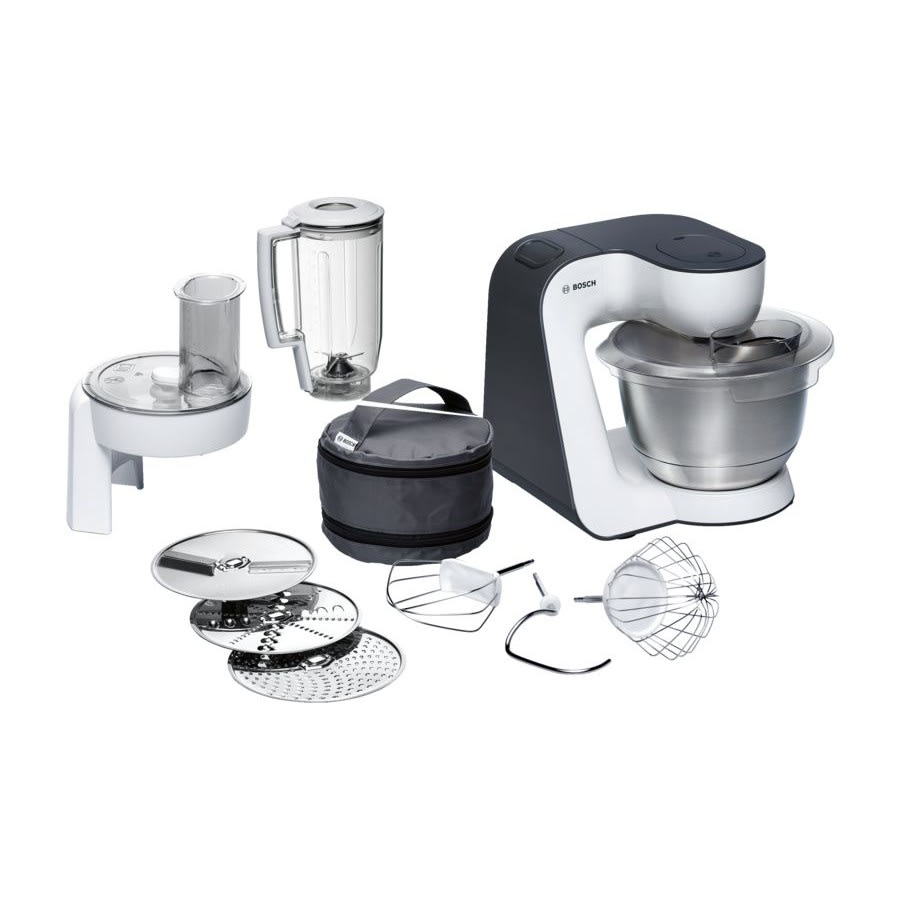 add_circle
Dishwasher-safe accessories
add_circle
Bread turned out even better than other stand mixers
add_circle
Great attachments
remove_circle
A bit tricky in learning how to fix the attachments, but once you understand, it's easy
This stand mixer promotes effective mixing with its MultiMotion Drive which moves mixing tools in elliptical motions that scrape off even the edges of the bowl so there is no wastage of ingredients while ensuring even mixing.
Designed with safety in mind, the Bosch MUM52120GB Kitchen Machine has multiple safety mechanisms such as a safety lock, covers for unused drives, and extra lids. Not forgetting to mention; the 700w motor ensures that you can use it for mixing a variety of baked goods.
Not only that, but it comes with several accessories such as a high-quality patisserie set and a continuous shredder with three shredding discs. It proves to be a favourite among home users as they love how fantastic the bread they've made with it turned out, which is better than other stand mixers they've used before. They also adore the functions and additional attachments which are a joy to behold and use.
That being said, some have found it a little tricky when it came to fixing the attachments. However, it comes easily once they've learned exactly how it should be as practice makes perfect. So leave your doubts behind and come grab this stand mixer. It is an absolutely worthwhile investment and a great buy.
---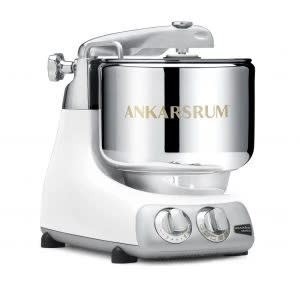 Ankarsrum Original Mixer AKM6230
SGD 1599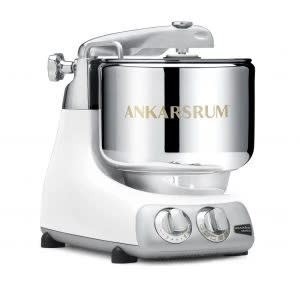 add_circle
Very good quality
add_circle
Good for large quantities
remove_circle
Need to learn how to use properly with attachments
Don't be deceived by Ankarsrum Original Mixer AKM6230's simple appearance; this is a machine that's known to be the OG of all bread mixers. Made from chrome and steel, it is a sturdy piece of kitchen appliance with optional attachments that transform it into a multipurpose appliance.
This monster can be used to bake, grind, and slice with ease, with big capacity as massive as 7 litres. Also, the speed control knob makes a smooth transition between speeds while the electronic speed sensor adjusts the motor force according to weight automatically.
All the goodness does come with a price, a hefty one in fact. But as a one-off investment, you get a large stainless steel mixing bowl, dough knife, dough roller, dough hook, dough scraper, dust cover lid, and BPA-free double beater bowl that are all gentle enough even for gluten-free batters. How very worth it! Do note that the attachments are mainly geared towards bread-making.
While it takes some time and effort to learn how to use the mixer and attachments properly, users found it efficient, durable, and powerful once they've gone through the learning curve. They do say, however, that it is more suitable for larger portions. Do keep this in mind while shopping around for a stand mixer.
---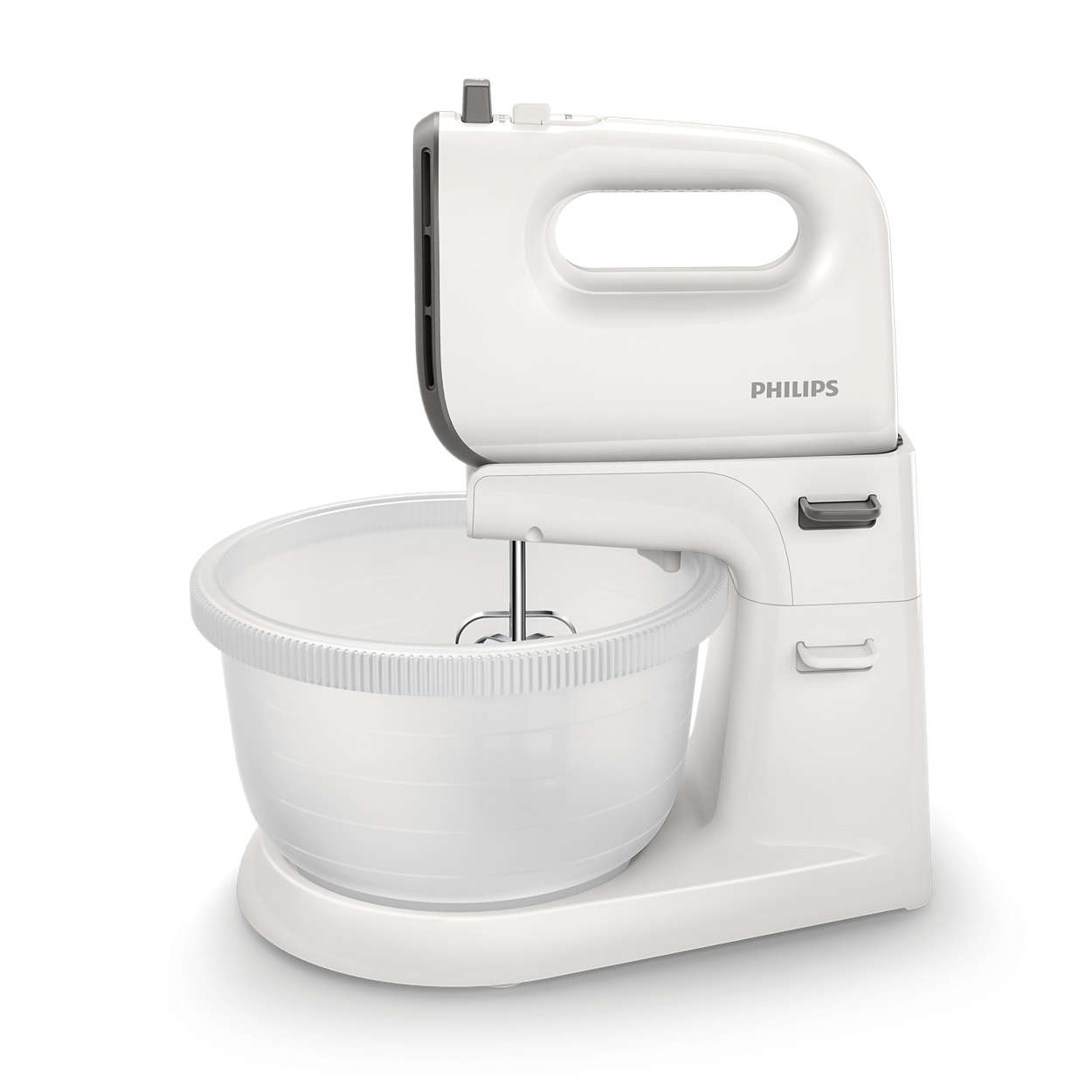 Philips HR3745 Mixer
SGD 89.00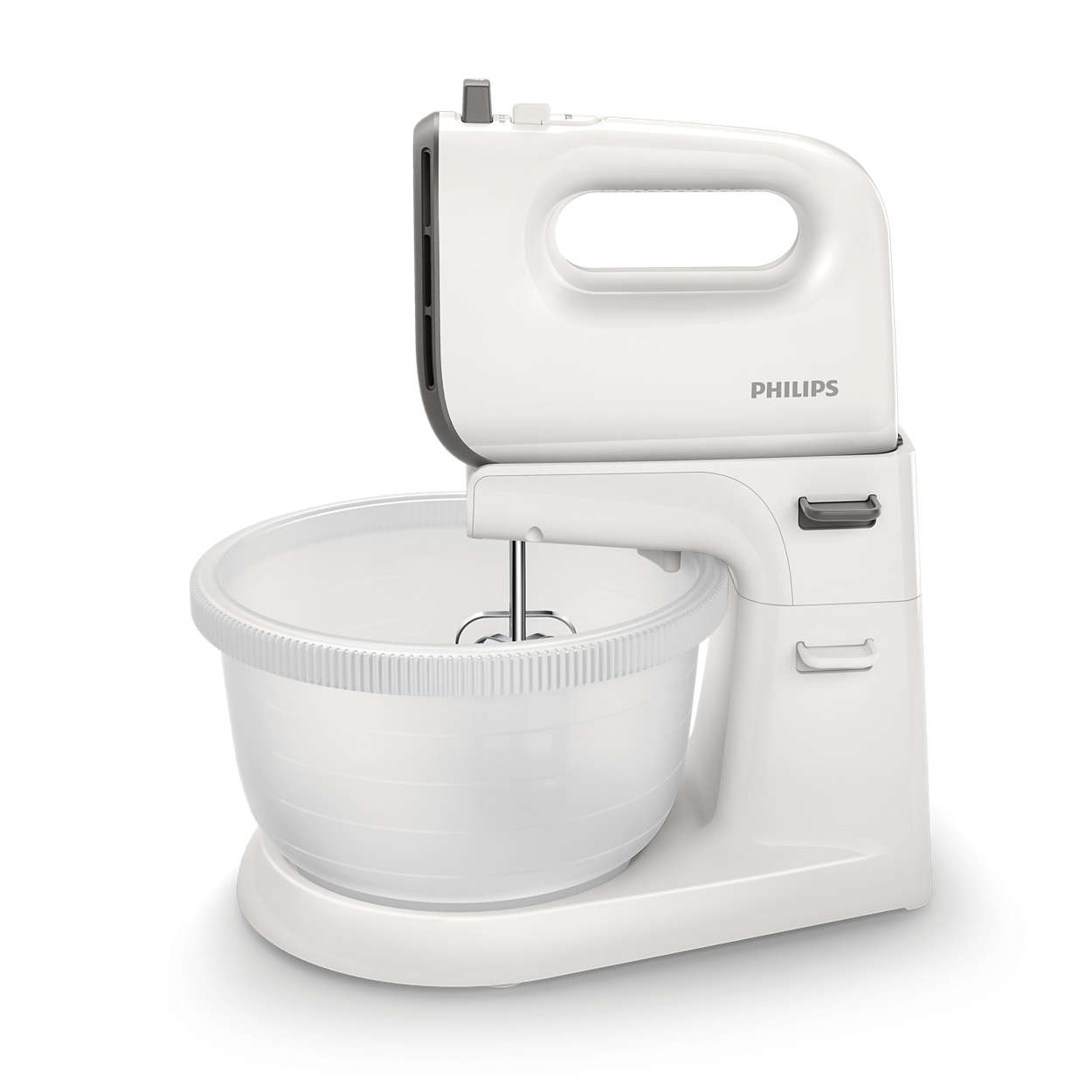 add_circle
Sufficient power
remove_circle
Plastic mixing bowl tends to absorb odors, colors, or flavours
remove_circle
Small dough tray
Are you new into baking or you just don't have the budget? Nothing says affordable like the Philips HR3745 Mixer. It may be cheap but it still stands strong in terms of its mixing functions, what with its 5 speeds and turbo.
Not only that, but there's also a cone-shape beater for maximum air incorporation to make fluffy cakes and an easy beater ejection button to release beaters or dough hooks with one touch. In addition, it has suction feet to keep it rooted and stable while mixing is in the works.
This stand mixer has to be one of the easiest to use in the market as it is the most common remark given about the device. Furthermore, it is easy to clean as the attachments are dishwasher-safe. Another pro to this mixer is about its cord that can be stored in a storage clip to prevent entanglement, quite a nice safety feature.
One downside to this appliance though is the plastic mixing bowl's tendency to absorb odours, flavours, and colours. So although you can opt to not thoroughly wash it as the mixing keeps it clean without leaving scraps of dough, it might be a better option to do it. This all doesn't sound too bad for an inexpensive stand mixer. For this price, it offers good value.
---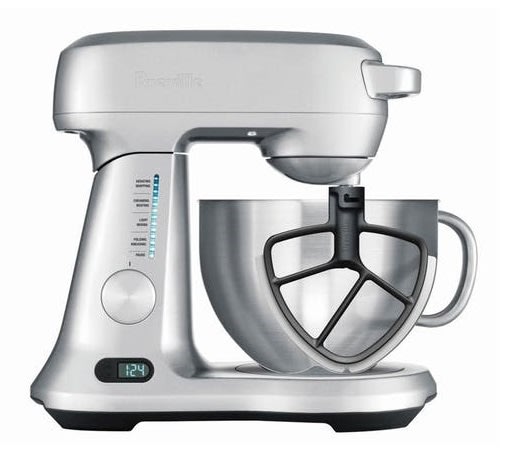 Breville BEM-800 Scraper Mixer Pro
SGD 599.00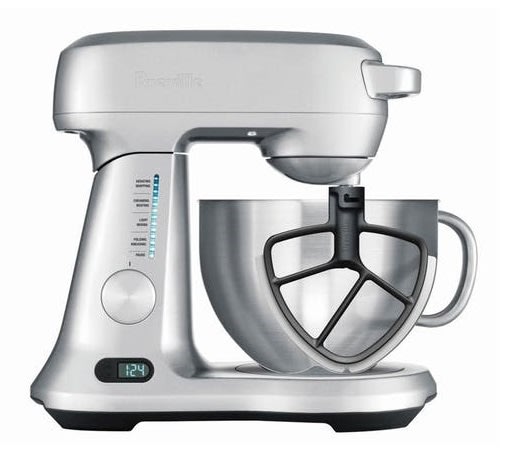 add_circle
Attachments work well
add_circle
Pretty/simple design
remove_circle
Accessories not covered by warranty
There is no better way to start your baking journey than with the Breville BEM-800 Scraper Mixer Pro. If anything, this mixer is known to be great at handling dough. Breville ensures that you get an aesthetically pleasing stand mixer with fun and useful features like the tilt-release button, LED illuminated display, 12 speed control, LCD screen with timer, bowl-locking function, and an internal cord storage.
Attachments include the flat beater, wire whip, dough hook, and scraper beater, which are all easy to use. There is even an optional purchase of an ice-cream bowl, one that users took delight in using. And they're all made from stainless steel instead of plastic which makes for long-lasting use and easy cleaning.
Despite being used often, this mixer appears to look and function the same throughout the years. Reviewers have found this to be a huge plus point. Moreover, the accessories do their job efficiently be it whisking or scraping. Unfortunately, they are not covered in the warranty. Hence, if the accessories' lack of warranty does not bother you, we definitely recommend this easy-to-use stand mixer for beginners.
---
Disclaimer: The pricing shown is just a good indication of how much these products are worth. The prices could change based on the e-commerce promotions that are going on. If some of the products are not available, do email us at [email protected] Thank you!