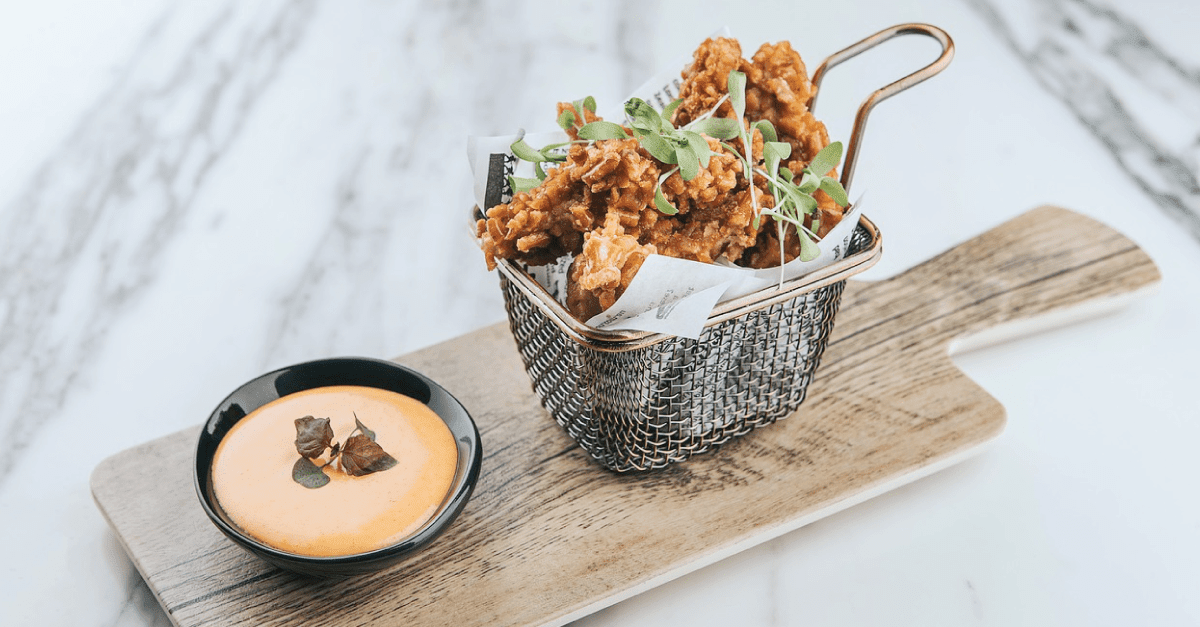 You can't deny it – fried chicken, French fries, and other deep-fried foods are mouth-watering. But, yes, they're also quite unhealthy. That's because they're soaked entirely in oil, which means excess fat and calories. Well, if you want it the traditional way, you have to deal with the grease. But if you want to change your diet and lose about 70 percent of the unwanted oil in your food, an air fryer is all you need. These countertop appliances are today's tools to make scrumptious fries – without the guilt.
Best for one person or for college students
Price from SGD49.90
Living alone doesn't mean you have to ditch the entire cooking experience. Most people would just say, "You live by yourself, why not simply eat at some cheap diner?" Well, that's not ideal if you want to save money in the long run, especially in Singapore where everything is quite expensive – same goes for college students.
First on our list is the solution to cook delicious meals while keeping the expenses low. And best of all, it's a small investment at around SGD 40.00. It's compact and can cook enough for one or two individuals with a 1.6L capacity. But that's why it's an excellent purchase for anyone living alone and working in this busy city.
The PowerPac PPAF636 is powerful enough to cook two or three medium-sized chicken drumsticks in one go. It has a consistent temperature, so you don't have to worry about not thoroughly cooking the meat. However, it requires a bit of oil (at least half a tablespoon) to make sure nothing sticks.
Best for quickly cooking crispy chips and bacon strips
Price from SGD98.00
Next on our list is also another cheap product but still maintains its quality, EuropAce EAF-333Q. It has a relatively decent space of 3.2L and can bring up a temperature of 200 degrees Celsius. Although all the other products on this list can do that, this one reaches such temperature in half the time. Thus, you get your meals cooked faster.
It looks quite similar to the first product but apparently bigger. There are only two primary controls that you need to set. First is for the temperature, and the second is for the timer. It does state it has a non-stick food basket, but it's not reliable. So you'll need just a few drops of oil to make sure nothing sticks.
It's quite challenging to clean and a bit heavy at almost 5kg, but it gets the job done. If you want something to cook bacon strips for breakfast without the wait, this countertop appliance is all you need.
Best air fryer with presets
Price from SGD279.00
If you want more control and be creative in whatever you're air frying, this machine is for you, the Aztech AirCook. For starters, it has a spacious 5.5L capacity, which allows you to fill it with a medium-size chicken or about a kilogram of fries. However, what makes it amazing is its seven presets that you can use to get more out of what you're cooking.
Although it's borderline affordable, it does provide you with a lot of bells and whistles, providing you with more options. It takes quite some time to get used to, but it surely pays off once you do as you can fry, bake, and even slow cook using it in a healthy way.
Best for everyone's home that's great value for money
Price from SGD98.00
Most families already have their stove burner, and they can deep fry all they want using it. However, not only does deep frying make unhealthy food, but it also consumes a lot of oil and energy (electricity or gas). And to make things worse, it's very impractical if only one person in the household would cook for himself/herself.
The Mayer MMAF88 is the air fryer for the family. It has a 3.5L capacity, so it can really accommodate for any average-size family. It has a decent non-stick inner pot that makes cleaning easy. Furthermore, it has a cool handgrip and simple controls – so even the elderly can manage it without assistance.
This product feels very sturdy and is well designed, so you'll be proud displaying it on your countertop. In a nutshell, it's more of a home essential to significantly conserve energy, reduce oil waste, and keep everyone healthy. Here's the phrase for it – best bang for the buck.
Best for large families – can roast a whole chicken
Price from SGD318.90
When it comes to roasting whole chickens or baking cakes, you're going to need a lot of space. And there is nothing more spacious on this list when it comes to air frying than the Tecno TAF1508. It has a volume capacity of up 12 liters. You can cook a large chicken or a rolled pork belly with ease.
The Tecno TAF1508 is durable and can do almost anything for you. It can air-fry, roast, grill, bake, BBQ, and reheat food with ease. In a word, it is prepared for almost any type of cooking. For its size, you can serve up to seven people in one cooking session.
The only problem we think you should know is that it's not as easy to compared to the other products on this list. It's no longer manual, and there are a number of buttons for each command. Although it's not that hard, it just takes time to get used to it. If you want to roast and bake for the entire clan, there's no better air fryer for you than the Tecno TAF1508.
Best air fryer that's easy to clean
Price from SGD133.04
One of the weakest aspects of an air fryer is its cleanability. Most air fryers have a lot of detachable parts and hard to clean accessories. However, with the Russell Taylors Air Fryer AF-24, you're guaranteed to have an easy time.
It only has two main parts, its detachable bin or frying basket, and its container. Both of which are easy to clean and incredibly lightweight, so you won't have a hard time cleaning it manually. Furthermore, it's easy to use with only two controls, one for the timer and one for the temperature.
Best for baking potatoes, French fries, and chicken wings no oil
Price from SGD399.00
One of the leading manufacturers of air fryers, also the most popular, is Philips. First and foremost, they've always been so consistent and competitive in making high-quality countertop appliances. And the Philips HD9654/91 is just proof of that.
This air fryer has to be the most luxurious-looking one on our list. A quick look at it and you'll fall in love with its minimalistic approach yet stylish design. Like our first three products, there are only two main settings to focus on – temperature and time. And it has a huge cooking space, in which you can also cook a whole chicken or 1.4kg of French fries.
With the Philips HD9654/91, you can fry, grill, roast and even bake. It also comes in with a true non-stick basket, so you don't need any oil to cook. Plus, its parts are dishwasher safe. Although it's expensive, it provides restaurant-grade results.
Best white-colored air fryer with top controls
Price from SGD129.00
If you're tired of black-colored air fryers on this list, the Mayer MMAF22 is perfect for you. For starters, this small appliance is affordable and has a 2.1L capacity.
It's ideal for homes with a white-themed interior. We also find its controls to be easy to use as it's located at the top. Although it's not packed with sophistication, it still provides you with healthy fried food.
The only thing that might turn you off is the typical "non-stick" basket - which still isn't super reliable. It would be practical to spread a very thin layer of oil in it to prolong the product's quality. Nonetheless, it's affordable, aesthetically beautiful, and makes delicious food without the guilt.
Best air fryer for cooking pizza
Price from SGD188.00
Pizza is one of the best foods you can eat. Period. And if you love it, too, and you want to take it to another level by cooking your very own, the Mayer 8L Mighty Air Fryer is for you.
This air fryer has a wide space rather than the typical deep basket types. It can fit a small to medium pizza. Furthermore, it has a dedicated pizza pan for easy cooking.
What makes it even better is that you can see your pizza cooking through its glass window. So you'll never have an overcooked or undercooked dish. You can adjust the temperature from 80 to 210 degrees Celsius.
Best for cooking vegetables, tofu, fish, and other delicate food
Price from SGD359.00
Last product on our list comes from a very popular brand in the west, Tefal. It has a unique shape and design; it's large and can cook a kilogram of fries. Plus, due to its metal center, it allows you to evenly cook any food, making it perfect for cooking fish, vegetables, tofu, and the likes.
It has non-stick accessories and has a huge opening. This feature allows you to place whatever you want easily. However, it's the only one on this list that has a maximum temperature of 150 degrees Celsius. That means you have a very limited number dishes to cook. Nonetheless, it's accurate and provides amazing results.
The only thing that's quite undesirable is its price. Nonetheless, if you want meals that are rich in flavor but hard to cook with a traditional fryer due to their delicate nature, this machine is for you.
---
How to Choose the Best Air Fryer for You

Opting for an air fryer is one of the best life choices you can make. For starters, it's going to make delicious fried food for you without the excess fat. However, with so many options available, you might have a hard time deciding which product is for you. Fret not; we have a quick guide to help you with your purchase decision.
Capacity
The first thing you definitely need to consider is the capacity. How much food do you need to make? If you live alone in an apartment all by yourself, a 3L volume capacity might be too much already. It's best that you get something around 1.5L 2.8L. Not only are smaller models cheaper, but they're also more practical in terms of usage and power consumption.
Ease of Use
In our list, we tried to get the easiest ones to operate as much as possible while still getting the best results. However, some are still quite complex, especially for the bigger air fryers as they have more cooking features. If you want to experiment on food and improve your cooking skills, you might want a machine that offers more than just temperature and time controls.
Clean Up
Air fryers aren't the easiest to clean. They have a lot of parts, and even though there are only vital accessories that need a thorough cleanup, you still should clean everything to prolong its lifespan. Some models are dishwasher safe while others are not. If you don't have a lot of time to manually scrub its parts, consider a product that doesn't have a lot of accessories.
---
Conclusion
Air fryers are the only countertop appliance that guarantees great taste while keeping things healthy. Although they use quite a lot of electricity to function, they're still worth having as you save cooking oil and gas at the same time. If you love fried food and don't want to get fat, you have to get your hands on one of the air fryers above.
Disclaimer: The pricing shown is just a good indication of how much these products are worth. The prices could change based on the e-commerce promotions that are going on. If some of the products are not available, do email us at [email protected] Thank you!