It is undeniable that the evolution of technology has dramatically transformed the world today and most importantly, refines the quality of human lives. 
If you're still overwhelmed by the price of air conditioners they're not the only one that can greatly relieve the unforgiving hot weather. Instead, portable air conditioners are here to offer you an incredibly convenient solution that will fit the bill.
What are the differences between portable air conditioners and air coolers?
Even though both air conditioners and air coolers combat the sweltering heat with a fresh cooling effect, they vary significantly in their operating mechanisms. 
Installed with a chemical coolant, portable air conditioners circulates warm air through the conditioning cycle and blow out cooled air while the remaining heat is vented out via exhaust hose. 
However, air coolers rely on the basic concept of evaporation. When hot, dry air is drawn into the air coolers, it passes through damp water-soaked pads where water evaporating occurs and results in a chill ambient temperature. 
(Portable) Air Conditioners vs. Air Coolers
Humidity Effect
Speaking of sweaty humid weather, the air conditioner is a greater option than the air cooler to acting as a dehumidifier. It removes heat and moisture from the air to keep the room comfortably cool whereas the air cooler usually adds humidity to the air. 
Versatility 
Having said that, the air cooler delivers cool, moisturised air, but it is necessary to ensure a constant flow of dry air for it to function efficiently. In other words, it works best for outdoor or in a room with door and windows opened to keep the room from clamminess and discomfort.
Meanwhile, an air conditioner needs to work in a closed space to prevent an increase in humidity level whilst holding in the cooled air. Most of them come with a venting kit which helps to drain heat and moisture from air.
Energy consumption 
Unlike an air conditioner, the air cooler utilizes water and simple motors to chill the surrounding air. Not only does it make air cooler an eco-friendly option, but it also empowers the air cooler to be 75% more energy efficient than an air conditioner. 
But then again, air coolers needs a constant air flow for it to stay efficient. Whereas, portable air conditioners introduces air movement into a space, preferably enclosed. 
So if a room is naturally hot despite the presence of a window, the air conditioner might work better in cooling it off. If you prefer natural cool air, provided that there's good air flowing into the space, air coolers are great.
All in all, your preference for either portable air conditioners or air coolers depends on the climate at your living area, budget and versatility.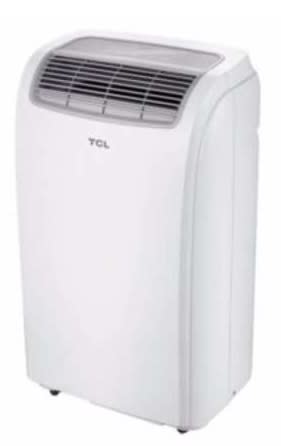 Check TCL Portable Air Conditioner TAC-10CPA/HNG price below:
If you're always stressing out about the harmful chemicals draining from your air conditioners, here's a greener solution for you while staying comfortable indoor. 
Patented with its Fogging Technology, double-condenser system and dehumidifier, this pick enhances fast cooling effect with extra comfort. It utilises a R410A refrigerant which does not contribute to ozone-layer depletion, making the unit and eco-friendly one.
The machine is rated 10,000 BTU which can reach the area within 20sqm (400-450 square feet), making it perfect for a room or compact areas like the kitchen.  Additionally, the unit provides fanning and dehumidifying purposes, further enhancing its cooling capabilities.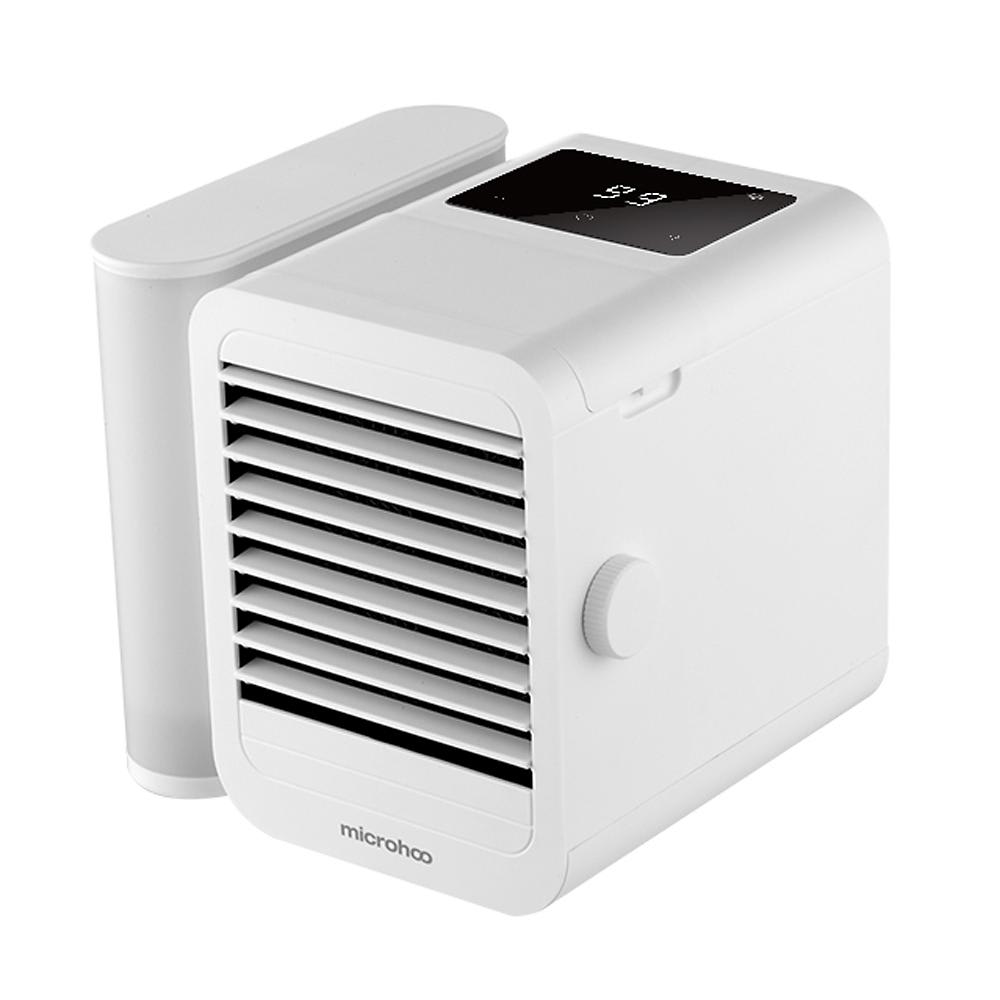 Check Xiaomi Microhoo Mini Air Conditioner price below:
Looking for something handy for camping or your office? This mini air conditioner from Xiaomi is a great companion at anytime anywhere. 
It comes with a USB power supply mode to support the water evaporation cooling system. So if you're using a 10,000MAH power bank to power it, the energy-saving model can be operated up to 10 hours, pretty cool, huh? 
Designed with touch screen settings (natural wind/ timing/ sleep mode), it also allows you to adjust your favourable conditions effortlessly. This AC works by cooling the area with water particles (via its 1-litre water tank). Truly safe and eco-friendly to use too!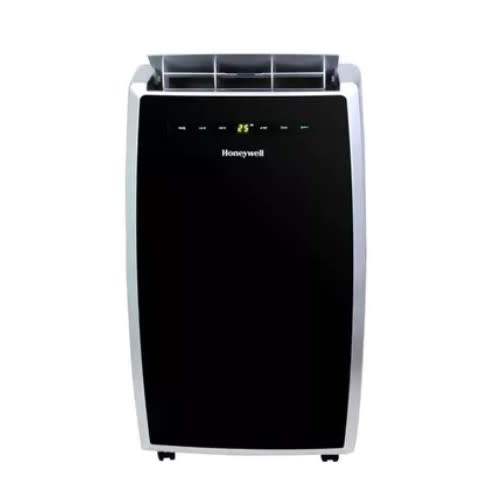 Check Honeywell MN10CES Portable Air Conditioner price below:
Enhance your sleep quality with the reliable Honeywell Portable Aircon. The AC unit cools your spaces up with very low noise (50dbA max) which feels like a cozy, drizzling rainy day. 
Offering multi-use, this unit is a fan, air conditioner and dehumidifier all-in-one cater to all your personal needs. Rated at 10,000 BTU, it'll deliver all of its purposes in a room space of up to 400 square feet.
The best part is, the evaporation system grants you hours of uninterrupted sleep as the condensed water from cooling will be removed automatically, leaving no bucket to empty.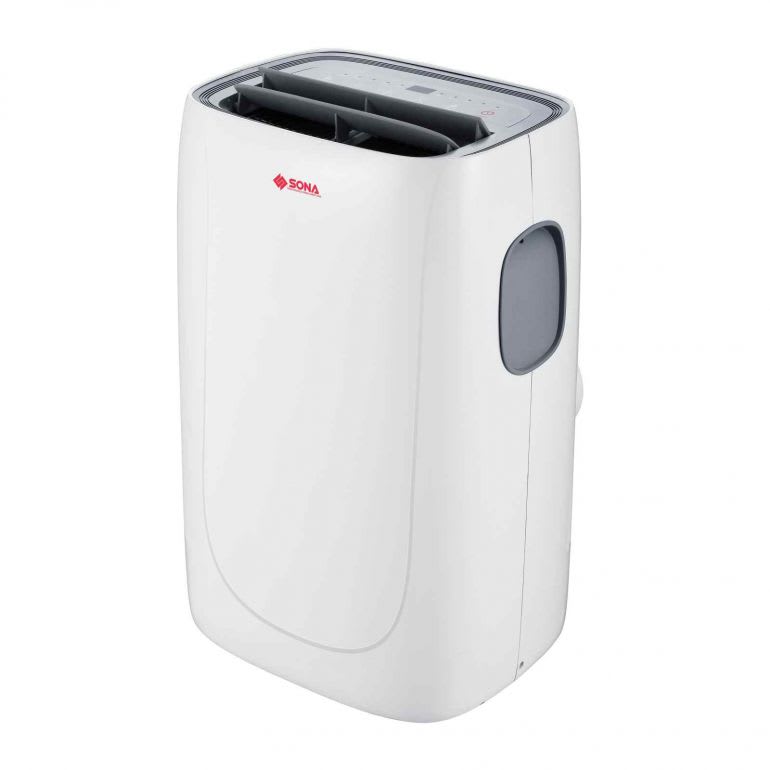 Check Sona Portable Ait Conditioner SACN 6286 price below:
Rated at 14,000 BTU, the Sona Portable Ait Conditioner offers fast cooling efficiency compared to your traditional AC units in a room of up to 525 sqft. This smart air conditioner is capable of self-diagnosis which can easily detect if there are any errors and problems. Timers can go up to 24 hours, and generate cool air while operating quietly.
Additionally, it also functions as a dehumidifier and is equipped with a direct washable filter to release cool, clean air. By which, water collected from the dehumidifier function, will be automatically evaporated so you won't have to constantly empty it.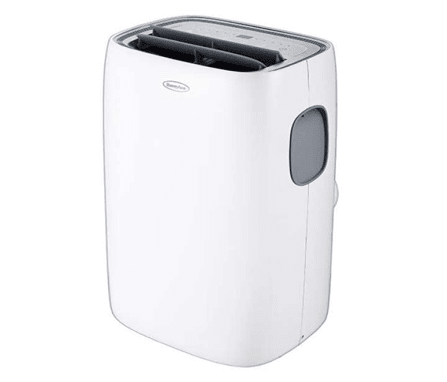 Check EuropAce 14000 BTU Portable Aircon (EPAC 12T6) price below:
While most portable air conditioners must be vented using an exhaust hose, the EuropAce Portable Aircon offers you an exception. Featuring dual motor, it performs rapid cooling result from room to room with minimal noise level (54db max). 
It also improves air quality by screening dust and unwanted airborne particles with the aid of HEPA filter. Which, by the by, uses 3 filters to properly clean the air. And all of these are done at up to 14,000BTU per hours.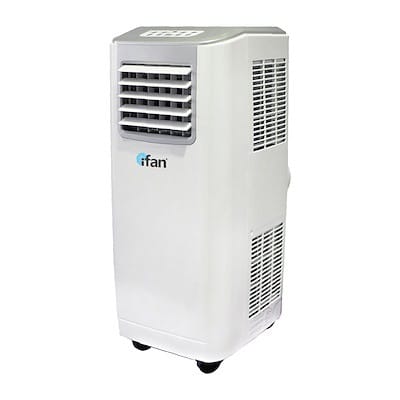 Check iFan Portable Air Conditioner 9000 BTU (IF9090) price below:
On a budget? The iFan Portable Air Conditioner allows you to enjoy a relaxing cool ambient by spending less. Apart from its easy installation, the air conditioner comes along with a washable dust filter and active carbon filter which effectively reduces undesired pollutants for fresher air. Better yet, it contains an anti-bacterial water tray to prevent germs or mold buildup. 
Although only rated with 9000BTU, that's still a decent coverage (of 350-400 square feet). Moreover, the air conditioner utilises R-410A refrigerant, which doesn't deplete the ozone-layer, making this eco and budget friendly.
Check Close Comfort Personal Aircon price below:
With the same effective cooling capabilities like any other portable air conditioners, the Close Comfort Personal Aircon earns a bonus point as it requires no installation. Since there's no hose vent set-up, keep in mind to use the product with windows opened in exchange for fresh air.
The air conditioner is also said to be very energy efficient as it only costs you 60cents of electricity after 8 hours of operation. Instead of a water tank, the unit uses a compressor and the eco-friendly R-410A refrigerant to blow air. 
Keep in mind that this is considered to be a "personal" air conditioner, with the lowest temperature only at 17 degree celsius. But reviewers have said that the unit provides sufficient chilled air to cool down the body in our hot and humid weather.