Shopee is one of the Philipines' leading online selling platforms. You can find different things you need in your homes, offices, business, and school. Indeed, a go-to online shop. Apart from it promotes you hassle-free shopping, the fun doesn't stop there as it provides you tons of vouchers that give you discounts and cashback every time you purchase from it. Are you ready with Shopee Sale Philippines?
---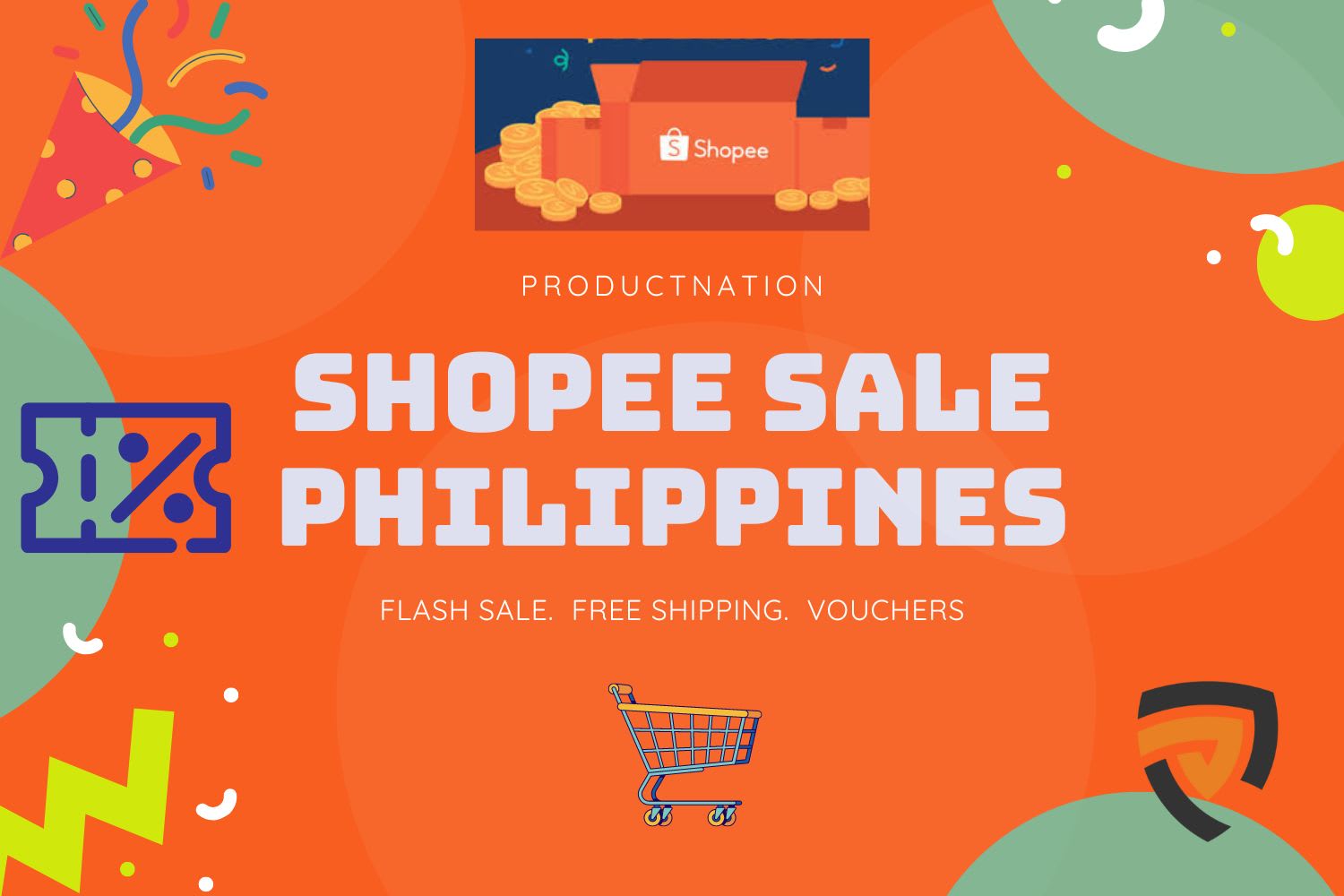 Shopee Sale Philippines 2022 - Vouchers, Free Shipping & Exclusive Coupons
Keep a look out for limited-time discounts at Shopee with its 2022 sale schedule! Here are some of the best deals on the Shopee November Payday Sale, which begins on November 13. Also, remember to treat yourself to your next salary with these incredible discounts from the Shopee November Payday Sale!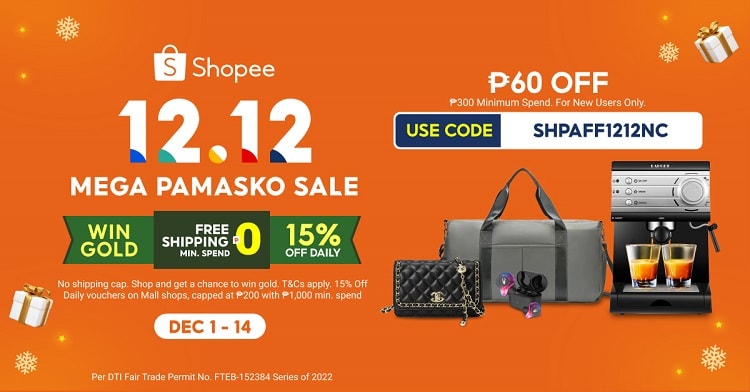 ---
Payday Sale on December 30
Don't miss the shopee payday sale at the end of  October on a positive note by taking advantage of limited-time online deals and free shipping with no minimum spend during the October 30 Payday Sale. Every month, Shopee guarantees that everyone is a winner!
₱1 Deals
Expect the finest bargains to appear at an enticing price of ₱1! From October 25 to 30, new Shopee bargains at ₱1 will appear throughout your Shopee applications, so make sure to add all of the sulit buys to your cart. 
Not only that! With the ShopeePay-exclusive piso bargains, you may get even more surprise deals for the price of one! Now is the time to cash in your ShopeePay wallets and check them out.
10% off Daily Voucher
Make the most of your online shopping by taking advantage of the shopee sale with 10% off daily vouchers available every day till July 9! When you spend these certificates on any of the top products, you can save up to P1,000. Set your alarms for 7 a.m. on October 30 to receive an additional 10% off voucher with a minimum expenditure of only P1,000 and no cap before they run out!
Extra 10% OFF Shopee Voucher
Minimum spend of ₱3000 
Capped at ₱1000
Valid until  31 December 2022
Code: DECEXTRA10OFF
---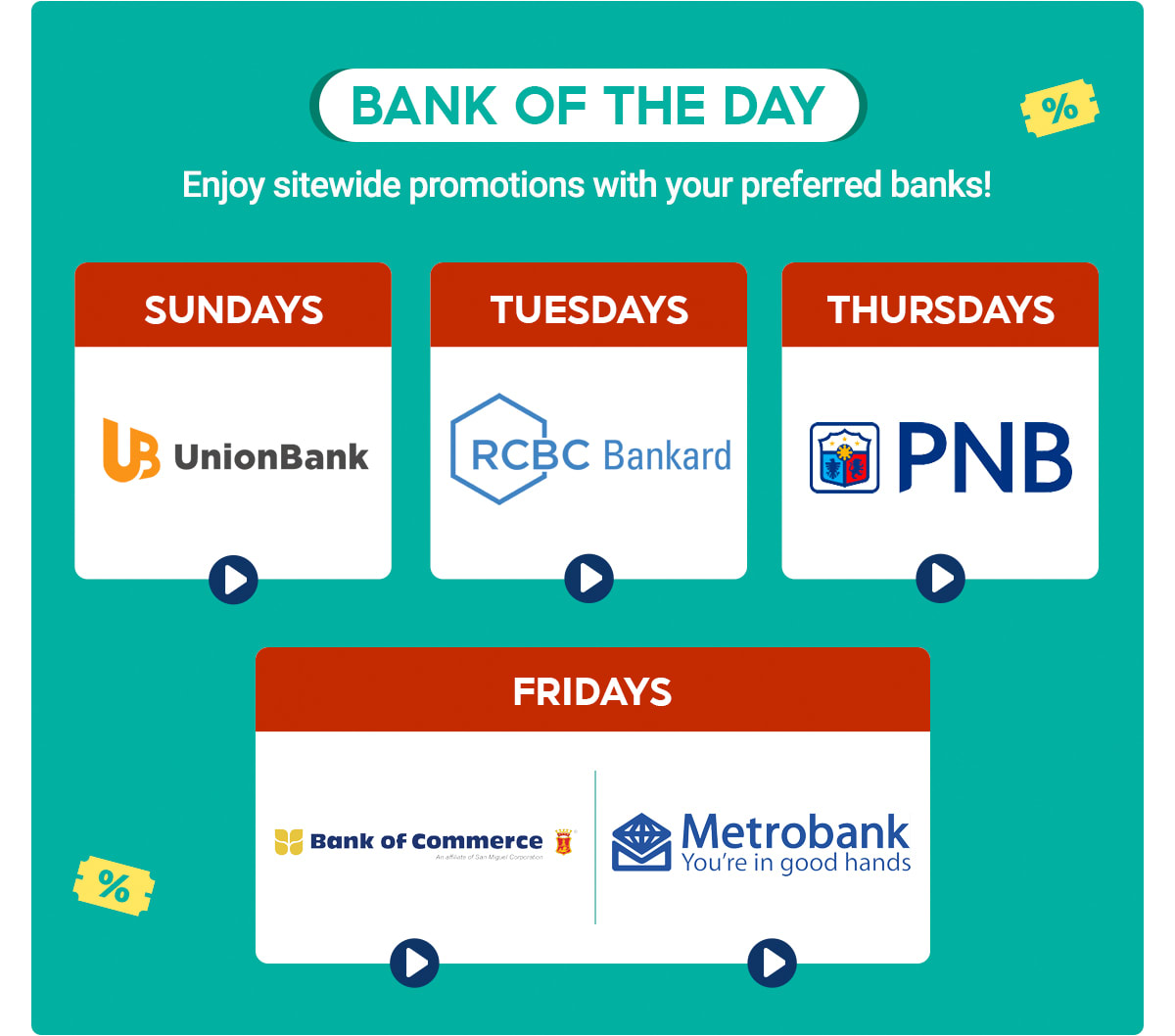 Shopee Bank of the Day Promos 
The Shopee Bank of the Day Promos is mostly the partnered Shopee Mastercard or Credit Card promos featured by Shopee. For these Shopee 8.8 and 8.15 credit card promos, here are the credit card banks that will offer you a big discount on your daily Shopee purchase! 
UnionBank 
P250 off Shopee Voucher 

P2,000 Minimum spend 

One-time use every Sunday until 25 September 2022

Code: UBSUNDAYS 

Eligible for UnionBank Credit Card holders only
RCBC Bankard 
P300 off Shopee Voucher 

P3,000 Minimum spend 

One-time use every Tuesday from until 27 September 2022 

Code: RCBCTUESDAYS 

Eligible for RCBC Bankard Credit Card holders only
PNB
10% off, capped at P400 Shopee Voucher

P2,500 Minimum spend 

One-time use every Thursday until 1 September 2022

Code: PNBTHURSDAYS 

Eligible for PNB Credit and Debit Card holders
Bank of Commerce 
P200 off Shopee Voucher 

P1,500 Minimum spend 

One-time use every Friday until 30 December 2022 

Code: BANKCOMFRIDAYS 

Eligible for Bank of Commerce Credit and Debit Card holders 
Metrobank 
P250 off Shopee Voucher

P2,500 Minimum spend 

One-time use every Friday until 30 December 2022

Code: MBFRIDEALS

Eligible for Metrobank Credit and Debit Card holders 
---
Lightning Flash Hour
MoreMore Flash Deals = more sulit Shopee finds! Be on the lookout for the Lightning Flash Hours on July Payday Sale. Here's a hint: an exciting shopee flash sale at the price of ₱1, ₱7, and ₱49 will pop out every 15 minutes from 12 NN to 1 PM and 8 PM to 9 PM on July 30! Keep yourself up to date on great deals by checking the ones coming up in the next few hours and clicking the "Remind Me" button.
Discount Code Hunt From Partner Banks
Need a little extra motivation to maximize your Shopee haul during our next shopee sale? Get this: Massive giveaway with online discounts when you pay with Shopee partner banks! Enroll your bank accounts or credit cards on Shopee and start shopping as soon as July 1. The greater the load, the greater the savings! Keep a look out for some branded products that are given at steep discounts when you pay with a specific partner bank on 7.7.
Watch and Win Big with Shopee
Are you ready for more Shopee TV special giveaways? From July 4 to 7, you may win amazing prizes by watching local TV shows including Family Feud, Sing Galing, and It's Showtime! Keep watching until the end of the segments for your chance to win up to 30,000 in ShopeePay whenever you play Shopee Shake.
Upsized Coins Cashback
Shopee's online shopping experience is enhanced by the ability to redeem Shopee coins at each checkout. We know how much you enjoy it, therefore on Cashback Tuesdays on July 5, expect larger Coins Cashback coupons for the greatest purchases! To optimize your savings, use all these coins as an extra discount on your next Shopee purchase.
Pera Panalo
How quickly can you seize a free chance to earn tons of cash price? Learn more about Pera Panalo at the next Shopee sale! Everyone has a chance to win the largest cash prize this month with ShopeePay, so find out how to collect your Shopee Pera Panalo prize right away. Any day between July 1 and July 6 might be your lucky day!
Shop Hard, Play Harder with Shopee Prizes
We enjoy seeing you win at Shopee all day, every day! Play Shopee Claw and Shopee Farm for free money and a chance to earn bigger prizes for speedy wins. The greater the difficulty of the game, the greater the rewards. So go ahead and play Shopee Candy and Shopee Bubble! For each level you complete, you will receive more free cash and amazing bonuses. 
Allow Shopee to lead you through a few tips, tricks, and hacks to increase your chances of winning cash prizes!
Daily Themed Sales
If you already know what you want to buy, category sales make it much easier to find the greatest deals. You'll find great deals on selected collections such as Everyday Essentials Sale, Electronics Sale, Mobile Load & Bills Day, and more. Check Shopee's countdown sale calendar to ensure you don't miss out on any exceptional deals. Use the sale calendar as a quick reference and plan ahead of time!
---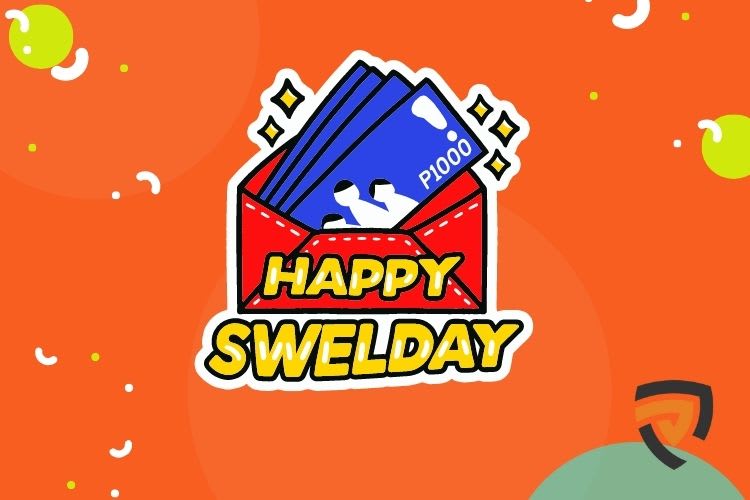 Shopee Payday Sale every Month! 
Are you ready with Shopee's Payday Sale? Clear out your carts and check it all out every Payday Sale that offers you up to 80% off vouchers and a free shipping discount with no minimum spend and a 100% cashback. Shopee also offers a Big Midnight Sale from 12MN to 2 AM, and if you are a morning person, they also provide you a Big Morning Sale that starts from 8 AM-10 AM. 
You also have to look forward to the bonus sitewide vouchers from the Lunchtime Sale that starts from 12NN-2 PM.  All of these are for you to make the most out of your payday!
---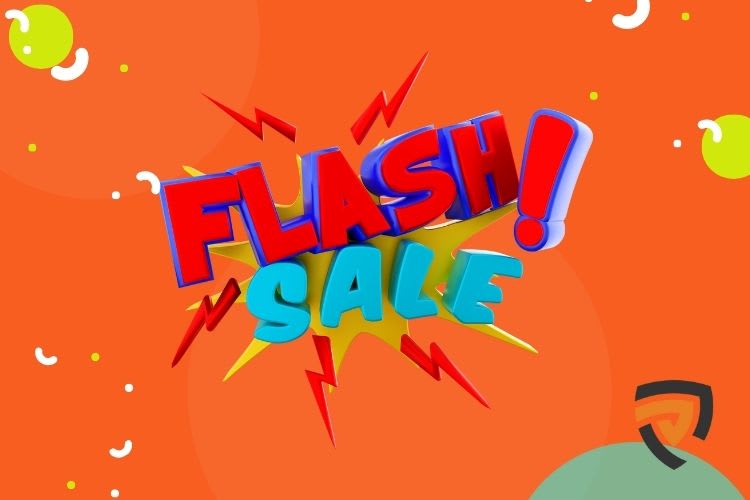 Super Exciting Shopee Flash Sales
You'd better be lightning fast if you don't want to miss out on any of Shopee's mind-blowing Flash Deals! Shopee's Flash Deals are available across all products and categories. You have a wide selection of alternatives available to you, including Home & Living, Groceries, Home Appliances, and more. 
So don't wait any longer and check out Shopee's daily wide range of products for sale at steep discounts, owing to the number of Flash Deals that are available! The daily assortment is updated several times per day, so you'll constantly find new products with Flash Deals. With that in mind, be sure to check out the Flash Deals several times per day to get the most out of them!
---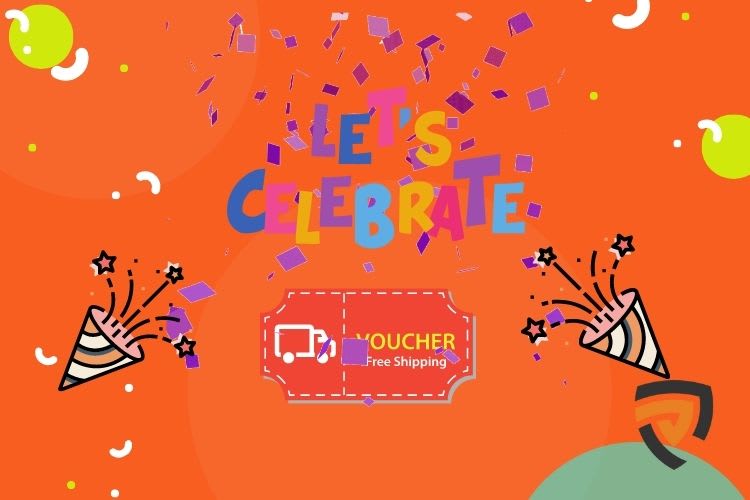 Shopee Vouchers and Free Shipping Vouchers for Frugal Shoppers!
Check out with Free Shipping Vouchers and save money on additional costs. Some are pre-loaded into your account during large sale days, you can earn even more vouchers in a variety of ways! Look for products that have the Free Shipping badge. Remember that shopping online is better with no delivery fee!
If you want excellent discounts, you'll have a terrific shopping experience on Shopee. Browse through Voucher Promotions to find over P1,000 in savings! Shopee provides Seller Vouchers in all of your favorite categories, allowing you to shop and save at the same time. These are typically limited, so move swiftly and shop now!
---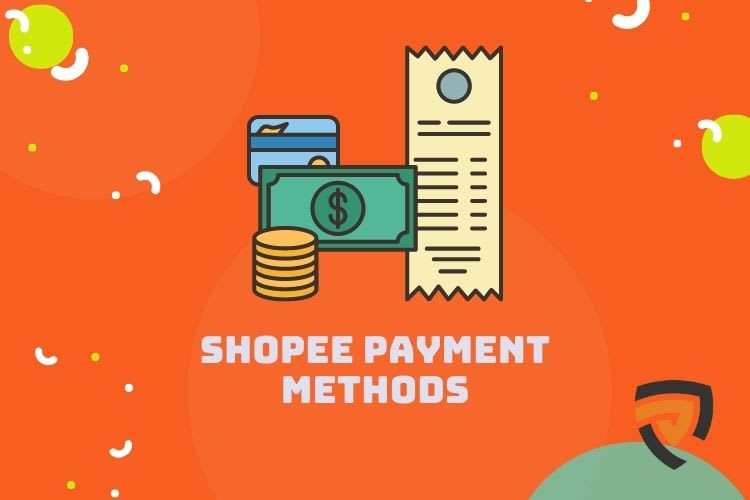 Shopee Payment Methods
To make your shopping more efficient and fun, Shopee allows you to choose from these multiple payment methods that come with cashback and discounts!
ShopeePay
ShopeePay is a digital wallet available through the Shopee App. Once you've created a ShopeePay account and topped up your amount, you can use it to pay for both online and offline purchases.
SPayLater
SPayLater is a service that allows qualifying buyers to buy now and pay later or apply for a 12-month installment loan for their Shopee purchases.
Payment on Delivery
Pay your orders in cash when it is delivered to your doorstep.
Associated Bank Account
Shopee now allows you to link your bank account for speedier payments and cash-in.
Debit/Credit Card
Pay for Preferred and Shopee Mall shops with any locally authorized Mastercard or VISA credit/debit card that is 3DS certified.
Payment Centers/ e-wallets
You also have a chance to pay at any shop-supported payment centers and e-wallets such as;
Bayad Center

7-Eleven

M Lhuillier (min. P180)

GCash (min. P50)

SM Bills Payment

Coins. ph Wallet (min. P50)

Cebuana Lhuillier Bills Payment

Robinsons Department Store

EC Pay

LBC Bills Payment

Palawan Pawnshop (max. P20,000)

RD Pawnshop (max. P20,000)
Over-the-Counter
You can deposit your payment on any Shopee Supported over-the-counter bank such as;
BDO Over-the-counter (OTC)

(Php 25 fee)

Eastwest Bank OTC

Metrobank OTC Bills Payment

(Php 50 fee)

Chinabank OTC Bills Payment (CBXB) (Php 50)

BPI OTC Bills Payment

(Php 100 fee)

PNB OTC Bills Payment

RCBC OTC Bills Payment

Banco de Oro ATM

Unionbank OTC Bills Payment

Security Bank ATM Bills Payment

AUB Online/OTC Bills Payment

Robinsons Bank OTC Bills Payment 

Landbank OTC Bills Payment

(Php 50 fee)

Security Bank OTC

(Php 50 fee)

UCPB Bills Payment

(Php 25 fee)
TouchPay
To make Shopee payments, use TouchPay's physical machine.
Google Wallet
When you check out on Shopee, choose Google Pay to access any payment choices you've saved in your account.
---
Exciting Shopee Prizes And Games!
How do Shopee prizes work? On the Shopee app, there is a feature called Shopee Prizes (formerly known as Shopee Games) where you can play games and win rewards like Shopee coins, coupons, and more. All-day Games: Spin & Win, Shopee Farm, Shopee Bubble, Shopee Candy, Shopee Claw, and Buy Vouchers Get Coins are a few of the most played games.
---
Shopee P1 Piso Deals and Promos for Everyone!
This year's Shopee 7.7 sale is all about incredible savings. For the alluring price of 49, be prepared for the best deals to surface! Because fresh Shopee finds priced at 49 will be available from July 1 to July 9 across all of your Shopee applications, be sure to add all of the sulit deals to your cart. Not only that, but for just one peso, our ShopeePay-only PISO deals have even more delightful surprises in store for you! Stop waiting and fund your ShopeePay wallets to check them out.
---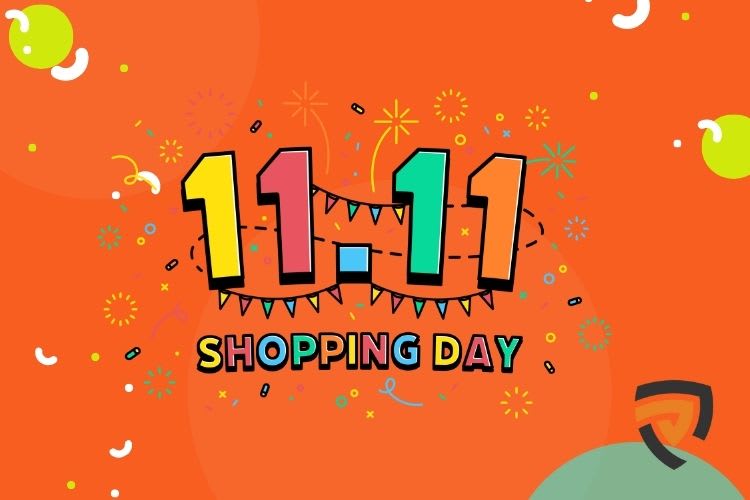 Shopee Special Sales & Shopee Double Digit Sales 
Don't pass up fantastic discounts and bargains. Shopee lets you shop 'til you drop! You can anticipate Double Double Sales every month, which are packed with deals, promotions, and entertainment such as shopee 12.12 sale, shopee 9.9 sale, shopee 6.6 sale, shopee 8.8 sale, shopee 7.7 sale, shopee 5.5 sale , shopee 11.11 sale, shopee 10.10 sale and shopee mega sale!
Apart from double date sales, there are shopee sale events like father's day sale, Chinese new year sale, Raya sale, valentines day sale, Christmas sale, Halloween sale, and New Year Sale.
Check the Shopee app frequently because you won't want to miss the next Double Double Sale. Keep track of every Shopee sale date in 2022 so you may indulge in as much shopping as you want.
---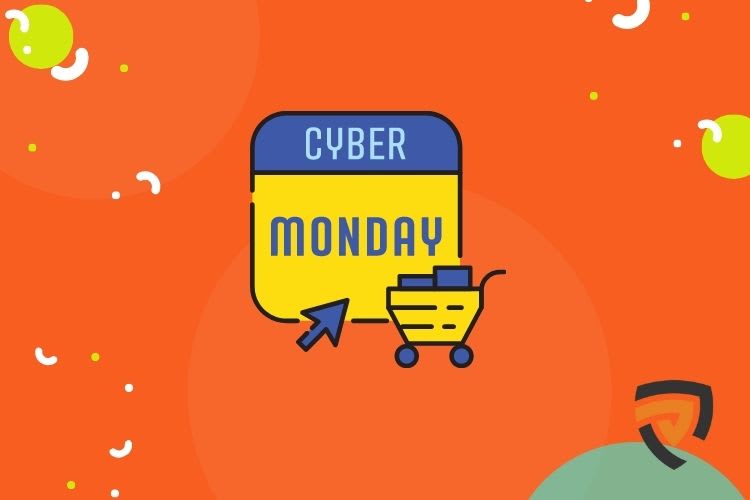 Shopee Big Events Sale
Shopee sale is sure to be more exciting than ever! Our category sales make it much simpler to get the greatest prices if you already know what you want to buy. On special collections like the Everyday Essentials Sale, the Electronics Sale, the Mobile Load & Bills Day, and more, you can expect to get excellent savings. 
To ensure you don't miss any special offers, be sure to check Shopee's countdown sale calendar. Plan your purchases ahead of time using our sale calendar as a quick reference.
---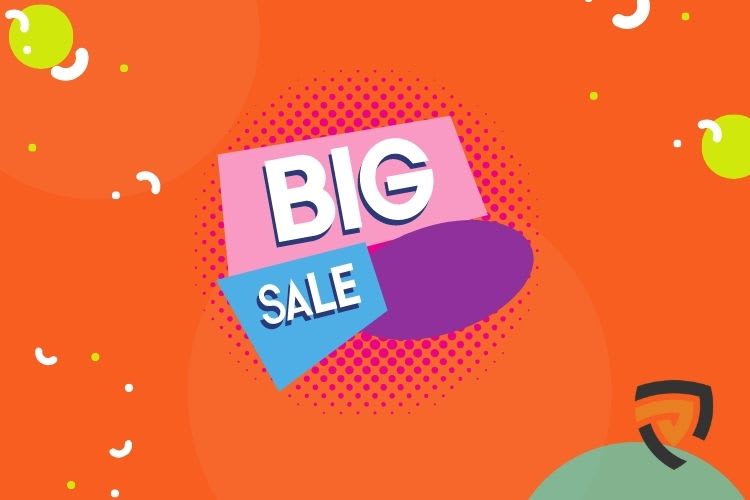 Shopee Pay and Shopee Coins
On the Shopee app, you may earn Shopee Coins by making purchases, participating in events, and more. You can utilize your earned Shopee Coins to deduct from your transaction amount while making purchases through the Shopee app. Each Shopee Coin is worth 1 Philippine Peso. The number of Coins you can earn and utilize has a cap.
---
Related Articles