Are the windows, ceilings, and walls of your home covered with condensation, or is your room smelling musty? If that's a "Yes", then you might need a dehumidifier. 
A dehumidifier can be used anytime when the humidity level of the indoor air is high. It helps to eliminate excess moisture in the air and keep the humidity of the space at an ideal stage. By doing so, it also keeps dust mites and moulds at bay, saving one from allergic symptoms such as skin rashes, throat irritation, and coughs. 
With plenty of dehumidifiers on the market, you are probably overwhelmed. But fret not, as we have gathered a list of the top dehumidifiers for you to manage the humidity level of your home like a pro.
---
Table of Contents
---
Dehumidifier vs Humidifier 
What they do
A dehumidifier removes moisture from the air and is great for humid countries and wet seasons. A humidifier, on the other hand, does the complete opposite. It adds moisture to the air and is suitable for dry seasons. 
How they work
Generally, dehumidifiers work by condensation. As air is sucked into a refrigerant dehumidifier and passes through the cold metal plates, it undergoes condensation, forming water droplets. The resulting droplets are then stored in the water tank of the dehumidifier while the air — which has had its moisture removed — is released back to the environment.
Contrarily, impeller and ultrasonic humidifiers work by breaking up water in their tanks into tiny droplets, then releasing the droplets into the air. These types of humidifiers have built-in disc or metal diaphragms, which will move at high speed to stir up the water and generate mist. 
Benefits
A dehumidifier prevents the growth of dust, moulds, and pests — which often appear when there is too much moisture in the space — and removes musty smells from the air. Damp spaces can exacerbate asthma and allergies, so a dehumidifier essentially helps to alleviate those symptoms. 
Additionally, people who encounter flooding or water leakage at home during wet seasons will also benefit from dehumidifiers, as these appliances can manage such problems. 
A humidifier helps to relieve symptoms triggered by dry air such as asthma, chest congestions, coughs, skin dryness, and sinusitis. It prevents nasal passages from getting dry, which in turn reduces snoring and improves sleep quality. 
Furthermore, it keeps plants plumped and makes wood furniture last longer. 
---
5 Best Dehumidifiers in New Zealand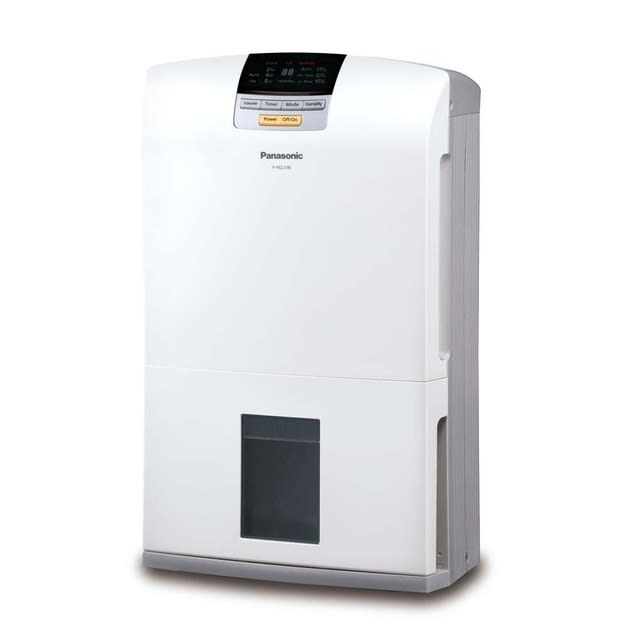 Check Panasonic Dehumidifier F-YCL17N price below:
add_circle
Easy to use and reliable (based on reviews)
add_circle
A big water tank
add_circle
Feature a humidistat
add_circle
Allow manual humidity control and auto dehumidification
add_circle
Allow continuous drainage
add_circle
Resolve mould issues with mildew guard
add_circle
Operate quietly even at high speed
add_circle
Cost-effective
Why It Is Our Top Pick:
The Dehumidifier F-YCL17N from Panasonic is a unit that has been raved by many — and certainly for a good reason. The device is packed with all the essential features for dehumidification and yet doesn't make a big hole in the wallet.
It combats condensation in the air and tackles mould issues. Not only that but it also helps to dry clothes quickly, making it perfect for wet seasons or homes with limited space. And with its continuous drainage feature, timer, and caster wheels, it promises a super user-friendly experience. 
Features
This dehumidifier comes with a 4.8L water tank and humidistat, making it suitable for small to medium rooms (it can dehumidify spaces at a rate of 17L/day). Users can select their desired humidity levels or have the device optimise the humidity for them. 
Apart from having an Auto Dehumidifying mode, the device also features a Laundry mode to help users dry clothes faster. Additionally, if mould is a common occurrence at home, you can utilise its mildew guard as well. 
Another bonus is its continuous drainage option, which saves users from emptying the water tank manually. This feature also allows the device to run for a longer time without human intervention. Alternatively, users may set the timer on the device for 2, 4, or 8 hours. 
Furthermore, it emits a relatively low noise — around 44dBa – even when running at high speed.
Performance:
Many users are happy with this dehumidifier. Based on reviews, it is easy to use, reliable and offers "a good balance between cost and features". It works very well in controlling the moisture level of the air and yet is sold at an affordable price point.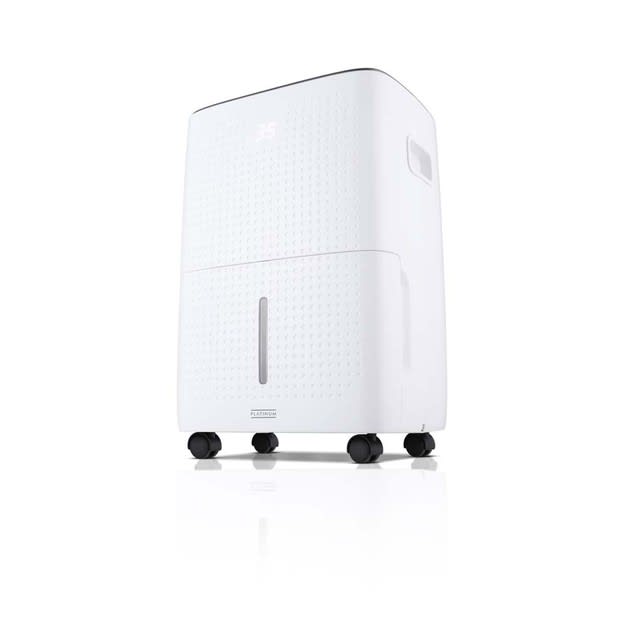 Check Goldair Platinum 40L Dehumidifier price below:
add_circle
Smart Humidifying Indicator
add_circle
Adjustable humidistat
add_circle
Supported by Goldair App, Amazon Alexa and Google Home
The Platinum 40L Dehumidifier from Goldair features a 4L water tank and an extensive working range from 5°C to 35°C. Also, it is pretty smart.
Feature
The device comes with a Smart Humidfying indicator that advises users on the humidity level of their space. Besides that, it is equipped with an adjustable humidistat for users to select their preferred humidity levels.
With its Auto-Defrost feature, it will switch into Defrost mode automatically as it detects frost on its components during dehumidification. This feature in turn protects the device from frost damage. 
Furthermore, it ensures easy maintenance by having a "Bucket Full" indicator that lights up whenever the water tank is full so that users know when to empty the tank. As it is WiFi-enabled, users can connect it to Goldair App, Amazon Alexa, or Google Home for remote and smart controls.
Performance
Many users are satisfied with this dehumidifier as it has remarkably optimised the air quality and humidity level of their homes. Also, they like how it can be paired to their phones and other supported smart devices swiftly.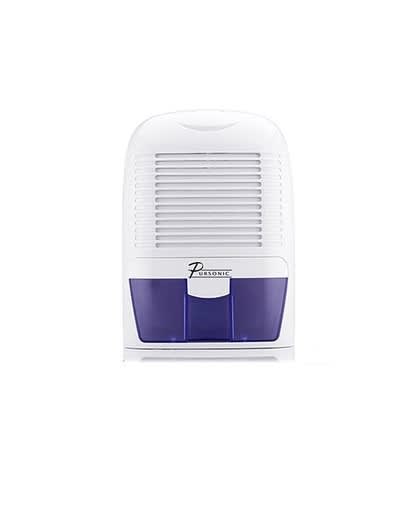 Check Pursonic 1.5 Litre Clean Air Max Dehumidifier price below:
add_circle
Compact in size
add_circle
Lightweight and portable
add_circle
Quiet operation
add_circle
Effective (based on reviews)
If you are searching for a dehumidifier that doesn't take up a lot of space and is easy to bring along, check out the Clean Air Max Dehumidifier from Pursonic. It weighs only 1.92 kg, and its base is smaller than an A4 paper. 
Features
This device is developed with Peltier (thermo-electric) technology to remove moisture from the air. The use of this technology enables the device to work extra quietly, even more than conventional dehumidifiers. 
Additionally, the device promises easy operation and low energy consumption with its One-touch Control and Auto Shut Off features. It minimises energy wastage by shutting down automatically when its water tank becomes full. 
Performance
According to users, this dehumidifier effectively reduces condensation in the air despite its small size. Also, it has helped them get rid of damp smells and moulds in their rooms.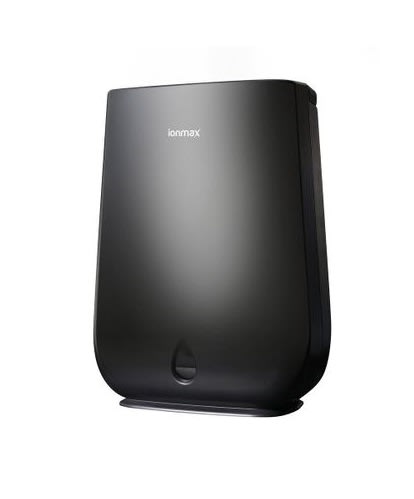 Check Ionmax Vienne ION630 Desiccant Dehumidifier price below:
add_circle
4 power settings, including Auto and Laundry modes
add_circle
Antibacterial air filter
add_circle
Negative ion generator
add_circle
Portable with a handle
The Vienne ION630 Desiccant Dehumidifier from Ionmax dehumidifies areas up to 42m2 at a rate of 10L/day — making it perfect for medium to large rooms.
Features
The device comes with 4 power settings — Auto, Low, High, Laundry — and 5 RH (relative humidity) levels. 
While users can set the device to dehumidify air at their desired RH levels, they can also enable Auto mode and have the device regulate the humidity level automatically. To dry wet clothes more quickly, users may switch it to Laundry mode.  
On top of that, the device is designed with an antibacterial air filter and negative ion generator to eliminate dust, hair, odour, smoke, and more from the air. Even better, it produces heat during dehumidification, which helps to warm up the space to a comfortable level. 
Performance
This dehumidifier has significantly helped users in keeping their space fresh, comfortable, and less humid. According to them, there is "no more condensation on the walls, ceilings, and windows". Also, they like how this device is portable because of the handle.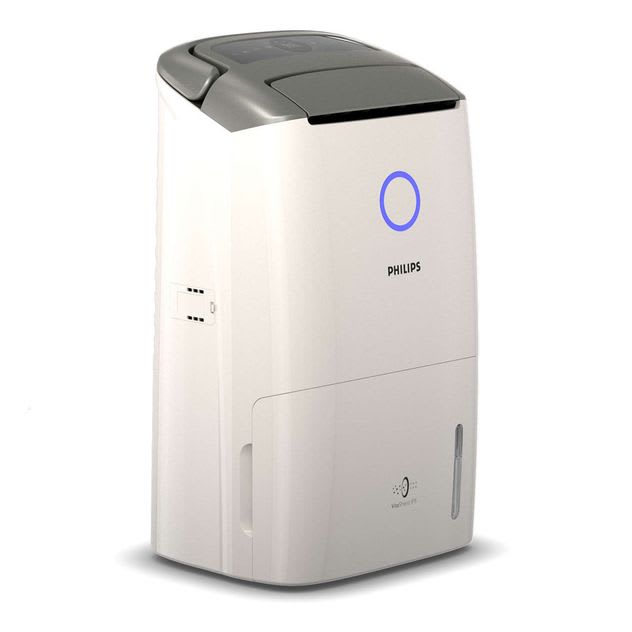 Check Philips 2-in-1 Dehumidifier Series 5000 price below:
add_circle
A twofer (a dehumidifier and an air purifier)
add_circle
Allow auto dehumidification
add_circle
Remove airborne particles as small as 0.02 microns
add_circle
Remove up to 99.9% of bacteria
add_circle
Report humidity level and air quality in real-time
add_circle
Filter replacement and full tank alerts
remove_circle
A bit noisy
The 2-in-1 Dehumidifier Series 5000 from Philips is a twofer: it excels in both dehumidifying and purifying the air. 
Features
The device comes with Auto Dehumidification Control and 5-speed settings — from Low to Turbo. Also, it features a Laundry mode to dry clothes efficiently and a Continuous Dry mode to constantly optimise the space's moisture levels. 
Developed with Philips's VitaShield and NanoProtect filters, it's air purification system is capable of eliminating harmful airborne particles as small as 0.02 microns, at 270m3/hr CADR (Clean Air Delivery Rate). Not only that but it has also been tested to remove up to 99.9% of bacteria. 
Furthermore, the device uses a digital humidity sensor and LED colour ring to report the humidity level and air quality in real-time. And even better, there are "Healthy Air Lock" and "Full Tank" alerts to remind users when it's time to replace the air filters or empty the water tank. 
Performance
According to users, this dehumidifier is easy to use and does a great job in keeping the air fresh and less humid. Nevertheless, some of them find it "a bit loud" when operating at max speed.
---
Related reading: 10 Best Air Conditioners in New Zealand