Typical floor-standing shelves and cabinets aren't the only furniture to store your personal belongings and whatnots. Floating shelves are a good alternative since they can be mounted on the wall regardless of living room, bedroom, kitchen or bathroom. There are even some specifically made for corner walls too.
Just like the usual wall-mounted shelves, they come with brackets to help secure the shelf or board when you use them to prop up against the wall. And speaking of shelves, many are made with good quality whether it's from wood or timber.
Below are the 9 best floating shelves for your respective needs.
---
9 Best Floating Shelves in New Zealand 2023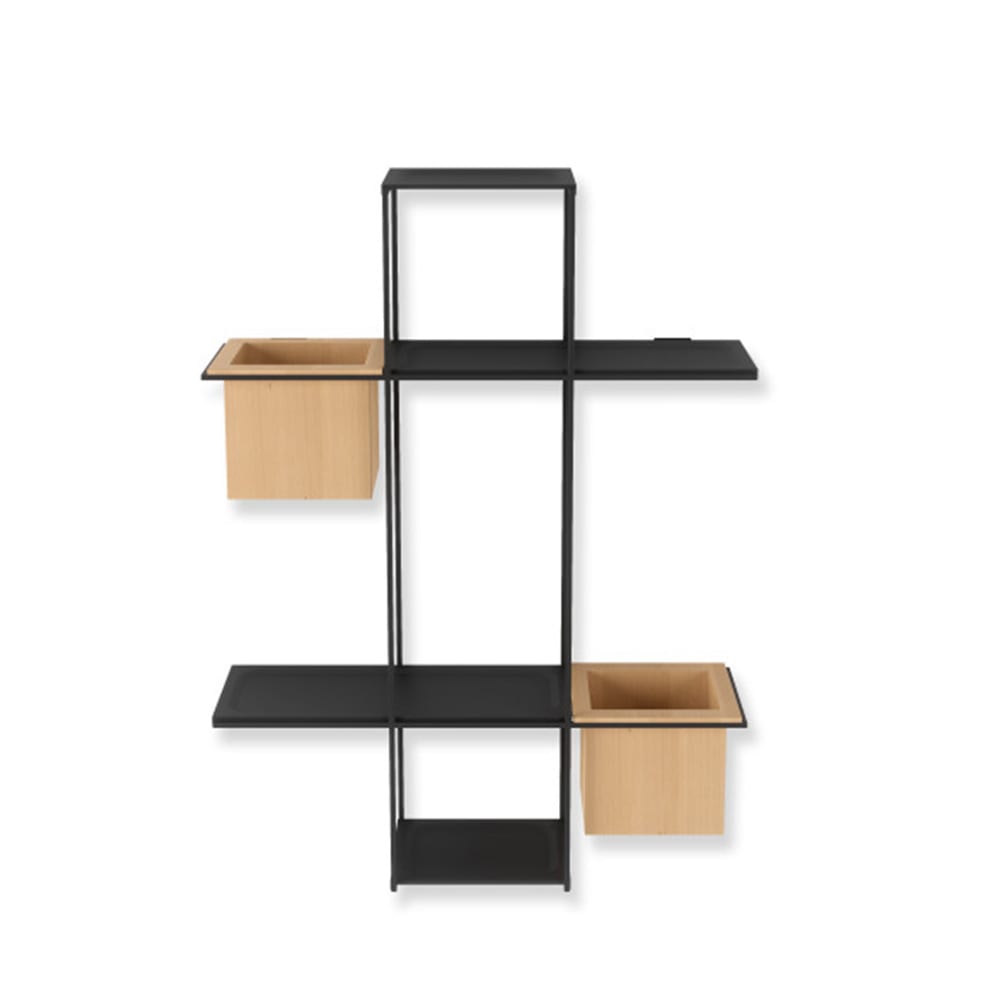 Check Umbra Cubist Multi Shelf Wall Display price below:
add_circle
Easy to install
add_circle
Space-saving design
add_circle
Removable wood containers
remove_circle
Some users complained that the multi-shelf is smaller than it looks
Why It's Our Top Pick:
"This floating multi-shelf from the Toronto-based Umbra is both compact and versatile, thanks to its removable wood containers and customisable shelf design. Also, the minimalist sand-black aesthetics makes it suitable for any modern homes."
Features:
At first glance, you'll notice both on the left and right sides are two wood containers, which allows you to place the likes of small indoor plants and even tech accessories. Don't like them? They are removable too, so it's easy to customise the shelves according to your preference.
Then, there's the square rod frame with two protruding metal frames for placing knick-knacks and others like stationery items. For complete peace of mind, the shelves come with a 5-year manufacturers warranty.
Testimonies:
Users who have bought this loved the fact that it's easy to install. The overall quality is decent enough for the price while the space-saving design means it fits well even for small spaces.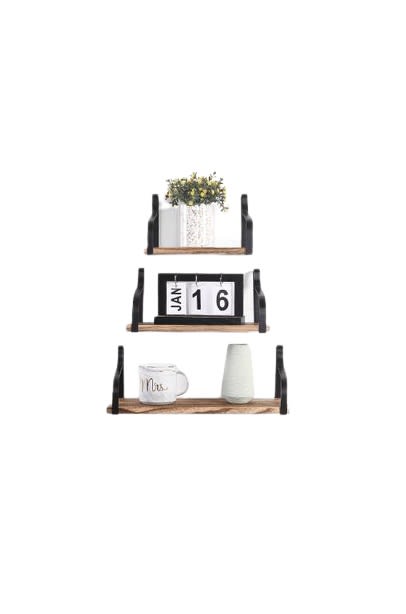 Check Levede Wall Mount Shelf Brackets Display Bookshelf price below:
add_circle
Solid paulownia wood
add_circle
Can support up to 15kg each
add_circle
Industrial-style design
If you love to decorate your indoor space with small plants and the likes of action figures or desktop calendars, you might want to check out these wall-mounted floating wood shelves from Levede.
Features:
This display shelf comes as three pieces of floating shelves, each of which are made from solid paulownia wood. The wood itself is known for its durable strength and resistance against fungal rots. Also, the shelves can hold up to 15kg each and have metal brackets for mounting onto the walls.
Testimonies:
The quality of the paulownia wood is sturdy enough to support various weights of small items. Moreover, the industrial-style design makes it ideal not only for a cozy home but also for contemporary office interior.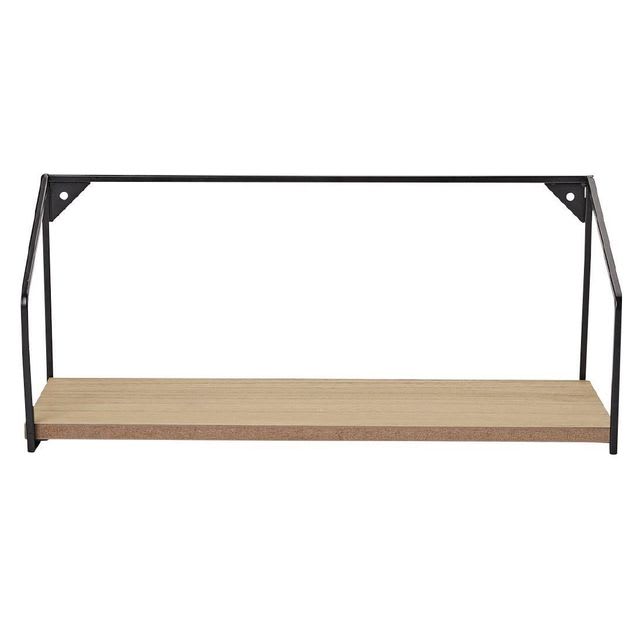 Check Living & Co Levi MDF Shelf price below:
add_circle
Easy to install
remove_circle
The MDF shelf might sag if you put too much weight on it
Here's an affordable floating shelf from Living & Co, where you can mount it on the wall and place items such as books and small indoor plants.
Features:
The Living & Co's floating shelf design is made from MDF (medium-density fibreboard) material measuring 45cm in length, making it ideal to decorate a few items. It has black metal rails for mounting the shelf against the wall.
Testimonies:
Overall, the floating shelf is sturdy and it should be easy to install. If you're into displaying a few decorative items, this one is great, whether they're books or ornaments. And because the shelf isn't made of wood, it's suitable not just for the living room and bedroom but also the bathroom as well.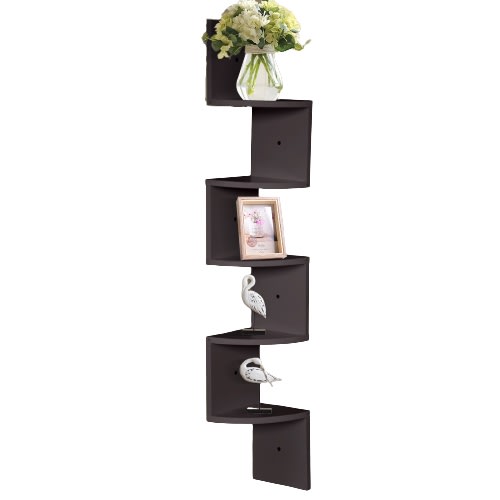 Check Levede 5 Tier Corner Wall Display Shelves price below:
add_circle
Comes with 5-tier shelves
add_circle
Easy to assemble
Running out of wall space to place some of your stuff? Perhaps you are overlooking the corner wall. You can actually make good use of it by mounting corner-wall floating shelves such as this one from Levede.
Features: 
This shelf exhibits a minimalist zig-zag design, complete with not one but five tiers for small items to display anything from little knick-knacks to photo frames and small indoor plants. It comes in a sleek-looking dark brown colour, and its material made from MDF.
Testimonies:
Thanks to its simplicity, this floating shelf should be a breeze to put together and mount onto the corner wall. The 5-tier shelves are blessed with a compact design, which does not take up much wall space.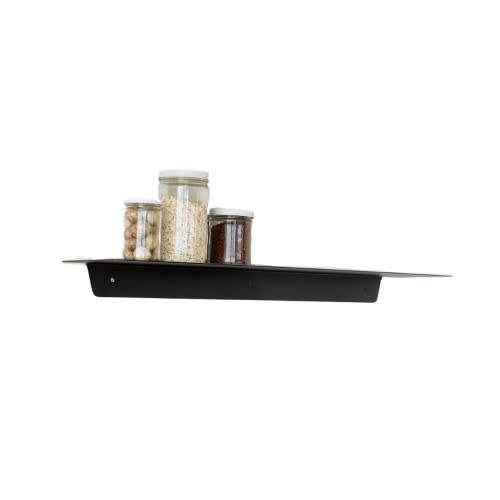 Check Made of Tomorrow FOLD Ledge Shelf 900 price below:
add_circle
Water-resistant aluminium material
add_circle
Easy to install
Available in black or white, this FOLD ledge shelf from Made of Tomorrow is ideal to mount against the kitchen wall using just three powder-coated screws that comes with it.
Features:
Made from water-resistant aluminium material, this Made of Tomorrow shelf is also finished with Dulux powder coating, which in turn, helps to repel corrosion. The flat surface also makes it easy for you to place essential kitchen items like sauce bottles and spice jars.
Testimonies:
Most users have praises the shelf's solid build as well as installation being straightforward. The minimalist design is a bonus for most, as it seem to match well in any modern home kitchen.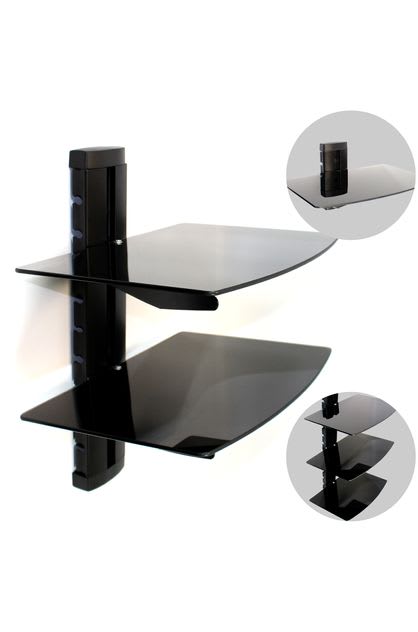 Check M&W Tempered Black Glass Floating Shelf price below:
add_circle
Sturdy tempered glass
add_circle
Can support up to 20k
add_circle
Integrated cable management
remove_circle
Some users claimed a Playstation 4 doesn't fit the shelf space
Save more space with the M&W Tempered Black Glass Floating Shelf, which is made suitable for placing your DVD player or gaming consoles.
Features:
This tempered glass floating shelf comes with multiple grooves that are integrated into the back panel. That, in turn, allows you to hide the cables or wires. For your preference, the shelf itself can be adjusted by sliding it up or down on the metal rail.
Testimonies:
The tempered glass used is durable and for your peace of mind, it can hold up to 20kg. Also, it's easy to install too. Best of all, most users are all praises about the shelf's design that enables them to keep all the wires uncluttered from plain sight.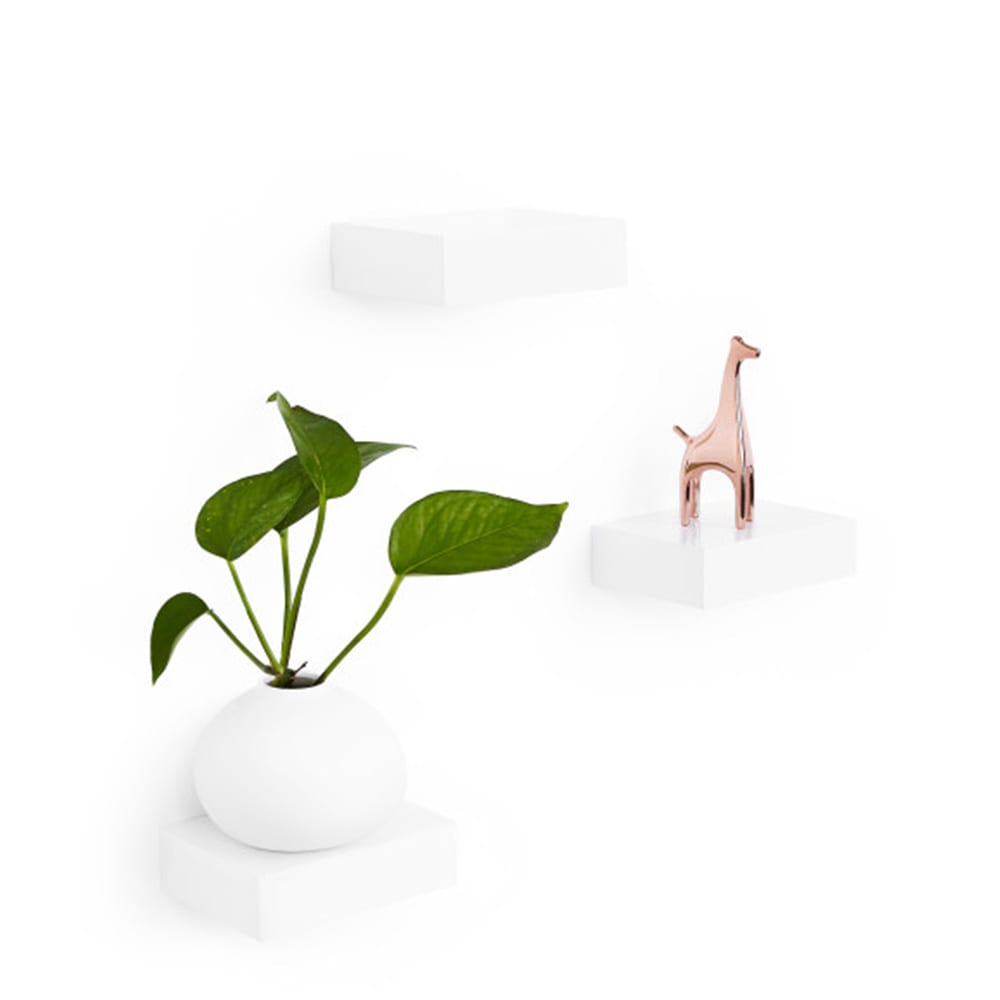 Check Umbra Showcase Floating Shelves - Set of 3 price below:
add_circle
Easy to install
remove_circle
Not suitable to be used in the bathroom for holding shampoos.
While glass cabinets look ideal for displaying collectibles or trophies, there is another alternative worth considering here: a set of three space-saving floating shelves from Umbra.
Features:
The Umbra Showcase floating shelves come in black or white variants, both of which are equipped with concealed metal hardware for easier wall-mounting purposes. Each shelf are designed to support up to 1kg each.
Testimonies:
Its no-frills design makes displaying collectibles, trophies or action figures look more presentable. You'll also be glad that the shelves are easy to install. Additionally, the overall quality is sturdy for its price point.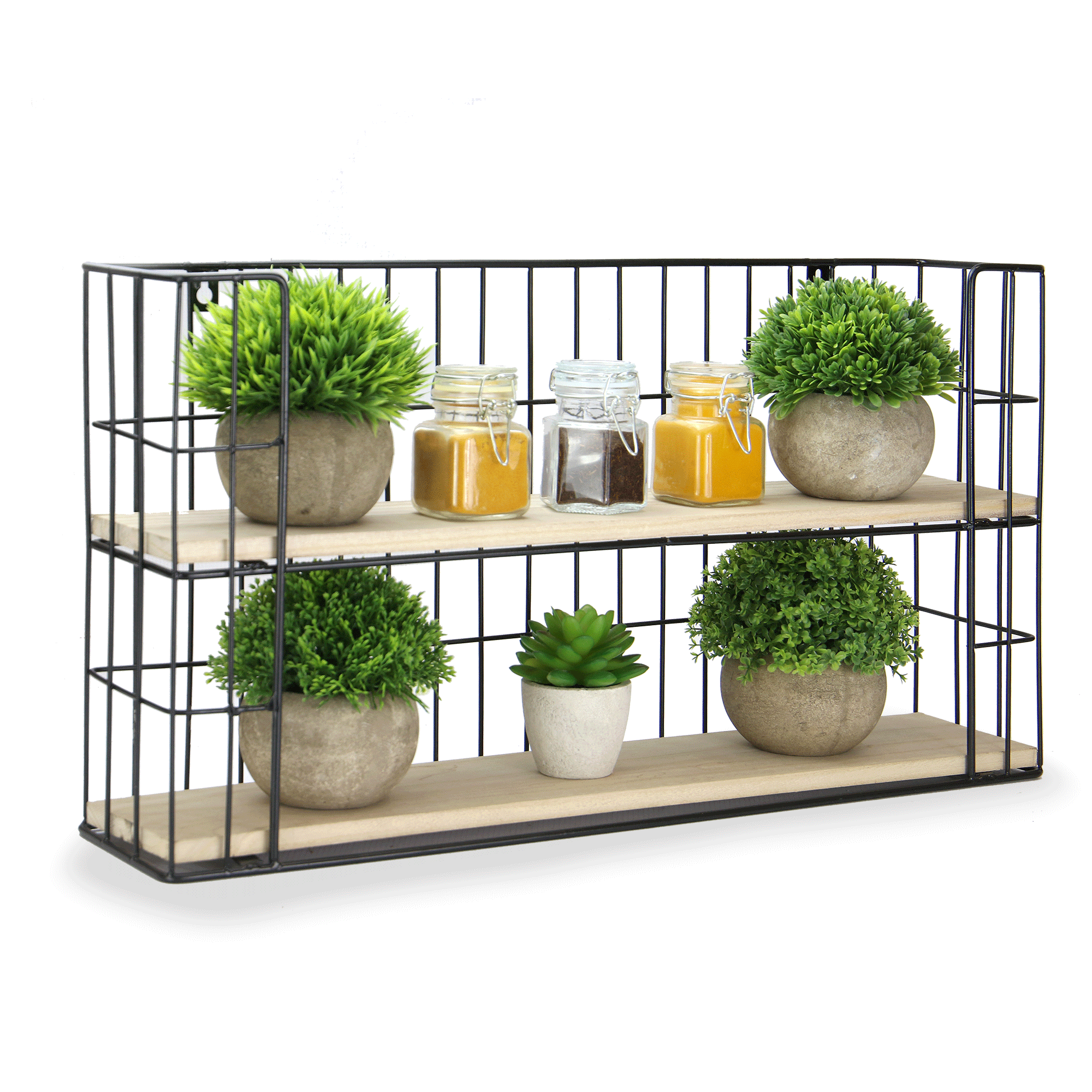 Check M&W 2 Tier Rectangular Floating Shelf price below:
add_circle
Easy to install
add_circle
Stylish design
add_circle
Good build quality
Make good use of your empty wall with this M&W 2 Tier Rectangular Floating Shelf, which is ideal for decorative items such as small flower pots.
Features:
The shelves are made from candlenut wood and come with two tiers, measuring 53cm wide each. They are both attached to a black frame constructed from alloy steel and you'd only need to drill two holes to mount the shelves on the wall.
Testimonies:
The shelves are lightweight but sturdy whereas the contrast between the candlenut wood and black steel frame is particularly eye-catching. It's easy to set up too if you're concern about that. As a bonus, it also comes with a 2-year warranty.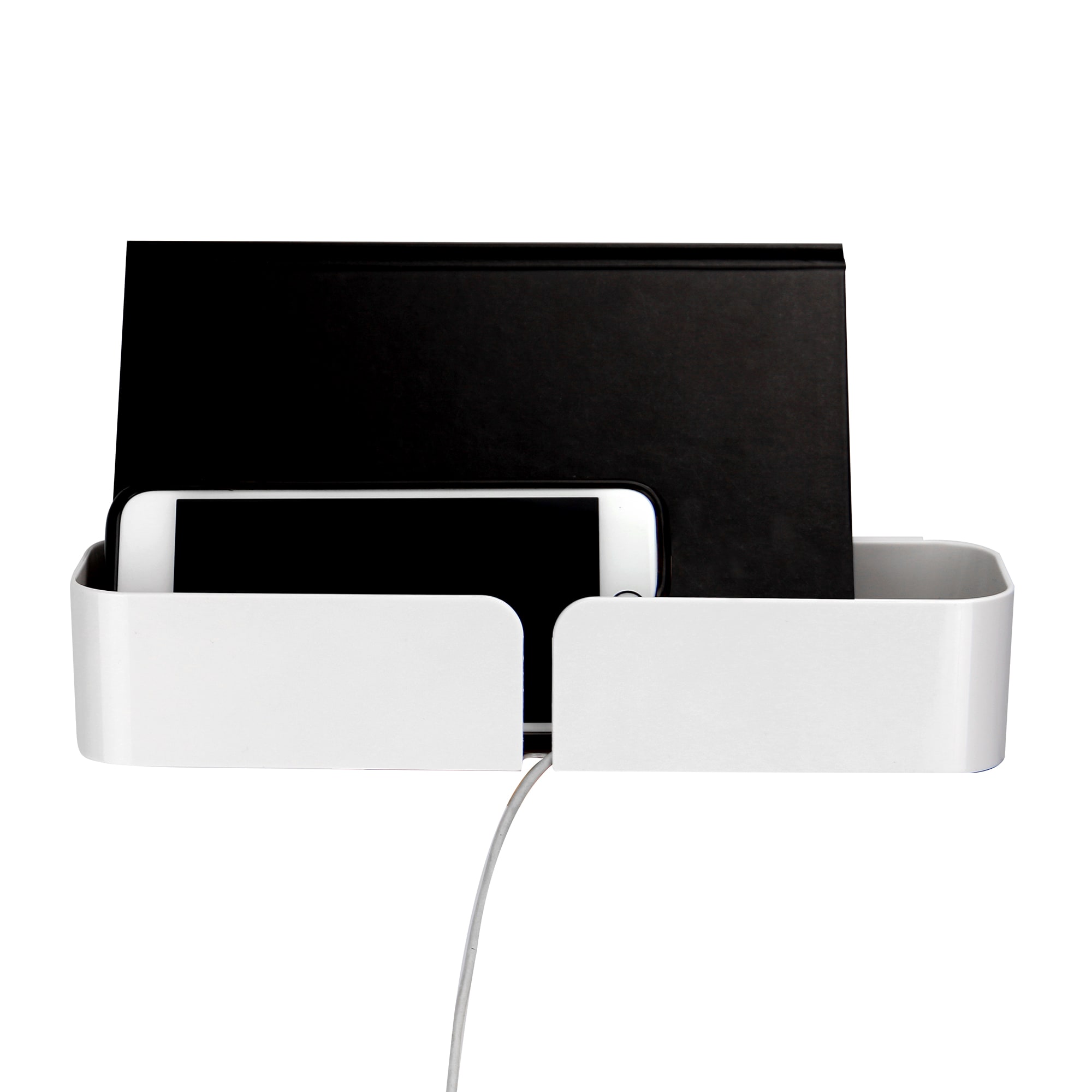 Check Pukkr White Bedroom Shelf price below:
add_circle
Good quality for its price
add_circle
Easy cable management
add_circle
Multiple fixings
Small and compact, the Pukkr White Bedroom Shelf is ideal for those who want to keep mobile gadgets like a smartphone and a power bank all in one place.
Features:
The Pukkr White Bedroom Shelf comes with a gap in the middle, allowing you to connect your charging cable between your mobile gadget and plug point easily. You can also choose to mount the shelf in two ways by either using self-adhesive pads or drill it into the walls.
Testimonies:
The shelf's quality seems to be solid, and would look well due in any space due to the cable-friendly design that makes it easy for charging your mobile devices completely fuss-free.
---
FAQ:
Are floating shelves strong?
Weight:
Typically, standard floating shelves can hold a weight between 6kg and 13kg. 

Floating shelves can be sturdy enough to support, say up to 18-34kg but that would depend on the overall build quality and the wall brackets.
Screw support:
You also need to factor in the number of screws used to secure into studs or blocking to support the bracket. 

In other words, using more screws do matter a lot when it comes to supporting a higher weight capacity. 

Though, if you're considering to store heavier-duty items, you are better off buying cabinets or bookcases. 
---
Where to place floating shelves?
Walls:
There are many ways you can place your floating shelves on the wall. 

For instance, you can turn your living room wall into a gallery of sorts. 

It could be anything from displaying your family photos to small indoor plants and art collections.
Entertainment area:
You can also make use of floating shelves to save more space for your entertainment centre. 

With TVs getting slimmer these days and having the option to mount on the wall, why not place the rest (e.g. DVD/Blu-Ray player, gaming console) on floating shelves?

Floating shelves are also versatile for bedroom, kitchen and bathroom walls.
---
Differences between floating shelves vs. cabinets
While floating shelves and cabinets are both practical and versatile, each of them come with pros and cons. Let's start with the former:
Pros for floating shelves:
They are affordable, customisable and can fit in any vertical space (read: wall). 

Floating shelves are also ideal for displaying décor or anything that you want to draw attention such as your favourite action figure.
Cons for floating shelves:
Unless you are placing only a few items, maximising the space of the floating shelves can look cluttered. 

Since floating shelves are an open-air storage option, you'll need to dust them regularly.
Pros for cabinets:
Most cabinets come with sufficient storage space, particularly if you compare them with floating shelves. 

You don't have to worry about how others would judge the way you stack your items since cabinets come with a door or two.
Cons for cabinets:
It goes without saying that cabinets are traditionally pricier than floating shelves. 

Placing cabinets in small spaces can make your room look more cramped.

In terms of space, they lack the aesthetic appeal, unlike floating shelves where you can rearrange the items effortlessly.
---
Related reading: 7 Best Weighted Blankets in New Zealand