Weighted blankets have been growing in popularity of late and for good reason too. Initially only thought of as a therapeutic tool, more and more people are catching on to the benefits of these cosy comforters. 
A weighted blanket is essentially a fabric blanket with small compartments woven in it. These compartments are filled with small pellets or beads that are generally made of plastic, glass, or metal to add weight. Available in a wide variety of fabrics, you'll most often find them knitted or crocheted with thicker and heavier materials. 
Soft and soothing, these blankets swaddle you in a comforting cocoon that engages your senses and takes the edge off those restless nights. Shop from our list of the best weighted blankets in New Zealand and never lose a wink of sleep again.
---
Table of Contents
---
Top 7 Weighted Blankets In NZ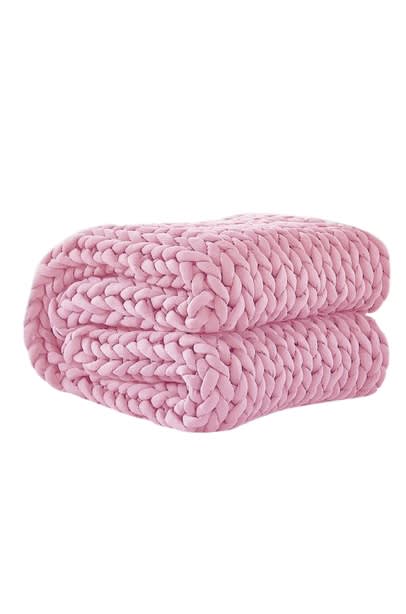 Check Dreamz Knitted Weighted Blanket price below:
add_circle
Machine washable
add_circle
Durable knitted construction
remove_circle
Not as comfortable as cotton
Why It's Our Top Pick:
"The Dreamz Knitted Weighted Blanket is our top pick because it's nearly everything you could want in a weighted blanket and more."
Features: 
Featuring a striking chunky knitted design, this is a weighted blanket that looks as good as it feels. Hand knitted and with a dense feel to it, it's also very conveniently machine washable.
Performance: 
Made with polyester and microfibre filling, this blanket is durable and can even be used as a rug. Its carefully knitted construction provides even weight distribution that follows your movements throughout the night, helping you sleep better.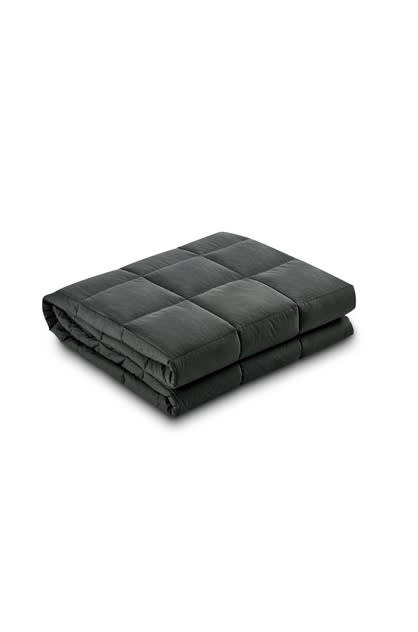 Check TSB Living Weighted Blanket price below:
remove_circle
Sides not reversible
A weighted blanket at a great price that doesn't compromise on quality? TSB Living's Weighted Blanket is a winner.
Features: 
This blanket is fitted with a 100% cotton outer cover and an inner lining of microfibre. The four-band edge stitching keeps the glass bead fillings within the pockets safe and secure from any tears and leakages.
Performance: 
TSB Living's Weighted Blanket is soft and breathable. It absorbs any moisture from sweat and dries itself out, perfect for staying comfortable even during those searing summer nights. Designed to be between 10-15% of your body weight, this blanket mimics the feeling of being held to make you feel more relaxed as you drift off.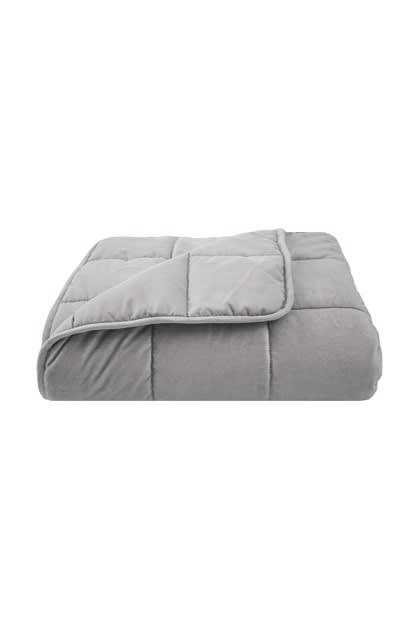 Check Bambury Weighted Blanket price below:
add_circle
Can be covered with a quilt
add_circle
Breathable cotton fabric
remove_circle
Not machine washable
Bambury's offering is a nice weighted blanket from Australia that is soft and comfortable, with a minimalistic charm to it.
Features: 
The Bambury Weighted Blanket has a soft, plush finish on one side and a flat cotton weave fabric on the other. The blanket can be covered with a quilt to keep it clean and help protect it against any markings or spills.
Performance: 
Available in weights of 4.5kg, 6.8kg, and 9kg, their range of blankets will suit most just fine. While it certainly is a good-looking blanket that's breathable too, it, unfortunately, isn't machine washable and some will find that inconvenient.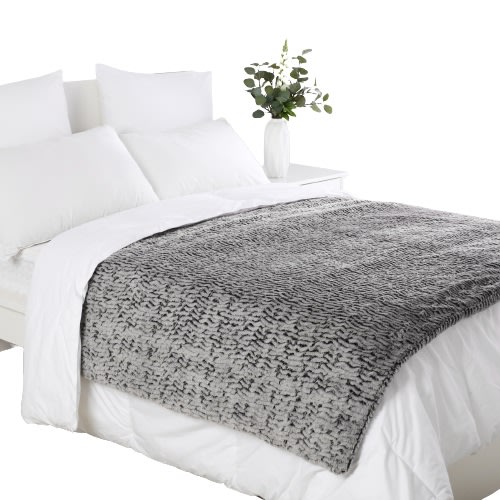 Check Dreamaker Luxury Faux Chinchilla Weighted Relaxing Simulated Blanket price below:
add_circle
Comfortable faux fur cover
add_circle
Machine washable
remove_circle
Only one colour option
The Dreamaker Luxury Faux Chinchilla Weighted Relaxing Simulated Blanket is an aptly descriptive name for this product. It offers all the luxurious comfort of chinchilla fur, with none of the guilt.
Features: 
The cover on this blanket is easily removable and is machine washable for maximum convenience. With evenly distributed glass bead fillings to ensure a steady and balanced pressure throughout the blanket, you'll be able to enjoy improved sleep quality. 
Performance: 
The faux fur covering is soft and silky smooth to the touch. It looks great too and adds a touch of class to whatever you choose to drape it over on those rare occasions you're not snuggled up inside it.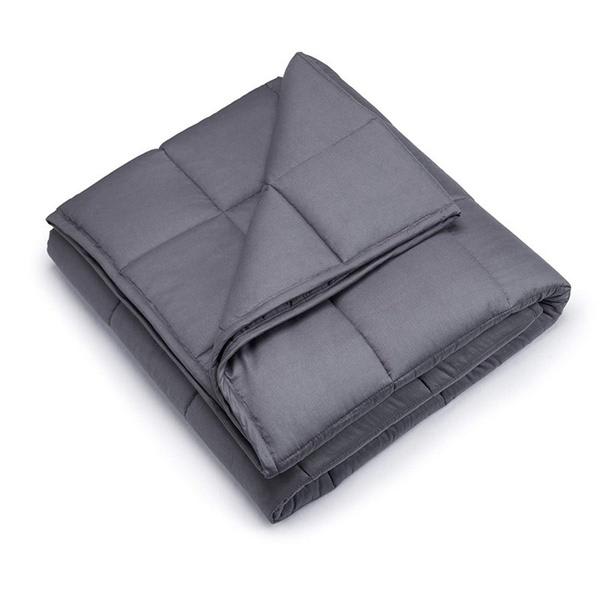 Check Sensory Goods Weighted Blanket price below:
add_circle
Washer and dryer safe
remove_circle
Options only go as low as 6.8kg
Affordable and well made, the Sensory Goods Weighted Blanket gets good reviews for a reason. It's washer and dryer safe too so you won't have to go through the hassle of finding space on your clothesline.
Features: 
Made with 1000GSM ultra-soft microfibre fabric and a 100% cotton outer covering, this blanket is snug and breathable. The four-band edges and the better quilting processes mean you won't have to worry about any leakages in your fillings either.
Performance: 
The blanket clings closely to the body and wraps nicely around your form as you sleep, leaving no gaping pockets and perfectly simulating the experience of a comforting hug. It can't get much better than this at this price point.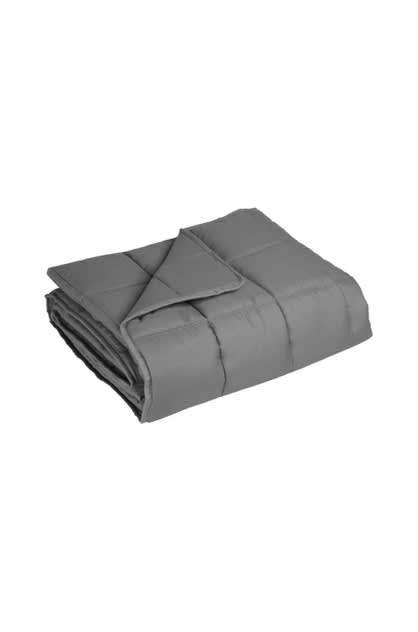 Check GOMINIMO Weighted Blanket price below:
add_circle
Excellent construction
add_circle
Prevents temperature fluctuations
remove_circle
Not machine washable
Excellently constructed, the GOMINIMO Weighted Blanket smoothly applies its soothing pressure and keeps temperature fluctuations at bay. Perfect for easing those late-night jitters and leading you into a restful slumber.
Features: 
This blanket is made with 5 layers for optimal comfort. The four outer polyester layers sandwich the layer of fine glass beads within and are all held together securely with high-quality stitching.
Performance: 
The GOMINIMO Weighted Blanket works well to keep a stable temperature and help you stay comfortable. It's OEKO-TEX® STANDARD 100 certified as well so you can rest assured that every component of this blanket is completely safe for use and is harmless to human health.
Check Bostin Life Ultra Soft Heavy Deep Relax Weighted Blanket price below:
add_circle
Double-sided covers
add_circle
7 layer construction
remove_circle
Only available in 9kg and 11kg options
The Bostin Life Ultra Soft Heavy Deep Relax Weighted Blanket is for those who are looking for that deep pressure feeling of being held tightly. 
Features: 
This weighted blanket ticks the boxes when it comes to convenience with its removable zipped cover and the fact that it's machine washable. It's also available in an 11kg option for those who want a little more pressure. 
Performance: 
This Bostin Life blanket comes with double-sided covers with one side being fleece and the other being flannel. Its 7 layer construction gives it durability and the excellent stitching means it'll stay comfortable for a long time to come. 
---
Who are weighted blankets good for?
Weighted blankets have been linked with improvements in managing several conditions such as ADHD, autism, and anxiety. Their calming properties help alleviate the restlessness that accompanies these conditions and their benefits extend to anybody looking for a good night's sleep. Weighted blankets however are not suitable for babies who are at risk of suffocation or those with chronic respiratory and circulatory issues.
---
What is the purpose of a weighted blanket?
A weighted blanket provides deep pressure stimulation which relaxes the body and facilitates an increase in serotonin and melatonin, together with a decrease in the stress hormone, cortisol. This puts you in the optimal condition to get some deep and restful sleep.
---
Weighted blankets vs electric blankets
While both can be conducive for sleep, they serve different functions. A weighted blanket is sought after for the calming pressure it provides while an electric blanket is primarily used for its warmth.
---
Related reading: 9 Best Floating Shelves in New Zealand