What's all the buzz about air fryers? If you don't already own one, then you've probably at least seen one being advertised or heard your friends and relatives rave about it. 
Air fryers have risen in popularity since their emergence back in 2017. These innovative kitchen appliances circulate hot air to cook food thoroughly with minimal or no oil at all. Thus, air frying greatly reduces calories and the cholesterol content in food which is why air fryers are recommended for health-conscious individuals. 
Rather than deep-frying food, air fryers offer a healthier and more convenient way of frying food for users to enjoy a similar crunchy texture. Not to mention, that it's more convenient and economical in the long run as there is no need to utilise a tonne of oil just to fry a couple of chips. 
Get your hands on the best air fryer in New Zealand. Shop our top picks below.
---
Table of Contents
---
Top 8 Air Fryers In New Zealand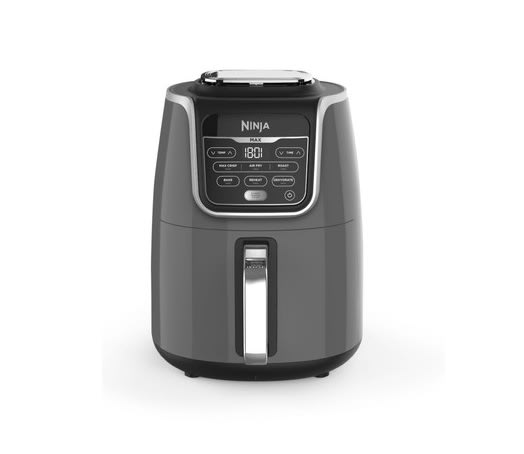 Check Ninja AF160 Air Fryer price below:
add_circle
Dishwasher safe
add_circle
Multifunctional with 6 pre-sets
remove_circle
Heavier than most air fryers
Why It's Our Top Pick:
"Here's our favourite from the lot - the Ninja AF160. It is perfect for small to medium-sized families as it can fit 1.3kg of chips at one go in its 5.2L basket. It also offers great value for its price since it features 6 pre-set programmes which turns it into a 3 in 1 air fryer, oven, and dehydrator."
Features:
The temperature can be adjusted to 240°C to cook food quickly and for that crispy texture that we all love.  Just set it at Max Crisp to transform your frozen chicken nuggets into crispy goodies in nine minutes. Clean-up won't be a hassle as it is dishwasher safe. 
Performance: 
This air fryer cooks up to 50% faster, with up to 75% less fat content compared to traditional frying methods. 
Also, the intuitive controls and simple functions make it a hit among consumers.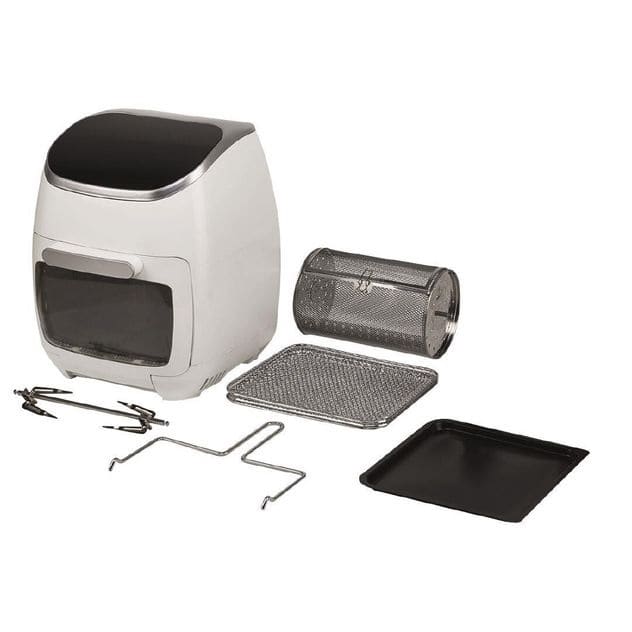 Check Living & Co Air Fryer 11 Litre price below:
add_circle
8 pre-set cooking functions
add_circle
2-year warranty
add_circle
Automatic shut-off function
remove_circle
Heavy and bulky (less portability)
Roast your meat or chicken with this handy air fryer that is equipped with a complete rotisserie set. 
Features:
In addition to the rotisserie fork and basket set, this air fryer also comes with 3 airflow racks for large capacity cooking. The rotisserie basket is useful when air frying chips as it saves you the trouble of having to manually shake or turn the chips halfway to ensure even cooking. 
With an adjustable temperature range of 65-200°C and a 60-minute timer, this air fryer is highly versatile featuring 8 pre-set cooking functions along with a digital touch display. 
Performance: 
Thanks to its automatic shut off function, users need not worry about their food overcooking. Plus, the large window and internal light are great for monitoring how the food is cooking.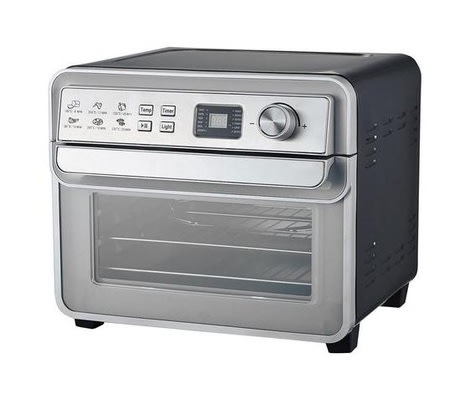 Check Healthy Choice Digital Air Fryer Convection Oven – 23L price below:
add_circle
Great value for money
add_circle
Huge capacity; Comes with a rotisserie fork, rotisserie handle,
add_circle
and other accessories
add_circle
Non-stick coating for easy cleaning
add_circle
1-year warranty
remove_circle
Writing on buttons may fade with time
Can't decide between getting an air fryer or an oven? Why not get both with this air fryer and toaster oven hybrid from Healthy Choice! 
Features:
This unique air fryer boasts 12 pre-set cooking programmes including but not limited to defrost, ferment, dry fruit (dehydrate), roast, and air fry. It delivers great tasting food thanks to its Rapid Air technology which cooks food evenly with less oil. 
Moreover, it has a fully digitised display and fully adjustable temperature control that goes up to 230°C. It also has double-layer heating elements for maximum crispiness. 
Performance:
Many users agree that the product is a valuable buy as it makes preparing family-sized meals much easier. Users also found the complimentary rotisseries fork set useful for roasting.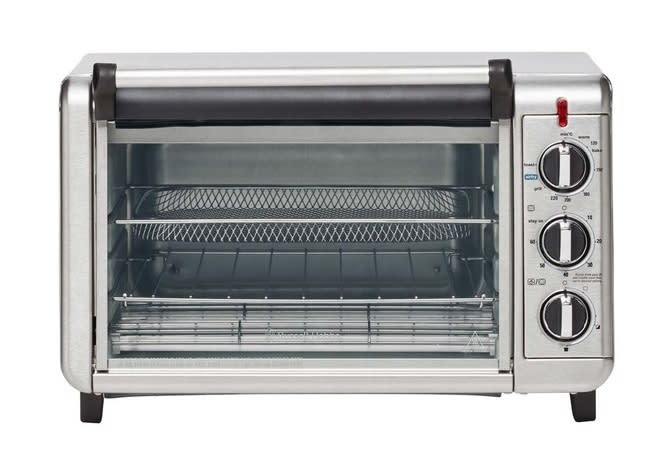 Check Russel Hobbs Air Fry Crisp 'N Bake Toaster Oven price below:
add_circle
Large capacity
add_circle
Energy-saving; 2-year warranty
add_circle
Includes accessories
remove_circle
Difficult to clean by hand
Enjoy the best of both worlds with this countertop toaster oven that is equipped with air fry technology. 
Features:
The Russel Hobbs Air Fry Crisp 'N Bake Toaster Oven features five different settings; air fry, bake, grill, toast and keep warm, for ultimate culinary versatility. Its powerful 1500W convection fan ensures that heat is evenly distributed for thorough cooking besides making it 2.5 times faster than a conventional oven. 
Having some friends over? Fret not as the air fryer and toaster oven hybrid has a 20L capacity that easily fits a 12" pizza or 6 slices of bread. 
Performance: 
The product has received praise for its size that works great as a mini oven or as an air fryer with a capacity that's large enough for couples and small families. Overall, it is a great all-rounder for users who wish to enjoy multiple cooking functions with just one appliance.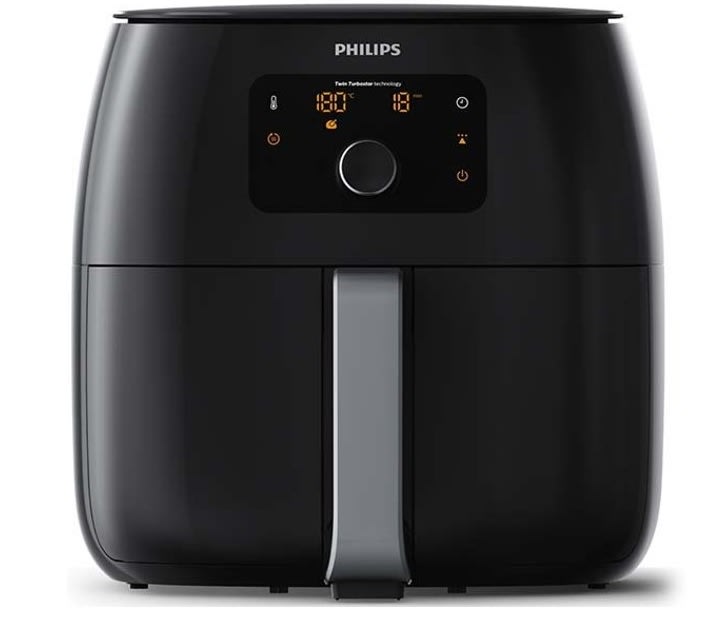 Check Philips Airfryer XXL Digital HD9650/93 price below:
add_circle
Large capacity
add_circle
Easy to clean and dishwasher safe
add_circle
2-years warranty
Equipped with a huge 7.3L capacity pan, the Philips Airfryer XXL Digital is the perfect cooking companion for large families.
Features: 
The air fryer's generous capacity can serve up to six portions, fit a whole chicken, or 1.4kg of fries. Besides, users can fry, bake, grill, roast, or reheat meals easily with the 5 pre-set programmes available. There is also a Keep Warm mode that can keep your food toasty for up to 30 minutes if you don't plan on eating immediately. 
Performance: 
Philip claims that this is the only air fryer available that is equipped with Twin TurboStar technology which removes fat from the food, resulting in healthier dishes. Many recommend it as a quick and easy way of preparing healthy family meals.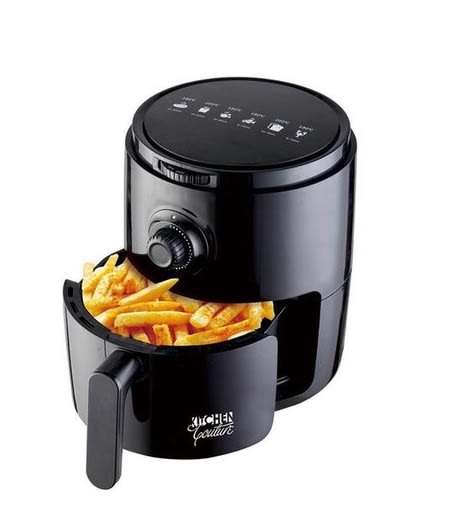 Check Kitchen Couture 3.4L Air Fryer - Black price below:
add_circle
Lightweight and portable
add_circle
Energy-saving (1200 W)
remove_circle
Small capacity
College students living on a budget can consider this decently priced air fryer from Kitchen Couture. 
Features:
Its 3.4L capacity is perfect for whipping up a quick meal for one or two, which is perfect for those hectic periods when you're racing against time to meet deadlines. It comes with adjustable digital temperature control that ranges from 80 to 200°C that's suitable for reheating, frying, and even baking. In addition, it has a 30-minute digital timer and automatically shuts off once the cooking cycle is complete. 
Performance:
The detachable and non-stick basket allows for easy cooking and cleaning as testified by users. Also, its overall sleek and lightweight design makes it a portable and handy appliance for college students to have in their dorms.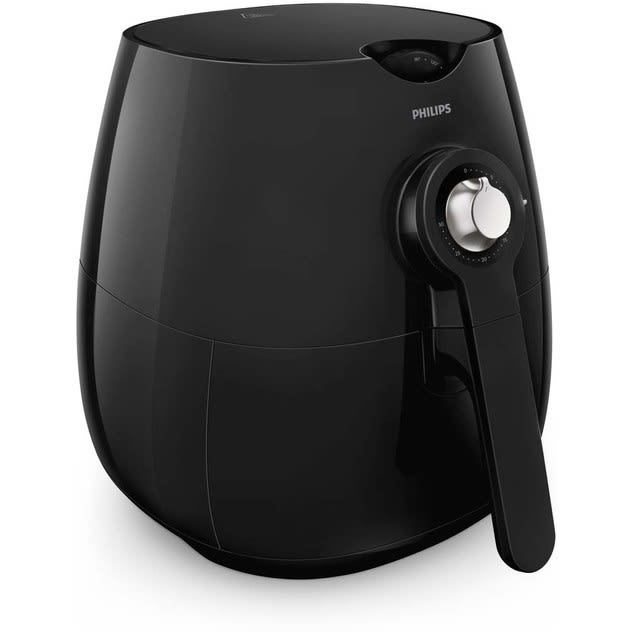 Check Philips Air Fryer Daily price below:
add_circle
2-year warranty
add_circle
Easy to clean; Automatic shut-off
remove_circle
Small capacity
Singles looking for a reliable air fryer can try this one out from Philips. Small in size, but mighty in power; The unique Rapid Air technology ensures that food remains crispy even with little or no oil. 
Features:
This Philips air fryer has an 800g cooking capacity with a 30-minute cooking timer. It comes equipped with an automatic shut-off function as well. Furthermore, the drawer and the food basket are dishwasher safe for easy cleaning. 
Performance:
Despite its above-average price, the product has garnered lots of positive reviews from users for its reliability and convenience making it an essential appliance in the kitchen.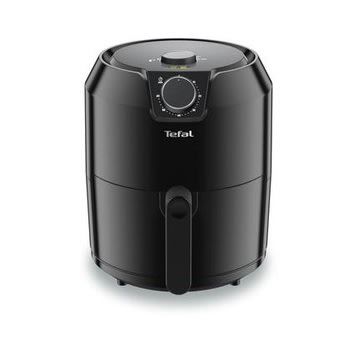 Check Tefal Easy Fry Classic Air Fryer price below:
add_circle
Big capacity (4.2L)
add_circle
Compact and portable
add_circle
Dishwasher-safe and easy to clean
remove_circle
Analog air fryer with no pre-sets
remove_circle
Does not offer advanced cooking functions
As the name suggests, the Tefal Easy Fry Classic Air Fryer is a no-fuss and easy-to-use air fryer that's perfect for the whole household. 
Features:
It offers four cooking settings; fry, roast, grill, and bake. It also has a precise temperature range of 80 to 200°C and a 60-minute timer with an auto-off function. Simply set the dials to your desired time and temperature for it to start cooking. Its 4.2L capacity makes it suitable for family use as it can serve up to 6 portions. 
Performance:
Users agreed that the product is both easy to use and clean as the air fryer basket has a removable non-stick grid that captures excess oil from the bottom.
---
How to use an air fryer
Firstly, ensure that the food is patted dry before arranging it neatly in the frying basket. Never overcrowd the basket as hot air needs space to circulate for the food to cook evenly. If you prefer your food to have a crispier texture, lightly spray your food with oil as this prevents it from drying out. 
Next, manually set the temperature and timer according to the requirements of the food you want to cook, although some air fryers feature easy-to-use settings for different types of food. Then, keep track of the cooking process as you will have to flip or shake the food halfway through the cooking cycle to ensure even cooking on all sides. 
Once the timer is up, check to see if your food is well-cooked. If not, pop it back in for a couple more minutes then your food should be ready to be enjoyed! 
---
How to choose an air fryer
There is an array of air fryers in the market. Each brand offers ones with different functions to cater to specific cooking needs. Some of the factors that you should consider when selecting an air fryer include:
Basket capacity – How much food do you intend to cook? Whether you get a 3L or 10L air fryer depends on the size of the portions you're cooking. 

Features – Air fryers are extremely versatile. Some have advanced pre-set functions that allow you to choose from a variety of recipes with just the touch of a button. Note that cheaper models usually only have basic functions with manual time and temperature settings. 

Safety – Check if the handle and exterior of the air fryer are well-insulated to avoid accidental burning during usage. As an extra precaution, look for one that includes a safety lock mechanism that automatically shuts off the cooking process when the lid isn't secured. 

Fast cooking time – Different air fryers may have different temperature and timer settings, which result in varying cooking durations. You'll want to look for one which cooks your food evenly and efficiently. 
---
Is an air fryer better than an oven?
There isn't much of a difference in terms of the cooking mechanics between an air fryer and a regular convection oven as both utilise the same convection baking principle to cook food. 
The key difference is that air fryers are much more portable and compact compared to ovens. Also, their small capacities are more suited for cooking smaller portions of food at a faster rate. This means that air fryers use less energy compared to ovens. 
Although both appliances produce similarly satisfying results, ovens are more suited for baking, large roasts, and stews whereas air fryers are better for frozen foods. Air fryers are a healthier option if you want to enjoy crispy food without all that grease but if you frequently cook large portions of food and your kitchen has space to spare, perhaps an oven might be the better choice. 
---
Related reading: 7 Best Waffle Makers in New Zealand 2021