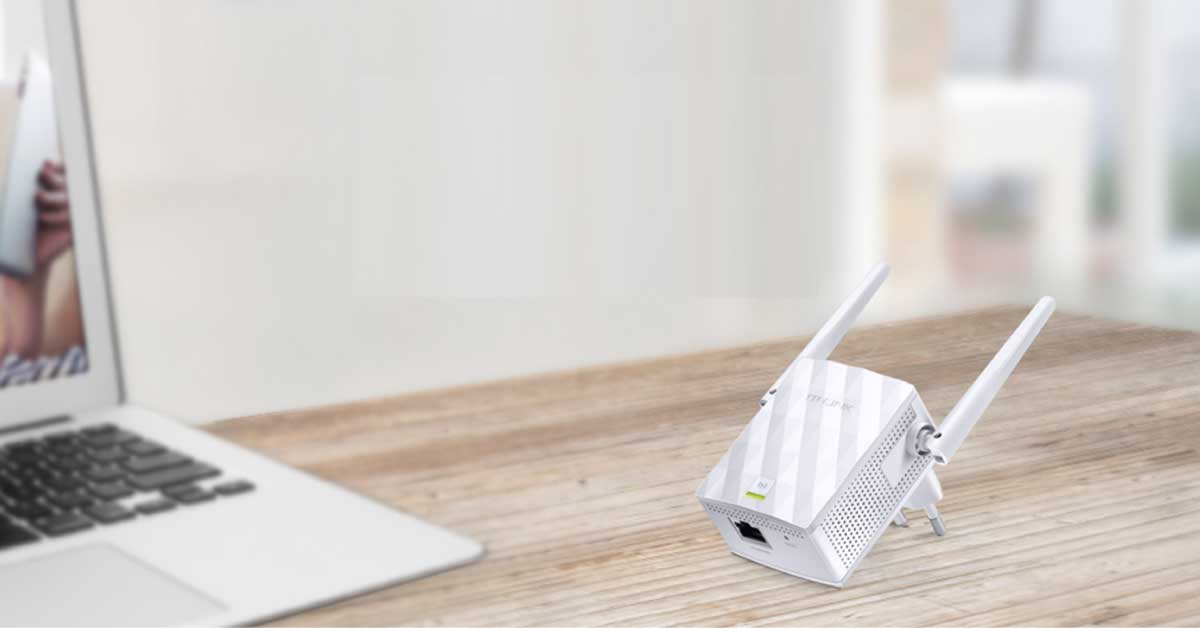 In this age of the internet most of us have Wi-Fi in our homes or offices. The native range of our normal Wi-Fi stations however limit our net activity to within the limited coverage of the router. The solution to the problem is to get a Wi-Fi range extender. As its name suggests, it effectively increases the range of your router and provides extra Wi-Fi access points.
Not all WIFI extenders are created equal and it can be a hassle to pick the right one. With that in mind, we take peek at some of the best Wi-Fi range extenders available in Malaysia for you to choose from.
1. TP-Link, 300Mbps Wi-Fi Range Extender TL-855RE
Best fast and stable Wi-Fi range extender
Price from RM79.00
This TP-Link Wi-Fi range extender boasts two external antennas with MIMO technology. MIMO is an acronym for Multiple Input and Output which basically means it has multiple transmitters and receivers to allow for faster two-way data transfer.
Multiple-Input Multiple-Output (MIMO) is a wireless technology that uses multiple transmitters and receivers to transfer more data at the same time, this translates to faster and more stable wireless signal for users. This Wi-Fi booster works with any Wi-Fi router.
6 people added this to their wishlist
2. Xiaomi Mi WIFI Mi 300m Wireless/ Repeater/extender (2nd Gen)
Best cheap and portable Wi-Fi range extender
Price from RM35.00
Good things come in small packages. Xiaomi is a major player in the internet hardware industry and recently introduced this portable Wi-Fi extender. This diminutive gadget weighs just 50 grams and can be carried easily from place to place. It can be charged using the mains or a USB socket and effectively doubles the range of any Wi-Fi router. This Plug and Play Wi-Fi extender is perfect for those working on the go as you will be able to boost any public WIFI signal for easier access.
3. D-LINK AC1200 WiFi Range Extender DAP-1620 (White)
Best backward compatible high speed Wi-Fi extender
Price from RM169.00
D-Link is another well-known player in the I.T industry. The DAP-1620 boasts high speed extension to your Wi-Fi range. This dual band Wi-Fi extender is compatible with most routers, supports up to 1200Mbps speeds and is perfect for those with a high-speed broadband network. Even if you don't have a high-speed connection but are planning to upgrade to one in the future, the DAP-1620 is backwards compatible so you can use it even with your existing network.
2 people added this to their wishlist
4. TP-LINK, 300Mbps WiFi Wireless Range Extender TL-WA850RE
Best dead-zone, unobtrusive Wi-Fi range extender
Price from RM72.00
This Wi-Fi range extender is specifically made to extend your Wi-Fi range to any dead zones in your home or office. Its unobtrusive and sleek design coupled with the ease of installation (simply plug into the socket and press the button) makes it the best choice for those who don't want a large extender ruining their decor.
5. Original Xiaomi Wifi Amplifier Pro 300Mbps
Best secure Wi-Fi extender
Price from RM50.90
For those who use a secure Wi-Fi network who wish to extend its range, this is the Wi-Fi extender for you. This device is equipped with an intelligent network guard which firmware is automatically updated to provide additional security to prevent any unwanted use of your network. It comes with 2X2 external antennas and covers a wide area at a maximum rate of 300Mbps.
6. D-LINK 300Mbps Repeater WiFi Wireless Booster DAP-1320
Wi-Fi extender with best coverage
Price from RM89.00
This Wi-Fi extender offers the highest coverage for its price range. You can reliably extend your existing WIFI coverage to more than 3 times the size at speeds up to 300Mbps. This device is simple to set up and is universally compatible with all routers and wireless devices.
7. TP-LINK RE650 WiFi Wireless Range Extender Booster AP
Best deluxe Wi-Fi extender
Price from RM409.00
This is the crème de la crème of Wi-Fi extenders. For the price you pay, you get the highest-range coverage at up to 14,000 square feet at up 5 Ghz of pure speedy connectivity. It also comes with a gigabit ethernet port for Smart TVs, game console and computer hook-ups and is equipped with 4X4 MIMO technology for 4X faster performance. The intelligent in-built signal detector light tells you where the most suitable place is to plant this device and the Tether App allows it to be managed via your Android or iOS smartphone.
2 people added this to their wishlist
More: Stay Connected with These Top 7 Wi-Fi Routers
Disclaimer: The pricing shown is just a good indication of how much these products are worth. The prices could change based on the e-commerce promotions that are going on. If some of the products are not available, do email us at [email protected] Thank you!