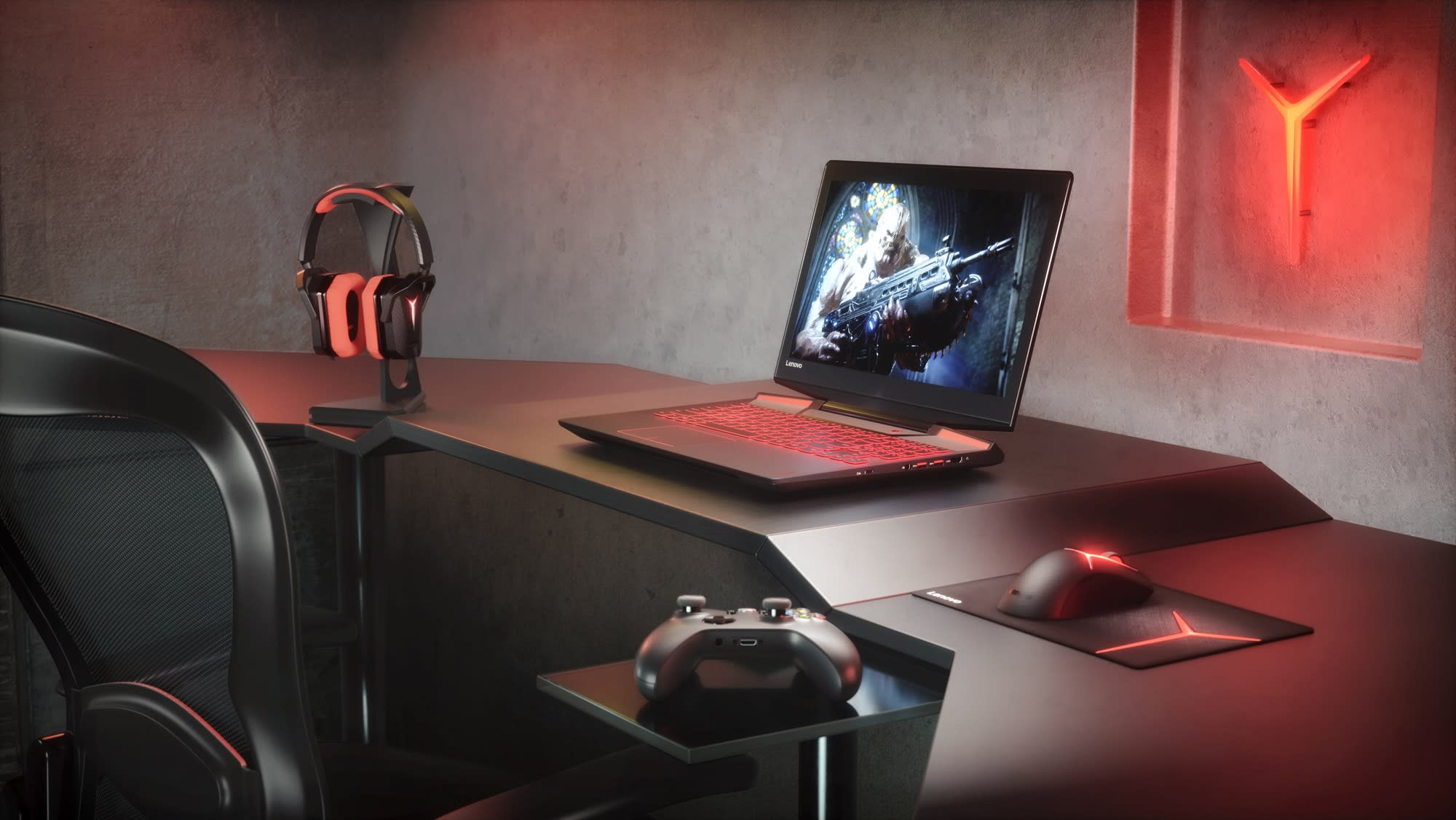 When choosing a brand new gaming laptop, there are several factors that you need to take into account in order for you to get the best buy based on your budget and preference. These include screen size, resolution, RAM size, types of hard drive, graphics card and battery life. Here are the best gaming laptops available in Malaysia to help you with your dilemma.
1. Asus A556U-RXX041T
Best budget laptop
Price from RM2,299.00
This particular model from Asus utilizes Intel i5 processor and with 15.6" full HD 1080p display, it's undoubtedly one of the best gaming laptops that you can get if you're on a budget. The NVIDIA GeForce discrete graphics card gives you a visual boost for editing photos, videos and of course, playing the hottest games.
This premium-feel notebook has a 2GB RAM and also features an extensive connectivity option including USB 3.0, HDMI and VGA ports and SD/SDHC/SDXC card reader to ensure a wide range of compatibility. Using SonicMaster Technology and in addition to an optimised amplifier, your gaming experience will be absolutely satisfying as you get to enjoy the powerful audio output, deeper bass, and louder volume.
Pros: It's light for its size.
Cons: The camera and battery are not the best.
More: 7 Best Gaming Laptops You Can Get Under RM 3,000
2. LENOVO Y520
Best below RM 4000 – with portable design
Price from RM3,140.00
This 15.6" full HD, anti-glare laptop uses the 7th generation of Intel Core i7 processor which is superb for gaming and other high-performance software. The NVIDIA GeForce GTX 1050 Ti graphic card will cater your need for a high-quality visual gaming experience. The thermal engineering technology keeps hot air moving and finally removed. It also has a 4GB RAM (DDR4 2400) with 1TB of SATA HDD hard drive.
Featuring an elegant design of the red-backlit keyboard, this laptop will allow you to keep your gaming session going even with lights off. With only 25.8 mm thick, weighing 2.5 kg and wrapped in a smudge-resistant body, Lenovo Y520 is definitely portable. So, toss this gaming laptop in your bag and take it wherever you go with no worries in mind.
Pros: Good performance, whether gaming or productivity work.
Cons: Display is a tad dull.
3. HP Omen 17-an023TX
Best for high-end gaming
Price from RM7,199.00
This high-end device uses a quad-core Intel i7-7700HQ processor with NVIDIA GeForce dedicated graphics card. These along with the satisfyingly large 17.3" anti-glare full HD display will provide you with the best gaming experience that you need. Conquer any challenge in-game from just about anywhere with powerful hardware and aggressive design.
It also has a 1 TB hard drive storage and 16 GB DDR4-2400 SDRAM with Intel Turbo Boost technology on the processor. Command every keystroke on a Dragon Red backlit keyboard with highlighted WASD and 26-key rollover anti-ghosting, which helps ensure every keystroke is detected. With an optional 4K display or 1080p with 120Hz refresh rate display, combat feels closer than ever.
Pros: For its price, you'll be getting a lot of bang for your buck.
Cons: The sound quality is not on par with many other high-end models.
More: 8 Bluetooth Headphones Every Gamer Should Consider Getting
4. MSI GL62M 7RD-089MY
Best for Dota 2, League of Legends and Overwatch
Price from RM3,599.00
This 15.6" wide-angled, full HD (1920 x 1080) laptop is operating on the latest 7th generation, Intel Core i7 quad-core processor along with 4 GB of RAM and the latest NVIDIA GeForce GTX 1050 2GB GDDR5 graphic card which provides a desktop level performance. Enjoy a faster storage access speed while having total control over your personal computer with Dragon Center.
The exclusive SHIFT and Cooler Boost 4 technology, on the other hand, controls the noise and temperature level to boost the laptop's performance. Nahimic Sound 2 technology allows you to have an immersive 360 degrees audio experience. Play any of your favourite games on 4K output up to 2 external monitors.
Pros: Good performance when it comes to gaming and productivity work.
Cons: Has weak audio and a below-average screen brightness.
5. MSI GT72 6QD-439MY
Best laptop with quiet, cool optical drive – has best screen size
Price from RM8,961.32
The bigger the better right? MSI GT72 6QD-439MY has an astonishing 17.3" built-in 4K LCD with 3840 x 2160 resolution and DDR4 16GB 2133Mhz RAM. It also utilizes NVIDIA GeForce GTX 970M graphic card and has both 1TB HDD and 128GB SSD hard drives to deliver a maximum performance for any kinds of operations including video editing and of course, gameplay.
SteelSeries Engine enables users to customize the keyboard to their own personal preference. The 6 heat pipes and dual fans push the heat out the laptop for a better performance. Enjoy multi-display with up to 3 external displays. Gamecaster lets you stream and record your greatest gaming moments, perfect for sharing your gameplay with the world. Game anywhere, anytime!
Pros: Has good build.
Cons: Not exactly portable-friendly.
6. Dell Inspiron 15 7000 Gaming Notebook
Best with good battery life -suitable for college and architecture student
Price from RM4,710.00
Dell Inspiron 15 7000 uses a quad-core 7th generation Intel Core i7-7700HQ processor and NVIDIA GeForce GTX 1050Ti with 8GB DDR4 RAM. The discrete graphics will provide an incredibly detailed visual experience. It is definitely one of the best buys for college students as it has an amazing 74 Whr battery that could last for up to 11 hours! Take your gaming session to the next dorm with no worries.
This 15.6" full HD (1920 x 1080) laptop has an anti-glare display. Optimal placement of the cooling vents as well as the dual cooling fans reduces fan noise and eliminates heat. This system is able to support up to 32GB of DDR4 memory that you can easily add later. Run the best games or heavy programmes like photoshop and CAD with ease and full contentment.
Pros: Pretty affordable for what you're getting.
Cons: Keyboard and display could be better.
---
Alright, so you know what you want to do with your laptop. But do you know what set of features should be in your gaming laptop? Here are some tips to help you further pin down a specific set of features to consider in a gaming laptop.
The essentials
Enough storage:

Games of today can take up as easily as 5 GB of storage space. We'd recommend to have as much as 1TB. If you are looking to invest in a hard disk drive instead, one with a fast speed of 7,200-rpm should be adequate.

RAM:

8GB RAM is best recommended for most productivity tasks (so you can run more programs without risks of crashing and lagging). To be sure, a 16GB RAM is what you should consider getting.

CPU:

If you have the budget, a Core i7 Processor should do the trick. Otherwise, one can definitely get by with a quality Core i5 Processor.
Other quick tips
Bigger size:

While this is highly preferential, just take note that most gaming laptops are at least 15-inch in screen size. While there are screen sizes of 14-inch (such as the Razer Blade), they usually do not possess a much powerful CPU/GPU. Also, the bigger the size, the heavier the laptop will be.

Better screen resolution:

Avoid getting anything that has less than 1920 x 1080 display. You'll want your graphics to look like Call of Duty, not Minecraft.

High refresh rate:

The higher the refresh rate, the smoother your graphics' movement are. Most laptops have 60Hz together with 1080 resolution, which is quite enough for most kinds of gamers.

Comfortable keyboard:

Often overlooked, but it's one of the most important tools for any kind of laptops. You'll want to avoid cramps by getting a laptop with a comfortable keyboard.

Nvidia G-Sync or AMD FreeSync:

These two technologies eliminates tearing and ghosting of game graphics, so try to get a laptop with such features.

No touch screens:

Sure, you can impress your friends with your innovative laptop. But is touchscreen really a need for you? Often, you don't use them as much for gaming, and they also drain your laptop battery.
---
Conclusion
Getting your first gaming laptop doesn't have to be a dreadful and confusing task. Just be sure to know what kind of games you'll play and if your budget is enough. With these tips, you should be able to pin down the right gaming laptop for you.
Disclaimer: The pricing shown is just a good indication of how much these products are worth. The prices could change based on the e-commerce promotions that are going on. If some of the products are not available, do email us at [email protected] Thank you!