In today's fast-paced lifestyle, regardless of work or leisure, it comes as no surprise that people want three things in their life: convenience, flexibility, and mobility. Hence, the emergence of the 2-in-1 laptop.
For those who are unfamiliar with the term, a 2-in-1 laptop is a hybrid notebook that can be served as a laptop and a tablet. Depending on the model, this 2-in-1 laptop can be either detachable or folded away to be used as a tablet. But with plenty of 2-in-1 laptops out there, which one is worth buying?
Here's a list of the best 2-in-1 laptops we've put together that might interest you based on different needs.
---
Table of Contents
6 Best 2-in-1 Laptops in Malaysia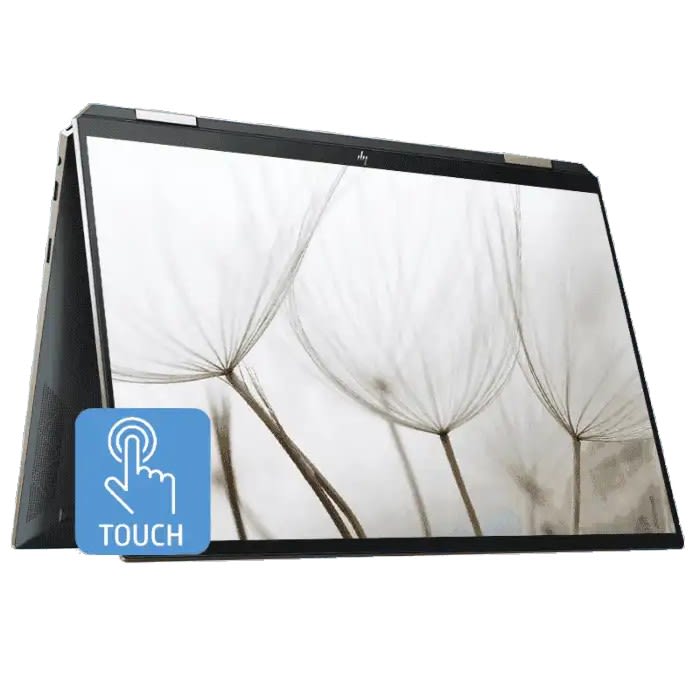 add_circle
bezel-less touchscreen display
add_circle
powerful performance;
add_circle
good typing experience
add_circle
fast fingerprint sensor
remove_circle
Only integrated graphics
From a compatible combination of hardware and software to a sleek design, our favourite 2-in-1 all-rounder is the HP Spectre x360.
Features:
The Spectre x360 sports up to the latest 11th-generation Intel i7 processor. Our recommendation comes equipped with an 8GB or 16GB (for i7 model) RAM and 1TB worth of SSD storage capacity.
Not surprisingly, the Spectre x360 is loved for its 360-degree hinges, making it flexible to use as a standard clamshell laptop or a tablet. Moreover, its bezel-less touchscreen display offers better viewing space whereas its lightweight design makes it good for travelling.
Performance:
Having a top-of-the-line Intel processor and plenty of RAM and SSD, this laptop is fit for the likes of word processing, programming, browsing and entertainment consumption.
Speaking of which, its integrated graphics aren't built for heavy-duty game titles so you'll only be able to play lightweight games instead.
Meanwhile, the keyboard is comfortable and well-spaced and offers tactile-enough feedback upon each press. There's also a fingerprint sensor which is very handy for logging in quickly.
---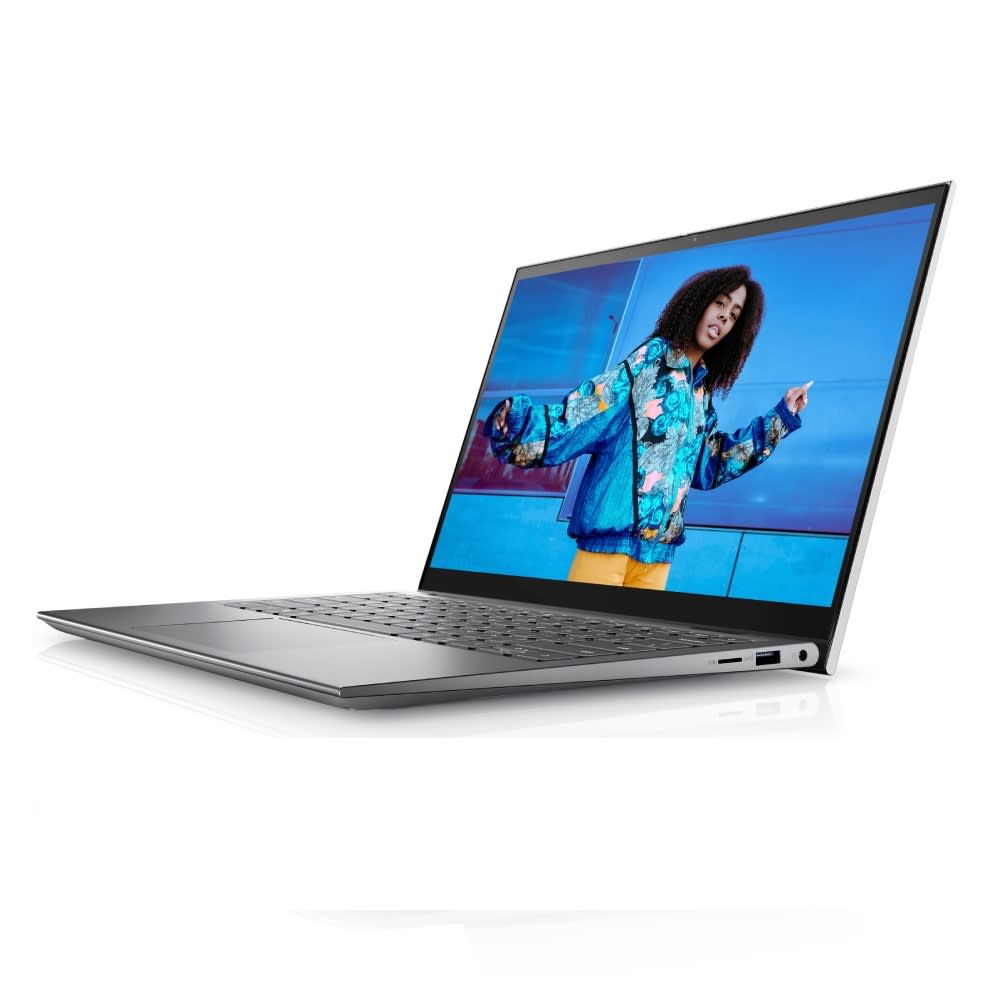 add_circle
360° adjustable hinge
remove_circle
Average battery life
The Dell Inspiron 14 2-in-1 laptop is one of our editors' choices for the best buy laptop especially when it comes to having a touch screen. It has excellent performance for most basic computing functions and can handle heavier programs. Best of all, it's affordable!
Features:
With a 14-inch screen size, the Dell Inspiron 14 2-in-1 laptop is not the smallest but convenient enough to carry around with you. Its FHD (1920x1080) touch-enabled WVA display is presented with thin bezels which offers an overall wide viewing angle. With that, you can enjoy an almost borderless view, especially from any angle without too many glares and reflections.
Of course, its 360° flexible hinge lets you seamlessly shift between 4 different modes. You can work on your tasks in laptop mode and quickly switch to tent mode for watching clips when taking a fiver. When the laptop is in clamshell mode, the keyboard will be slightly lifted for a more ergonomic typing experience so as to not strain your wrists. This is supported by a lift hinge installed beneath the laptop.
Performance:
The Dell Inspiron 14 2-in-1 laptop is one of the best companions for both work and play. Its quick and responsive performance means you can work and game without much issue as it utilises a powerful 11th generation Intel Core i5 processor and a discrete NVIDIA GeForce MX350 graphic card. Additionally, the Inspiron 14 2-in-1 has a 512GB SSD equipped to greatly improve the boot-up time for apps.
A bonus is the laptop's Adaptive Thermal Technology which cleverly adjusts its heat dissipation according to your performance profile. Finally, battery life is mediocre but the laptop has ExpressCharge support to minimise charging time.
---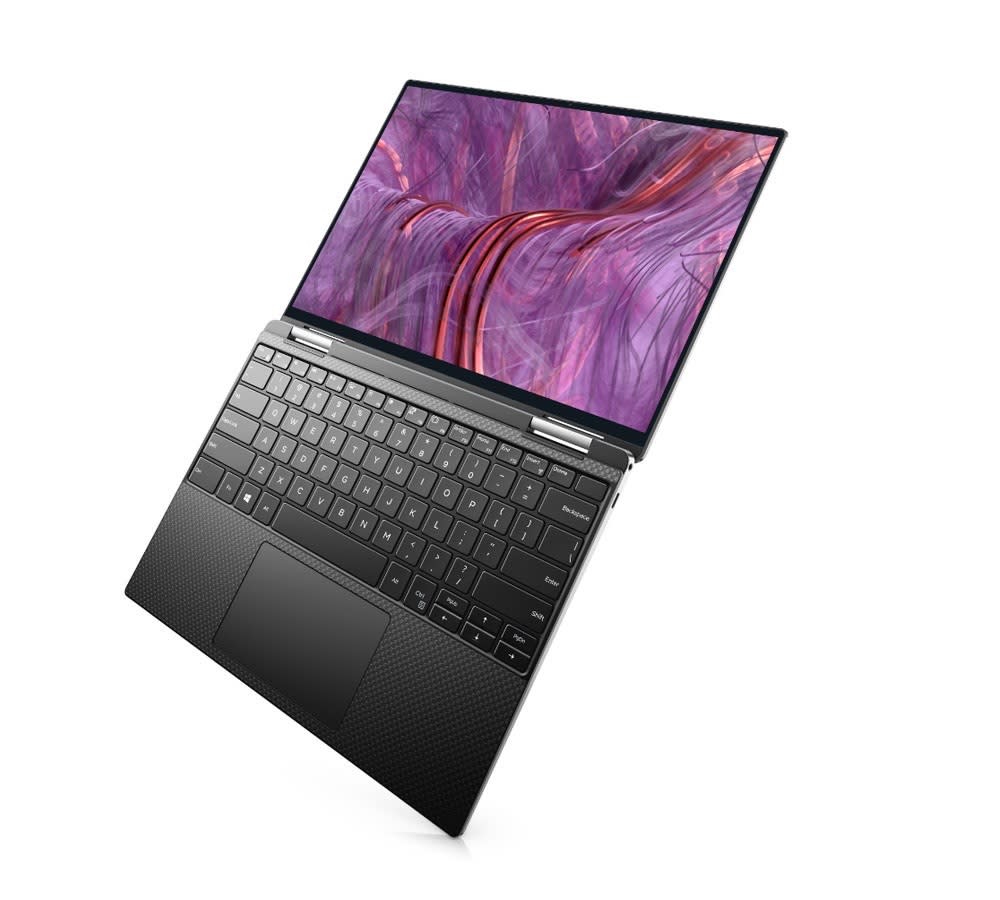 add_circle
Powerful CPU/GPU
add_circle
Superb battery life
remove_circle
Lack of USB ports
A reviewer's favourite; the Dell XPS 13 2-in-1 is an excellent machine that features ready-to-go performance and long-lasting battery life. This 13-inch laptop has quite a compact size with a lightweight design overall that won't weigh your luggage down.
Features:
Weighing at about 1.32kg, the Dell XPS 13 2-in-1 laptop utilises an FHD+ display that supports up to 1920x1200 pixels with a display ratio of 16:10. It also has a 720p widescreen HD webcam and dual array digital microphones which are perfect for clear calls in virtual meetings.
Connectivity, as with many other laptops these days, are adequate. This mini laptop comes with two Thunderbolt 4 ports and 1 microSD-card slot for peripheral connections and file transfer.
Performance:
By combining the 11th generation Intel Core i7 processor with an integrated Intel Iris Xe Graphics card, the XPS 13 2-in-1 is capable of breezing through all your everyday jobs. Multitasking and app switching will definitely not cause any hindrance as the Dell is equipped with 16GB LPDDR4x RAM and 512GB onboard SSD.
Thanks to the new processor generation, you can enjoy Wi-Fi 6 to stream YouTube videos, browse the web and game at lightning-fast speeds of up to 2.4Gbps. Its integrated 51Whr battery is also fairly long-lasting, with Dell rating the laptop to go up to 14 hours on a single charge.
---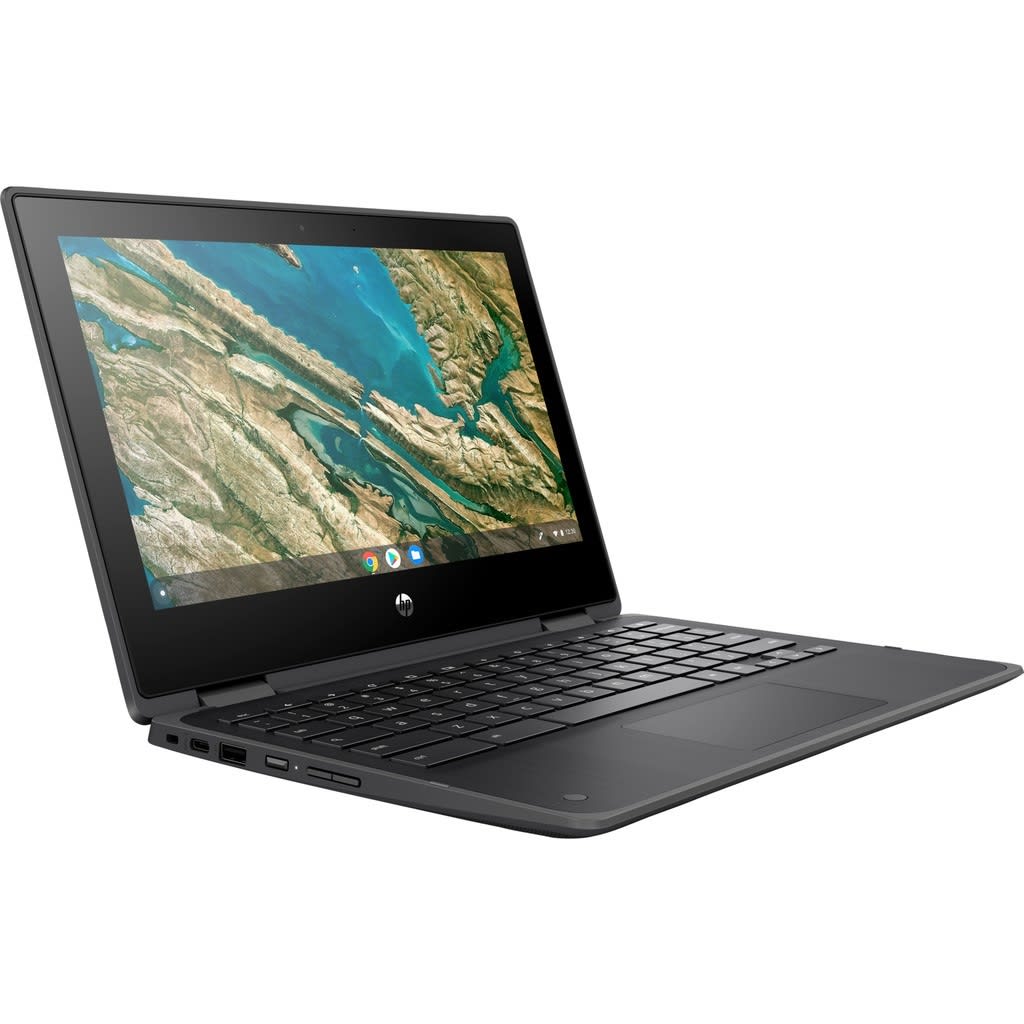 add_circle
Versatile in different modes
remove_circle
Cannot install Microsoft software
remove_circle
Thick bezel design
Are you a university student on a tight budget? Thankfully, a touchscreen laptop with a friendly price tag is much easier to find these days. One such option you can look to is the HP Chromebook x360 11 G3.
Feature:
With an 11.6-inch screen and a 360° tilt screen adjustability, you can enjoy the HP Chromebook x360 11 G3 in four different modes. Despite the small screen size, this laptop is 2.09cm thick and has a starting weight of 1.45kg.
Despite the cheap price, HP is kind enough to include a spill-and-impact-resistant body to survive everyday knocks and scratches. In terms of ports, there are two USB 3.1 Type-C ports and two USB 3.1 ports for data transfer and device connections.
Performance:
Operating with an HD screen, moving your mouse will look smooth visually without much freeze screen or jerks, which is quite unexpected from a budget touchscreen laptop in this price range. A downside we can think of is the thick bezel design of the screen, which means the 11.6-inch screen may look even smaller on the eyes.
Its hardware specs are decent, with the HP Chromebook x360 11 G3 equipping an Intel Celeron N4020 with Intel UHD Graphics 600, 4GB of RAM and 32GB of eMMC storage. This combination is primarily built for inexpensive notebooks. So you can expect to handle most basic computing tasks like streaming, web browsing and word processing with ease.
Do try to keep minimum activities running in the background to ensure a smooth system operation, given the limited memory and storage.
---
More: Best Gaming Laptops You Can Get Under RM 4,000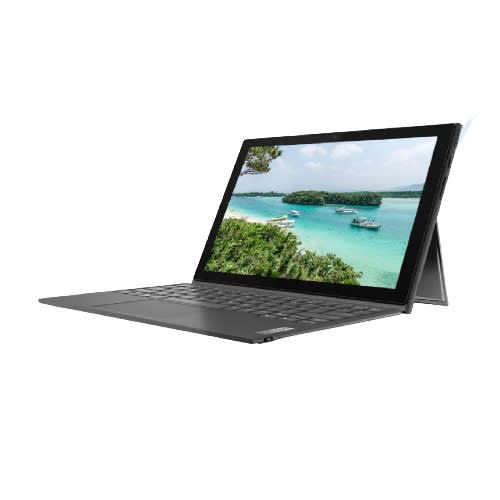 add_circle
bright display
add_circle
detachable design
add_circle
long-lasting battery life
remove_circle
Soldered RAM
remove_circle
thick bezels
remove_circle
cramped-up keyboard
Like the idea of a laptop that turns completely into a tablet? This 2-in-1 Windows laptop from Lenovo combines portability and performance in a sleek-looking graphite grey chassis.
Features:
The Lenovo IdeaPad Duet 3 weighs 1.5 kg which is average but still portable enough to carry with you. Under the hood, the laptop utilises an Intel Pentium Silver N5030 and has 8GB of RAM and 256GB eMMC.
Moreover, the 10.3" FHD display is crisp and bright while the IPS panel offers wider viewing angles with good colour and contrast.
As a rare feature, Lenovo has included a microSD card slot, which lets you expand your storage capacity up to 128GB.
You can also detach the keyboard to use it as a tablet with the folio kickstand at the back, letting you prop it up just like a tablet.
Performance:
With an entry-level N5030 processor, the laptop is capable of the likes of running Microsoft Office and web browsing. Its compact-sized keyboard, in the meantime, might require some time to get used to it, particularly for those who are used to the full-sized variety. Thankfully, the battery life is great, capable of lasting up to 8-9 hours.
---
More: Best Laptops Overall in Malaysia - For All Budgets!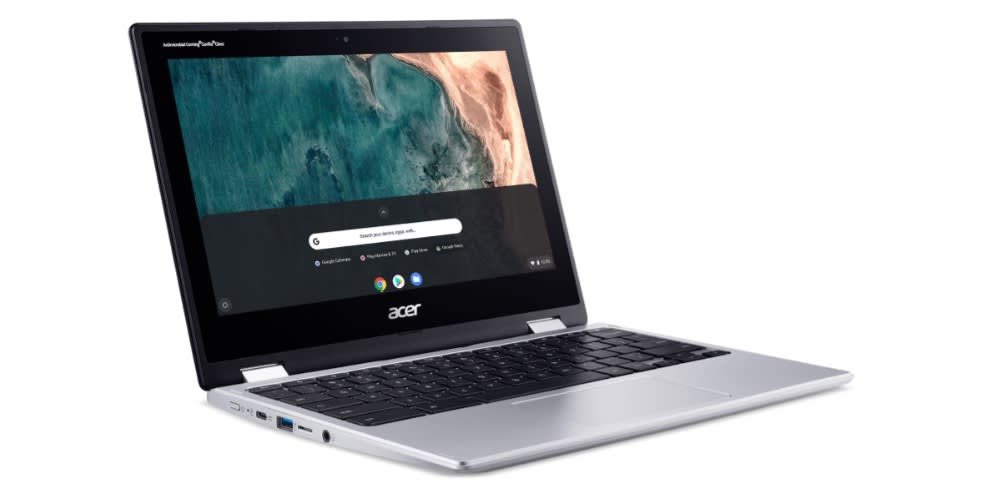 add_circle
Touchscreen display
add_circle
Lightweight design
remove_circle
Not suitable for gaming
remove_circle
Average battery life
As Chromebooks get constant updates, they are accessible not only for beginners but also for developers to code on. Whether you are installing Linux OS or keeping the original Chrome OS, the Acer Chromebook Spin 311 is a machine fit for programming.
Features:
The first thing to know (and can be a downside) is that the Acer Chromebook Spin 311 has an 11.6-inch display with IPS technology and a wide viewing angle. Its bright screen has a 16:9 aspect ratio, supporting up to 1366x768 resolution.
Of course, as it is touch-enabled, you can navigate quickly with a buttery smooth scrolling experience without any slow response or delay. Making the Chromebook Spin 311 more comfortable to use is the fact that its spin mechanism allows you to fold your laptop into a tablet-like device.
Performance:
The Acer Chromebook Spin 311 uses an Intel Celeron N4120 processor, which has more processing cores than the i3-3220. Because of the extra two cores, the Spin 311 is able to handle many simultaneous processes or threads more smoothly. Together with 8GB of RAM and 64GB of eMMC storage, you can run a few Google Chrome tabs without any hassle. We still suggest keeping minimum tasks running in the background to avoid pushing your device to its limit.
On a single charge, the battery can last for 10 hours so you don't have to worry much in searching for plugs around. Moreover, charging via USB-C is said to be very quick, taking two hours to fully charge from zero.
Coming with Intel UHD Graphics 600, this device is only suited for some very low-demanding and casual games like Sims 4. So, if your primary usage is doing coding, you shouldn't worry too much as its configuration is decent enough for lighter versions of programming software.
---
What exactly is a 2-in-1 laptop?
A 2-in-1 laptop, also known as a hybrid laptop, gives you the best of both worlds with the high processing power of a laptop and the wide versatility of a tablet.
Their design is made with detachable keyboards for your convenience and ease of use. Some even have screens that fold 360-degrees around the device.

Most 2-in-1 laptops come with Windows 10 (which should be upgradable to Windows 11 when it's available) so they all should have multitouch-enabled displays.

For screen sizes, you can expect to find most to be below 14.0-inch. Though, there are several larger screens that go beyond 15.0-inch but are rare.
One of the biggest highlights of a 2-in-1 laptop is its long battery life, at least it's more long-lasting compared to a conventional laptop.

The lightweight design also allows you to hand-carry them around or slip them inside your backpack easily, solidifying its tablet-like purpose.
---
Recommended related articles: