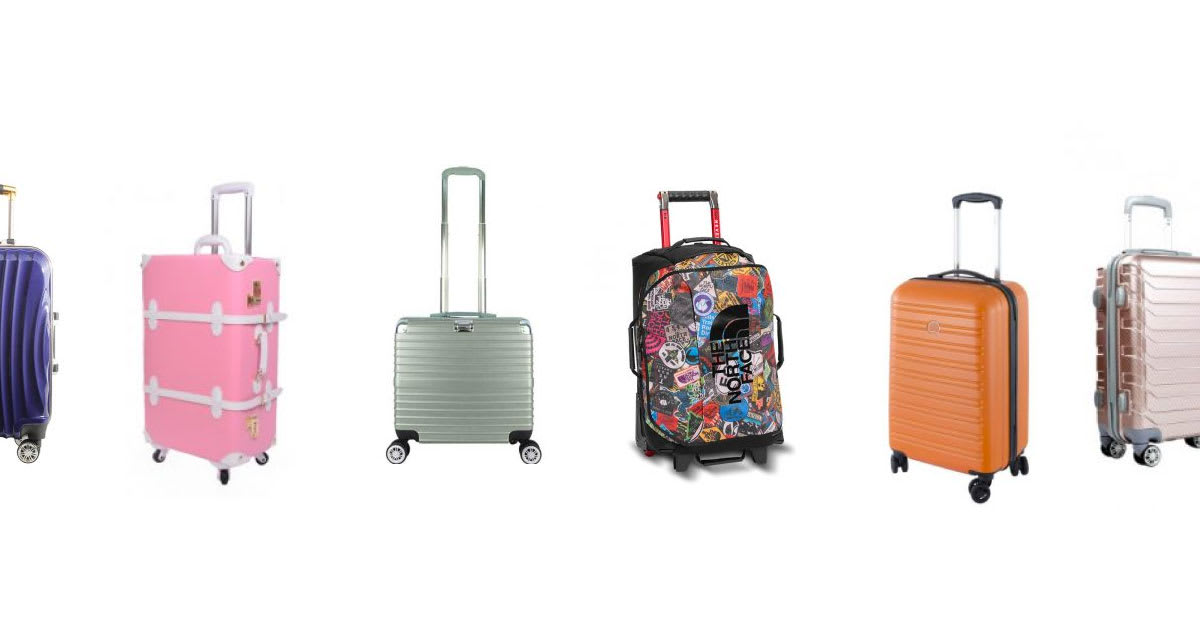 Planning for a trip can be all fun and excitement except to when it comes to packing. Sometimes the clothes don't fit the bag and when they do, the bag is overweight. The struggle is real and we get it! That's why we're here to help you choose an amazing luggage, so that it will be the least of your problems for your trip.
Luggage without zipper
Price from RM169.00
Are you missing the good old days when you would have to jump on your luggage to lock it up? Well, why let such good memories go to waste? With this hard case zipperless luggage, no need to tire yourself by zipping all the way around when you can just lock your bag with a simple lock in the middle. Simple, quick, and convenient!
Best cheap luggage with charger
Price from RM109.00
In the generation that we live in, is it even possible to leave home without your charger and power bank? I didn't think so! However, they may be a little troublesome to carry everywhere with you. Well, what if I said that you don't have to? That's right, this luggage provides an outlet for you to charge your phone or other electrical devices. All you need is your USB cable and you're all ready to hit the road!
Best hard case luggage
Price from RM776.00
Do you have trouble spotting your luggage when it comes to collecting them at the baggage claim? Or even worse, they come back to you broken. Well, not anymore with this bright orange hard case luggage. It is so bright you won't miss it, and it's strong enough to handle the rough journey!
Best carry-on luggage
Price from RM249.50
Travelling doesn't always mean leisure, and if you're on a business trip, here's a bag to consider. This small hand carry luggage is super lightweight and easy to travel with, especially if it's only a short trip. The style of the bag also maintains a classy and professional design, so you will not look out of place.
Vintage luggage
Price from RM439.00
If you're a fan of the 50's and love collecting vintage items, this luggage bag is sure to bring you back to the good old days. With a subtle shade of pink and white, it's almost impossible to miss out this bag during baggage claim. It's a large suitcase, so you can pack as much as you want without having to choose between your crop top and a dress – just make sure not to go overweight!
Best 3 piece luggage with 4 wheels (20, 24 and 28-inch)
Price from RM728.00
If this is your first time travelling as a family, we're sure that you have tons of worries and packing is just a horrible mess. Well, here's a beautiful 3 set luggage composed of 20, 24 and 28-inch luggage set that is perfect for a family trip – your child, husband and you can have your very own luggage. Plus, with the 4 wheels attached, you are sure to have a smooth experience running from one terminal to another in the airport.
Small luggage
Price from RM159.00
Do you have plans to travel around the world? If so, then bringing along a huge luggage is going to cause you a headache. With its large size and heavy content, you're going to have an awful time dragging it along the entire day. Instead, why not go for this small and simple luggage that works the same way? It'll be a much lesser burden and you won't have a bulky luggage dragging you down!
Lightweight luggage with 2 wheels
Price from RM1,299.00
The North Face takes the win for having the most hipster bag we've ever seen! With the burst of colours to the cool graphics, it is definitely a sight to admire! This two-wheeled luggage is small and lightweight so it's easy to move around with. With the extended legs, the luggage will also be able to stand steadily without tumbling.
Kids Disney luggage
Price from RM179.95
Frozen may have been so last year… Or 5 years ago, but it will always be our all-time favourite. From the beautiful message conveyed through the movie to the loving bond between the sisters, their merchandise is still a hit until today. This modern Disney princess luggage is the best luggage for your kids as it is small and they can have the chance to handle their own bag for the first time ever.
Disclaimer: The pricing shown is just a good indication of how much these products are worth. The prices could change based on the e-commerce promotions that are going on. If some of the products are not available, do email us at [email protected] Thank you!