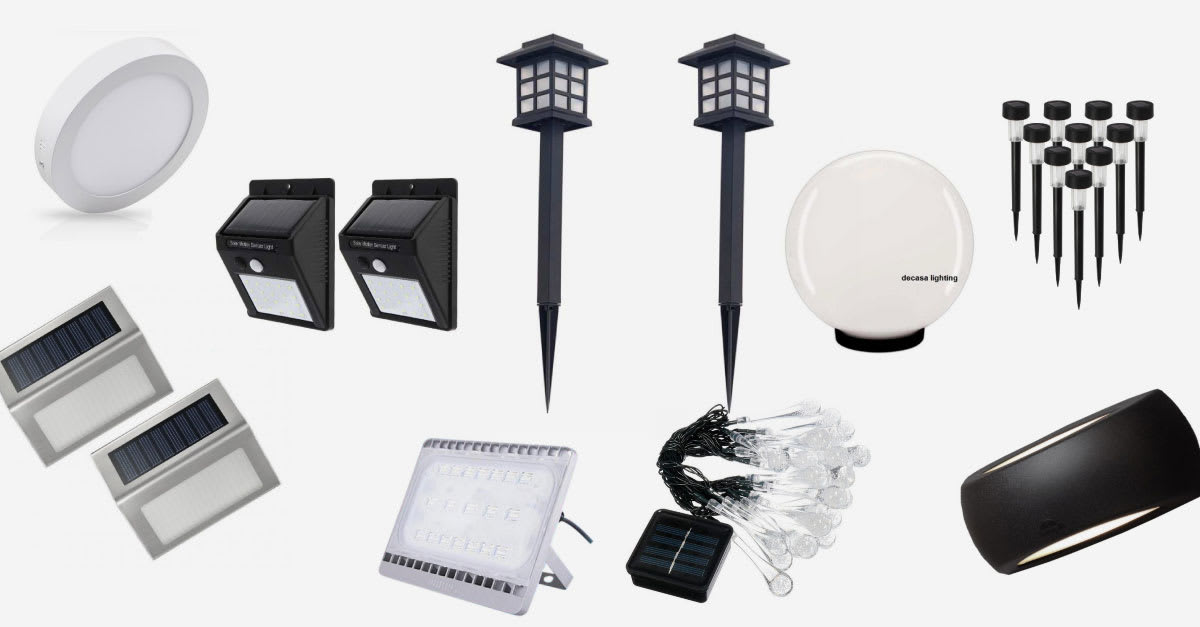 Can you imagine a world without light? If you can, I bet it'll be very dark. Jokes aside, you've got to admit that light is very important as it drives out the darkness in its wake. Without light, going about your daily tasks in life would prove to be difficult.
While we utilise indoor lights daily, outdoor lights are just as useful. Make a difference in your home when you consider these for your needs.
1. Solar 70 LED Motion Sensor Remote Light
Best outdoor LED lights with sensor
Price from RM126.89
This solar-powered LED light features 70 LED lights, offering 1100 lumens that are bright enough to light up an area of 50 square meters. Another X-factor of this outdoor light is its motion sensor; it detects any activity that occurs within the range of 5m to 8m away from the light. Simply brilliant!
2. Garden Solar Light Waterproof LED lamp for outdoor
Best LED lawn lights for garden
Price from RM35.99
Bring light to any garden with this elegant lamp. Inspired by Japanese stone lantern design, this LED lamp gives your garden a much-needed "zen" feel and is sure to impress any guest who swings by. You also don't have to switch this lamp on or off manually, thanks to its automatic light sensor.
3. Leegoal Solar LED String Lights
Best outdoor hanging decorative lights for a party
Price from RM45.60
Have a lit party with these string lights from Leegoal. They're an absolute eye-candy, being tear-shaped and coming in multiple eye-catching colours. You can hang them across the roof, hang it on an outdoor lamp or on a tree branch. The possibilities are endless.
4. IUNYK 2pcs Outdoor Solar Sensor LED Light
Best outdoor wall lights for porch and patio
Price from RM49.90
Need some light for your porch and patio? Packing a 1200 mAh battery that gets its juice from the sun, this LED light can beam out light till the morning comes (provided it's powered with enough sunlight). Another great thing about this LED light is that it's weather-resistant. It wouldn't go haywire no matter rain or shine.
5. Energy Saving LED Solar Wall Lamp
Best for stairs
Price from RM48.00
No more tripping on the stairs with this LED Solar Wall Lamp. What makes it perfect for the stairs? Well, it's tiny; measuring a mere 10cmx2.3cmx8.3cm, making it easy to place beside steps. Beaming 12 lumens of light, the light produced is not too bright but just enough to illuminate the steps on the stairs.
6. Philips BVP161
Best bright outdoor light
Price from RM150.50
Philips has come up with an outdoor light that's out of this world - the Philips BVP161. Packing a Philips LED floodlight, it's capable of radiating light of up to 4,300 lumens – enough to light up a garden on its own. Besides that, it's long-lasting. With a lifetime of 30,000 hours, you won't have to constantly replace light bulbs on this baby.
7. DECASA Pillar Light Outdoor Opal Globe White Colour
Best outdoor sphere-shaped pillar light
Price from RM49.00
Looking like a fortune-teller's crystal ball, this outdoor light from DECASA has more to offer besides its shape. Offering a rating of IP44, this outdoor light is capable of withstanding sprayed water or rain (both light and heavy). Made from Acrylic (PMMA), it's scratch-resistant and also transparent enough to create that mesmerising firefly effect.
8. 22cm LED Light Surface Downlight Round Daylight
Best exterior downlights
Price from RM10.52
Make your house aesthetically pleasing with this 22cm exterior downlight. Furnished with a high transmittance mask, light will gleam through it, helping to draw in the overall ambience of your house. Constructed from aluminium, it's rust-resistant and tough as nails; it can resist the adverse effects of various weather, rain or sunshine.
9. Solar LED Light
Best wireless outdoor solar lamps for path
Price from RM45.00
Walk down the path of light with this Solar LED light, perfect for lighting up the path and making it safe to stroll on. Installing it is easy as pie. All you need to do is find a soft ground, plant the bottom in and voila, a well-lit path!
10. Fumagalli Francy Up And Down Bulkhead
Best outdoor bulkhead lights
Price from RM139.00
All the way from Italy comes this bulkhead light that might just be in second place on your list of favourite Italian things (first place belongs to pizza). Both corrosion and rust-free, this bulkhead light will forever look like it's new. Another awesome thing is its sleek and elegant design; it makes your house look like a modern palace!
11. Foldable LED Desk Lamp
Best portable outdoor lights
Price from RM50.76
Bring a spark of light wherever you go with this bright LED lamp. One feature that makes it portable is its ability to be folded; you can fold and bring it with you out to the patio table, where you can read under the starry sky. You can also tell the time and date with this lamp as it displays all that on its screen.
Disclaimer: The pricing shown is just a good indication of how much these products are worth. The prices could change based on the e-commerce promotions that are going on. If some of the products are not available, do email us at [email protected] Thank you!