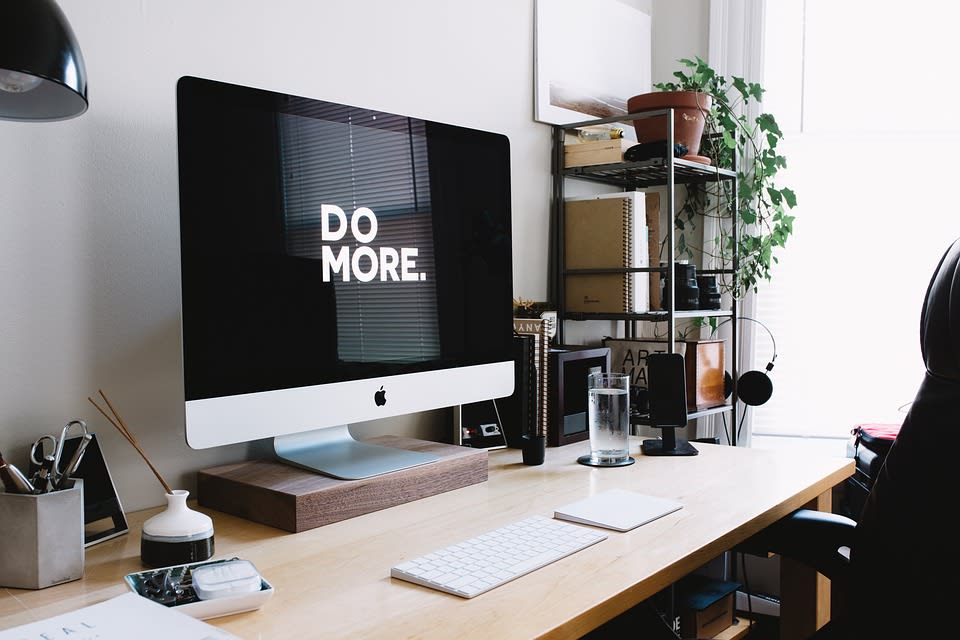 Take a look at your desk. Does it look messy and disorganized? With papers, stationery and whatnot scattered all over the desk as if there's a war going on? Wouldn't it be great if your desk is well-organized instead? Well, here is a list of essential items to ensure your desk is clutter-free.
1. Multi-Layer Desk Hanging Bag
Best desk organizer for students
Price from RM22.39
Too many textbooks and notepads on your desk? With this hanging bag (which you can strap around the edge of your desk) you can store your books and other essential school items with minimum fuss. The bag is also made to last, thanks to its durable Oxford cloth material and polyester webbing.
2. ITATA 19*25.5cm European Style Large Capacity Cosmetic Organizer
Best for organizing cosmetic products
Price from RM25.90
Have you maximized your desk space with all the cosmetic products such as lipsticks, facial toners and hand creams? Now, you can save space with this compartment-style wooden organizer. It even comes with three drawers to store more of your stuff inside. The organizer is also waterproof and can be used in a bathroom.
3. O-Life Stationery S098 Holder
Best for stationery
Price from RM45.90
Keep your stationery neatly arranged with this handy stationery holder. This made-in-Taiwan, space-saving desktop item is equipped with multiple holders to store your pens, pencils and paper clips. If that's not enough, it even comes with essential office supplies. Available in vibrant blue and red.
4. ORICO Storage Box Organizer
Best for phone charger
Price from RM39.00
The ORICO Storage Box Organizer is particularly useful for keeping your phone charger in an orderly manner. The slots atop the box contain multiple outlets, in which the cables are hidden under the lid. The box itself is made from a durable fireproof material and has enough ventilation holes to protect your mobile devices from overheating.
5. Universal Cell Phone Clip Holder Lazy Bracket with Flexible Long Arms
Best smartphone holder
Price from RM30.40
Too busy or perhaps, too lazy to hold your smartphone? Well, there is one such item that acts as your "assistant" to "hold" your phone while you are busy working or doing other stuff. The clip holder holds any smartphone up to a maximum width of 90mm and can be clipped onto any desk wherever you are.
It even has an adjustable telescopic arm holder and a 360-degree swivel ball head, which allows you to maneuver your smartphone in either horizontal or vertical angle. Available in three colours including blue, pink and purple.
6. Monitor Riser Keyboard Storage Rack
Best for desktop PC monitor and keyboard
Price from RM27.00
Depending on the size of your desk, your desktop PC might occupy most of the space. Fortunately, this multi-level storage rack solves the problem by allowing you to place your PC monitor atop the first compartment. The elevated design also gives you the optimum eye level upon looking at your monitor without hunching your back.
And that is not all, as the lower compartment enables you to slide in and out of your keyboard when not in use. Finally, the added two compartments in the middle give you an extra space to place your personal belongings like cell phone and power bank.
7. Zolo Desktop Cable Clip & Cord Management With Magnetic Design
Best for managing your cables
Price from RM14.95
This easy-to-use cable clip is versatile enough to be used anywhere on your desk, thanks to the 3M damage-free adhesive tapes. It has three holes to organize your cables nicely and best of all, you don't have to worry about the typical tangled mess anymore!
8. Korea DIY Multiuse Table Top Book Shelf
Best for organizing your books
Price from RM69.00
Here is a cheaper alternative in case you are not looking to splurge your money on a proper bookshelf. Made from a durable PVC density board, this table-top bookshelf enables you to organize your books easily. The added divider in the middle allows you to categorize on a separate section (e.g. Fiction and non-fiction novels).
The shelf also includes an extra bottom compartment, perfect for organizing small items like calculators, papers and mobile devices.
9. SOKANO WF008 European Style Wooden Remote Control Organizer
Best for organizing remote controls
Price from RM21.07
Coordinate your remote controls like TV, air cond and stereo amplifier in one place with this handy organizer. It's compact and lightweight enough to place anywhere on your desk or table. It has a smart design feature, where you can arrange your remote controls either in vertical or horizontal position.
10. IKEA BRÄDA Laptop Support
Best for laptop
Price from RM25.65
IKEA is no stranger to a practical, yet fuss-free design and the same goes with their laptop support. Suitable for laptops up to 17", you can place this high-impact polystyrene plastic support on the desk or on your lap comfortably. The cleverly-designed slanted surface ensures a parallel eye level between the laptop screen and your sitting position.
11. Drinking Cup Clip Holder
Best for holding a cup or bottle
Price from RM22.00
Has your desk run out of space to place your drinking cup or bottle? Fret not, because this clip holder allows you to clamp tightly on the edge of your desk or table. Despite its simple-looking compact design, the clip holder is built to last since it is made from premium ABS plastic material.
12. SOKANO Multipurpose Desk Organizer
Best multi-purpose desk organizer
Price from RM20.24
With a clean-cut and minimalist white design, the space-saving SOKANO Multipurpose Desk Organizer is a perfect fit for any desk. You can easily place your essential items like smartphone, pens and even your coffee cup in front of you.
Disclaimer: The pricing shown is just a good indication of how much these products are worth. The prices could change based on the e-commerce promotions that are going on. If some of the products are not available, do email us at [email protected] Thank you!