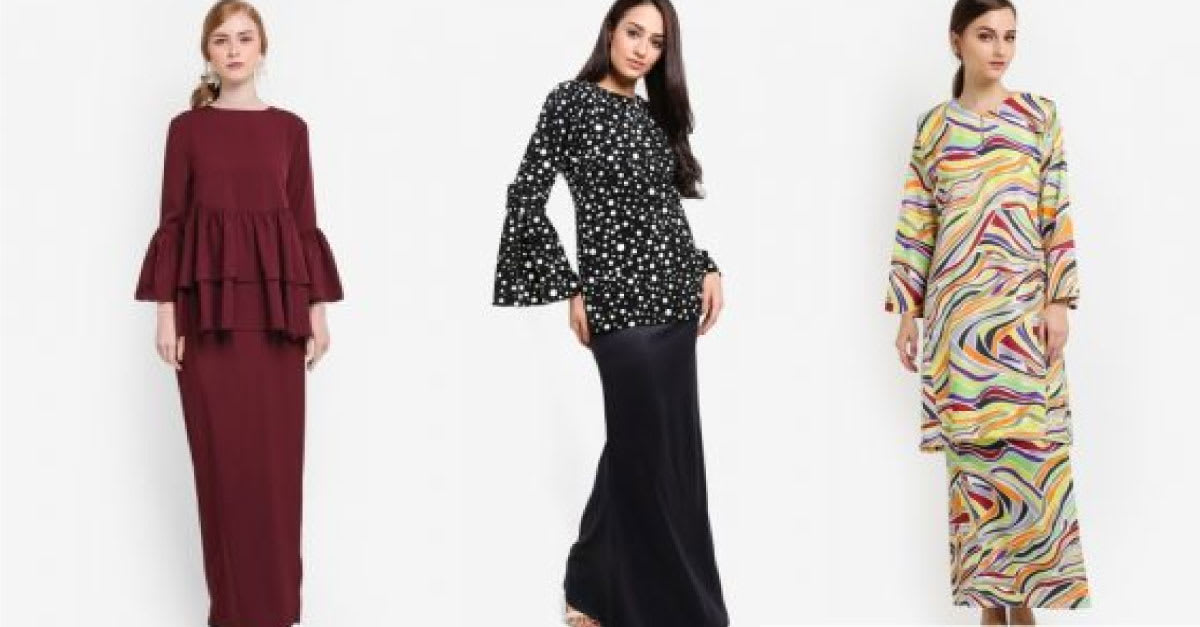 Living in Malaysia, one of the most awaited festive seasons is Hari Raya. It is often associated with cookies, ketupat, rendang and of course colourful outfits.
Choosing your Hari Raya outfit can be stressful at times as there are hundreds of styles and colours to choose from. And, when you've finally found the one that you liked, half the time you'll be set off by the price.
If you haven't found the one, fret not as we bring you our top 10 recommendations of cheap and Insta-worthy Raya outfit.
Traditional baju kurung with a modern twist
Price from RM199.00
This sweet dusty rose tone Kurung comes with a unique modern twist at its sleeves. The top of this Baju Kurung is a regular fitting top to give you extra comfort. It has a traditional round neckline too so allow yourself to accessorise with a statement necklace for extra points!
1 people added this to their wishlist
Stylish Baju Kurung Pahang
Price from RM105.00
The cut of a Baju Kurung Pahang has been around for many years and it is still popular during festive season. This baby blue Kurung with white floral design will definitely highlight the femininity of yourself. A timeless combination of pattern, cut and color all in one outfit.
Classic Baju Kurung Kedah for your open house
Price from RM99.90
This Baju Kurung Kedah is one of the new collections by Ashura. Baju Kurung Kedah is slightly different from most traditional Baju Kurung as its top is usually shorter, leading its unique charm to its users.
With a basic bell sleeve, you can add on some bangles as it shows the wrist part. Made from Duchess Hazel material, it is not transparent so you can leave that extra innerwear out.
Peplum with a little bit of bling
Price from RM168.90
This grey peplum shouts stunning in so many different aspects, with the top's box pleat peplum design to give you that extra flare. It also comes with applique detailing of flowers and blings on the sleeves and bodice. A plus point of this outfit is the skirt which also has the peplum flare effect. Such a gorgeous piece on a gorgeous occasion.
A pastel favourite with a touch of Songket
Price from RM139.00
Back in the days, a Songket is a luxurious fabric only worn for religious festivals and special occasions such as weddings. Its intricate design is still loved up to this day. This particular printed cotton Songket looks exquisite and is more than suitable to be worn on Hari Raya.
For a whole day of Hari Raya visiting
Price from RM99.90
Donning in an uncommon Raya style of stripe print design, you will surely make an entrance in this Baju Kurung. Made with 100% English Cotton, it will definitely help you stay cool and comfortable when you wear it out all day long of visiting. As an addition, this type of outfit and material is very easy to care for too!
For the Batik lover
Price from RM126.70
Just like Songket, Batik design has its own intricate identity too. Originated from Indonesia, Batik is known for its flowery brown coloured designs. Nowadays, the style has evolved to cater to younger generations with more vibrant and bold colours.
This black outfit with abstract batik design suits anyone regardless of age. It comes with a flute sleeve to give that extra chic detailing.
Baju Kurung with a touch of French style
Price from RM149.00
Baju kurung made from Semi French Lace is a must as a Raya outfit. Regardless of its design, any outfit with French Lace will look avant-garde ! Its textured material gives the wearer a more unique look. Moreover, minimal accessories best compliments this kind of outfit.
More: 10 Modern but Modest Baju Raya Picks for the Ladies
Baju Kurung with satin
Price from RM149.00
It's no secret that satin makes any outfit look expensive. This outfit does just that, featuring double pleats at the bottom of the top and its sleeves for a dramatic yet pleasing contrast and volume. We'd recommend pairing this baju kurung with pearl earrings for that classic chic look.
1 people added this to their wishlist
Stylish Baju Kurung with brocade fabric
Price from RM129.00
Brocade fabric has multi-coloured silk threads and is sometimes combined with gold or silver metallic threads. This pink brocade Baju Kurung has a golden tinge of floral pattern with embossed golden lamé and lurex weave. Accessorise it further with a necklace or a pair of earrings for that #ootd moment you've always wanted.
More: 12 Hari Raya Shopping Offers You Can't Afford To Miss
Disclaimer: The pricing shown is just a good indication of how much these products are worth. The prices could change based on the e-commerce promotions that are going on. If some of the products are not available, do email us at [email protected] Thank you!