When you think about the Holy Month of Ramadan, that means Hari Raya is coming. There are various styles and designs of Baju Raya in the market, especially on online shopping platforms such as Zalora, Shopee & Lazada. 
With the fashion industry revolving almost every minute, 'Baju Raya' has also experienced the same revolution. Women nowadays dress according to the latest fashion trend to keep themselves presentable and up-to-date.
To give a gist of ideas of what to wear during Hari Raya, we've compiled a list of a variety of options to suit your taste and style, so you can make the best decision when it comes to choosing the best Baju Raya in 2022.
Our Recommendations - Hari Raya Baju Kurung in Malaysia 2022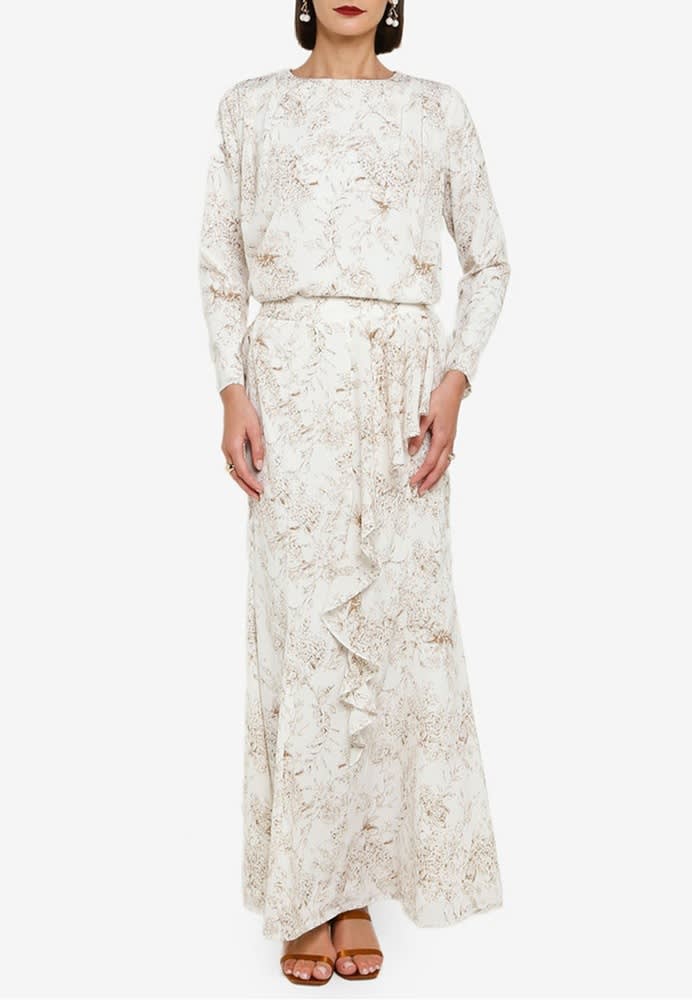 Check Zalia Drop Shoulder Top With Drape Skirt Set price below:
Are you looking for a modern yet appropriate Baju Raya? This set exudes a feminine and soft touch with its brown floral design. 
To provide comfortable wear while maintaining an affordable price tag, the top and the bottom are made of durable polyester. This lightweight material offers a slightly silky feel that provides more durable wear to last a couple of Raya OOTDs. Not to mention, the back and sleeves are designed with zip fastening, which makes it easier to slip into.
Additionally, the baju kurung's neckline is round, which helps soften any angular physical appearances which can seem strong, including your facial features.
Fit:

silky smooth and soft against the skin; moderate loose, breathable fit

Material

: Polyester (100%)

Suitable for

: School, office, casual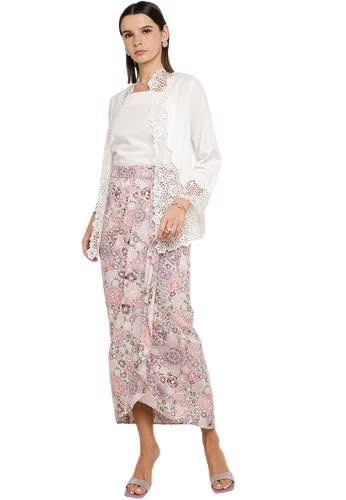 Check Zalia Embroidery 3 Piece Kebaya Set price below:
Baju kurung kebaya is one of Malaysia's most favourite types of Baju Kurung Kebaya. And if you want to look regal, try this elegant piece that's designed with intricate embroidery. 
As the top is made of cotton, this material gives comfort to the wearer, especially in light of our sweltering conditions all year round. In the set, it comes with a solid woven Kebaya top with lace trims and an all-over printed Kebaya skirt as a tribute to the classic/traditional Kebaya look.
The Kebaya is partially made from rayon which is a slightly thinner thread than cotton, so it's a little lighter and flowy. 
Fit:

The combination of cotton and rayon means an incredibly soft touch to your skin as well as a lightweight and silky wear.

Material

: Cotton & rayon

Suitable for

: Wedding ceremony, formal event, school, office, casual
Check Lubna Plus Size Wrap Top With Skirt Set price below:
Having a curvy body shouldn't stop us from being fashionable during Hari Raya. Luckily, there's this plus-size set from Lubna to have for your wardrobe. 
The pink floral motives set against the soft yellow fabric offers a soft touch to the overall design of the Baju Kurung. As this set's material is made of polyester, that means not wrinkling or shrinking easily. 
To complement our weather, the set is also lightweight compared to poly-cotton blends, making it more breathable and comfortable to wear all day long. In addition, the wrap design and style of this Baju Kurung is made to accentuate a slim looking waist. 
Fit:

Silky texture that's smooth on the body; slim cutting

Material:

100% polyester

Suitable for:

Wedding ceremony, office, casual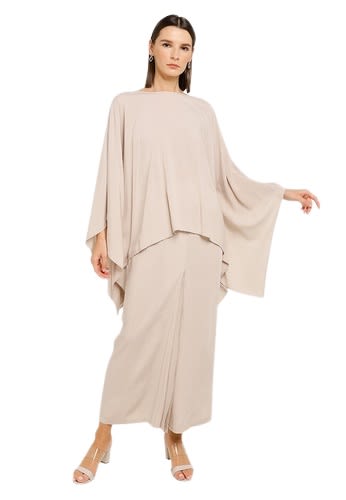 Check Zalia Basics Kaftan Top With Skirt Set price below:
Malaysians are a laidback bunch, and nothing speaks a simple chic but effortless look than this Zalia Basics Kaftan Top With Skirt Set. 
Aside from its relaxing fit, the simple solid tone and wide sleeves kaftan top gives a comforting fit not just to the wearer but also an easy aesthetic view in everyone's eyes.
This design comes in 4 colours for your picking: beige, pink, and purple. No matter the colours, the material is made of a poly blend, also known as a polyester blend. Compared to 100% polyester, this material is way more breathable and softer on the skin.
Fit

: Soft feel with a relaxed fit

Material:

Polyester blend (polyblend)

Suitable for:

Office, wedding ceremony, casual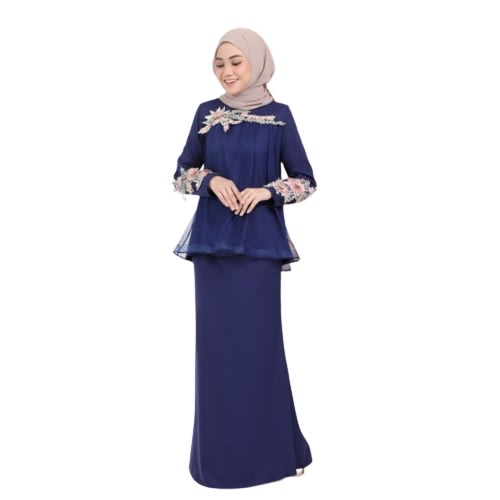 Check Helena Kurung Modern 765 price below:
If you plan on looking more refined on the first day of Hari Raya, try this Baju Kurung peplum set. 
The fabric is made of Como crepe that's complemented with 3D embroidery flower lace and tulle mesh design. Como crepe itself is exceptionally comfortable, more flexible and breathable but still opaque than many other materials, making it comforting to wear for your peace of mind. It also does not wrinkle readily as well as it is fairly durable.
Also, the A shape cutting on the skirt would look well on those with a curvier, hourglass, and pear body shape. Finally, there are floral motif on the sleeves and below the neckline to give a graceful and elegant look to the otherwise simple design. 
Fit:

Cooling and comforting

Material:

Como crepe 

Suitable for: E

ngagement or wedding ceremony, convocation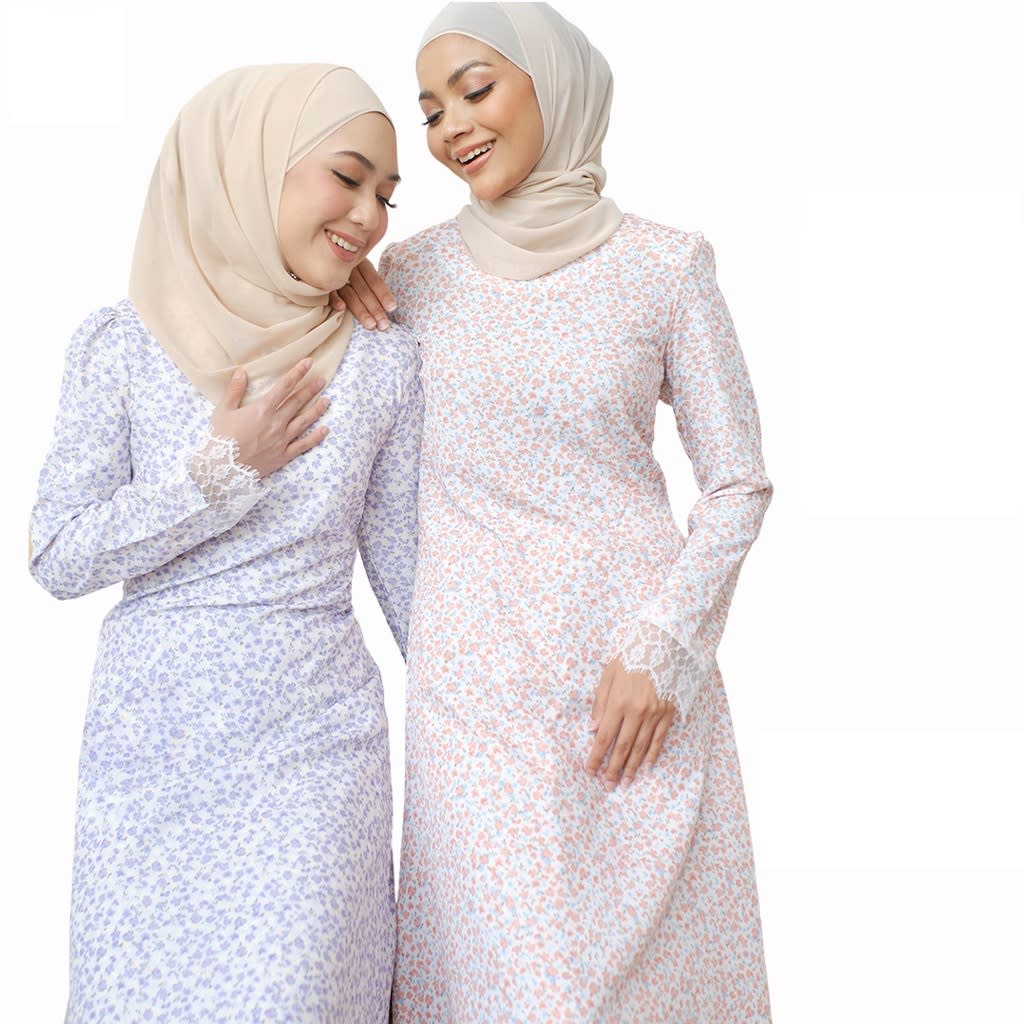 Check Reese Kurung Baju Kurung Lace Raya price below:
Are you feeling a bit extravagant? Just go with Zoe Arissa's latest modern Kurung designed with layered lace. No matter how your posture is, the effect of lace draped around the sleeves of the Baju Kurung radiates a look of elegance. 
In terms of material, the lace of this Baju Kurung is made out of french lace, set against soft cotton polyester. In addition, the lovely small floral motif gives a modest, feminine touch to an already lovely ensemble! To add another feminine touch, the skirt is of a mermaid cut to give you a more curvy look.
As the material of this Baju Kurung is made from a combination of soft cotton and polyester, it provides good moisture absorption and gives comfort to the wearer. 
Fit:

Soft, flowy and breathable texture that will not feel sticky to the body.

Material:

Soft cotton polyester

Suitable for:

Casual, convocation, daily wear, event, bridesmaid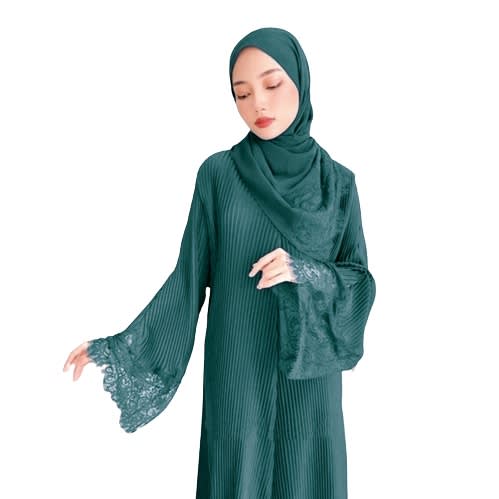 Check Abaya Pleated Jubah price below:
Are you planning to go for a simple Baju Raya style this Hari Raya? Check out this Abaya Pleated Jubah. Being made out of pleated chiffon, the material gives a flowy, elongated tall when you move about wearing it. 
Something many will is that this piece is also breastfeeding-friendly; a bonus point for mothers to resonate with their pre-motherhood identity wear they can wear something chic and youthful in. Finally, this set comes with a wide selection of colours. 
Fit:

Soft

Material:

Pleated chiffon, lace, rhinestones 

Suitable for:

Engagement ceremony, casual, dinner, office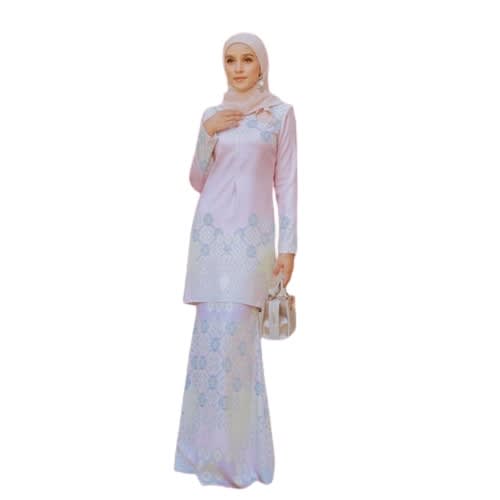 Check Rika Premium Kurung Moden Pastel Batik price below:
This Rika Premium Kurung Moden Pastel Batik is designed with a traditional approach and a touch of a modern twist. The set is made with premium Moroccan crepe which has a unique wavy, ribbed texture that is achieved by the seamstress utilising heavily twisted yarns in the weft. Additionally, the skirt dons a mermaid cutting which helps highlight the feminine curves of your body even more.
As the set comes in a range of soft, pastel colours, its overall look is simple yet eye-catching. Not to mention, it is also Wudhu-friendly as it has a zip on both hands to make it easier for Muslims when carrying out the cleansing ritual.
Fit:

Has a silky feel and should be breathable on your skin

Material:

Premium Moroccan crepe

Suitable for:

Casual, office, school, wedding ceremony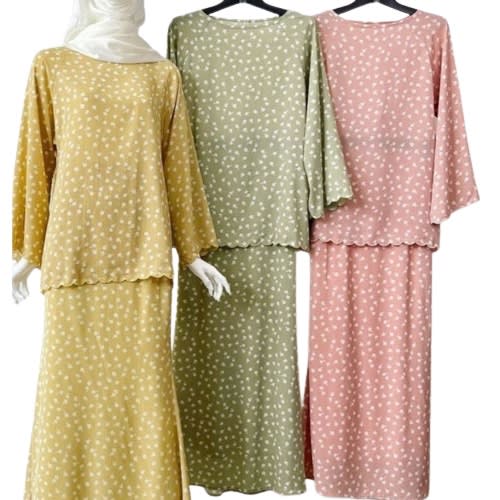 Check Baju Kurung Scallop (Kurung Kedah) price below:
Baju Kurung Kedah is distinct in the sense that the tops are shorter in length, making them perfect for shorter women who want to appear taller. As such, this modern Kurung Scallop may interest you if you're looking to amp up your Hari Raya look this year. 
The Baju Kurung set is made of chiffon, thus it will feel quite gentle whenever it rubs against your skin. Chiffon are generally great replacements for lace looks, and this one will surely offer the same delicate look to its wearer. 
Moreover, the set comes in a few pastel colours to suit your style. The skirt, also made with Chiffon, is designed to offer the effect of a relaxed yet structured fit so that your curves aren't hidden.
Fit:

Gentle with a touch of texture (roughness) due to the nature of chiffon.

Material:

chiffon

Suitable for:

class, office, casual wear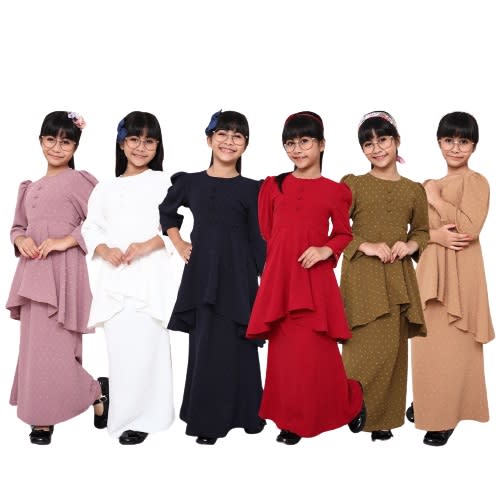 Check Baju Kurung Nayara Kurung Riau Pahang price below:
Baju Kurung Pahang stands out in the sense that when the top reaches the waist area, it flares out to offer both comfort and shape for a feminine look. 
Aside from the usual relaxing fit of Kurung Pahang, this one has its fabric made out of cotton crepe to offer a more breathable wear that's also easy to manoeuvre around with; great for the hot Malaysian weather. 
While it has a pebbly and crimped surface texture to offer a more solid and durable wear, the set is sewn with lightweight weaving so that will not wear your body down. In addition, due to the texture, this Baju Kurung is perfect as it doesn't need much ironing skills to maintain a sleek look.
Fit:

Relaxed fit

Material:

cotton crepe 

Suitable for:

engagement ceremony, office, school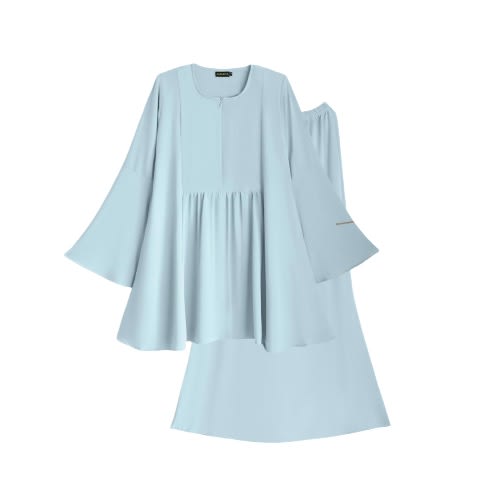 Check Nursafia Kurung Asha price below:
Comfort is a top consideration when one's going through pregnancy. As we can definitely guess, most mothers still value their appearance as well. 
Not to worry; stay sleek with this Baju Kurung which is made of high-quality Como crepe; a well-known material for its stretchable profile. This fabric is not only comfortable and breathable but also offers a durable wear that'll drape down your silhouette elegantly. 
To add a unique touch to the piece, it has pleats on the front to help create an easy protective coverage to the belly area which will give assurances to pregnant women with their ever-growing baby bumps. 
Fit:

Stretchable material which gives comfort to the wearer

Material:

Como crepe

Suitable for:

office, casual, school, wedding ceremony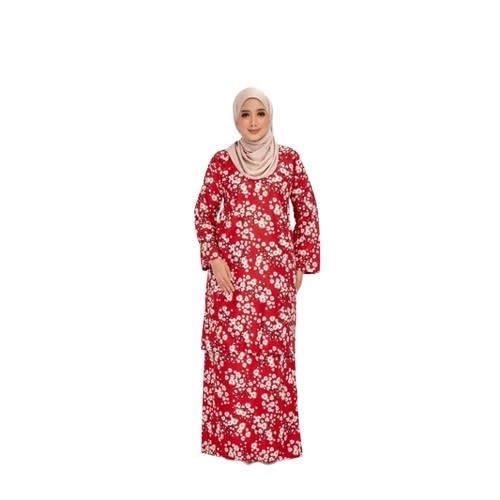 Check Kurung Johor Layla price below:
Many women out there will opt for Baju Kurung Johor Teluk Belanga as its design suits many types of occasions, be it formal, smart casual, or even everyday wear. If you're looking for a comfortable one, try this set. 
The quality of the fabric on this set seems to be soft yet cooling to the touch as it is made of high-quality SB line printed royal cotton to offer a breathable wear. Design is kept simple as it sticks to a straight cut design to suit nicely on most body types; great for those who wants to keep things simple.
Fit:

Feels cool and soft to the touch

Material:

high-quality SB line printed royal cotton 

Suitable for:

class, office, casual, wedding ceremony
Related articles