In Malaysia, Baju Kurung is a well-loved Muslimah wardrobe dress. As it comes in a range of designs and hues to match almost every type of event, in addition to the modest shape and comfortable design, it remains a popular outfit trend for many in the country.
People often believe that style and money go hand in hand; the more money you spend on clothes, the better you'll look. We'll burst that bubble today as a reality check; there are many affordable Baju Kurungs that are just as good to add to your wardrobe collection.
Especially if you're on a budget, you should plan strategically on the Baju Kurung pattern and colour, its type of cutting as well as the material.
With Raya season and sales approaching, it's only charming and humble that your open-house dress should be stylish yet budget-friendly! After all, putting on a Raya ensemble with a shoestring budget is quite an impressive feat. 
Here are some ideas and suggestions for a fantastic Raya Baju Kurung set to help you save a lot of money.
---
12 Top Hari Raya Baju Kurung Under RM150 - Recommendations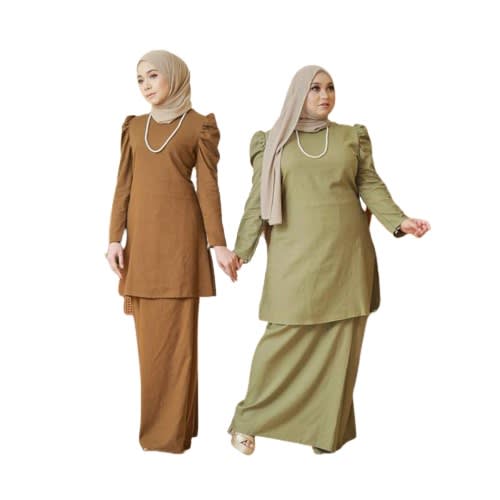 Check Plus size Set Nora Danish Puff Gojes price below:
Looking for a suitable Baju Raya that'll fit you whether you've got bigger bones or curves to look fabulous in isn't easy. But worry not; this plus-size set from Nora Danish shouldn't fail you. 
Although plain-coloured, this Baju Kurung is designed to embody a combined flair of simplicity and chicness. It is complemented with ruffle details to add a feminine touch to angular or smaller shoulders.
In addition, the top and the bottom are made of premium cotton linen which should give a comfortable and fitting wear without sacrificing on its cutting. As the cotton's quality is soft on the body, it offers a breathable fit to keep you comfortable when you don this Baju Kurung for the whole day. 
Additionally, the hidden zip at the back of the top makes it easier to slip into, while the one near the sleeves makes it easy to handle and is convenient for performing Wudhu ritual. 
Fit:

Soft, moderately loose with a breathable fit

Material

: Premium cotton linen

Suitable for

: Convocation, office, formal event, wedding ceremony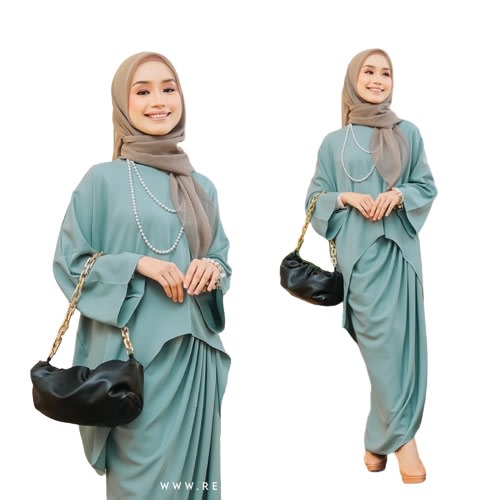 Check Ameera Kurung Set price below:
Ameera Kurung Set is all about giving maximum comforts, ease of wear and affordability to its wearer. Made of 100% premium crepe, this material is airy and breathable, which is particularly important given our year-round hot weather. 
Besides, with more than 8 selections of colour available to choose from, it will surely leave you spoiled for choice.
The wavy pleated pario skirt is designed to emphasise your feminine silhouette modestly. In addition, the V-neckline of the top is specially made to feature and flatter almost every body shape, which is a unique feature of this Baju Kurung set. Moreover, the cutting of this set is designed to provide comfort for moving around all day, which is helpful when you'll be attending open house after open house events. 
Fit:

Has a silky feel, lightweight, relaxed wear

Material

: 100% premium crepe

Suitable for

: Wedding ceremony, bridesmaid, office, casual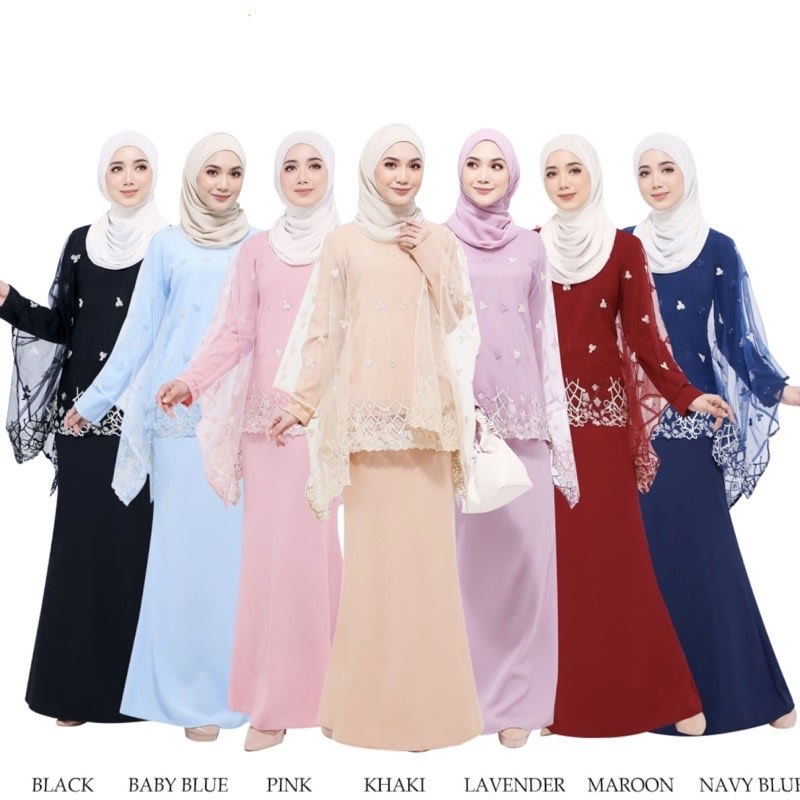 Check Emma Baju Kurung Modern Lace price below:
There's nothing wrong with embracing traditional style clothing pieces that has a modern flair to them.
The design for this modern Baju Kurung is designed with pastel colours, all of which are topped with a lace cape to soften the shoulder's silhouette and add a feminine touch to your overall look. As this set's material is made of chiffon, the material itself will give off a carefree, flowy look that's also lightweight, which gives maximum comfort to its wearer. 
Other than that, the style and cutting for this Baju Kurung are designed to draw attention to the slim-cutting waist area, accentuating it in a minimal yet unique way.
Fit:

Soft to the touch, lightweight

Material:

Chiffon

Suitable for:

Wedding and engagement ceremony, formal event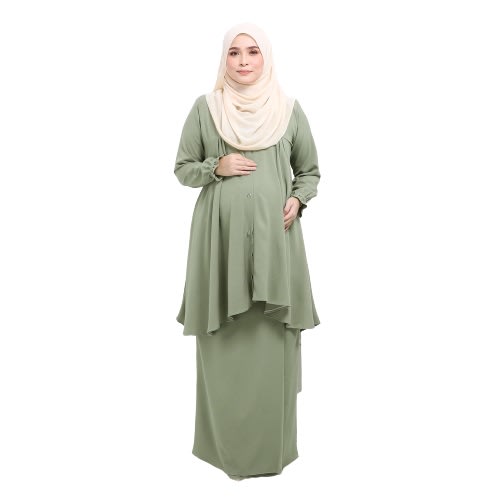 Check Kurung Nailah Baju Kurung price below:
Fun fact, did you know that a pregnant woman feels three times as hot as a non-pregnant woman? That's why it's crucial to dress in light fabrics with brilliant colours that won't absorb much light. 
With this Baju Kurung Lily Maternity set, expecting mothers won't have to struggle to remain stylish and comfortable under our hot sun.
Made of premium Como crepe which is stretchable and easy-to-iron, this set dons a beautiful drape design that's soft and silky to the touch. As the body and form of a pregnant woman will change over time, a set that has loose-fitting skirt like this one is perfect for a comfortable and modest fit.
Not surprisingly, the size range of this Baju Kurung starts from S-XXL to fit any baby bump. Additionally, the skirt is made of adjustable elastic waist & stretchable pouch to provide you plenty of room to move around while maintaining protection to your baby bump. 
For your preference, the Baju Kurung comes in 4 colours: black, dusty rose, lavender, and blue-grey.
Fit

: Feel breathable and cool on the skin; stretchable and loose

Material:

Premium como crepe

Suitable for:

Office, class, wedding ceremony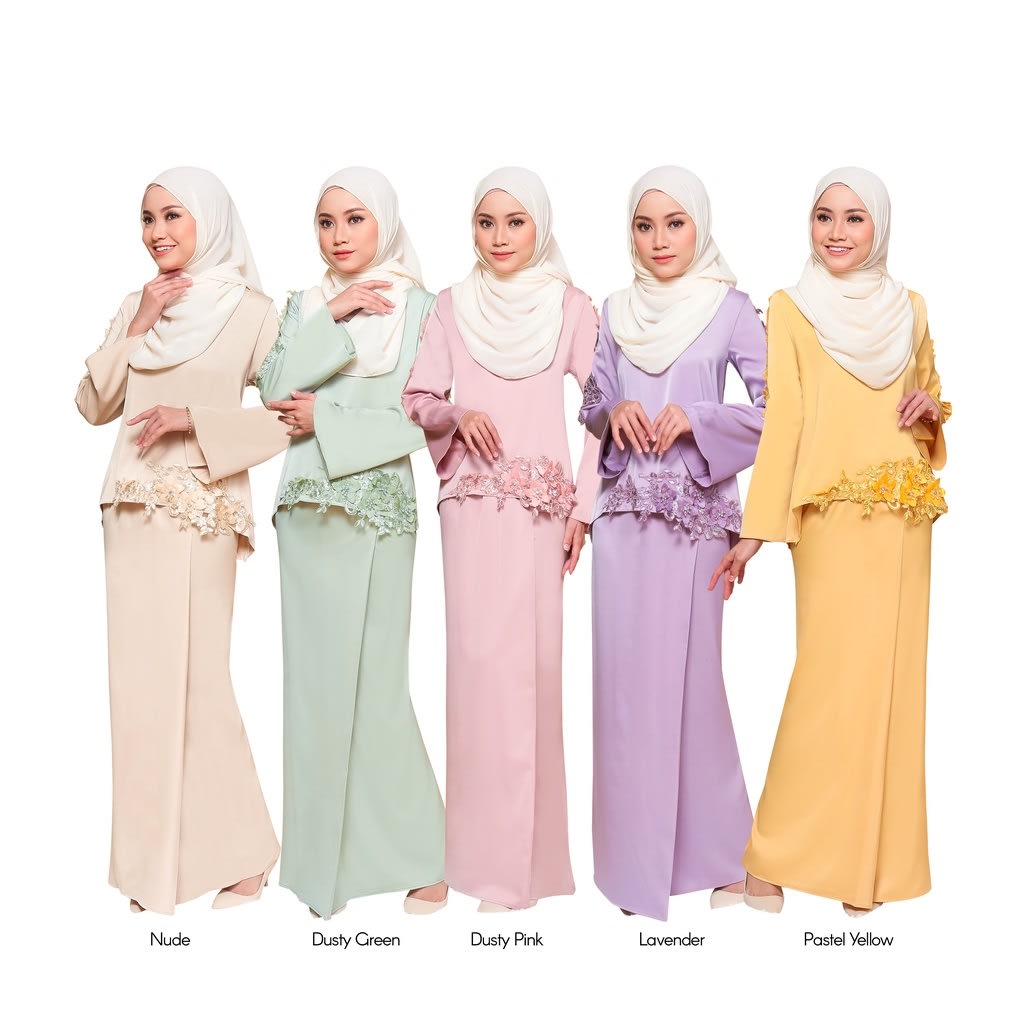 Check Suzane Kurung Kedah price below:
This Suzane Kurung Kedah is one of the newest collections available from the shop. Baju Kurung Kedah differs from other traditional Baju Kurung as the top is usually shorter, giving it a distinct height increase and balanced body proportion (visibly) to its wearers.
 It's made of triacetate satin quality, which provides this high-quality fullness, softness, and pleasant stretchability. Aside from that, the set has embroidery flower lace at the bottom of the top as well as on the sleeves for that touch of regality. To top it off, the set is fitted with the skirt donning a straight cut so that it'll look good on almost any body type. 
Fit:

Soft, fitting with looseness around the waist area

Material:

Triacetate satin

Suitable for:

Engagement or wedding ceremony, convocation, office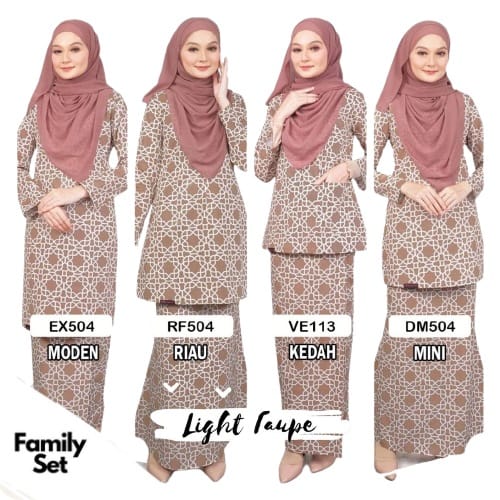 Check Baju Kurung English Cotton Dhia price below:
Cotton is often a top choice for users living in hot regions due to their breathability and long-lastingness. If you're in the market for such a Baju Kurung to offer a more casual look, try this Baju Kurung set. 
The set is made of high-quality cotton for a comfortable and breathable fit. Besides, not only is the set breathable and long lasting in its structure, but the cloth is opaque, so you don't have to worry about giving away your modesty or needing to wear another layer of clothes. 
For a flexible outfit to suit most occasions, this set comes in 4 different designs with the same soft light taupe colour to complement most of your accessories.
Fit:

Breathable fit that will not feel sticky on your body

Material:

High-quality cotton

Suitable for:

Office, class, daily wear, wedding, and engagement ceremony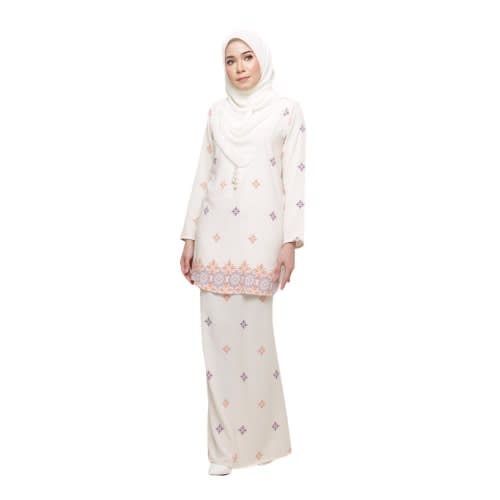 Check Baju Kurung Design Songket Adyana price below:
The Songket pattern was once reserved for religious festivals and important occasions like weddings. Luckily, with new trends and ideas, people today can enjoy the design in more casual settings, such as with the Baju Kurung Songket for everyday wear. 
Like most Baju Kurung Songket, this one from Adyana is made with a shiny material donning the elegant Songket pattern which are stitched into small motifs to suit the Hari Raya setting this year and for the next few to come.
With the material being premium Como crepe, this fabric is not only soft and breathable, but also has long-lasting wear with some weight to it, draping down your body to offer a silm silhouette. The complementary mermaid cutting skirt with Batik print on it also enhances the charmingly traditional look of the set even more.
Fit:

Silky feel, feels breathable on the skin, stretchable for comfort

Material:

Premium como crepe, Songket cotton motifs are stitched on (not printed)

Suitable for:

Class, office, engagement ceremony, everyday wear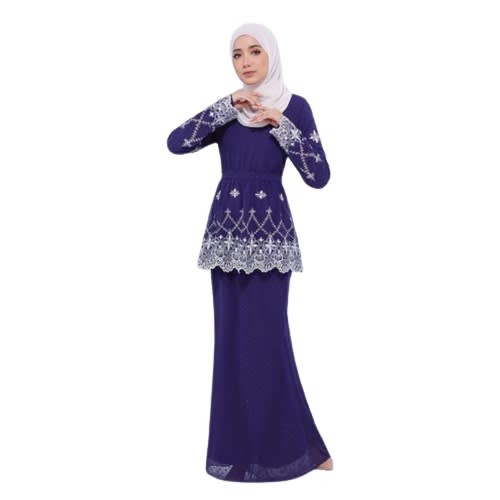 Check Gabriela Peplum Kurung Lace price below:
The peplum design is made to help those with little to no waist to accentuate their curves better. So if you're bored of the same ol' Baju Kurung silhouette that's usually in a straight cut, this Gabriela Peplum Kurung Lace Rika Premium is specially designed with a modern twist for that outcome. 
Because it's made of chiffon, it moves with you to give an elongated look. For a more regal look, the Baju's sleeves as well as the hem of the Baju Kurung Peplum are stitched with flower embroideries.
Aside from the top peplum design, the skirt is also made with a mermaid hem to lend a more curvy, slim cutting, with the skirt resembling an hourglass shape from the ankles, much like a mermaid's tail.
Not to forget, the Baju Kurung is fitted with a hidden zip on both sleeves, making it easier for Muslims to perform the Wudhu ritual.
Fit:

Soft to the touch; relaxed fit

Material:

Chiffon and embroidery stitching

Suitable for:

Formal event, office, wedding, or engagement ceremony
More: 10 Modern but Modest Baju Raya Picks for the Ladies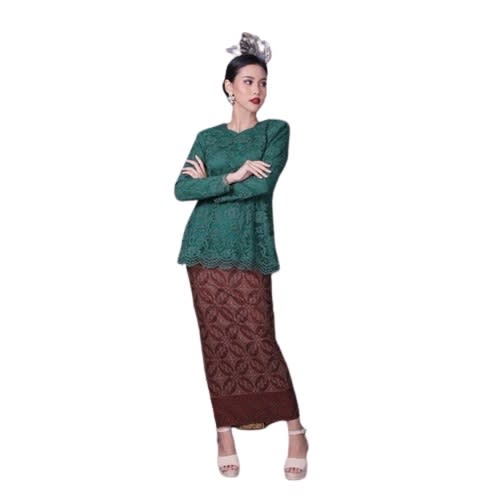 Check Kurung Kedah Batik price below:
Baju batik is a type of traditional Indonesian apparel that is worn for a variety of occasions. The top of this baju kurung batik is made of lace with tone-to-tone full cotton lining along with hidden long zip behind. It offers comfort to the wearer and, at the same time, makes it easier to slip into.
The skirt is made of cotton with batik print all over it. The skirt, which features a loose-cut wrap, enhances the appearance of a slimmer body. 
Fit:

It feels a bit rough because of the lace's texture, but the skirt, which is made of cotton, gives a soft touch to your skin

Material:

Cotton and lace

Suitable for:

Office, formal event, wedding ceremony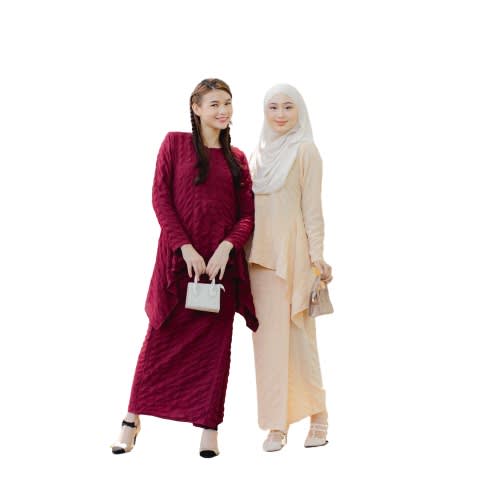 Check Rayyan Haya' Ailee Flare Kurung Ironless price below:
Imagine being able to enjoy a stylish modest wardrobe without having to waste time maintaining and ironing your clothes. Well, this Baju Kurung from Rayyan Haya brings that dream into reality.
The secret lies with the choice of the dress's fabric, being made out of cotton jacquard for an iron-free maintenance. Not only that, but the dress is opaque and also easy to wear and move around in; perfect for the scorching hot weather of Malaysia.
In addition, this Baju Kurung is also nursing-friendly and suitable for all new mothers out there due to the top being stretchable enough to lift up comfortably. Moreover, the skirt flares out at the hem to subtly enhance your curves.
Fit:

Loose

Material:

Cotton jacquard

Suitable for:

Formal event,

engagement, wedding ceremony, office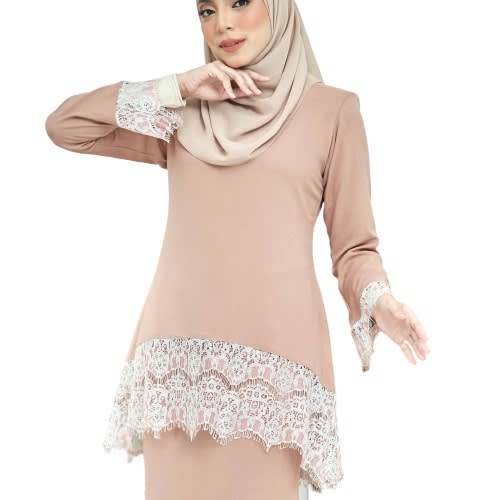 Check Elaina Kurung Lace price below:
Always up for making a big entrance? Be sure to check this Elain Kurung Lace from Kurt & Rose, which comes with lace detailing to complement the top without being too loud in design. The lace drapes around the end of the top and the sleeves to give off an air of elegance to its wearer.
In addition, the crepe material is flexible to its wearer, feeling extraordinarily soft to the touch, easy to iron as well as being breathable so that you can don this Baju Kurung all day under the hot weather. Not only that, but the loose cutting also means being able to move around easily on our roads and streets.
Fit:

Soft on the skin; loose fit

Material:

Crepe

Suitable for:

Office, casual, school, wedding and engagement ceremony.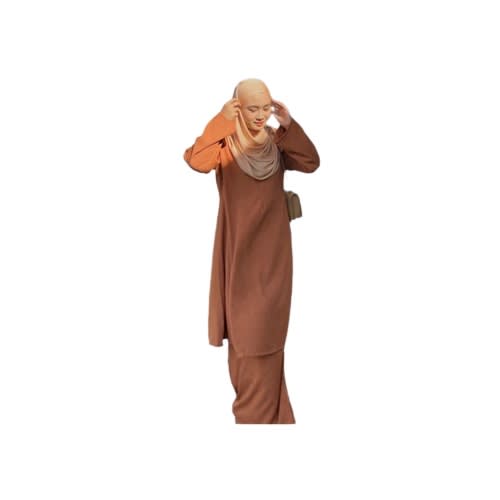 Check Haurabelle Fateema Riau Kurung price below:
A historical link between the two Malay states of Riau (Indonesia) and Pahang (Malaysia) is apparent in the design of the Baju Kurung Pahang which have the top's hem hang loosely and freely for a relaxed yet feminine fit. 
If you're a fan of the design, consider this Baju Kurung Riau-Pahang from Haurabelle which is made of como crepe; a material well known for its soft, comfortable and cold material.
Adorning a timeless combination of pattern, cut, and colour, this bean brown-coloured Kurung keeps it practical yet classy with a simple design to have it suitable most formal occasions. 
Fit:

Relaxed and loose fitting

Material:

Como crepe

Suitable for:

Office, class, bridesmaid
---
Related articles