We have talked about body lotions, body creams, body butter, and body oils. Now its time to talk about body serums. They may not seem as important as the rest but they do a pretty decent job too. If you want and are willing to spend just a couple more minutes on your skincare routine (for better glowing skin of course), we have some of the best body serums for your everyday skin problems and conditions.
What does a serum do to the body?
In general terms, the serum contains topical antioxidants such as vitamins A, C and E. With topical retinol and other ingredients, they help to even out skin tone. When it is layered before moisturizers, serums act as a treatment agent for wrinkled, pigmented or even sensitive skin.
Can body serum be used on your face?
Your skin on your face is very precious and what you use on it matters. For your face, you should always use something that is more gentle and delicate. Certain body serums may seem appropriate for the face but can contain harsh ingredients that might not agree with the skin. Always check properly on all the ingredients before applying onto your face.
Do I need both a serum and a moisturizer?
There's a reason why its called a skincare routine. Serums are typically thinner and lighter than moisturizers, containing active ingredients in them to address a variety of skincare issues. Moisturizers are usually thicker and creamier and are meant to hydrate the skin to prevent water loss.
For this reason, you should always apply a serum after cleansing your body and before your application of lotion and body sunscreen. To better understand of what serums do for your skin, have a look below at these body serums listed for every skin problem.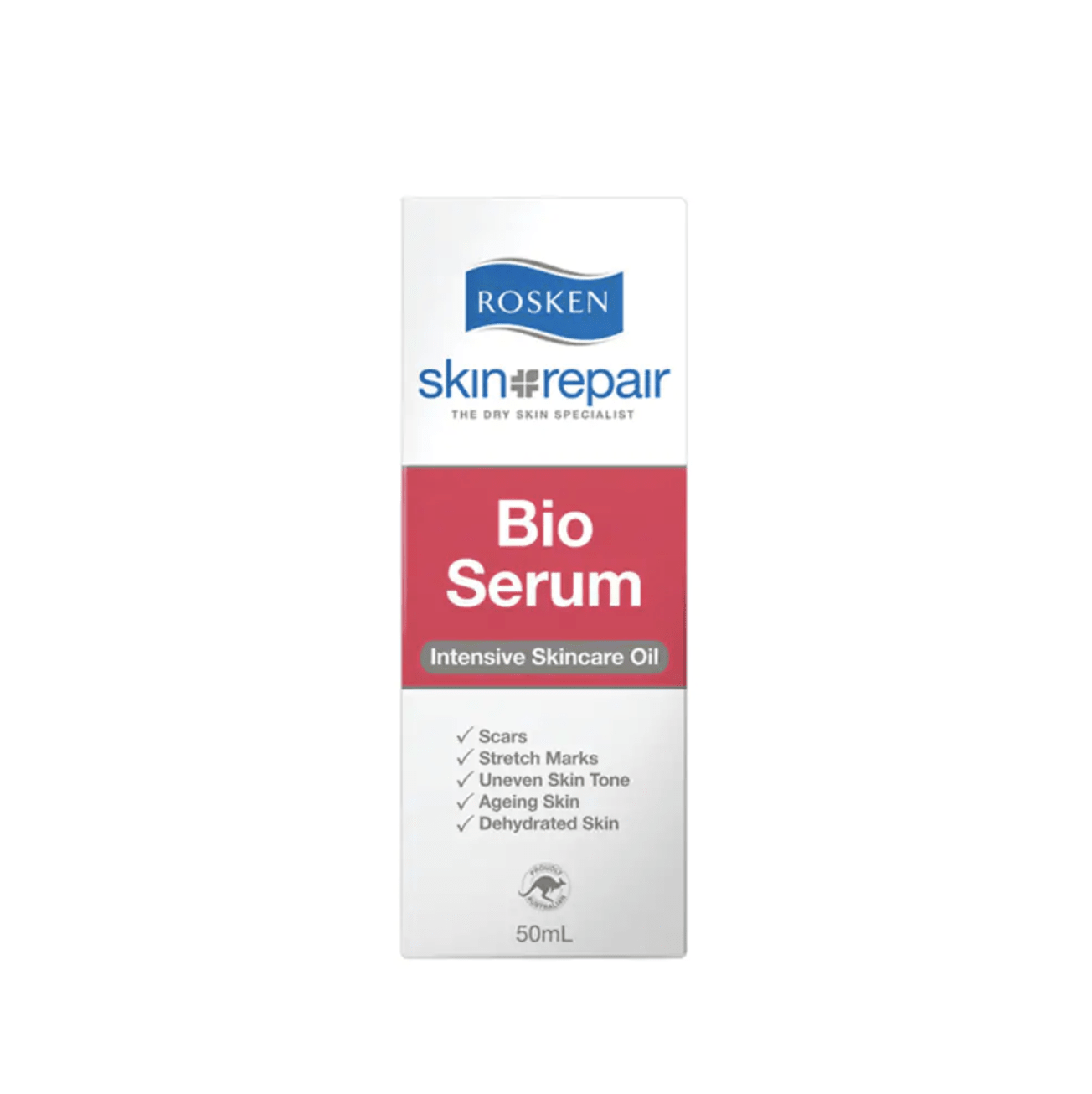 Rosken Bio Serum 50ml
RM 25.9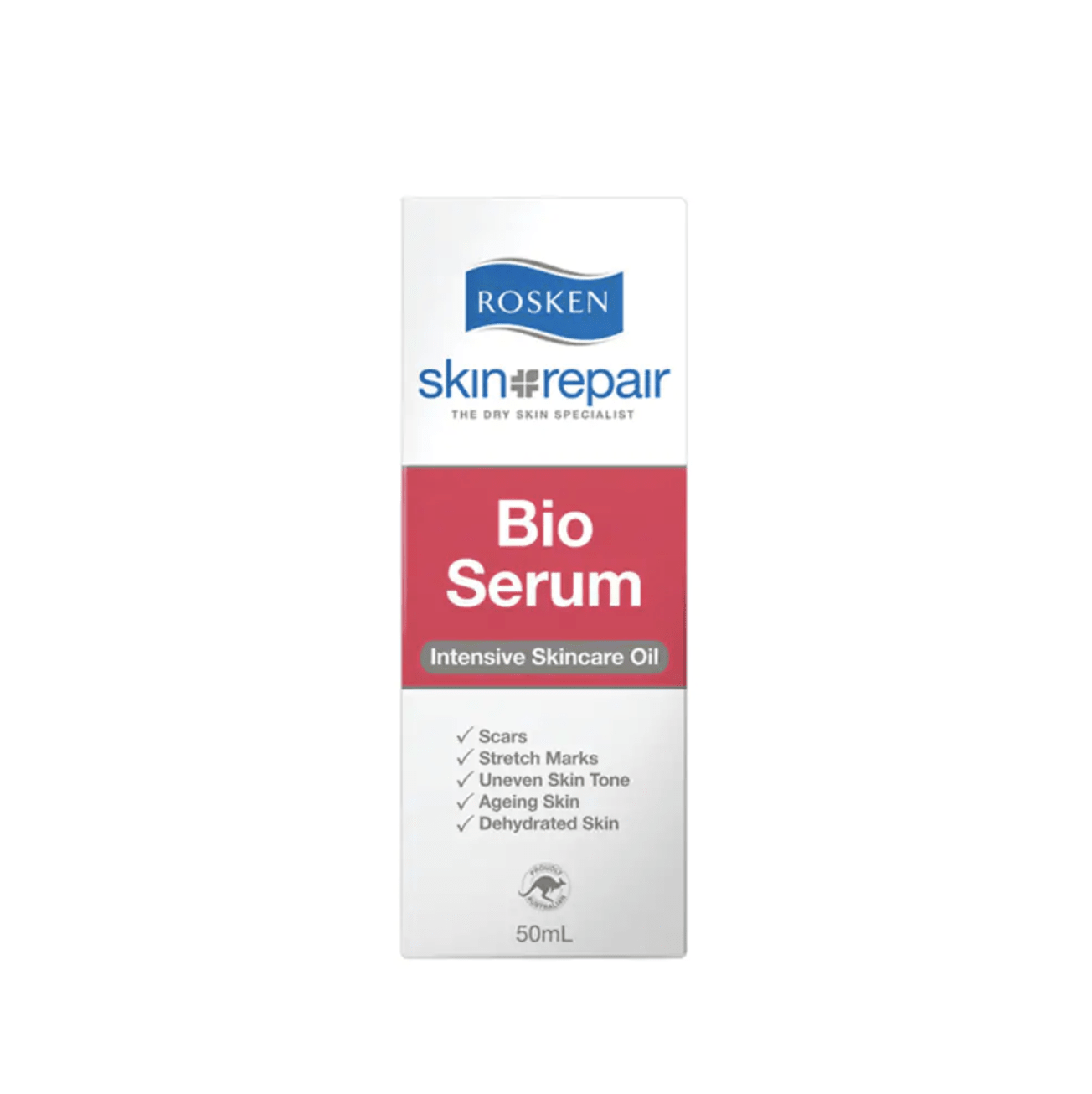 add_circle
Suitable for dry, flaky skin
remove_circle
Might leave an oily residue
Having dry skin all over the body can be really hard to manage if not taken care of properly. Apart from lotions that play a role in bettering the body, you would also need serums that perfect the job. Serums like Rosken's Skin Repair Bio Serum nonetheless.
It is an intensive treatment skincare that comes in the form of an oil, to treat skin conditions such as the appearance of stretch marks, uneven skin tones, extremely dry skin and ageing skin.
This bio serum is formulated with a powerful combination of antioxidants such as vitamin A and E, as well as soothing key ingredients such as chamomile oil, lavender oil, rosemary oil and calendula oil.
While chamomile oil contains a good percentage of oleic acid to help allow the skin to breathe when applied daily to unclog pores and prevent breakouts, lavender oil works towards killing the bacteria to heal acne breakouts.
You then have rosemary oil's antiseptic properties which fall in favour to help control oil production for eczema-prone skin, calendula oil concludes as an anti-inflammatory property, being of use to soothe eczema-prone skin. Hypo-allergenic and preservatives free, it is definitely suitable for use of sensitive skin too.
---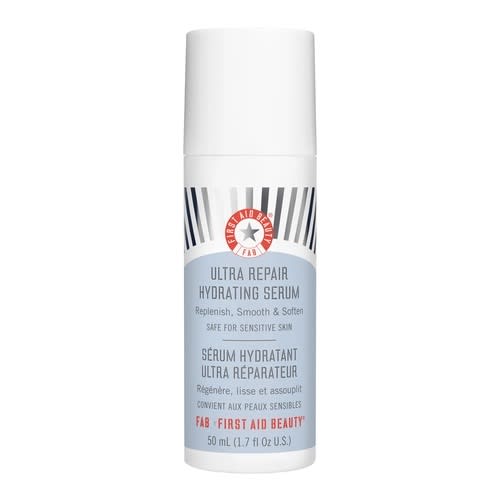 First Aid Beauty Ultra Repair Hydrating Serum
RM 193.00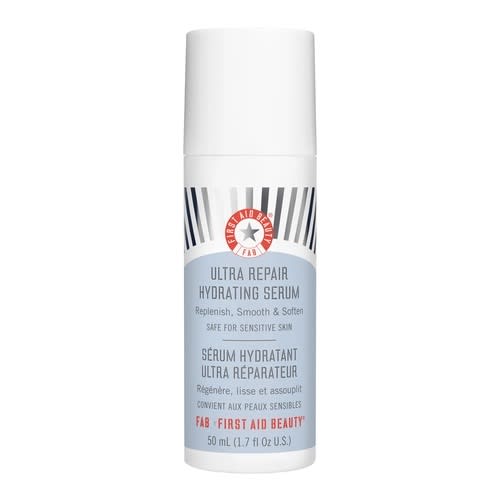 add_circle
Suitable for sensitive prone skin
add_circle
Non-greasy formula
add_circle
Does not leave a sticky residue
This water-based hydrating gel serum by First Aid Beauty helps to seal in the hydration very much needed for your skin. A perfect layer of usage under your A.M. and P.M. moisturizers, this serum is perfected with a multitude of impressive ingredients.
Starting off with hyaluronic acid which works hard to replenish the skin's moisture and plump the appearance of fine lines, you then have anti-ageing peptides that help minimize fine lines of wrinkles, with collagen doing what it does best- designed to be responsible for youthful, supple skin and also be able to fight back against sagging and fine lines all over the body.
First Aid Beauty also cares for those with sensitive skin as colloidal oatmeal is one of its key ingredients too. Being a soothing agent, colloidal oatmeal has been used for decades to aid for dry, itchy skin, proving to be an instant relieve. Along with aloe leaf juice, get an all-over healthier-looking complexion in the weeks to come.
---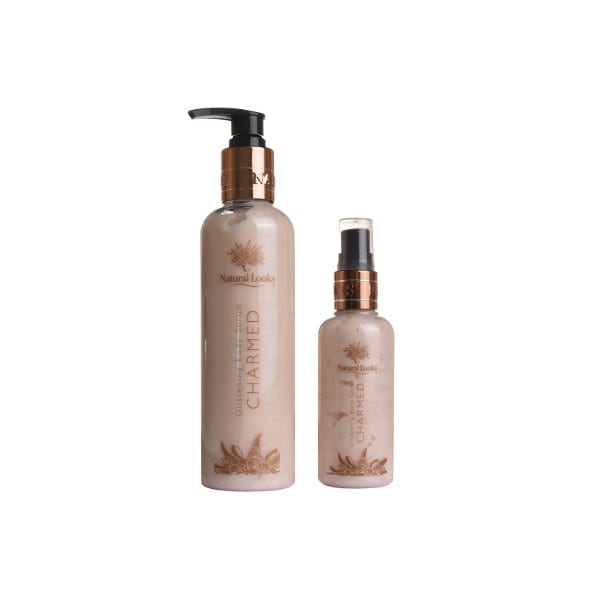 Natural Looks Body Serum Charmed Glistening Grapefruit Extract
RM 69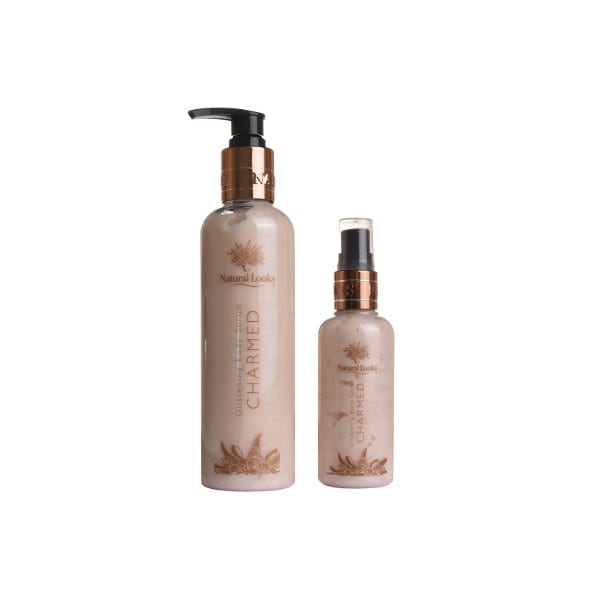 add_circle
Suitable for acne prone skin
remove_circle
Mild vanilla notes
Natural Looks Body Serum Charmed Glistening Grapefruit Extract is known for its natural antioxidant key ingredient, grapefruit extract. Grapefruit has long been hailed for its many advantages when used in skincare products.
Since it has the ability to tone the skin and does wonders for oily and acne-prone skin by regulating the build-up of oil in the pores, grapefruit extract has established itself as a staple ingredient in many a skincare products, aimed for the bettering of the skin.
It is also completed with almond oil, shea butter and vitamin E. Due to the fact that almond oil acts as an anti-inflammatory agent, it will help ease the swelling of the skin.
Also with its emollient properties, almond oil has the ability to improve both the complexion and skin tone of your dry, oiled skin. With vitamin E to help soothe irritation, you then have shea butter which has amazing healing properties and would do wonders for your skin, as it will condition, tone and soothe it.
---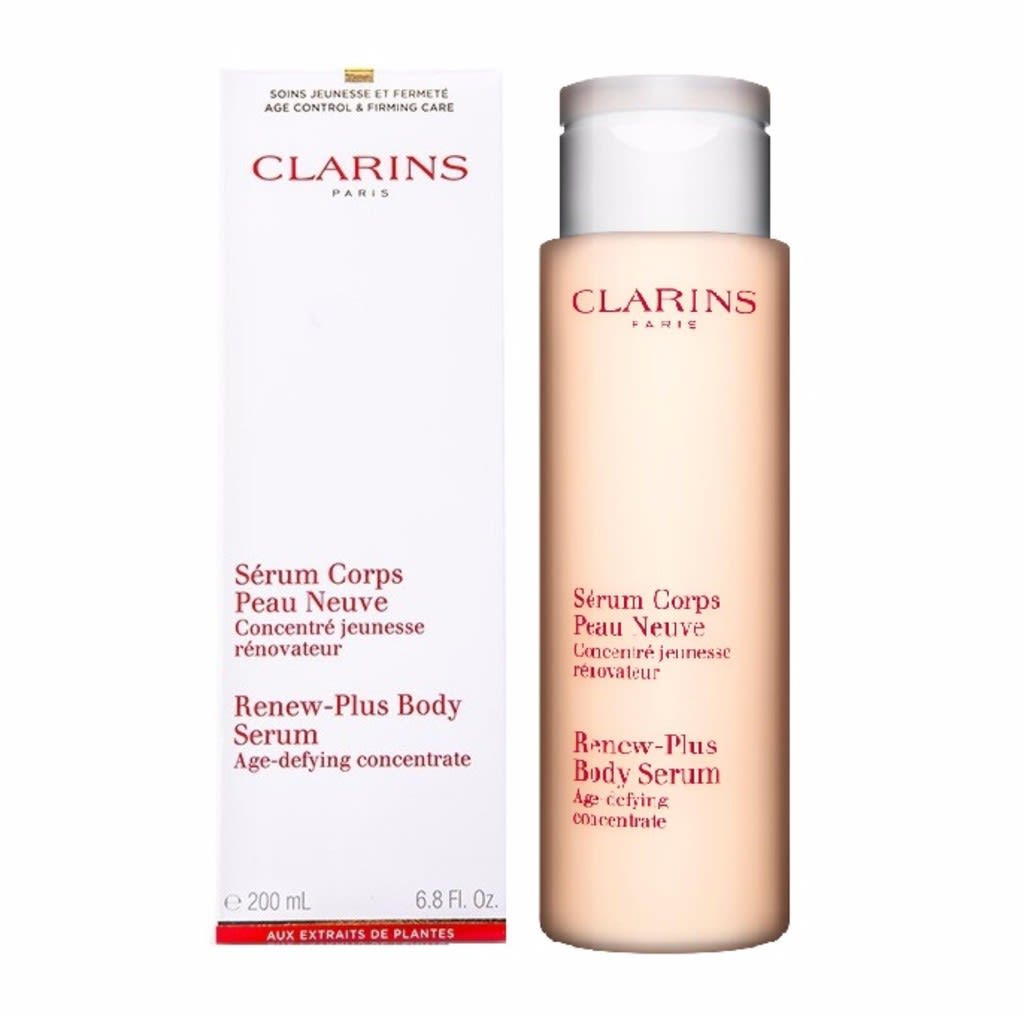 Clarins Renew-Plus Body Serum
RM 75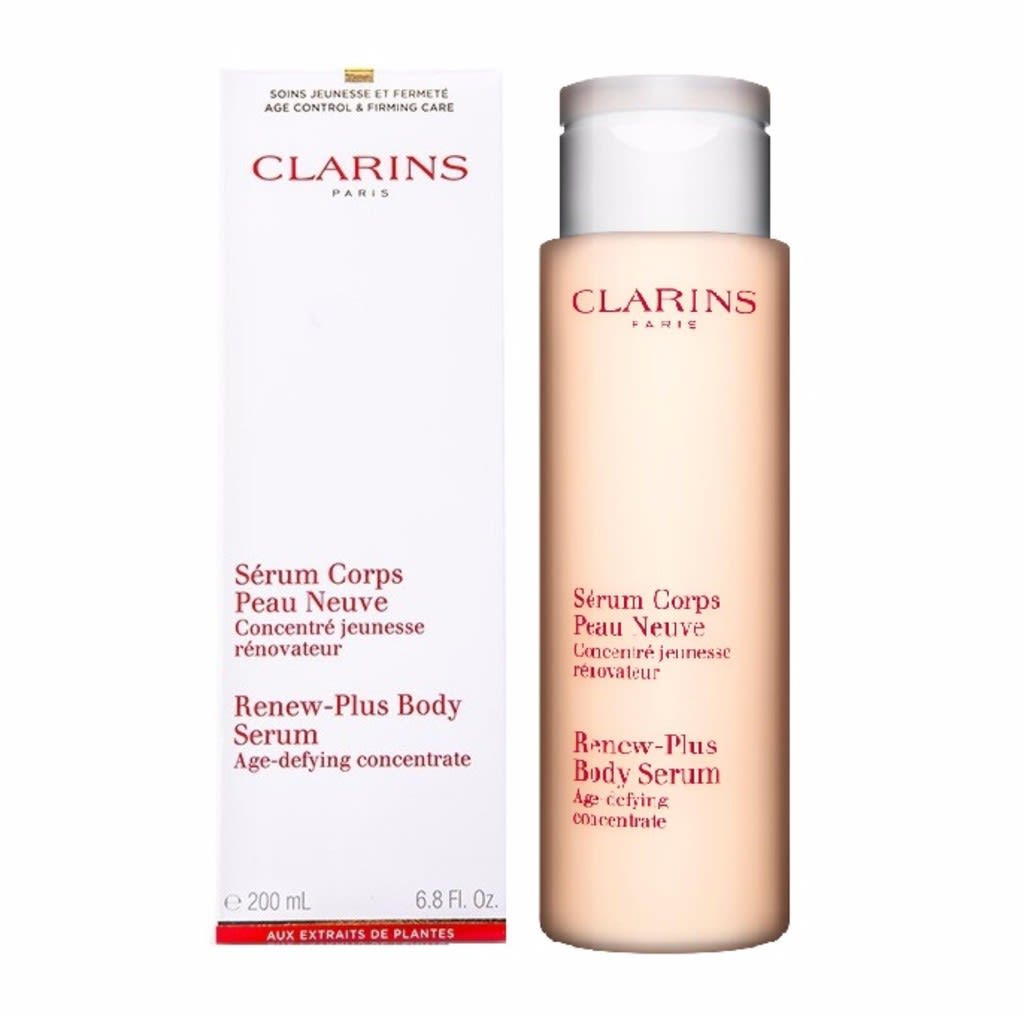 add_circle
Suitable for wrinkled skin
add_circle
Non-greasy formula
add_circle
Mild fragrance smell
Clarins' Renew Plus Body Serum is here to stay with its anti-wrinkle formula. This rejuvenating serum, fit for the whole body will help to restore the lost youthfulness of your skin by increasing its moisture levels and skin radiance, each passing day to come.
In order to let your skin get the full hydration process, dead skin cells have to be cleared from the surface of the skin. This serum is just about able to do that with its water lily extract.
Apart from eliminating dry surface cells, water lily extract is able to also intensively moisturize, soothe, exfoliate and protect the skin, resulting in it to be soft and supple in every part of your body.
The other key ingredients work in the form of pre-retinol that helps with stimulating skin renewal, wintergreen extract that aids in the retexturizing of the skin to ensure smoothness, christophine and olive extract for the protection of the skin and cashew nut extract is used for firmness and smoothness to treat the look of ageing skin.
---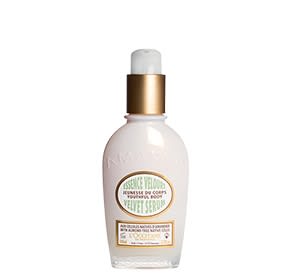 L'Occitane Almond Velvet Serum
RM 212.26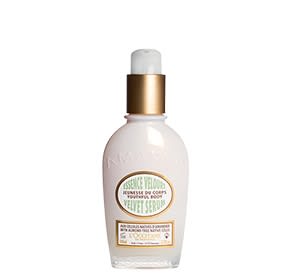 add_circle
Works towards reducing dark spots
add_circle
Works well for psoriasis and atopic dermatitis skin types
remove_circle
Bottle is heavy and not travel-friendly
This pretty-looking bottle that comes with L'OCCITANE's Almond Velvet Serum, is a concentrated cream that acts on the five signs of ageing; dryness, skin laxity, lack of tone, wrinkles and skin irregularities. It is also effective to help reduce the appearance of dark spots on all parts of the body.
The almond in the name comes from sweet almond oil, that aids for the dryness of your skin with the help of vitamin E to soothe the irritation caused by a constant itch of flaky skin. You also have the likes of sunflower seed oil, which has rich emollient properties to help the skin retain its moisture, keeping it hydrated for a long period.
Rosa centifolia extract also comes with antiseptic properties to treat acne and be able to control skin conditions such as psoriasis and atopic dermatitis. With its floral scent of almond blossoms, L'OCCITANE is able to leave the body with its creamy texture, feeling incredibly silky and velvety.
---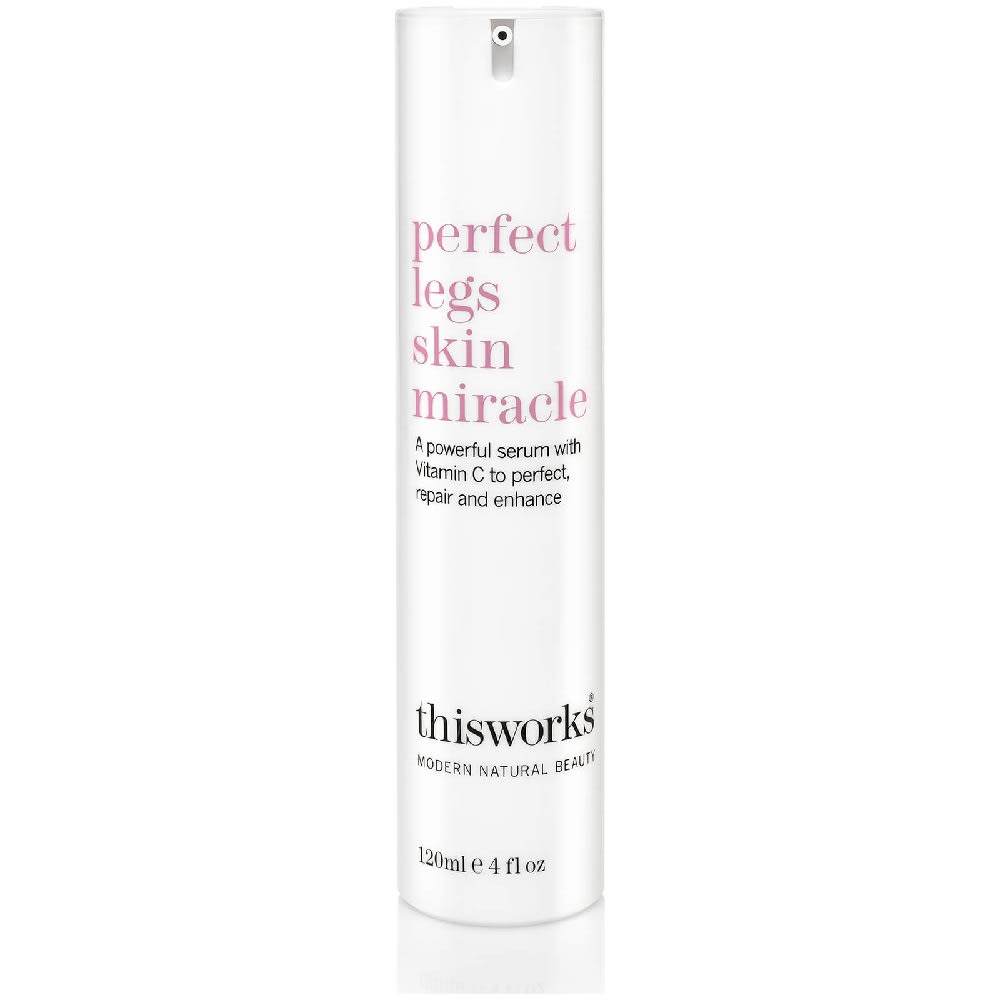 This Works Perfect Legs Skin Miracle
RM 211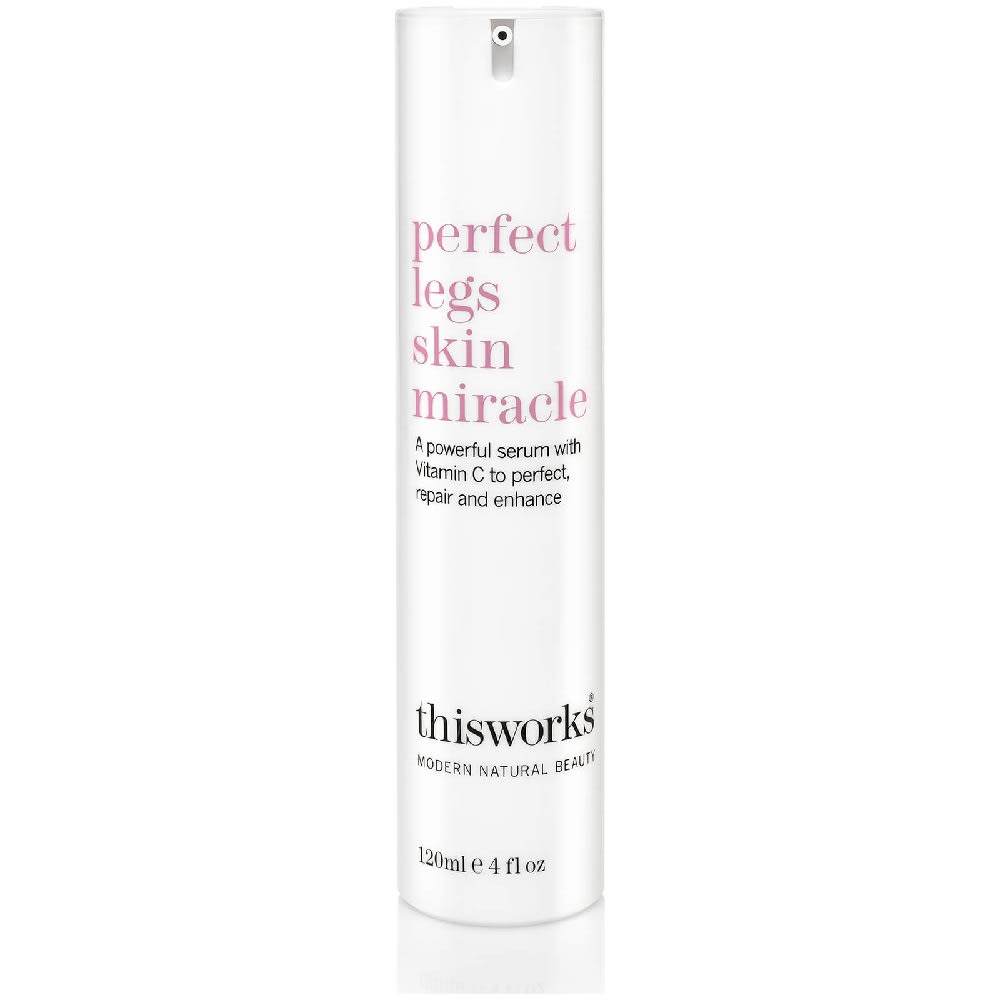 add_circle
Leaves skin with a shimmery glow
add_circle
Does not leave a sticky residue
add_circle
Dries quickly and does not stain clothes
Vitamin C has many benefits, ranging from vitamin tablets to healthy drinks to even being in the food we consume each day. Apart from consuming it, we need it for the epidermis layer of our body too.
One of the many wonders it does for your skin includes boosting collagen production to prevent wrinkles and fine lines all over your body. With vitamin C serums, you have the potential to improve the parts of your body that needs help.
THIS WORKS Perfect Legs Skin Miracle is able to aid with that help. Instantly able to combat discolouration and scars THIS WORKS is actually able to do wonders for your legs and your whole body.
Apart from having vitamin E to restructure the skin, one of its key ingredients also include arnica extract that does wonders to fade bruising of the skin and is equipped with antiseptic, anti-irritant and anti-inflammatory properties. This lightweight non-greasy formula will be able to give your skin a sun-kissed glow in no time!
---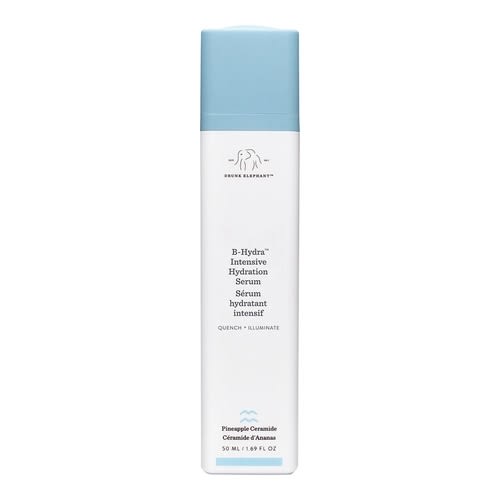 Drunk Elephant B-Hydra Intensive Hydration Serum
RM 207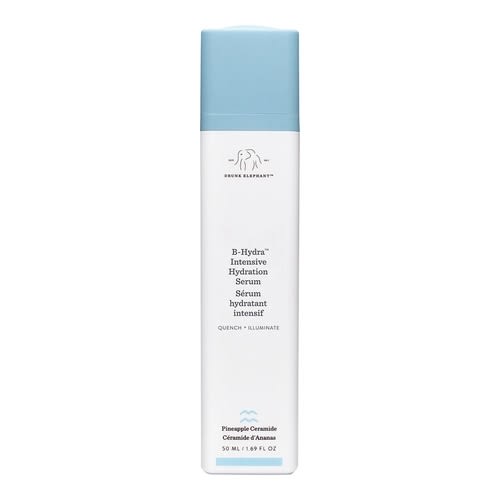 add_circle
Suitable for sensitive prone skin
add_circle
Non-sticky formula
add_circle
Hydrates dry skin
remove_circle
Could cause irritation and rashes for certain skin types
Skin's feeling thirsty? Have a cool glass of Drunk Elephants' B-Hydra™ Intensive Hydration Serum. This ultra-hydrating serum replenishes the look of skin tone and texture with its hydrating ingredient list.
Formulated with vitamin B5 and pineapple ceramide, B-Hydra™ helps keep the skin quenched by absorbing moisture from the air. It also delivers a steady amount of hydration throughout the day, resulting in the skin to look replenished and illuminated.
With a variety of a blend consisting of lentils, apples and watermelon complex, B-Hydra™ helps get rid of dryness and drabness together with the appearance of fine lines, with a 24-hour hydration limit.
You also have the likes of barberry extract helps soothe acne-prone skin while a sodium hyaluronate cross-polymer soaks into the skin to guard against free radicals. With a pH level of 5.7, Drunk Elephant is free of essential oils, silicones and fragrances. It's 100% vegan based and therefore is considered ideal for all skin types, giving you a more hydrated youthful look with every application!
---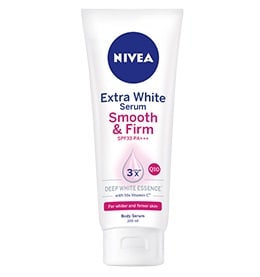 Nivea Extra White Smooth & Firm Serum
RM 16.6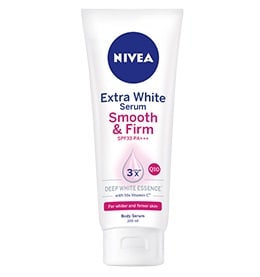 add_circle
Smooth and creamy texture
add_circle
Oil-free residue
add_circle
Comes with SPF 33
add_circle
Non-greasy formula
remove_circle
Skin whitening effect is mild
Nivea's Extra White Smooth & Firm Serum comes with the unique combination of deep essence and UV filters for a more noticeable smoother skin. With vitamin C needed as a potent antioxidant that helps neutralize free radicals and helps your body repair damaged skin cells, this creamy formula is also formulated with superfruit, Camu-Camu extract.
This super berry contains high levels of niacin, meaning it has an incredible effect on melanin-producing cells so that any spots due to sun damage and discolouration left by acne will disappear in the time to come.
It is also enriched with firming ingredient Q10, which helps to provide the skin with a load of production of collagen and also be of help to fight the signs of ageing skin, such as fine lines and wrinkles.
With the likes of SPF 33 PA +++, you will be protected from UV rays as well, to ensure that your skin's elasticity is protected throughout the day.
---
Argan Deluxe Argan Oil Hair & Body Serum
RM 55
add_circle
Works as a hair serum too
add_circle
Fragranced with a mild vanilla and amber scent
remove_circle
Glass bottle is not travel-friendly
A serum made specifically for restoration purposes, Argan Deluxe's Argan Oil Hair & Body Serum gives you back the shine and vitality you once had. A paraben-free and synthetic fragrance-free liquid serum, Argan Deluxe contains an ingredient essential for the betterment of the hair and skin- argan oil.
It falls in the middle of the spectrum; it's not too heavy, not too light, but just perfect for usage on all skin types. The serum also helps to reduce inflammation, soothe pain, promote healing and restore back skin's natural beauty to the glory days.
Argan oil also supports the body's natural prevention of dehydration and sebum protection. With an exceptional percentage of essential fatty acids, one of which being linoleic acid (Omega 6), to ensure the repair and defence of hair and skin is functioning properly.
You also have the likes of vitamin E to protect the cell membrane against oxidization and eventually slowing down the process of hair and skin ageing. This serum is your gateway to a healthier, youthful, radiant-looking skin and hair soon.
---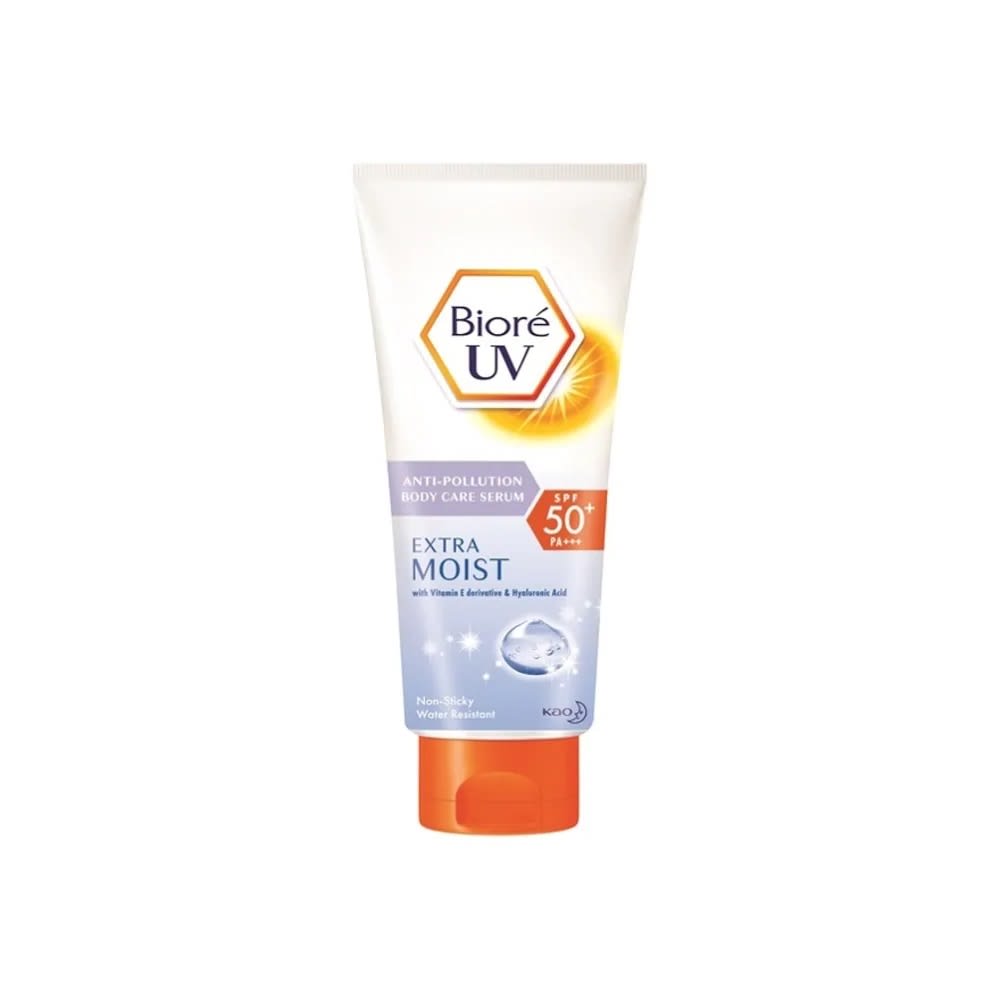 Biore UV Anti-Pollution Extra Moist SPF 50+ PA +++
RM 29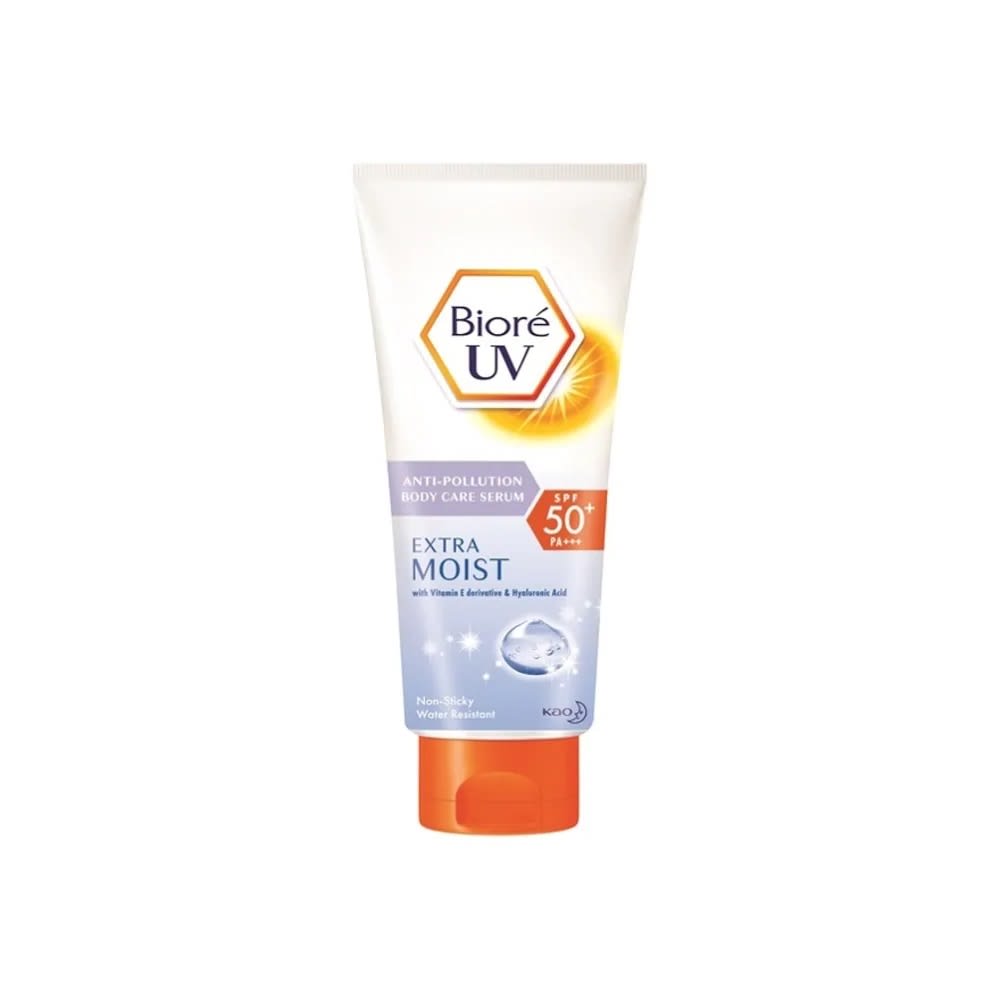 add_circle
Contains SPF 50+
add_circle
Non-sticky formula
remove_circle
Skin may feel a little dry towards end of the end
Protect your skin from the harsh rays of the sun with this 3-in-1 multi-beneficial UV Anti-Pollution Extra Moist SPF 50+ PA +++ BY Biore. Their anti-pollution shield helps form a protective shield that helps strengthen the skin against pollutants.
It is infused with vitamin E, which is an antioxidant great at combating the effect of free radicals and is also beneficial at reducing UV damage to the skin with Japanese mineral water.
Hyaluronic acid is used for intensive moisturizing, especially during alleviating dry skin by reducing fine lines and wrinkles, even being of help for a variety of conditions, relating to skin and joint health.
Another important ingredient formulated is vitamin B3, also used in the form of niacinamide. This vitamin works towards preventing water loss and regain back skin's moisture content.
Apart from being known to increase keratin, when it comes to ageing, niacinamide improves the skin's surface structure, resulting in it to be smooth textured. Perspirant resistant and non-sticky, this serum will keep you feeling moist under the rays of the sunny sun!
---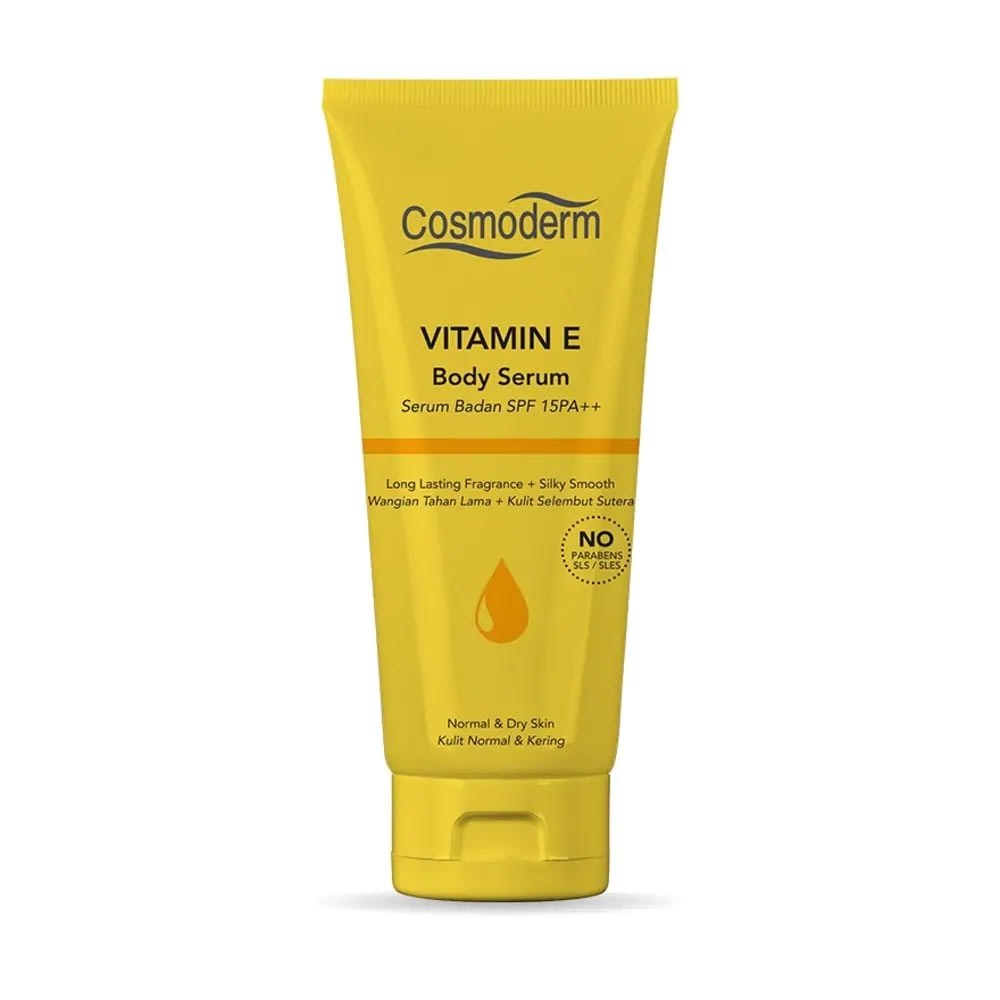 Cosmoderm Vitamin E Body Serum
RM 14.4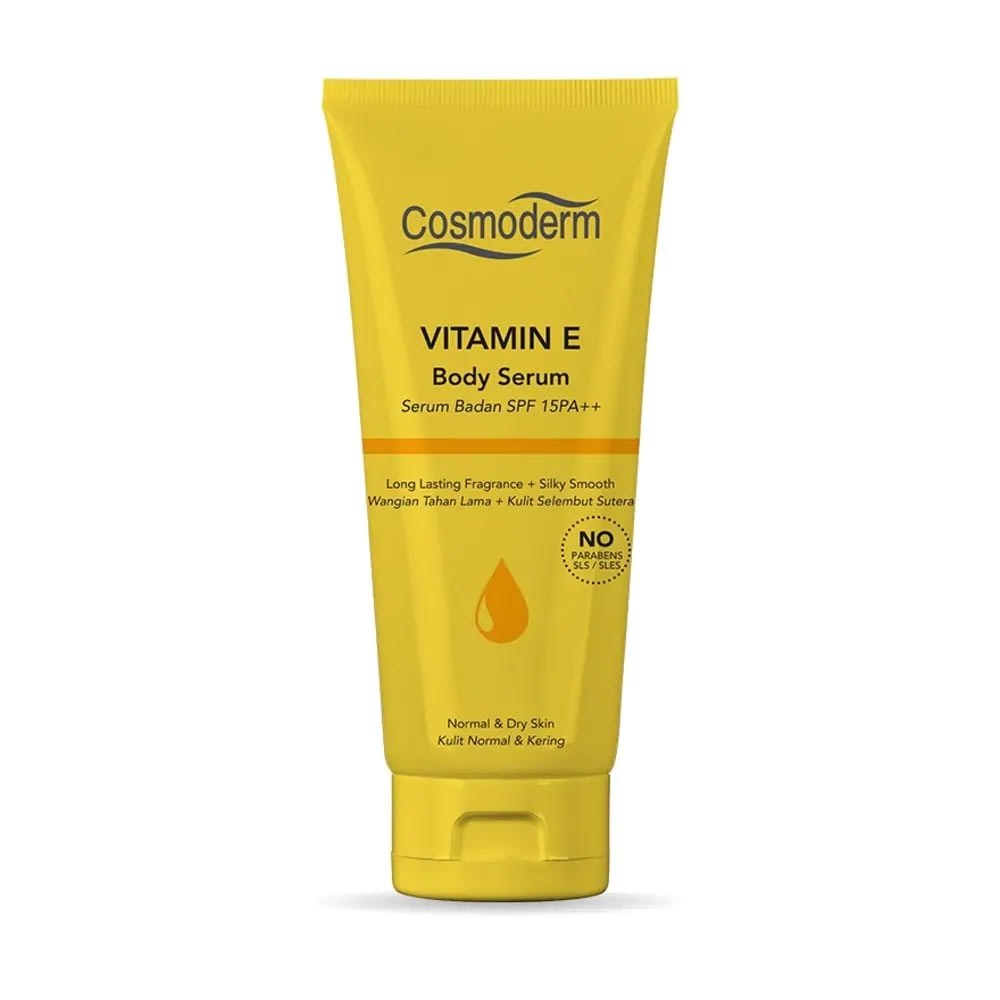 add_circle
Non-greasy formula
add_circle
Contains honey as a soothing agent
add_circle
Contains SPF 15
remove_circle
Contains alcohol
Vitamin E is important in the use of skincare as it protects your skin, from damages caused by free radicals. To get your hands on this powerful antioxidant, first, you have to purchase Cosmoderm's Vitamin E Body Serum.
Additionally, vitamin E has moisturizing and healing benefits and strengthens the skin's barrier function in the process. Among its many benefits, it proves to be a natural anti-inflammatory agent when it comes to soothing and helping calm, about all skin types.
Cosmoderm's serum also comes with SPF 15 PA ++, which is an added bonus, as vitamin E is effective at reducing UV damage to the skin.
Apart from vitamin E, you also have the combinations of honey, sunflower seed oil and rosehip oil for the betterment of the serum. As you all know, honey is an ingredient found in many skincare products for being humectant.
Aside from moisturizing your skin, in skincare it acts towards calming inflammation, lightening scars, brightening skin's complexion and soothing it, all the while being an anti-ageing agent. Smooth, soft and silky, this serum is easily absorbed by being oil-free.
---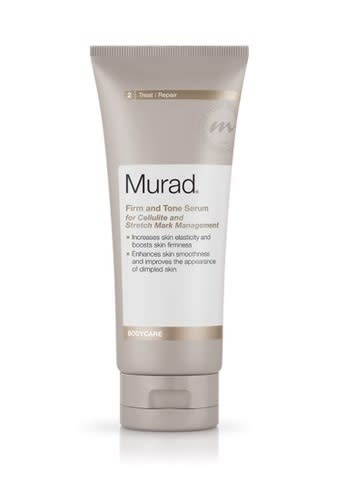 Murad Firm and Tone Serum
RM 358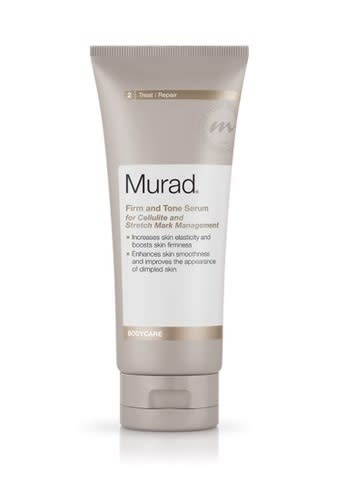 add_circle
Firms and tones the skin
add_circle
Helps with cellulitis
add_circle
Non-sticky residue
add_circle
Grease-free formula
remove_circle
Might sting for sensitve skin types
remove_circle
Overpowering smell
Your stretch marks are a sign of beauty but if it ever gets too overwhelming, try Murad's Firm and Tone Serum. It will be able to minimize the appearance of cellulite and stretch marks that you are uncomfortable with.
This multitasking lightweight serum is able to enhance your skin's smoothness by improving the appearance of dimpled skin as well. Some of Murad's notable ingredients include caffeine for its vasoconstrictive qualities that are useful for treating puffiness, swelling and inflammation. Retinol in the ingredient can boost the amount of collagen your body makes by plumping out skin, to be able to cut down fine lines and wrinkles
There's also Centella Asiatica extract that's beneficial for stretch marks by preventing scarring and salicylic acid which helps in the removing of dead skin cells and bacteria from the skin, helping to purify and exfoliate the skin, resulting in a healthier appearance.
Murad's Firm and Tone Serum is sure to improve overall skin appearance by up to 94% and reduce the cellulite's by up to 77%, if used on a daily basis, once in the morning and once at night.
---
Disclaimer: The pricing shown is just a good indication of how much these products are worth. The prices could change based on the e-commerce promotions that are going on. If some of the products are not available, do email us at [email protected] Thank you!
Like writing about great products? We're hiring! Learn how you can write for us!