Hyperpigmentation is a common skin condition that can pose as a skin distress for some who are worried about their appearance and being unpleasant-looking.
This condition typically occurs when the skin produces more melanin, which is a pigment that gives colour to the skin. As a result, the affected spots or patches will appear darker on the skin compared to the rest of the skin area. 
The condition can affect anyone on any part of their skin, including their face. As facial appearance garners a huge role in almost everyone, spotting scars on our faces triggers a great sense of insecurity within ourselves. 
Thankfully, there have been an array of topical skincare products such as face serums to help combat this issue. 
It is important to look for serums that contain an abundant load of antioxidants such as vitamin C as its brightening properties will help reduce hyperpigmentation scars. 
We have rounded up some of the best face serums for pigmentation in Malaysia to help you remedy your concern on dark spots.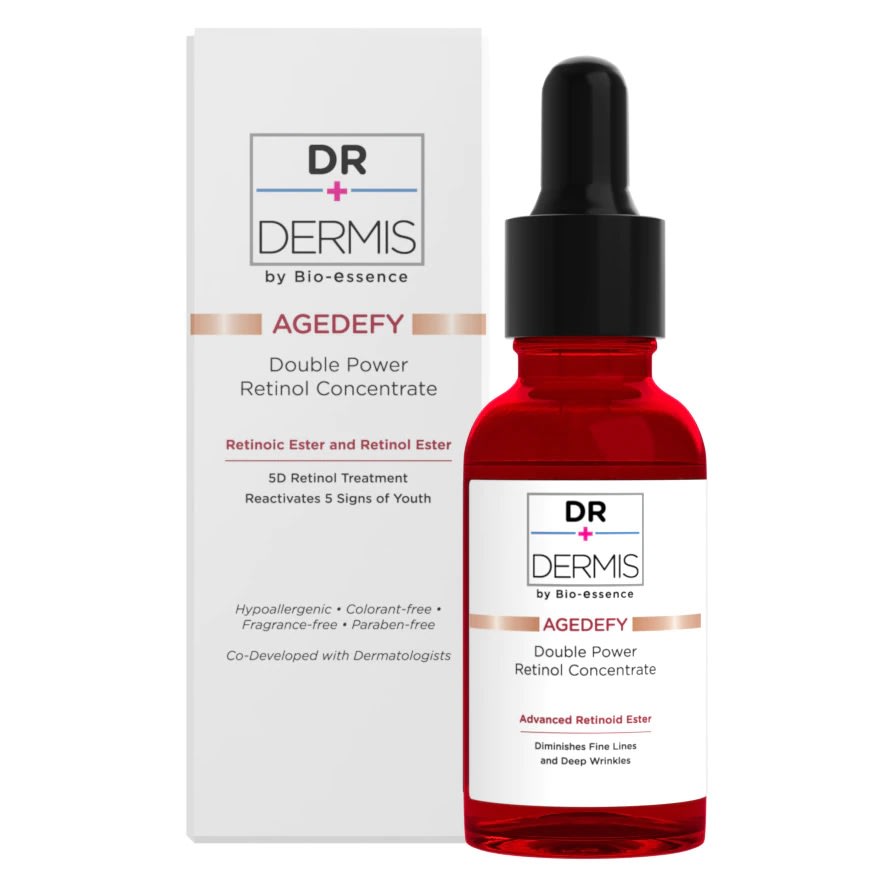 Check Dr. Dermis Agedefy Double Power Retinol Concentrate price below:
add_circle
Good for sensitive skin
add_circle
Great for fading age spots
Why It's Our Top Pick?
The Dr. Dermis Agedefy Double Power Retinol Concentrate stands out for its innovative 5D Retinol Treatment, effectively reactivating youthful skin signs. By combining retinol esters with the Derma-Mimic Complex, this serum offers comprehensive skin benefits, making it our top choice for those seeking radiant skin with improved texture and tone.
Overview
Indulge in a skincare transformation that reawakens your skin's youthful glow – introducing Dr. Dermis Age Defy Double Power Retinol Concentrate. Specially formulated to address the 5 signs of ageing, this innovative 5D Retinol Treatment harnesses the power of science and nature for remarkable results.
The formula combines the potency of Retinoic Ester and Retinol Ester for a gentler yet highly effective solution that diminishes fine lines, evens out skin tone, and boosts radiance. Powered by the Derma-Mimic Complex, it revitalises your skin's barrier function and locks in moisture for a healthy, hydrated complexion.
Details
5D Retinol Treatment addresses 5 signs of youth

: wrinkle reduction, +55% moisturization¹, +75% radiance, improved clarity, and +92% uplifted skin.

Derma-Mimic Complex:

Emulating natural skin lipids, it repairs and strengthens the skin barrier, enhancing hydration and locking in moisture.

Retinoic Ester:

A gentle Vitamin A derivative that visibly improves fine lines, wrinkles, and skin texture.
Who is this for?                                
Are you seeking a skincare solution that reveals your skin's inner radiance while addressing the signs of ageing? If you want to reduce fine lines, enhance moisture levels, achieve a vibrant complexion, and improve skin clarity, Dr. Dermis Age Defy Double Power Retinol Concentrate is designed for you.
Whether you are new to retinol treatments or seeking a gentler option, this formula suits all skin types and is perfect for those seeking a healthier, more youthful-looking appearance.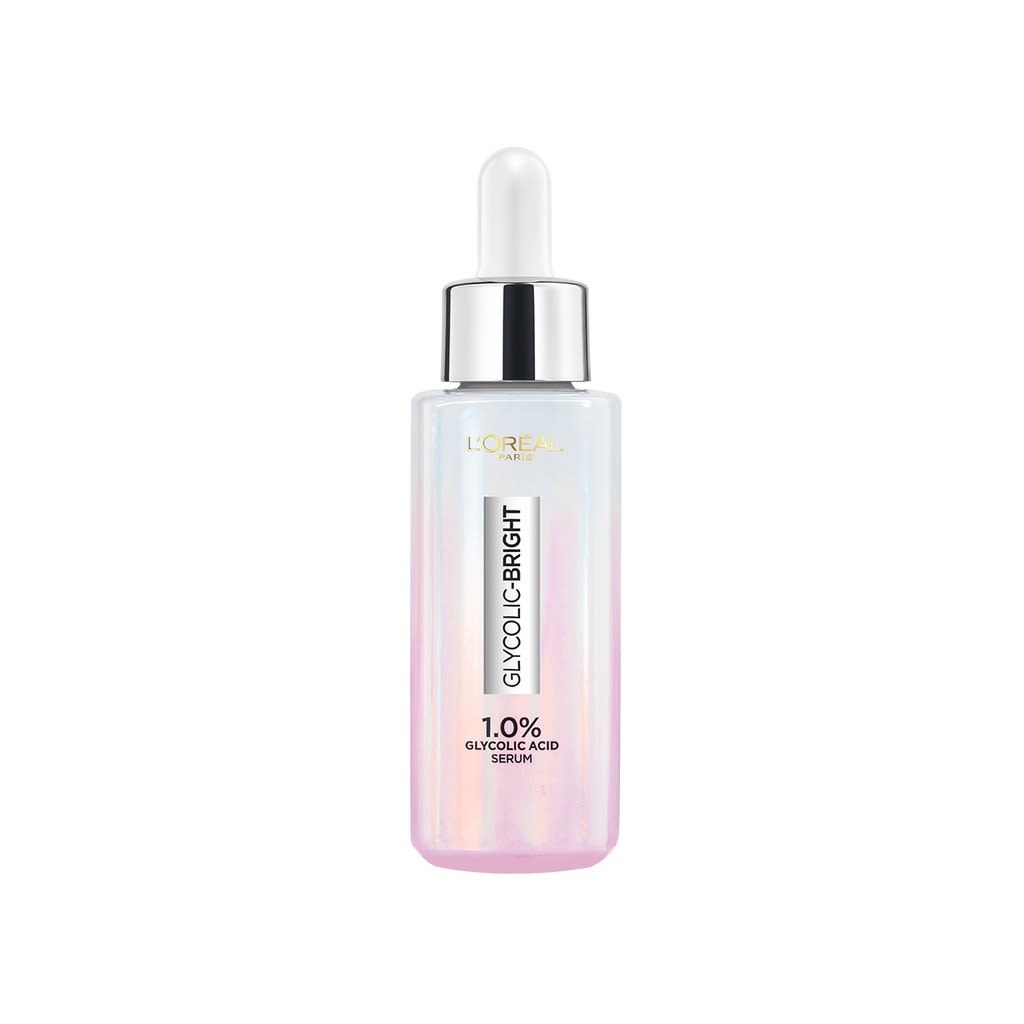 Check L'Oreal Paris Glycolic Bright Instant Glowing Face Serum price below:
add_circle
Can also reduce wrinkles and plump skin
add_circle
Suitable for Asian skin
add_circle
Diminish the dark spots effectively
remove_circle
Slightly sticky
Overview
Elevate your skincare routine with the L'Oréal Paris Glycolic Bright Instant Glowing Face Serum, a dynamic solution for those seeking to address pigmentation concerns. Renowned for its exceptional 1% Glycolic Acid concentration, this serum reduces dark spots by an impressive 57% and unveils a luminous, even-toned glow.
Thus, you will achieve optimal results safely with daily use across all skin types, as this serum has been tested for Asian skin tones. Plus, if you use it daily, you will achieve the immediate result within 2 weeks!
Details
It contains LHA for gentle exfoliation and refined skin texture

Enriched with Adenosine to combat signs of ageing

Formulated with optimum concentration of 1% Glycolic Acids

Suitable for all skin types
Who is this for?
If you are on a mission to reduce the visibility of your dark spots, refine skin texture and enhance overall radiance, this serum by L'Oréal is your partner in crime. The serum's 1% Glycolic Acid concentration effectively combats pigmentation, while LHA and Adenosine ensure your skin's texture and youthful appearance are optimised.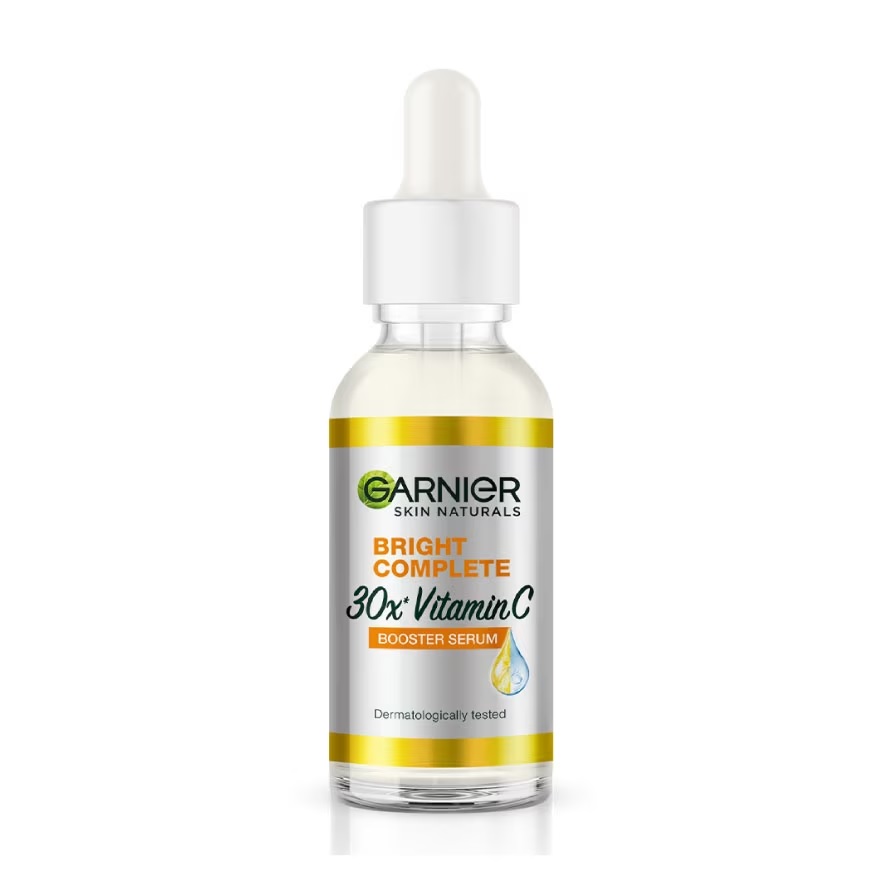 Check GARNIER Bright Complete Booster Serum with Vitamin C price below:
add_circle
Diminishes the appearance of dark spots and acne marks
add_circle
Works deeply to reduce spots in density, size, and colour
Overview
Unveil your skin's radiance with the GARNIER Bright Complete Booster Serum with Vitamin C, a remarkable breakthrough in facial pigmentation care. Plus, this serum is created to be your ultimate solution for addressing dark spots and achieving a more even skin tone. Further, infused with an unprecedented 30X* concentration of Vitamin C and the revitalising essence of Japanese Yuzu Lemon, this serum is a beacon of concentrated brightening power.
If you use this consistently, it will leave a remarkable effect of Vitamin C that illuminates your complexion, reducing the appearance of dark spots and ushering in a luminous and even skin tone.
Details
Highly concentrated Vitamin C 30X formula

Contains Japanese Yuzu Lemon extract

A fast-absorbing serum suitable for all skin types, including sensitive skin
Who is this for?
If you have been seeking a potent solution to combat facial pigmentation, this serum by Garnier is your answer. Whether your skin is oily, dry or sensitive, this serum is formulated to be a versatile choice! Therefore, you shall bid farewell to dark spots and acne marks as this serum works its magic, leaving your skin with a clearer and brighter skin tone.
Check Clinique Even Better Clinical Radical Dark Spot Corrector + Interrupter price below:
add_circle
Reduces dark spots regardless of age spots and acne scars
add_circle
gentle on all skin types
add_circle
non-sticky formula
remove_circle
Ingredient's list is not very public
remove_circle
not too affordable
Overview
Clinique Even Better Clinical Radical Dark Spot Corrector + Interrupter has proven to be one of the most potent brightening serums to reduce discolouration visibly. This serum is effective against blemish scars and in preventing the occurrence of future dark spots.
The formula combines a blend of anti-irritants and soothing botanicals that suppress skin irritation and correct signs of skin damage caused by environmental aggressors. Besides, the serum's proprietary brightening molecule evens skin tone while reducing the sight of dark spots, age spots and blemish marks.
Details
It contains key ingredients of

Ascorbyl glucoside, Salicylic acid, UP302 and Glucosamine

Free from denatured alcohol, SLS, SLES, and sulphates

Suitable for all skin types
Who is this for?
If you are seeking an advanced serum that can dramatically improve your overall skin, this serum by Clinique is a fantastic choice. It is formulated with patented CL302 Equaliser Technology that is more concentrated. The boosted technology delivers a brightening result without damaging your skin.
Say goodbye forever to the dark spots, age spots, and blemish marks as the serum penetrates up to 21 layers deep into the skin's surface. Most importantly, it does not contain parabens, phthalates and fragrance, making it safe to use the serum daily.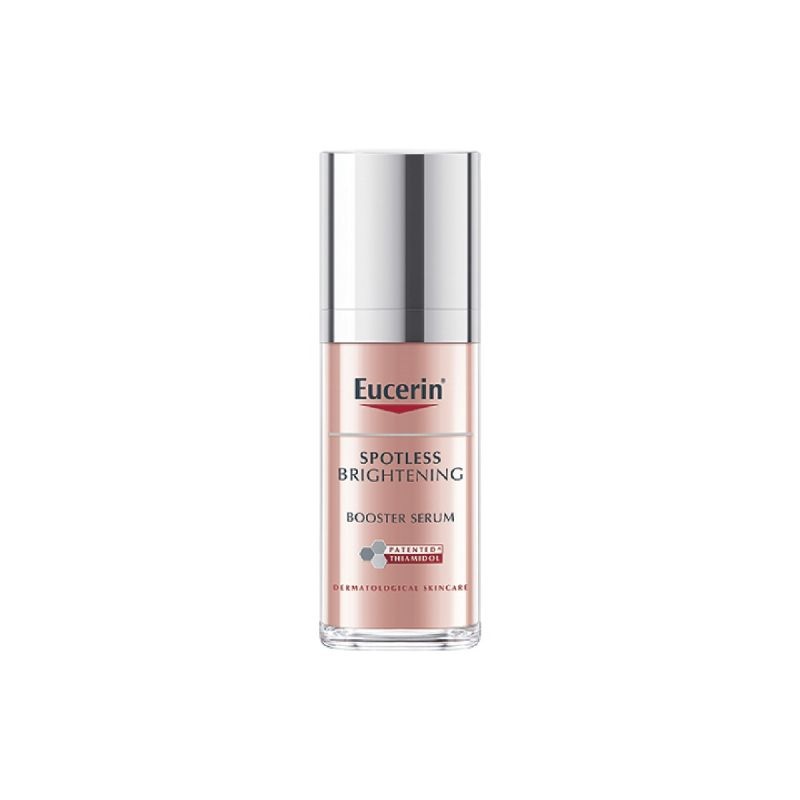 Check Eucerin Spotless Brightening Booster Serum price below:
add_circle
Reduces dark spots
add_circle
ultra-light formula that has quick absorption
add_circle
suitable for all skin types
remove_circle
Results can be slow
Overview
This serum contains Thiamidol, an effective and patented ingredient that targets the root cause of hyperpigmentation, working to reduce and prevent re-appearance with regular use. Concentrated hyaluronic acid, on the other hand, attracts and retains moisture on your skin's surface.
Its formula is loaded with 40 times smaller hyaluronic that penetrate deeply into your skin to renew your skin's texture. There are also 10 times more powerful whitening ingredients to fade dark spots. And finally, the formula is fortified with light emulsion, which has been dermatologically proven to reduce dark spots and prevent reoccurrence. 
Details
Formulated with 100% of certified sustainable palm oil and derivatives

A dual serum with Thiamidol and Hyaluronic Acid

New mono-chamber packaging, proven efficacy
Who is this for?
Does your skin tone get uneven and damaged due to exposure to sunlight? Worry no more; this serum can reduce hyperpigmentation and prevent re-appearance if you use it regularly. Whether you're grappling with age spots, sun spots, or post-acne marks, this serum adapts to your unique skin needs.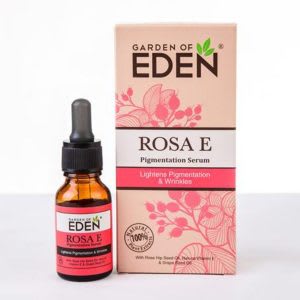 Check Garden of Eden Rosa E Pigmentation Serum price below:
add_circle
Reduces the formation of pigmentation in the long run
add_circle
Moisturising properties to prevent premature wrinkles
remove_circle
Not everyone will fancy the slightly oilier texture
Overview
If you are looking for something more affordable yet still works great like the other branded serums, this gem of beauty will not disappoint! The Rosa E Pigmentation Serum is an elixir with pure rosehip seed oil, grape seed oil, and natural vitamin E to lighten pigmentation and dark spots naturally. The result is an improved overall skin complexion.
It is consumed with essential fatty acids that help moisturise and nourish your skin while promoting skin cell regeneration and repair. It also effectively reduces fine lines and wrinkles.
Details
Contains key ingredients of

Rosehip Seed Oil, Grape Seed Oil, Vitamin E

Promotes skin repair and regeneration

Suitable for all skin types
Who is this for?
Are you having trouble finding an effective serum to diminish dark spots without breaking the bank? Fear not, as this serum by Garden of Eden is your answer. Whether you are combating uneven skin tone or acne marks or simply seeking a complexion boost, this serum is a remarkable choice.
Suitable for all skin types, this serum can repair your skin and lighten your skin tone. Wake up to softer, smoother, brighter skin that tells its own story.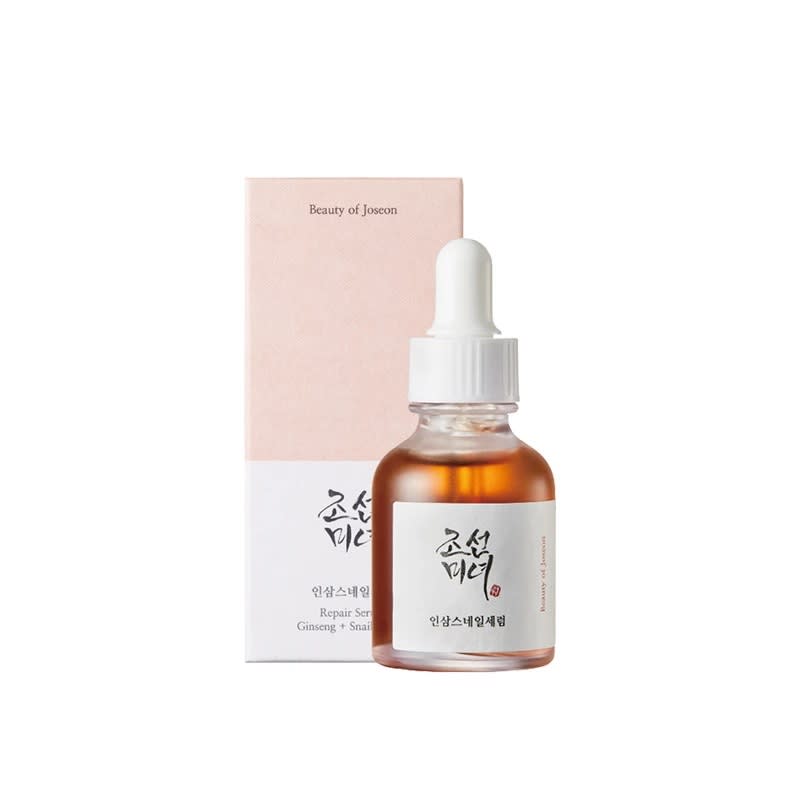 Check Beauty Of Joseon Repair Serum : Ginseng + Snail Mucin price below:
add_circle
Very nourishing to the skin
add_circle
Many anti-aging benefits
add_circle
Anti-inflammatory product
Overview
This serum by Beauty Of Joseon is enriched with traditional Korean herbal ingredients that work to restore your skin's complexion. The Snail Mucin filtrate, as the key ingredient, evens out skin tone, reduces hyperpigmentation and scarring, and improves cell turnover.
The Ginseng root water, known for its antioxidant and healing properties, boosts circulation and smoothes fine lines and wrinkles. Brace yourself for a radiating and healthy skin glow!
Details
Contains 3% Snail Mucin to repair damaged skin and scars

Formulated with key ingredients such as Licorice, Cornus officianalis, ginseng root water
Who is this for?
Have you ever looked in the mirror and seen the signs of ageing on your face? No more fear, Beauty Of Joseon Repair Serum: Ginseng + Snail Mucin is here! It has a luxurious nourishing texture filled with moisture, providing a soft and silky skin finish.
Plus, it uses one of the common ingredients from Jeseon's era, which is effective for skin brightening and preventing the formation of wrinkles. Besides that, the serum contains collagen and elastin that help your skin's elasticity and synergistically improve wrinkles with ginseng.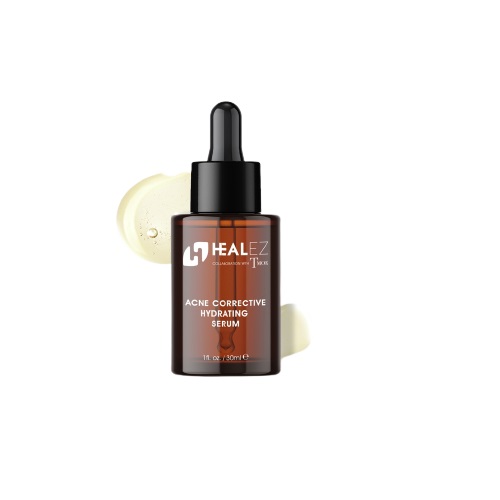 Check HEALEZ Acne Corrective Hydrating Serum price below:
add_circle
Free from artificial colour and fragrance
add_circle
Combat bacteria that clog pores and trigger acne
Overview
Suppose you are looking for a serum that effectively removes your acne scars and improves pigmentation. In that case, this serum is a perfect addition to your skincare products—formulated with 2% Salicylic Acid using ACSD technology which works effectively on the skin while preventing irritation to the skin.
Moreover, it blocks the new formation of acne as it contains 4% Niacinamide, Ceramide, and Peptide and gives ample moisture. Plus, it speeds up the acne scar healing without stripping off the moisture.  
Details
It has a triple-threat formulation that fights acne-causing bacteria, prevents future breakouts, and speeds up scar recovery

Contains key ingredients of Hypochlorous Acid, Spanish Cherry Extracts, Niacinamide, Centella Asiatica Extracts, and Bearberry Extracts

Gently exfoliate for clear pores and smoother skin
Who is this for?
Elevate your skincare routine with the HEALEZ Acne Corrective Hydrating Serum, the go-to solution for those striving to unveil clear, vibrant skin. This serum suits various skin types and tones and is ideal for anyone looking to bid farewell to acne breakouts and pigmentation issues.
Whether you're dealing with persistent blemishes or striving to heal acne scars, this transformative serum is your dependable ally in achieving radiant, healthy skin.
---
- What is a face serum?
It might sometimes feel as if you need a degree just to understand what different skin care treatments accomplish. Take, for example, serums. What differentiates them from moisturisers? What are the perks of including this step in your skin-care regimen?
Face serums are essentially delicate moisturisers with a better concentrations of various ingredients, such as hyaluronic acid, glycolic acid, and vitamin C.

Compared to the usual face moisturiser or toner, serums are best for treating a specific problem in your skin.

Known for their potency, many serums are frequently used to treat particular skin issues such as wrinkles, dark spots and pigmentations. 

Because serums are typically lighter than moisturisers, making them ideal for layering, and they can be found in a variety of formulas, including gels and even oils.
---
- What causes pigmentation on the skin?
There are varying causes of hyperpigmentation. Below lists the most common types of causes:
Prolonged exposure to the sun causes the body to produce excess melanin, the pigment that causes dark spots, in order to shield the skin from the UV rays. Thus, this causes dark spots or patches on the skin known as age spots or sun spots. 
Certain areas on the skin may be darker compared to its surrounding area for some people who experienced inflammation on the skin. This includes acne, eczema, lupus or skin injury, all of which can lead to post-inflammatory hyperpigmentation. 
Hyperpigmentation can also be the cause of hormonal changes. This is most common during pregnancy. 
There are certain medications such as antimalarial drugs and tricylic antidepressants that can also cause hyperpigmentation. Skin patches can be observed turning into grey. Besides this, certain chemicals in topical treatments too can lead to hyperpigmentation.
Last but not least, the more serious case of hyperpigmentation includes Addison's disease. This affects the adrenal glands that cause hyperpigmentation in certain areas of the body. The other type is, hemochromatosis which is a genetic condition that causes a person's body to withhold too much iron. This can lead to hyperpigmentation and cause the skin to appear darker.
---
- How can we prevent or reduce hyperpigmentation?

 
If you're troubled by dark patches on your skin caused by hyperpigmentation, rest assure that there are many alternatives than ever before for reducing that mild but tedious discolouration. Still some changes to your lifestyle may be required.
These are usual common steps you may take to reduce hyperpigmentation.
Avoid direct sunlight:
During the prime hours of 10 am to 2 pm, try to keep out of the sun. When you're outdoors, sit carry an umbrella, or sit under the shade to limit your sun exposure. 

Dermatologists advise against tanning on sunbeds or have extensive sun exposure as these are some of the most frequent causes of skin pigmentation and are also the hardest to get rid off. 

Not only that, but long exposure to the sun can cause damage to your skin barrier as well as increase the risk of skin cancer.
Consider Vitamin C a part of your skincare regime:
Vitamin C is highly praised in the realm of skincare. For good reason, some consider it the pinnacle of all things skin-related. 
This amazing antioxidant and anti-inflammatory ingredient are believed to enhance skin tone and texture, moisturise the skin and minimise the effects of ageing (mainly caused by sun exposure). 

Vitamin C may be found in fruits and vegetables, but it's not the only approach to enjoy its skin-health benefits, it's also regularly utilised in cosmetic products. 

Aside from serums, this powerful antioxidant is also found in cleansers, oils and moisturisers for the face

.
Very Important - Apply Sunscreen/SPF:
The good news is that avoiding dark spots frequently is easy when you use sunscreen daily.
Sunscreen is necessary for hyperpigmented skin as it protects and inhibits dark spots from forming due to sun damage. 

Long exposure to sun cause hyperpigmentation on your skin, such as age spots, post-inflammatory hyperpigmentation, or melasma,. So if you face any of these issues, it's likely due to sun exposure.

Do use broad-spectrum sun protection formulas with a high UV protection factor (SPF 50) all year, even if you're staying indoors as there are harsh sunlight exposure through the windows. 
Limit touching your skin:
It's important to avoid pinching or scratching a mosquito bite or a patch since it might cause irritation and deeper pigmentation on your face. 

If you must touch your skin, such as applying skincare or cosmetics, make sure you wash your hands beforehand.
---
- What ingredients are most useful in a face serum?
Antioxidants:
This active ingredient protects the skin against damage caused by the sun, as well as damage caused by environmental factors, pollutants, and free radicals.
Retinol:
Vitamin A derivatives, also known as retinols, have potent anti-aging actions. Retinols aid in the formation of collagen in our bodies and can assist with healing acne, wrinkles, and fine lines.
Hyaluronic Acid:
Hyaluronic acids, also known as hyaluronan, are a naturally occurring element generated by the body, with the highest concentrations found in our eyes, skin, and other connective tissues. 
By keeping the skin's natural water levels, hyaluronic acid keeps it moisturised and hydrated, preventing dryness.
Anti inflammatory agents:
Anti-inflammatory compounds, such as arnica, aloe-vera, zinc, and others, are included in many serums to reduce redness and inflammation that occurs on the skin. 
---
- Benefits of using a face serum
Hydrates your skin:
One of the most significant benefits of face serum is that it includes active moisturising components that keeps the skin hydrated. Hyaluronic acid is one of the components commonly found in serums, and it locks in moisture to keep the skin moisturised, smooth, and silky all day.
If you have normal to dry skin, this is a great skincare solution. Using moisturising face serums before a moisturiser at night results in healthy skin complexion.
Reduces skin blemishes:
Acne scars, pigmentation, and dark circles are frequent skin imperfections encountered on the path to achieving beautiful and healthy skin. By incorporating a face serum into your routine, they help to remove skin imperfections, especially serums with moisturising agents.
There will be less spots, scars, pimples, and other blemishes as they fade with frequent application of a serum, especially when using those with plant extracts. Plant extract derivatives are great as they heal the skin in a natural way without the use of harsh peels or chemicals.
Anti-aging benefits:
Want to look young for as long as possible? Retinol, Vitamin C, resveratrol and antioxidants are active elements in many facial serums that help combat wrinkles, dark spots, and fine lines. 
Face serums of various types also help to rejuvenate your skin for a healthy complexion. A word of advice to reap the benefits better is to use these serums at night, according to experts, for the best results since your skin will be naturally rejuvenating itself.
When it pertains to our skin's wellbeing, serums are a game changer. There are viable options to fit everyone's needs, no matter what they are. As a result, it is advisable to first determine the exact skin condition that requires treatment and then hunt for tailored serums that treats it.
Related articles