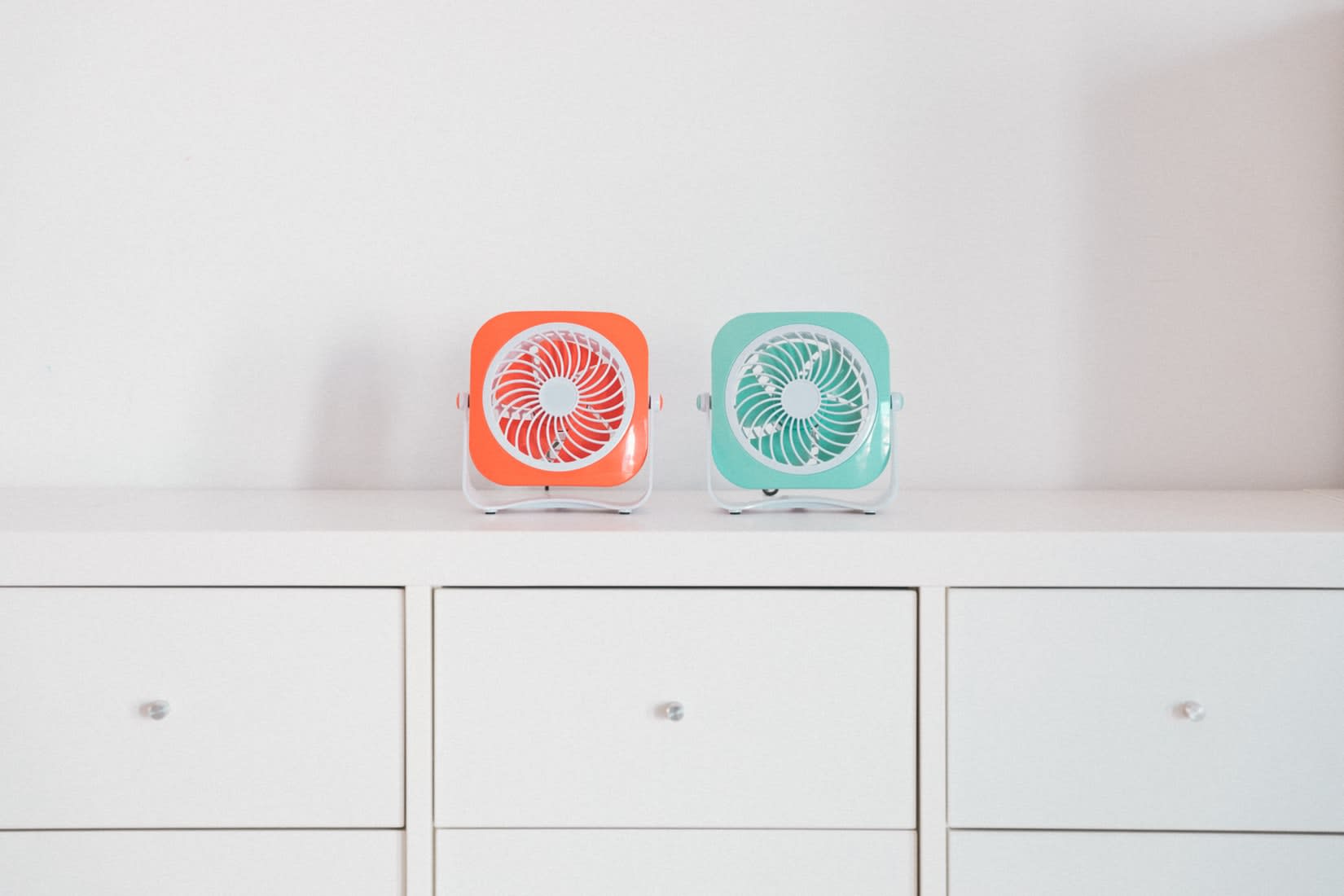 Fans are an absolute necessity when it comes to keeping us cooled off when the heat gets unbearable on certain days of the year. They are a great alternative to air-conditioners that are notorious for racking up the electricity bill. Table fans are budget-friendly, durable and flexible in terms of what they can do.
What are the uses of a table fan?
We all know that table fans are an easy and wallet-friendly way to cool yourself and your room down. But, did you know that they are other ways to maximise its potential?
If you're dealing with the lingering cigarette smell or the aftermath of a kitchen mishap, you could angle the table fan to push the smoke out from the room. Once the bad air is cleared up, you can turn it the opposite direction to distribute fresher air throughout the room.
It's important to keep the humidity levels in a room in check to prevent stuffiness. Higher-end fans can produce air circulation to lower humidity levels and keep indoor air well-ventilated.
Table fans are now available in large varieties of designs, shapes, and colours. They can blend in with the colour scheme and aesthetic of the room décor or serve as a statement piece that will draw attention as the focal point.
With the sheer number of table fans available in the market today, it can be frustrating to choose the right one. Don't sweat it, as this list has got you covered.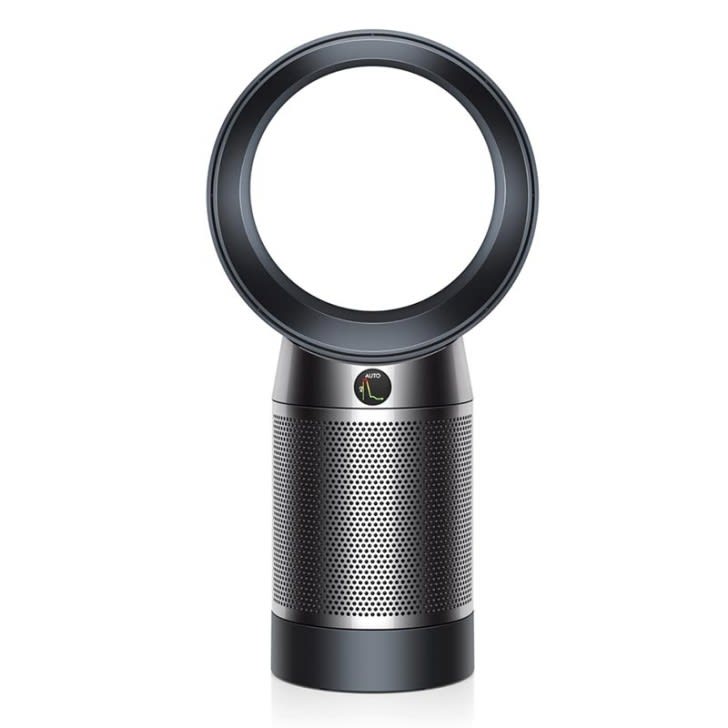 The Dyson Pure Cool DP04 doubles as both a cooling fan and an air purifier to keep you cool while providing you with clean air; its bladeless design keeps its entire operation quiet. When you set the fan to Auto mode, the DP04 will automatically sense real-time air quality and adjust the speed to treat the surrounding air.
To top it off, the oscillation angle of the fan can be adjusted from 45° to 350°, so every nook and cranny of the room can receive the purified and cooled air.
The Dyson AM06 is perfect for the bedroom as the gentle whirring of the cooled air, even at maximum power, will not keep you awake. Besides, there's a sleep timer that will automatically shut off the fan once the time runs out. This is a must-have for those who are prone to leaving their appliances on for too long.
All the elements of the fan are controlled by a remote which is magnetized for convenience. On top of that, the fan blades are not exposed to collect dust, so cleaning it will be a breeze.
This lightweight Opolar clip-on fan is ideal for a desk, car seat, baby stroller, and just about anything and anywhere that needs cooling off. Using a 5V/2A adapter, you can make use of the fan's 10W Quick Charge capabilities for a 25% increase in its charging speed. It can last up to 20 hours on low fan speed, 11 hours on medium speed, and six hours on high speed.
Panasonic's Table Fan F-MN404 features a compact form, so it's easy to fit it anywhere. Besides, the16-inch screen size and the powerful motor will provide a sufficient cooling effect no matter how high a temperature is.
Plus, you can customise the cooling effect conveniently with the oscillation feature and adjustable tilting fan head. There's also a three-speed setting to suit your preferred level of comfort.
This Xiaomi Solove Desktop Stand Fan F5 provides a wide-angle air supply of a 60° automatic horizontal swing and a 27° manual adjustment. When fully powered, its 4000-mAH battery can last up to 12 hours to keep you cool.
The fan also has the convenience of USB charging so it can be charged anywhere at any time. Additionally, the fan runs on a brushless copper core motor that is truly silent so that you can focus entirely on your cooking.
The Fancii Small Personal USB Fan is a simple yet modern-looking device that will make an excellent addition to your workstation. Its sturdy aluminium handle can be tilted up to 180 degrees, so it can efficiently emit cool air to any direction you want.
With the compact dimensions, this fan will not encroach on precious desk space. Plus, it operates via a USB connection so you can easily plug it to your computer, power bank, or any USB port.
Additionally, the fan functions at below 30 decibels so you can concentrate on your work without the distracting whirring sound of the fan blades.
Thanks to the Mamie Tabletop Fly Repellent Fan, you can enjoy your meal in the great outdoors without the pesky flies buzzing about your food. The reflective holographic spots on the flexible blades act a distraction to steer the flies away.
Additionally, the soft blades will come to a stop when touched by a foreign object but will resume when it's cleared. Also, it's lightweight so you can easily transport it anywhere, anytime.
Besides keeping you cool, the Deerma Mini Table Stand Fan comes with an LED Light to keep your study desk brightly lit. Furthermore, the flicker-free, soft lighting will serve well to minimize strain on your eyes even if you're working for long hours.
You can even choose between three levels of brightness for you to work comfortably. This mini stand fan features slim dimensions so it won't take up much space on your desk. Additionally, the fan can work for up to forty hours on a single charge.
The Alpha Vona 360 Table Fan comes with a remote control so you can easily manage your fan from a distance away. It provides comprehensive and continuous airflow throughout a room with the auto-oscillation angles available in settings of 30, 90, 180 or 360 degrees. Furthermore, the fan head has a vertical oscillation of up to 90 degrees so the airflow can make its way to hard-to-reach spots.
The Kuulaa Portable Water Spray Mini Fan gives you a nice, refreshing spritz of water while its powerful fan keeps you cool on hot, sunny days. Besides, there are three different fan speeds to choose and can be charged with just a USB port. Additionally, the fan can be clamped onto edges of desks with a maximum thickness of 4.5 cm.
As its name implies, the Opolar D-Cell Battery Operated Desk Fan runs on four D-grade batteries. If you don't own this type of cells, you can also charge it with a USB power source like your computer or power bank.
The fan also comes with a timer, so you can set it to work for 1,3, or 5 hours. Besides, its powerful brushless motor makes the fan emit strong airflow while still operating quietly.
Disclaimer: The pricing shown is just a good indication of how much these products are worth. The prices could change based on the e-commerce promotions that are going on. If some of the products are not available, do email us at [email protected] Thanks!