To apply makeup is like painting art.
You'll need a few things to get started, such as a blank canvas, some colours, and of course, most importantly—brushes! Sure, you can use your hands as it's undoubtedly much easier, but if you're the kind who doesn't like to get their hands dirty and smeared with colours, a brush is just what you need!
Utilising a brush in your makeup regimen will not only make the task easier but will provide a flawless finish. Therefore, today, we will be focusing on foundation brushes in specific. Having one that works well with you will definitely avoid your base makeup absent of patches and streaks.
With that, here are our recommendations of the best foundation brushes in Malaysia for you to get that flawless base!
7 Best Foundation Brush For The Perfect Base Makeup 2023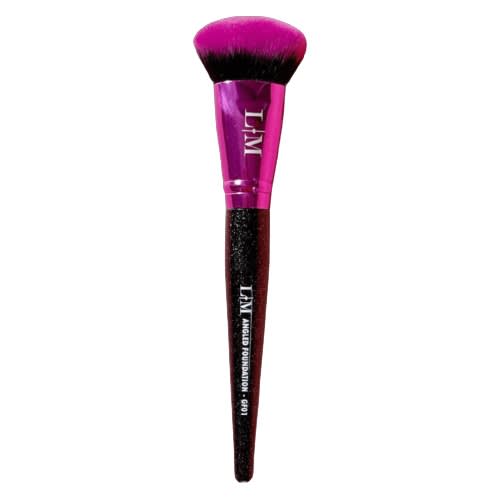 Check LM Angled Foundation GF01 price below:
add_circle
Gives great coverage
add_circle
Can be used with liquid or cream products
add_circle
Cruelty-free and vegan
add_circle
Heavy-duty plastic handle
Why it's our top pick:
"We love this foundation brush because of its unique feat which is its angled design that can make achieving an even application easier! We also love that its bristles are super soft, perfectly good for those with sensitive skin and the icing on the cake is that it's also a local product!"
Overview:
This Angled Foundation Brush from a local brand, LM, is a great option to apply foundation as it has a unique angled design to fit perfectly into the contours of your face such as under the eyes, your nose, the cheekbones, and jawline.
Aside from that, it is densely packed with soft bristles that are made with high-quality synthetic nylon hair that will result in great coverage, and a smooth, and flawless finish.
Details:
Densely packed bristles

High-quality synthetic nylon hair

Aluminium ferrule

Plastic handle
Promising review:
'I've been looking for a foundation brush like my Sephora one. Finally found it. The bristle is so soft. Loveeee it.' – Hailey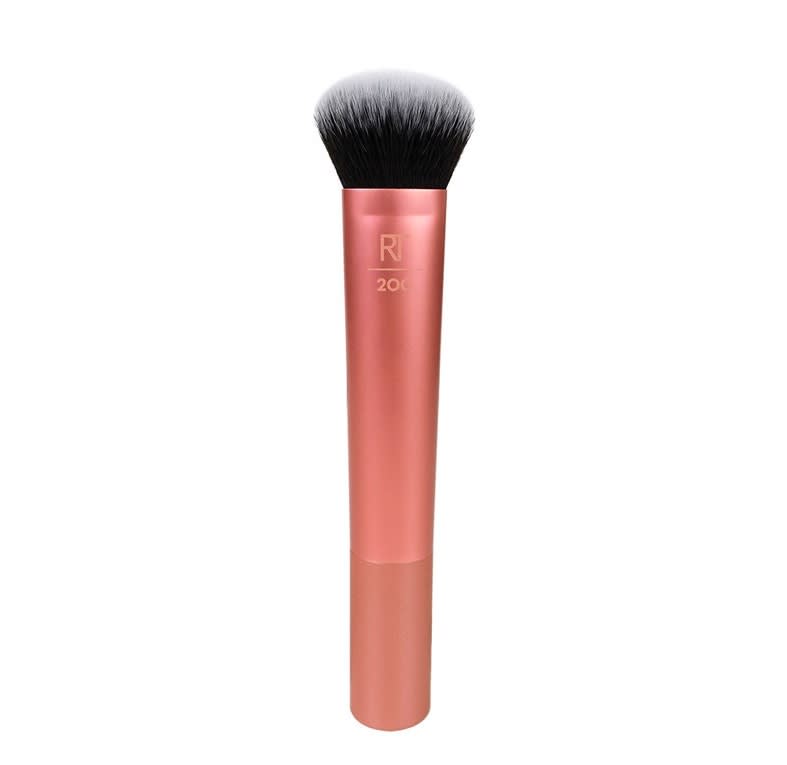 Check Real Techniques Expert Face Brush price below:
add_circle
Versatile makeup brush
add_circle
Can build products from medium to full coverage
add_circle
PETA certified
Overview:
If you want a more even foundation coverage, you might want to get the Expert Face Makeup Brush by Real Techniques. This foundation brush has synthetic bristles that are ultra-plush and claims to be smoother than hair! With that being said, the soft fibres will help you to achieve a flawless, high-definition finish with your foundation.
Aside from applying foundation with this makeup brush, it can also be used with other products as it is versatile. You may pair this brush with blush, bronzer, or even powder.
Details:
Synthetic bristles

Hand-cut brush head

Lightweight aluminium ferrules
Promising review:
'The first time I tried it was this morning. And the result was wow! so smooth brush and no streaking. All thumbs up!' – Camilla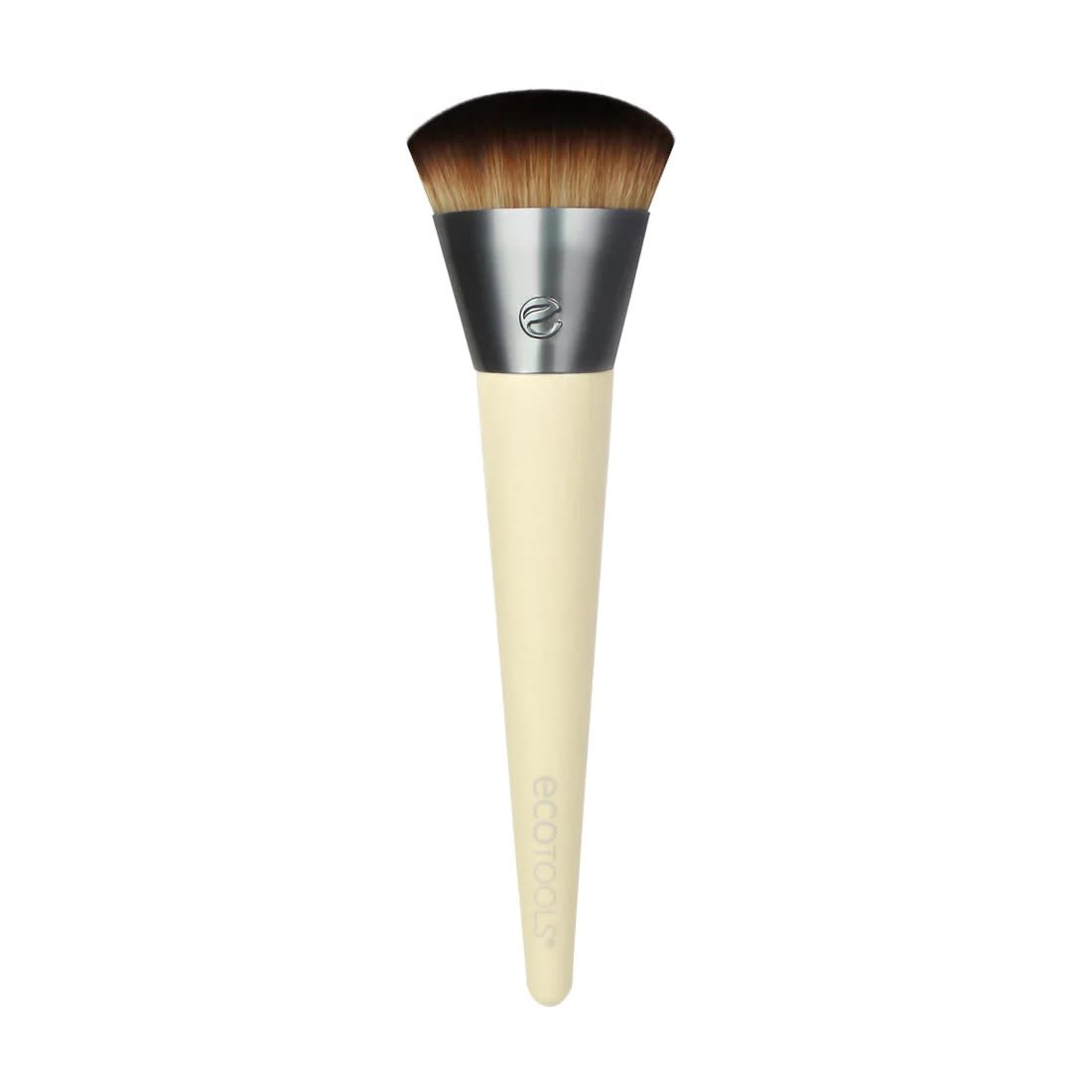 Check EcoTools Wonder Cover Complexion Brush price below:
add_circle
Can be used with liquid or cream foundation
add_circle
Suitable for sensitive skin
Overview:
If you're a cream foundation kind of person, this foundation brush would definitely help you elevate your makeup game! The EcoTools Wonder Cover Complexion Brush is made out of 100,000 bristles for a full coverage finish. With the right combination of your favourite foundation and this foundation brush, it can help cover rosacea, hyperpigmentation, and even the peskiest of blemishes.
Designed with a tear shape, this foundation brush helps you to apply foundation in hard-to-reach areas such as around the eyes for more even coverage.
Details:
Contains 100,000 soft bristles

Smooth, renewable bamboo handles

Synthetic Taklon bristles

Sleek ferrules made with recycled aluminium
Promising review:
'This brush is so soft and so durable! Other foundation brushes I've tried had the bristles fall out with each use. This one does NOT do that, so I am very pleased.' – Dani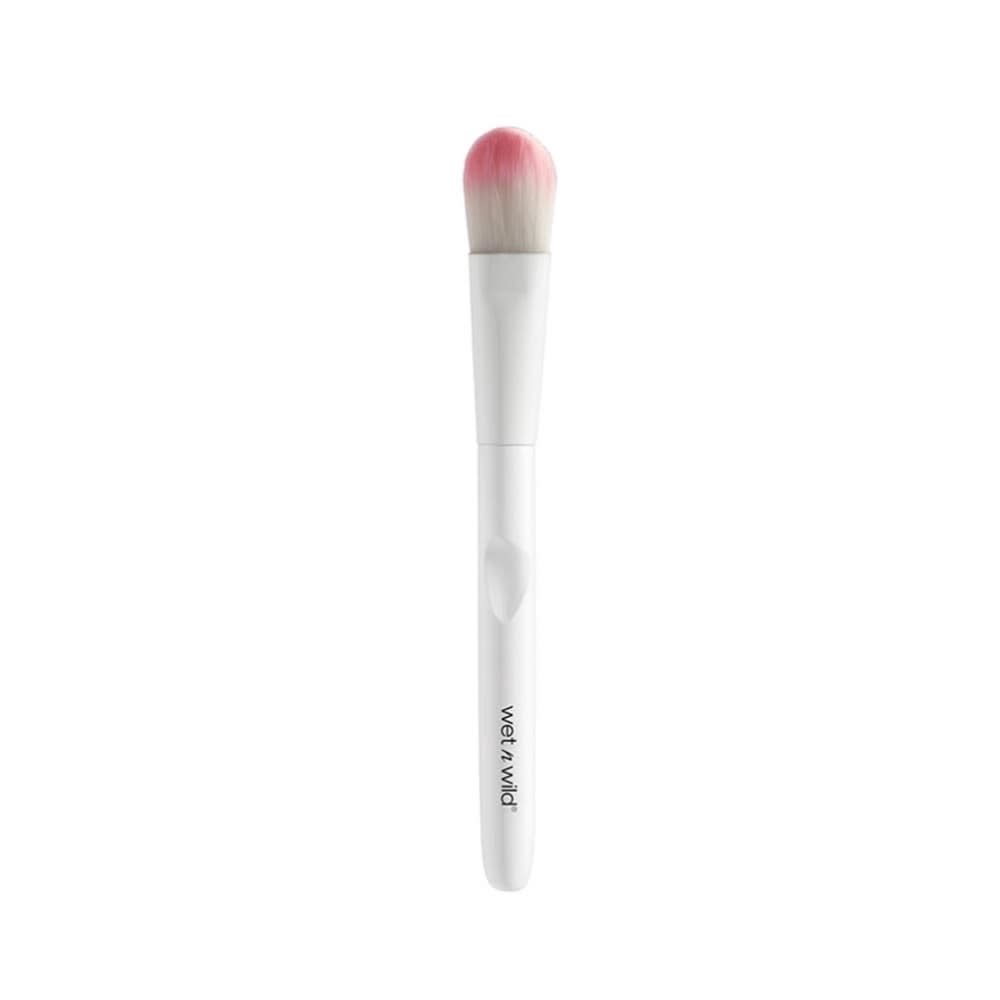 Check Wet n Wild Makeup Brush Foundation Brush EC795A price below:
add_circle
Soft bristles mimicking natural hair
add_circle
Cruelty-free and vegan
Overview:
This foundation brush from wet n wild is dense and flat, making it the perfect balance of firmness and softness. Its synthetic Polymax fibre bristles are super soft on the skin, mimicking the feel of natural hair. Though slender, its handle is made to fit perfectly in the hand, giving you a sense of comfortableness when applying makeup.
Details:
Synthetic Polymax fibres, made from exclusive thermoplastic polymer complex

Plastic handle

Ergonomic handle
Promising review:
'Wet n Wild brushes are so soft and cheap. Although they are cheap they last a really long time without fraying and are easily accessible.' – Kylie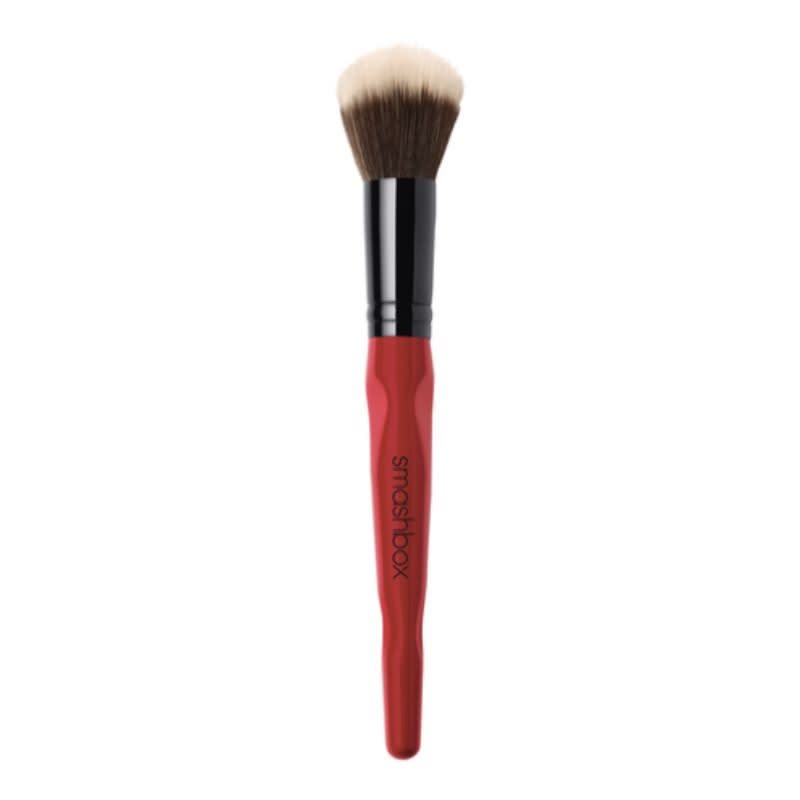 Check SMASHBOX Stippling Foundation Brush price below:
add_circle
Customizable coverage
Overview:
Give your skin a break from the full coverage finishes and opt for a more sheer, natural finish with the help of this Stippling Foundation Brush from SMASHBOX. To get that natural finish, pair this brush with a liquid foundation of your choice and buff the product into your skin and see the flawless result!
You will find yourself loving this brush as its duo-fibres provide customizable coverage while its high-tech synthetic fibres provide durability and control.
Details:
Synthetic

Contains short and long bristles

Durable
Promising review:
'Love this brush! It has multiple functions. I use it to blend my foundation, cream blush, cream bronzer and to also blend all of these together to give a very seamless finish.' – Fiona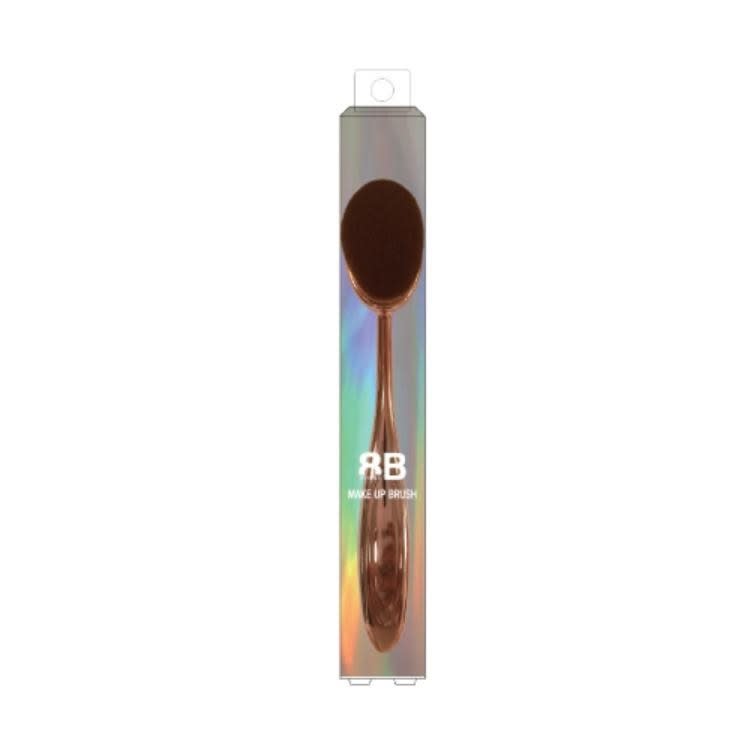 Check 8B Rose Gold Large Oval Foundation Brush price below:
add_circle
Comfortable in the hand
add_circle
Won't waste product
remove_circle
Might take a long time
remove_circle
Can't get into small tight corners
Overview:
Another uniquely designed product in this list is the oval brush that can be purchased from your local drugstore. This foundation brush is designed to mimic the way your fingers move across your face and fit comfortably in your hands with its ergonomic handles.
It is also packed tightly with soft fibres in order to keep the product on top of the brush instead of getting pushed into it. When using this brush, it will result in a more controlled application and evenly distributed finish.
Details:
Oval shaped head

Soft, tightly packed bristles

Ergonomic and weight-balanced handle
Promising review:
'Love this brush, great for foundations and cream blush. I need more in my life!' – Adila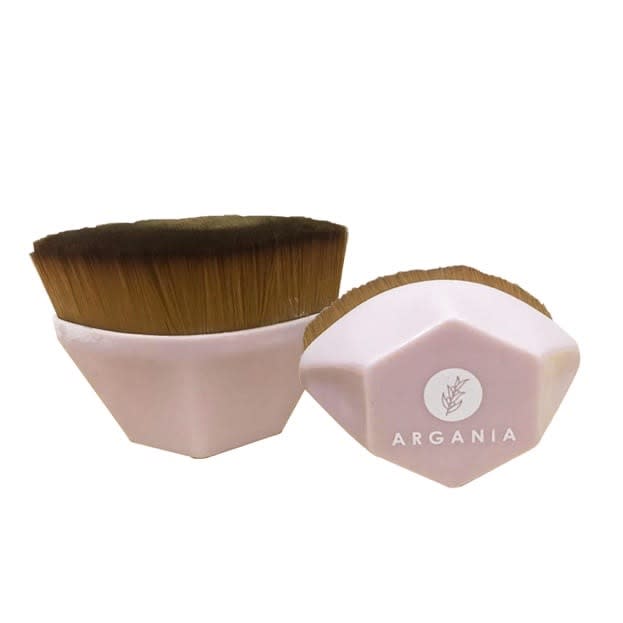 Check Argania Brush price below:
add_circle
Can reduce skin irritation due to it being easy to clean
add_circle
Travel friendly
Overview:
If you've never tried a kabuki brush before, but have been wanting to do so, here's your chance!
Opt for this kabuki brush from Argania, a local brand, to achieve a flawless base. With this brush, it claims to leave no streaks or creases on your face. Its synthetic fibres are super soft therefore it won't hurt the skin as you are blending your foundation.
Another feature that you'll love, is the handle of this kabuki brush is super durable and comfortable to hold! With the wide surface of the brush, you'll definitely be able to save time when doing your makeup.
Details:
Soft synthetic fibre bristles

Durable handle

Has a wide, flat surface
Promising review:
'Brush is really soft compared to any others. Tried compared to other brands, this is the softest. Blends foundation really fast and easy. Swipe and walla! Worth the buy.' – Cristine
FAQ
-  
How To Clean Foundation Makeup Brush?
Makeup brushes, let's be honest, not everyone is bothered to clean it after every use and it's perfectly fine! However, because the foundation usually comes in a liquid/cream form that is wet, it will accumulate bacteria over time. The recommended time to wash your brushes should be done weekly.
There are many ways to clean your brushes. For one, you can use a special makeup brush solution that will easily melt the product from the individual bristles of your makeup brush. Dampen the brush into the solution and run your fingers or use your palm in a circular motion for a deeper cleanse.
Another way when a makeup brush cleanser isn't accessible to you is to simply use good ol' dish soap. You can even add a few pumps of cleansing oil to break down your foundation much easier.
Related articles