When it comes to lifting heavy weights, proper care should be taken so as not to injure your back. Rest assured that you can minimise risks of injury if you take the necessary pre-emptive measures at countering them, such as using a weightlifting belt for instance. 
A weightlifting belt minimises lower back stress by constricting the pressure of your abdominal cavity and makes you more aware of how your back is positioned as you lift weights. If you've got your eyes set on buying a weightlifting belt, browse our list of 10 of the best weightlifting belt brands that assure you a good deal of good-quality weightlifting belts for your benefit.
10 Best Weightlifting Belts in Malaysia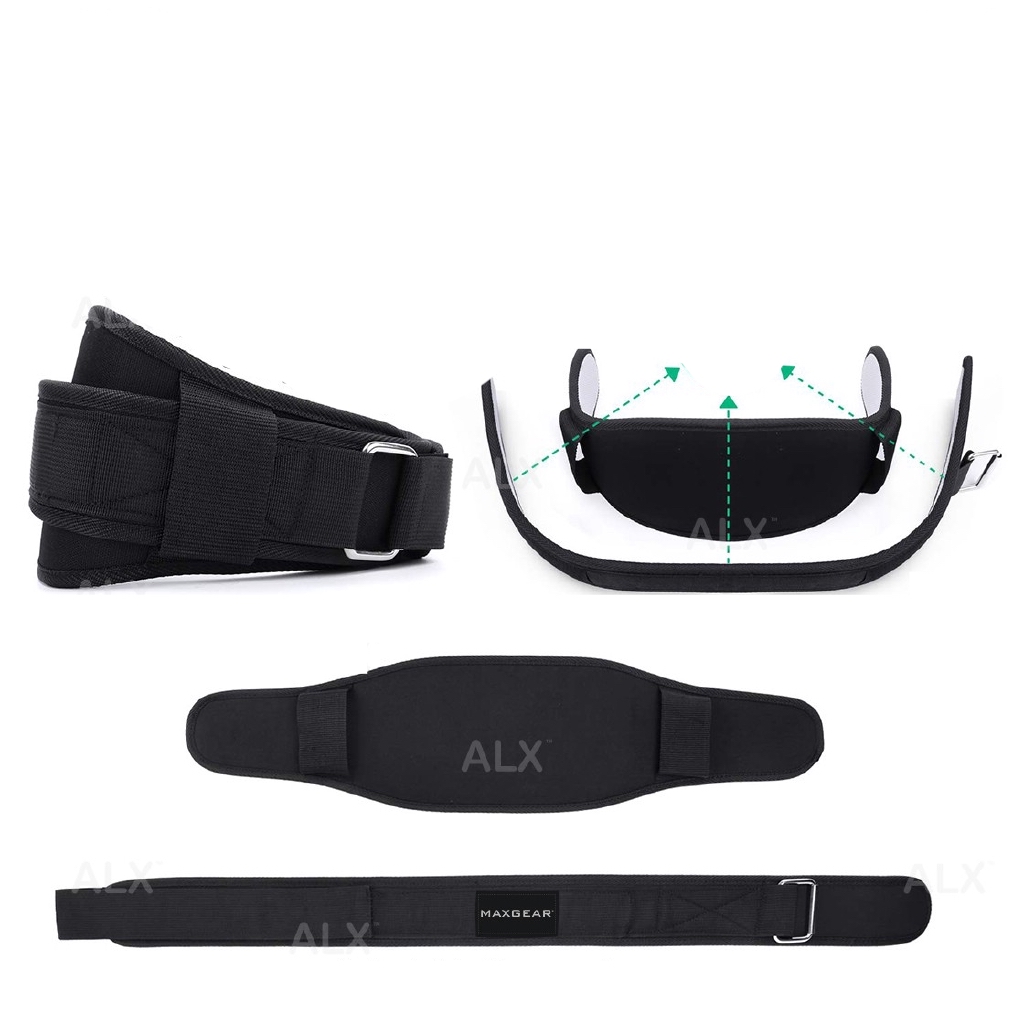 Check ALX Maxgear Weightlifting Waist Belt price below:
add_circle
Adjustable straps make it easy to strap on your waist
add_circle
Suitable to be used by both men and women
add_circle
Has a 5.5-inch-wide support panel that makes it more comfortable for your back without alleviating any unwanted pressure on your back
Why is this our top pick?    
Designed to protect your core, prevent lower back injuries, and provide strength when you perform your workouts such as squats, lunges, and deadlift thrusters, ALX MAXGEAR Weightlifting Waist Belt helps relieve lower back pain caused by muscle sprains and spasms. It helps by giving support to your back as you lift heavy objects while keeping your back posture straight. 
Overview     
Made of EVA material, this weightlifting belt offers stronger support to your waist. While ensuring that, it is also designed with double layers to give you the best support. Not to mention, ALX MAXGEAR Weightlifting Waist Belt is made of a breathable inner layer so you feel a much better comfort throughout your workouts. 
So, what are you waiting for? Thrust yourself towards performing your workouts no matter how intense they may be, all whilst knowing for sure that your lower back and core are protected.
Details   
Suitable to be used daily as you lift heavy items  

Ultralight and flexible nylon weightlifting belt that comes with a spongy surface for extra comfort 

Comes in various sizes to suit your waist measurements accordingly 
Who is this for?   
If you're looking for a weightlifting belt to help provide better support and rigidity to your back as you lift weights, ALX MAXGEAR Weightlifting Waist Belt it is. Compared to its leather counterparts, this weightlifting belt is easily adjustable without the hassle of buckling the belt in between the holes. 
It functions to stabilize your core and minimise the risk of workout injuries. At the same time, it supports your core strength and protects your lumbar spine.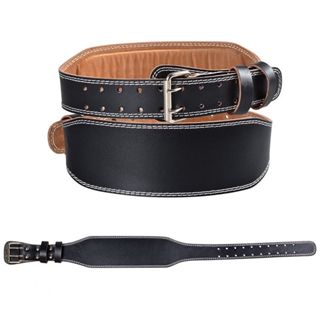 Check PU Gym Weightlifting Belt with Sponge price below:
add_circle
Extra stitching and double buckle provide better security to grip your waist comfortably
add_circle
Comes with multi-position drilling that allows you to adjust the size of the belt accordingly
add_circle
The inner filling is stuffed with a sponge so it's soft and comfortable to protect your waist and back
Overview     
With extra cushioning as its padding, this weightlifting belt comes with a waist pad that's equipped with an extra thick sponge. Its belt is even designed with a double buckle as its waist lock. This allows you to lift heavier weights during your workouts. Designed with double stitching and a steel buckle, the weightlifting belt fits comfortably around your waist as you move in different motions for your workouts. 
Moreover, the insides of the belt are lined with high-quality PP cotton. This gives you great comfort when you use it, be it for body-building workouts or general fitness workouts. 
Details   
Extremely lightweight yet strong and comfortable  

Comes in various sizes 

Made of PVC and PP cotton material 
Who is this for?   
This weightlifting belt offers you great support for your back whilst ensuring you a proper form as you lift weights. It has a double-row stitching that's both uniform and smooth. This ensures that the belt remains stable and firm, regardless of how regularly it's used. Be it for weightlifting, bodybuilding, or general fitness workout, this weightlifting belt is ideal to be used for any of those workout activities as it provides adequate back support.
Check Atlas Originals Nylon Weightlifting Belt price below:
add_circle
Provides stable support to the abdominal region and lower back
add_circle
Stabilises core muscles thanks to its 3" extra-wide strap
Overview     
Functioning to offer core support and stability as you lift weights, a weightlifting belt assists you during your movements without getting in the way. Atlas Originals Nylon Weightlifting Belt comprises an extra-wide 3" strap that stabilises your core muscles. Its sturdy hook-and-loop mechanism not only provides a firm fit around your waist but also ensures that it fits your comfort level. Plus, Atlas Originals Nylon Weightlifting Belt is ideal to be used for both warmup and intensive workout sets. 
Details   
Made from durable nylon fabric and tough nylon that offers maximum durability 

Hook-and-loop with heavy gauge steel buckle encourages a custom fit 
Who is this for? 
Lightweight, durable, and waterproof; there's nothing more that you can ask for from Atlas Originals Nylon Weightlifting Belt. Users couldn't be more pleased with this weightlifting belt. Their repeated purchasing of this belt implies the outstanding quality that this belt is designed with. They've also pointed out that it's suitable to be worn for deadlifts and squats too.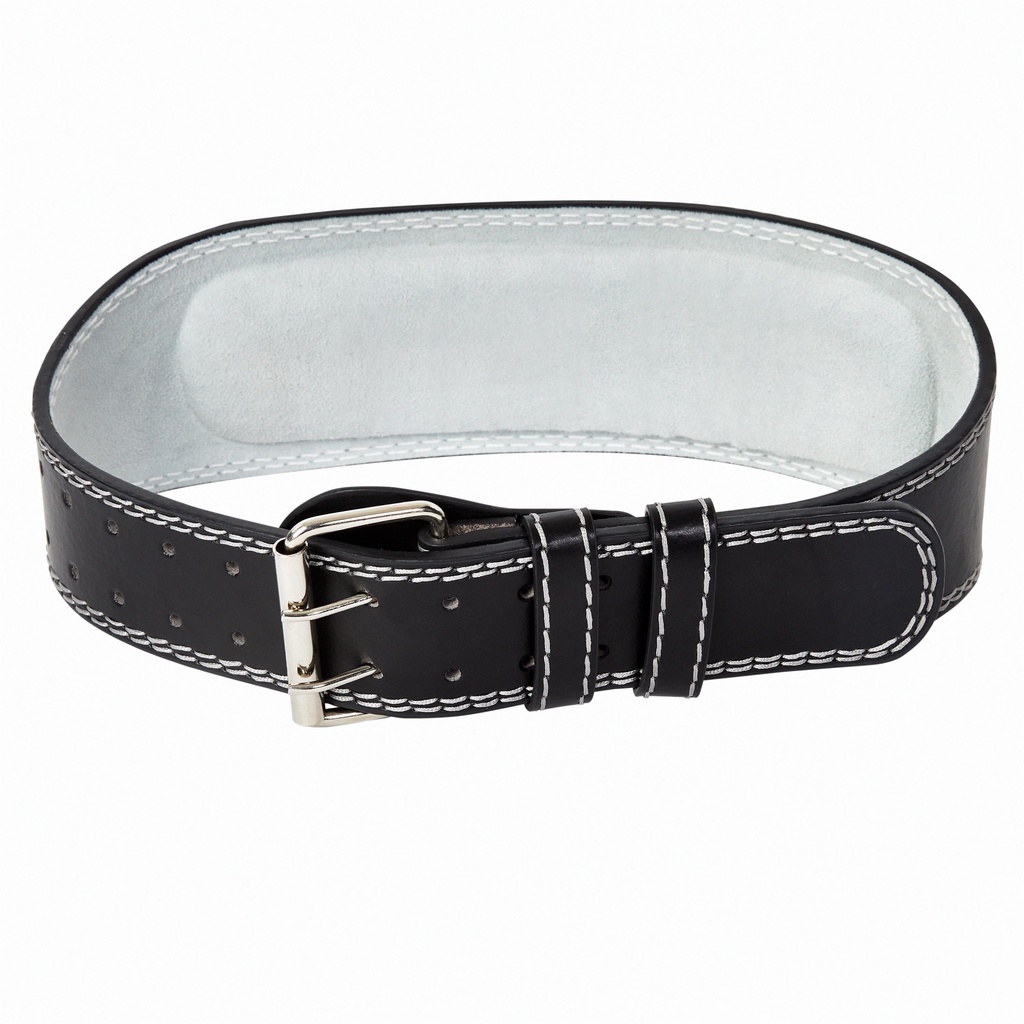 Check Everlast Unisex Adults Leather Weightlifting Belt price below:
add_circle
Double-sewing on the edges of the belt ensures lasting durability
add_circle
Leather construction provides more rigidity which in turn provides lasting durability and stability
add_circle
Double prong buckle system is easily adjustable thanks to its multi-adjustment holes
Overview     
Everlast weightlifting belt is designed to offer optimum support during weight training. Its built-in padding enables you to carry on your intensive workouts in the most comfortable way possible. Thanks to its buckle fastening, this weightlifting belt fits securely around your waist, giving you the most out of your workouts. 
The dual prong belts with steel buckle assure you of an adjustable fit whilst providing the support that you need. So go on ahead and bust your moves in the gym with this comfortable weightlifting belt that's suitable for both men and women.
Details   
Comes with a padded back lining to provide extra comfort during workouts 

Designed with buckle fastening to provide a secure fit as you perform your workouts
Who is this for?    
As you head to the gym regularly, you hope to get the most out of your training. If that's your goal, consider it easily achievable thanks to this weightlifting belt that aids in your daily training. 
Made from leather, this weightlifting belt offers you good quality for your training needs. For better comfort and support, it's lined with padding to protect your skin whilst offering firm back support when lifting.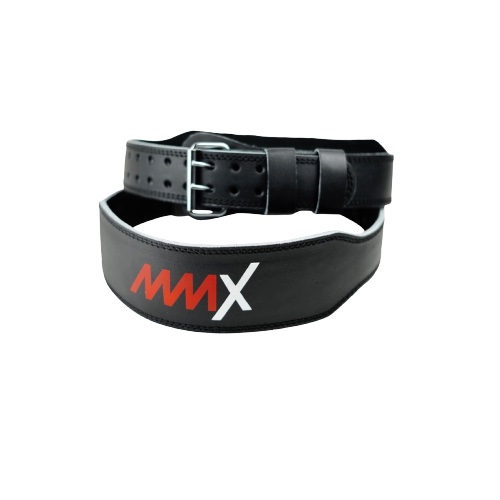 Check MMX Gym Weightlifting Belt price below:
add_circle
Genuine leather supports the back and abdomen ensuring you a safe and comfortable training
add_circle
The interior foam cushioning and suede lining provide comfort without injuring your skin when there's friction between the belt and your skin
add_circle
Heavy-duty dual-pronged steel roller buckle allows a more secure fastening system
Overview     
Work those muscles with a peace of mind knowing that the potential of experiencing injury during your weightlifting is minimised. MMX weightlifting belt increases intra-abdominal pressure by stabilising your midsection and reducing stress on your lower back. All this is achieved while you're lifting weights in an upright position. 
Let's say you're adding more challenge to your plate by incorporating lifts during squats and deadlifts, this weightlifting belt supports your abdominals and obliques. Apart from that, it can also aid in overhead lifts by preventing back hypertension by forming a rigid foundation around your lower torso. This also limits back movement and prevents sideward bending and twisting.
Details   
Offers optimum support during heavy lifting  

Made of high-quality 100% genuine leather
Who is this for?   
All in all, MMX GYM Weightlifting Belt supports your back and abdomen by preventing abdominal herniations. Its contoured hip and rib design optimises the midsection fit to provide strong tensioning around your waist. The interior foam cushioning and side-lining ensure your comfort and help maintain muscle warmth. To top that, its heavy-duty dual-pronged steel roller buckle too gives firmer security for a custom fit.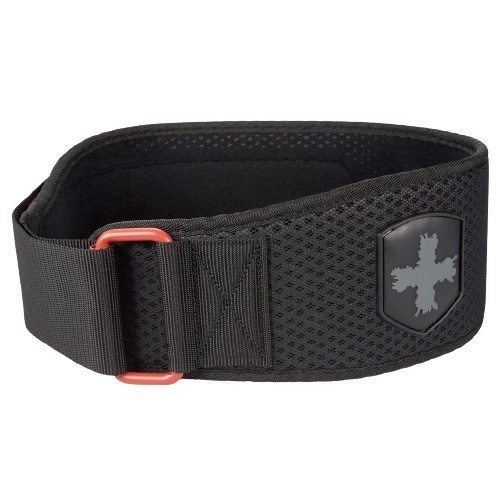 Check Harbinger Men's Hexcore 4.5" Belt Weight Lifting Belt price below:
add_circle
Breathable Hexcore material; Honeycomb structure on the material provides maximum airflow
add_circle
Heavy gauge steel roller buckle offers easy tensioning for a customised fit
Overview   
Weightlifting belts provide an easy way to increase intra-abdominal pressure when you lift weights. They help your core muscles remain firm and tight through your lifting. By wearing a weightlifting belt, you'd find a vast difference by opting with or without it when you lift weights.  
Harbinger Hexcore weightlifting belt adds stability to your core muscles whilst supporting your lower back during lifting. Its ventilated construction allows maximum airflow and breathability so you can work out comfortably, without compromising support. If you're training for an upcoming competition, rest assured that this weightlifting belt's 4.5" width meets the size requirements in most competitions. 
Details   
4.5" foam belt supports core muscles and lower back during lifting  

Designed with a high-quality hook-and-loop fastener that gives a firm grip
Who is this for?    
The Harbinger Hexcore weightlifting belt offers stability to your core muscles as well as supports your lower back and spine during your heavy weightlifting. Its mesh-layered and honeycomb structure give maximum breathability during your intense workouts. Not only that, its premium hook-and-loop fastener offers a sturdy and customised fit.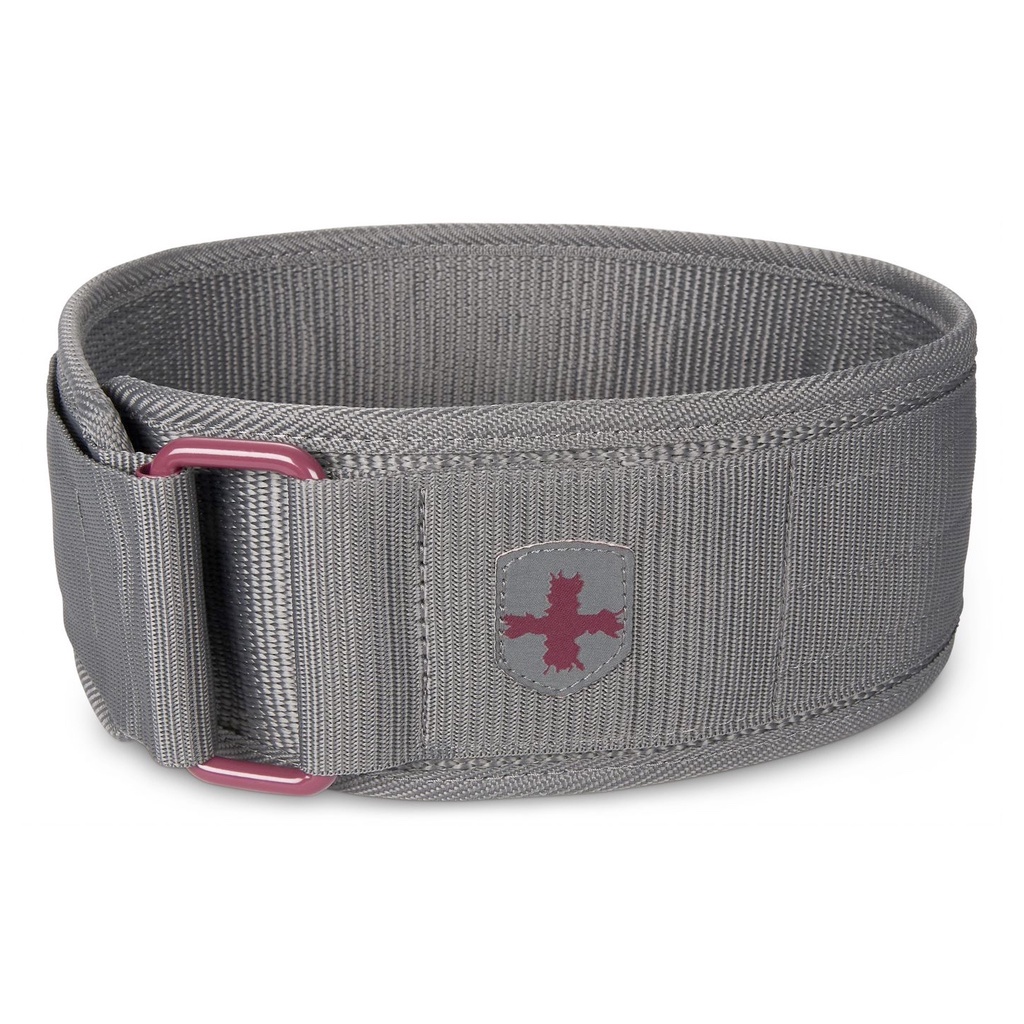 Check Harbinger Women's 4" Nylon Belt Weight Lifting Belt price below:
add_circle
Wide width protects the lower back and abdomen
add_circle
Heavy gauge steel roller buckle makes tensioning effortless and straightforward
Overview    
Just as there are weightlifting belts for men, there are also weightlifting belts designed especially for women. Harbinger women's weightlifting belt is designed to meet the athletic needs of every woman. Fairly thin, this weightlifting belt doesn't cause any friction on your skin but merely, rests comfortably against it. Its wide back width narrows down as it gets to the front. This design makes it even more comfortable to use while at the same time, giving sufficient support to your spine.
Details   
Designed with a 4" wide belt that comes with a 3" support strap  

Nylon web design offers maximum comfort and durability 
Who is this for?    
Harbinger 4" nylon weightlifting belt that features extra wide 3" support straps maximise lower back and abdominal support for heavier lifts. It's designed from thick, flexible heavy-duty nylon web that offers great comfort and durability. Users praised that this weightlifting belt feels very comfortable and its measurements too come in the right sizes that fit their waist perfectly. 
Check Vigor Fitness Weightlifting Belt price below:
add_circle
Improves seating position as it corrects both your back and bone posture
add_circle
Aids in the lordotic curve or swayback by correcting your lower-back bone posture
add_circle
Helps minimise kyphotic curve or hunchback by correcting upper-back bone posture
add_circle
Made of 3 cm thick back foam that supports your spine as you lift weights
Overview     
When it comes to deadlifts, using the right weightlifting belt is crucial to minimise the risk of injuries. Using a weightlifting belt such as Vigor Fitness Weightlifting belt, you know you can't go wrong with it. 
Vigor's weightlifting belt is made with a double hook enclosure system that holds the belt better thus, preventing it from easily slipping from your waist. To add to that, the borders of the belt are lined with double stitches as well for durability. Its comfortable rounded edges too make it more comfortable for your use as it doesn't hurt nor irritate your skin as you move during your workouts.
Details   
Made of durable PU leather that lasts for a long time 

Corrects and supports your back and spine as you lift weights  

Suitable for deadlifts, squats, and many more to help protect your spine and back from injury 
Who is this for?   
If you're an athlete or powerlifter, then using a weightlifting belt is vital to help increase your deadlift. Wearing a weightlifting belt increases performance, especially when you prep yourself into lifting as much weight as possible. 
In addition, it helps eradicate stress from your core and lower back as well as minimising the weight as you do your deadlifts. The belt helps to make the weight feel lighter as you lift than it is. Better yet, Vigor Fitness Weightlifting Belt doesn't irritate your skin by leaving marks, and it's good for sensitive skin as well.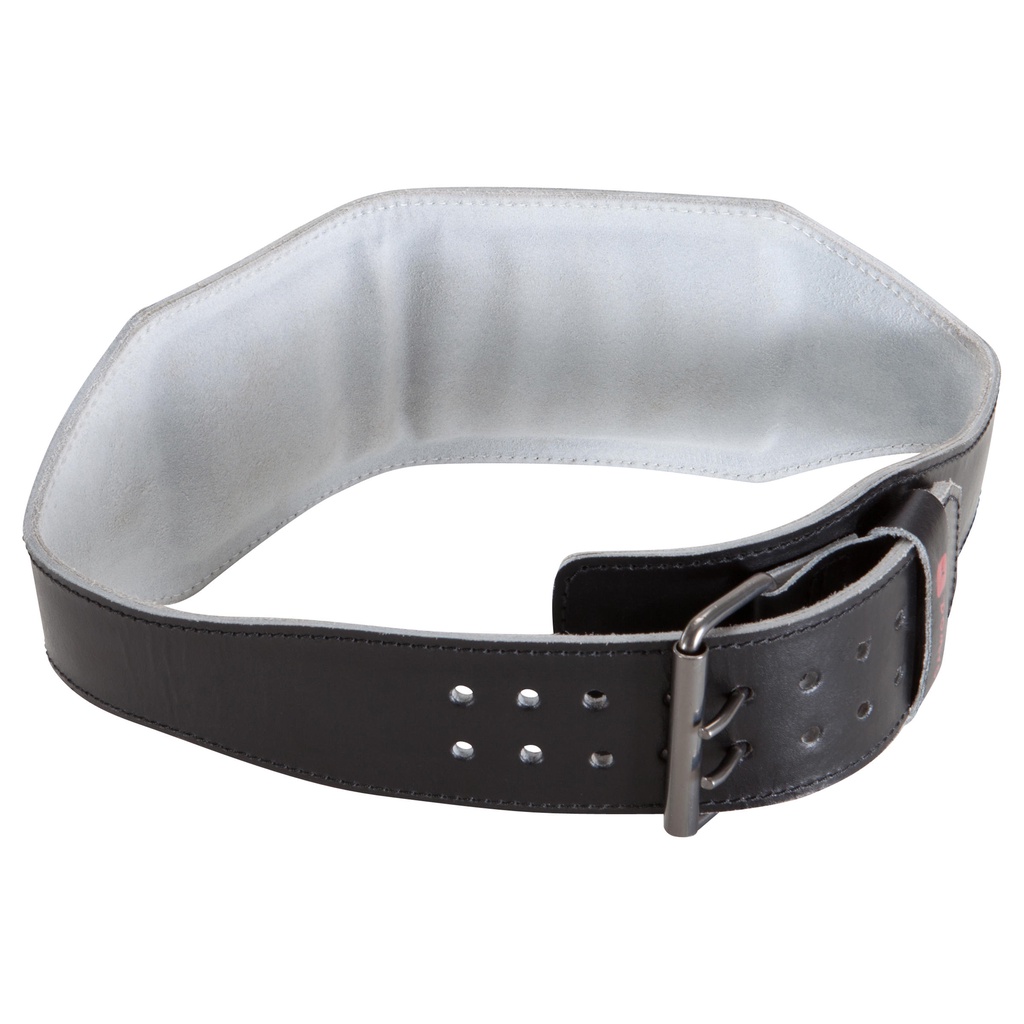 Check Decathlon Gym Weight Training Lumbar Belt price below:
add_circle
Wider back helps increase lumbar support
add_circle
Its leather material maximises pressure absorption and release, adding to its comfortability
add_circle
Helps sustain balance and stability during your weightlifting sets
Overview     
What more could we ask for from a weightlifting belt that provides muscle support and is also one that can last for years to come? Decathlon's weightlifting belt is what you need to lift those heavy weights just like a pro that you are! 
This weightlifting belt has been designed by weight training coaches that comes with a double fastening system to fit around your waist snugly. It certainly provides effective lumbar support thanks to its wider back design. The multiple prong holes on it provide a better fit as well. 
Details   
Easily adjustable thanks to its multiple prong holes to suit your different waist size 

Made of leather that ensures its lasting wearability 
Who is this for?   
Decathlon's weightlifting belt has captured positive reviews from its users. They praised that it certainly functions as advertised. Its great and comfortable fit comes with a tapered section that doesn't cut deep into the hips and ribs. As it narrows towards the front, this helps ease the range of motion as you perform your various workouts.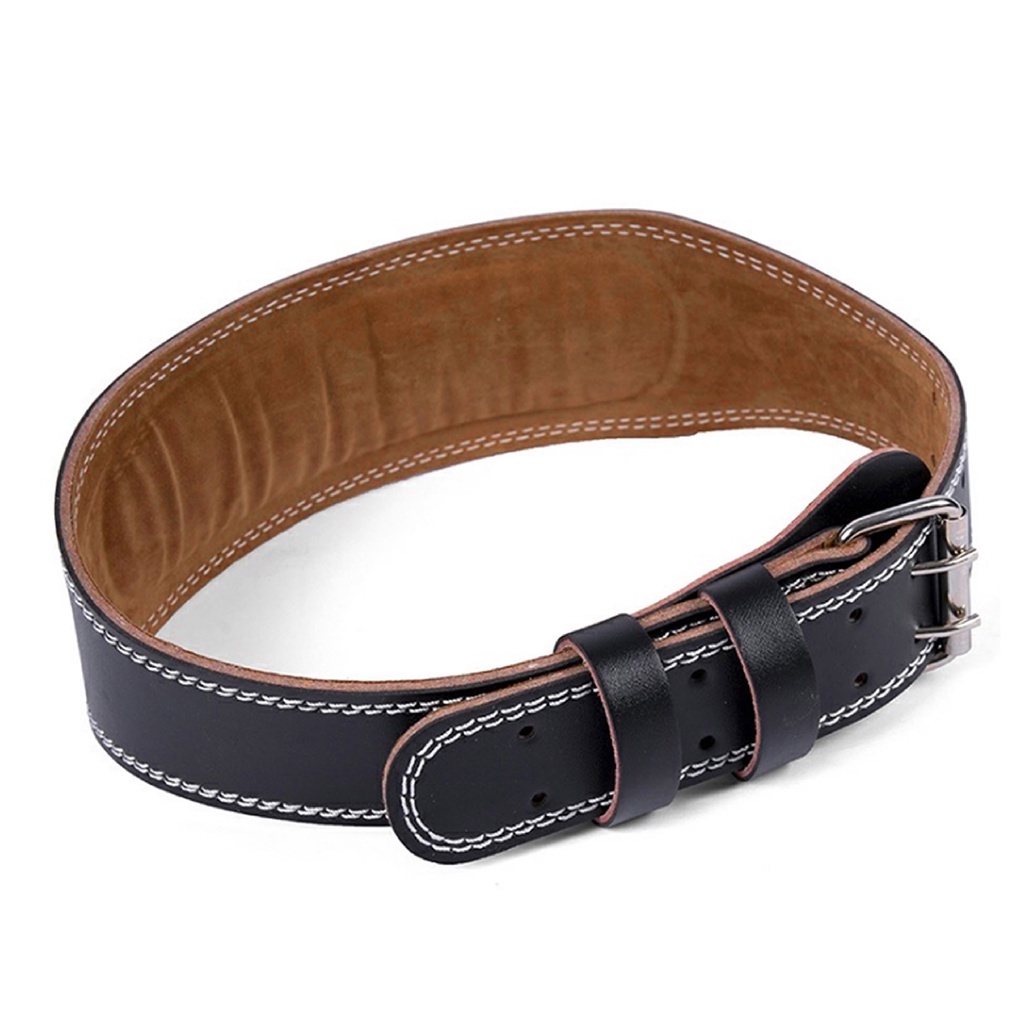 Check Desire Gym PU Leather Weightlifting Belt price below:
add_circle
Hardcore Back protection avoids injury and maximises workout performance
add_circle
The supporting technology of this belt makes it ideal for bodybuilding and higher intense workouts
Overview   
Leather weightlifting belts are known to provide a much higher level of security in terms of their prong or lever fastening mechanism. It's also known to provide much greater support. Desire Gym leather belt helps reduce spinal flexion by creating safe biomechanics with wider abdomen support as you conduct deadlifting. 
The next time you hit your powerlifting sessions, feel that boost of confidence as you wear this weightlifting belt that offers superior hardcore back protection. Just know that your spinal cord will be given the utmost firm and stable support whether you conduct light or heavy lifting.
Details   
Made from high-quality durable genuine leather 

Suitable for squats and deadlifts
Who is this for?   
Powerlifters certainly fancy a leather weightlifting belt as they offer greater support for heavier lifts and come in varying thickness options that make it more comfortable to wear. Users complimented that Desire Gym Weightlifting Belt doesn't feel too heavy which makes it comfortable to wear. Its durability is also evident from its high-quality material. 
FAQ: 
- What is the Purpose of a Weightlifting Belt?
A weightlifting belt functions to increase intra-abdominal pressure by giving your core muscles something to lean against as your abdominal wall expands. The stability given by these weightlifting belts is the reason most lifters lift more thanks to it.   
-What's The Difference Between Weightlifting Belt Vs Powerlifting Belt?
A weightlifting belt is easier to find the right size that fits because its fastening system comes in 2 options either a prong-style belt or a ratchet fastening system. On the other hand, a powerlifting belt doesn't offer that many choices for weightlifters. Though the powerlifting belt has a prong-style mechanism, most weightlifters prefer a lever-style belt to give better security. 

A weightlifting belt also comes in both straight-cut and tapered design whilst a powerlifting belt comes in just a straight-cut design. The varying designs that are offered by a weightlifting belt gives you flexibility in your movements. 

Although a powerlifting belt is made of a thicker material that provides rigidity and support, a weightlifting belt tends to be wider than a powerlifting belt. 

Due to the amount of material being used and the more costly fastening systems, a powerlifting belt is more expensive compared to a weightlifting belt. Despite so, you'd be guaranteed that it will last for a long time. 

Based on the given qualities of a powerlifting belt, it's ideal to be worn for heavier exercises as they provide more support. Still, a weightlifting belt does provide good support as well but not as much as a powerlifting belt especially when conducting these heavier workouts because it's made to provide support and flexibility. 
- How To Wear A Weightlifting Belt?
Wearing a weightlifting belt is as simple as it gets. All you need to do is ensure that the belt is placed with your belly button in the centre, and that's it! How snug you want it to be around your waist; is up to your comfort preference.
Related articles