Finally, Gigabyte has launched their version of the NVIDIA GeForce RTX 4060 Ti series graphics cards, powered by the revolutionary NVIDIA ADA Lovelace architecture!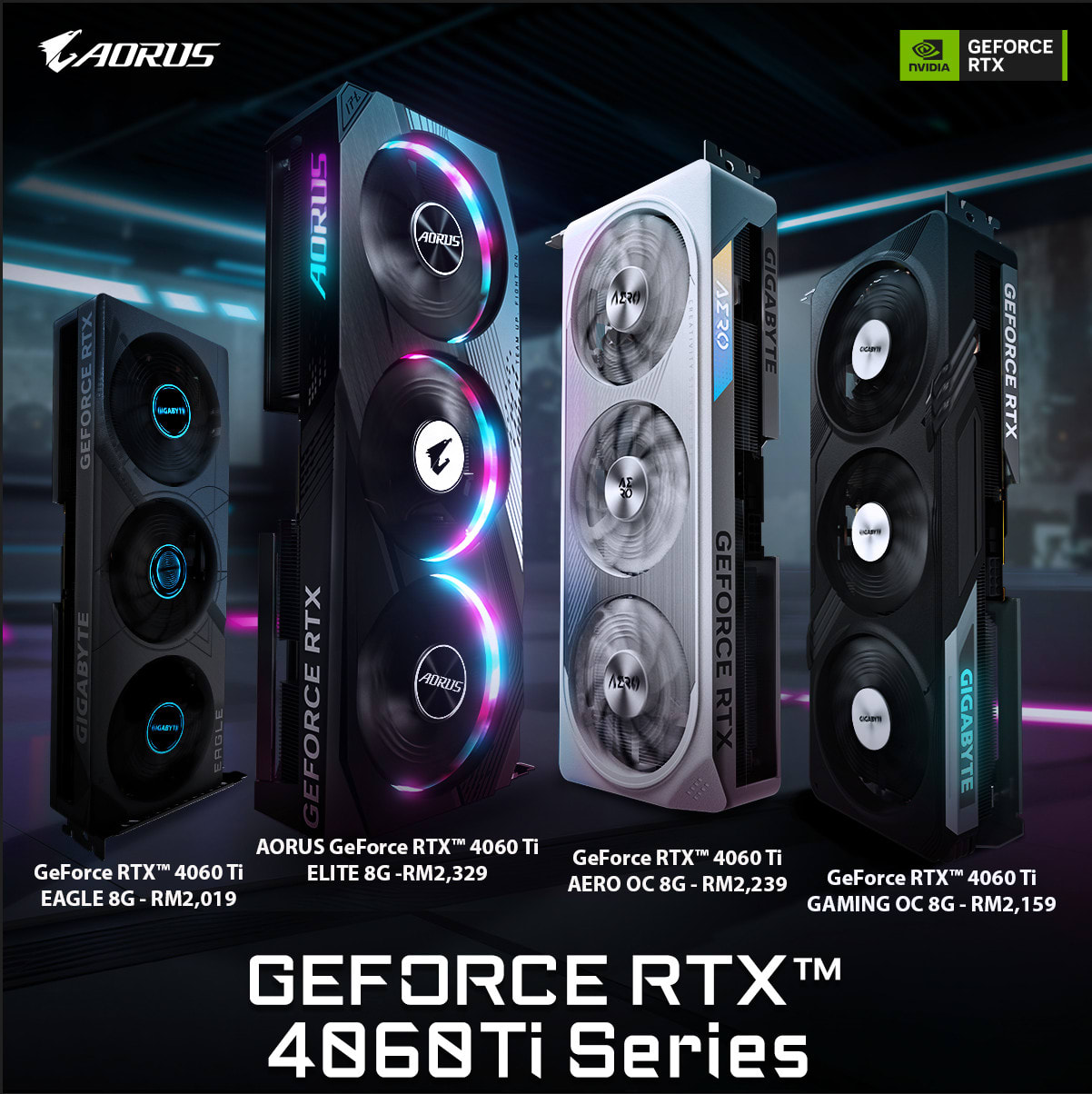 GIGABYTE has a diverse portfolio of graphics cards, including the AORUS and GIGABYTE series, designed to cater to a wide range of gamer preferences. The graphics cards, offering both remarkable aesthetics and uncompromising performance, are set to meet the needs of gamers seeking the ultimate gaming experience, as well as those prioritizing essential performance and durability.
The GeForce RTX 4060Ti series is designed to offer stunning performance for mainstream gamers and creators. Capable of delivering 1080P resolution at a smooth 100 frames per second with Ray Tracing and DLSS 3, these cards redefine the limits of graphics technology.
---
AORUS Series
AORUS GeForce RTX 4060 Ti series graphics cards deliver superior cooling capabilities and high performance, thanks to the advanced WINDFORCE cooling system. This system integrates three unique blade fans, alternate spinning, direct-touch composite copper heat pipes, 3D active fans, and screen cooling for optimal heat dissipation. The WINDFORCE fans incorporate graphene nano lubricant, extending the fan lifespan by 2.1 times and ensuring quiet operation.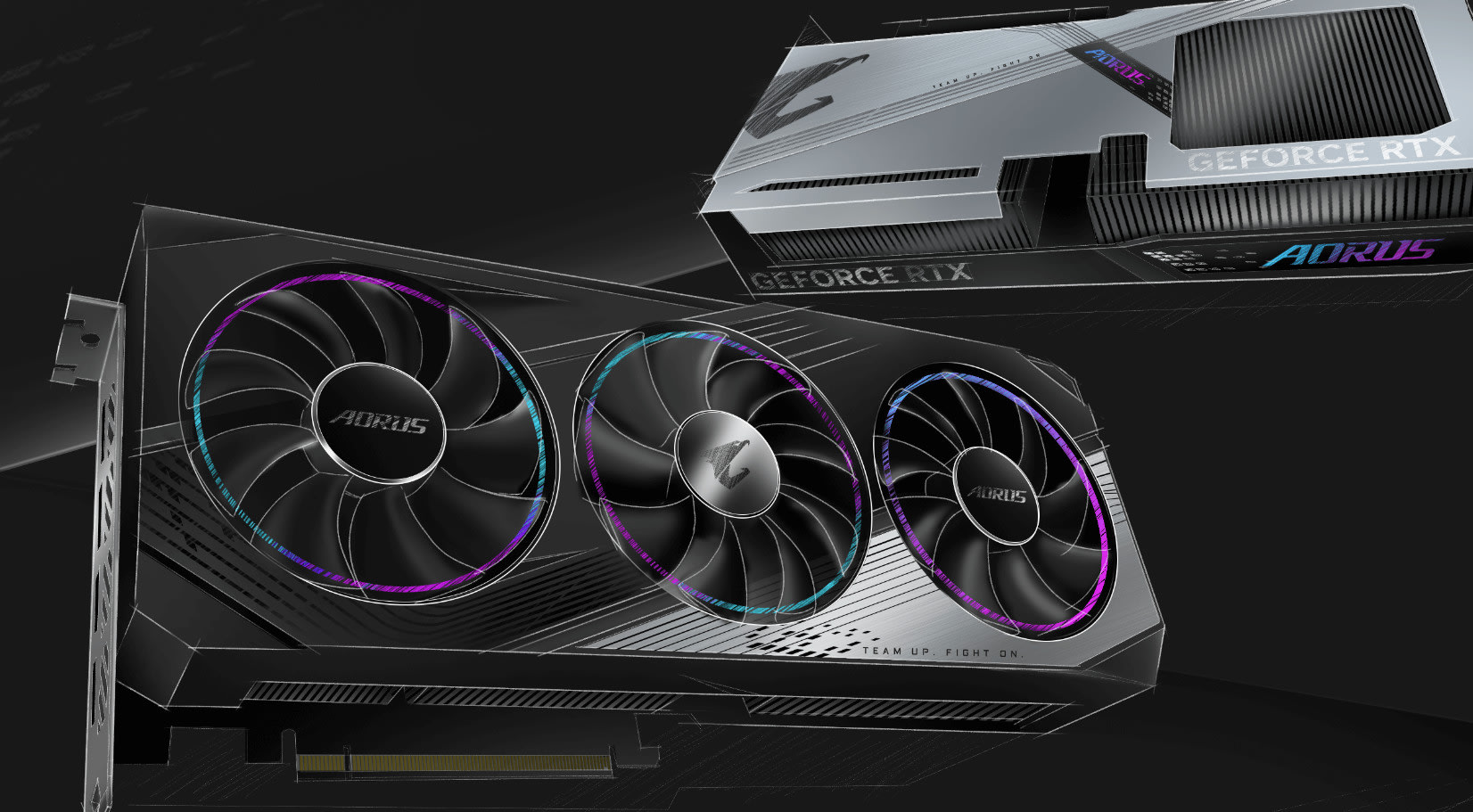 Exceptional performance is a hallmark of the AORUS graphics card, attributable to its power design and the use of ULTRA DURABLE-certified components. The Dual BIOS switch onboard lets users opt for SILENT mode for quieter operations without software installation. The card's durability is further enhanced by its aerospace-grade PCB coating.
AORUS GeForce RTX 4060 Ti series cards sport a unique design with RGB Halo triple-ring lighting, adored by DIY enthusiasts for its vibrant and customizable illumination. A protective metal backplate provides structural support to prevent PCB bending and sagging and contributes to the overall visual appeal.
---
GIGABYTE Series – GAMING OC, AERO OC, EAGLE OC
The GIGABYTE GeForce RTX 4060 Ti series includes GAMING OC, AERO OC, and EAGLE OC variants. The GAMING OC series is renowned for superior performance, stability, and gaming-style aesthetics. AERO OC series cards, with their minimalist white and silver design, are a hit among designers and users who favor a sleek style, making them perfect for light-themed PC systems. The EAGLE OC series incorporates futuristic design elements such as cosmic-themed graphics, symbols, and geometric shapes, lending a unique personal touch to the graphics card.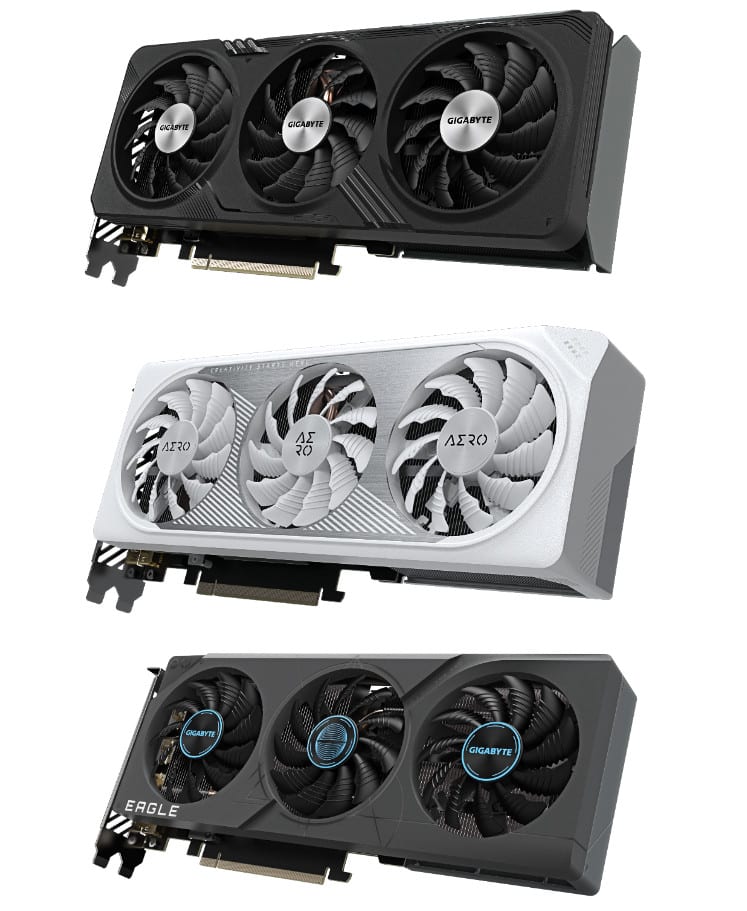 All GIGABYTE series graphics cards feature advanced technologies including the WINDFORCE cooling system, graphene nano lubricant, excellent power design, and ULTRA DURABLE certified components. An onboard dual BIOS switch enables users to opt for SILENT mode for quieter operations. Both GAMING OC and AERO OC graphics cards feature built-in customizable lighting, providing users with the ability to display unique lighting effects. An upgraded and strengthened back plate provides optimized strength support while also considering the overall appearance design.
The GeForce RTX 4060Ti family graphics cards from GIGABYTE offer exceptional overclocking performance, enabling gamers to enjoy smoother and higher-quality gaming experiences. Each card boasts a unique appearance and cooling design, catering to different gamers' preferences. For those favouring a compact size and good gaming performance with a dual fan design, GIGABYTE will provide the WINDFORCE OC series.
---
Price & Availability
The GIGABYTE GeForce RTX 4060 Ti 8GB series will be available for sale on May 24th, while the GeForce RTX 4060 Ti 16GB and GeForce RTX 4060 8GB variants are slated for a July release.
Related articles