These days, people need to travel for multiple reasons. It could be for a long period of vacation or it could simply be due to work. And so it would be amazing if we have someone or something that could feed our little munchkins that are constantly hungry, right?
We present to you automatic pet food dispensers. They are the best equipment that a pet parent could ask for when they are not present at home to prepare food for their pets.
Now, there are many various types of automatic pet feeders with different features; dispenser with camera, wifi etc. Not sure which to get for your home? Keep reading to find out our list of the best automatic pet food dispensers in Malaysia.
8 Best Automatic Pet Feeders (Food Dispenser) in Malaysia 2023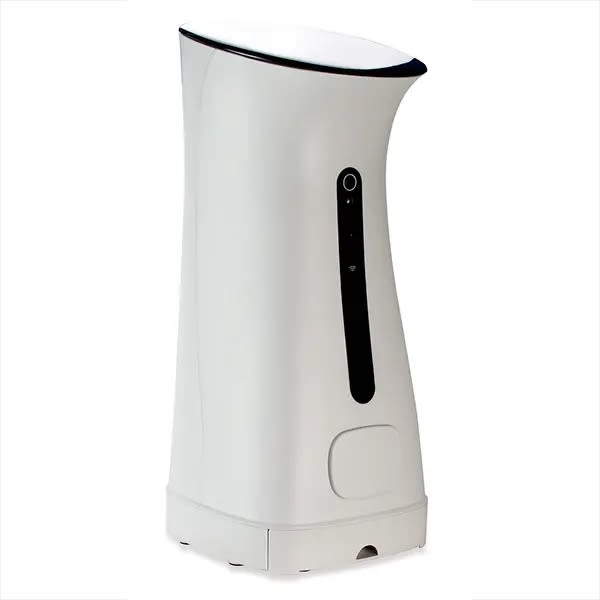 Check OEM 7.5L WiFi + HD Camera Automatic Smart Pet Food Dispenser price below:
add_circle
Easy access to food
add_circle
Flexible feeding based on the pet's weight and age
add_circle
Dual power supply
remove_circle
Can fill in dry food only
Overview
The ones with the pets would always look for the best equipment for their pets. Their equipment should be able to satisfy all requirements and would be an added advantage if it is cheaper compared to all other brands. On that note, this 7.5L WiFi+ HD Camera Automatic Smart Pet Food Dispenser has checked all the boxes for a lower price.
This 7.5L food dispenser is able to feed pets for a longer period of time via a simple App thus it is not necessary for pet parents to worry about their little ones while being on a vacation. Not only that, but there is an HD surveillance camera to monitor that lets you take pictures as well as watch over them in real time.
As for the rest of the features, it has two way voice control and is able to sync with Smart Life, Tuya and Google voice to interact with the pets.
Details
Flexible feeding timer; allows owners to feed pets right on time

Voice recorder and HD camera to accompany pets

Easy monitoring and control via App

Dual Power supply; uses external power supply as well as equipped with 3 alkaline D-cell batteries

Storage capacity up to 7.5L
Who is This For?
Designed with all the necessities, this is a great equipment for the ones that have to travel far and wide. Because of the features, those who have a slightly unstable working schedule will also benefit from using this food dispenser.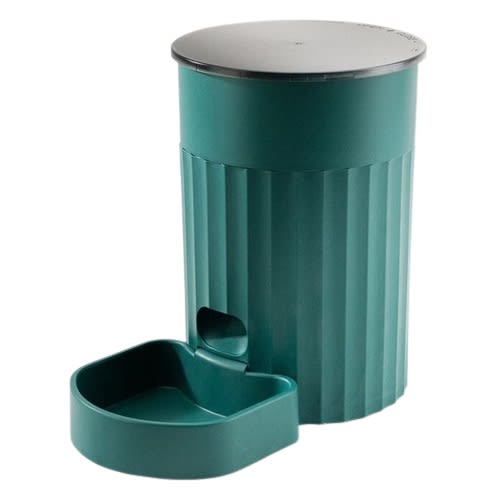 Check EPetz Smart Pet Food Feeder price below:
add_circle
Application compatible with Smart Life / Tuya / Google Voice
add_circle
Food plate is included
add_circle
Moisture proof and fresh lock are available
remove_circle
Batteries are not included
remove_circle
No transparent tank which does not allow the owner to see the food easily
Overview
Want a more seamless experience with a wi-fi enabled pet feeder? Unlike most pet food dispensers, EPetz Smart Pet Food Feeder is able to function via data hotspot as well. And so it is not necessary for WiFi to be on at home always. 
Once the feeding schedule has been set up via App, it will be recorded in the memory setting. In a situation where the WiFi stops functioning, it will not render the EPetz Smart Pet Food Feeder inoperable. In fact, scheduled feeding will still take place but will not be recorded on the App without WiFi. 
Details
Storage capacity up to 3L

Dual power supply;

DC 5V USB adapter power supply & 4x AA size Batteries

Has smart app control

Anti-stuck serve system

Can customise feeding plan
Who is This For?
This is definitely suitable for the ones that are running late to work and would not be able to feed their little ones on time. One may schedule feeding via App easily without much hassle.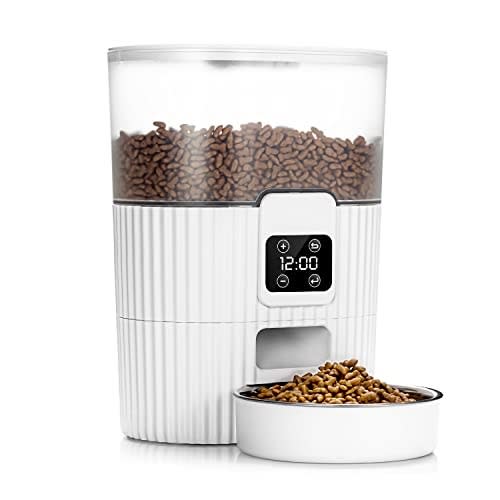 Check OEM 3.5L Timer Control Automatic Pet Food Dispenser price below:
add_circle
Transparent tank prevents low food storage
add_circle
No App is required to set up feeding schedule
remove_circle
Does not have high storage capacity
Overview
Automatic pet food dispensers are a must have for anyone that wants to keep their pets fed while being away from home. Unfortunately, it is not necessarily cheap at all times. Thankfully, this 3.5L Smart Pet Cat Dog Food Automatic Dispenser will keep the little ones well fed without having a price tag that's too expensive. 
With necessities such as programmable schedules, dual power supply and even an anti-clog/anti-stuck dispense system, owners need not worry about their little one going hungry unexpectedly.
Details
Able to clean with its separation design and the non-skid feet added to make it stable

Food storage capacity up to 3.5L

Equipped with desiccant bag to keep the food fresh

Has manual timer control as well      
Who is This For?
Whether you are a new or seasoned pet owner, this is a suitable food dispenser for the ones that want to try out auto feeders while staying within their budget.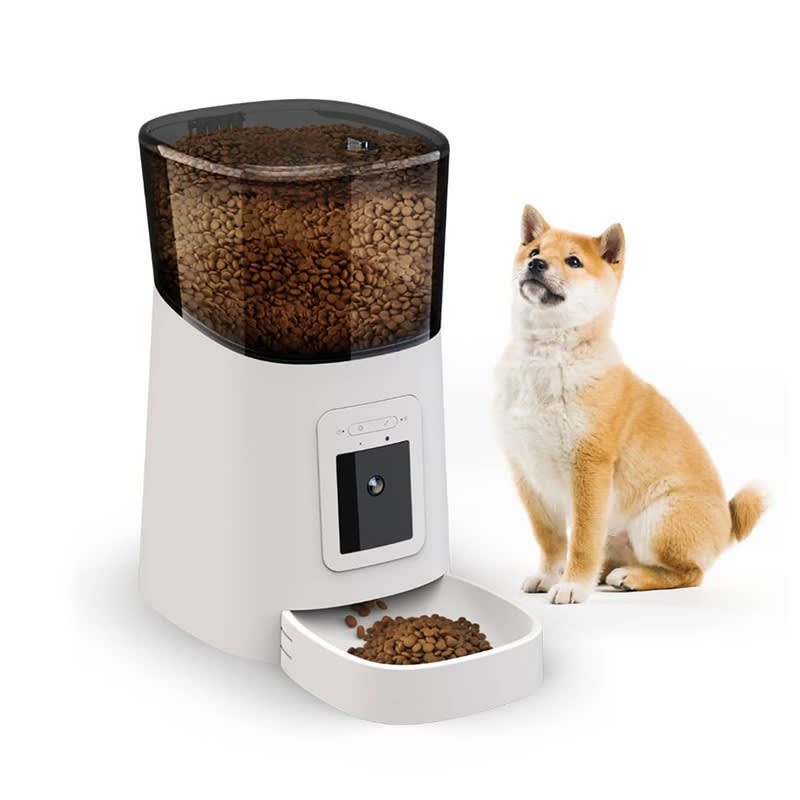 Check OEM 6L WiFi Automatic Smart Pet Food Dispenser price below:
add_circle
Easy to clean since the equipment is able to be detached
add_circle
Able to feed via App and manually as well
remove_circle
Only able to feed dry food only
remove_circle
No batteries are provided along with the dispenser
Overview
If it is required for owners to be away, this 6L WiFi Automatic Smart Pet Food Dispenser is a great feeder with a large storage capacity, allowing food to last for a few days. It is able to feed up to 12 meals per day which is more than enough to keep the little munchkins well fed.    
Some features you can expect are low-food storage sensor, recording of personal audio message, real-time video footage viewing and even a self-reverse motor to fix stuck food.
Details
2.4GHz WiFi enabled smartphone programming;Apple IOS 9.0+ or Android smartphone 4.4+ Compatible

Real time video or record the feeding with 1080p video footage

Able to record a personal message to be played for pet as each feeding dispenses

Upgraded motor hard gear structure will self fix by automatically reversing gears to prevent food from getting stuck.

Dual power supply;DC 5V adapter and 3D sized batteries
Who Is This For?
As a non-nonsense pet feeder, this lets you easily feed your pet when you need to be away for a few days. Thanks to its simple features like a 10-second voice recording and dual power supply, the  6L WiFi Automatic Smart Pet Food Dispenser works simply to dispense and store a huge amount of kibbles.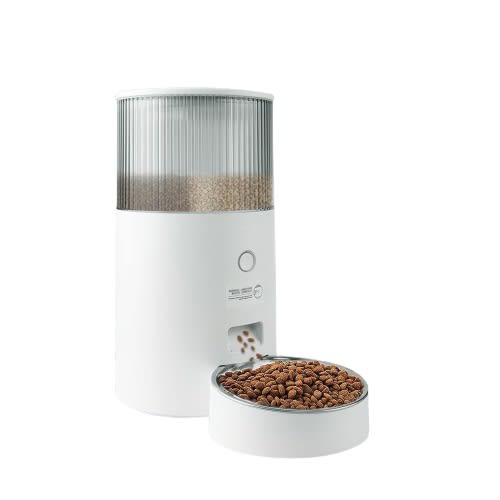 Check Pet Marvel Automatic Feeder price below:
add_circle
Has a desiccant bag that ensures the freshness of the food
add_circle
Has non slip foot pad to prevent pets from accidentally toppling over the dispenser
remove_circle
Able to dispense dry food only
Overview
Many pet parents can be confused with the automatic feeder and may accidentally feed their pets excessively. While the little ones may enjoy this unexpected bliss, it is not necessarily healthy for them in the long run. 
The Pet Marvel Automatic Feeder has a customised feeding plan that enables owners to schedule a healthy portion with just a click. All they have to do is download the app and set their meals easily. 
One can also utilise the Pet Marvel Automatic Feeder App to monitor their pet's mealtimes as well as be notified when there is a shortage of food. So owners can sit back and relax while Pet Marvel Automatic Feeder handles their pet meals.
Details
Has a storage capacity of 2.5L

Contains upgraded smooth grain output structure to maintain seamless food flow

Dual power supply

Able to store food for up to 15 days

Triple lock system to keep food fresh
Who Is This For?
This is an easy option for pet owners who struggle to control their pet's diet as well as dislike complicated app controls. Pet Marvel's easy App system lets one schedule meals easily which also ensures that owners do not overly feed their pets unknowingly as well.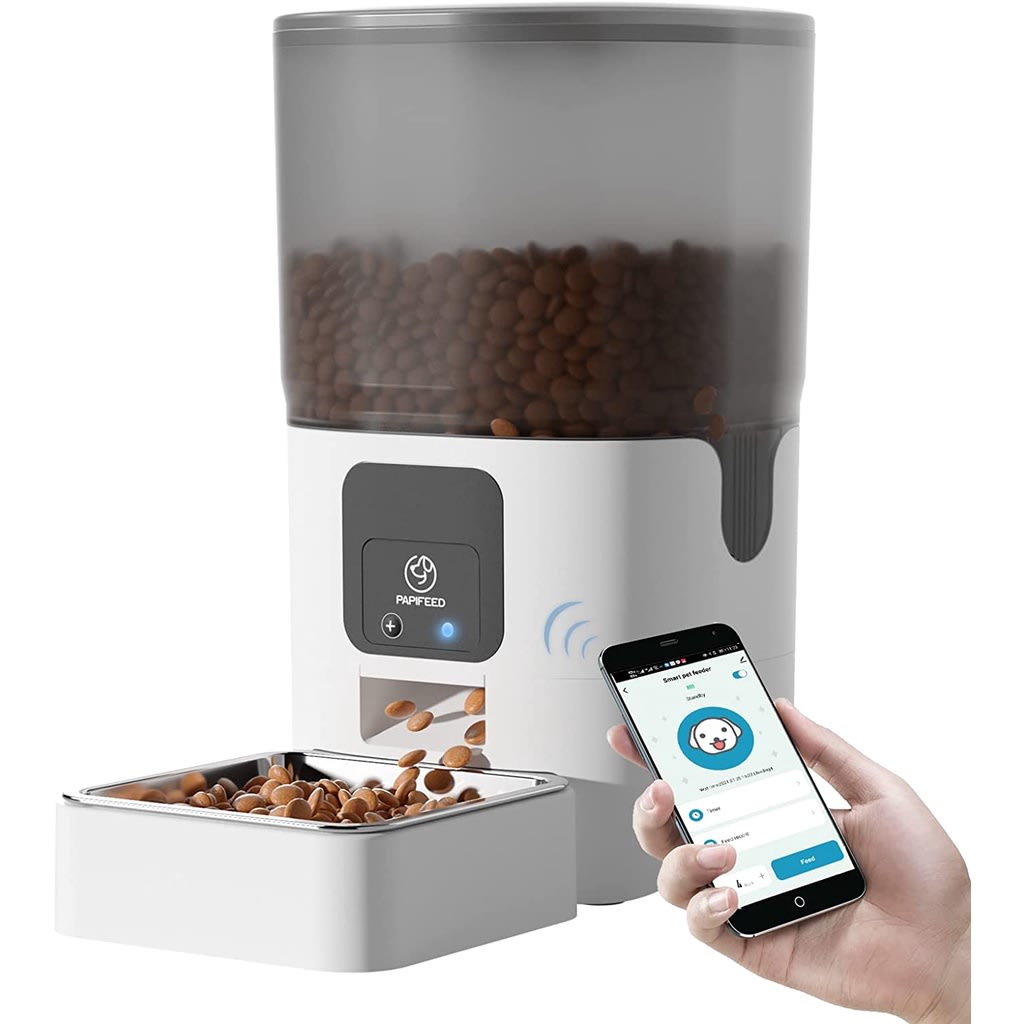 Check LOKI 6L Automatic Pet Feeder price below:
add_circle
Easy to clean since the equipment can be disassembled
add_circle
Double removable bowls of different materials allow more food for pets
add_circle
Safety lock included for securing the grain bin
remove_circle
No batteries are included with the dispenser
Overview
Food dispensers tend to accommodate cats and small-sized dogs, rendering it a problem for pet parents of big dogs. Not only that, but it can be challenging for the dog to eat comfortably from a regular food dispenser due to its small size.
Thus, look at this LOKI 6L Automatic Pet Feeder which has a large storage capacity to fulfil the appetite of big dogs. Unlike many food dispensers, this one includes a detachable stainless steel bowl which allows you to feed 2 pets at the same time. 
Simply fill the bowl with your dog's favourite food, and fill another for your cat! Though the process won't be automatic, your pets don't have to fight over the same bowl when eating their treats. 
Details
Able to feed up to 6 times per day

Comes in two versions; one with a HD camera or with Wi-Fi

Smartphone app control allows remote feeding

Dual power supply 
Testimonies
Of course, the dispenser suits those with pets that have a big appetite, particularly big doggos! We also imagine this one to suit the ones that may have multiple pets at home, all thanks to the dispenser's double bowls.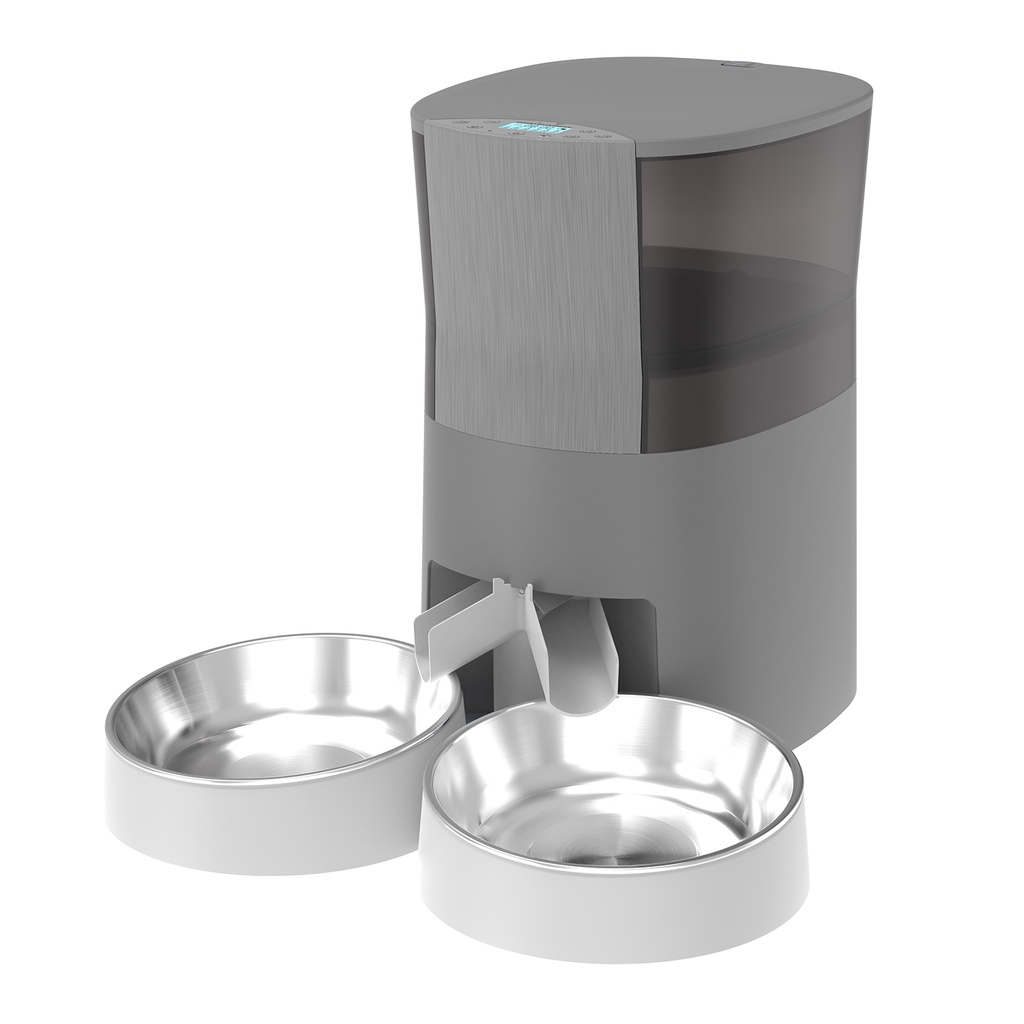 Check EPetz Auto Pet Food Dispenser with Double Bowls price below:
add_circle
Dual power supply
Overview
This EPetz Auto Pet Food Dispenser is equipped with double bowls, perfect for pet owners wanting more convenience feeding their pets. 
It runs on a dual power supply, meaning that it will automatically switch to battery mode as a power source if it ever gets disconnected. 
Details
4.5L Dual Mode (WIFI & Manual) ; 7L Manual Timer - No WIFI

Colour: White / Grey / Aqua

Product size (with food plate): 27.5*22*35cm

Product weight (with food plate): 2.6kg

Dual power supply: DC 5V1A standard power supply / 4X D Cell Batteries (Batteries Not Included)

Material: Plastic ABS materials + + PP Material Stainless steel bowl

Rated power: 6W
Who is this for?
Pet owners with multiple pets can consider this an option, especially for those pets who don't like sharing. This automatic feeder can separate them while also allowing owners to keep a check on their meals.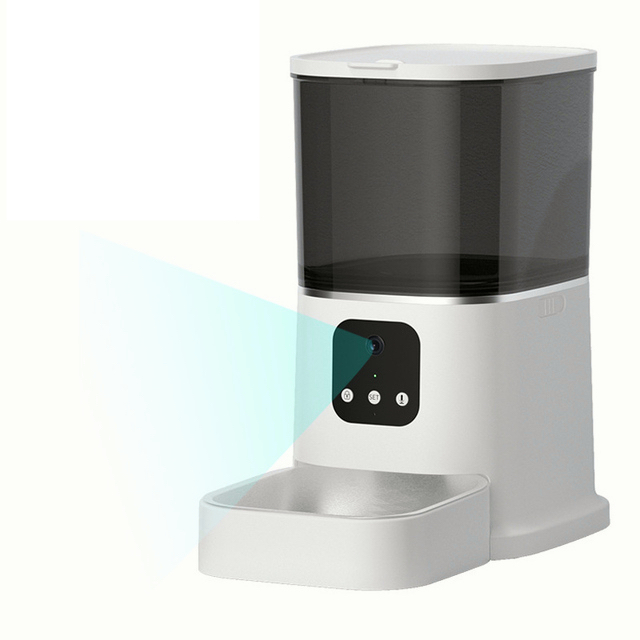 Check Auto Pet Food Dispenser with HD Camera App Control price below:
add_circle
Camera and mic available
add_circle
Can switch to battery mode
remove_circle
Can only support 2.4GHz WiFi
Overview
Auto Pet Food Dispenser is equipped with a built-in speaker and camera, making it easier for you to keep track of your animal's feeding. The speaker also allows for two-way communication so you can connect with your little ones to hear you
It's also able to connect to wifi and an app, however, the downside is that the food dispenser only supports 2.4GHz wifi, so keep that in mind before purchasing.
Details
Stainless steel bowl 

Replaceable desiccant bag

Dual Power Protection

Built-in speaker & microphone
Who is this for?
This auto pet food dispenser is a charm for people that often work outstation. After all, you can't focus on work if you're constantly worrying about your pet's feeding time so this shall do the trick. In addition, with the built-in camera, it'll be easier for you to monitor your pets in case something happens when you're away.
FAQ:
-
What to look for in a pet feeder?
So you're interested in a pet feeder. But everything just seems similar! Here, we'll drop a few tips so you'd know what to watch out for.
Try to go for a high storage capacity which lets you store food for a longer period of time. However, if you will only be away for a day or two, a low storage capacity should be fine as long as there is a scheduled food dispensation system.

Dual power supply will ensure that the feeder is able to function during a power shortage without any disruption to the food flow.  

A fresh lock system will help food to stay fresh although it has been stored for days. This also includes the usage of a desiccant bag that keeps the food dry enough to maintain the freshness of the food.

With all automatic pet food dispensers, they must be designed to withstand any disturbance from the pets or even children. Therefore, they should be not easily toppled, opened easily nor slippery in order for the machine to function smoothly.

The entire dispenser should also be easily cleaned thoroughly thus having an easily detachable pet food dispenser would be a good option for pet parents. It would keep the food dispenser clean while ensuring that food consumed by the pets are hygienic as well. 
Related articles