Diet, rest, and exercise work symbiotically with each other, and one cannot exist just on its own if you intend to grow and gain muscles. Mass gainers are created to supplement one's diet and enable the user to absorb more calories without needing to consume so many meals a day, which can be vomit-inducing. 
Just one drink allows people striving to gain mass to take in a few hundred calories at a time. Why would we consume more calories, you ask? 
Well, people like Gabi Garcia who loves those earth-crunching muscles would first need to gain mass before they can condense them into hard pecs. While this may sound counter-intuitive, you need to trust the process if you want to do the same! 
Diabetics and people with health problems should consult their physicians before they consume mass gainers as most of them are high in fat, protein, and sugar levels. 
---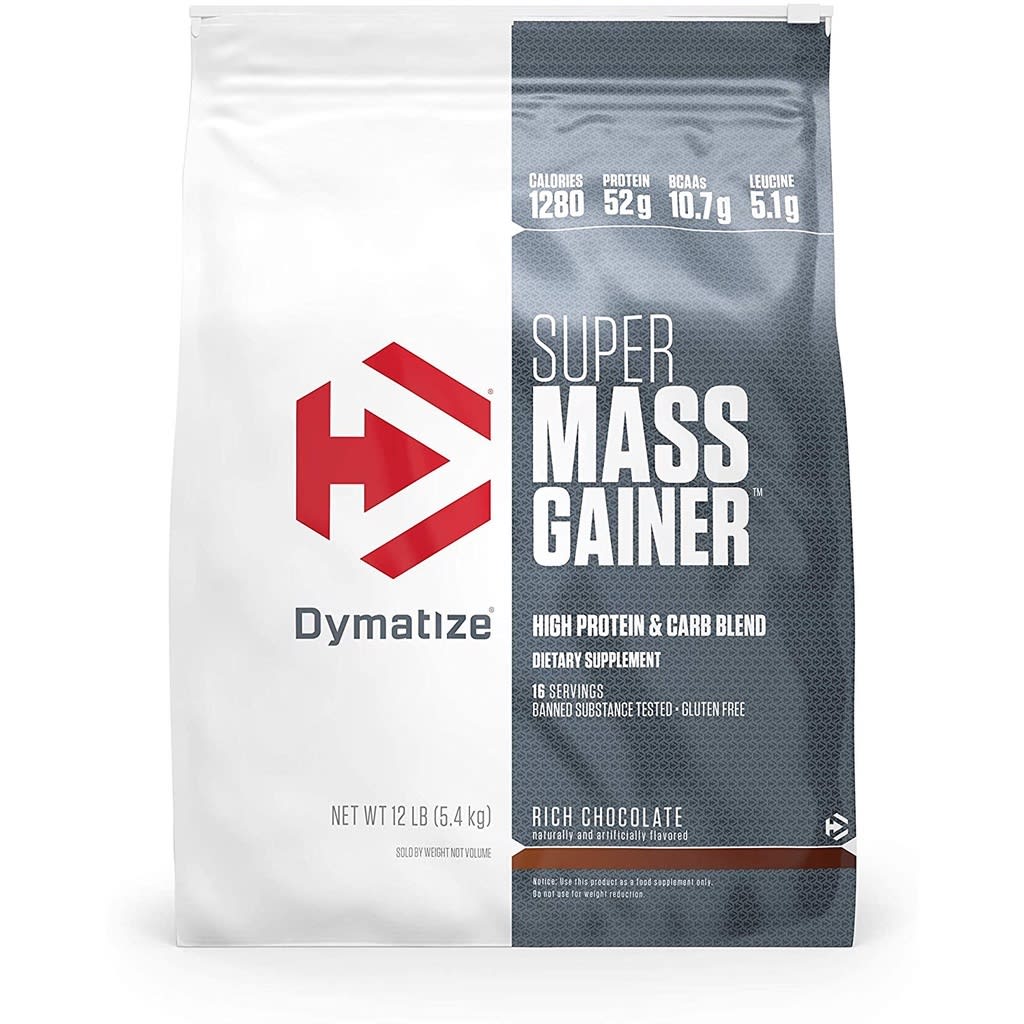 Check Dymatize Super Mass Gainer price below:
add_circle
Potent mass gainer
add_circle
Dissolves easily
Why It's Our Top Pick:
Dead set on reaching that weight? The Dymatize mass gainer is a must-have in your diet as it sets out to give you that protein-packed, carb-fueled drink to pump you up for the entire day. 
There are 17 vitamins and minerals in the drink to help with the recovery process – helping you to build muscle and regain your energy levels.
Overview
Gaining weight can sometimes be one of the biggest challenges for some. However, the Dymatize Super Mass Gainer provides ample nutrition where one serving (2 and a half cups) of this mass gainer gives you 1280 calories, 52g of protein, and 245g of carbs. As you can see, this is one of the higher-content protein powders.
Additionally, it contains 10.7g of BCAAs and is gluten-free. Basal vitamins like A, C, D, and E are also added to the mixture for added nutrition.
Details
52g Protein

245g Carbohydrates

LEUCINE 51g

10.7g BCAAs

Less than 1310 Calories
Who is it for?
You'll find this mass gainer to contribute to your mass-gaining journey. It also makes for a great shake and dissolves easily. Since the serving size is humongous, some people who use this have taken to proportion the servings to suit their diet, especially if they are getting sufficient nutrients from their food intake.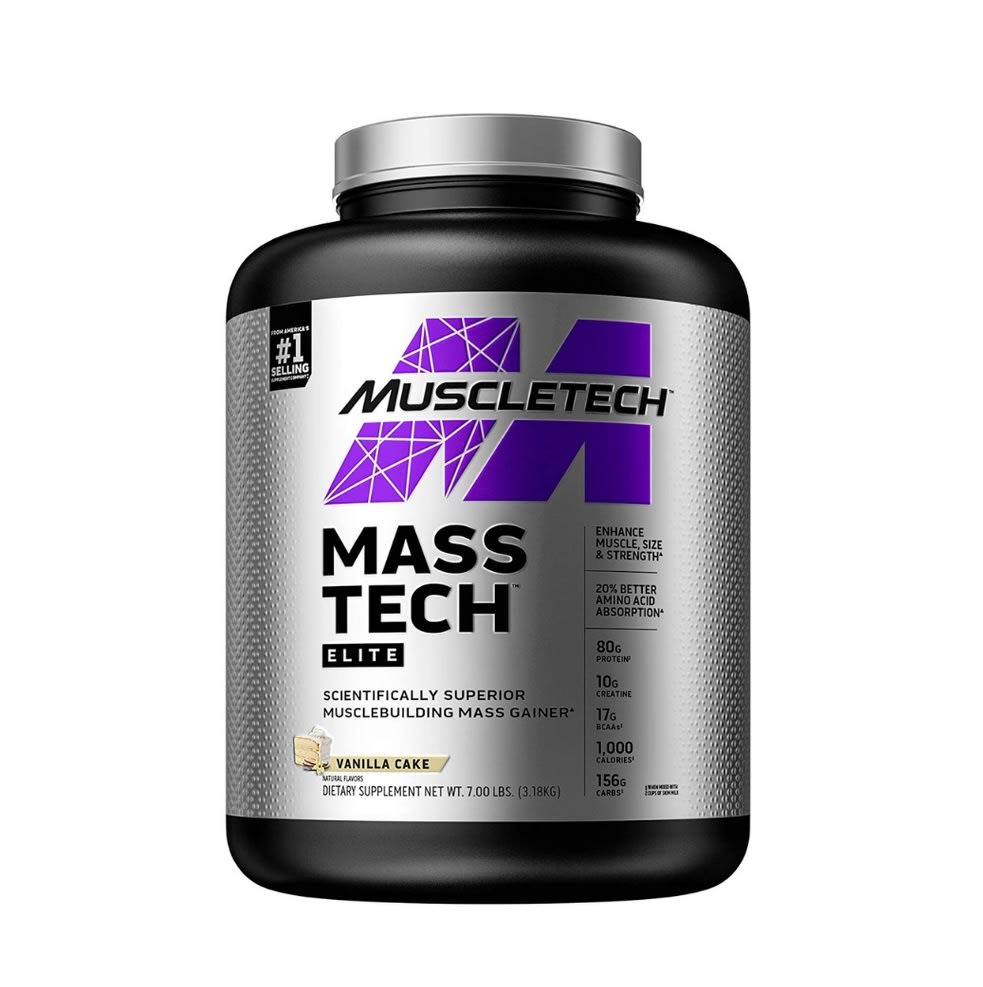 Check MuscleTech Mass-Tech Elite price below:
add_circle
Easy to digest
Overview
With 80g of protein per serving, the recommended amount is 5 scoops added with about 16oz of water or skim milk. You can even drink it two times daily if you like. A serving also contains 10g of creatine, 17g of BCAAs for recovery, and 1000 calories. This is the calculation when mixed with 2 cups of skim milk. 
Details
80g Protein

132g Carbohydrates

10g Creatine

17g BCAAs

1000 Calories
Who is it for?
As a beginner, you want to acclimatize your body to any new supplements to know what your body requires. This mass gainer is one of the highest in protein content and has a survey of customers generally liking the taste.
Another thing you'll appreciate is that it does not cause bloating, so people with gastrointestinal issues would not have to face the brunt of having to expel all the air out of their system whenever they drink a shake.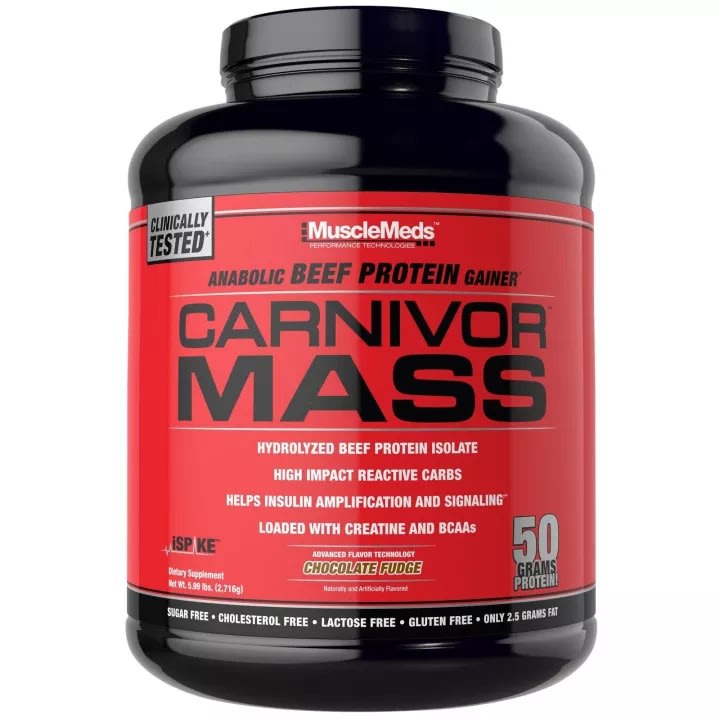 Check MuscleMeds Carnivor Mass price below:
add_circle
Easy to digest
Overview
The amount you get per serving is 710 for 4 scoops added with 16oz of water. You get 50g of protein as well, and 125g of carbs. MuscleMeds contains no cholesterol, sugar, or gluten, but people with diabetes should still consult their doctor before consuming this as it's such a high-carb protein powder. 
Details:
50g Beef Protein

125g Carbohydrates

5g Creatine

720 Calories

Zero Sugar
Who is it for?
Everyone with lactose intolerance knows of the horrors that come with it. While it may not be so serious as to require a hospital visit, you sometimes have to face the mortifying farts (imagine being in an enclosed space with just one person), nausea, and bloating.
Luckily, MuscleMeds came up with a mass gainer which is lactose-free. This is the one for you if you want to gain muscles without experiencing flatulence.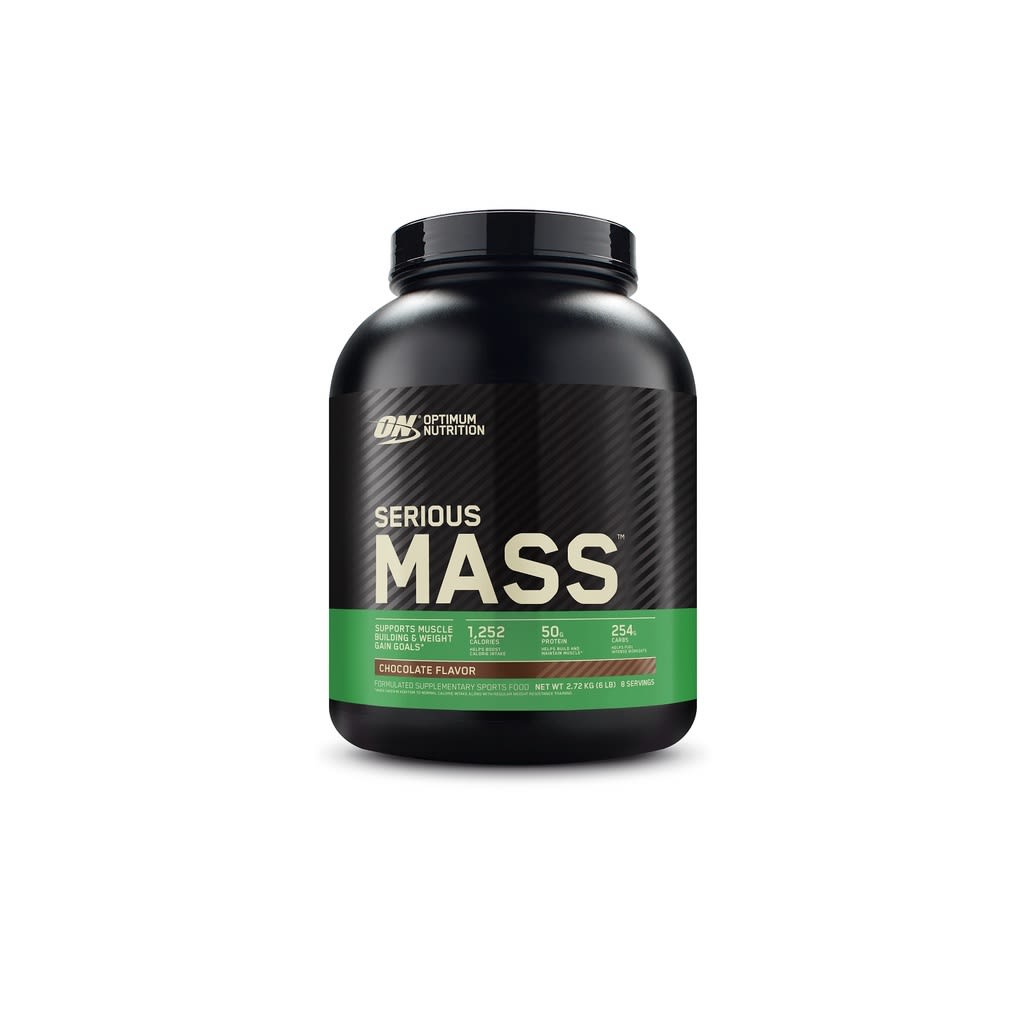 Check Optimum Nutrition Serious Mass price below:
add_circle
A healthy amount of carbs and protein
remove_circle
One of its main ingredients, maltodextrin (easily digestible, being absorbed as rapidly as glucose) could increase your blood glucose levels quickly
Overview
Each serving contains 252g of carbohydrates, 50g of protein, and 1250 calories. Not only that, but the formula of this mass gainer includes 25 vitamins and minerals. To drink, just combine 24oz of water with approximately 2 scoops of Serious Mass.
With that, blend for 45 to 60 seconds for a smooth, creamy texture. Then, add some ice and, if wanted, add extra ingredients that will increase calories, and blend for an additional 30-45 seconds.
Details:
50g Protein

252-254g Carbohydrates

3g Creatine

1,250g Calories

25 Vitamins and Essential Minerals
Who is it for?
A large portion of one's diet is flavour. This is due to the fact that eating only boring or tasteless foods will demotivate us from sticking to our course of action. To accommodate the tastes of various people, Optimum Nutrition offers a variety of four different flavours: chocolate, vanilla, banana, and strawberry.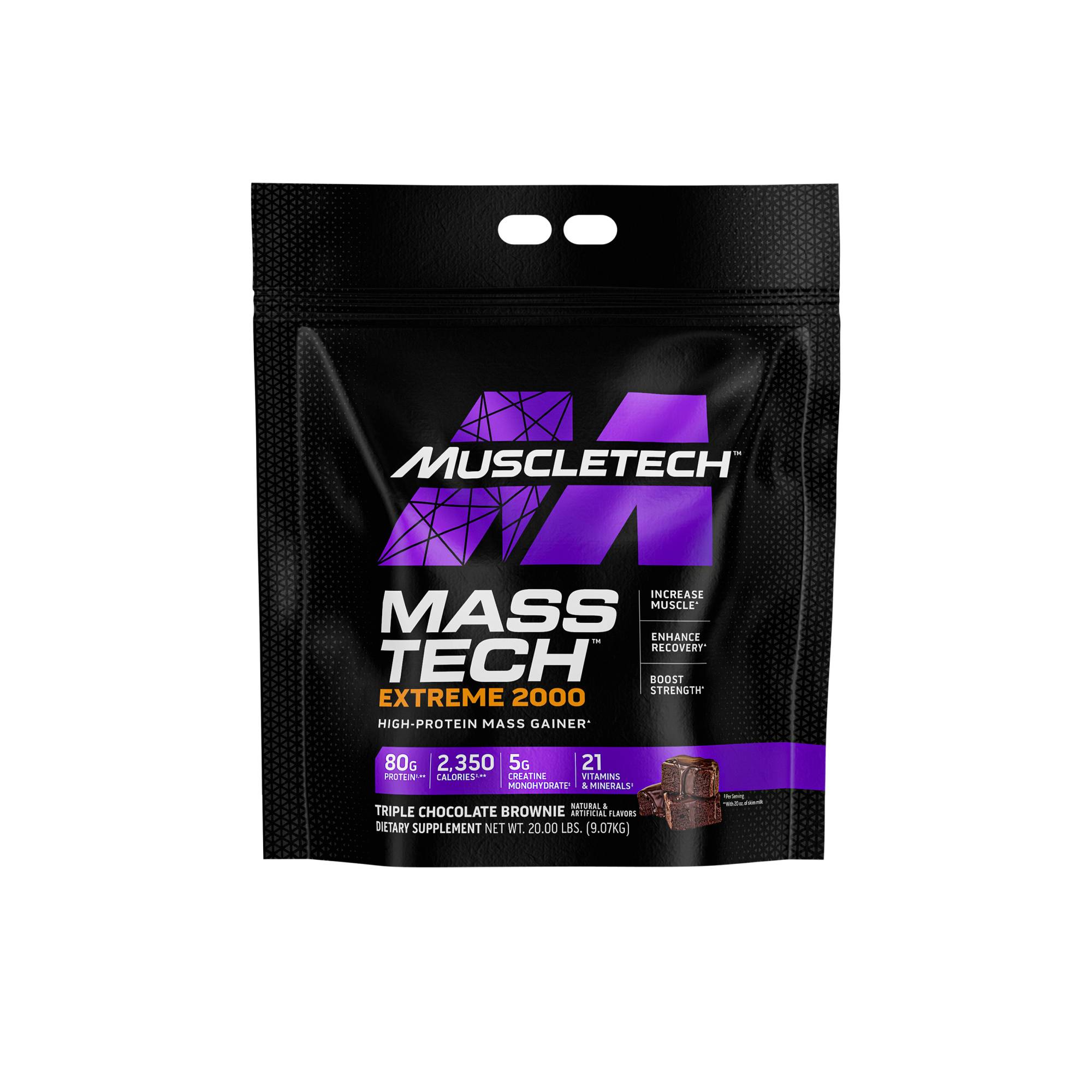 Check MuscleTech Mass Tech Extreme 2000 price below:
add_circle
Supports optimal muscle protein synthesis and overall muscle development
add_circle
It has a great flavour
add_circle
Promote muscle glycogen replenishment
remove_circle
Slightly expensive
Overview
In addition to the massive 2110 calories, it contains 456 grams of carbohydrates and 80 grams of protein to help you strengthen and tone your muscles. The product also contains a plethora of vitamins and minerals that support maintaining your body in its ideal condition while supplying energy to make the best out of your workouts.
Details
80g Protein

400g Carbohydrates

10g Creatine

 8.2g of Leucine

2,300 Calories
Who is it for?
If you've been bulking for a while and your current diet isn't helping your physique, it's time to think about switching to a mass gainer that contains higher calories such as this one. This mass gainer is a megalodon with a serving size of more than 2000 calories.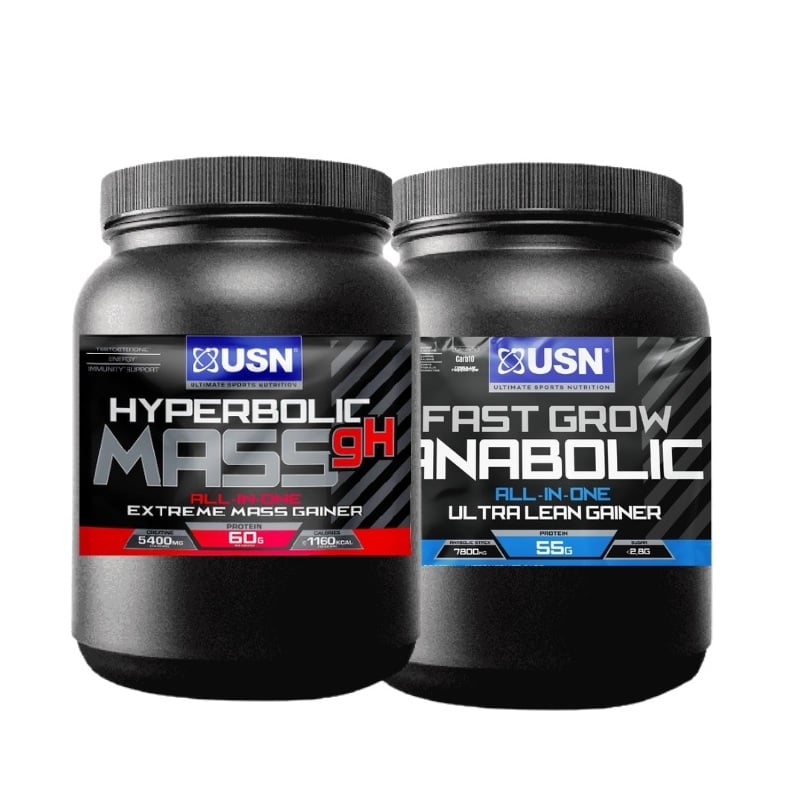 Check USN Hyperbolic Mass - Mass Gainer Shake price below:
add_circle
High in creatine
add_circle
High-quality protein
Overview
The USN Hyperbolic Mass Gainer was designed for those with a fast metabolism. It gives you 60g of protein which is more than enough to help you build muscle mass throughout your fitness journey. This mass gainer also boasts high-quality carbohydrates, while also being rich in BCAAs, creatine and glutamine. 
Details
60g Protein

213g Carbohydrates

0.6g Fibre

5400mg Creatine

1148 Calories
Who is it for?
If you find yourself struggling to put on muscle mass even though you're doing everything by the book, you just might need a mass gainer which has quality protein while also having a good amount of carbohydrates. So, we highly recommend you try out the USN Hyperbolic Mass Gainer, which does just that.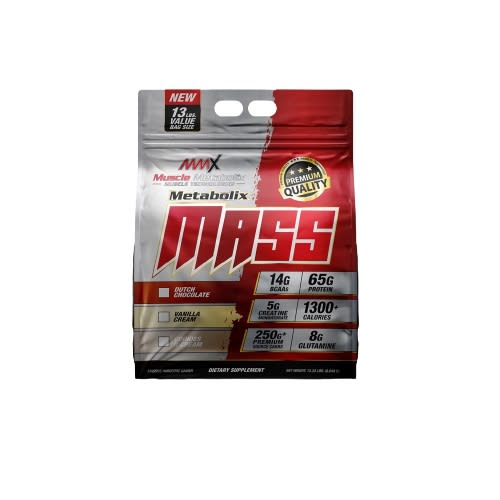 Check MMX Muscle Metabolix Mass Gainer price below:
add_circle
High in protein content
add_circle
Reasonably priced
Overview
This mass gainer comes with 65g of protein, pretty high in the class of mass gainers. The protein stems from four components - whey concentrate, pea isolate, whey isolate, and whey hydrolysate. It also contains 14g of BCAAs and about 1300 calories per serving. Other macronutrients like zinc oxide are also combined into the mix, and one serving consists of six scoops of powder.
Details: 
65g Protein

250g Carbohydrates

5g Creatine

14g BCAAs

1300 Calories
Who is it for?
We all know the need for protein in our diet, but do you know the effects of a lack thereof? Basically, you can work out all you want, but without adequate protein, you will not grow much in size or weight – and you'll be at risk of diseases involving your liver. Also, you may feel more fatigued and recover slower. Thus, you need to get yourself a mass gainer with enough protein to supplement your diet.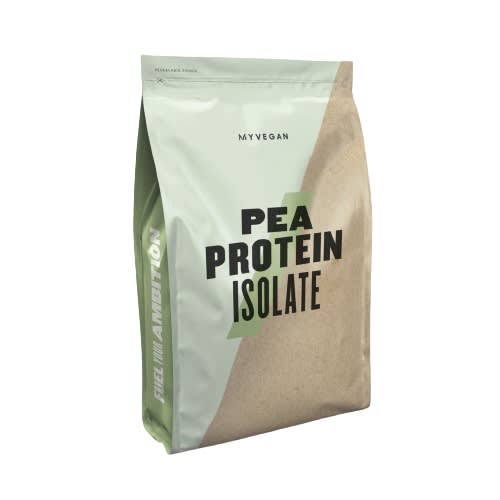 Check MyProtein Pea Protein Isolate price below:
add_circle
Suitable for vegans
add_circle
Good for those with digestive problems
remove_circle
Grainy texture
Overview
30 minutes before or after your workout, mix 30 grams into 150-250ml of milk or water in a MyProtein shaker. A serving has 107 calories, 23 grams of protein, and 0.8 grams of carbohydrates. The perk of this muscle gainer is that it is made entirely of plant-based ingredients, which is an efficient way to include high-quality protein in your diet.
Furthermore, this mass gainer contains no sugar at all so it would be a great option if you're trying to also cut down your sugar intake. 
Details:
23g Protein

0.8g Carbohydrates

All-natural

Zero Sugar

Free from soy and dairy
Who is it for?
There is a common myth that people cannot bulk up or gain weight without eating meat. Consider including MyProtein mass gainer in your diet for a small boost if you find it challenging to gain weight or if you practise veganism/have a dietary restriction. Plus, since it's plant-based, those who are prone to acne will find this suitable for them as well.
---
- Difference between mass gainer and whey protein
If you do strength training but do not want the bulk and want just the lean muscle, whey protein would be sufficient for you. That is if you do not consume your required protein amount for the day enough to rebuild the micro-tears in your muscles when you work out. 
A regular adult needs a minimum of 0.8 grams of protein per kilogram of body weight per day. 
Mass gainers, on the other hand, have both the protein content and the components needed to gain weight – filled with macronutrients, creatine, and vitamins. They basically act as an all-in-one booster for your workouts and bulking process. 
---
- Should I drink mass gainer every day?
Some people believe that they can get the requisite number of calories with only fresh food – which is undoubtedly healthier. If you manage to hit your calorie target, then you should definitely follow that route. 
For the busy bees who are bulking but do not have the time to eat six to seven meals a day, drinking mass gainers daily is convenient. Yes, you should consume a serving daily as calories are usually calculated on a day-to-day basis (even on your off-days!), and it also gives you a pump before your workout. 
Nonetheless, mass gainers are not a replacement for meals and act only as a supplement to your breakfast, lunch, and dinner, which are essential to your daily needs. 
---
Don't like the taste of mass gainers? Add in some bananas or frozen fruits to turn it into a nice shake – especially if you are a fan of juice and smoothies.
Related articles